On the Road is a weekday feature spotlighting reader photo submissions.
From the exotic to the familiar, whether you're traveling or in your own backyard, we would love to see the world through your eyes.
Mike S (Now with a Democratic Congressperson!)
Chan Chich Lodge seems like it is in the middle of Jungle, specifically the Maya Selva, but it's actually just one the edge of this "the largest swath of tropical rainforest in the Americas north of the Amazon, which stretches across Belize, Guatemala and Mexico." This article in the Nature Conservancy Magazine talks about the successful effort by several
Driving to the Chan Chich Lodge involved driving from Pook's Hill Lodge, through the town of Spanish Lookout through a Mennonite farming area (modern, large farm equipment using Mennonites, unlike many/most of the Mennonites that live near me in South eastern Pennsylvania) and then up into the jungle covered hills that used to belong to the several Logging/forestry companies. Driving on a single lane dirt road for about 15 miles hills passing only one small abandoned modern settlement that had been used by the logging company, There were no occupied houses or buildings in that distance, just forest. Then we came out of the jungle to the Properties owned by the Bowen Family. The Gallon Jug Farm/Gallon Jug Village and also Chan Chich Lodge which altogether total about 3K acres. The surrounding area including what we had just passed through was Yalbac Company property that now has been preserved by TNC and several Belizean and American conservation organizations totaling over 300K acres.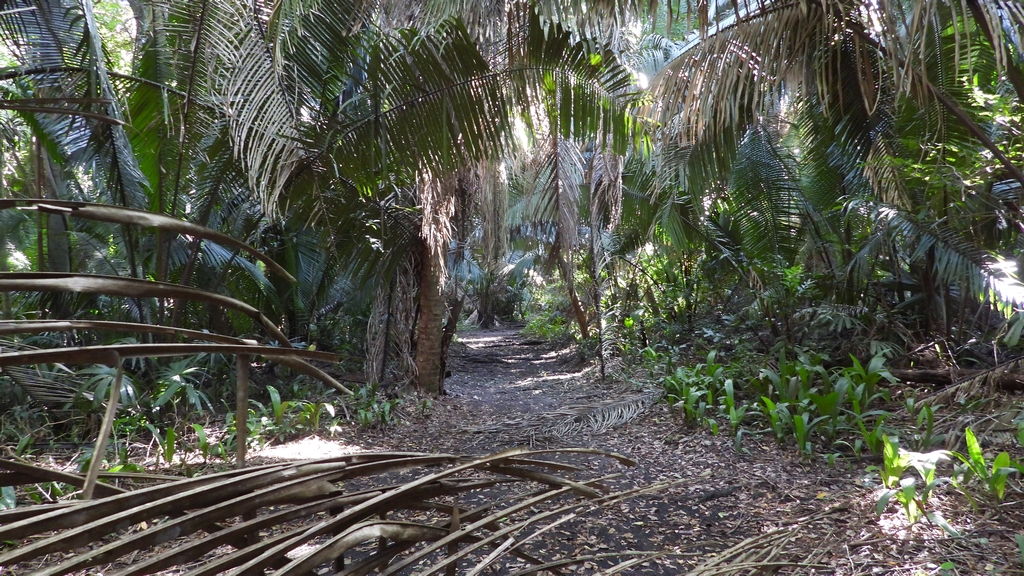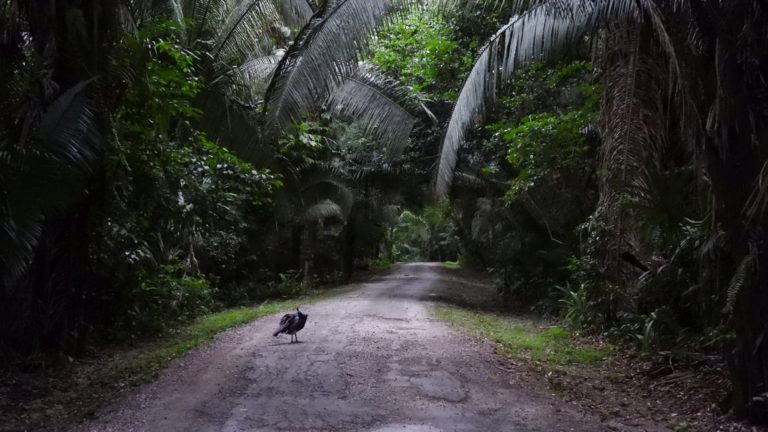 Gallon Jug Belize
The last part of the road was through a particularly deep dark jungle with many cohune palms.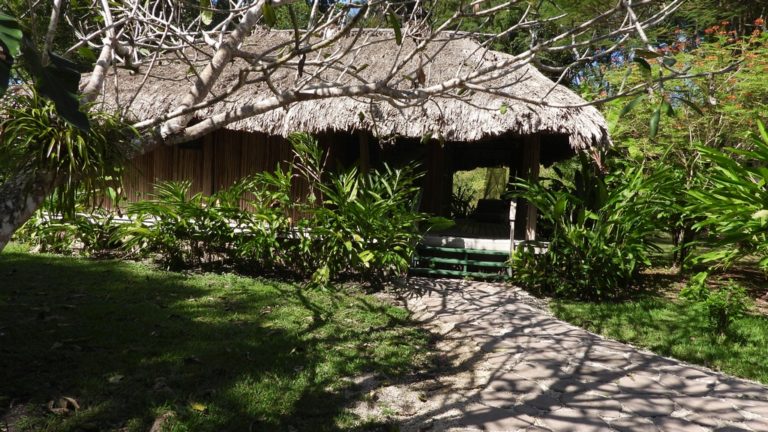 Chanchich Lodge Blize
Our cabana was very comfortable and luxurious and the food was delicious! Everyone there was great. Our group of 8 were almost the only guests so it was very private and very relaxing. I hope I can go back soon!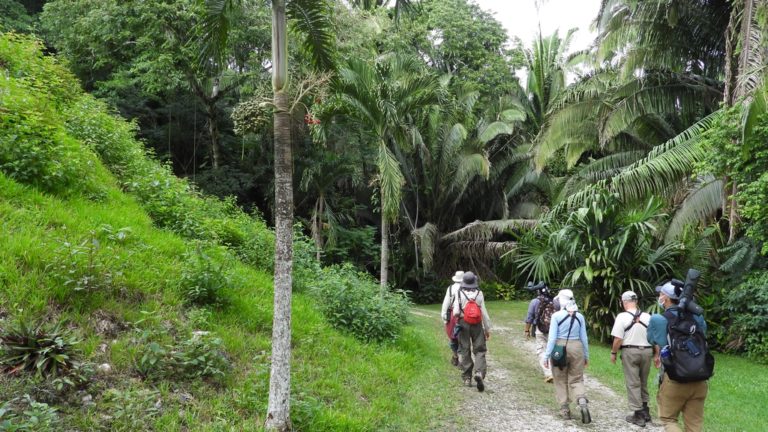 Chan Chich Lodge, Belize
Here our group is walking away from the lodge on a bird walk on the main road and that hill to the left is a mound of Mayan ruins.
As the walking tour description Lodge's web site:
The Lodge is built among the ruins of the once thriving Mayan community known as Chan Chich, or "Little Bird." You can take a walking tour that starts in the main plaza, which was once a Mayan ball court and visit the Upper Plaza and get a glimpse of various "looters' trenches" from within.
I walked among the ruins by myself, but I didn't take this tour although several other people in our group did.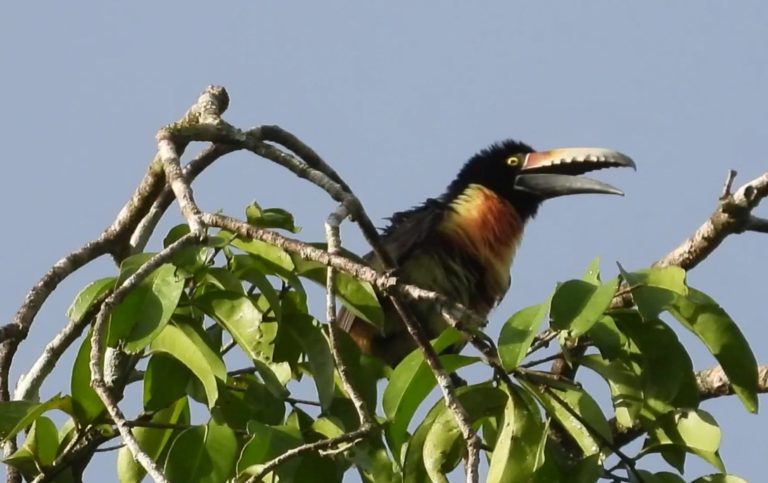 Chan Chich Lodge, Belize
Now for a few Birds! Collared aracaris are smaller cousins of the Keel-billed Toucan I showed last week. And yes that serrated bill is rather intimidating!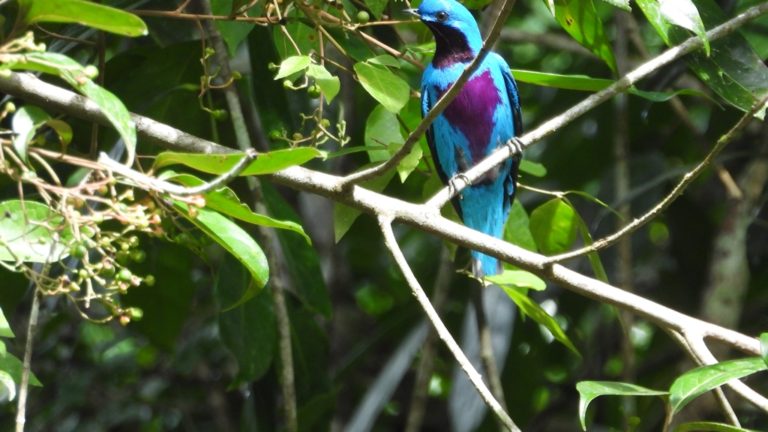 Chan Chich Lodge, Belize
The male Lovely Cotinga is indeed lovely and we were incredibly luck to see a pair up close feeding on tiny wild figs. Most people see them perched in a distant tree top if they are lucky enough to see them at all. The female was there too, but she is a neat gray bird, not gaudy like her mate.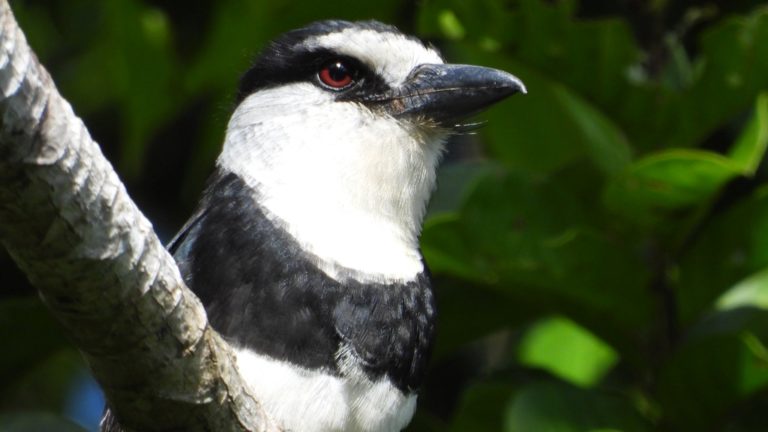 Chan Chich Lodge Belize
This intimidating bird is a White-necked Puffbird. This species is about 10 inches long, but with it's big bill and plump body it seems bigger. This is one of the largest species of puffbird and it's range spans much of Central and South America, from the Yucatan area all the way into the central Amazon Basin of Brazil. It is very, very distantly related to woodpeckers. Puffbirds are still hunters and they spcialize in eating large insects and even small vertebrates.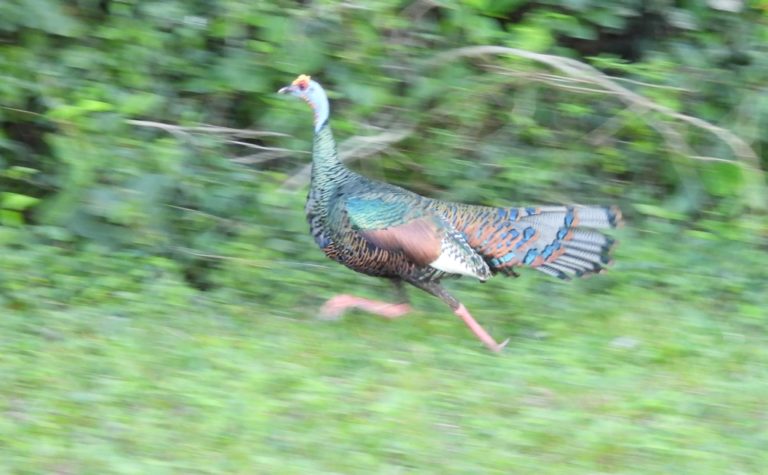 Chan Chich Lodge Belize
One of my target species for this trip was the beautiful Ocellated Turkey. This is the only other species of turkey, besides our North American Wild Turkey and the are versimilar in size, shape and behavioe, but they are much more colorful.
They have become rare in much of their former range in the Yucatan area because they are hunted for food. But Chan Chich is known as a good place to see them and it definitely is. They forage on the lawns around the buildings and then fly up to roost in the trees above the lodge building for the night. In the morning they fly down with a whoosh in and land gracefully and walk around casually. Their main predators here are the Jaguars and pumas that roam the jungle.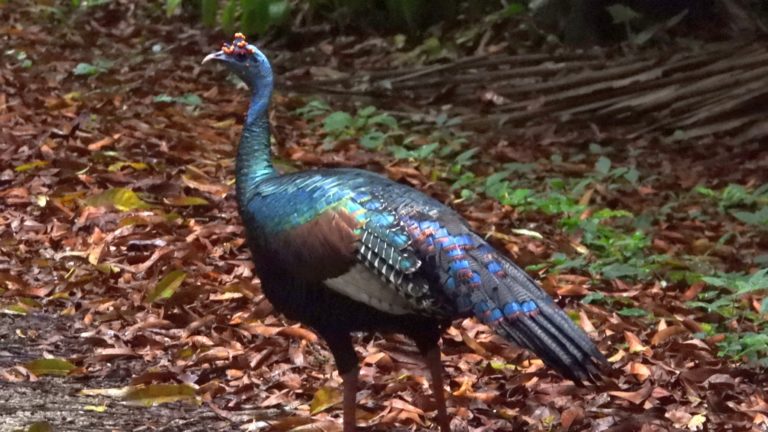 Chan Chich Lodge, Belize
We didn't see any male turkeys fanning this tails and displaying the blue eye-spots that give them their name, but even when they aren't displaying, you can appreciate their beauty.
And to answer the important question, we DID see a Jaguar! It crossed the road in front of our Jungle tour truck on our third day. It casually strolled across the road and then paused in the shadow where I could see its spots. It was such a thrill. Definitely the biggest cat I've ever seen in the wild! It was the one of best sightings of the trip and lasted maybe 90 seconds! One of our friends on the trip has been to Belize 20 time and this was the first time she had seen one outside of Pantanal area of Brazil. We were so lucky. One of the waiters at the lodge has a hobby of using trail cams around the area and he showed us a lot of pictures of Jaguars, Pumas, Ocelots, peccaries and more on his cell phone at meal times. His pictures are amazing. The main prey for the big cats here are white-tailed deer which we saw a lot of in the farm area.
Next Week: Hawks and other raptors in the Maya Selva.