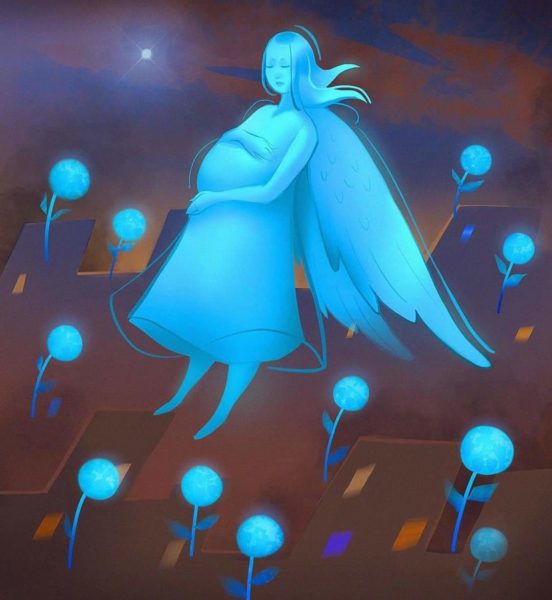 (Image by Olga Wilson; found here)
The BBC has reported that Russia has changed its theater commander in southern and eastern Ukraine: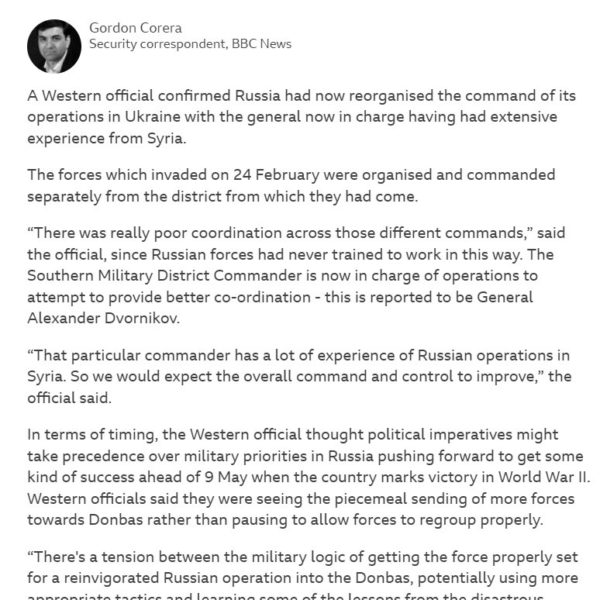 I don't think the Syria experience is going to amount to much here, but it is clear that the Russians have decided that what they had been doing – four component commanders in theater all reporting directly back to and being coordinated by Moscow – was not working. As a result, they've decided to streamline things. Given that this reinvasion is really Clausewitz's maxim that war is politics with other means made real, I'm not sure that much of anything done militarily will make a difference. Putin is prosecuting a political, social, cultural, and religious dispute with his army, a little bit with his air force, and wee bit with his navy. Streamlining and unifying command is all well and good, but as we use to tell our students in Seminar 12 at USAWC: strategy cannot give policy that which policy does not provide.
Lyudmila Denisova, the Ukrainian Obudswoman for Human Rights, has issued a number of statements today. They're all on her Facebook. I was able to pull one despite not having a Facebook account. The other two are copied and pasted screengrabs from here and here (emphasis mine in the copy and paste in the quite box). Ms. Denisova's reporting includes references to sexual assault, rape, and other brutalization of Ukrainians. So if this is the type of thing that really upsets you, you may want to skip over this section!
Russia's occupying country kidnaps Ukrainian children.

Rashist media began to publish information about the initiative of the President of the Russian Federation to amend the legislation to organize an accelerated procedure for the adoption of children from Donbass.

It is reported that the State Duma is already working on appropriate amendments to the legislation, after which the replacement of the family for the child will be impossible.

According to various sources, more than 121,000 children have already been forcibly deported to the Russian Federation. These are both orphans and those who have parents.

It is now known that some of the children were taken by the occupiers from Mariupol to Donetsk and in the direction of Taganrog.

Russian invaders say they are orphans, but all orphans, including orphanages, were evacuated from Mariupol and centralized on February 24-25 during the first two days of the war.

Ukraine has no information that children who are planned to be adopted have the status of orphans or deprived of parental care.

Russia is repeating the scenario of 2014, when it took Ukrainian children out of the occupied Crimea by the so-called "train of hope" for their adoption.

Russia has been expelled from the European Network of Ombudsmen for Children's Rights (ENOC) for abducting children from the Crimean peninsula.

Now racists, firing rockets and tanks at the homes of Ukrainian citizens, are killing parents and kidnapping our children in the occupied territories of eastern and southern Ukraine.

Such actions of the Russian Federation are a gross violation of Article 7 of the UN Convention on the Rights of the Child, which provides that every child has the right to a name and citizenship, as well as the right to know their parents and the right to care, Article 49 of the Geneva Convention on Civil Protection population during the war, which prohibits forced individual or mass resettlement or deportation.

In addition, Article 21 of the UN Convention on the Rights of the Child provides that adoption in another country may be considered only as an alternative means of caring for a child if the child cannot be placed in foster care or to a family that could provide for her or him upbringing or adoption in the country of origin.

I call on the UN Committee on the Rights of the Child, the UN Human Rights Committee, and the Global Alliance of National Human Rights Institutions (GANHRI) to intervene to prevent the illegal removal of Ukrainian citizens from Ukraine and their subsequent illegal adoption on the aggressor's territory.

I ask the Office of the Prosecutor General to investigate the illegal deportation of Ukrainian children to Russia.

I appeal to the UN Commission for Investigation Human Rights Violations during Russia's Military Invasion of Ukraine and the expert mission set up by the OSCE participating States under the Moscow Mechanism to take into account these violations of Ukrainian children's rights, war crimes and crimes against humanity in Ukraine.

#ОБСЄ #OSCE #UN #ООН #GANHRI #Офіс_Генерального_прокурора_України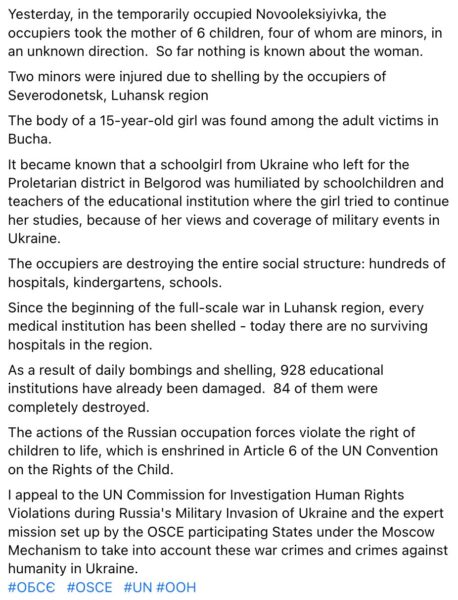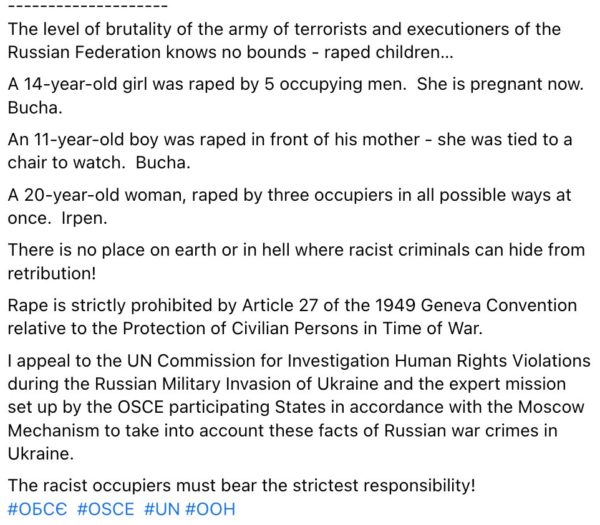 Much more after the jump!
Here's the latest map from the British MOD: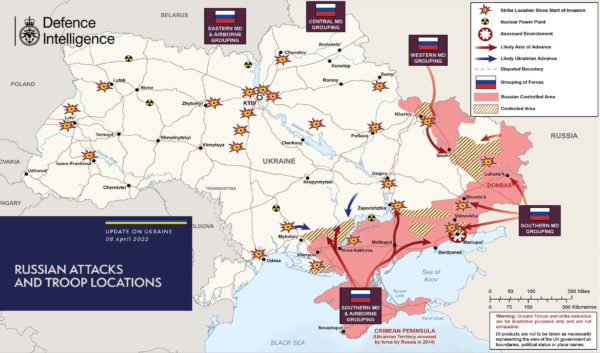 As you can see, not too much has changed. Though the Brits seem to be indicating that the Ukrainians are moving forces south through Zaporizhzhia and west from Mykolaiv towards the contested area north of Kherson.
Here's the Pentagon's background briefing from earlier today:
SENIOR DEFENSE OFFICIAL: OK, good afternoon, everybody. I appreciate your flexibility today. I know normally, we do these things in the morning, but it's just been that kind of a Friday, so we'll get right at it.

Day 44. I know everybody's interested in this missile strike on the Kramatorsk train station. Obviously, we are not buying the denial by the Russians that they weren't responsible. I would note that they originally claimed a successful strike, and then only retracted it when there were reports of civilian casualties. So it's our full expectation that this was a Russian strike. We believe they used a short-range ballistic missile, an SS-21, and we'll leave it to local authorities to speak to the casualties and the damage. We don't have perfect visibility into that.

Some of you may ask, "Well, why that train station and what was the reason?" We — as we've said before, we don't have perfect visibility into the Russian targeting process, but it is a train station and it is located — if you look at the map, it's located not very far from Izyum, just to the south, right on the edge of the line of contact between Russian and Ukrainian forces in the Donbas area. It's a major rail hub, so I think I would just leave it at that. That — I think that says a lot right there.

As residents are beginning to return to Kyiv and some of the surrounding suburbs, we continue to see Ukrainians clearing the area of mines and booby-traps, but they — all the Russian forces are gone, as we said before. We believe that they are — these forces are transiting into and through assembly areas in Belarus and Western Russia to be refit and resupplied.

In general, we see some units making their way to Belgorod, and indications that some other units will be making their way to a town called I will butcher this, but I'll spell it for you — Valuyki — V-A-L-U-Y-K-I, which is — which lies to the southeast of Belgorod in Russia. It's right near the border with Ukraine and that northern part of the Donbas. We think that that area is going to serve as one of these resupply/refit areas for these troops, and we have seen indications that some units are moving in that direction as we speak.

As for where we're seeing the fighting — continues in southern and eastern Ukraine, including near Kharkiv, still being fought over. Izyum, we've talked about Izyum now for many, many days; along that joint force operation area, again, that's where this train station is, along the edge of that JFO. Obviously, Mariupol is still seeing heavy fighting, and we continue to see fighting around Mykolaiv, even though we don't hold the Russians actually in Mykolaiv.

In the air, Russia's sortie count, it came in over the last 24 hours at between 240 and 250, so roughly in line with what we've seen in recent days. The overall, overwhelming weight and focus of their strikes over the last 24 were on Mariupol and in that JFO, so clearly, they are focusing a large part of their strike activity on that eastern and southern part of Ukraine, again, in keeping with what we believe they're going to try to do.

No significant maritime activity to speak to today. Let's see — oh, and then on the missile count, we now have observed more than 1,500 missile launches since the start of the Russian invasion of Ukraine.

And with that, we'll get to questions, so Bob?

Q: Thank you, (inaudible). On the — your description of the Russian troops that are moving — some of which are moving toward the Belgorod area for refit and resupply, do you have any sense of how long a process that might be before they're likely to be moved into the Donbas area in terms of days, weeks or longer?

And secondly, on the secretary's announcement, his statement this morning about the S-300 that — actually, about the — the movement of the Patriot missile battery to Slovakia, are you in discussions with Bulgaria or other countries about making similar arrangements? Thanks.

SENIOR DEFENSE OFFICIAL: On the refit, Bob, we don't know for sure how long this is going to take because some units are much more devastated than others. We've seen indications of some units that are literally, for all intents and purposes, eradicated. There's just nothing left of the BTG except a handful of troops, and maybe a small number of vehicles, and they're going to have to be reconstituted or reapplied to others. We've seen

others that are, you know, down 30 percent manpower, or even higher. And so it's going to depend on — and I don't want to speak for the Russians here, but it's going to depend on the health of these units and what the Russians want to do to get them combat-ready again. I suspect that with some units, they'll be able to move much faster than with others.

But I would say this: We believe that they have not solved all of their logistics and sustainment problems; that those problems did not just exist inside Ukraine. They existed outside Ukraine, and still do exist. And so our sense is that they will likely not be able to reinforce the eastern part of the country with any great speed. I know that's not completely satisfactory. I couldn't give you days or weeks. It's really going to depend on the unit and how ready they are to get back into the fight. But we don't believe that in general, this is going to be a speedy process for them given the kinds of casualties they've taken and the kind of damages they've sustained to their units' readiness.

On the second question about S-300s, I would just tell you that we continue to have conversations with allies and partners who have these kinds of long-range air defense systems, and I don't want to get ahead of that process.

Tom Bowman?

Q: And do we — do you still believe that what the plan for the Russians is to continue to try to block the Ukrainian Army in by coming south or north along that axis and block them in?

SENIOR DEFENSE OFFICIAL: We still believe that one of their objectives is to fix Ukrainian Armed Forces in the Donbas and then engage them in combat to occupy the Donbas completely.

But they certainly — we believe another objective is to fix them there so that they can't be used for the defense of the country anywhere else, including, you know, moving down towards the south. But again, I want to stress that right now we believe that the Russian locus of energy and effort is going to be in the south and in the east.

So fixing those troops there is a part of it but they have shown less desire now to go after further targets to the west. They are clearly focusing their efforts on the east.

Q: OK, great. Thanks.

SENIOR DEFENSE OFFICIAL: Yep. Felicia?

Q: Hi. Thanks. Is the number of troops in the east still about 30 battalion tactical groups? Has that changed?

SENIOR DEFENSE OFFICIAL: We actually think it's — as I said, we think they've increased it now. So we believe it's probably up over 40.

Q: OK. Thanks.
The rest of the Q&A is at the link!
Someone asked in the comments the other night about pulling Ukrainian forces out of Ukraine for training in the US. I replied that I'd seen an article that a group of Ukrainian soldiers had just completed a regularly scheduled – as in before the reinvasion – training assignment in the US, which is a routine part of our professional military education programs. Apparently they worked training on how to use the Switchblade's in before the Ukrainians completed their course of training. Here's the details:
The U.S. has trained a small number of Ukrainian soldiers to use Switchblade unmanned aerial vehicles (UAVs), the "kamikaze" tactical aerial drones sent to the war-ravaged country as part of a military assistance package, according to a Pentagon official.

A shipment of 100 Switchblade UAVs, announced several weeks ago and supplied from U.S. military stock, arrived in Ukraine earlier this week, Pentagon spokesperson John Kirby told reporters Wednesday.

Kirby said he would not comment on the specific Switchblade variants sent to Ukraine, but said U.S. military officials were "going to keep talking to them and working with—and helping them get additional ones if they need it."

The Switchblade system is not one the Ukrainian military typically uses, he noted.

"It is not a very complex system. It doesn't require a lot of training," Kirby said. "An individual could be suitably trained on how to use the Switchblade drone in about two days or so."

A "very small number" of Ukrainian soldiers who had been in the U.S. for military educational purposes since last fall were trained to use the Switchblade UAV system, he said. "We took the opportunity to—having them still in the country, to give them a couple of days' worth of training on the Switchblade," so they could train others when they returned to Ukraine, he said.
Kramortask:
⚡️Railway station in Kramatorsk hit by a Russian missile.

Donetsk Oblast Governor says people were boarding evacuation trains when an Iskander missile hit near the main entrance.

Tens dead and injured, he adds. pic.twitter.com/HmnUmfkAg3

— Oleksiy Sorokin (@mrsorokaa) April 8, 2022
A child's blood-spattered toy, suitcases, and charred cars littered the railway station in Kramatorsk, eastern Ukraine, on April 8 after a Russian rocket attack that struck when around 1,000 people were waiting for a train to evacuate them to a safer part of the country. pic.twitter.com/P8L2u6OJvZ

— Radio Free Europe/Radio Liberty (@RFERL) April 8, 2022
This child was killed by a #russian missile today at the #Kramatorsk railway station.
And three more + 35 adults were killed. About 100 citizens were seriously injured. Some lost their arms and legs. pic.twitter.com/4rLUBZWY4M

— Inna Sovsun (@InnaSovsun) April 8, 2022
If you're wondering why the Russian missile had "for the children" written on it in Russian, Slava Malamud provides the context. For those who are not hockey fans, the picture on the left in the first tweet of the thread is Alex Ovechkin. Ovechkin is the captain of the Washington Capitals, as well as a major supporter of Putin.
This thread is for all the beautiful souls who want to enjoy their hockey in peace. For those innocents who just want to escape into the pure world of sports and appreciate their favorite athlete without all those nasty politics.
There is a straight line between these two images. pic.twitter.com/TufgjQoQxC

— Slava Malamud ?? (@SlavaMalamud) April 8, 2022
So, let's go back in time for a bit, to 2014 when the picture on the left was taken. This was immediately after Russia had annexed Crimea and, drunk on its rediscovered imperial ambitions, started the war in Donbas. Except, back then, Russia wasn't yet acknowledging it…

According to Russia's official narrative, Donbas had itself rebelled against the "Nazi" government in Kyiv. This was in no way true. Whatever separatist pro-Russian forces had existed in Donbas before, they were directly funded and controlled by Moscow. And in 2014…

… Moscow had ignited the conflict by sending its operative "Strelkov" (real name: Igor Girkin), who had engineered the Crimea takeover, to organize an armed conflict, with a direct (though not officially acknowledged) involvement of

Russian

troops This is when the war REALLY started

Russia had successfully managed to obfuscate this and to even blame Ukraine for the violence and deaths that occurred. To that end, it began a big propaganda push, called "Save Children From Fascism", which distilled their lies into a simple narrative:

"Ukraine is taken over by a Nazi regime that has decided to racially exterminate Russian speakers in the East. They are literally killing children in order to ethnically cleanse the region. Russia is a benevolent provider of humanitarian help to civilians and resistance fighters"

This was the narrative that Russian celebrities pushed in 2014 and 2015. By far, the most famous of them was Alexander Ovechkin, the beloved whacker of pucks idolized in the US and Russia. He willingly and eagerly took part in a campaign designed to absolve Russia from blame, …

… to place it on Ukrainians and to help Russia recruit volunteers to continue fighting in Donbas. Ovechkin slandered Ukraine and did his part to keep the embers of war burning. But he did more than that. He helped to entrench the "Ukraine is killing Donbas children" line…

… in the minds of Russians. This is literally the No. 1 go-to propaganda line of Russian trolls and media pundits. This is what the Russian powerlifter said in her reply to Schwarzenegger: that Ukraine has been engaging in child slaughter for 8 years. This was done by Ovechkin.

The horrible blood libel on Ukraine has permeated the Russian consciousness for 8 years, and the result is that Russian soldiers in 2022 are launching rockets at Ukrainian civilians, thinking they are retaliating for all those dead children. And people die.

The missile that has killed dozens at the Kramatorsk train station today had the words "For the children" written on it. It was aimed to cause as many civilian casualties as possible. As vengeance. As terrorism. Russians have been radicalized by propaganda for 8 years.

Many truly think they are fighting Nazism and saving or avenging children. Think about that the next time you are donning your No. 8 jersey and whooping it up in the stands. Athletes are not only athletes. When they lend their names to a cause, they exert a powerful influence.
Before we move on, I just want to take a minute to note the language in the hashtag on the sign that Ovechkin is holding up: "Save children from fascism". One of the major elements of the QAnon conspiracy theory is that those that follow it and adhere to it are helping to save the children. In this case from a global cabal of liberal fascists who are trafficking children both for sex and to harvest a biochemical agent that doesn't actually exist from them in order to prolong their own lives. These liberal fascists in the global cabal are, of course, the usual suspects in the fever dreams of the American conservative movement to the American hard right. We're now seeing the same language come in to play with the proponents and defenders of the don't say gay legislation in Florida and the other states that are pushing similar laws. In this case the save the children rhetoric is being merged with the eliminationist rhetoric that those individuals and organizations who oppose these vague, poorly written laws are either groomers of children for sex, pedophiles, or in favor of both.
The Russian disinformation campaign that Ovechkin participated in predates QAnon by about two years. QAnon, of course, was built on earlier conspiracy theories like Pizzagate, promoted by Russian adjacent useful idiots Agent Poso and the Mandrill Mindset, which specifically focused on accusations of pedophilia by liberal elites who are also fascists. Jonah Goldberg's idiotic book is the gift no one wanted and that keeps on giving despite no one wanting more.
Finally, Malamud is worried his thread isn't getting enough reach, so those of you on Twitter, please give it a retweet.
Mariupol:
The Azov Battalion is not giving up!
Defenders of besieged #Mariupol are true heroes.Once a 500 k city is in ruins. 100+ k civilians stay blocked there. #Ukrainian troops fight for every inch of Mariupol. Have a look how they hit #Russian armored vehicle. So it be with every ??occupant on our soil. #GloryToTheHeroes pic.twitter.com/FdJcoaJBzo

— Emine Dzheppar (@EmineDzheppar) April 8, 2022
#Ukraine: Footage from #Mariupol showing a Ukrainian BTR-4E APC attacking two Russian T-72 tanks from the rear with a 30mm cannon. Apparently, both tanks received serious damage. pic.twitter.com/7ecGv5AwkK

— ?? Ukraine Weapons Tracker (@UAWeapons) April 7, 2022
Hostomel:
This letter was written by 9-year-old boy from Gostomel. He and his mother where fleeing in the city by car, but the Russians shot up their car. His mother was killed. The boy was helped out the car by another people.There is the translation of his letter on the right and it's ? pic.twitter.com/PJXr07JjIu

— Яна Супоровська (@YanaSuporovska) April 8, 2022
Bucha:
A 6-yo boy brings canned food to the grave of his mother who starved to death in Bucha. ??artist Aluona Zhuk illustrated the scene.

"This picture will never leave my mind. So I want the world to see it too. And start calling a spade a spade. It's genocide, ?? genocide agnst ??" pic.twitter.com/udaKZCb6h1

— Euromaidan Press (@EuromaidanPress) April 8, 2022
Someone last night was asking about this Ukrainian video, which is an excellent example of Psychological Operations and Information Warfare:
Bloody hell this Ukrainian video needs to be seen by everyone pic.twitter.com/63LGOvSpQR

— Rupert Myers (@RupertMyers) April 7, 2022
GUYS! GUYS!!!!! IT'S FOLLOWING ME!!!!! WHAT DO I DO????
Hahahahaha! pic.twitter.com/CYt77wy2hb

— Michael Weiss ????? (@michaeldweiss) April 7, 2022
Obviously, DO NOT lead it back to your base!
I'm not a gamer, but I believe this is where I'm supposed to write:
Ukrainian Drone says: All your base belong to us!
I may or may not be aware of all Internet traditions…
Let's end with this very, very, very good boy!
#Ukraine: The famous UA EOD dog, Cartridge, standing on a pile of UXO presumably left behind by Russian forces in #Kyiv Oblast. (He's perched on a stack of OF-843B 120mm HE-FRAG mortar bombs) pic.twitter.com/lYToGPL4H8

— Cᴀʟɪʙʀᴇ Oʙsᴄᴜʀᴀ (@CalibreObscura) April 8, 2022
Open thread!