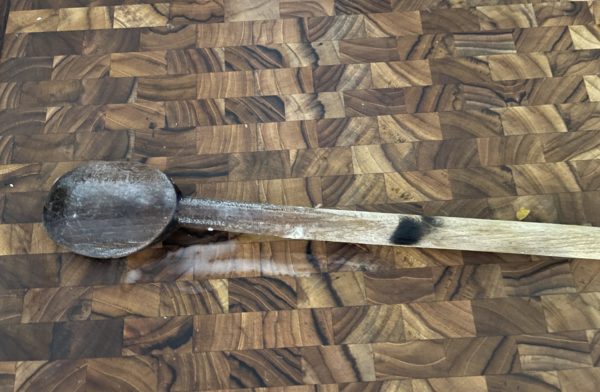 I've had this wooden spoon forever. Probably almost 30 years. It was one of my dad's wooden spoons that I inherited (or maybe stole) when I got out of the army and was setting up a cooking set for my apartment in college. I have a bunch of other wooden spoons that I have accumulated over the years. I have them made from all types of wood. I special ordered a 24 inch wooden spoon from PRAGUE that was handcrafted and airmailed to me so I would have something to stir large pots without singeing my knuckles. I have one of those cajun paddles. I have a couple metal spoons, and some made of materials that I am not even sure what they are (silicon and rubber? who knows).
But when I go to cook- that is the spoon I reach for first. If it is dirty, I will briefly contemplate using another one, but I always break down, wash it, and use it. What can I say, I'm a dance with the girl who brung you kind of guy. I wouldn't say I don't like cooking with other spoons, but that I don't enjoy it as much as I do with that spoon. It's never let me down.
I was thinking about this this morning while I was cooking. I wanted to start the day early and get the soup going so it could cook down over low heat. It's my take on a tuscan bean soup- cannelloni beans, bacon, shallots, carrots, celery, a parm cheese rind, a can of diced tomatoes, thinly sized zucchini and squash, heavy cream, etc. I'll show pictures later. I went to go stir things, and I could not find my spoon and it briefly flustered me. I found it in the drying rack behind a plate. Not sure why I put it there instead of where the utensils go, but I found it so that is all that matters.
I was reading the NY Times this morning. I know, they are awful, but I still read them. I like to know what is going on and you can't hide yourself from things. I came across this story with this image: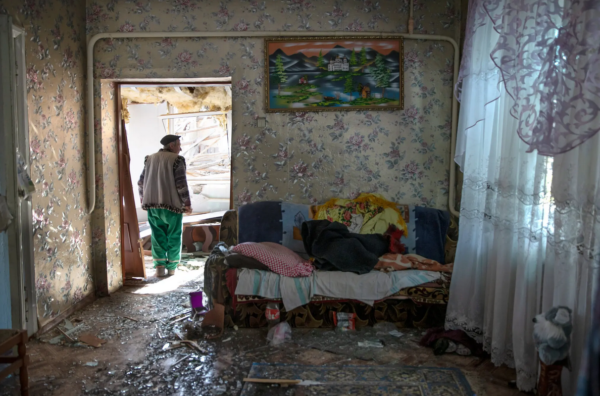 That's from the outskirts of Kharkiv, one of the many cities that have just been utterly devastated. The human and physical toll of this brutal and genocidal Russian invasion are just impossible for me to comprehend. The millions who have been uprooted, the thousands killed and the many more thousands wounded and the psychological scars for everyone involved is just mind boggling. It's a scale of human carnage that is hard to fathom. It's not unprecedented by any means. The same has been happening in the Middle East for decades, often at our hands with excuses and justifications as bad- there's not much difference between "They hate us for our freedoms and Iraq has WMD" and "We're denazifying Ukraine," to be honest, but there is a distinction in the intentional murder of civilians and intended genocidal behavior.
I thought about that picture while cooking, and the dead and the destroyed villages. The missing children, the murdered loved ones, the decimated villages and towns; people returning to their homes looking to piece their lives back together and find their wooden spoon.