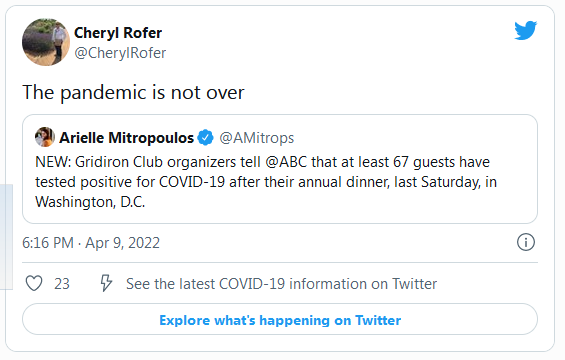 The elite D.C. social scene sees a rash of covid cases, but parties on https://t.co/TDD9Xq297u

— The Washington Post (@washingtonpost) April 10, 2022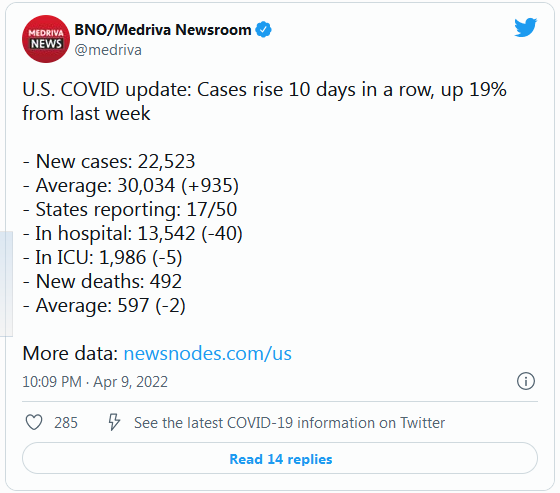 The #omicron BA.2 subvariant is prompting a small increase in new U.S. coronavirus cases. The daily average ticked up 1% Friday as BA.2 spread rapidly. It's the 1st uptick after weeks during which the U.S. was beginning to recover from the winter surge https://t.co/BMMKJRQiE0 pic.twitter.com/pSm0mbVy2c

— delthia ricks ? (@DelthiaRicks) April 9, 2022
======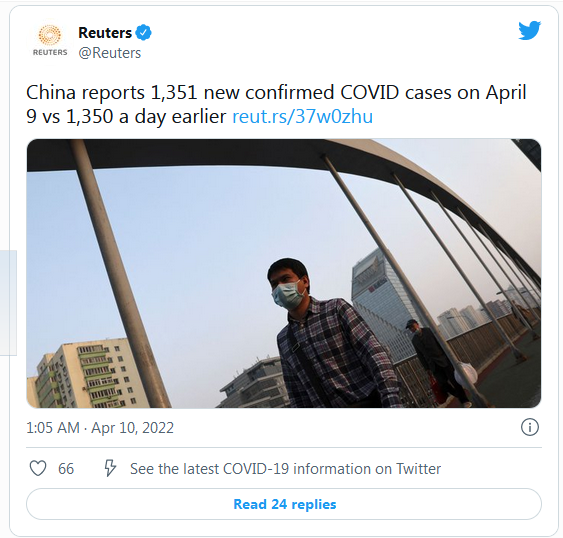 End of 2021, I highlighted that the most infectious variant needed a different approach. Zero Covid did worked very well at the beginning (best response in the world) but now was time to boost before Omicron hit. My heart goes to the health care workers and population of China. https://t.co/ksCB9wOCBf

— Tulio de Oliveira (@Tuliodna) April 9, 2022
The worst people in the world have taken note of the 'Shanghai Crisis', amid a combined wave of jingoism & schadenfreude. Be prepared for the Doomsters and the American Firsters rollicking, hand-in-glove, in a choral competition where Despair now, we are all gonna die harmonizes with See how Dr. Faucci and Bill Gates would have you submit… but don't let either group overwhelm you!
BREAKING—China's grip on BA2. At least 23 cities in China on full or partial lockdown—cities with over 193 million residents. Food shortages throughout even Shanghai. Doctors and nurses also exhausted—this doctor collapsed, and was carried off by patients at an isolation center. pic.twitter.com/raJlRNEezC

— Eric Feigl-Ding (@DrEricDing) April 9, 2022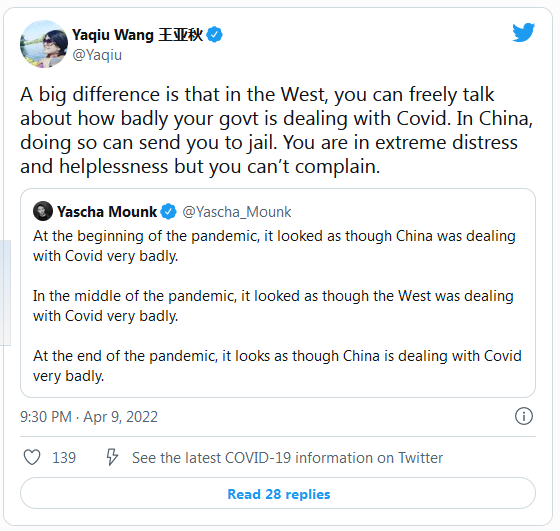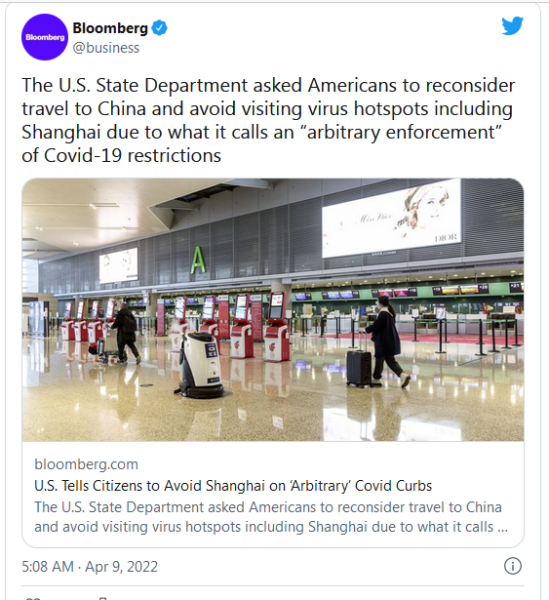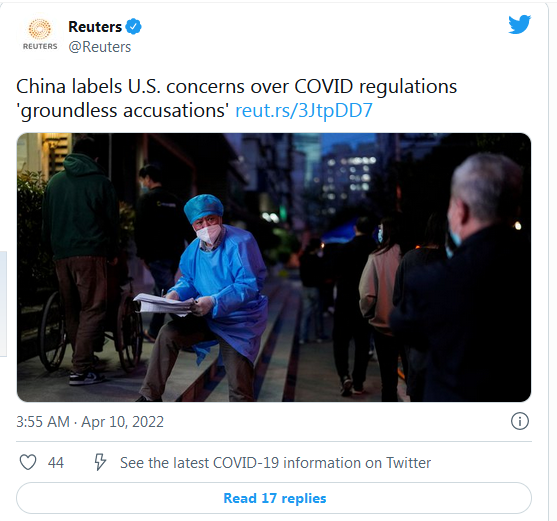 … The U.S. State Department said on Friday that non-emergency staff at its Shanghai consulate and families of U.S. employees could leave due to a surge in COVID cases and coronavirus restrictions in the city.

"We express strong dissatisfaction and firm opposition to the groundless accusations against China's pandemic prevention policy from the U.S. in its statement, and have lodged solemn representations," foreign ministry spokesperson Zhao Lijian said in a statement.

Shanghai is fighting China's worst COVID-19 outbreak since the virus first emerged in Wuhan in late 2019, with almost 25,000 new local cases reported on Sunday for the previous day.

While those case numbers are small by global standards, Shanghai's curbs to battle the outbreak have squeezed supplies of food and other essential goods for the city of 26 million, with residents also raising concerns about access to medical care.

The most controversial of Shanghai's practices had been separating COVID-positive children from their parents. Authorities have since made some concessions…

China's foreign ministry said on Saturday that China's pandemic prevention and control is "scientific and effective", adding that the government had assisted foreign diplomatic personnel as much as possible.

Diplomats from more than 30 countries recently wrote to China's foreign ministry to express concern with the separations.
China's largest city of Shanghai says it will soon begin lifting lockdown in communities that report no positive cases within 14 days after another round of COVID-19 testing. https://t.co/PZ8yOMM5QN

— The Associated Press (@AP) April 9, 2022
Shanghai COVID cases keep rising, food supply problems persist https://t.co/FJPuuLbYZS pic.twitter.com/g1qzkb1Jes

— Reuters (@Reuters) April 10, 2022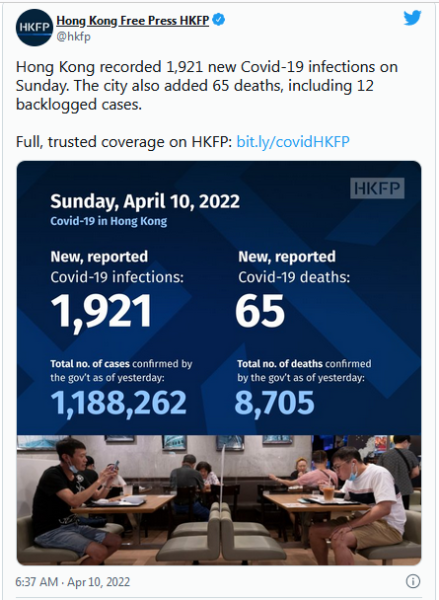 The team, tasked with transferring dead bodies to mortuaries, handled 2,200 corpses over the past month. As of Thursday, Hong Kong has recorded 8,557 Covid-19 deaths since the epidemic began. pic.twitter.com/e9af30TC81

— Hong Kong Free Press HKFP (@hkfp) April 8, 2022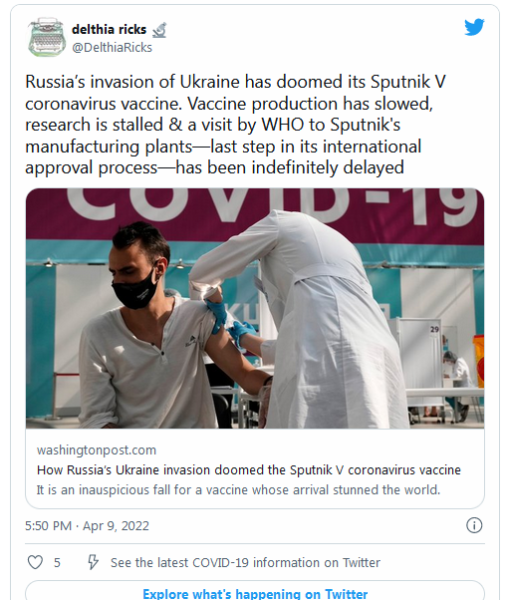 ======
Your home test is negative, but could you still have Covid? If you have symptoms but get a negative home test result, you may need to keep taking precautions and test again (and again) https://t.co/r9fB9aPdPt

— delthia ricks ? (@DelthiaRicks) April 10, 2022
How to improve heart health after Covid: Evidence suggests Covid survivors have substantially higher chances of developing cardiovascular disease. But experts say there are effective ways to minimize the risk https://t.co/bLAHp47xSF pic.twitter.com/HlnTp5s8vd

— delthia ricks ? (@DelthiaRicks) April 10, 2022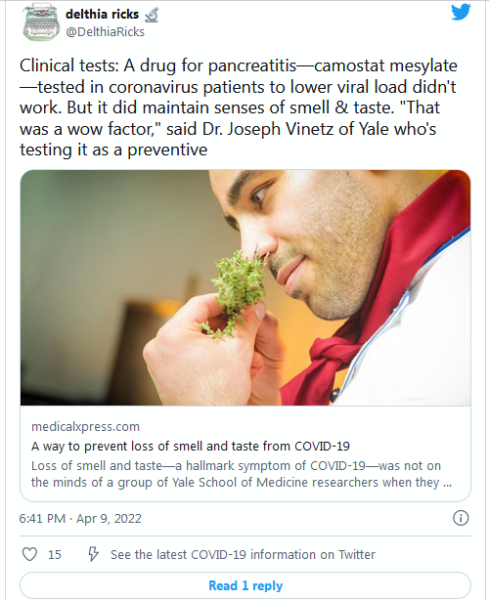 New crop of COVID-19 mRNA vaccines could be easier to store, cheaper to usehttps://t.co/mKvzjccS7C

— Global Health Observ (@GlobalPHObserv) April 9, 2022
======