Innocently killed Ukrainians for whom "tomorrow" will never come.
Video from the "Volunteer Animation of Ukraine".#RussianWarCrimes pic.twitter.com/VTwbVwa0Dn

— Oleksandra Matviichuk (@avalaina) April 6, 2022
I'm going to keep tonight's update very brief.
To update from last night, I've seen reports that Russian soldier Aleksey Bychkov has been arrested or detained in Russia. I've yet to see a legitimate news source in any EU country or the US confirm this yet. I'll keep an eye out and update if/when more information becomes available.
Here's the latest British MOD update: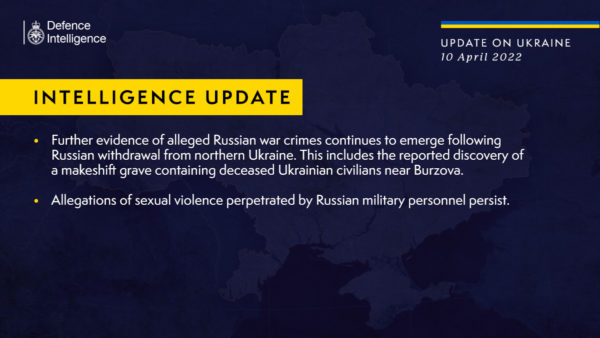 And here's the latest map of the theater by the British MOD: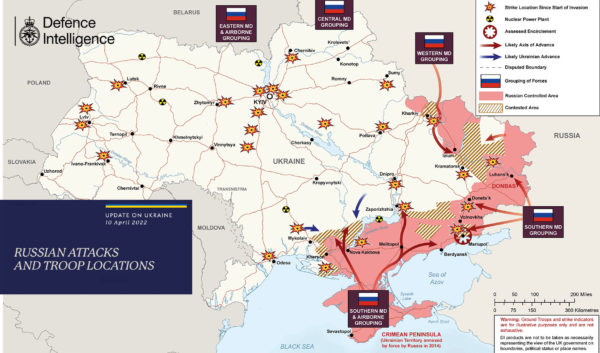 Still not a lot of movement as both the Russians and the Ukrainians are racing to get their forces in place for the coming campaign in the south and east.
This is excellent news from the Lithuanians:
More details here in Lithuanian https://t.co/KJqWkeeBCs

— Samuel Ramani (@SamRamani2) April 10, 2022
More after the jump:
Everyone's favorite nutbag investor turned Internet troll, Elon Musk, has decided that in addition to trying to remake Twitter in his own image for fun and profits, especially profits, that he'd try his hand at war profiteering. From The Washington Post:
Elon Musk's SpaceX to dispatch their Starlink terminals to the region to boost Internet access. "Starlink service is now active in Ukraine. More terminals en route," Musk replied to broad online fanfare.

Since then, the company has cast the actions in part as a charitable gesture. "I'm proud that we were able to provide the terminals to folks in Ukraine," SpaceX president Gwynne Shotwell said at a public event last month, later telling CNBC, "I don't think the U.S. has given us any money to give terminals to the Ukraine."

But according to documents obtained by The Technology 202, the U.S. federal government is in fact paying millions of dollars for a significant portion of the equipment and for the transportation costs to get it to Ukraine.

On Tuesday, the United States Agency for International Development (USAID) announced it has purchased more than 1,330 terminals from SpaceX to send to Ukraine, while the company donated nearly 3,670 terminals and the Internet service itself.

While the agency initially called it a "private sector donation valued at roughly $10 million," it did not specify how much it is contributing for the equipment or for the cost of transportation. Sometime after the announcement, the agency removed key details from its release. It now states that USAID "has delivered 5,000 Starlink Terminals" to Ukraine "through a public-private partnership" with SpaceX but does not specify the quantity nor value of the donations.

USAID agreed to purchase closer to 1,500 standard Starlink terminals for $1,500 apiece and to pay an additional $800,000 for transportation costs, documents show, adding up to over $3 million in taxpayer dollars paid to SpaceX for the equipment sent to Ukraine.

In a letter to SpaceX last month outlining the deal, the USAID mission director to Ukraine said the terminals would be "procured" and sent on behalf of USAID by a third-party contractor, which would "arrange for transportation and delivery of the equipment" from Los Angeles International Airport to Ukraine via Poland.

The letter said the nearly 3,670 terminals donated by SpaceX would come with three months of "unlimited data." In addition to the more than 1,330 terminals that USAID confirmed it had purchased, the agency earlier agreed to buy a separate 175 units from SpaceX, according to the documents.

On Thursday, USAID spokesperson Rebecca Chalif said in a statement that the "delivery of Starlink terminals were made possible by a range of stakeholders, whose combined contributions valued over $15 million and facilitated the procurement, international flights, ground transportation, and satellite Internet service of 5,000 Starlink terminals."

The agency declined to answer questions about how much USAID funding is going toward buying and transporting equipment for Ukraine, referring them to SpaceX. SpaceX did not return a request for comment on the arrangement and the specific financials of the deal.

It is also unclear whether the price the U.S. government is paying for individual Starlink units matches their typical market price.

USAID is paying $1,500 for each standard terminal and the accompanying service, documents show. According to the Starlink website, a standard terminal set costs $600, while the monthly service charge costs $110, plus an additional $100 for shipping and handling.

According to The Verge, Starlink recently unveiled a separate premium service that prices the equipment at $2,500 and the monthly Internet charge at $500, but it remains unclear whether that is what Ukraine has received. SpaceX did not return a request for comment on the pricing.

The revelations show that while SpaceX appears to have donated a significant sum to Ukraine's cause, it has done so with public assistance.

The United States and other countries have paid to send much of the known equipment to Ukraine. The transportation costs USAID has paid to ship the 5,000 terminals exceeds $800,000, according to the documents. French officials confirmed they also helped with transportation.
Much, much more at the link!
I'm a defense and intel contractor/consultant. I understand how this all works. I have no problem with Musk donating a bunch. I have no problem with him also then turning around and selling a bunch of them when the donated number was insufficient. What pisses me off, what is absolutely waste, fraud, and abuse, is the charging the US taxpayer almost three times the price for the units compared to what would have happened if the government had just ordered them at retail!
The nicest thing you can say about Musk is that he's not as bad as Peter Thiel, Mark Zuckerberg, or Jared Kushner.
Exiled Belarusian opposition leader, and likely rightful Belarusian president, Sviatlana Tsikhanouskaya is trying to bring down Lukashenko's regime in Minsk.
It might have seemed that life could not have got any worse for the people of Belarus, long Europe's most repressive country. Then, in February, their homeland was used by Vladimir Putin as a launchpad for his assault on Ukraine, turning them into unwilling accomplices in his bloody and increasingly disastrous war.

Belarus's jails have since filled with even more political prisoners — there are now as many as 4,000 by some counts — while the brutal regime headed by Aleksandr Lukashenko, 67, in power since 1994, has taken to airing confessions by "saboteurs" beaten and even kneecapped by police.

Yet Sviatlana Tsikhanouskaya, 39, the opposition leader seen by many as the rightful winner of the rigged August 2020 election that gave Lukashenko a sixth term as president, sees cause for optimism amid the misery and bloodshed. The war, she believes, could give a final push to the veteran Belarusian strongman — helped by an underground "partisan" war that is beginning to be waged against his government.

"Lukashenko is in a very fragile and weak position," the former interpreter and teacher told me last week from Vilnius, the capital of neighbouring Lithuania, where she is rallying opposition to his rule. "He's a puppet of the Kremlin, a vassal; he's an accomplice, a collaborator.

"For 27 years he played West and East, but now he doesn't have a way out of the situation. He could have started talking with his own people and releasing political prisoners and together we could have resisted the pressure from Russia to use Belarusian territory for the invasion.

"Much depends on the outcome of the war," she added, speaking by video link in the near-flawless English she first used when she visited rural Ireland as a 12-year-old, courtesy of a charity that arranged holidays for children from areas affected by fallout from the Chernobyl nuclear plant that enveloped much of Belarus.

"But if the Ukrainians win, as we think they will, it will make his regime much weaker, and there will be a moment when he will have no way out but to give up. There could be different scenarios: people within the nomenklatura [the ruling elite] will see he has lost authority and there could be a coup d'état. Or there could be an uprising by the Belarusian people."
Much, much more at the link.
Mariupol:
Mariupol, Italian street pic.twitter.com/YhKpBEqtjn

— UkraineWorld (@ukraine_world) April 10, 2022
"Mariupol is the heart of this war today. It's beating, we are fighting, we are strong. If it stops beating, our position [at the negotiation table with Russia] will get weaker. People [in Mariupol] have distracted a big chunk of the enemy forces", Zelensky tells AP

— Myroslava Petsa (@myroslavapetsa) April 10, 2022
Hostomel:
One more family was shot dead by russian animals during their evacuation from #Hostomel. Their car was found in the forest. Baby clothes and a pack of diapers inside. A bundle of blanket fell under the seat – that's probably the child #BuchaMassacre #Irpin #WarCrimes pic.twitter.com/wcmFQaUiSZ

— Olena Halushka (@OlenaHalushka) April 10, 2022
Borodyanka:
Borodyanka today. An absolute tragedy pic.twitter.com/OMLF8eoEuv

— Anastasiia Lapatina (@lapatina_) April 10, 2022
Kharkiv:
These children have been living in the Kharkiv subway for 45 days. We must win this war for them too. pic.twitter.com/vo2hAdPPB8

— Maria Avdeeva (@maria_avdv) April 10, 2022
Bucha:
#Bucha.
Exhumation of bodies from a mass grave near St. Andrew Church on its way.
Prosecutor General of #Ukraine says that 67 people were buried in it, most of them have gunshot wounds and shrapnel wounds from explosions by #Russian invaders.#BuchaMassacre #StandWithUkraine pic.twitter.com/0d3FU4jVsA

— Emine Dzheppar (@EmineDzheppar) April 9, 2022
Melitopol:
From The Guardian:
The sun was shining in Zaporizhzhia on Saturday and teams of city workers were out planting flowers on roadside borders. Market stalls were doing a healthy trade in everything from food and drink to electronics, and there were even a few cafes and bars open.

But the frontlines are barely a half-hour drive from this industrial city, and much of the region of which it is the capital is under Russian occupation. Underneath the calm exterior, most people here – and across the southern and eastern parts of Ukraine – are anxious about what lies in wait in the coming days and weeks.

The battle for Donbas will not just be a battle for that territory, it will be a battle for global security," said Ivan Fedorov, the mayor of Melitopol, a city south of Zaporizhzhia that came under occupation in the first days of the war.

Fedorov, who was kidnapped by Russian soldiers and eventually swapped in a prisoner exchange, now works from an office in Zaporizhzhia. After a week in which news of horrific war crimes in Bucha and other small towns near Kyiv has shocked the world, Fedorov's demeanour in an interview with the Observer was characteristic of a new Ukrainian resolve to continue fighting the Russian assault.

"We should not talk about half measures. Today, all the red lines are crossed. Thousands of peaceful citizens have been killed," said Fedorov, frequently breaking off to field calls on two different phones about continued evacuations from occupied Melitopol.

He reacted angrily to a question about whether Ukraine should still attempt to negotiate a peace settlement: "Bucha has been obliterated, fucking obliterated. And you think we're going to agree to half measures?"

This sentiment is widely shared and suggests the battle for Donbas could be long and bloody, involving a more focused and determined Russian attack force, as well as a rejuvenated and vengeful Ukrainian army, fighting on terrain where the war has been continuing for the past eight years.

Fedorov said cities such as Zaporizhzhia and Dnipro had the advantage of having time to prepare for a spirited defence. "Melitopol wasn't ready," he said.

The Russian army took control of Melitopol and a number of other cities in the south of Ukraine in the first days of the war without much of a fight. A few days after the Russians took over Melitopol, a group of armed men Fedorov assumed were from Russia's security services arrived at his office and said he could keep working as long as he accepted Russian control over the city.

"They said Melitopol is Russia, and that we could keep doing what we were doing, but we should recognise that they are now in charge of the security of the city," he recalled.

Melitopol is a largely Russian-speaking city and many people there, including Fedorov, have relatives in Russia. But he said the vast majority of the city is now solidly pro-Ukrainian, and this has only intensified since the Russian invasion.

Fedorov, and almost everyone in his team, refused to cooperate with the Russians, he said, leading them to become ever more irate, especially when demonstrators with Ukrainian flags began taking to the streets.

"These rallies were the final straw for the Russians and they decided to take me prisoner. In broad daylight, they came to the social assistance centre we'd set up on the first day, where we gave out food and clothes, tied my hands together and put a bag over my head, and marched me out," he recalled.
Much, much, much more at the link!
NEW: Russia is sending an 8-mi long convoy of 100s of vehicles, including armored vehicles and artillery southbound through the Ukrainian town of Velykyi Burluk.

The convoy is moving about 60 mi east of Ukraine's 2nd-largest city of Kharkiv, as ?? focuses on Donbas.

?:@Maxar pic.twitter.com/4EJRHSQZvk

— Jack Detsch (@JackDetsch) April 10, 2022
I expect that not all of them will arrive alive.
I'm waiting for confirmation from Cole, but it seems that Steve may have joined the International Legion!!!!
— Anastasiia Lapatina (@lapatina_) April 10, 2022
And we'll finish with this:
In one of the liberated villages, a dog found #Ukrainian soldiers and brought them into the house, to their puppies, to be fed. pic.twitter.com/PUg4fUPs7Z

— NEXTA (@nexta_tv) April 10, 2022
Open thread!