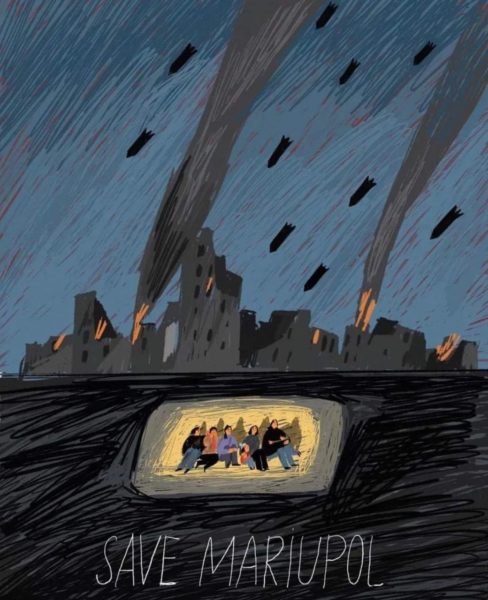 We begin tonight with Mariupol above the jump. Earlier today reports began to circulate that the Russians had used a drone to deliver a chemical weapon attack on the Azov Regiment in Mariupol, where the regiment is most likely making its last stand. However, there is no independent confirmation yet, largely because there are no independent, verifiable reporters left in Mariupol because the Russian occupiers either killed them or ran them out.
While we are waiting for an official confirmation, here's a reminder that Russian puppets have been advocating for the use of chemical weapons against Ukrainians in Mariupol earlier today https://t.co/x5F0XFUtZM

— Olga Tokariuk (@olgatokariuk) April 11, 2022
While there are no trusted journalists in Mariupol, Russian propagandists are working there. So we can expect them boasting of their new achievement soon… And of course, blaming the Ukrainians. Just saying it for the record – hoping to be wrong
From The Kyiv Independent:
Ukraine's Azov regiment said on April 11 that Russia had used a poisonous substance against Ukrainian troops in Mariupol, a besieged port on the Sea of Azov.

Azov leader Andriy Biletsky said that three people have clear signs of chemical poisoning. He added that there are no "disastrous consequences" for their health.

The claim followed a call by Russia's proxies in the Donbas to use chemical weapons against Azov.

If confirmed, this is the first known use of chemical weapons by Russia during its aggression against Ukraine. Western leaders have pledged to step up their response to Russian aggression in case of a chemical attack.

Azov said that the poisonous substance had been distributed by a drone. Its victims have shortness of breath and vestibullocerebellar ataxia, the regiment said.

Earlier on April 11, Eduard Basurin, a spokesman for Russia's proxies in Donetsk, made a statement on Russia's attempts to capture Mariupol's well-fortified Azovstal steel mill, which is held by Azov. Mariupol has been besieged by Russia since late February.

"There are underground floors (at Azovstal), and that's why it makes no sense to storm this object now," he said. "We could have a lot of our soldiers killed, and the enemy won't suffer casualties. That's why currently we should figure out how to block this mill and find all ways in and out. And after that we should ask our chemical forces to find a way to smoke these moles out of their holes."

Russia has falsely accused Ukraine of having chemical and biological weapons programs. Western authorities have said this might indicate Russia's intentions to use weapons of mass destruction and put the blame on Ukraine.

Both U.S. President Joe Biden and NATO Secretary General Jens Stoltenberg have said that the use of chemical weapons by Russia would be a red line and fundamentally change the nature of the conflict.
More at the link!
The question, of course is, if this can be confirmed, whether or not it actually leads to anything happening from the US and our NATO and non-NATO allies. The Biden administration has avoided taking a stand on the issue.
The Biden administration official is steering clear of defining any use by Russia of chemical weapons in Ukraine as a "red line," a senior administration official told ABC News.

"We learned our lesson" the official said in describing the Obama administration's ineffective response to Syria's use of chemical weapons in 2012.

Instead, the administration is considering a new round of economic sanctions against Russia as a potential response should Russia use chemical or biological weapons in Ukraine, according to a senior administration official.

A senior administration official told ABC News that the U.S. would most likely respond to Russia's use of chemical and biological weapons "with dramatically stepped-up" sanctions that could target Russia's gold reserves or Russian leadership.

However, the official noted that developing additional rounds of sanctions might be difficult to put into play given the wide range of international sanctions against Russia that have been put in place since Russia's invasion.
Much, much more at the link.
Based on the reporting, we're going to keep doing what we're doing, which is clearly not deterring Putin from doing whatever it is he wants. All the while patting ourselves on the back for our restraint as we fight Putin to the last Ukrainian.
Just a quick note about the Azov Regiment. From The Jewish Telegraphic Agency (emphasis mine):
(JTA) — Konstantyn Batozsky believes he is on a list of so-called "neo-Nazis" to be rounded up "Gestapo-style" and "exterminated" by Russian forces seeking to enter Kyiv.

Batozsky, a Jew from eastern Ukraine, said he was informed about the "bounty on his head" by Ukrainian intelligence sources. But as a longtime and avowed Ukrainian nationalist who has collaborated with an paramilitary group that has a reputation for including extremists, he knows that it's people like him that Russian President Vladimir Putin was talking about when he cited a need for "denazification" as a pretext for invading his country.

"I have been staying underground away from my apartment where the Russians will try to find me," Batozsky said from a makeshift bunker preparing for what appears to be an imminent invasion as bombs rained down outside the city center.

"I am happy that I'm alive," he reflected, as he coordinated efforts to get much needed supplies to the Ukrainian army. "It now feels like every day could be the last."

Initially cheerful in the early days of the war as the Ukrainians were surprisingly resilient against the much bigger Russian army, Batozsky now sounded more worried. And angry.

"The Russians are advancing and the West is not helping. Just words are not enough," he lamented. Batozky pleaded for Western countries to intervene militarily.

Among those taking up arms for the first time as volunteers for the civilian army include Jews like Batozsky, who was passionately devoted to the Ukrainian national cause in his native Donetsk years before Russia decided to wage war on the entire country. He was a former advisor to the governor of Donetsk, Serhiy Taruta, now a member of the Ukrainian parliament.

It might seem perplexing to observers in the United States and beyond that Jews would embrace Ukrainian nationalism, which some of its opponents — including Putin — say is tinged with antisemitism.

"There was definitely a Jewish memory of anti-Jewish pogroms conducted by Ukrainians," said Sergiy Petukhov, Ukraine's former deputy minister of European Integration whose mother and grandfather live in Israel. Also a native of Donetsk, Petukhov describes himself as a Ukrainian with Jewish ancestry, "like our current president," he said, referring to Volodymyr Zelensky.

Ukraine's history of antisemitism go far beyond pogroms. In their efforts to exterminate Jews, the Nazis were significantly aided by Ukrainians during World War II, according to several historians.

More recently, some of the initial paramilitary fighters against the Russian-backed takeover in Ukraine's east, such as the Azov Battalion, were extremists and ultranationalists who displayed Nazi symbols. 

"I know it's hard for Jews abroad to understand, but these actions were intended as anti-Russian, not anti-Jewish," Petukov said. "And when it comes to those supporting Ukrainian sovereignty and culture, this is really a tiny element."

Now part of the national guard, the battalion of 900 to 1,500 members publicly claims to eschew all Nazi ideology.

Batozsky said he worked closely with the Azov Battalion during the 2014-15 conflict behind the scenes as a political consultant in Donetsk. It is this work, and his outspoken defense of Ukrainian efforts to defeat the separatists, that he says put him on the Russian hit list — and also that makes him confident that Russian charges of neo-Nazis in Ukraine are inaccurate.

"They were soccer hooligans and wanted attention, so yeah, I was shocked when I saw guys with swastika tattoos," he said about the Azov members he got to know. "But I talked with them all the time about being Jewish and they had nothing negative to say. They had no anti-Jewish ideology."

He insists that the image of Ukraine as a hotbed of antisemitism is absurd.

"I don't practice, but still everyone knows I am Jewish — I have such a Jewish face! And I never experienced antisemitism from Ukrainians," he insisted. "The military guys I am working with now really don't care that I am a Jew."

He does not have similar feelings towards his Russian neighbors. "I did have a Jew-hating Russian first-grade teacher who mockingly called my long hair payos," recalled Batozky, using the Hebrew term for the long sidecurls kept by many Hasidic men. And he said he heard more slurs against Jews from Russians Moscow State University, which he attended in the 1990s, then he ever heard back home.

Daniel Kovzhun, a Jew from Kyiv who ran logistics during the war in Donetsk for paramilitary units, described a similar experience.

"There were Orthodox Jews in Azov," he said. "I know because I was there on the battle lines. No one cared who was Jewish, we cared about keeping our country together."

Like Batozsky, Kovzhun, who lived and studied in Israel before returning to Kyiv, has joined the newly formed civilian army in Kyiv, the Territorial Defense Forces — an overnight volunteer force that has attracted Jewish fighters across the country, and even from abroad.
Much, much more at the link!
Much more after the jump.
I'm just going to deal with a couple of quick items that popped up in comments last night or have become recurring in the comments. The first was in response to my including the reporting on Musk's war profiteering and was in regard to what was going on between Musk and Twitter.
Musk, who is the subject of several ongoing SEC investigations, filed the wrong paperwork for his purchase of Twitter shares. He also filled the wrong paperwork out wrong too and filed it late. What he filed was the paperwork for someone who is just buying general shares, though a lot of them, but has no intention of being an activist investor. Meaning trying to either get on the board or take over the company. And Musk has a history of this, it is what he did with Tesla. He purchased it, forced out the owners, and took it over. Twitter's response was to put him on the board. The reason for this is that as long as he was on the board he is not permitted to try to take over the company and force the current owners/leadership out. Basically Twitter's current leadership was trying to block Musk. Musk, being Musk, immediately began acting like he had, in fact, taken over the company and was now running it. All the details on this are in these two threads from NYcitysouthpaw, which can be found here and here. Here's a very quick visual explainer of the announcement from earlier today that he was not joining the board today:
A lot of people seem to have trouble parsing through corpo / legal / PR speak, so here's a helpful guide to the only two parts of this statement that matter: pic.twitter.com/k2lV2jV5Sh

— Dr. Bhaskar Ⓥ (@xbhaskarx) April 11, 2022
What I expect we'll see now is a full fledged push by Musk to buy more shares of Twitter and then do what he's really good at: taking over the company, pushing the current leadership out, and remaking it in his own bugfuck nuts image.
The second item I want to just briefly deal with is Rene Girard. For those not following along in the comments, he keeps coming up. Girard was a French epistemologist/philosopher of science/knowledge and a philosopher of language. Basically he did deep exegesis on the foundational texts of the ideas that interested him and then attempted to deconstruct and explain them in his own writings on the topic. He is best known in American academia for his late 1980s book on religious violence entitled The Scapegoat. Girard's basic thesis is that all of human behavior is based on learning through observation beginning when one is an infant. Basically mimicry. He refers to this as mimetic theory and in The Scapegoat he posited that all socio-political violence, whether religious or not, was mimicry rooted in the biblical tales of scapegoats – Cain, Longinus/the Wandering Jew – which are themselves rooted in the concept of Azazel the Passover/paschal scapegoat, and that they are used as a societal and political steam release safety valve to lower the pressure that would otherwise blow up the entire political, social, religious, and/or economic system of a given state and/or society.
Unfortunately, Girard is very hard to read. Part of that is because he wrote in his native French and then had his work translated into English and those translations are thick and hard to get through. As a result, his biggest American academic proponent, Mark Jurgensmeyer who wrote an article attempting to use Girard's thesis and then a decade later a book attempting to explain religiously based terrorism, doesn't understand Girard. Frankly, I know Jurgensmeyer and he doesn't understand violence, terrorism, social science, empirical social science theories, and data either, so there may be a deeper issue here. However, Jurgensmeyer is a big deal and for a while Girard was all the rage. I have no idea if he still is, but if you're wondering what these references in comments are about, now you know.
And people wonder why I left academia…
Here's today's British MOD assessment: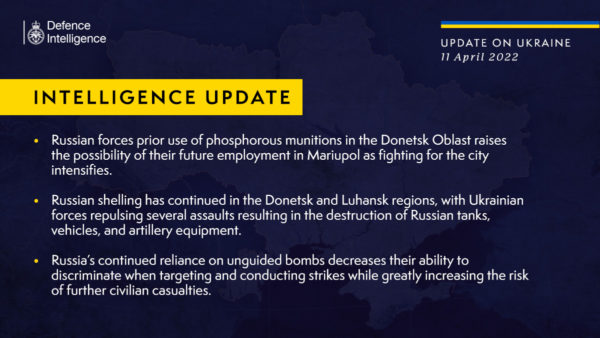 And here's their latest map update: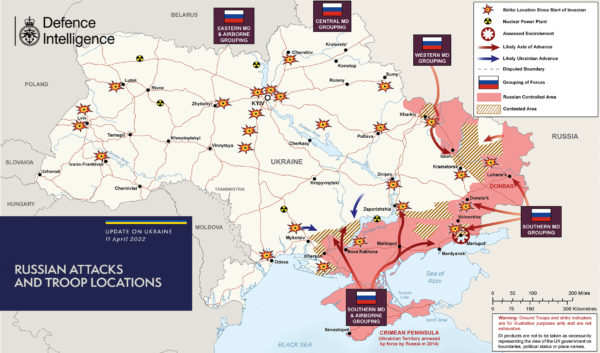 Not too much change again. Though The Kyiv Independent, via their Twitter feed, has reported:
Ukraine's General Staff: Russian troops unsuccessfully try to move further into Ukraine. The offensive operations are taking place in Donetsk Oblast and in the south of Ukraine.
Earlier today Russia warned Sweden and Finland not to join NATO. From the BBC:
Kremlin spokesman Dmitry Peskov told reporters that "the alliance remains a tool geared towards confrontation".

It comes as US defence officials said Moscow's invasion of Ukraine has been a "massive strategic blunder" which is likely to bring Nato enlargement.

US officials expect the Nordic neighbours to bid for membership of the alliance, potentially as early as June.

Washington is believed to support the move which would see the Western alliance grow to 32 members. US State Department officials said last week that discussions had taken place between Nato leaders and foreign ministers from Helsinki and Stockholm.

Before it launched its invasion, Russia demanded that the alliance agree to halt any future enlargement, but the war has led to the deployment of more Nato troops on its eastern flank and a rise in public support for Swedish and Finnish membership.

Finnish MPs are expected to receive a security report from intelligence officials this week, and Prime Minister Sanna Marin said she expects her government "will end the discussion before midsummer" on whether to make a membership application.

Finland shares a 1,340km (830 miles) long border with Russia and has been rattled by the invasion of Ukraine.

And Sweden's ruling Social Democratic party, which has traditionally opposed Nato membership, said it is rethinking this position in light of Russia's attack on its western neighbour. Party secretary Tobias Baudin told local media that the Nato review should be complete within the next few months.

"When Russia invaded Ukraine, Sweden's security position changed fundamentally," the party said in a statement on Monday.

But Moscow has been clear that it opposes any potential enlargement of the alliance. Mr Peskov warned the bloc "is not that kind of alliance which ensures peace and stability, and its further expansion will not bring additional security to the European continent".

Last week Mr Peskov said that Russia would have to "rebalance the situation" with its own measures were Sweden and Finland to join Nato.

And in February Maria Zakharova, Russia's foreign ministry spokeswoman, warned of "military and political consequences" if the countries joined the bloc.
Much more at the link.
I'm not thrilled with announcing it now, but having a sixty to ninety day delay before joining. Putin's standard operating procedure in regard to any European nation not in NATO seeking to join NATO, especially ones that Russia believes it has some historical claim to, is to start a conflict with them. Which then puts NATO's policy about not being able to accept members that have ongoing border disputes into effect. All Putin has to do is stick a couple of companies of Wagner's little green men on the borders, cause some trouble, and do some nice, low key operations and Finland, Sweden, and NATO will suddenly have a major problem. By doing so he either shows NATO to be hypocritical vis-a-vis Ukraine and Georgia if they go ahead and admit Finland and Sweden under those conditions or he achieves the blocking function and prevents them from joining NATO. Either way he wins.
More from Mariupol:
The Mariupol garrison is having it extreme now.
Our guys are all alone, in a besieged ruined city, defending the last pockets next the main fortress, the AzovStal plant.
The situation not seen in Europe since Wold War II.
But the Azov Sea Steel is still holding on… pic.twitter.com/QAW8EKblbi

— Illia Ponomarenko ?? (@IAPonomarenko) April 11, 2022
"Mariupol is the heart of this war today. It's beating, we are fighting, we are strong. If it stops beating, our position [at the negotiation table with Russia] will get weaker. People [in Mariupol] have distracted a big chunk of the enemy forces", Zelensky tells AP

— Myroslava Petsa (@myroslavapetsa) April 10, 2022
All my thoughts today are with Mariupol and its defenders. Russia has turned Mariupol into a hellscape and a graveyard just because it is a Ukrainian city. This video is painful to watch, but just imagine what people in Mariupol are going through. #StopRussianAgression pic.twitter.com/535CYuJ6Pa

— Maria Avdeeva (@maria_avdv) April 11, 2022
Buzova: (WARNING: THIS IS UNSETTLING!!!!)
"Let me see! Let me see! SON!!!"
Add #Buzova near Kyiv to the long list of Russian atrocities in #Ukraine.#RussianWarCrimes #StandWithUkraine #ArmUkraineNow @RusBotWien @RusBotschaft pic.twitter.com/fMo2a7YR9G

— olexander scherba?? (@olex_scherba) April 11, 2022
Bucha:
BUCHA, Ukraine — A mother killed by a sniper while walking with her family to fetch a thermos of tea. A woman held as a sex slave, naked except for a fur coat and locked in a potato cellar before being executed. Two sisters dead in their home, their bodies left slumped on the floor for weeks.

Bucha is a landscape of horrors.

From the first day of the war, Feb. 24, civilians bore the brunt of the Russian assault on Bucha, a few miles west of Kyiv, Ukraine's capital. Russian special forces approaching on foot through the woods shot at cars on the road, and a column of armored vehicles fired on and killed a woman in her garden as they drove into the suburb.

But those early cruelties paled in comparison to what came after.

As the Russian advance on Kyiv stalled in the face of fierce resistance, civilians said, the enemy occupation of Bucha slid into a campaign of terror and revenge. When a defeated and demoralized Russian Army finally retreated, it left behind a grim tableau: bodies of dead civilians strewn on streets, in basements or in backyards, many with gunshot wounds to their heads, some with their hands tied behind their backs.

Reporters and photographers for The New York Times spent more than a week with city officials, coroners and scores of witnesses in Bucha, uncovering new details of execution-style atrocities against civilians. The Times documented the bodies of almost three dozen people where they were killed — in their homes, in the woods, set on fire in a vacant parking lot — and learned the story behind many of their deaths. The Times also witnessed more than 100 body bags at a communal grave and the city's cemetery.

The evidence suggests the Russians killed recklessly and sometimes sadistically, in part out of revenge.

Unsuspecting civilians were killed carrying out the simplest of daily activities. A retired teacher known as Auntie Lyuda, short for Lyudmyla, was shot midmorning on March 5 as she opened her front door on a small side street. Her body lay twisted, half inside the door, more than a month later.
Much more at the link including lots of pictures.
Chernihiv:
All the bridges to Chernihiv had been blown up in heavy Russian bombing and the city was under a crippling siege but Tanya still managed to sneak out on a rowing boat through a secret route and head to Kyiv.

The 54-year-old only narrowly escaped death.

As she was scrambling onto the opposite bank of the Desna river, which cuts through the city, shelling struck nearby. She only avoided being shredded to pieces thanks to a nearby trench.

The aim of the dangerous journey was to help evacuate a group of elderly people but also to reach the capital to register and start fundraising for her new charity, which aimed to feed the bombarded city. To do this, she crept across the river, crossed the front line and weathered shelling and shooting – a daring undertaking she went through all over again on the way back from Kyiv.

Her task was urgent. People in Chernihiv were not only in danger of dying from a fierce air assault, but hunger and thirst. Tanya, an entrepreneur in her pre-war life, together with a pair of restaurant business owners and the head of a local charity in the city, worked out how to pool and maximise supplies within the city, and then later, how to sneak some in.

At one point they even dug a well to service thousands of people, with an industrial drill sourced from inside the city, despite everything being bombed and there being no electricity. They located and repurposed generators – also left behind – using their own car batteries for power.

"I was warned it was very dangerous but I took my chance," says Tanya about her odyssey to Kyiv. She describes how the bodies of civilians who had been killed while fleeing littered the waters of the river.

"When I got to the other bank, we were heavily shelled. I was shelled on the way back too. But it was essential to get this charity up and running. People's lives were at stake."
Much, much, much more at the link!
Here's a machine translation excerpt of the absolutely astonishing piece from Dmitry Trenin who is the director of the Carnegie Center for International Peace's Moscow Center, Zhena Gogolya checked it for me and provided some commentary, which is in the brackets.
[Three important words here are "rossiiskii," "russkii," and "derzhava." "Rossiiskii" and "russkii" are both translated as "Russian," but rossiiskii refers to Rossiia, the state, not to the Russian ethnicity. "Derzhava" is translated by the machine as "power," but it means "power" in the sense of "powerful state," not power as strength or force, which would be "sila." So I'm keeping these three words in Russian to avoid confusion.]

The core of the rossiiskii civilization-derzhava are russkii people, with their language, culture, and religion, but the ethnic element within the framework of a unified civilization is not the defining element. On the contrary, the russkii community is open and accepts into its composition freely and on an equal basis not only individual representatives of other ethnicities but these ethnic groups as a whole. Tatars, Yakuts, Chechens, and the numerous ethnic groups of Dagestan can be and are russkii. Orthodox Christianity is the religion of the majority, but the tradition of religious tolerance allows for the peaceful coexistence and interaction of the basic indigenous confessions: Orthodoxy, Islam, Buddhism, and Judaism. The unified state ensures peace, well-being, and development in the huge territory from the Baltic to the Sea of Japan and from the Arctic to the Caspian Sea. It is precisely the common derzhava that is the most important value for this complex civilization.

But the state itself is based on a system of values without which it will collapse. The Rossiiskii Empire fell apart not so much under the influence of the difficulties of the World War as from the loss of faith and trust of the supreme power [vlast']. The Soviet Union perished not so much as a result of shortages of goods in the stores as from the falsity of the official ideology, which departed more and more from real life.

For our current state to remain stable it must be "reissued" based on the principles of freedom and responsibility, social solidarity, administrative competence, practical partnership [he uses the word that usually means "complicity," like in a crime, but I don't think that's what he intends] in governing, including the taking of the most important decisions.

In this connection the narod [Volk; no English equivalent because "people" is plural] of modern Russia must rethink itself and its country, figure out the bases of its self-consciousness and worldview, and determine where the russkii path should lead. Only under such conditions can the aims of policy as well as strategy and the means of their attainment be determined. The sum total of these aims, strategies, and means, can be united by the concept of the russkii idea. In short, one may designate the russkii idea as the Russkii truth — the basis of the worldview and the codex of fundamental principles, the central support of which is the imperative of justice.

Alongside justice, the central part of the russkii idea is the principle of equality. Russians do not consider themselves a chosen people, they don't have the idea of themselves as an exceptional phenomenon. Russkiis are not special, they keep themselves on the same level as the representatives of other peoples, not higher, but also not lower. The russkii colonial experience was in principle a different one than that of the Western Europeans. In the Rossiiskii Empire, russkiis did not have a higher position than "inorodtsy" [people of other ethnicities within the Russian Empire; this statement is so ridiculously false], and in the Soviet Union the national republics enjoyed various privileges and preferential economic conditions of which the Russian Soviet Federated Socialist Republic was deprived. At the same time, russkiis are not willing to accept being led by someone else. In russkii culture there is no place for racism [HAHAHA], and anti-Semitism — both by the state and in everyday life — was considered a shameful, reprehensible phenomenon. [hahaha] Russkii culture itself is open to the external world, its influences, which are adapted in a creative russkii reworking. [this is bad Dostoevsky]

Thus justice, equality, openness, and adaptability — while preserving inner integrity — make the russkii idea a reliable spiritual guide also for developing a strategy of foreign policy, especially in a period of a change in the world order. The russkii idea opens up the broadest possibilities for mutual understanding, respectful dialogue, and reasonable agreements with the presence of goodwill on both sides. As an idea of inner justice, external sovereignty, and peaceful good-neighborly coexistence, it may be appreciated by other peoples and civilizations.

Here we must emphasize that the russkii idea is intended precisely for russkii civilization, and not as an export product for the rest of the world. The attempt to formulate the idea in a universalist mode, as the associates of Mikhail Sergeevich Gorbachev did when they elaborated their new political thinking, is hopeless from the start and therefore senseless. The global world, in which the diffusion of the Western model has reached insurmountable limits, is more and more diverging into civilizational platforms, where each civilization has its own idea. The russkii idea will affect the rest of the world by the very fact of its realization in russkii society and in the policy of the Rossiiskii state.

One does not have to invent the russkii idea, it must be rethought for the modern stage of development. German communism, and then American neoliberalism, obscured for many generations of russkii people the legacy of our own philosophers, writers, and historians — from Pushkin and Chaadaev to the Slavophiles and Westernizers to the religious philosophers and Eurasianists. Now this legacy of the past, which we have in many ways not worked through, is in particular demand in order for our meditations on the past and future to acquire depth. This is not about returning in our thoughts and actions to a hundred or two hundred years ago, but about finding a reliable foothold for our movement forward.
If you want to read the rest click across and use your browser's/operating system's machine translation program to read it.
Here's a fascinating thread about what may or may not be going on in Belarus:
A few words about the resistance of Belarusians to the Russian aggression in Ukraine.

Thread. pic.twitter.com/IUY8MxbfO4

— Pavel Slunkin (@PavelSlunkin) April 10, 2022
1/ After 2020 and an unprecedented wave of repressions, several hundred thousand people have left Belarus. Thousands are in prison for political reasons (see the map) [Adam here: click the tweet above to see the map and other graphics in the thread.]

2/ Torture and beatings that shocked the world in August 2020 have not disappeared. They have become even more cruel and large-scale. Some political prisoners tried to kill themselves right during the trial: by slitting their stomach or piercing neck with a ballpoint pen

3/ The last mass protests were crushed back in January 2021. Propaganda/state TV calls for the killing of opponents. However, Lukashenka has not become more popular (having about 30% support). His power rests on Kremlin's support, loyal police and nomenklatura + total repression

4/ In 2021, civil society was almost completely destroyed in Belarus. Even organizations that were involved in protecting the rights of disabled people, ecology and biodiversity were liquidated. Leaders arrested or fled.

5/ In such conditions, the war found Belarusian society. The illegitimate Lukashenka has made Belarus a co-aggressor state, and its citizens are seen as traitors and occupants by the international community.

6/ Independent polls show that only 3% of Belarusians want the Belarusian army to enter the war with Ukraine on the side of Russia.

7/ Since the beginning of the war, more than 1,500 people have been arrested for anti-war actions. A broad partisan movement has revived in Belarus, which has been a symbol of the country since WW2. Partisans risk their lives. Some of them are shot, others are arrested

8/ This is a map of railroad sabotage actions. The partisans have been blocking the movement of Russian military equipment to Ukraine by rail. Russia had to switch to air transport because of this

9/ Belarusian cyberpartisans attack databases and train management systems, websites of state institutions, etc.

@cpartisans

10/ Belarusians massively share information about the deployment and movement of Russian troops and equipment. Information about the departures of Russian war planes is immediately published. This allows the Ukrainian air defense systems and the army to be ready for attacks

11/ Several Belarusian battalions are fighting for the freedom of Ukraine. They are the first national battalions in the Ukrainian army. Belarusian soldiers died, including defending Bucha.

12/ Belarusians have created dozens of initiatives to support the Ukrainian army and Ukrainian refugees. Thanks to them, the Ukrainian army has received some new vehicles and weapons, they help refugees financially and provide medical, psychological support and service assistance

13/ An important feature is that these initiatives are predominantly in exile since 2020. They are led by the same people who have proven themselves 2 years ago.

14/ But even inside Belarus, despite police persecution, Belarusians help Ukrainian refugees: they provide them with free services, help with housing, evacuation to the EU, and collect money for them.

15/ Anti-war sentiment and resistance actions are one of the reasons why Lukashenka has not yet sent the Belarusian army to Ukraine. End.
I did not like John Mearsheimer's body of work when I had to read him in grad school. I did not like his body of work when I had to teach it. And the more experience I've gotten working in national security I've liked his body of work less and less.
John Mearsheimer, speaking 4 days ago, questions
Russia's responsibility for civilian deaths in Ukraine: "You talked about Putin targeting civilians, or the Russians targeting civilians. It's obviously very hard to tell what's exactly happened here." https://t.co/IiEasn0IzQ 1/5

— Dylan Primakoff (@DylanPrimakoff) April 11, 2022
"But with that caveat in mind, you want to remember that the Americans have been pushing to arm civilians in Ukraine and to tell those civilians to fight against the Russians. So by definition, in lots of the firefights that have taken place and will take place…" 2/5

"Russians are going to be fighting against civilians because those civilians are fighting against the Russians. So just remember, this is a very complicated business." It should go without saying – this is disturbingly detached from the reality of this war under discussion. 3/5

These comments show that Mearsheimer is either unaware of or rejects the exhaustively documented reports of widespread Russian atrocities against unarmed Ukrainian civilians. It seems that whatever information he is getting about this conflict is seriously off base. 4/5

There are reasonable disagreements about the general explanatory value of Mearsheimer's theories, but I think this inexcusable denial of the unambiguous facts of Russian war crimes in Ukraine and completely discredits his broader analysis on this conflict. 5/5

If anything, the context makes it even worse. Another speaker made a passing remark earlier in the panel about Russia targeting civilians, and Mearsheimer apparently felt the need to return to the issue in his closing remarks to "set the record straight."
Tell me you don't know anything about Irish or European history without telling me you don't know anything about Irish or European history!
This video shows why Eastern Europeans have been so frustrated for years with Western Europeans who just don't understand what Russia is & how it works.

Irish MEP tells a Bulgarian MEP in the European Parliament that peace can only come through diplomacy. pic.twitter.com/nQKtgBNi3R

— Visegrád 24 (@visegrad24) April 10, 2022
We are, apparently, having some issues with where we stand on dealing with Russia's war crimes in Ukraine. From The New York Times (emphasis mine):
WASHINGTON — The Biden administration is vigorously debating how much the United States can or should assist an investigation into Russian atrocities in Ukraine by the International Criminal Court in The Hague, according to officials familiar with internal deliberations.

The Biden team strongly wants to see President Vladimir V. Putin of Russia and others in his military chain of command held to account. And many are said to consider the court — which was created by a global treaty two decades ago as a venue for prosecuting war crimes, crimes against humanity and genocide — the body most capable of achieving that.

But laws from 1999 and 2002, enacted by a Congress wary that the court might investigate Americans, limit the government's ability to provide support. And the United States has long objected to any exercise of jurisdiction by the court over citizens of countries that are not part of the treaty that created it — like the United States, but also Russia.

The internal debate, described by senior administration officials and others familiar with the matter on the condition of anonymity, has been partly shaped by a previously undisclosed 2010 memo by the Justice Department's Office of Legal Counsel. Obtained by The New York Times, the memo interprets the scope and limits of permissible cooperation with the court.
Much more at the link!
The Office of Legal Counsel should be required by law to post each and every one of its memos, which function as a shadow system of laws/legal system for the Executive Branch, so that everyone can know what a bunch of unelected people have determined the law is or is not despite what the law actually says!
Your daily bayraktar:
The #Russian Ka52 helicopter blasted at a Russian airbase by #Ukrainian TB-2 Bayraktar Drones. pic.twitter.com/aG187UxRyF

— Daily Turkic (@DailyTurkic) April 8, 2022
And your daily Bayraktar:
— Oriannalyla ?? (@Lyla_lilas) April 10, 2022
Open thread!