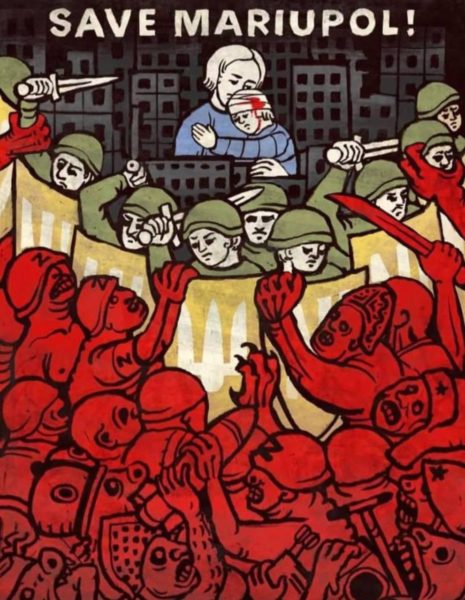 (Image found here; artist unknown)
We're going to start again this evening in Mariupol. This morning reports started coming out that elements of Ukraine's 36th Marine Brigade, which has been fighting from within Mariupol, had run out of ammunition, other supplies, and, as a result, were surrendering. Reporting in The Daily Beast both clarifies and complicates what is going on.
Ukrainian marines defending the besieged city of Mariupol from Russian forces have issued a desperate video appeal, saying they have run out of supplies and feel "forgotten" as they prepare to fight to the end.

"We have not given up our positions. We have held every bit of this city as much as we could. But the reality is that the city is blockaded and surrounded—and no supply of ammunition or food has come. We have held out until the end," one of the men in the 36th Marine Brigade says in the video shared on Facebook.

"We are grateful to every Ukrainian who believed and continues to believe in the marines. We've held on for so long with this faith. We have not abandoned our positions. We have remained loyal and will remain loyal always," he said.

While vowing to continue the fight, he painted a dire picture of the situation on the ground, saying the marines are trapped at an industrial plant in the city.

"For over a month, the marines fought without replenishment of ammunition, without food, without water, drinking from a puddle and dying in batches," he said.

"No one wants to talk to us anymore, we are forgotten," he said.

The devastating video comes amid reports that a British volunteer fighting with the Ukrainian marines had surrendered to Russian forces. Aiden Aslin, 28, had been fighting alongside Ukrainian troops since 2018, but reportedly told his family back home they had "no weapons left" after fending off a full Russian takeover for weeks.

Mariupol's mayor, Vadym Boichenko, told the Associated Press on Tuesday that more than 10,000 civilians have died in the city since Russian forces moved in.
Here's the video with partial translation by The Kyiv Independent's Olga Tokariuk:
'Till the end… Ukraine, Europe, the world… We believe in victory, we believe until the end': Ukrainian marines, surrounded in Mariupol, recorded this emotional video. They are besieged, outnumbered, unable to get weapons, but they are still holding, almost two months in ? https://t.co/NY4mI31VHC

— Olga Tokariuk (@olgatokariuk) April 12, 2022
Based on The Daily Beast's reporting, what appears to have happened is that the members of the 36th Marine Brigade made their video as an appeal for relief and resupply and vowing to fight on. At the same time a British member of the brigade, Aiden "Johnny" Aslin, who tweets as CossakGundi, put out his own statement that he was surrendering and it all got conflated together. Here's Christopher Miller's response with a link to his reporting on Aslin:
Here's my interview with Aiden, known to many as Johnny. And photo of him from January in Pavlopil, by @Kiehart. https://t.co/HkU0xBb3ed pic.twitter.com/ktKjdnveJx

— Christopher Miller (@ChristopherJM) April 12, 2022
As of right now I've seen no reporting indicating the Ukrainian Marines have surrendered. Hopefully the Ukrainian Ministry of Defense will find a way to get their Marines some resupply despite Mariupol being besieged and partially occupied by the Russian military.
The Azov Regiment is still in Mariupol and is still fighting, which brings me to the second part of tonight's update regarding Mariupol. Here is a thread by Dan Kaszeta, who is a chemical, biological, radiological, and nuclear (CBRN) warfare subject matter expert with his take on what is going on with the alleged chemical weapons attack on the Azov Regiment:
THREAD #Ukraine #Mariupol
Was there a chemical attack? What was it?

Well, let me say this about that (1/n)

— Dan Kaszeta ?? (@DanKaszeta) April 12, 2022
First thing, I'm instituting what I call the Ghouta rule. I'm over-run by queries and questions. I can't get to all of them. If answer you, it's because you're very lucky or very unlucky.

We still have a paucity of information. It is legitimately difficult to assess these situations remotely, particularly when we largely have second-hand or third-hand reports rather than actual evidence from the scene

Even if we did have video of, say, sick people, it is proper difficult to do telemedicine. Some of you are literally asking me to be a doctor and do a diagnosis remotely. This is perilous

Rather a lot of you are jumping straight to nerve agents and even a specific diagnosis of Sarin. Cut that out. That's dangerous. It's dangerous because if someone gives nerve agent drugs to someone who isn't a nerve agent casualty, it will make them worse or kill them

Nerve agent antidotes are specifically that. They are not some kind of universal chemical agent antidote.

Back to the alleged incident. Let's look at what we have as our thin basis of evidence.

We have a witness account citing a drone. (Q: Do we have a picture or video of the drone?) We don't know if the drone was actually involved or coincidental.

We have a handful of sick, but not dead, Ukrainian soldiers. They've had difficulty breathing and ataxis. This does not tell us much. People leaping onto nerve agent diagnosis from this presentation of signs and symptoms are way off

The phrase "vestibulo-atactic syndrome" has been bandied about with much evident authority, but my opinion right now is that's a quite advanced medical diagnosis. Q: Did someone put some signs and symptoms into Google and come up with that phrase?

What we really have is people being dizzy. What we don't have is signs and symptoms (and any kind of medical diagnostics) that narrow the investigative focus to chemicals, let alone a specific chemical warfare agent.

For us to get to a conclusion that a chemical weapon was used, we need a few things that are missing at this point.

First things first, we need to look at differential diagnosis. Rather a lot of you are running around saying that you hear zebras, whereas there could be horses, which are more common

Let's look at the place. It's a steelworks. There's lots of scope in an industrial setting for conventional or incendiary weapons to cause chemical problems because of fires and explosions.

Also, look at the broader environment. Mariupol is one big toxic burn pit at the moment. Somehow we're supposed to assume that one small drone payload of something is tragically unhealthier than the rest of this mess of an environment

It is, in fact plausible. But it's also plausible that we have a classic problem of smoke and flame and modern industrial materials (plastics etc) burning all over the damned place.

Second, we do not have any actual description of the alleged chemical. Is it a powder, a liquid spray, a mist, a gas, a vapour? Does it smell? Does it have a colour?

The answer I get was that it was invisible and odourless. This raises the question – how do you know it was there or tie it to the drone?

Without environmental and/or biomedical samples, this will always remain an unknown.

By the way, I'm not accusing anyone on the scene of lying. It's just that chemical attacks are, in fact, a rare thing, and people might not know what to expect or look for or what smart questions to ask on the spot.

The fog of war is real. And this is a swamped yet fragile information space. It's a front in an information war

By going all apeshit on Twitter about a vague and ill-defined incident, you've all just demonstrated how CW is more an information weapon than a battlefield weapon.

Now, I'm still waiting for someone to tell me how making a few soldiers sick actually wins the battle for the Russians. I'm trying to work out a cost/benefit equation here and somethings missing.

I've got to go. I will be mobile much of the day. I will add to this thread.

I just got this in. Unconfirmed at this point. This very much points away from nerve agents by the way.
Much more after the jump.
Here's the latest British Ministry of Defense update: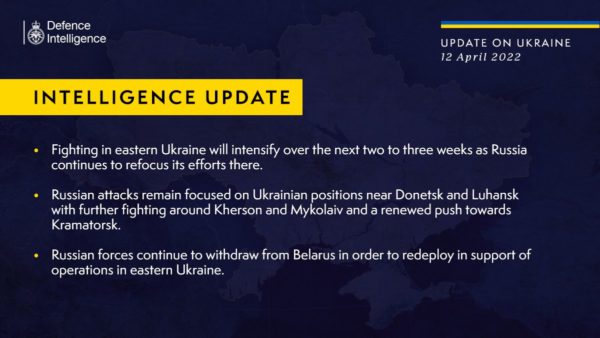 And here's the latest British Ministry of Defense map of where everything is in the south and east of Ukraine: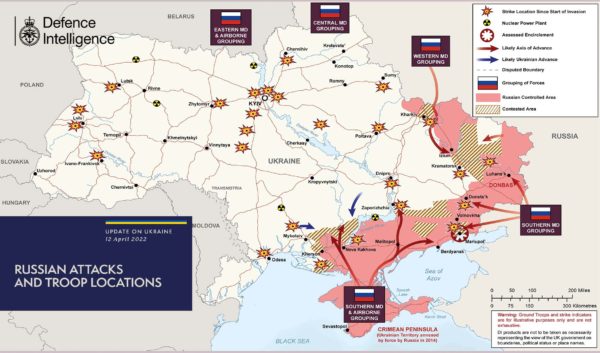 Here's the transcript of the DOD's backgrounder briefing from earlier today:
SENIOR DEFENSE OFFICIAL: Okay, good morning, everybody. Sorry I'm a little bit late.

I don't have a whole lot of updates today from yesterday, so I'll just, rather than go through everything, I'll just tell you what I can update you on.

We're up to more than 1,540 missile launches. Air strikes continue to be focused on Mariupol and the Joint Force operation area there to the east, and Donbas.

The convoy that we've been talking about is still north of Izyum about 60 kilometers or so, and we do assess that it's moving, but not at breakneck speed. No updates for — I don't have the number of vehicles. I don't know how fast they're traveling. I don't know what's in every truck, but I still would characterize it the way I characterized it yesterday. It includes some command-and-control elements, some enablers and we think it's also intended for resupply, perhaps an effort to amend their poor performance and logistics and sustainment in the north. But again, we don't really have a whole lot more information about what's in that thing.

There is still heavy fighting around Izyum right now, and Russian forces do remain south of Izyum, again, about 20 kilometers or so, which is not a huge change from where it was before. I don't have an update on number of BTGs that are in the east and the south. Nothing to update you from yesterday. It's about the same, and let's see —

I think that's it, so we'll get the questions because I've got a hard stop at 11 o'clock, so Bob, on to you.

Q: Thank you, Let's see — on the issue of a possible — of white phosphorus or some sort of chemical agent that has been reported the last couple of days, do you have any update on what your assessment of that is?

SENIOR DEFENSE OFFICIAL: Yeah, no updates. You saw my brief statement last night. I think that statement holds today, that we're still trying to monitor that — these reports, but we cannot confirm the use of chemical agents at this time. We're still evaluating.

SENIOR DEFENSE OFFICIAL: Yup.

Tom Bowman?

Q: Yeah, on this convoy, presumably, we believe they're heading to Izyum, is that right? And also, are the Ukrainians attacking this convoy at all, or is this kind of open ground that makes that difficult? And also, what's the Russian combat power, what percentage? I think one of the last times we talked, it was like 85 percent.

SENIOR DEFENSE OFFICIAL: Yeah. So we would assess that Russian assessed available combat power — and again, I want to remind you guys that that's of the combat power that they preassembled before their invasion. We estimate that they're just above 80 percent in terms of what's left of them.

Yes, the convoy's north of Izyum. I don't know its final destination, but I would remind that, you know, with the spring weather they have to stay on the paved roads. They're staying on highways and avenues. They're not going off-roading here. So we do assess them about 60 kilometers north of Izyum, and they are moving south. Now, whether Izyum is it, I just don't know.

Q: And as far as —

SENIOR DEFENSE OFFICIAL: No, and I have not seen — we haven't seen indications that the Ukrainians have attempted attacks on the convoy yet.

Q: Okay, thanks.

Dan Lamothe?

Q: Hi, good morning. Thank you.

Wanted to see if we could maybe get some explanation on the challenges that go with confirming this kind of report in Mariupol with the chemical agents in light of the security, the challenges to get soil samples, anything else, you know, outsiders might use to try and confirm something like this.

SENIOR DEFENSE OFFICIAL: Yeah. I mean, well, the biggest challenge is we're not there, you know. And we don't know if anything was used.

But let's say for hypothetical purposes, and I hate doing this, but let's say it was riot control agents. So the effects are going to be felt pretty immediately, and probably not widespread, probably not going to get into the soil. And the symptoms,depending on an individual's susceptibility, could be short-felt or it could be more long-term, we just don't know. And we don't have access to the hospitals that might have treated these individuals to talk to the doctors who could give a diagnosis.

I mean, there's a host of difficulties. If it was something larger than that then, of course, you would expect to see more widespread people being hurt and being treated for it. And again, that would require you to have some dexterity in talking to medical professionals.

Or if there was, again, something even bigger you, you know, a plume for instance of a cloud or something that you could track. But those are very difficult to track when you're not there. They're certainly not something you can just track easily from, you know, from the air. So these are difficult things to prove even when you are more proximate, and we are not.

And so I think you can understand we want to be very careful here before making a proclamation.

That said, look, we know that the Russians have a history of using chemical agents. And they have shown a propensity in the past, and so we're taking it seriously.
The rest of the Q&A is at the link!
Russian Bastion Anti-Ship missile unit on the move west of Vyborg.
That road leads to Finland along the Saimaa Canal. It's about 26km from the Finnish border and 7km from the lowest lock of the canal that is rented to Finland.#turpo https://t.co/EY6pwhVH6r

— Petri Mäkelä (@pmakela1) April 11, 2022
Putin has a limited, but up until February, very effective strategic playbook. He uses it over and over and over again and every time, so far, it has worked. When I mentioned last night that I was concerned with the long lead time between the announcement that Finland and Sweden would joint NATO and it actually happening, I wasn't just spitballing. Putin has pulled this off successfully twice before. And the reason he keeps going back to the same playbook over and over and over again is because he is convinced that western states and societies – the US, the EU, NATO, and non EU and non NATO allies, will do what they always do: eventually lose focus, lose their interest, and he'll be allowed, once again, to get away with it. Here's a good explainer on this by Slava Malamud:
The most likely scenario of how all of this develops: Putin switches fully into the "Syria mode." This means total warfare, on the entire territory of Ukraine, via air strikes designed to level entire cities and utterly destroy Ukraine's infrastructure.
He may succeed…

— Slava Malamud ?? (@SlavaMalamud) April 12, 2022
Putin, at this point, must know he can't conquer Ukraine in the traditional military sense. There won't be a parade in Kyiv, Russian tanks won't roll into Lviv, Russian-speakers in Odesa won't be greeting him with bread and salt. So, his goal will be not to conquer, but to crush

The idea is to level as much of Ukraine as is possible, to create chaos, despair, discontent, willingness to end this at any cost. At which point Putin can negotiate for the "brokered peace" that many in the West secretly or openly desire. It's a win for everyone. Except Ukraine.

And democracy. And freedom. And humanity. For everyone else – sure, a big win. Putin gets to annex the east. He gets to make the rest of Ukraine an effective colony/protectorate. He gets to declare victory and proclaim himself the savior of Russia. He gets monuments everywhere…

The West gets to lift the sanctions and keep making money. Hoping that they have satisfied Putin's ambitions. Which they won't. Because the rest of Ukraine, once properly "demilitarized", will be ripe for annexation. And then – why not? Poland, Finland, the sky is the limit.

All he'll need is for Trump, Le Pen, other friendly politicians to finally dismember NATO. This can be achieved within a few years, given favorable election results. This is the long game. The short game: Ukrainian cities buried in rubble. Ukrainian people dead, mutilated, raped.

The price that, he hopes, the West will pay to put Russia out of its mind & go back to making money. His bet is on Western corruption and decadence. He knows he can make Russians endure all hardships for The Glory of the Motherland. They will eat tree bark and praise Dear Leader.

They have done this before, many times. But the West, in his estimation, is beholden to fickle voters who value their comfort and don't much care for what's beyond their borders. Western politicians are weak, cowardly and only want to avoid conflict and crises…

They will negotiate. They will let him take his lap. They will hope he is satisfied. This is the plan. And you don't need a genius to see it. The only question that remains: is Putin right?
There are two differences this time though. The first is President Zelenskyy who has been masterful with his public diplomacy of naming and shaming to try to keep the coalition providing Ukraine support in line.
Not least among Zelensky's accomplishments thus far has been his spotlighting and shaming of all the European enablers of the Kremlin through his unvarnished form of diplomacy. https://t.co/zphqOq0dlD

— Michael Weiss ????? (@michaeldweiss) April 12, 2022
From CBS News:
Zelenskyy said Ukraine needs more sanctions imposed on Russia, and more military aid from allies, who should be less fearful of Putin.

"Weapons, number one. They need to be very serious about it. They definitely understand what I'm talking about right now. They have to supply weapons to Ukraine as if they were defending themselves and their own people. They need to understand this: If they don't speed up, it will be very hard for us to hold on against this pressure. The second factor is sanctions. Because we've found some things in sanctions that are easy for financial experts to circumvent. Russia has been circumventing them, and this is absolutely true. The Western world knows it. This shouldn't be allowed. This is not a movie, this is real life. Stop fearing the Russian Federation. We've shown we are not afraid."

Zelenskyy's chief of staff, Andriy Yermak, told Pelley that he asked the Biden administration for heavier weapons – tanks and jets – and for them to be delivered fast.

"If we receive this support in time, we will win," Yermak said.

A White House official told 60 Minutes that Yermak received a "yes" to his requests, but filling those orders takes time. The Ukrainians also need Russian-made weapons that they already know how to use.
The second is President Biden.
Biden: I called it genocide because it has become clear that Putin is just trying to wipe out the idea of even being able to be a Ukrainian pic.twitter.com/h4SBfDQuFW

— Acyn (@Acyn) April 12, 2022
Here's Zelenskyy's reply:
True words of a true leader @POTUS. Calling things by their names is essential to stand up to evil. We are grateful for US assistance provided so far and we urgently need more heavy weapons to prevent further Russian atrocities.

— Володимир Зеленський (@ZelenskyyUa) April 12, 2022
Ukraine is in massive need of basic military resupply. All the high tech stuff is getting a lot of attention, but the reality is that the basics are in short supply and the campaign in the Donbas is imminent!
I can confirm that volunteers and charity organizations in Ukraine are still raising money for things such as night vision equipment and tactical medicine kits for Ukrainian military. The Western assistance is clearly not sufficient https://t.co/WVd5H4nWlu

— Olga Tokariuk (@olgatokariuk) April 12, 2022
Here's the rest of Mohov's thread:
We are requesting heavy equipment because it would make a larger, strategic difference, but our Western allies have not provided enough of *anything*. Radios. Night vision and thermal optics. Rangefinders. Drones. Combat boots. Tourniquets. Grenades. Binoculars. Battle sights.

I am saying this as someone who receives dozens of requests for things like uniforms, socks, knives, tents, backpacks, canteens, scalpels, flags for bomb squads, tactical headphones, medkits WEEKLY without even officially being a part of any fund that helps the army.

So, when I hear from German politicians that they have reached some sort of limit in help for Ukraine, knowing that all these things and more have been requested and re-requested on absolutely every level, it sounds like a cynical joke. Sounds like they sided with Putin.

And this is the type of reply we get whenever we bring this up. Also on all levels. Just for your information.

The sense of entitlement is going to destroy Ukraine. Keep in mind: Absolutely no one owes Ukraine anything. Ukraine is the only one responsible for defending Ukraine and they have neglected that and failed themselves. The less grateful Ukraine is the less it gets and deserves.

Often, it's been the opposite of charity: it's been sabotage. I think the electorate of these politicians deserves to know this. It's frequently the case of countries BLOCKING purchases of necessary equipment by Ukraine. For cash money. They don't let us buy stuff.
The result is attempts to crowdsource basic military supplies:
You deserve to know where your donations went.

And if you haven't contributed yet, there's still time. This is far from over and there are still lives to be saved.

— Scott Greenfield (@ScottGreenfield) April 12, 2022
One of the problems here, from small arms and ammunition to large ones is that Ukraine is still using Soviet bloc style weaponry. NATO's stockpiles of side arms, carbines, rifles, and the ammunition for it is all standardized. Essentially 9mm parabellum ammunition and handguns chambered for it and 5.56 NATO rifle rounds and the carbines and rifles chambered for it. Ukraine uses the AK pattern rifles, which use 7.62X39mm rounds. Same problem for the big stuff. From The Times of London:
Western countries are ramping up weapons deliveries to Ukraine as the country prepares for an expected Russian push to take Donbas in the east. However, they are struggling to provide weaponry compatible with the country's antiquated artillery units, which date back to the Soviet era, according to reports last night.

Ukraine requires more long-range artillery to target the Russian forces that have been relentlessly shelling its cities over the past six weeks. Nato countries tend to use 155mm calibre while Ukraine's weapons use 152mm.

"The Ukrainians are running out of 152mm ammunition. Where are they going to get it?" Chris Donnelly, an adviser to four former Nato secretaries-general on the Soviet and Russian military told the Financial Times. "No one in the West uses it or makes it apart from the Serbs — and they're on Russia's side."

After being successfully repelled from taking Kyiv, Russian forces are regrouping and moving eastwards for an offensive to take the Donbas region in the east, which sources in the West think will take about a week.

Ukraine is calling for tanks, fighter jets and long-range anti-aircraft missile systems.

"We recognise . . . more advanced weapons will be required," an official from a Nato country told the Financial Times. "We're prepared to go further."

However, the issue is whether to try to source weaponry compatible with Ukraine's ageing systems, or provide newer weapons used by Nato countries that Ukrainian forces may be unfamiliar with and that may require weeks of training.

Some military experts question whether the level of weaponry supplied will be seen as a provocation by Russia.

"Donbas is going to be a big reveal of western intentions," Mathieu Boulègue, senior research fellow at Chatham House in London, said. "As the West expands the types of weapons it supplies, it will stress-test Russian thresholds of tolerance."
Much more at the link!
Another major problem is that Germany keeps blocking weapons purchases. The Ukrainians keep making orders with German weapons manufacturers and suppliers and the Scholz government just keeps telling the companies they're not allowed to fill them.
Which is why this is welcome news!
Ukrainians pilots familiar w/ drone ops would not be "starting from scratch" in learning how to fly them, said @GeneralAtomics spox C. Mark Brinkley.@OMarkarova's people confirm the meet but declined to say what they requested. They want to "surprise Russia on the battlefield."

— Dan Lamothe (@DanLamothe) April 12, 2022
While I'd already seen this thread, Gin&Tonic sent it across and I think it is important we give it a read:
I will describe here who Ukrainians are and why they are resisting. This resistance has very deep historical roots, and are based upon a specific Ukrainian political culture. A thread 0/8

— Volodymyr Yermolenko (@yermolenko_v) April 12, 2022
Ukrainian political culture is bottom-up and very decentralized. It starts from a community, which Ukrainians call "hromada". Hromada – a key word for Ukrainian political philosophy since at least 19th century, f.e. philosophy of Mykhaylo Drahomanov 1/8

Drahomanov, trained as historian of Ancient Greece and Rome, made his philosophy of hromada based upon Greek (Aristotelian) philosophy of a city/polis. For him, politics starts from a local community, state emerges as integration of these communities, "hromada of hromadas". 2/8

This is a sharp difference to Russian political culture which is centralized, and top-down. Unity of Russian politics is possible only around a tsar, a tyrant. In Ukraine, people are always opposed to a tsar. Zelensky is an anti-tsar: too close to the people, "one of us" 3/8

Why Ukrainian army is successful now? Because this decentralized spirit coincides with the Western techniques of military organization that Ukraine has adopted in its cooperation with NATO. Ukrainian mid-level commanders have much more freedom to act than Russian commanders. 4/8

Self-governance reform implemented since 2014 gave more powers to mayors. Mayors showed themselves positively now, organizing defense of cities. Interestingly this brings Ukraine closer to a medieval "princely" times of Kyivan Rus', decentralized community of city-states 5/8

A leitmotiv of Ukrainian literature, historiography, philosophy is opposition to the centralized idea of state and universe. Skovoroda, Shevchenko, Kostomarov, Drahomanov, Ukrainian socialists of early 20th century. The key idea was a) anti-autocracy, b) self-organization 6/8

Also look at the spirit of freedom and emancipation of Ukrainian female writers, from Marko Vovchok to Lesia Ukrainka – female emancipation and anti-patriarchal trend was very early, in 19th century 7/8

to conclude: this freedom-loving, decentralized, anti-tyrannical spirit was in Ukraine for centuries. This is very different from Russia. Naturally, Ukrainians understand that defending this modus vivendi is an existential fight 8/8
I think that's enough for one night. And yes, I'm aware that the Ukrainians scarfed up Medvechuk today and that the Russians scarfed up Vladimir Kara-Murza, but since both of those have gotten a lot of news coverage, I figured I didn't need to cover them in today's update beyond this note.
So we'll finish with your semi-daily Chef Jose Andres:
In the newly liberated city of Chernihiv north of Kyiv, hundreds of people were waiting for the @WCKitchen team today. Need for food is big & almost no aid reaches here…so we brought 1,300 hot meals & 500 bags with 15 kilos of food each for families to cook! #ChefsForUkraine ?? pic.twitter.com/tjmr6EK5Li

— José Andrés (@chefjoseandres) April 12, 2022
Kramatorsk is the end of the railway before occupied territory. And despite a missile strike that murdered 59 civilians, @WCKitchen lead Katya is not leaving. Her mission: to make sure nobody goes hungry as the city prepares for invasion. #ChefsForUkraine pic.twitter.com/cb1JsyaNck

— José Andrés (@chefjoseandres) April 12, 2022
Open thread!