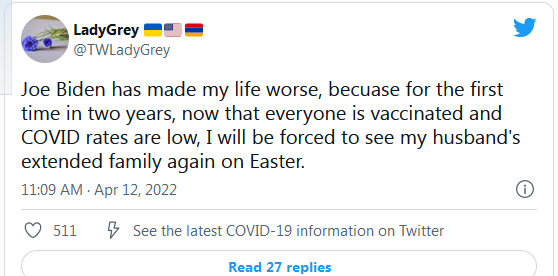 Republicans are pushing to eliminate the emergency declaration on #COVID19 . They are also blocking funding of programs for vaccines, testing and treating the disease.
Here's what happens if they actually lift the Emergency Decl.https://t.co/CjAg3BOacr

— Laurie Garrett (@Laurie_Garrett) April 13, 2022
======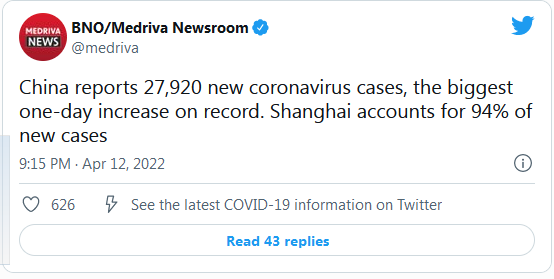 China trying out reduced quarantine for some groups in eight cities – media https://t.co/RnUjOMunGN pic.twitter.com/YgO0D5Jg1q

— Reuters (@Reuters) April 13, 2022
China's financial hub Shanghai warned that anyone who violates COVID lockdown rules will be dealt with strictly, while also rallying people to defend their city as its tally of new cases rebounded to more than 25,000 https://t.co/JnQNbAdyEr pic.twitter.com/rFeAv7pORI

— Reuters (@Reuters) April 13, 2022
Beginning & end of a long, meaty thread:
I'm in Shanghai, like many, I have been in lockdown for weeks (doing okay on food). I don't have any on-the-ground info, so I made a brief timeline of Shanghai's current covid outbreak to keep myself sane and things in perspective [thread]: pic.twitter.com/evVAKA3NTK

— Qin Chen (@QinchenCQ) April 12, 2022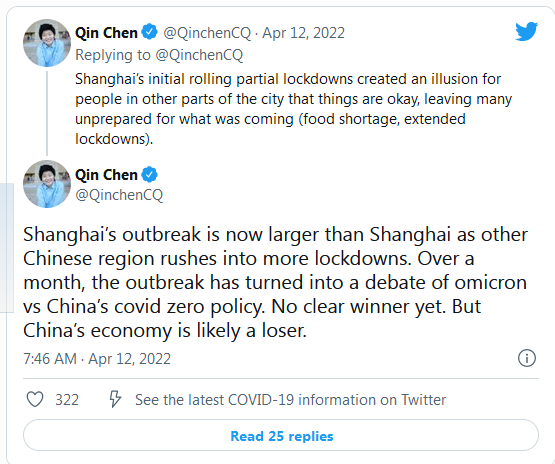 it's also another reason why people often weren't able to store food. You'd have, say, a three-bedroom apartment with 12 people living in it, and one kitchen. Simply not the space for anything other than your immediate cooking needs.

— James Palmer (@BeijingPalmer) April 12, 2022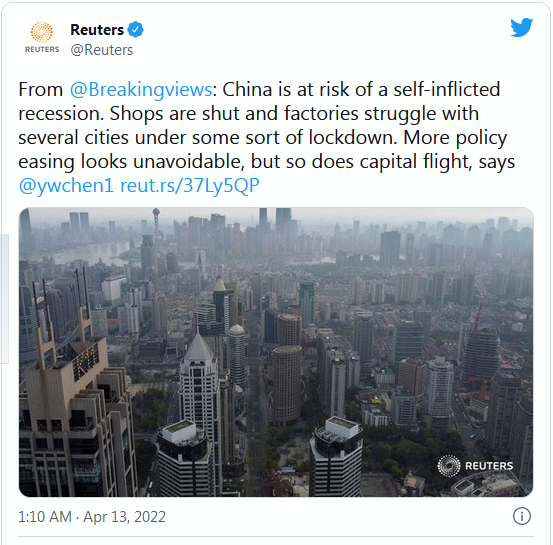 Hong Kong recorded 1,272 new Covid-19 infections on Wednesday. The city also added 62 deaths, including 8 backlogged cases.

Full, trusted coverage on HKFP: https://t.co/w8LTgNgHXy pic.twitter.com/RXPsaU5aHQ

— Hong Kong Free Press HKFP (@hkfp) April 13, 2022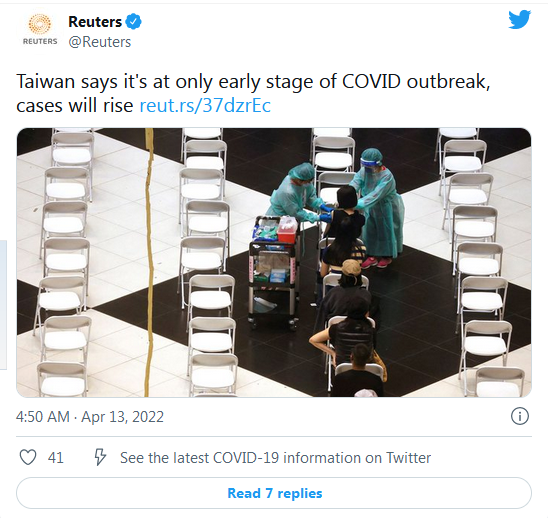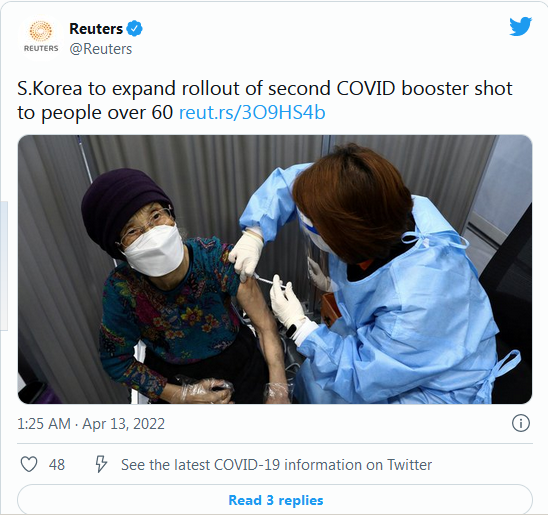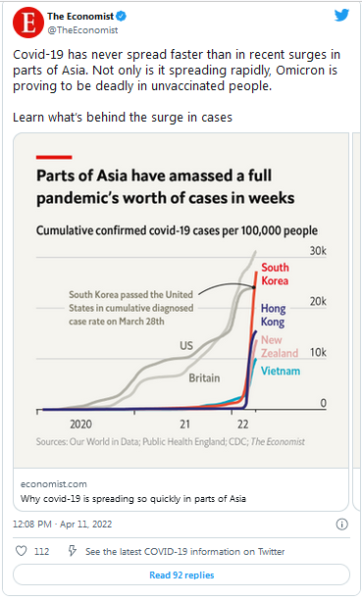 (No) Surprise!
… In Europe Omicron has caused greater increases in cases than in hospitalisations or deaths. Two factors have combined to yield such mild disease: strong immunity levels and Omicron's low severity when compared with Delta. Until recently, it was unclear which mattered more. But the Asian data show that immunity is crucial, and that Omicron is still deadly for unvaccinated people who have not yet had covid.

Hong Kong and South Korea provide a natural experiment. Both were mostly covid-free before 2022, and had little infection-induced immunity. But South Korea has had a strong vaccine roll-out, whereas Hong Kong has had one of the rich world's worst. Its messaging was decidedly mixed, giving equal weight to arguments for and against vaccination, and telling people with chronic diseases to consult doctors before getting jabs. Its nurses worried about personal liability for mishaps.

Hong Kong also made heavy use of Sinovac, a Chinese vaccine that is less effective than Western shots. According to Ming Pao, a newspaper, of Hong Kongers who died in the recent wave, 71% were unvaccinated and another 25% had received Sinovac. Just 4% got Western vaccines.

Unfortunately, Hong Kong's elderly were unusually hesitant. In South Korea take-up of booster shots, which are needed to protect against Omicron, is greatest among the old. In Hong Kong, in contrast, those most likely to get boosted are middle-aged. Just 37% of its septuagenarians and 14% of those 80 or older, the most vulnerable groups, are boosted—similar to the shares among people aged 20-39 and teenagers, respectively. When Omicron first struck, these rates were even lower…

This discrepancy has had a big impact. During the Omicron wave, Hong Kong's official covid mortality rate has been five times higher than South Korea's. These figures can be biased by differences in testing rates and judgments on causes of death. But fair comparisons can be made with excess mortality—the gap between the number of deaths from all causes and the number expected under normal conditions…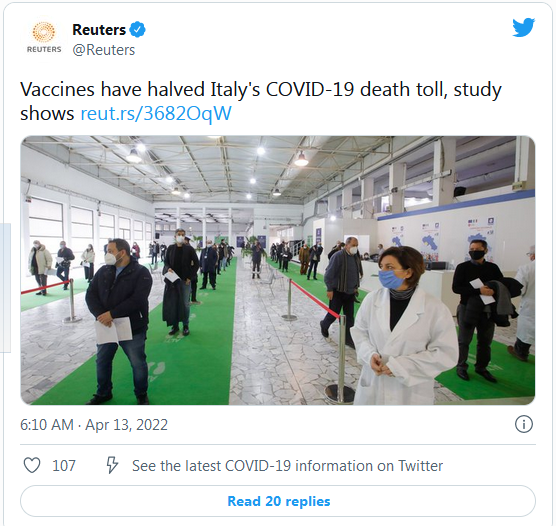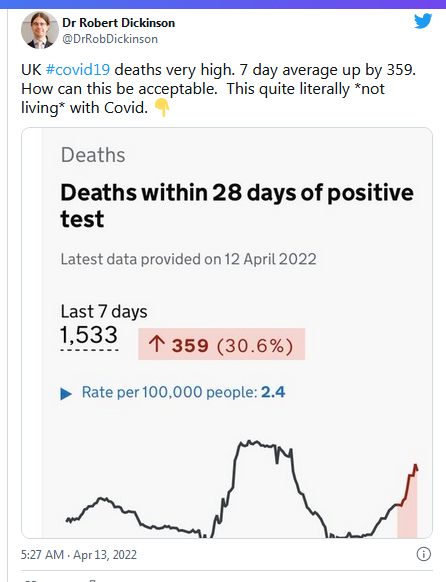 It took me 10 minutes to walk the length of the Covid memorial wall. Over 180k hearts – each a person loved, a life cut short.

These are the reasons why Boris Johnson has to go. A bare-faced liar & screw-you law-breaker who's made utter fools of us all. pic.twitter.com/xjNn9bXIrN

— Rachel Clarke (@doctor_oxford) April 12, 2022
======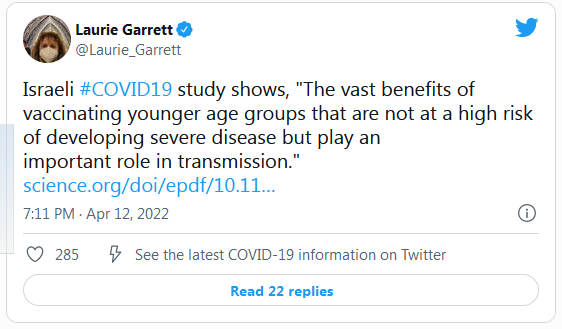 Interesting, *if* the research holds up. (If Delthia Ricks hadn't retweeted this, I wouldn't have paid attention):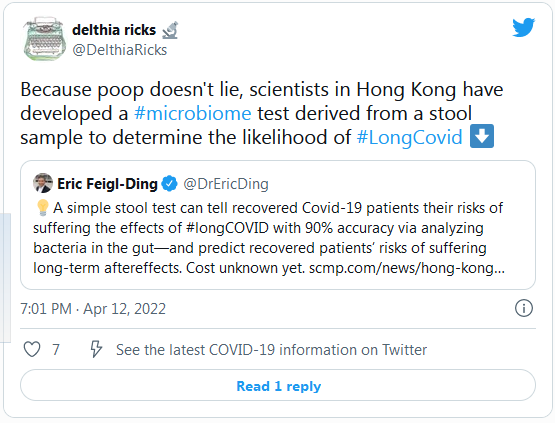 … Ng's team was the first in the world to discover that long Covid patients have a distinct gut microorganism known as a microbiome, with an imbalance in the amount of different bacteria present.

The imbalance may cause a shortage of "good" bacteria linked to the respiratory system, resulting in prolonged coughing and shortness of breath or an abundance of "bad" bacteria linked to fatigue, insomnia and loss of taste.

Ng said it was easy for patients to test their long Covid, with results known in a fortnight.

Patients provide a stool sample for the university's laboratory to analyse. Two weeks later, they are told their test score, produced by an algorithm created from an analysis of more than 1,200 stool samples of healthy individuals, long Covid patients and those with other diseases…

The team previously studied 106 coronavirus patients and found that three out of four developed at least one long Covid symptom six months after recovery, while a third had more than three.

The stool test will be provided initially at CUHK Medical Centre, with details on the cost and when it will be available to be released soon…

In June 2020, the team developed a probiotic supplement called SIM01, to treat the imbalance in gut bacteria caused by Covid-19.

It was tested on 36 infected patients who took the supplement for four weeks, with the outcomes compared with another group that was not given SIM01.

The team found that 94 per cent of those who took the supplement did not show any long Covid symptoms over the following year.

"About 76 per cent of those who did not take SIM01 developed long Covid, while only 6 per cent of those who took SIM01 had long Covid, so I think the prevention application is very promising," she said.

SIM01 has been made into a supplement that is sold by GenieBiome, a CUHK biotechnology spin-off, with a box of 28 sachets costing HK$499 (US$64)…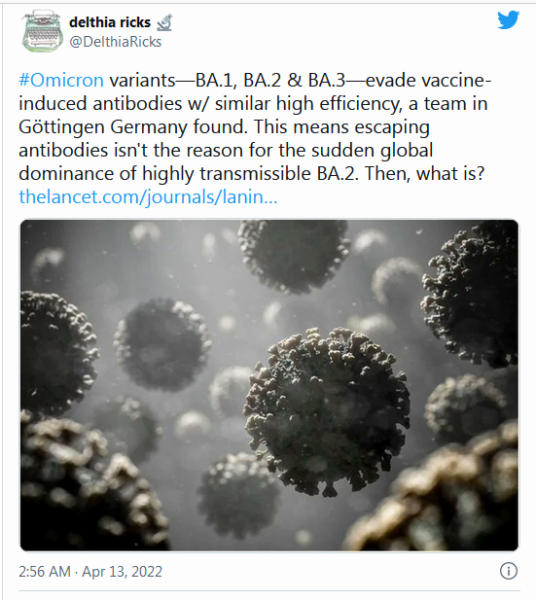 In the lab: They may look like cells & act like cells but a new potential Covid treatment is actually a cleverly disguised decoy that attracts viruses & holds onto them rendering them inactive. Decoy nanoparticles work against original SARSCoV2 & variants https://t.co/RXBasOnSx4 pic.twitter.com/RWCOHx8dat

— delthia ricks ? (@DelthiaRicks) April 13, 2022
======
Coronavirus cases are again climbing in the Northeast as the BA. 2 omicron subvariant — which is even more contagious than its predecessor — becomes the predominant strain in the United States. https://t.co/l2ZZErZMbE

— The Washington Post (@washingtonpost) April 13, 2022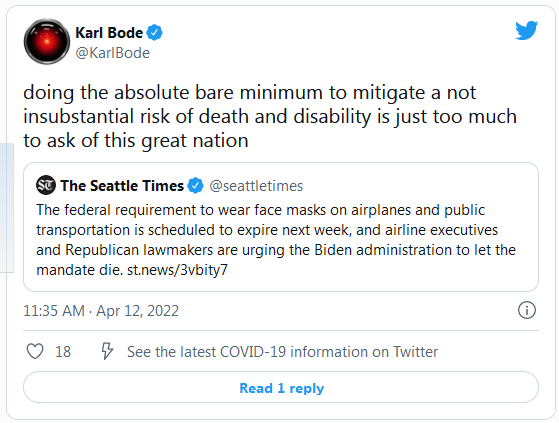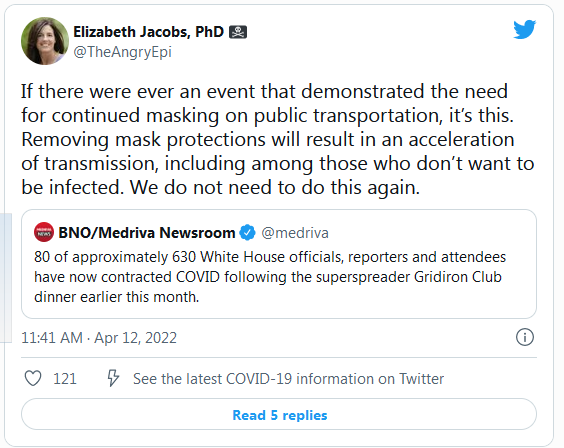 The Ukraine Biolabs conspiracy, boosted by everyone from Tucker Carlson to the Kremlin, did not originate in Russia

It was created by a QAnon supporter who worked at an upscale DC wine bar, before quitting & dedicating himself full-time to conspiracieshttps://t.co/VeiHiwfcYF

— David Gilbert (@daithaigilbert) April 12, 2022
Satan's DNA is trending because a YouTube "documentary" named after the QAnon catchphrase "Watch the Water" is blowing up among antivaxxers.

The documentary claims snake venom and magnets were put in the COVID vaccine to give us Satan's DNA.

It is even more insane than usual. pic.twitter.com/phIsnD6s3p

— Ben Collins (@oneunderscore__) April 12, 2022