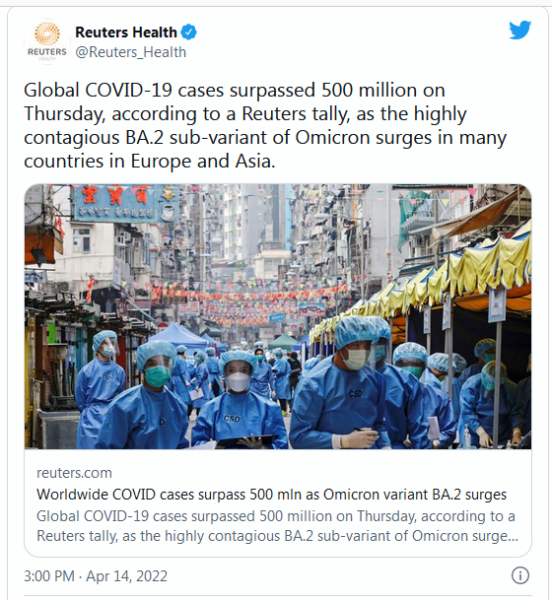 Apparently South Korea keeps good, honest records:
… South Korea leads the world in the daily average number of new cases, reporting more than 182,000 new infections a day and accounting for one in every four infections globally, according to a Reuters analysis.

New cases are rising in 20 out of more than 240 countries and territories tracked, including Taiwan, Thailand and Bhutan.

Shanghai is fighting China's worst COVID-19 outbreak since the virus first emerged in Wuhan in late 2019, with almost 25,000 new local cases reported, although the city's quarantine policy is criticized for separating children from parents and putting asymptomatic cases among those with symptoms…

Some European countries are now seeing a slower uptick in new cases, or even a decline, but the region is still reporting over 1 million cases about every two days, according to the Reuters tally.

In Germany, the seven-day average of new infections has fallen and is now at 59% of its previous peak in late March. New cases are also falling in the United Kingdom and Italy, while they are holding steady in France.

Overall, COVID-19 cases in the United States have dropped sharply after hitting record levels in January, but the resurgence of cases in parts of Asia and Europe has raised concerns that another wave could follow in the United States…

Roughly 64.8% of the world population has received at least one dose of a COVID vaccine, although only 14.8% of people in low-income countries have received at least one dose, according to figures from Our World in Data.

While cases have flared in Europe and Asia recently, the United States still has the highest total COVID infections since the start of the pandemic with 80.41 million, followed by India with 43.04 million and Brazil with 30.14 million…

About 6.5 million people have lost their lives to COVID since the pandemic began. The United States has reported the highest number of deaths, followed by Russia, Brazil and India.

Russia overtook Brazil to have the world's second-highest death toll from COVID-19, data from Russia's state statistics service and Reuters calculations showed on Thursday.
Still less than 30% of Americans have had a booster shot. Summary of all @CDCgov data for benefit vs every adverse Omicron outcome for all ages 18+ https://t.co/ivL3Th5YEv pic.twitter.com/jMCqjCPbf1

— Eric Topol (@EricTopol) April 14, 2022
The outlier, ranked #65 of countries in the world@OurWorldInData pic.twitter.com/j34WV4sifS

— Eric Topol (@EricTopol) April 14, 2022
=====
Covid is far from becoming endemic. For the foreseeable future there will be serious Covid outbreaks globally, according to WHO. The agency's director of emergencies says it's also wrong to think that if Covid suddenly became endemic all problems would end https://t.co/zd0VaPQ4C7 pic.twitter.com/fnOPo8UY1r

— delthia ricks ? (@DelthiaRicks) April 15, 2022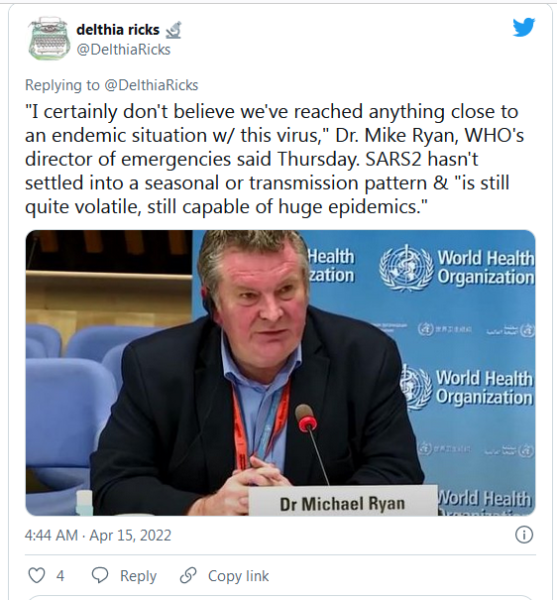 The head of the World Trade Organization told Reuters on Thursday that negotiations on an intellectual property deal for COVID-19 vaccines were ongoing between the four parties, saying they were seeking to agree on the proposal's final terms. https://t.co/MUJwW2d0La

— Reuters Health (@Reuters_Health) April 15, 2022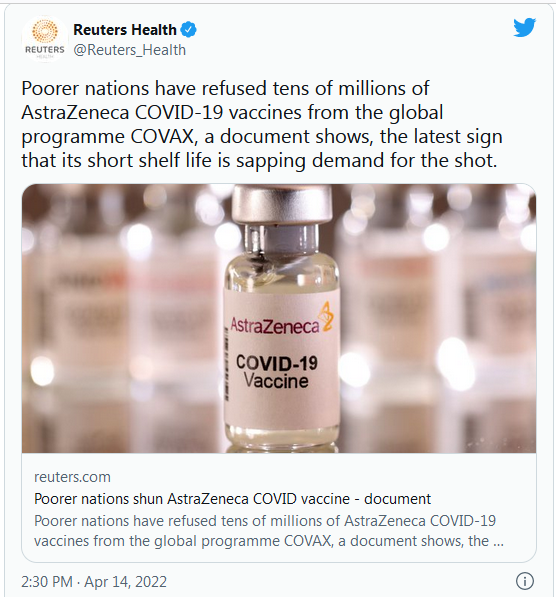 Growing defiance of COVID curbs in China brings wave of arrests https://t.co/qLyAzxne5d pic.twitter.com/gWxR6qtITK

— Reuters (@Reuters) April 15, 2022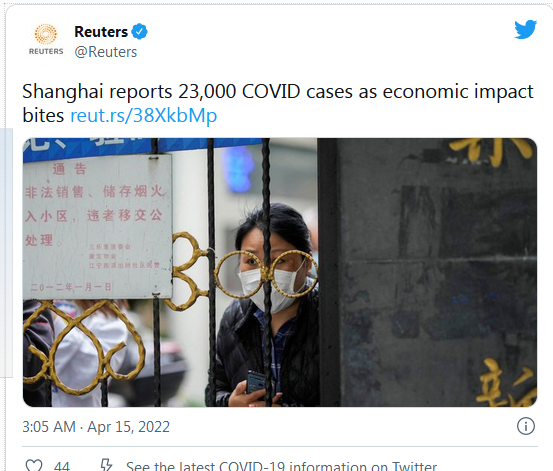 China said on Friday that it will help hundreds of companies in key sectors to resume production in locked-down Shanghai, the commercial capital at the centre of the country'slatest COVID-19 outbreak, as businesses warn of the growing economic toll of restrictions.

The announcement comes as a growing number of business leaders and analysts warn that China's strict "zero-COVID" policy is triggering economic disruptions that are rippling through global supply chains for goods from electric vehicles to iPhones…

Although Shanghai's 23,000 new infections on Friday were down from more than 27,000 the previous day, they included a record 3,200 symptomatic cases, versus 2,573 a day earlier.

Xpeng's Chief Executive He Xiaopeng issued a dire warning for the sector unless the situation improved.

"If the suppliers in Shanghai and its surrounding areas can't find a way to resume operations and production, in May possibly all of China's carmakers will have to stop production," he said on the Wechat social media app…

On Friday the transport ministry announced a national pass system to let cargo vehicles move between higher risk zones without delays, as long as drivers have normal temperatures and a negative virus test no older than 48 hours.

An April 7 study by Gavekal Dragonomics found that 87 of China's 100 largest cities by gross domestic product have imposed some form of quarantine curbs.

COVID curbs have also hit travel nationwide, with flag carrier Air China (601111.SS) reporting a drop of 70% in March traffic from a year ago…

Most of Shanghai's shops were closed, except for some with half-opened shutters from which goods were being carried to waiting delivery drivers.

The city has converted residential buildings into quarantine centres but that is sparking protests from angry neighbours worried about higher risks of infection.
Shanghai turns residences into COVID isolation facilities, sparking protest https://t.co/GJqStVFmJj pic.twitter.com/Uz5zCtROix

— Reuters (@Reuters) April 15, 2022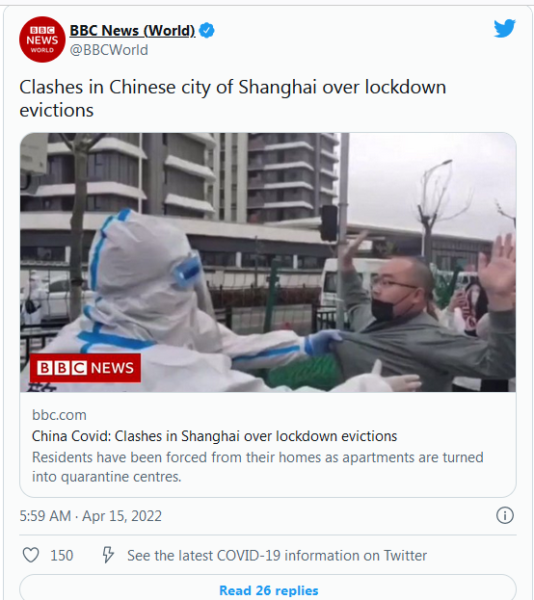 South Korea to drop most COVID-related restrictions next week, including a midnight curfew on eateries, as cases show signs of waning https://t.co/gpd7crzGJt

— Reuters (@Reuters) April 15, 2022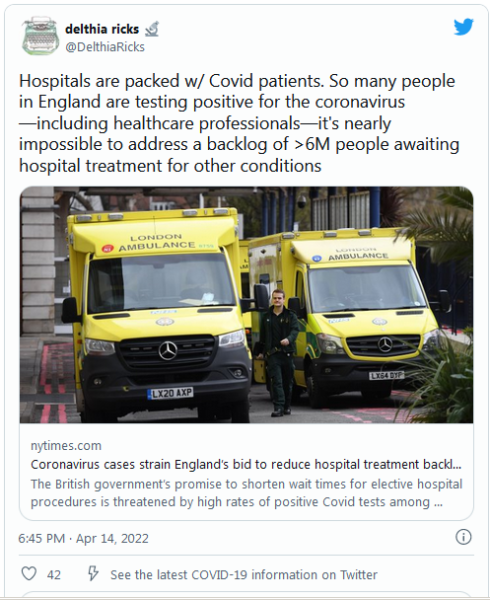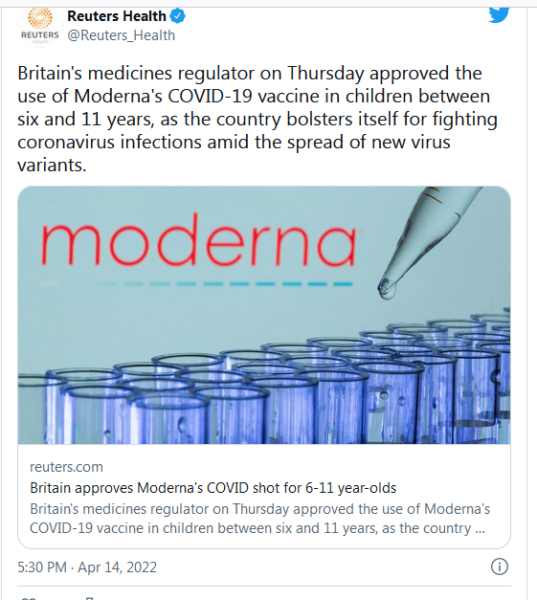 ======
The FDA has authorized the 1st Covid breath test. The InspectIR Covid-19 Breathalyzer takes just minutes & uses gas chromatography to detect 5 compounds associated w/ the coronavirus in exhaled breath. If a test is positive, it needs confirmation w/ PCR https://t.co/DpIhOSN0Q7 pic.twitter.com/LrtZcPWg5t

— delthia ricks ? (@DelthiaRicks) April 15, 2022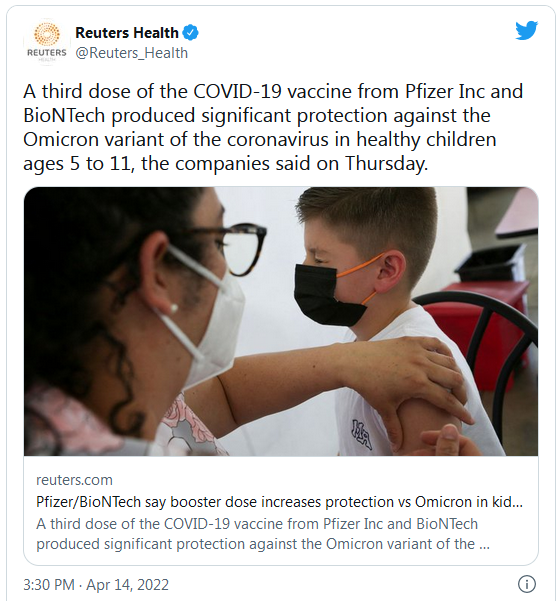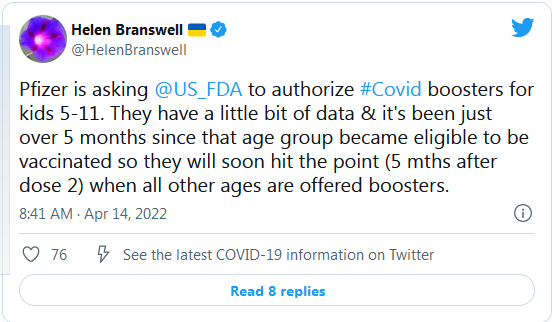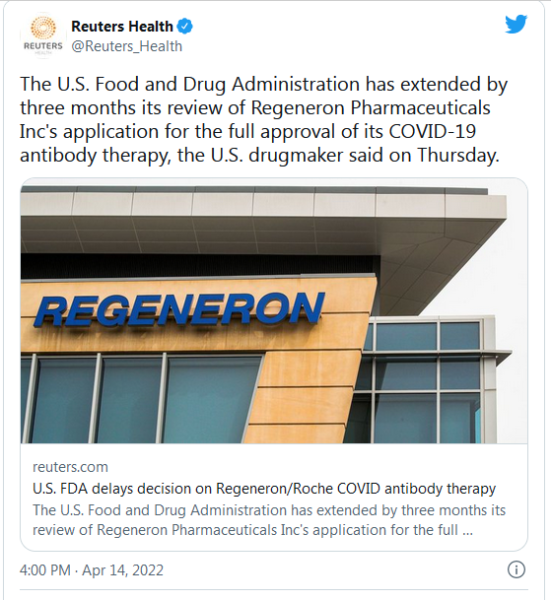 … Regeneron's "cocktail" of two monoclonal antibodies, casirivimab and imdevimab, had received an emergency use authorization in the United States in late 2020 to treat patients who were 12 years and older with mild-to-moderate COVID-19.

The therapy, called REGEN-COV, was later also authorized in the country for the prevention of COVID-19 in certain people exposed to an infected individual, or who were at high risk of such exposure.

However, data showed that REGEN-COV and a rival monoclonal antibody drug from Eli Lilly (LLY.N) were unlikely to be effective against the highly contagious Omicron coronavirus variant. That led the U.S. FDA to revise the emergency use authorizations for both therapies to limit their use…
======
An untold number of #coronavirus cases are going uncounted, and mass testing sites throughout the U.S. are closing. Ever since it became increasingly common to rely on at-home tests, official case counts have become less reliable https://t.co/gJ9M8mzcTY

— delthia ricks ? (@DelthiaRicks) April 14, 2022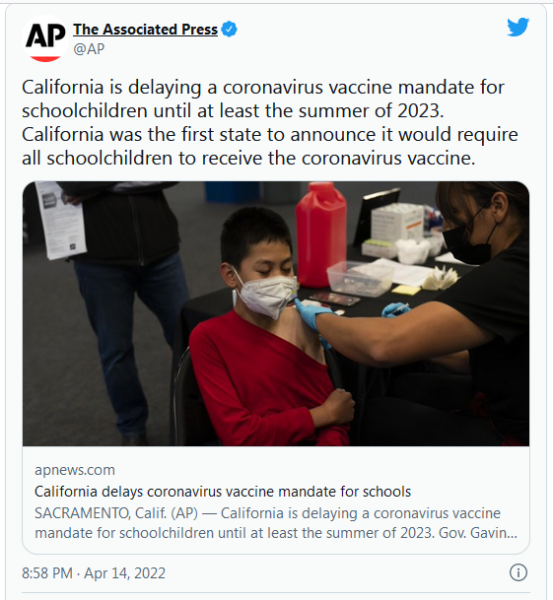 {*facepalm*}
Are some doctors vaccine hesitant? Researchers conducting a survey say the answer is 'yes' & the proportion is higher than expected. Among 625 doctors surveyed, 10.1% *disagreed* w/ this statement: Vaccines are safe; 9.3% don't think they're effective https://t.co/zV9bYUrm0h

— delthia ricks ? (@DelthiaRicks) April 14, 2022