On the Road is a weekday feature spotlighting reader photo submissions.
From the exotic to the familiar, whether you're traveling or in your own backyard, we would love to see the world through your eyes.
Mike S (Now with a Democratic Congressperson!)
Laughing Falcons and other raptors
While at staying at Chan Chich Lodge in Belize last December we bought their "Adventure Package" of guided activities which included meals and 3 guided activities a day, 2 being walks (birding, archaeology, and native medicinal plants we the ones we did) plus one driving trip in a Ford Ranger open top safari truck In the safari truck we did some driving through and around the farm/ranch of Gallon Jug (I suppose if you have to pick a name for a place Gallon Jug is an easy to remember one!) into the jungle to a lake and also to a wonderful escarpment overlook. We had some amazing looks at many raptors and that's what today is mostly about.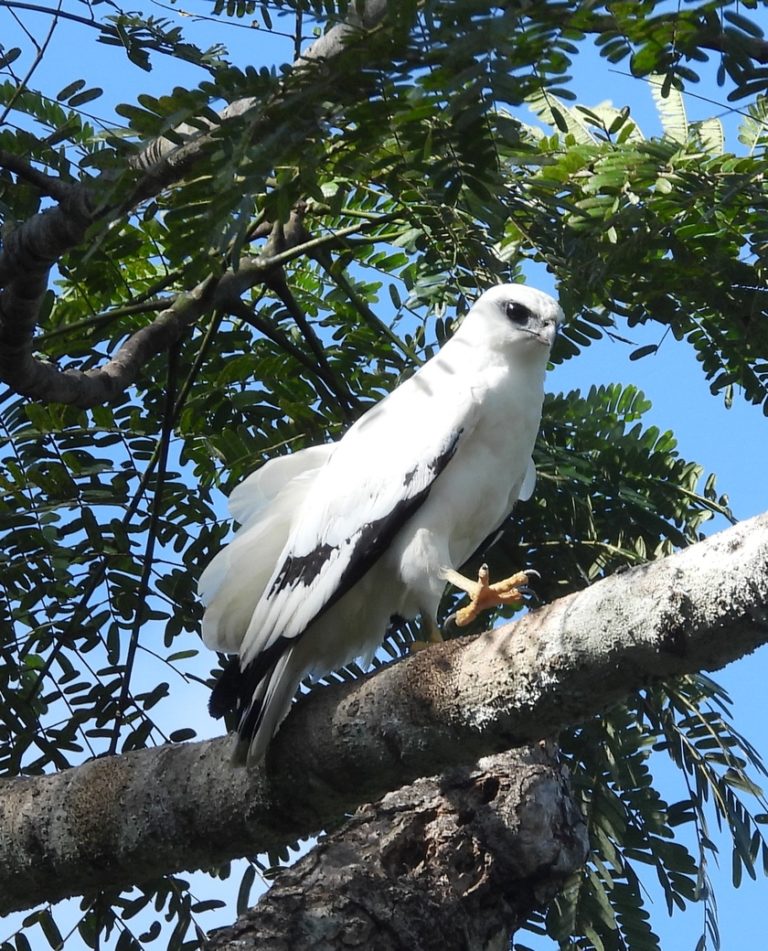 Near Gallon Jug Belize
As were were first driving in the road to Chan Chich Lodge/Gallon Jug Farm from our previous lodge we saw one of my most wanted birds perched in a tree beside the road, a White Hawk (Pseudastur albicollis)! White hHawk isn't just a description, but its actual name. They are almost all white with jus a little bit of black feathers in the seconday wing feathers (visible on the back) and a black band across the tail.  Farther south from Costa Rica to Brazil they have blacker backs, but the Northern Central American subspecies are all like this gorgeous bird.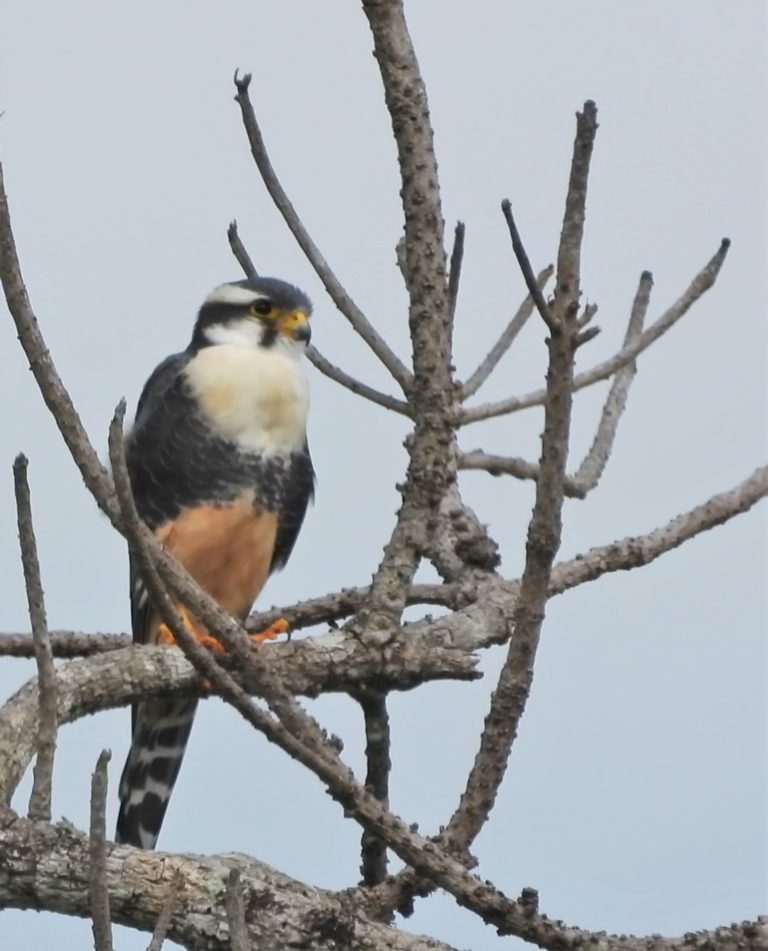 Gallong Jug Farm, Belize
Aplomado Falcon (Falco rufigularis)! There were a pair of these most elegant long-tailed falcons around. we saw them perched a large dead tree and showing off for US. This species ranges from southern Texas to southern Chile and Argentina, but isn't common anywhere. They have been reintroduced to Texas after having been extirpated there in the later half of the 20th century, by habitat loss and DDT eggshell thinning.
I had seen one before in Chile in 201, but this pair was cooperatively perched not flying by!
With their long tails they are almost like a cross between a falcon and an accipiter in hunting technique. A most handsome species too!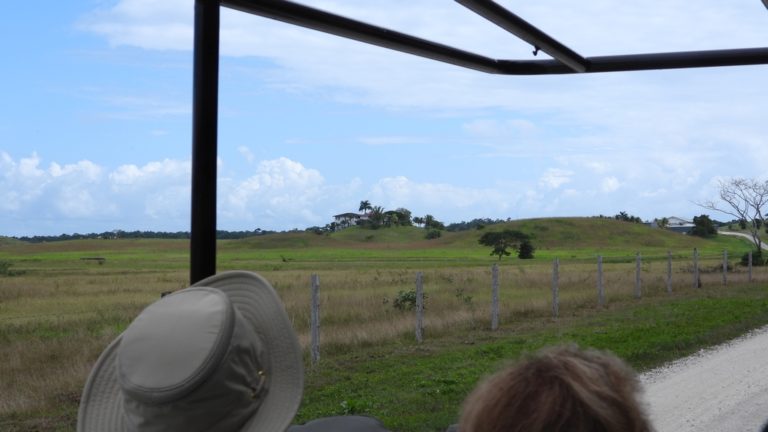 Gallon Jug Belize
Driving in the Safari Truck at Gallon Jug Farm. It carried  passengers and I rode in the back row the (highest one) and loved it!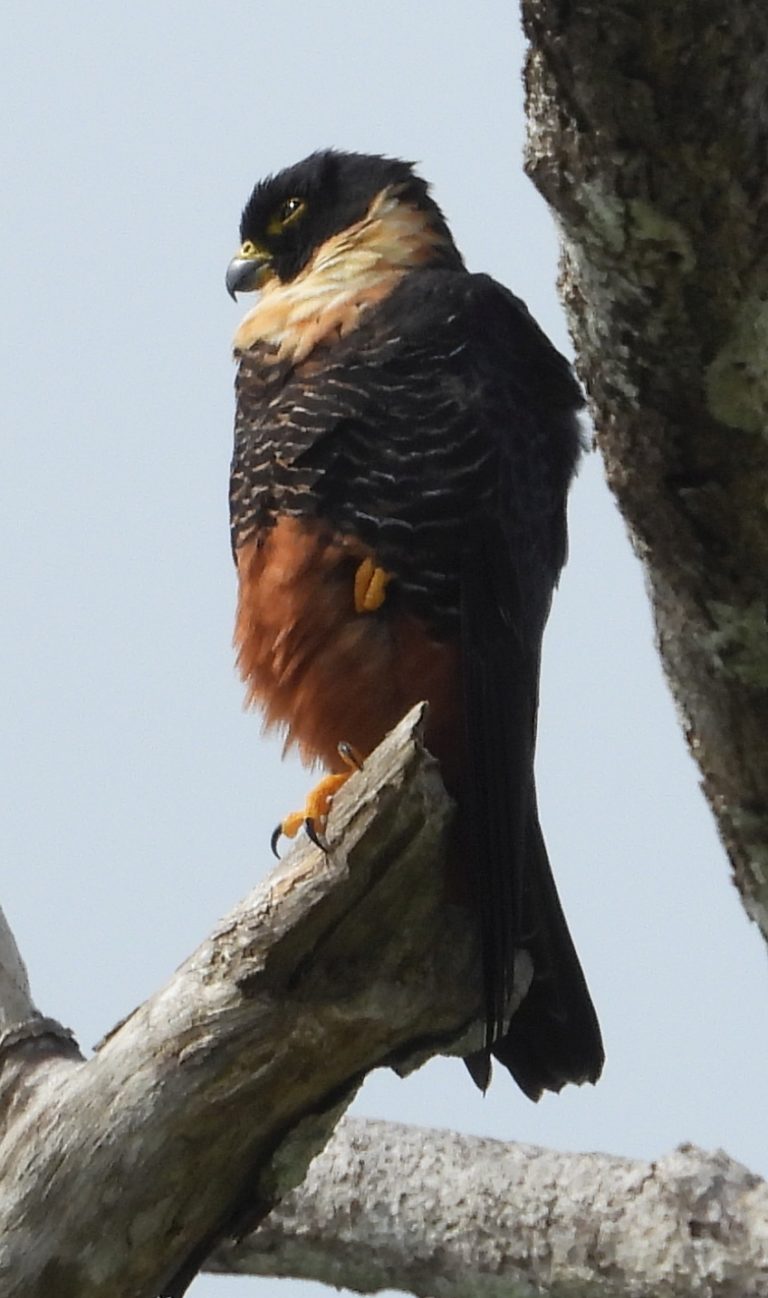 Gallong Jug Belize
I've seen a number of Bat Falcons in Central America before, but this one enjoying the sun at the escarpment overlooks was just stunning. He/she kept chaning position and showing different sides for us to admire.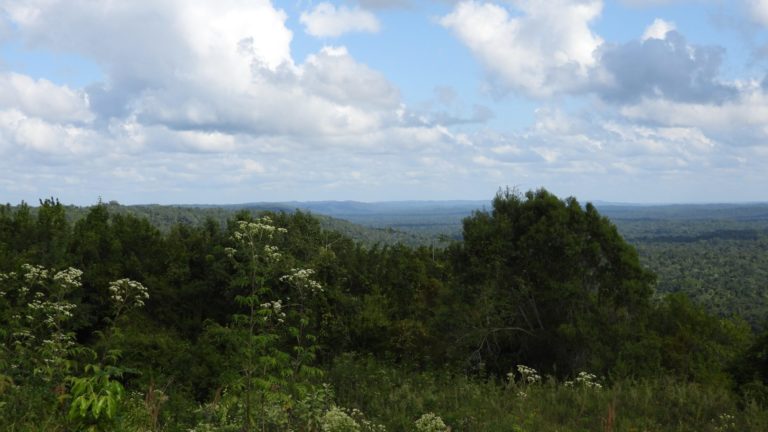 Gallon Jug Belize
One of our "safaris was to this view point where we overlooked the many thousand of acres of jungle that is now protected in parks and preserves. It was the best picnic lunch spot imaginable.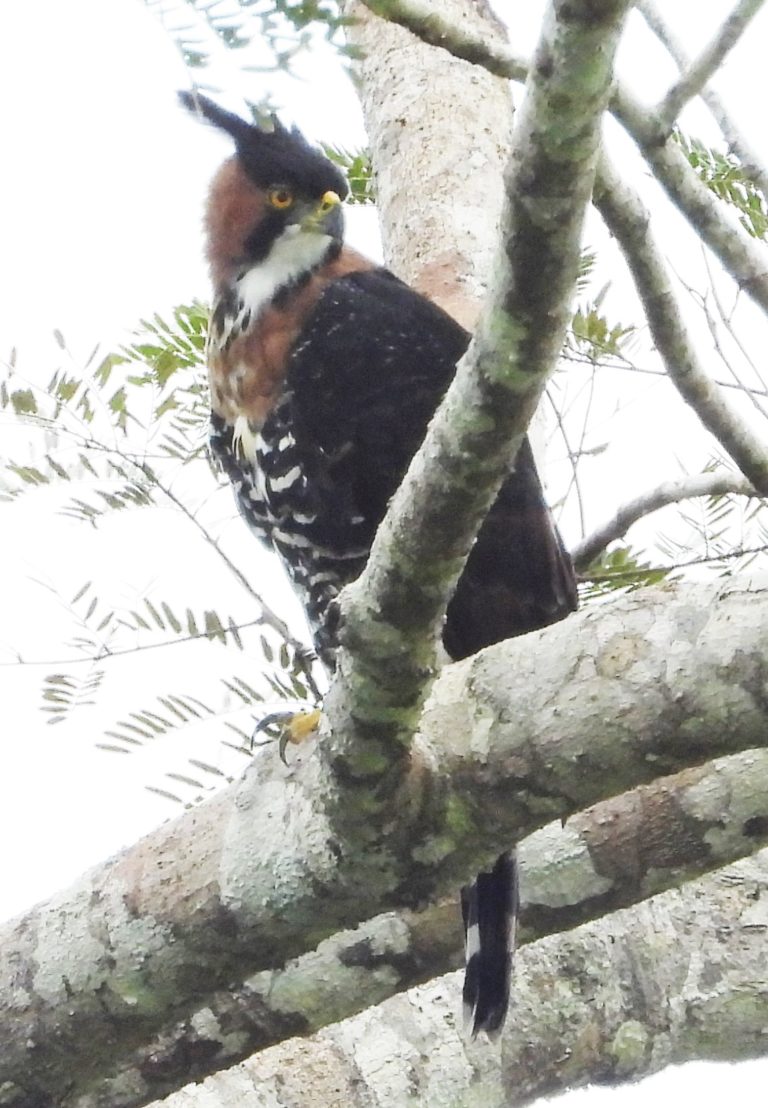 Gallon Jug Belize
Another target of mine for this birding trip was to one of any of the 3 species of new world hawk-eagles and I saw two different Ornate Hawk Eagles (Spizaetus ornatus).  Both were adults of this most colorful of the 3 species and I couldn't have been more thrilled. But I 'll have to go back to look for the other 2 as well as the shy Forest-falcons.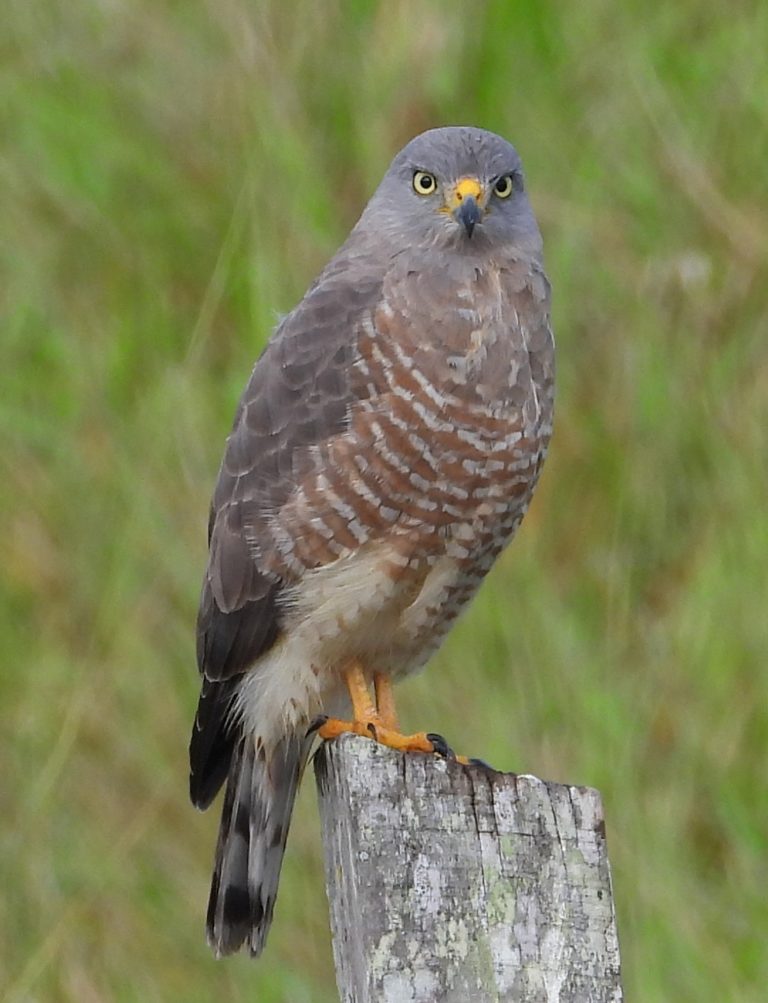 Gallon Jug Belize
We had excellent looks at Roadside Hawks (Rupornis magnirostris) around the ranch and they really lived up to their common name, they were right along the road. Very cute little raptors that are very similar in size and shape to our Broad-winged Hawks.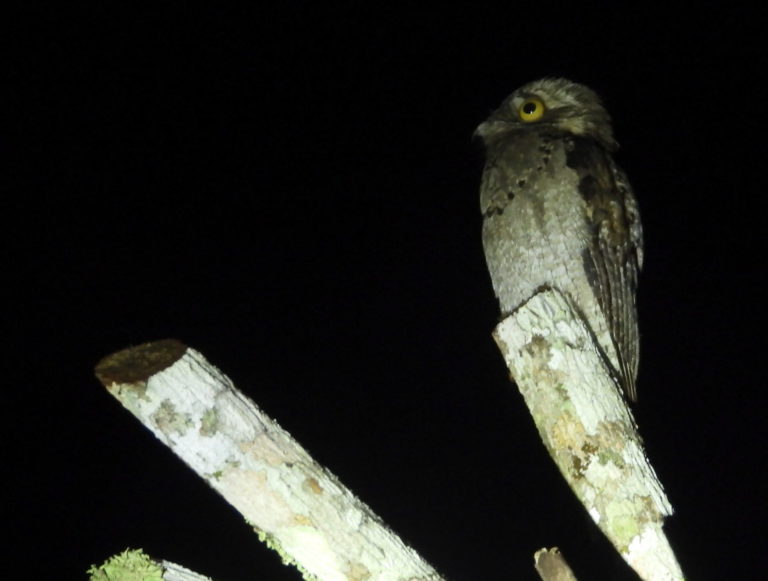 Gallong Jug, Belize
We had great success on our night expedition around the ranch to see night birds. Our guides found us good looks at 4 lifers for me: Yucatan Poorwill (Nyctiphrynus yucatanicus), Yucatan Nightjar (Antrostomus badius), Northern Potoo (Nyctibius jamaicensis) and Middle American Screech-Owl (Megascops guatemalae) plus many Common Pauraques
(Nyctidromus albicollis) all of which were found by their eyeshine reflecting from the guide's spotlight. Potoos are cousins of the Poorwills and other nightjars and all have wide mouths for snapping up moths and other night-flying insects. This Northern Potoo's eyes looked unreal, like big-yellow doll's eyes.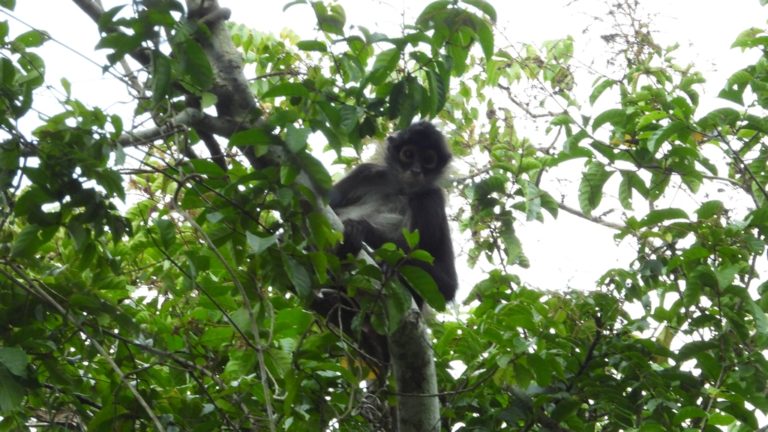 Chan Chich Lodge, Belize
A quick change from raptors for the final pic. We heard and saw a good many monkeys, both Black Howler Monkeys and Central American Spider monkeys like this cutie. They don't usually cooperate for pics, either there are branches partly blocking the view or there is bad backlighting, like this, but they we still fun to watch!