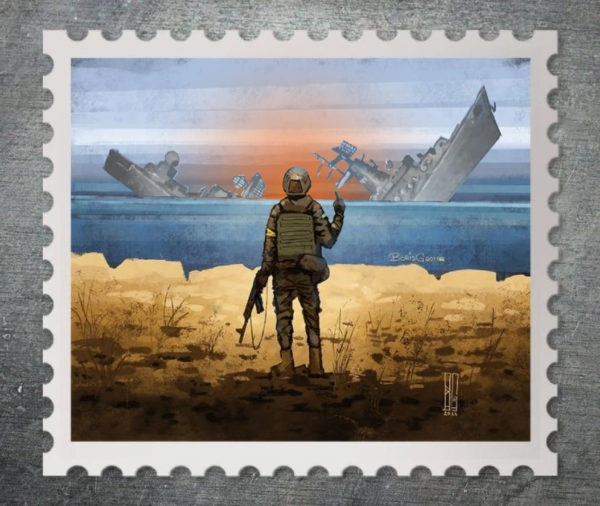 Tonight is the first night of Passover and it is also Good Friday, so I'm going to keep this as short as possible.
This morning The Atlantic published a long, detailed interview with President Zelenskyy conducted by Jeffrey Goldberg and Anne Applebaum. In the interview President Zelenskyy clearly stated his terms for ending the reinvasion of Ukraine:
If the Russians are not expelled from Ukraine's eastern provinces, Zelensky said, "they can return to the center of Ukraine and even to Kyiv. It is possible. Now is not yet the time of victory."
This clear statement of what has to happen – that the Russians must be expelled from the eastern portions of Ukraine that they have been occupying since 2014 – is important as people are still asking what does success look like for Ukraine in its defense against Russia's reinvasion. Zelenskyy is clear: the Russians have to go from all of Ukraine.
What this means in reality is that there is not going to be a negotiated settlement to Russia's reinvasion of Ukraine because there cannot be. Ukraine is seeking a victory on the battlefield that establishes the conditions for a successful post conflict peace. Which means inflicting enough pain on the Russians to force them out of the areas of Ukraine that they've been occupying for eight years.
What President Zelenskyy needs from us are the ways and means to achieve that victory.
Much of Zelensky's time is spent on the telephone, on Zoom, on Skype, answering the questions of presidents and prime ministers—often the same questions, repeated to a maddening degree. "I like new questions," he said. "It's not interesting to answer the questions you already heard." He is frustrated, for instance, by repeated requests for his wish list of weapons systems. "When some leaders ask me what weapons I need, I need a moment to calm myself, because I already told them the week before. It's Groundhog Day. I feel like Bill Murray."

He says he has no choice but to keep trying. "I come and say that I need this particular weapon. You have it and here it is; we know where it is stored. Can you give it to us? We can even fly our own cargo planes and pick it up; we can even send three planes per day. We need armored vehicles, for example. And not one per day. We need 200 to 300 per day. These aren't personal taxis, just for me; our soldiers need transport. Flights are available, the whole thing can be organized, we can do all the logistics."

Later that night, one of Zelensky's advisers texted us with a list of what, exactly, Ukraine needs to repel the invasion from the east:

Artillery, 155 millimeters

Artillery shells, 152 millimeters as many as possible

Multiple Launch Rocket Systems ("Grad", "Smerch", "Tornado" or M142 HIMARS)

Armored vehicles (armored personnel carriers, infantry fighting vehicles, others)

Tanks (T-72 tanks or similar tanks from the USA or Germany)

Air defense systems (S-300, "BUK" or western equivalents)

Military aircraft—MUST HAVE—to deblock our cities and save millions of Ukrainians as well as millions of Europeans)

It's not that the various presidents and prime ministers who profess sympathy for the Ukrainian cause don't want to help, Zelensky said: "They are not against us. They just live in a different situation. As long as they have not lost their parents and children, they do not feel the way we feel." He makes the comparison to the conversations he has with the extraordinary defenders of Mariupol, the besieged port city where 21,000 civilians may have been killed so far. "For example, they say, 'We need help; we have four hours.' And even in Kyiv we don't understand what four hours are. In Washington for sure they can't understand. However, we are grateful to the U.S., because the planes with weapons are still coming."
Much, much more at the link.
And more after the jump!
Here's the latest British MOD assessment: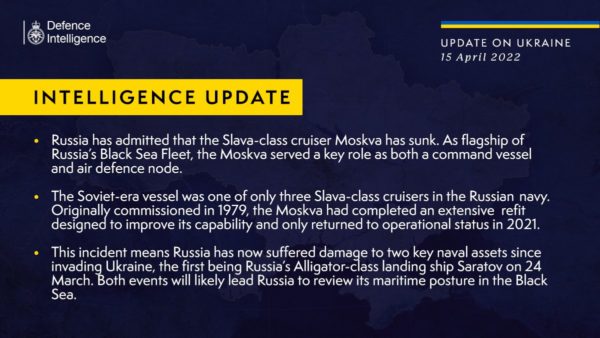 And here's the latest map update from the British MOD too: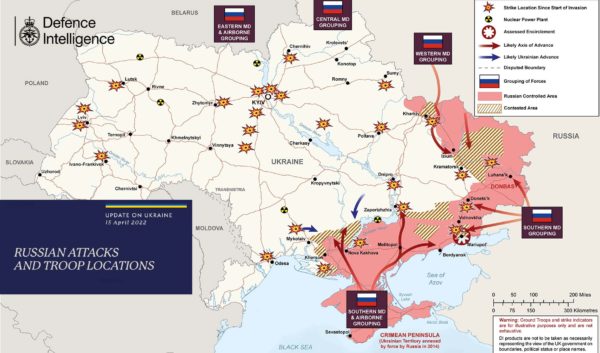 As you can see, still not a lot of movement.
Here's Ukraine's Ministry of Defense's operational update for today:
The operational update regarding the russian invasion on 18.00 on April 15, 2022

The fifty-first day of the heroic resistance of the Ukrainian people to a russian military invasion continues. A russian federation continues its full-scale armed aggression against Ukraine.

During the today in all directions the situation has not changed significantly. A russian enemy continues to launch missile strikes on industrial and civilian infrastructure in Ukraine and is trying to launch an offensive in some areas. Air strikes on the city of Mariupol continue.

The partial blockade of Kharkiv continues.

In the Donetsk direction, the russian enemy tried to storm Marinka, but was unsuccessful.

In violation of the norms of International Humanitarian Law, the russian occupiers in the temporarily occupied territories continue to oppress the rights of Ukrainian citizens. Violating the rules of warfare, sabotage and reconnaissance groups of the enemy, to carry out sabotage on the territory of Ukraine, steal or, threatening physical violence, take away motor vehicles and civilian clothes from local residents.

In order to suppress Ukrainian resistance, the russian occupiers are filtering and searching for people involved in military service.

In the areas of Luhansk oblast temporarily occupied by the russian enemy, the usage of buildings and adjacent territories of secondary schools for the installation of additional field hospitals, places for weapons, ammunition and military equipment is recorded.

In some settlements, the russian enemy is trying to imitate elections and illegally appoint "local governments" from among local residents loyal to the occupying power.

Units of the Defense Forces of Ukraine continue to maintain certain defensive lines, inflict losses on the enemy and gradually liberate settlements from the troops of russian invaders.

We believe in the Armed Forces of Ukraine! Let's win together!

Glory to Ukraine!
Just a quick note of explanation: The transcripts of the senior US defense official's background briefings I'm posting several times a week are the official transcripts prepared by the Department of Defense and posted on their website. Which is where I find them and I include the link, just like the link I included above to the Ukrainian MOD's website. Any verbal ticks or "uhuhs" or "ums" or "okays" are there because the people preparing the transcript are trying for 100% fidelity to what the senior defense official is saying. They're not put in there by the news media because I'm getting them directly from the source. Same thing with the transcript of President Biden I posted yesterday. I pulled it directly from the White House website and linked back to it there.
If you're wondering what Russian state media is pushing to the Russian citizenry, here's an example:
This lie is being repeated multiple times on Russia's state TV: host Olga Skabeeva claims that according to Jennifer Psaki, the United States won't intervene regardless of what Putin does in Ukraine—even if he uses biological weapons or drops a nuclear bomb. pic.twitter.com/vXRu8k3Vcu

— Julia Davis (@JuliaDavisNews) March 12, 2022
Meanwhile on Russia's state TV: head of RT Margarita Simonyan and host Vladimir Solovyov propose that Ukrainian POWs—whom they describe as "monsters and scumbags"—be used as laborers to restore the city of Mariupol, destroyed by Russian forces. pic.twitter.com/33KsOqeNLO

— Julia Davis (@JuliaDavisNews) April 15, 2022
More genocidal talk on Russian state TV: pundit agrees that Putin's goal is to erase the very idea of being a Ukrainian. He finds even the name, "Ukrainians," to be an insult and sees no reason for that entire nation or nationality to exist outside of "Russian" identity. pic.twitter.com/ev0qWQV2Zf

— Julia Davis (@JuliaDavisNews) April 15, 2022
Kyiv sank 'Moscow' and the Russians are furious. In response to the sinking of the warship 'Moskva,' state TV pundits and hosts propose bombing Kyiv, destroying Ukraine's railways and making it impossible for any world leaders to visit in the future. pic.twitter.com/OekII2fbPe

— Julia Davis (@JuliaDavisNews) April 15, 2022
That's enough of that ugly disinformation and agitprop for one day!
This is a very, very long – 31 tweets – thread on Alexei Navalny's Twitter feed about how to combat Putin's Information Warfare campaign. I'm not copying and pasting the whole thing, you can click through and read it. Also, just so everyone is clear as there was some confusion in comments the other night: Navalny is not tweeting from prison. Either the people that manage his account are tweeting in his name or they have been brought what he wants tweeted from whichever of his attorneys or representatives is allowed to visit him in prison and then they tweet that out.
1/31 Truth and free information hit Putin's insane regime just as hard as Javelins.
This is a thread about opening the second front against the war criminal from the Kremlin — the informational front.

— Alexey Navalny (@navalny) April 14, 2022
Your semi-daily Chef Jose Andres:
Took the train to recently liberated Ukraine city of Chernihiv today! I met so many amazing heroes here like Oleg who kept cooking during the occupation…and Victoria who helped the bakeries @WCKitchen has been supporting! We will keep doing all we can here… #ChefsForUkraine ?? pic.twitter.com/DexAaULuoY

— José Andrés (@chefjoseandres) April 15, 2022
My friend and hero showing the way of efficiency with boots on the ground, delivering aid, not speeches….@WCKitchen #ChefsForUkraine #ChefsForTheWorld https://t.co/gf8Spv63iQ

— José Andrés (@chefjoseandres) April 15, 2022
Let's leave it there.
A good Good Friday to everyone who celebrates that. A happy Passover to those celebrating that (I have a ton of cooking and baking tomorrow for the family Seder tomorrow night), and a continued easy fast for those celebrating Ramadan.
Open thread!