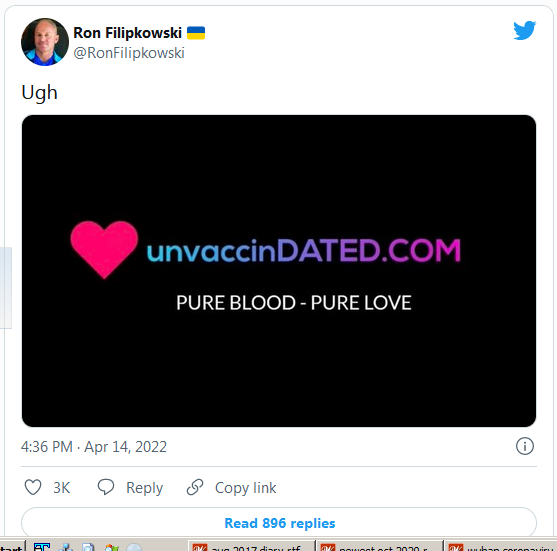 The U.S. is trudging into what could be another COVID-19 surge, with cases rising nationally and in most states after a two-month decline.

Experts warn that the coming wave will push up hospitalizations in a growing number of states. https://t.co/QapB4qyKPS

— The Associated Press (@AP) April 15, 2022
The federal "test-to-treat program" is being held back by technical problems & poor services. The aim is to reduce Covid hospitalizations/deaths by quickly giving antiviral pills to people who test positive. But as cases rise, people just don't have access https://t.co/nel0hqzEcG

— delthia ricks ? (@DelthiaRicks) April 15, 2022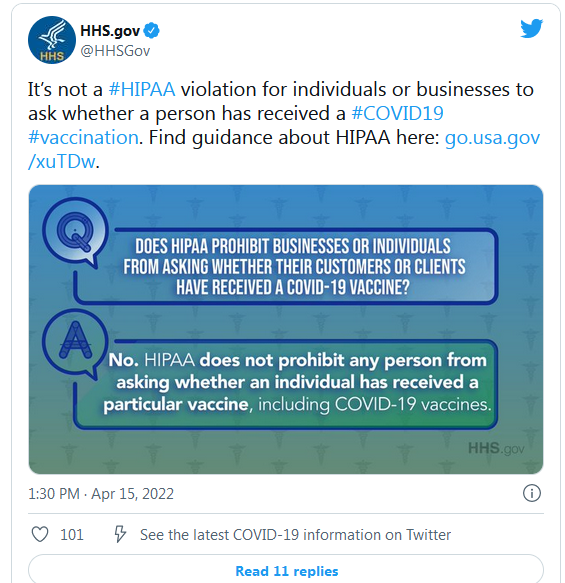 ======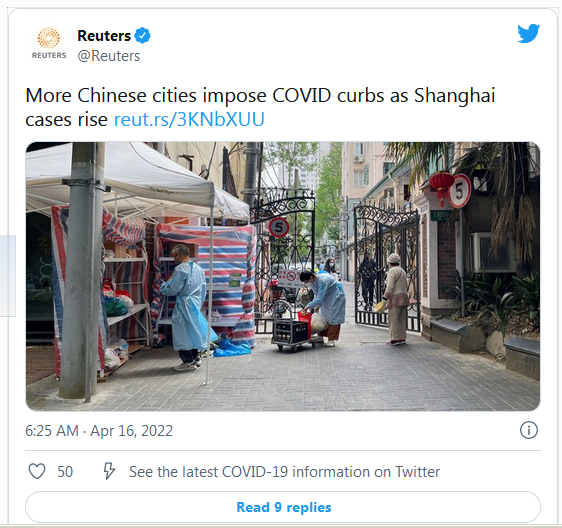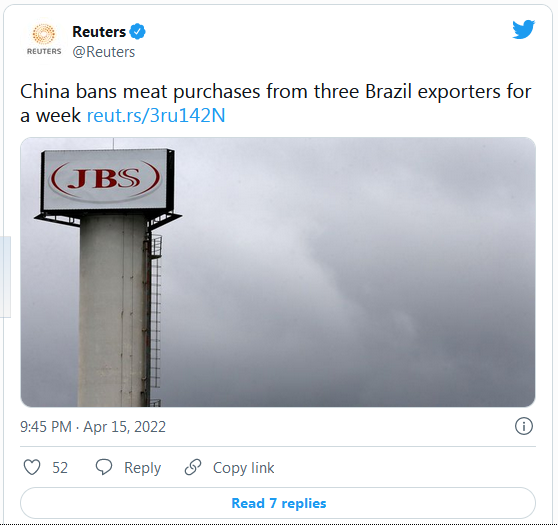 FOMITES:
China's General Administration of Customs (GACC) has suspended imports from three Brazilian beef exporters – JBS SA (JBSS3.SA), Marfrig (MRFG3.SA) and Naturafrig – for one week, the newspaper Valor Economico reported, citing a statement sent to Brazil's embassy in Beijing.

The decision affects four plants located in Mato Grosso and São Paulo and will take effect on Saturday.

According to the statement, technicians identified the presence of nucleic acid from the new coronavirus on the external packaging of four batches of frozen products from these companies sent to China…

Last week, the GACC suspended imports from two Brazilian beef plants and one poultry producer, also for one week effective from April 8. That ban involved a JBS beef plant in Goias, a Marfrig beef unit in Mato Grosso, and a chicken plant in Sao Paulo owned by Zanchetta, which is not listed.
"Covid Zero no longer means zero local cases. If that were the case, Shanghai residents could be looking at being locked down for years. Instead, authorities are focusing on a new metric called 'zero infection in the society'." @markets https://t.co/Sk2Z0nBCgH

— Shehzad Qazi (@shehzadhqazi) April 15, 2022
China's Xian imposes temporary, partial lockdown to fight Omicron flare-up https://t.co/rsS6Bmv4DP pic.twitter.com/8GBwPiEXJn

— Reuters (@Reuters) April 15, 2022
Shanghai reports more symptomatic COVID cases as more lockdowns imposed https://t.co/1cS2oTjtNb pic.twitter.com/Sq0nUPsZkG

— Reuters (@Reuters) April 16, 2022
While most of the world is opening up, Shanghai is under siege as authorities lock down the city to contain an outbreak. We spoke to residents about the mass food shortages, chaos and heartbreak of losing loved ones not to covid but the zero covid policy. https://t.co/24dLoC1RQ3

— Lily Kuo (@lilkuo) April 15, 2022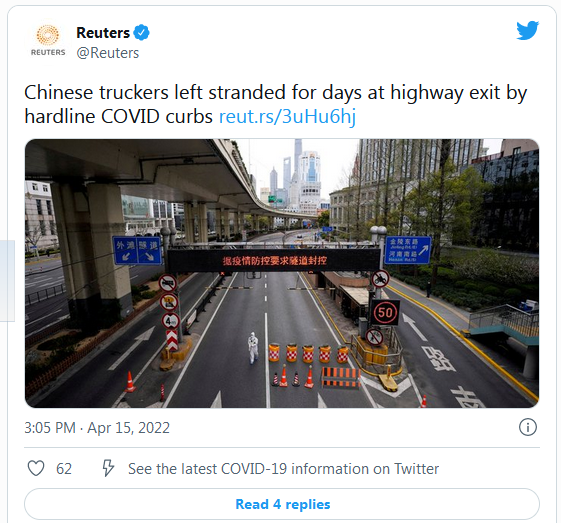 Former expat in China:
This is a great piece. Trucking is at the heart of the food crisis in Shanghai: it simply isn't worth the risk of lockdown – and weeks of lost income – for truckers to enter, and the premiums demanded keep rising. But at the heart of this is long-running industry problems. https://t.co/hXTJHsnTTX

— James Palmer (@BeijingPalmer) April 15, 2022

Thread:
Chinese trucking is tens of thousands of mom-and-pop businesses. The average company size is *1.5.* people – they're basically all independent operators, often couples taking turns at the wheel.

(Note that it's been years since I looked closely at this, so not all my numbers may be up to date.) They also have extremely thin margins. There's a ton of tolls, from the legal to 'three villagers with baseball bats and a closed gate.' That's one reason trucks are overloaded.

If you've spent time on the Chinese roads, the sight of a truck carrying what's clearly a dangerous weight is a familiar one. That in turn renders them even more vulnerable to police shakedowns, who usually extort bribes rather than taking them off the road.

All this also means that most drivers can't invest in updating their trucks – which is why the cold storage chain in China is very bad. A ton of food, sometimes even medicine, travels across the country in unrefrigerated trucks.

Drivers used to rely on middlemen to find shipping, which further cut into their costs and took them off the road. Now they use Uber-type apps. But they're still running on very thin margins and often in debt for the cost of the truck. (Like Uber!)

All this means that if a truck driver gets stuck in lockdown, *he loses two-to-four weeks of income* when he's already struggling to pay his bills. And that means they can't bear the risk of going into Shanghai.

A very clear and obvious move to improve the Shanghai food situation would be the government, local or central, to offer truckers significant compensation for any time spent in lockdown – and for the days that even in a best case scenario they spend navigating healthcodes.
#Taiwan's local #COVID19 case count might reach 10,000 per day & a cumulative total of >1 million by the end of the month.

But people should continue living life as usual, as only 2 from this year's 6,543 local cases had severe symptoms, say officials.https://t.co/UeSAAg83gY

— Biomedical Journal (@BiomedJ) April 16, 2022
South Korea plans to phase out virtually all of its #coronavirus restrictions, except for a mask mandate, starting next week.

This ends curbs on business & social life that it has maintained in some form for 2 yearshttps://t.co/wRbTlcEbnE #COVID19

— MicrobesInfect (@MicrobesInfect) April 15, 2022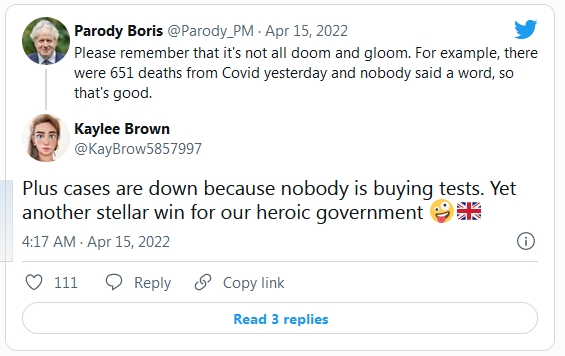 ======
New, highly transmissible forms of omicron may pose latest covid threathttps://t.co/DYlx8RLU80

— The Washington Post (@washingtonpost) April 15, 2022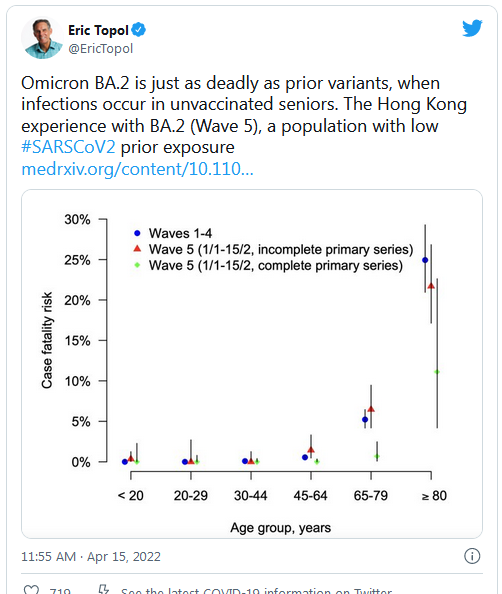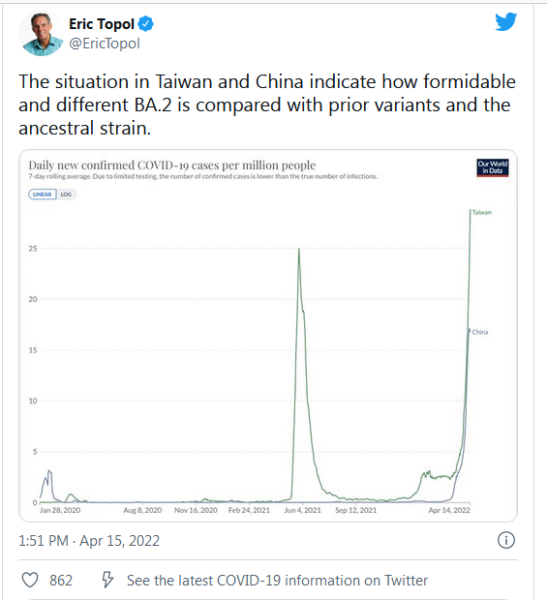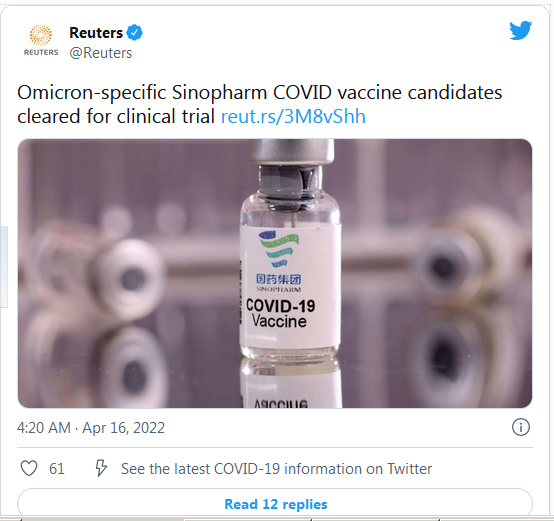 COVID-19 vaccine candidates developed by a Sinopharm subsidiary and Sinovac Biotech (SVA.O) to target the Omicron variant were approved for clinical trials in Hong Kong, the companies said on Saturday.

Scientists worldwide are racing to study upgraded injections against Omicron, as data indicated that antibodies elicited by vaccines based on older strains show weaker activity to neutralise the highly transmissible variant.

The two candidates from units of Sinopharm subsidiary China National Biotec Group (CNBG) and one from Sinovac contain inactivated or "killed" coronavirus and are similar to vaccines that the companies are supplying in China and overseas, the companies said in statements.

The Sinopharm candidates will be tested as boosters in adults who have already received two or three vaccine doses, CNBG said. It did not specify which vaccine products the trial participants would have received before taking the experimental booster, or how many subjects would be recruited…
======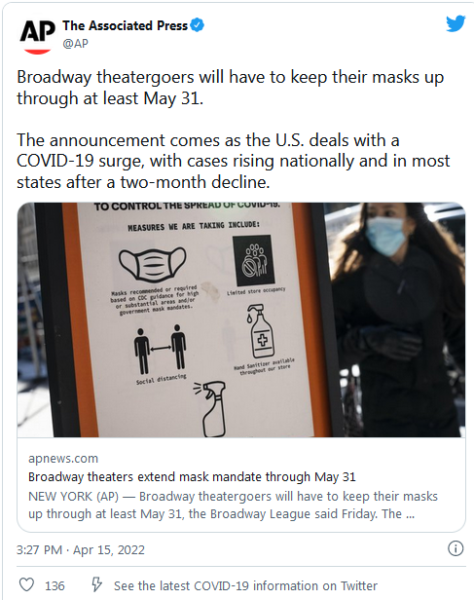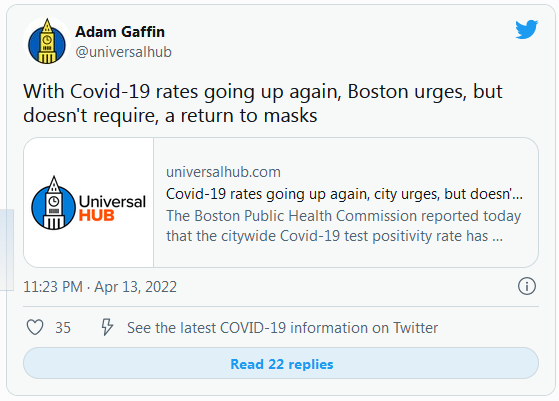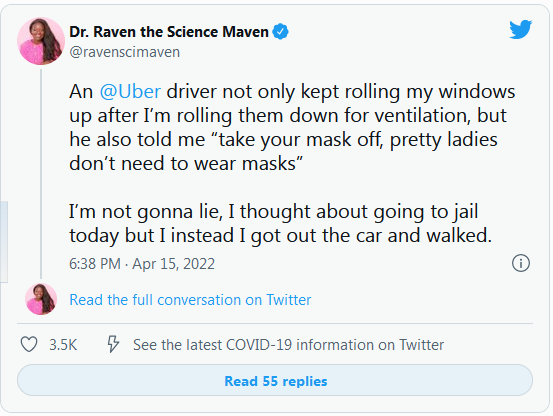 Those who have extended-family celebrations scheduled this weekend, watch out for that Trumpist uncle…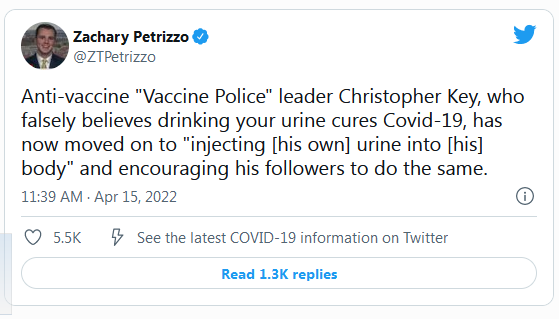 (Christopher Key)