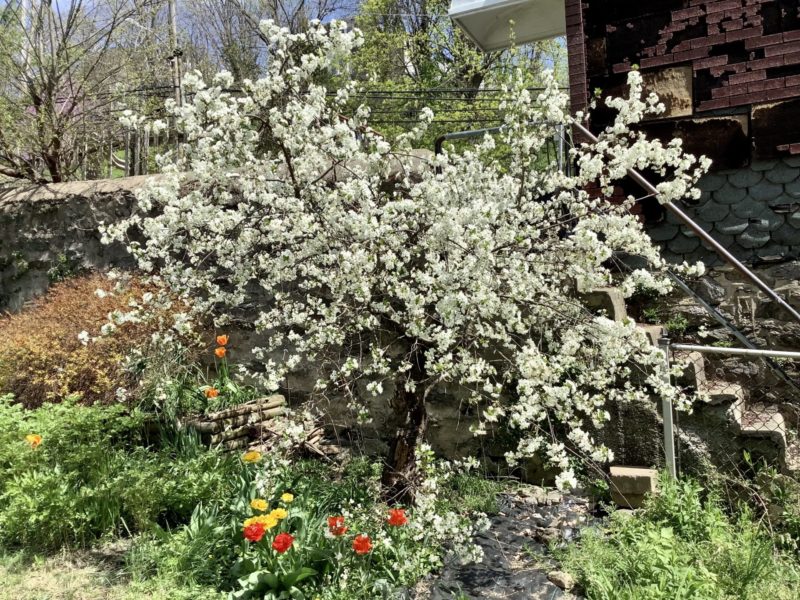 With thanks to commentor JeffG166:
Top pic: 4.16.2022
Sour cherry tree flowering. This tree is on its last leg. The core of the tree is rotted. A major wind gust could take it out.


4.16.2022
Peony tulips under the sour cherry tree. These are performing better this year than they have for the last several.

4.11.2022
Planted in a south facing concrete container last October. Wintered over. No idea how long they will last into the summer.
***********
Here just north of Boston, it's been clement enough that I can start cleaning the winter detritus out of pots & beds… and start glaring suspiciously at a lot of 'empty' dirt. Surely some of those supposed-to-be-perennials will return by Memorial day, but: Is there a varmint out there that eats dianthus plants? Or columbines (aquilegia)?
None of mine are showing up, and from prior experience I expected to see some green leaves among the daffodils, daylilies, climbing rose and iris shoots. We're officially Zone 7 now, but it was an unusually snow-free & fairly warm winter. So the voles never went into hibernation, and I suspect nor did the squirrels, bunnies, skunks…
What's going on in your garden(s), this week?