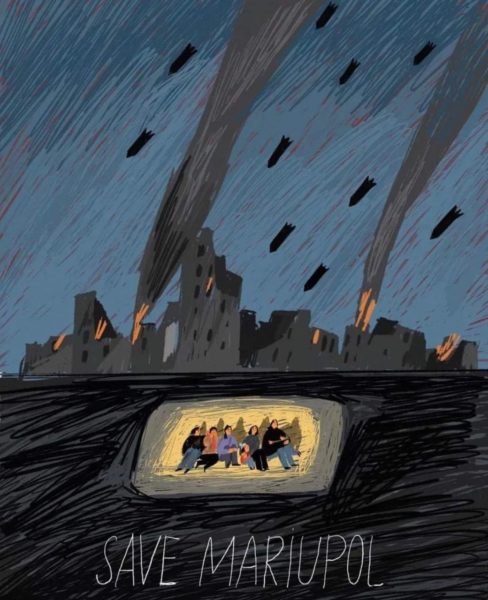 I'm going to start tonight by marking a belief to market above the fold so it's not being hidden.
Several times over the past fifty-three days I've written some variation of the US and our EU and NATO allies are going to fight Putin to the last Ukrainian while patting ourselves on the back for our restraint in not doing anything that would escalate the conflict into a Russia versus NATO fight. I've done this not because I think Ukraine should concede anything to Russia. Nor because I think Ukraine should be pressured into negotiating a settlement with Russia that gives Putin a diplomatic off ramp where he saves face. I have written this out of frustration that there was more that we could and should be doing and that we've let the ambiguity in Russian military doctrine scare us into inaction.
What I didn't know was that both the pro-Putin America First right and the anti-American hard left were also using the phrase "fight Russia to the last Ukrainian" or variants thereof in their polemics arguing that the US and NATO are the aggressors that have caused Putin to reinvade Russia, that the best resolution for Ukraine and the Ukrainians is to give Putin what he wants, which will lead to an immediate end to the war. Here's the prominent example in the house organ of Trumpism and America First written by a former Reagan administration official. Here's Chomsky making a similar argument as the preeminent example for the anti-American hard left. I didn't know this because I avoid the places where this type of disinformation and agitprop would be posted. I only caught these two examples because I saw them retweeted at the end of the week.
While I'm still frustrated that we're not doing more, even with the current policy restraints of only providing military and humanitarian and financial aid, I just want to make it very clear that I am in no way suggesting that Ukraine do anything but what it has stated it is and will do: seek a successful termination of the war on the battlefield so as to set the conditions to win the post war peace. We've just sent Ukraine a shipment of new weaponry. Which is good. Unfortunately, it's somewhere between three days and a weeks worth of equipment.
For perspective: 500 Javelins will cover three to five days of fighting. 18 howitzers will account for maybe 3% of deployed field artillery. That many or more get lost in a week. The rate of assistance is a fraction of the rate of depletion. https://t.co/R0HW0yGOmS

— Yaroslav Trofimov (@yarotrof) April 17, 2022
This is why I'm frustrated, not because the Ukrainians are willing to do what is necessary to repel the Russian reinvasion and free Ukrainian territories occupied by Russia. As a result, I'm going to change the way I express this frustration because I DO NOT WANT TO BE CONFUSED with either the pro-Putin/anti-American Trumpist America First crowd or with Chomsky and his fellow travelers who believe that the US and/or Ukraine brought this on themselves and that the only ones with agency in this war are the US, NATO, and maybe Ukraine, but certainly not Putin.
After the jump, we'll start with the transcript of President Zelenksyy's nightly address. Here's the video with English subtitles:
Ukrainians!

Our defenders!

Today, Christians of the Western rite celebrate Easter. The happiest Christian holiday. A holiday of the victory of life over death.

The Ukrainian Catholic community unites millions of people. And I sincerely wish everyone peace. I wish you to keep the light of soul even in this dark time of war against our state. To keep it to see how good will soon surely defeat evil for the sake of our country, and how the truth will overcome any lies of the occupiers.

A wonderful gift for the holiday was made by our team at the "Invictus Games", in which veterans and servicemen take part. On the first day of the competition, which started in the Netherlands, the Ukrainians won "gold", "silver" and "bronze".

Rodion Sitdikov won the "gold" in the shot put. Artem Lukashuk and Ivan Heretsun brought Ukraine "silver" and "bronze" in long jump. Thank you guys from all of us, from all Ukrainians!

This is always important, and now it is extremely important. To glorify our flag, to perform the Ukrainian national anthem and to honor our heroes.

But whatever the day and whatever the holiday, the task remains the same for everyone in power. Work not even one hundred, but two hundred percent to ensure our defense. Provide Ukraine with weapons, financial support and all other supplies.

I began this day with a meeting with the military and government officials on the situation in combat zones. Russian troops are preparing for an offensive operation in the east of our country. It will begin in the near future. They want to literally finish off and destroy Donbas. Destroy everything that once gave glory to this industrial region. Just as the Russian troops are destroying Mariupol, they want to wipe out other cities and communities in the Donetsk and Luhansk regions.

We are doing everything to ensure defense. We are in constant contact with partners. We are grateful to those who really help with everything they can. But those who have the weapons and ammunition we need and delay their provision must know that the fate of this battle also depends on them. The fate of people who can be saved.

The 53rd day of the war is over, and we have been waiting for answers to some points in our weapons inquiries for 53 days. And some answers are formulated so that delivery can begin only in May. I speak directly in such cases: every delay in weapons, every political delay is a permission for Russia to take the lives of Ukrainians. This is how Russia interprets it. That should not be the case in reality.

Constant shelling of our city of Kharkiv continues. Today, Russian troops hit, in particular, the streets of Culture, Shevchenko and Darwin. Apparently, these are especially dangerous words for Russia – "culture", "Shevchenko", "Darwin". This is something that threatens its existence. As of this moment, the list of dead from this strike includes five Kharkiv residents and at least 15 wounded.

In the last four days alone, 18 people have been killed and 106 have been wounded by the Russian shelling of Kharkiv. This is nothing but deliberate terror. Mortars, artillery against ordinary residential neighborhoods, against ordinary civilians.

The democratic world must also react to what the occupiers are doing in the south of Ukraine – in the Kherson and Zaporizhzhia regions. Torture chambers are built there. They abduct representatives of local authorities and anyone deemed visible to local communities. They blackmail teachers. They steal money provided for paying pensions. Humanitarian aid is blocked and stolen. They create starvation.

The occupiers are also trying to tear off the Kherson and Zaporizhzhia regions, following the example of the so-called DPR and LPR. This territory is being transferred to the ruble zone and subordinated to the administrative machine of Russia.

All this requires greater speed from Western countries in preparing a new powerful package of sanctions. The answer to the attempted "ruble occupation" of the Kherson and Zaporizhzhia regions must be full coverage of the Russian banking and financial systems by sanctions. Because they are part of the occupation machine.

Of course, the need for an embargo on oil supplies from Russia is growing every day. Everyone in Europe and America already sees Russia openly using energy to destabilize Western societies. Russia's bet on chaos in fuel markets should not succeed.

And today I really want to support once again all those who are fighting for Ukraine in the cities and communities of the south of our state. Who protect our national symbols. Who protect our freedom. Every manifestation of such a struggle makes it difficult for the occupiers to carry out their task.

Sabotage the orders of the occupiers. Do not cooperate with them. Protest. It is necessary to hold on so that Russia does not manage to distort life in other cities of Ukraine, like it did in Donetsk and Luhansk.

I spoke today with Managing Director of the International Monetary Fund Kristalina Georgieva. On ensuring the financial stability of Ukraine and on preparations for the reconstruction of our state after the war. We touched upon specific areas of possible cooperation with the IMF both in the near future and in the next few years. I am confident that progress in our relations with the fund will be tangible. And I want to thank Mrs. Kristalina for her personal and significant support.

Prime Minister of Ukraine Denys Shmyhal reported today on the implementation of the order on additional social assistance due to the war.

First. Every displaced person can receive financial assistance for living. Every month it is 2 thousand hryvnias for an adult and 3 thousand hryvnias for a child. It is possible to apply for this in the nearest administrative services center, bodies of social protection, and starting from Wednesday – in "Diia".

Second. People are being evacuated from the war-torn areas. The government is deploying special locations to ensure temporary accommodation for people and provide financial assistance immediately at railway and bus stations.

Third. Applications for destroyed or damaged housing are being collected through "Diia". Be sure to apply if you have lost an apartment, house or if they have been damaged by shelling.

Fourth. I urge employers, no matter how difficult it may be, to try to employ displaced persons. Now every job saved and every extra job is helping protect the state in war.

For each displaced person whom the business hires, the company will receive co-financing of labor costs from the state. This is 6,500 hryvnias. The application can also be submitted on the "Diia" portal.

Traditionally in the evening I signed decrees on awarding our heroes. 188 servicemen of the Armed Forces of Ukraine were awarded state awards. 553 warriors of the National Guard. 64 border guards. 5 police officers, 26 employees of the State Emergency Service.

6 defenders of Ukraine were awarded the title of Hero of Ukraine.

And finally. Another congratulation – also for our heroes, for Ukrainian firefighters.

Today is the Day of Firefighters. And I sincerely congratulate everyone who protects the security of our people, our land from fire. Who is at war almost every day even in peacetime.

Thank you for your service!

Thank you for saving us!

Glory to Ukraine!
Here's the Ukrainian Ministry of Defense's operational update for today:
The operational update regarding the russian invasion on 18.00 on April 17, 2022

The fifty-third day of the heroic resistance of the Ukrainian people to a russian military invasion continues. A russian federation continues its full-scale armed aggression against Ukraine. The russian occupiers continue to launch missile and bomb strikes on Ukraine's industrial and civil infrastructure.

The enemy did not take active action in the Volyn and Polissya areas.

In the Siversky direction, there is a possibility that the russian enemy will use sabotage and reconnaissance groups and launch missile strikes from the territory of the russian federation on elements of the military and civilian infrastructure of our state.

In the Slobozhansky direction, the russian enemy continues to partially block Kharkiv, trying to fire on the positions of units of Ukrainian troops and critical infrastructure.

In the Donetsk and Tavriya directions, the russian enemy intensified hostilities. It continues to launch missile and bomb strikes on the city of Mariupol, including with the use of Tu-22M3 strategic bombers. The russian occupiers tried to carry out assault operations near the seaport and the Azovstal plant.

In the South Buh direction, the enemy continued to focus its efforts on maintaining its positions. In the area of the settlement of Vasylivka, Zaporizhzhia oblast, it was noted that the enemy, probably to carry out provocations, draws off the letters Z on the equipment and sets Ukrainian flags.

Information about the destruction of the moscow missile cruiser by Ukraine has gained considerable public response in Crimea. There is growing distrust among the population about the information disseminated by the official russian media.

Due to lack of human resources, the russian invaders are trying to involve locals in the temporarily occupied territories. Thus, in the city of Izyum, the forced mobilization of men has begun.

Preparations for an illegal referendum on the proclamation of the so-called "Kherson People's Republic" continue in some territories temporarily occupied by the russian occupiers. To falsify its results, it is planned to use personal data of residents of the region, which are collected by the russian occupiers during the issuance of so-called "humanitarian aid". Residents are also spreading information that after the announcement of the results of the pseudo-referendum, their "mobilization" into the armed forces of the russian federation will begin.

During the training activities before the deployment of units to participate in the war with Ukraine on the training grounds in the russian federation, more than 50 cases of unauthorized leaving of field camps by personnel were noted.

Ukrainian defenders are defending themselves and are gradually pushing back enemy troops in certain areas.

Let's win together! Glory to Ukraine!
Mariupol:
Mariupol had lived in peace before Russia invaded, ruined 95% of the city by heavy bombardment, and killed thousands of people. Ukrainian forces still hold on. Wounded and dead need evacuation. So are thousands of civilians, including kids and elderly. People lack food and water.

— Ukraine / Україна (@Ukraine) April 17, 2022
This night Russians are planning to bomb AzovStal factory in Mariupol, where Ukrainian defenders are holding the line. Ukrainian journalists report about 1000 civilians are also hiding in underground shelters of AzovStal.

— Nika Melkozerova (@NikaMelkozerova) April 17, 2022
⚡️Ukraine's Prime Minister Shmyhal: Mariupol besieged but not fallen.

Shmyhal said on April 17 in an interview with ABC News the besieged city of Mariupol has not yet fallen despite Russian demands Ukrainians surrender.

He said Ukrainian forces will "fight till the end."

— The Kyiv Independent (@KyivIndependent) April 17, 2022
From iNews:
Survivors from the Mariupol bomb shelters have been taken to a former Russian military base 600 miles from Ukraine which was used for decades as a dump for Soviet chemical weapons, it can be revealed.

Ukraine's human rights ombudsman Lyudmyla Denisova has warned that more than 400 people, including 147 children, are in a fenced camp near the city of Penza, according to information she has received from concerned Russian citizens.

i has used open-source intelligence techniques to locate the camp in Leonidovka, which after the Second World War was used as a munitions dump for Soviet chemical bombs.

The discovery of the camp comes after i revealed this week how Kremlin documents show that Vladimir Putin is sending thousands of Ukrainians to remote corners of Russia and as the country is gripped by a historic population decline.

Ms Denisova said she had spoken about the camp to Russians "who support Ukraine", adding: "This is a closed-type institution with a few hulls, fenced and under guard at the entrance checkpoint. The freedom of movement of our citizens is limited – leaving the camp is forbidden."

She said the Mariupol survivors "don't have the necessary clothes, shoes, even underwear" and lack basic supplies such as children's food or toiletries.

"Our citizens are in an extremely difficult and oppressed state," she said. "They don't know their fate, to which region of the Russian Federation they will be taken."

The camp, which was used as a barracks for the base and has been described by Russian media as a "military town", is around a mile to the nearest village and is 16 miles from the city of Penza.

It is surrounded by a fence with a gate and guardhouse and by a forest on four sides. The chemical plant and the walled munitions depot with 18 bunkers which were previously used for storing chemical weapons stand just over a mile to the south.

Ms Denisova said: "According to the information from activists, Ukrainians are being forcibly relocated to different regions of the Russian Federation."

She said 90,000 people have been taken out of eastern Ukraine and across the border "under coercion".

i reported eyewitness testimony this week from Mariupol survivors who were interrogated in filtration camps before they were taken over the Russian border on buses. "None of our acquaintances wanted or planned to go to Russia," the witness said.
Much, much more at the link.
This isn't a filtration camp, this is a concentration camp!
Chernihiv:
Until just recently, there was a library, one of Chernihiv's landmarks buildings. Now there is a 5-meter crater from the russian 500-kilogram bomb. Chernihiv, Kharkiv, Mariupol—each city bears the same signature: "The russian world paid a visit there."
Photo by Marko Melnyk. pic.twitter.com/FIlwmbMdUB

— Defence of Ukraine (@DefenceU) April 17, 2022
Kharkiv:
A missile hits #Kharkiv residential area again. This is how the life of Ukrainians looks under russian bombs and rockets. For how long will it continue? #ArmUkraineNow #protectuasky
Video: Ukraine Now pic.twitter.com/NAyr86pSeQ

— Olena Halushka (@OlenaHalushka) April 17, 2022
In Russia's shelling of Kharkiv Center, 5 civilians killed, 13 wounded.

— Alexander Khrebet/Олександр Хребет (@AlexKhrebet) April 17, 2022
Trostnyanets:
From The Independent:
WARNING, WARNING: This reporting contains description of torture!!!!!
Blindfolded, arms and legs bound, and lying in the corner of the torture room, Dima could only hear his fellow prisoner scream and his ribs crack, as the man was beaten to death next to him.

The soldiers had grunted with exertion as they bound the prisoner – Kolya – into the "lastochka" or "swallow" position, an infamous torture method long favoured by Russian forces.

They then got to work as they always did in this makeshift cell below the railway station in Trostyanets, a northeastern Ukrainian town near the border with Russia.

Dima remembers how Kolya, who had apparently denounced Moscow publicly, was subjected to particularly savage violence. Even after Kolya was dragged to the blood-stained room, he refused to stop cursing Russia's invasion of Ukraine, fuelling the relentless blows that rained down on him.

It was only when he went quiet that the boots crunched out of the cell. Then Dima heard a gurgle edge Kolya's breath.

"I screamed at the guards: 'He is dying, he is dying.' I tried with my bound feet to push a bottle of water towards him," says Dima, visibly distressed.

"All they did was laugh and say: 'If he dies, he dies. All Ukrainians must die.' I kept calling to Kolya but he didn't reply," the part-time mechanic adds.

Trapped in a purgatory of darkness that erased time, Dima thinks Kolya was murdered on the second or third day of his captivity – but he cannot say for sure. "They kept the body next to me until the morning when they removed it and brought in two more people," he adds.

For 10 days, survivors of this room – all civilians – say they were starved, tortured, subjected to multiple mock executions, threatened with rape and forced to sit in their own excrement by soldiers under Trostyanets station.

This is just part of a slew of new testimonies obtained by The Independent that provide fresh evidence of possible war crimes in Ukraine's northeastern region of Sumy.

The Independent spoke to two of the survivors: Dima, the first to be held captive, and Andrei, who says he was abducted by soldiers a few days later.

Dima says Kolya was prisoner number four of at least eight civilians held there during the month-long Russian occupation of the town.

He shows us the site, located in a basement under the main ticket hall of the station. It was just a few metres wide, and still smeared in blood.

Three of the detainees are dead or missing: Koyla was killed, and two others, including a military veteran, were beaten almost unconscious before they were taken away. Their whereabouts are still unknown.

Andrei – prisoner number six – says he was stabbed in his left leg, stripped, and threatened with genital mutilation and rape.

At one point, the 33-year-old says, the Russian soldiers gave him electric shocks to his head. The beatings were so brutal he begged his captors to kill him.

His wrists, legs and ankles still bear the signs of torture, and he has lost sensation in his right hand.

"It was a nightmare. It was the worst thing that has ever happened to me," he adds, his voice shaking.

Moscow has repeatedly and vehemently denied targeting civilians as well as committing war crimes in Ukraine, saying that accusations of torture, rape, summary execution and murder are "monstrous forgeries" aimed at besmirching the reputation of its forces.

But The Independent has collected dozens of testimonies pointing to possible violations of international law in multiple regions of the country: including most recently in Trostyanets.

Even then, the railway torture chamber is feared to be just the tip of the iceberg.
Much, much, much more at the link!
Just about anywhere in Ukraine the Russians have occupied and been driven out:
A visual explanation why it is not advisable to return to deoccupied areas just yet. Neither homes, nor walls on the woods are safe. Emergency service of #Ukraine is working hard to allow safe returns the soonest pic.twitter.com/QGojXFLqCt

— Lesia Vasylenko (@lesiavasylenko) April 17, 2022
As a heads up there is an image of a booby trapped teddy bear – the bear is cream colored, the IED is rigged out of a green Serbian mortar round – is circulating claiming to be from a home in Kyiv is actually a picture of a booby trap left by Wagner mercenaries in Libya on 2020. Images at the link!
Apparently Madame LePen is going through some things. From Reuters:
PARIS, April 17 (Reuters) – French prosecutors said on Sunday they are examining a report by the European Union's anti-fraud agency accusing far-right presidential candidate Marine Le Pen and members of her party of misappropriating thousands of euros' worth of EU funds.

Le Pen is challenging Emmanuel Macron in a presidential election with opinion polls showing Macron edging ahead in next Sunday's second round runoff.

The Paris prosecutor's office confirmed that it was studying a report it received from the EU anti-fraud agency OLAF on March 11.

Investigative website Mediapart wrote on Saturday that the OLAF report claimed Le Pen had misappropriated 140,000 euros of public money with party members in total diverting 617,000 euros. None are accused of profiting directly, but of claiming EU funds for staff and event expenses.

Le Pen's office could not immediately be reached for comment.
More at the link!
In other news from France:
⚡️ Zelensky invites Macron to Ukraine to witness 'genocide.'

Zelensky told CNN that French President Emmanuel Macron should visit Ukraine to realize that Russia had unleashed a genocide against Ukraine.

Macron had previously refused to call Russia's actions a genocide.

— The Kyiv Independent (@KyivIndependent) April 17, 2022
Your semi-daily Chef Jose Andres:
With many families now crossing back into Ukraine, lines at the border are getting long…So the @WCKitchen team in Poland jumped into action! Proud to see them doing what we do best—move fast and adapt to food needs! #FoodFighters #ChefsForUkraine ?? https://t.co/i4Qd75kNjj

— José Andrés (@chefjoseandres) April 17, 2022
A message for you from Ukraine on this Holy day… In our dark hour I see a future of light. Every day I see the unity & spirit of the Ukrainian people and that is worth celebrating! And @WCKitchen will keep fighting to ensure a plate of food is the start of a better tomorrow… ?? pic.twitter.com/TNaBlSGkBY

— José Andrés (@chefjoseandres) April 17, 2022
And we'll finish with this:
HEROES—Ukrainian volunteers line up in Kyiv to walk and spend time with dogs that were rescued from destroyed towns and are now in a shelter. These are some really good people. Photo: Lesia Smykovska pic.twitter.com/RnPd2IiVwC

— Lorenzo The Cat (@LorenzoTheCat) April 18, 2022
Open thread!