Sound *ON*!
IT'S STILL TOO EARLY pic.twitter.com/1pQj0REW7h

— Bette Reynolds (@reynolds_bette) April 16, 2022
.@ashishkjha says on Fox News that he doesn't think events like the White House Correspondents' Dinner need to be canceled because "we are at a point in this pandemic where I think we can gather safely" pic.twitter.com/it3aEdDyqt

— Aaron Rupar (@atrupar) April 17, 2022
======
Madatory disclaimer: I'm an aggregator, not a reporter. I can only share what I find, and given the current news climate, Shanghai's plight is monopolizing what (pandemic) news hasn't been redirected to other global horrors. I will be almost as happy as a Shanghai resident when the day comes that medical-health media attention is directed elsewhere!
Shanghai, battling a major #Omicron BA.2 outbreak, reports its 1st deaths. Health officials in the mega-city of >26M say 3 people, all elderly, have died of Covid. That raises to 4641 the number of people who've reportedly died of Covid in China since 2019 https://t.co/h9u652RFIg

— delthia ricks ? (@DelthiaRicks) April 18, 2022
… All three people who died were elderly, had underlying diseases such as diabetes and hypertension and had not been vaccinated against the coronavirus, city Health Commission inspector Wu Ganyu told journalists.

"After entering hospital, their conditions grew worse and they died after attempts to save them were unsuccessful," Wu said.

The deaths raise to 4,641 the number of people that China says have succumbed to the disease since the virus was first detected in the central city of Wuhan in late 2019.

While China has an overall vaccination rate of around 90%, a low rate among the elderly remains a concern. Only 62% of Shanghai residents over age 60 have been vaccinated, according to the latest data available. Some experts say China needs to raise that rate before it can safely live with the virus.

While highly contagious, the omicron BA.2 variant driving the Shanghai outbreak is less lethal than the previous delta variant. However, China's low death toll from COVID-19, which is blamed for more than 988,000 deaths in the United States, has raised questions about how China's authoritarian and often highly secretive government counts such fatalities…

At a meeting Monday, Vice Premier Liu He, President Xi Jinping's top economic adviser, pledged increased spending to stabilize supply chains and provide financial support for health workers and others on the pandemic front lines.

While the ruling Communist Party has urged more targeted prevention measures, local officials have routinely adopted stringent regulations, possibly for fear of being fired or penalized over outbreaks in their areas.

In the city of Wenzhou, which has seen only a handful of cases, authorities have authorized rewards of up to 50,000 yuan ($7,800) for information about people who falsify their health status, online news site The Paper reported.
COVID-shaming pits neighbour against neighbour in locked-down Shanghai https://t.co/m8oyzUzWa2 pic.twitter.com/BgPvVrV2P2

— Reuters (@Reuters) April 18, 2022
With the city of 25 million in lockdown, thousands of people in Shanghai who test positive for COVID-19 but have few or no symptoms are being ordered into quarantine centers in immense exhibition halls and other buildings. https://t.co/zcCRwDMFAA

— The Associated Press (@AP) April 18, 2022
Argument from the ground (Shenzen) — extracts from a longer thread:
The general answer to why Chinese don't rise up against this or that, is because *overall* there's constant incremental improvement. Bad as something is, our parents had it better than our grandparents and we have it better than our parents, collectively, cooperation is rewarded.

— Naomi Wu 机械妖姬 (@RealSexyCyborg) April 9, 2022
Some countries were founded in a fight against fascism, freedom from colonial powers- every nationality has its buttons you do not push if you don't want people in the street. In China, our fight was against the humiliation of colonialism, but also the of humiliation of poverty.

Jokes about our conduct at seafood buffets abound, but plenty of us grew up with ration tickets, and before that, if you did not fight your way to the front of the line- your family didn't eat. Now a great deal of our culture revolves around showing off there is too much food…

Shanghaiese will not starve in their homes- the powers that be are well aware of it. The only reason they have not taken to the streets in greater numbers is the population is highly educated, well invested in the current system, and aware that doing so will make things worse.

We've already seen the Shanghai authorities ease the lockdown today, but this will also likely speed the spread of this variant. If COVID escapes local lockdowns into the general population, any reasonable estimate puts the death toll at upwards of 5 million people.

So in the next few weeks, if there is no major progress, we are faced with the possibility of civil unrest caused by scarcity- either from lockdowns, or by a shortage of workers able to deliver supplies due to illness.

Food shipments in China are very time-sensitive due to our poor cold chain. Most Chinese want "fresh" not frozen or refrigerated foods. This is why massive amounts of food has been lost to spoilage in Shanghai as trucks could not make timely deliveries. https://iopscience.iop.org/article/10.108

Few Chinese eat canned or frozen foods in any quantity, many rely on takeout. Overall, with the exception of rice, I would estimate 80% of our average caloric intake is perishable foods with a fragile, time-sensitive supply chain. We've seen even modest delays are a huge problem.

Add to this, most Chinese watching Shanghai are extremely upset by the situation there but almost none I have spoken to has acted on that awareness and begun to stock up on dry goods. Many of my friends in Shenzhen still rely on takeout and don't even have a sack of rice on hand.

The fact that many Westerners have a relatively unhealthy diet of processed, pre-prepared foods with an extremely long shelf-life actually serves them well here and makes the time-sensitive and precarious nature of the Chinese food supply situation a little counterintuitive.

I genuinely hope that ample supply trucks will get through, health care shortages eased, and people patient. Civil unrest is called for in some cases, but here it would only make things vastly worse, very, very quickly. But you should understand why this is such a delicate time.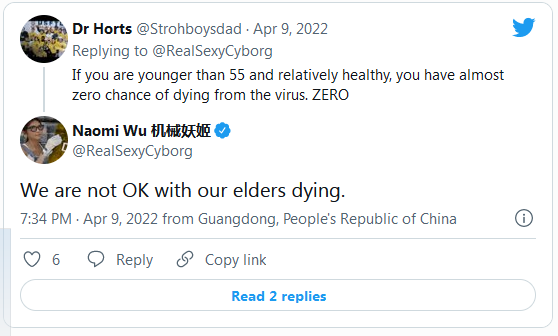 India's COVID infections hit month-high, one state reports spike in deaths https://t.co/oZnItChe2M pic.twitter.com/zRUiP6jf3m

— Reuters (@Reuters) April 18, 2022
India's tally of daily COVID-19 cases nearly doubled on Monday from the previous day to more than 2,000 for the first time in a month, government data showed, and the southern state of Kerala reported a big jump in deaths.

India was at the centre of the global COVID crisis this time last year but the situation has improved since then and most precautions including the wearing of masks have recently been dropped.

But cases have been creeping up in the country of 1.35 billion people in the past few days…

Authorities reported 2,183 new infections on Monday, taking the running total to more than 43 million, according to health ministry data.

The ministry reported 214 more deaths, including 151 since April 13 in Kerala, which is widely considered to issue more accurate data than many other states.

India has reported a total of about 522,000 deaths from the coronavirus though many global experts have said its real death toll could be up to 4 million, from several hundred million cases…
South Korea lifts most COVID precautions as new cases dip to two-month low https://t.co/F0HmfST6Qs pic.twitter.com/8GV5dTioDW

— Reuters (@Reuters) April 18, 2022
======
From a longer thread:
Already today many are more worried about long-COVID than they are about simply getting a bout of COVID.

For good reason. If you're vaccinated & boosted, surviving COVID is less of a concern. What comes next is. 2/

— Andy Slavitt ?? (@ASlavitt) April 17, 2022
I recently talked to two people who know more about the causes & treatments for long-COVID than anybody else. Come listen. @VirusesImmunity & @PutrinoLab. 3/ https://t.co/AvY4DY71K3

— Andy Slavitt ?? (@ASlavitt) April 17, 2022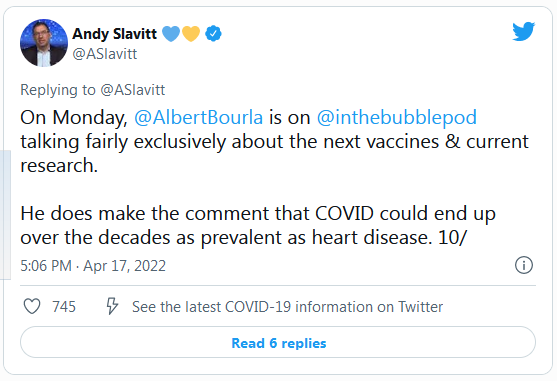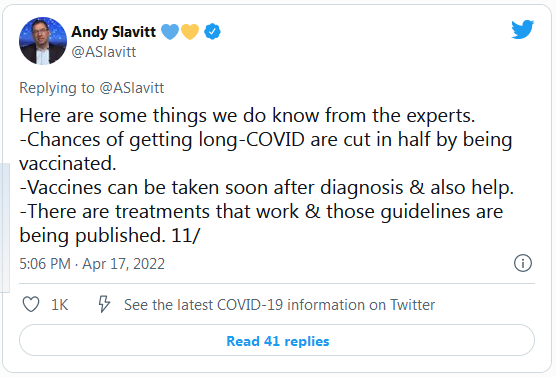 Here's a snippet of @PutrinoLab talking about the impact of effective rehabilitation & lifestyle treatments. Full dialogue on the link.

80% reduction in symptoms & a small number of people fully recovered is very promising.
12/ https://t.co/LXxKeSh5iG

— Andy Slavitt ?? (@ASlavitt) April 17, 2022
======
For millions of Americans, the pandemic remains a ubiquitous threat to their lives and livelihoods.

They are immunocompromised or otherwise at higher risk of severe illness, unable to take paid time off or work from home, and struggle to make ends meet. https://t.co/p7HgrbO2T0

— The Washington Post (@washingtonpost) April 17, 2022