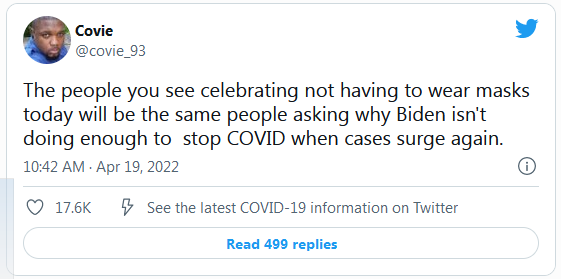 U.S. President Joe Biden's administration said it would appeal a Florida judge's ruling ending mask mandates on airplanes and public transportation if public health officials deem it necessary https://t.co/l4rQkMv7eU pic.twitter.com/dZ0EFiyQc6

— Reuters (@Reuters) April 20, 2022
U.S. COVID update: Daily cases continue to rise

– New cases: 52,021
– Average: 42,284 (+2,990)
– States reporting: 34/50
– In hospital: 13,504 (+292)
– In ICU: 1,791 (-5)
– New deaths: 462
– Average: 432 (-13)

More data: https://t.co/YDZSbYO7l7 pic.twitter.com/mQXJp514CM

— BNO/Medriva Newsroom (@medriva) April 20, 2022
Six in 10 adults support continued masking in public—and for good reason—500 people are still dying daily of Covid, and multiple #Omicron variants are on the rise. Survey by Kaiser Family Foundation reveals the demographics on who favors masking and who doesn't⬇️ https://t.co/EMowCsJ39y

— delthia ricks ? (@DelthiaRicks) April 19, 2022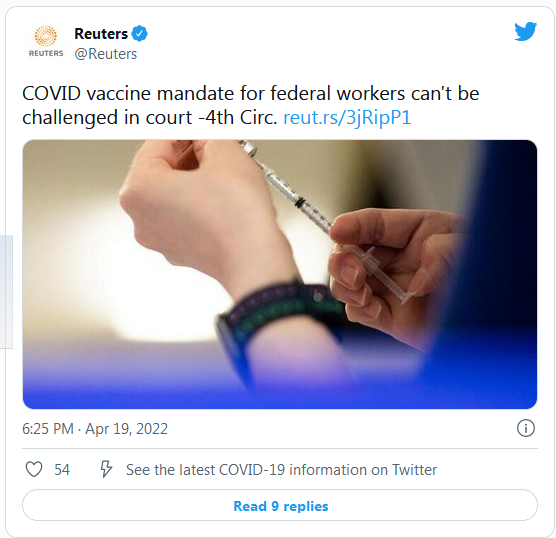 A U.S. appeals court on Tuesday said government employees cannot sue over President Joe Biden's COVID-19 vaccine mandate for federal workers, echoing another court that came to the same conclusion and reinstated the mandate earlier this month.

A unanimous three-judge panel of the 4th U.S. Circuit Court of Appeals said two employees of federal agencies had to first raise their challenge to the mandate through the administrative scheme laid out in the federal Civil Service Reform Act (CSRA).

The CSRA says federal workers must bring legal disputes in a grievance process that culminates at the Merit Systems Protection Board. That agency's decisions can then be appealed in federal court…

The plaintiffs in Tuesday's case claimed Biden lacked the authority to issue the mandate, and that it violated their constitutional rights.

A Maryland federal judge in November disagreed and dismissed the case. The 4th Circuit on Tuesday said the judge should never have taken up the claims because the workers were bound by the process established in the CSRA.

In January, the U.S. Supreme Court blocked Biden's COVID-19 vaccination-or-testing mandate for large businesses, a policy conservative justices deemed an improper imposition on the lives and health of many Americans. The court allowed a separate federal vaccine requirement for healthcare facilities to stand.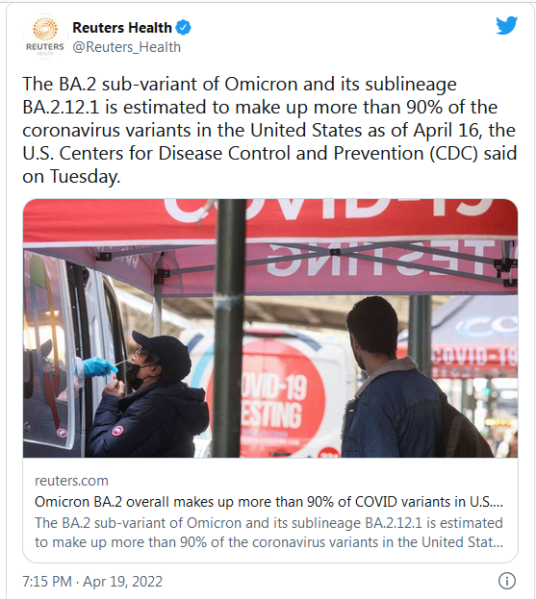 ======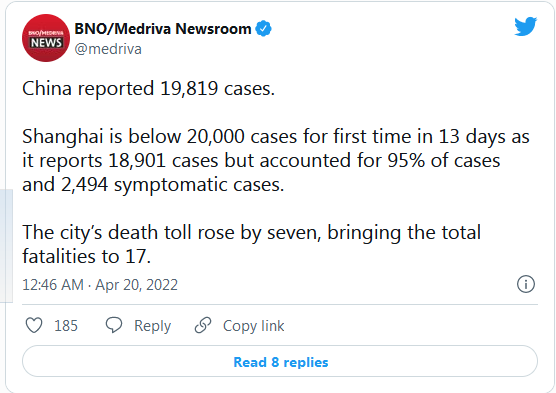 "China urged to seek alternatives to its faltering Covid vaccines"
—Need for 3 shots for parity w/ mRNAs for mortality reduction
—May need 2 mRNA booster shots for full effectiveness https://t.co/nN1DbnD7JS @hannahkuchler @EleanorOlcott w/ @VirusesImmunity @bencowling88 pic.twitter.com/zarXvZK1Gb

— Eric Topol (@EricTopol) April 20, 2022
Shanghai allowed 4 million more people out of their homes Wednesday as coronavirus rules eased. Almost 12 million people of the city's 25 million can now leave their homes after the city imposed lockdowns starting March 28 following a surge in infections. https://t.co/6lj50qQckY

— The Associated Press (@AP) April 20, 2022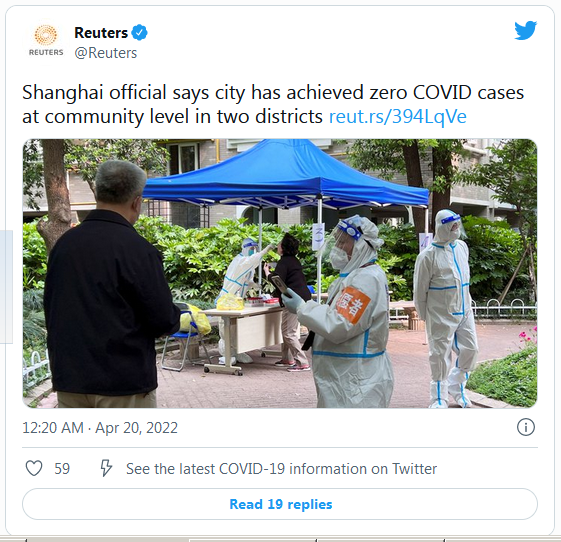 Hong Kong recorded 668 new Covid-19 infections on Wednesday. The city also added 10 deaths in the past 24 hours.

Full, trusted coverage on HKFP: https://t.co/w8LTgNgHXy pic.twitter.com/Qh137k0pKW

— Hong Kong Free Press HKFP (@hkfp) April 20, 2022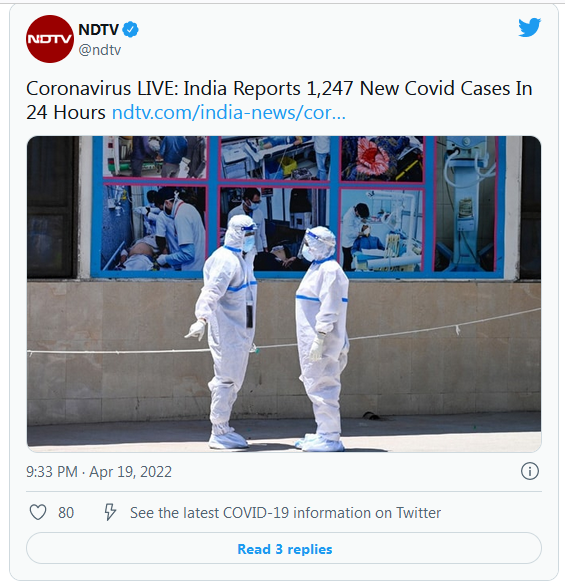 DDMA has called a meeting on April 20 to discuss the coronavirus situation in the national capital over rise in number of cases#Delhi #Covid19 #CovidSurge #CoronavirusPandemic #REhttps://t.co/eqKj3TCh0J

— IndiaToday (@IndiaToday) April 20, 2022
"He is a man without shame." https://t.co/Zt5kaNkcVy

— Laurie Garrett (@Laurie_Garrett) April 19, 2022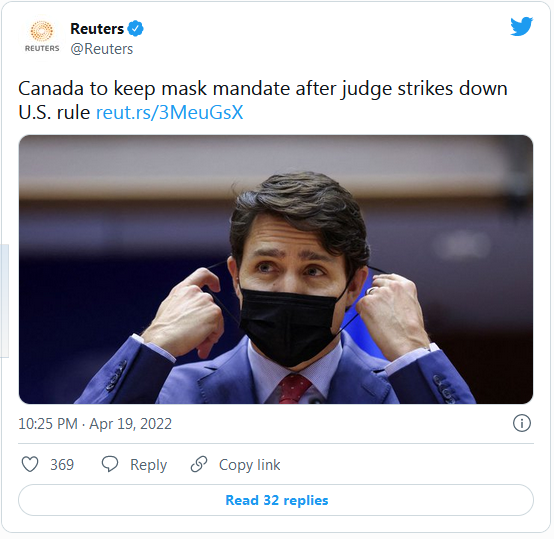 ======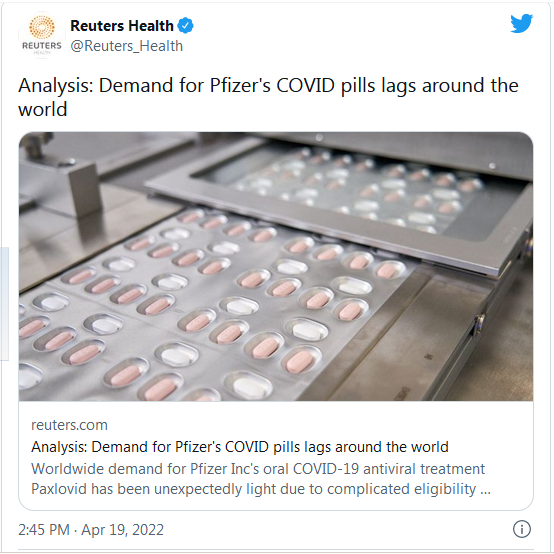 If the (very early, tentative!) suggestions that Paxlovid helps against long covid are supported by further research, the demand will surge *very* quickly:
… Paxlovid was expected to be a major tool in the fight against COVID after it reduced hospitalizations or deaths in high-risk patients by around 90% in a clinical trial.

Thousands of people still die from COVID-19 every week, even as global infections are far off their peak. And there are only a few proven antiviral treatments, of which Paxlovid is the most attractive. The others are Merck & Co's (MRK.N) far less effective rival pill molnupiravir, and Gilead Sciences' (GILD.O) intravenous remdesivir.

But even amid a recent rise in infections, Paxlovid supply far outstripped demand in the United States, UK, Japan, and South Korea, data from health ministries and Reuters interviews with doctors and pharmacists found…

Pfizer plans to produce up to 120 million courses of Paxlovid this year and expects at least $22 billion in sales from contracts signed through early February. The United States, which agreed to buy up to 20 million pills this year, making it the largest publicly known buyer, is paying around $530 a course, but prices vary by country.

Pfizer is on pace to produce 3.5 million courses earmarked for U.S. use by the end of April, the government said. Through the first half of April, U.S. data shows it has distributed around 1.5 million courses and that pharmacies still have over 500,000 available…

The Paxlovid rollout has also been slow in Asia, despite some countries hitting record infections recently…

Pfizer Chief Executive Albert Bourla said last week that restrictions on who can receive Paxlovid have limited use in Europe.

"Right now we have some countries – some of them very big countries – that have dispensed a very small percentage of the quantities that they already have," he said.

Some U.S. pharmacists and doctors raised concerns that a turn to home tests over laboratory testing could allow high-risk patients to slip through the cracks because they are unaware they are eligible for Paxlovid or that it exists…

Paxlovid can interact with many widely-used medications, complicating its use. "It's a bit of a pain to prescribe, said University of Southampton Professor Paul Little.

Demand could increase if Paxlovid is proven to work in studies underway testing it in broader groups, including those at lower risk and the vaccinated.

Dr. David Battinelli, chief medical officer for Northwell Health, New York State's largest hospital group, said even if cases pick up, he doubts Paxlovid use would increase among the unvaccinated.

They either fight through it, he said, or, "they show up at the hospital."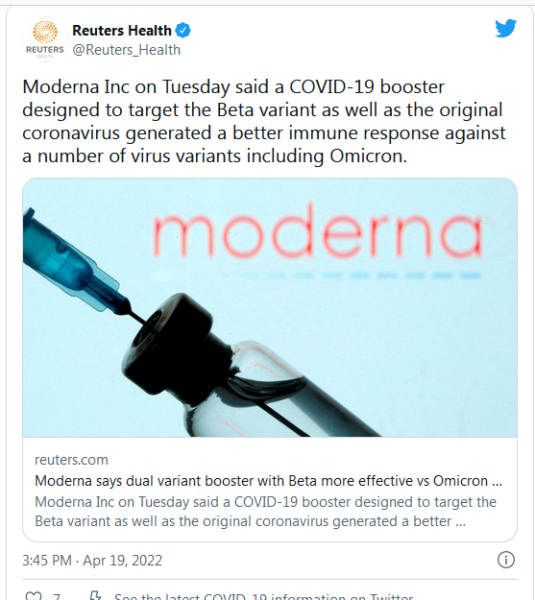 … Dr. Jacqueline Miller, a top Moderna scientist, said the company had no immediate plans to file for authorization of the bivalent vaccine including the Beta variant. It will submit the data to the U.S. Food and Drug Administration in order to lay the groundwork for a future bivalent vaccine candidate that includes the Omicron variant as a target.

The company said the bivalent vaccine with Beta generated higher neutralizing antibody titers against the Omicron variant at one and six months after the shot was given than the booster of its original vaccine currently in use.

The company said it was especially encouraging that the bivalent vaccine induced higher antibody responses against variants that were not specifically included in the vaccine.

The 50-microgram bivalent booster, which the company calls mRNA 1273.211, was tested in 300 people.

Moderna has started testing a different bivalent shot that combines an Omicron-specific vaccine with its original. Initial data from that vaccine is expected later in the second quarter, Moderna said…

"In order to be ready for the fall, we've had to start manufacture at risk," Miller said. "Our belief is that the bivalent, based on the data that we have already observed … offers the best hope for longer and more durable protection.
======
Hospitalization rates for unvaccinated children ages 5 to 11 were twice as high as among those who were vaccinated during the record COVID-19 surge caused by the Omicron variant, according to a U.S. study released on Tuesday. https://t.co/sr7s5JjG1Z

— Reuters Health (@Reuters_Health) April 20, 2022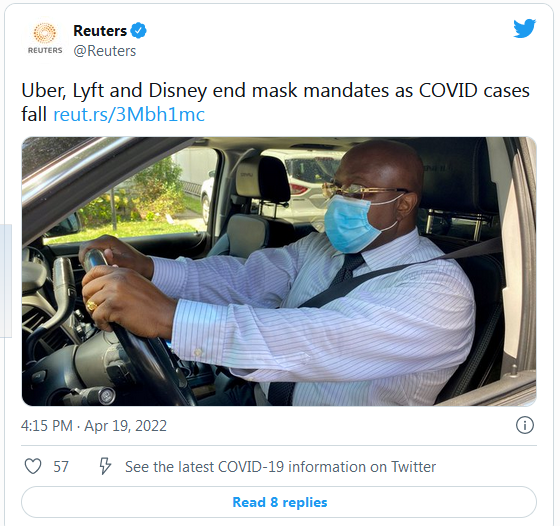 I experienced first hand today what Monday's court ruling on the federal mask mandate means. Within 24 hours, most people masked = most people not masked. Please read my @BostonGlobe colleague @reneeygraham on the implications of the ruling. https://t.co/gAs42hMTvi

— Helen Branswell ?? (@HelenBranswell) April 20, 2022
… Judging from the jubilant reactions posted on social media after airline employees announced mid-flight that passengers were no longer required to wear a mask, they weren't thinking about the more than 6.2 million people killed by COVID — nearly 990,000 in this nation alone, the highest death toll in the world.

Buoyed by the selfishness that has prolonged this pandemic, they think only of themselves.

Of course, Donald Trump-appointed US District Court Judge Kathryn Kimball Mizelle's vexing decision to void the Centers for Disease Control and Prevention's national mask mandate for public transportation doesn't affect only air travelers. It also applies on trains, buses, and boats. Uber, the ride-hailing company, won't require masks for drivers or passengers.

Throwing out the mask mandate reeks of the privilege of someone who doesn't rely on public transportation. Airplanes may have great ventilation and filtration systems, but the same cannot be said of many subways and buses. On Tuesday the MBTA rescinded its mask mandate for all customers, except users of The RIDE paratransit services…

"This was a legal decision, not a public health decision, and it was abrupt," Dr. Sanjay Gupta, CNN's chief medical correspondent, said during a Tuesday segment. "All of a sudden masks came off, families and travelers who were fully anticipating they would still be able to travel in a masked environment suddenly could not. Children under the age of 5 who've not been able to be vaccinated — again, feeling more comfortable in a masked environment — suddenly were not in a masked environment."

All of this is happening as BA.2, an even more transmissible Omicron subvariant, is causing COVID infections to rise again. Vaccinations have stalled. There are about 40,000 new cases a day, and it's probably higher, since people generally do not report home test results. Between 400 and 500 people die every day. Such numbers aren't as dire as those during the height of the Delta and Omicron waves, but it still means that thousands continue to die from COVID each week…

Once headlines verified what many of us anticipated — that COVID, enabled by systemic and institutional racism, would have a disproportionate impact on Black and brown communities — scores of white people, some of them armed, took to the streets and state houses for raucous anti-lockdown tantrums.

People went from cheering health care workers to cheering the fact that they would no longer have to use one of the most effective mitigation devices during this pandemic. That puts the elderly, immunocompromised, and children too young to be vaccinated at risk. What's being hailed as a victory for independence and personal choice feels like surrender…

During these past two unprecedented years, I've often thought about something Michelle Obama said: "Being president doesn't change who you are. It reveals who you are." That can also be applied to how this nation has handled the pandemic. The COVID crisis has not changed America, but revealed its churlishness and cruelties, both unchecked and now unmasked.