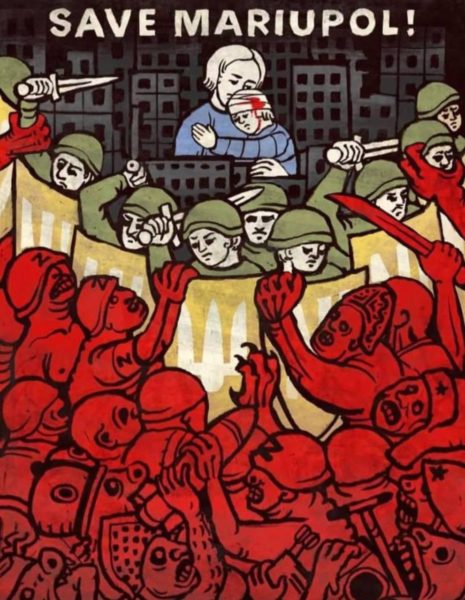 Before we get started, and there will be more below the jump, the last reporting I've seen indicates that the Azov Regiment and the 36th Separate Marine Brigade are still, just barely holding on.
I want to start tonight with this question from commenter egorelick from the comments to last night's update post:
I really appreciate these updates, but since I can't really [neither predict or conceive work] the possible outcomes, I don't know what to think of these updates.
There's more questions in that comment, which I'll get to in a bit, but first:
First off, like everyone else thanks for the kind words and you are most welcome. I wish I didn't have to do them, I hope that soon I won't have to do them, but until then…
To answer your question, there are several reasons for these updates and, perhaps, one of them will help you to make sense of them. The first reason is that Cole asked me to do an update on the first day of the reinvasion, then called me to talk about what was going on on the second day and asked if I was going to do another update, and that basically set the pattern. Beyond that, however, is that I am not currently formally working on this problem set. As in I am not on a funded line nor on a project where I get paid to try to help senior leaders better understand what is going on so they can make the best decisions possible to help the Ukrainians get to a successful battlefield outcome as quickly as possible. Right now I'm just finishing up a project I was working on with my boss and several colleagues that had nothing to do with Ukraine and waiting to hear what my next project or assignment might be.
Beyond that, however, this war is of some professional importance to me. By now all of you know, and if you don't you must just now be tuning in, I was the Cultural Advisor/Senior Civilian Advisor assigned to the Commanding General of US Army Europe from December 2013 through the end of August 2014. I was actually assigned to him to assist US Army Europe with the Army's part of then Secretary of State Kerry's 2014 Israeli-Palestinian peace initiative. However, by the middle of January it became apparent that something bad was brewing in Moscow. And since I was his only cultural subject matter expert if I didn't provide him the socio-cultural strategic assessments of what was going on in Ukraine and between Ukraine and Russia, no one would. In fact at that point thanks to the sequester/Budget Control Act and Army politics between the Training and Doctrine Command, its subordinate command the Combined Arms Center, and US Army War College where I was assigned full time and which had taken over funding my billet, I was not just the only civilian cultural subject matter expert to have ever worked at the strategic level or the most senior one to have been mobilized as part of the Army Culture and Foreign Language Directorate's providing us to the Army's centers and schools, I was the only one left. All fourteen of my colleagues and counterparts had been demobilized and either returned to the universities they were mobilized from or moved on to other things. As a result, in February 2014 I quickly prepared an assessment of the Maidan movement, oligarchism and kleptocracy, and what I anticipated would be Putin's plans to scarf up at least Crimea. Because of the work I'd done on the Syrian Civil War for the Army, I had been working my way through a lot of the material on Putin, how he rose to power, how he ran Russia, his connections to organized crime, etc because all of that was pertinent to his intervention in the Syrian Civil War. And because of other work I'd done over the years I knew a lot about oligarchism, kleptocracy, and organized crime. So I wasn't coming in completely cold. While I think my 2014 assessment holds up well, there is one section – on Crimean political attitudes – that I wished I'd written knowing what I know now rather than just relying on the year on year, election on election polling data.
To tie this part up, the point of these updates is to basically do for everyone at Balloon Juice what I'd be doing if I was actually working this problem set. This means continually staying updated on the open source reporting and information regarding what is going on in Ukraine and Russia, as well as in the US, the EU, NATO, and non-EU and non-NATO allies and partners. So that I can then sift the information to highlight what is more important versus what is less important, what is more verified and verifiable versus what is closer to Rumor Intelligence (RUMINT), and then present it in a digestible manner for you all. This includes deciding what not to include right away because I want to see further, reliable reporting on it versus what I think needs to be in any specific update.
I was professionally involved in 2014 when this all started, when Putin invaded Ukraine to scarf up parts of the Donbas and Crimea both to punish Ukraine and to make it impossible for it to join NATO. I was one of the voices around a conference table that at the time in 2014 stated "we're not going to risk a war with a nuclear power over Crimea." I was technically correct, but over the past eight years I have come to think I was both strategically and morally wrong. I was strategically wrong because until/unless someone bloodies Putin's nose and knocks him on his ass, he will not stop doing what he's been doing since the early 00s. And morally wrong because being technically correct meant recognizing that we would do nothing as Putin set the conditions to eventually do what he is doing now with the reinvasion of Ukraine.
So that's what you should make of these posts. That aside from me making some donations, in one case buying a Ghost of Kyiv shirt from the St. Javelin folks who are donating all profits to the Ukrainians, this is my way of making sure that we're all tracking what Putin is doing to Ukraine, as well as the heroism of the Ukrainians and what their efforts and sacrifices are doing for us.
Here's the rest of egorelick's question:
I'm begging for someone to help me see the endgame. The security of the world (or at least Europe) requires a Putin/Russian defeat. Do we really expect Ukraine to endure this much longer. The complete destruction of every soldier in Mariupol is bad enough, but add the tens of thousands of civilian casualties and the billions of dollars of damage plus the horrors that await when Russia actually achieves its objective in the city. Ukraine is still strong and does not plan to surrender or negotiate. Russia appears to still be able to wage a savage war even if they are unable to achieve all of their objectives. A Ukrainian outright victory seems unlikely. A Russian outright victory seems unlikely. A stalemate seems intolerable.
I can only speak for myself here, but I'm not sure anyone can clearly see the endgame. And anyone who claims they can is either a liar or a fool. All we can do is make the efforts to ensure our elected and appointed officials do everything they can to support Ukraine to win this war. To ensure that Ukraine has the resources necessary to inflict enough pain on the Russian military that it can no longer fight, thereby securing a successful battlefield outcome that establishes the conditions to secure the post-war peace. Which is that Russia is no longer able to threaten Ukraine or any of its other neighbors ever again. That should be the strategic objective.
Enough navel gazing.
Here's today's address by President Zelenskyy. As always there are English subtitles in the video and the transcript is after the jump (emphasis mine):
Free people of the bravest country!

The 56th day of our defense is coming to an end, and today we have definitely become one step closer to peace.

I was glad to welcome in Kyiv a great friend of our state and all Ukrainians – President of the European Council Charles Michel. Each such visit only underscores how absurd Russia's plans to seize our state were.

Three days? Five days? In how many days the occupiers planned to take control of Ukraine? 56 days – and we are meeting our guests in our capital for the sake of our national interests.

I held very thorough talks with Charles Michel on many aspects of relations between Ukraine and the European Union. The main thing is, of course, to protect our state and maintain the stable functioning of all state structures and all institutions. We discussed concrete steps of the European Union to help our country. In particular, defensive, financial and sanctions.

The second major topic of the talks is our movement towards European integration. This is the historic moment when we can develop maximum speed in joining the European Union. We have already proved that the Ukrainian state and public institutions are effective enough to withstand even the test of war. We are already doing as much to protect freedom on the European continent as other nations have never done.

And I see from all our friends in the European Union a willingness to help our movement as much as possible. I thanked Charles for that today.

The third major topic of our talks is the preparation of the necessary steps for the reconstruction of Ukraine after the war. We also discussed what we can do together with the European Union to address the threats to food and energy security in Europe and around the world posed by Russia. Resuming exports of Ukrainian agricultural products and blocking Russia's ability to blackmail Europe with energy resources are top priorities for everyone on the continent.

Before meeting with me, President Charles Michel visited Borodyanka, Kyiv region. He came there not alone, but together with his team. They saw with their own eyes what the occupiers had done on our land. What destruction they had caused. And a correct conclusion was made by our friends: there can be no peace without justice. We will do everything we can to bring to justice every Russian military and commander guilty of war crimes. Modern technology allows you to clarify many details. Every surname, every home address, every bank account – we will find everything.

A Plan to strengthen sanctions against the Russian Federation for the war against our state was published today. This Plan was developed by a team of Ukrainian and international experts led by Andriy Yermak and Michael McFaul.

When all the key areas identified in this Plan are implemented, Russia will lose the opportunity to finance the military machine. In particular, the Plan provides for restrictions on Russia's energy sector, banking sector, export-import operations, transport. The next steps should include an oil embargo and a complete restriction on oil supplies from Russia.

We are also working to ensure that all – I emphasize – all Russian officials who support this shameful war receive a logical sanctions response from the democratic world.

Russia must be recognized as a state – sponsor of terrorism, and the Russian Armed Forces must be recognized as a terrorist organization.

The European Union is currently preparing a sixth package of sanctions. We discussed this today with Charles Michel. We are working to make it truly painful for the Russian military machine and the Russian state as a whole.

I emphasize in all negotiations that sanctions are needed not as an end in themselves, but as a practical tool to motivate Russia to seek peace.

It is important that the EU Delegation and the embassies of friendly countries resumed work in Kyiv. This is one of the signals needed to tell Russia that there is no alternative to peace. There is no alternative to ending the war and guaranteeing full security for Ukraine. The more diplomatic missions return to work in our capital, the stronger this important signal will be.

Already 18 foreign missions are working in Kyiv in various formats. In particular, Italy, Iran, Kazakhstan, Latvia, Lithuania, Moldova, Poland, the Holy See, Slovenia, Tajikistan, Turkmenistan, Turkey, France, the Czech Republic, Estonia and others.

The return to normal life of the liberated cities and communities of Ukraine continues. 934 settlements have already been liberated. Police resumed work in 435 settlements. Local self-government started working in 431 communities. The work of humanitarian headquarters was launched in 361 settlements. We are gradually restoring people's access to medical and educational services, to social protection bodies. We are restoring road infrastructure, electricity, gas and water supply.

The biggest threats are mines and tripwire mines planted by the occupiers and shells that did not explode. It takes a lot of time, a lot of effort to neutralize them all. And I am grateful to all the specialists, all the rescuers who perform this important task.

Once again, I urge our citizens returning to liberated communities to be very careful. Do not enter the territory that has not yet been inspected. Do not go into the woods yet. If you see anything resembling a mine or a tripwire mine, report it to the police and rescuers immediately. Do not delay or attempt to remove hazardous items yourself.

The situation in the east and south of our country remains as severe as possible. The occupiers do not give up trying to gain at least some victory for themselves through a new large-scale offensive. At least something they can "feed" their propagandists with.

And I am sincerely grateful to each of our defenders, to all the Armed Forces of Ukraine, to all our cities, to all our communities that are resisting the invaders. To those who hold on and with their struggle, without exaggeration, save our state.

Mariupol, Avdiivka, Maryinka, Krasnohorivka, Toretsk, Velyka Novosilka, Zolote, Popasna, Izyum, Kharkiv, Hulyaipole, Mykolaiv, Vysokopillya, Snihurivka and dozens, dozens of other cities, dozens of other communities of the east, communities of the south of Ukraine, in the struggle for which the fate of our people and our freedom is being decided.

We are doing more than the maximum to ensure the supply of weapons to our army. Every day, all our diplomats, all our representatives and I personally work 24/7 through all possible channels – official and unofficial – to speed up the delivery of aid.

And I am very pleased to say, with cautious optimism, that our partners started to understand our needs better. Understand what exactly we need. And when exactly we need all this. Not in weeks, not in a month, but immediately. Right now, as Russia is trying to intensify its attacks.

Traditionally, before delivering the address, I signed a decree awarding our defenders. 203 servicemen of the Armed Forces of Ukraine were awarded state awards, 49 of them posthumously.

Five of our servicemen were posthumously awarded the title of Hero of Ukraine.

Eternal memory to everyone who gave life for Ukraine!

Eternal gratitude to all who stood up for our state!

Glory to Ukraine!
Here's today's operational update from Ukraine's Ministry of Defense (emphasis mine):
The operational update regarding the russian invasion on 18.00 on April 20, 2022

The fifty-sixth day of the heroic resistance of the Ukrainian people to a russian military invasion continues. A russian federation continues its full-scale armed aggression against Ukraine.

The russian enemy is trying to continue the offensive in the Eastern Operational Zone in order to establish full control over Donetsk and Luhansk oblasts. The russian enemy intensified the use of operational and tactical aircraft and air reconnaissance. It inflicts systematic air strikes on military and civilian targets, including long-range aircraft.

The russian enemy did not take active action in the Volyn and Polissya areas. The probability of missile strikes by units of the Air Force of the russian federation on military and civilian infrastructure in our country using the airfield network and the airspace of the republic of belarus remains.

In the Siversky direction, no signs of formation of an offensive group by the enemy were found. The protection of the joint part of the border with Ukraine is carried out by enemy units in an enhanced mode.

In the Slobozhansky direction, the russian occupiers are strengthening groups of army aircraft near the State Border of Ukraine. In the territory of the Belgorod region, the equipment of helicopter landing sites has been completed, where more than 90 attack and multi-purpose helicopters are concentrated.

The russian enemy continues to partially blockade Kharkiv, trying to carry out fire damage to units of our troops and critical infrastructure.

The russian enemy regrouped troops in the Izium direction. In the area of ​​the settlement Dibrovne the russian enemy carried out offensive actions, has partial success. In the area of ​​the settlement of Stara Hnylytsia the offensive was unsuccessful, as a result of the fire the russian enemy suffered losses and withdrew.

In addition, the attempt to take control of the village of Dovhenke was unsuccessful. The russian enemy retreated with losses. As a feature, the actions of the enemy in this direction in the military uniform of the Ukrainian model are noted.

Units of the russian occupiers continue to replenish stocks of logistics from the territory of the russian federation.

Additional units of the russian occupiers are being transferred. Thus, at the Kupyansk-Sortuvalny railway station, the unloading of the echelon with weapons and military equipment and the movement of artillery units were recorded.

In the Donetsk and Tavriya directions, the russian enemy is reconnoitering the routes of advance and preparing for further offensive operations in the direction of the settlement of Lyman and the exit to Slovyansk from the northeast.

The russian enemy continues to increase the number of troops in this direction. Units from the 90th Tank Division, the 41st Combined Arms Army and the 232nd Rocket Artillery Brigade of the Central Military District were relocated from the territory of the russian federation.

The battalion tactical group from the 150th Motorized Rifle Division lost its combat capability and was withdrawn to the recovery area.

The russian enemy tried to gain a foothold in the western and northwestern parts of Rubizhne. Failed. It carried out assault operations in the direction of Novotoshkivske, but was unsuccessful.

The russian occupiers are carrying out assault operations in the area of ​​the village of Popasna.

It continues to air strikes on the infrastructure of the city of Mariupol, the russian enemy is carrying out assault operations near the seaport and the Azovstal plant.

In the Zaporizhzhia direction, with the support of artillery fire, the russian enemy resumed the offensive in the direction of the village of Temyrivka.

In the South Buh direction, russian enemy artillery units fired on the positions of Ukrainian units. In addition, russian enemy military and tactical aircraft fired on individual targets.

The russian enemy tried to continue the assault in the direction of the village of Oleksndrivka, but was unsuccessful.

There are no signs of preparation of the armed forces of the so-called "transnistrian-moldavian republic" to take part in the armed aggression against Ukraine. At the same time, the involvement of law enforcement agencies of this unrecognized state entity in conducting subversive and terrorist activities on the territory of Ukraine is not ruled out.

We believe in the Armed Forces of Ukraine! Let's win together!

Glory to Ukraine!
Here's today's British MOD assessment: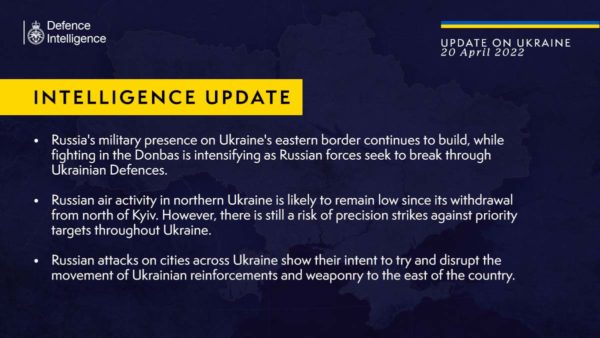 And here's today's updated British MOD map: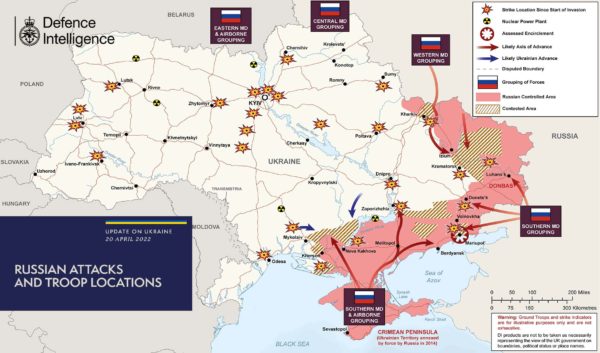 As you can see, the map is consistent with what we've seen for the past several days.
There was neither a DOD background briefing, nor was there an official briefing by the Pentagon Press Secretary today.
We did get clarification from the Ukrainian Air Force on the somewhat muddled reporting from yesterday about whether the US had ensured that Ukraine got new aircraft.
Officially
Ukraine did not receive new aircraft from partners!
With the assistance of the US Government, @KpsZSU received spare parts and components for the restoration and repair of the fleet of aircraft in the Armed Forces, which will allow to put into service more equipment.

— Ukrainian Air Force (@KpsZSU) April 20, 2022
Mariupol:
Here is the most up to date reporting I've seen regarding Mariupol and its defenders. From Reuters:
April 20 (Reuters) – Ukraine proposed talks with Moscow over evacuating troops and civilians from Mariupol after a Russian surrender-or-die ultimatum expired on Wednesday, leaving many trapped at a steel plant, the last main stronghold of resistance.

A few dozen civilians managed to leave the strategically important southeastern port in a small bus convoy, according to Reuters witnesses, escaping the fiercest battle of the nearly eight-week-long war.

A Ukrainian marine commander, Serhiy Volny, said fighters there may not be able to hold out for much longer. President Volodymyr Zelenskiy has said an estimated 1,000 civilians are also sheltering at the steel works.

Ukraine is ready for a "special round of negotiations" with no conditions "to save our guys, (the far right) Azov (battalion), military, civilians, children, the living and the wounded," negotiator Mykhailo Podolyak tweeted.

Fighters remain holed up in the plant and have ignored an ultimatum by Russia to surrender. David Arakhamia, a second negotiator, said in an online post that he and Podolyak were in constant contact with Ukrainian forces in the city.

"Today, in a conversation with the city defenders, a proposal was put forward to hold direct negotiations, on site, on the evacuation of our military garrison," he said. "For our part, we are ready to arrive for such negotiations at any time as soon as we receive confirmation from the Russian side."

Fewer civilians than hoped left on Wednesday, according to the authorities.

Mariupol, once a prosperous city of 400,000, is now a wasteland where corpses lie in the streets and Russia was hitting the Azovstal steel plant with bunker-buster bombs, the government in Kyiv said.

Large black clouds of smoke billowed from there on Wednesday as evacuees queued to get onto buses, some clutching luggage or carrying small pets in their arms.

Ukraine's Deputy Prime Minister Iryna Vereshchuk accused Russian forces of failing to observe a local ceasefire agreement long enough to allow large numbers of people to leave.

Russia did not immediately respond to the allegation.

It denies targeting civilians and has blamed Ukraine for the failure of earlier attempts to organise humanitarian corridors out of Mariupol.

The deputy commander of the Azov Regiment in Mariupol, Svyatoslav Kalamar, said several bunkers under the plant still held about 80-100 civilians each.

Just five people in Mariupol had surrendered following Moscow's 2 p.m. (1100 GMT) surrender-or-die ultimatum, Russian-backed separatists said.<

Ukraine has proposed swapping Russian prisoners of war in exchange for safe passage for trapped civilians and soldiers.

If Russia captured Mariupol it would link territory held by pro-Russian separatists in the east with the Crimea region that Moscow annexed in 2014.
More at the link.
As we've been discussing, Mariupol is a key center of gravity for Putin. He needs to take the city in order to further extend the land bridge he's trying to establish to Crimea. But he also needs to take it because the Azov Regiment is there and they are, because of their far right alignment when they were first established back in 2014, the poster child for his assertion that he sent the Russian military into Ukraine fight NAZIs. Despite the fact that the Azov Regiment has worked very hard to shed its neo-fascist and neo-nationalist members. The longer that the Azov Regiment and the 36th Separate Marine Brigade can tie up the 7,000 or so Russian troops attempting to take Mariupol, the better it is for Ukraine's defense in the east and the south. It keeps the bulk of those 7,000 troops from being put into play attacking Ukraine's eastern Army the Joint Force Operation.
The reality is that at this point there is almost nothing of Mariupol left. The city is a shattered wreck. Even if the war ended tomorrow and reconstruction money started pouring in immediately, it will take years to rebuild it. Other than tying up those 7,000 or so Russian troops, there is nothing more that Mariupol's defenders can do there. At this point the Ukrainian government needs to find a way to get them and the remaining citizens of Mariupol out so the citizens can be relocated to safer locales in the west of Ukraine and Mariupol's defenders can rest, recover, be refit, and put back into the fight where they can once again make a difference.
Here's video of the Azov Regiment's Commander's appeal from yesterday with English subtitles. I could not find it with subtitles last night:
Woke up to a video of a Mariupol defender begging the world to get them and civilians out, because they are outnumbered and have days, if not hours left to live. There are more than 500 wounded soldiers and over 1000 civilians sheltering there at Azovstal pic.twitter.com/oFHrooapEr

— Anastasiia Lapatina (@lapatina_) April 20, 2022
Here's a thread on what is happening to the Ukrainians that Russia is forcibly relocating to Russia. It is grim reading.
A small story of Russian slave raids on Ukraine – my cousin's wife's family, from Mariupol, have been 'evacuated' to Russia. First they were sent to Taganrog, then Rostov, now Khabarovsk in the far east. No one tells them why they're being sent, for what reason,

— Romeo Kokriatski (@VagrantJourno) April 20, 2022
or what they'll do once there. Just an endless, inhuman bureaucratic system forcefully shipping slaves wherever it desires. We don't know how to get them back to Ukraine or how to help them in Russia – just waiting and waiting to hear a scrap of news off a borrowed phone call.

It is inconceivable to me that this is happening in the 21st century, in the civilized world. What will they made to do? Shipped off to a kolkhoz as free slave labor? Loyalty camp? GULAG? How will they ever get home?

Russia must be defeated. Moscovia delenda est. There is no other moral, or hell, even practical response to this sort of mass abduction. Nothing but the utter defeat of the fascist regime in the Kremlin. By any means necessary.

I am so tired. My cousins and my aunt are fighting. My best friends are fighting. Some of my family have already lost their house. Now others have been kidnapped – they may be distant relatives, but they are still relatives.

And then smug motherfuckers sit thousands of miles away and smirk and say 'Why don't you surrender???' You piece of shit. You fucking human debris. Nothing matters, in the world, than the defeat of the fascist Reich. Fucking nothing else. Don't believe me? Come to Ukraine
There have been a couple of interesting articles on Russia and religion over the past couple of days. I know that several of you referenced both The Washington Post's profile of Patriarch Kirill and Tom Nichol's column in The Atlantic. I want to highlight a different piece on Russia and its weaponization of Christianity. Also from The Washington Post:
In recent weeks, many analysts — especially those trying to find a logical justification for the Russian war in Ukraine — have argued that the Kremlin was reacting to a perceived threat from NATO encroachment and the Western alliance's push into Russia's sphere of influence.

While that may be so, such explanations miss an important point. The Russian conservative elites currently in power supported war because they see Western power as decadent and declining. This image of the West allows Russia to feel strong and invincible.

Gay parades and cancel culture

In his sermon approximately two weeks into the war, on March 6, the patriarch of the Russian Orthodox Church justified the invasion of Ukraine as necessary to defend Orthodox Christians against Western values and gay pride parades. On March 24, during a meeting with young artists, Russian President Vladimir Putin complained about cancel culture, arguing that much as J.K. Rowling had been criticized for her opposition to transgender rights, the West was now "trying to cancel a whole 1,000-year culture, our people … Russian writers and books are now canceled."

Russia presents itself as being at the forefront of the global culture wars, leading the resistance to liberal values. Russian anti-Westernism has religious implications: According to its own narrative, Russia is guarding true Christian faith, as embodied in the Eastern Orthodox church, from Western attempts to distort it, whether through Marxism in the 20th century or liberalism in the 21st.

Ukraine plays an important role in this story. It is depicted as part of the "Russian world," the cradle of Russian civilization, which for many centuries was centered not around Moscow but around Kyiv, capital of today's Ukraine. Ukraine's choice to orient itself toward the West and reconcile a Slavic Orthodox identity with liberal democratic values is thus dangerous to this Russian vision of itself.

The arguments about gender freedoms and cancel culture that we hear today from Patriarch Kirill and Putin are nothing genuinely Russian. They derive from a global Christian right ideology, which Russian conservatives learned about in the 1990s.

Right after the end of the Cold War, Christian right activists, especially from the United States, flocked into Russia; among them were Focus on the Family, CoMission and the World Congress of Families. From the 1990s onward, Russian conservatives have argued that the frustrations of their society falling apart result from painful liberal socioeconomic reforms. Their argument combines elements of a late-Soviet conservative social ethos, Russian Orthodox traditionalism and huge transnational influences.

Today's Russian discourse on traditional values is a hybrid of Christian right ideas from the global culture wars and nostalgia about Russia's great Soviet and even greater imperial and Orthodox Christian past.

This type of Russian cultural conservatism was marginal until around 2010, when it started to migrate to the center of Russian political life — decisively so during Putin's third term as president. For Putin, the traditional values discourse was a good pretext for political repression — exemplified in the treatment of Pussy Riot — and a shield against rising opposition, which demanded more freedoms.

Traditional values and the defense of Christianity were a suitable foundation for the new Russian foreign policy mission: becoming the leader of those countries and actors that were not, were no longer or had never wanted to be "liberal."

In the process of "learning" the global culture wars, Russian conservatives not only defined their national identity in relation to a global Christian conservatism, but also acquired a precise vision of the West as spiritually hollow and failing. Christian conservatives flocking to Russia conveyed an image of the West that was torn, weak and doomed, because it no longer had children, no longer had values, and did not even distinguish between men and women. As a result, many Christian conservatives from the United States and Europe looked to Russia with hope.

Christian conservatives' image of a failing and doomed West began to dominate views of Russian conservative elites during the late 2000s. But Russian elites saw their Western conservative partners as part of that failing West: they too were weak and pitiful heralds of a West in decline.

This account of the West helped give birth to a new Russian triumphalism. Russian media filled with TV shows and "documentaries" on "Gayropa" and "Sodom." These shows conjured up a caricature of weak "gayish" Western males and women who lost their femininity by competing with men in spheres where they could achieve nothing serious.
Much, much more at the link!
The Russians have worked very hard over the past 15 years to do this sort of thing. They weaponized religion as part of their active measures campaign against the US. The targets were Republican elected and appointed officials; social, political, and religious conservative movement leaders; white evangelicals, traditional Catholics, and orthodox and ultra-Orthodox Jews.
There's a reason there have been a steady stream of pictures posted to social media going back to 2012 or so of very influential Russians – oligarchs, government officials, state backed media personalities – attending the National and state level prayer breakfasts and meeting with Republican officials. Just off the top of my head I can recall pictures with Grassley, Paul Ryan, Cruz, Lee, Scott Walker, Ben Carson, Santorum from the National Prayer Breakfasts.
In fact Maria Butina's initial appearances weren't at NRA events, but at the National Prayer Breakfast.
The group that organizes the National Prayer Breakfast known as C Street aka The Fellowship aka The Family is a Christian nationalist group. Journalist Jeff Sharlett, who went undercover with the group, is its primary exposer.
At the same time the Russians, through Patriarch Kirill, were working both white evangelicals and traditionalist Catholics through the Global Christian Forum. For instance, Mike Pence was a major player in this when he was governor of Indiana and before that a member of Congress. Franklin Graham and the other elites and notables in the evangelical world were also captured by these efforts.
Putin via the nominally practicing and/or of Jewish descent oligarchs, has basically turned the Chabad movement into a way to launder money and influence into and through the ultra-Orthodox Jewish community in the US and Israel. Which is part of the reason that Israel is doing very little to aid Ukraine right now.
Conservative Christians in the US taught Russian political and religious elites that America and the rest of the West are weak, decadent, morally compromised, corrupt, and ripe for manipulation and defeat. Patriarch Kirill, a former KGB officer, then played these anti-American Christian nationalists in the US like a fiddle turning them all into useful idiot fifth columnists and weaponizing their own faiths against the US, its allies, and its partners. What none of them counted on – not the white, Christian evangelicals, not the traditionalist Catholics, not Putin, and not Kirill – was the iron will, fortitude, and moral clarity of the Ukrainians and their Jewish president. Nor the simple compassion of President Biden rooted in his devout Catholicism. A Catholicism that is big on faith with works and firmly rooted in the Epistle of James and his teachings.
Bloomberg had some interesting reporting today on why it is unlikely that we're going to see Putin overthrown any time soon.
Almost eight weeks after Vladimir Putin sent troops into Ukraine, with military losses mounting and Russia facing unprecedented international isolation, a small but growing number of senior Kremlin insiders are quietly questioning his decision to go to war.

The ranks of the critics at the pinnacle of power remain limited, spread across high-level posts in government and state-run business. They believe the invasion was a catastrophic mistake that will set the country back for years, according to ten people with direct knowledge of the situation. All spoke on condition of anonymity, too fearful of retribution to comment publicly.

So far, these people see no chance the Russian president will change course and no prospect of any challenge to him at home. More and more reliant on a narrowing circle of hardline advisers, Putin has dismissed attempts by other officials to warn him of the crippling economic and political cost, they said.

Some said they increasingly share the fear voiced by U.S. intelligence officials that Putin could turn to a limited use of nuclear weapons if faced with failure in a campaign he views as his historic mission.

To be sure, support for Putin's war remains deep across much of Russia's elite, with many insiders embracing in public and in private the Kremlin's narrative that conflict with the West is inevitable and that the economy will adapt to the sweeping sanctions imposed by the U.S. and its allies. And public backing remains strong as the initial shock and disruption from sanctions has given way to a kind of surreal stability in Russia.

Still, more and more top insiders have come to believe that Putin's commitment to continue the invasion will doom Russia to years of isolation and heightened tension that will leave its economy crippled, its security compromised and its global influence gutted. A few business tycoons have made veiled statements questioning the Kremlin's strategy, but many powerful players are too fearful of the widening crackdown on dissent to voice their concerns in public.

The skeptics were surprised by the speed and breadth of the response by the U.S. and its allies, with sanctions freezing half of the central bank's $640 billion in reserves and foreign companies ditching decades of investment to shut down operations almost overnight, as well as the steadily expanding military support for Kyiv that's helping its forces to blunt the Russian advance.

Senior officials have tried to explain to the president that the economic impact of the sanctions will be devastating, erasing the two decades of growth and higher living standards that Putin had delivered during his rule, according to people familiar with the situation.
Much, much more at the link!
I think that's enough for tonight.
Here's your daily Jose Andre:
Hey guys, reporting in from the formerly Russian occupied area of Hostomel outside Kyiv! I'm with Zach & Vasily and we are delivering food kits and hot meals at this school…But soon we will get the kitchen here up and running so it can cook for the community! #ChefsForUkraine ?? pic.twitter.com/CnWkfFwBPD

— José Andrés (@chefjoseandres) April 20, 2022
Open thread!