This is going to be a geeky and meandering post as I'm trying to get some thoughts together for a new project. I was able to spend a lot of time this week diving deeply into raw ACA public use files (PUFs) and my own processed version of those files since I started my doctoral program.
A colleague and I are very interested in how a certain aspect of menu length impacts the quality of plan choice. We know that there are a lot of choices on the marketplaces including Healthcare.gov.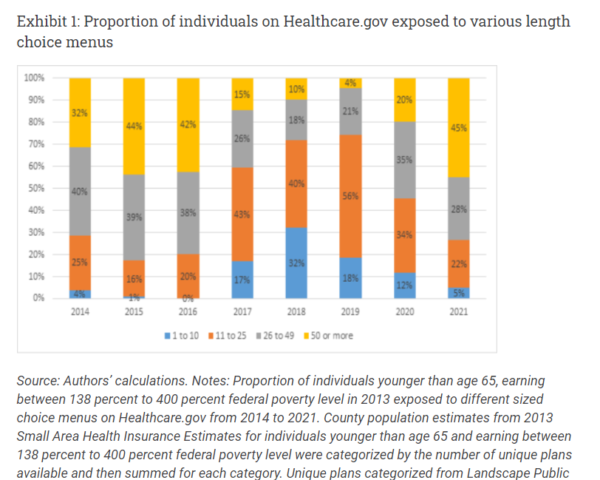 We know that a lot of people make mistakes.
One of the things that we want to control for in our analysis is whether or not a county lost an insurer from the previous year. There is evidence that enrollment decreased in a county when an insurer leaves the county. This makes sense, an insurer leaving is an attention and action neccissitating shock especially prior to automatic re-enrollment mapping between insurers. So I spent a good chunk of yesterday data cleaning and data organizing to identify county-years where the full suite of insurers from the previous county-year did not participate in the market. You'll see what we're doing with this in a future paper.
However, as part of the data cleaning, I was seeing a lot of county-years gaining or losing a lot of plans. I don't have much going on with that data point yet, but this is curious to me at least. I performed a very simple regression to try to predict the current year plan offerings by regressing only against the prior year's number of plans offered. A real model would have year and state fixed effects, Medicaid status indicators, county characteristics (likely fixed effects as well), plus several policy and politics variables but I'm doing this on my free time when I really should be doing homework, so a quick and dirty simple linear model is what I did using Healthcare.gov 2017-2022 data:
Wow, this is a pretty decently fitted model. Prior year plan counts explain about 60% of the variance of current year plan counts. There is an upward trend which makes sense in the data context as 2018 was a local minima of plan offerings and since then insurers and plans have been returning to the markets. The trend is not surprising.
But not everything is explained by the model. There are some big residuals.
Grant County, Wisconsin for 2018 was predicted to have 92 plans offered on Healthcare.gov. It had 29 plans. This was a short menu shock.
Harris County, Texas (HOUSTON) for 2022 was predicted to have 99 plans offered on Healthcare.gov. In reality 202 plans were offered. This is a long menu shock.
I'm not sure what I can hypothesize from these simple stylized facts. I know at this point that these are weird situations that should be able to provide insight on some aspect of human behavior but I'm not sure what the right question is. If Jackals can come up with interesting questions, let's talk.