Moderna plans to submit an application to the U.S. health regulator for emergency use authorization (EUA) of its COVID-19 vaccine among kids between the ages of six months to five years by end of the month, a company spokesperson said on Wednesday. https://t.co/DOEPbHLyMu

— Reuters Health (@Reuters_Health) April 21, 2022
U.S. Justice Department appeals transportation mask ruling https://t.co/HvdiyGGkZ7 pic.twitter.com/AVenEztu1l

— Reuters (@Reuters) April 21, 2022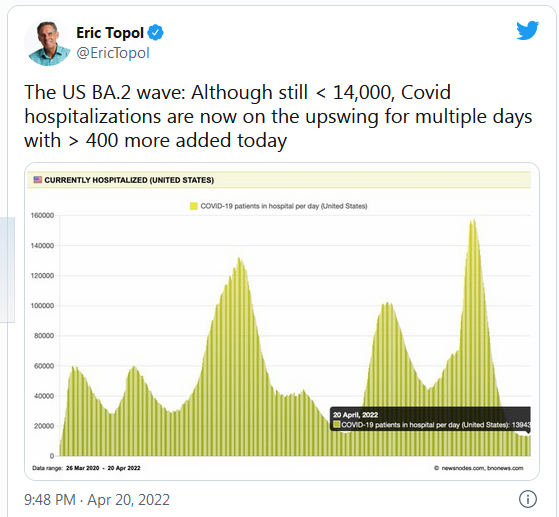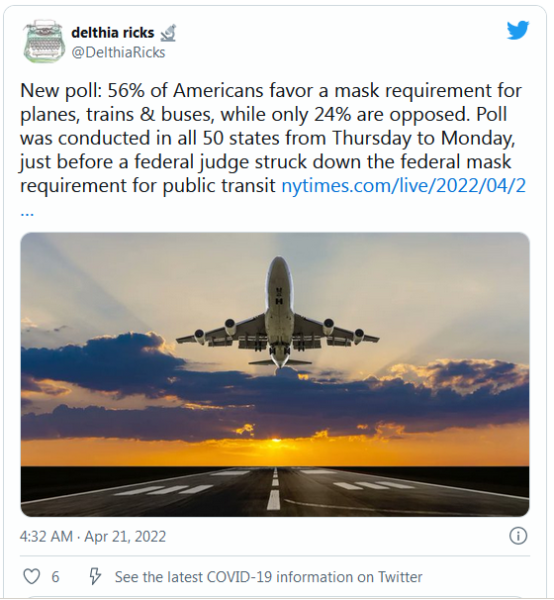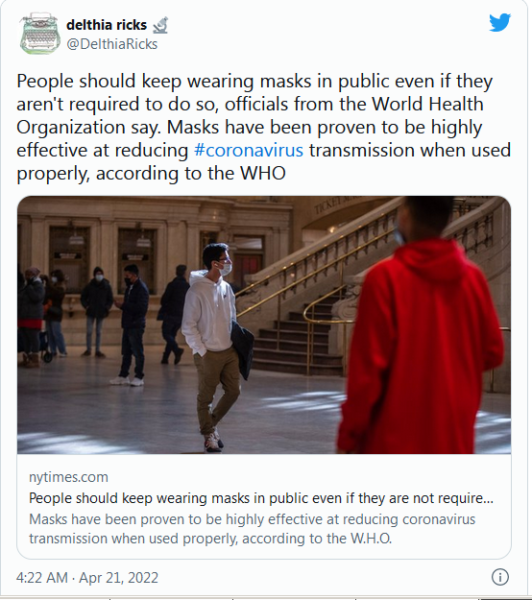 ======
With hundreds of thousands of COVID-19 cases in Shanghai, Chinese health authorities reported only 25 coronavirus deaths. An @AP study of the death toll sheds light on how the figures have been obscured by the way Chinese officials tally virus statistics. https://t.co/KXfoiBjmun

— The Associated Press (@AP) April 21, 2022
Lu Muying died on April 1 in a government quarantine facility in Shanghai, with her family on the phone as doctors tried to resuscitate her. She had tested positive for COVID-19 in late March and was moved there in line with government policy that all coronavirus cases be centrally isolated.

But the 99-year-old, who was just two weeks shy of her 100th birthday, was not counted as a COVID-19 death in Shanghai's official tally. In fact, the city of more than 25 million has only reported 25 coronavirus deaths despite an outbreak that has spanned nearly two months and infected hundreds of thousands of people in the world's third-largest city.

Lu's death underscores how the true extent of the virus toll in Shanghai has been obscured by Chinese authorities. Doctors told Lu's relatives she died because COVID-19 exacerbated her underlying heart disease and high blood pressure, yet she still was not counted…

The result is a blurred portrait of an outbreak that has sweeping ramifications for both the people of Shanghai and the rest of the world, given the city's place as an economic, manufacturing and shipping hub.

An Associated Press examination of the death toll sheds light on how the numbers have been clouded by the way Chinese health authorities tally COVID-19 statistics, applying a much narrower, less transparent, and at times inconsistent standard than the rest of the world.

In most countries, including the United States, guidelines stipulate that any death where COVID-19 is a factor or contributor is counted as a COVID-related death.

But in China, health authorities count only those who died directly from COVID-19, excluding those, like Lu, whose underlying conditions were worsened by the virus, said Zhang Zuo-Feng, an epidemiologist at the University of California, Los Angeles…

Both Jin and Zhang said this has been China's practice since the beginning of the pandemic and is not proof of a deliberate attempt to underreport the death count.

However, Shanghai authorities have quietly changed other standards behind the scenes, in ways that have violated China's own regulations and muddied the virus' true toll.

During this outbreak, Shanghai health authorities have only considered virus cases where lung scans show a patient with evidence of pneumonia as "symptomatic," three people, including a Chinese public health official, told the AP. All other patients are considered "asymptomatic" even if they test positive and have other typical COVID-19 symptoms like sneezing, coughing or headaches…

In response to questions about Shanghai's COVID-19 figures, China's top medical authority, the National Health Commission, said in a fax that there is "no basis to suspect the accuracy of China's epidemic data and statistics." Shanghai's city government did not respond to a faxed request for comment.

Statements from the authorities are little comfort to the relatives of the dead. Chinese internet users, doubting the official figures, have built a virtual archive of the deaths that have occurred since Shanghai's lockdown based on firsthand information posted online. They have recorded 170 deaths so far…
Shanghai to keep COVID curbs as infections outside quarantine rise again https://t.co/CNXSEU1Wth pic.twitter.com/uARhoeVA22

— Reuters (@Reuters) April 21, 2022
Shanghai authorities said on Thursday tough restrictions would remain in place for now even in districts which managed to cut COVID-19 transmission to zero, as the number of cases outside quarantined areas across the city rose again.

That sober assessment came after health officials earlier in the week had fuelled hopes of some return to normal by saying that trends in recent days showed Shanghai had "effectively curbed transmissions"…

Shanghai reported 15,861 new local asymptomatic coronavirus cases on Wednesday, down from 16,407 a day earlier. Symptomatic cases stood at 2,634, up from 2,494.

There were 441 new cases outside quarantined areas, up from 390 a day earlier…

Eight people with COVID-19 died in Shanghai on Wednesday, authorities said, bringing the death toll of the current outbreak to 25 – all recorded in the past four days.

Many residents have said, however, that a family member had died after catching COVID-19 since early March, but cases had not been included in official statistics, raising doubts over their accuracy…

Businesses are beginning to reopen, though they have to operate under "closed loop management", which entails living on site, daily testing and rigorous disinfection.

U.S. electric carmaker Tesla Inc (TSLA.O) is among 666 companies allowed to resume operations, and its reopening was given generous airtime on state media this week. Economists and industry bodies caution, however, that factories face logistical nightmares and are far from resuming full production…
To prepare the 3,000-plus orders of vegetables, meat and essentials her Carrefour supermarket sends out every day to locked-in Shanghai residents, manager Zhang Wei wakes at 5 a.m. after a night in a sleeping bag on her office floor https://t.co/O2iu6JRdnj pic.twitter.com/rcK6nnD8Yh

— Reuters (@Reuters) April 20, 2022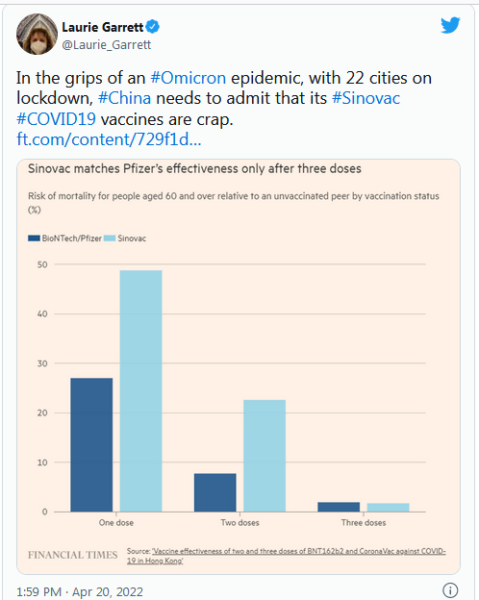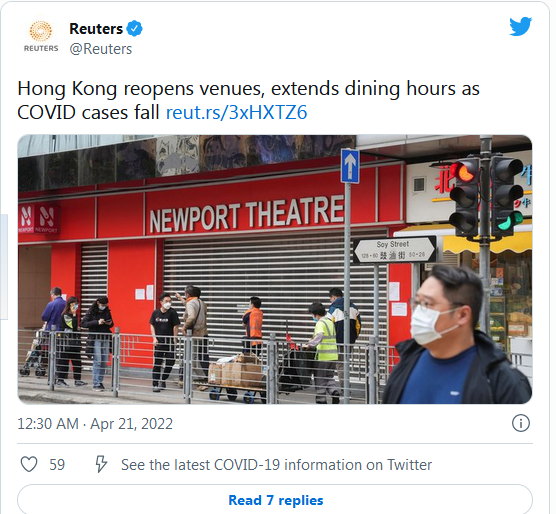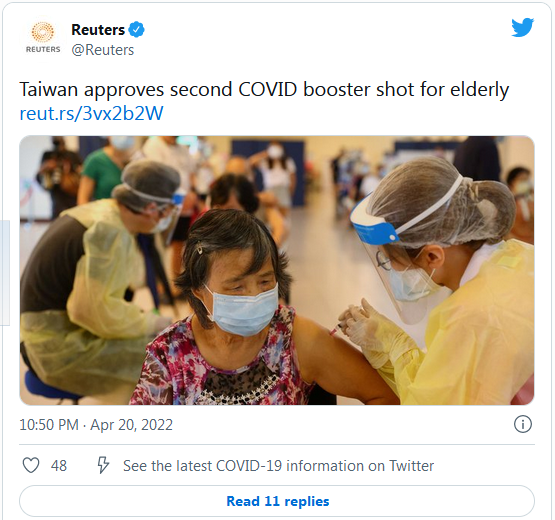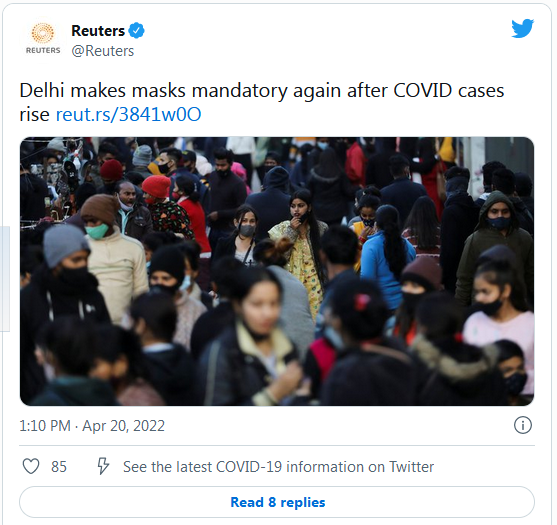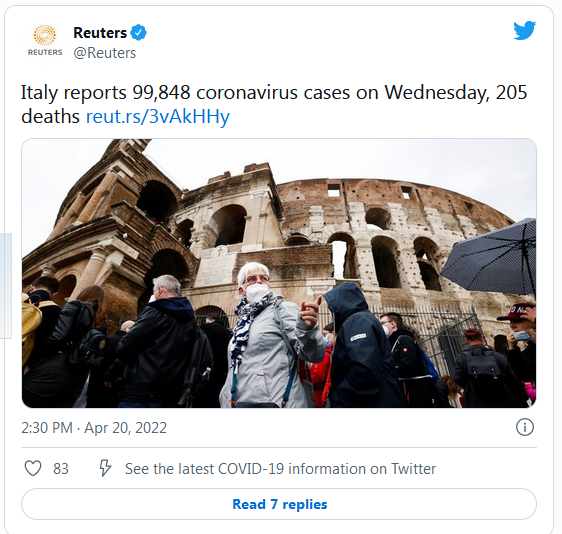 ======
"None of the study participants had been vaccinated against shingles or the coronavirus."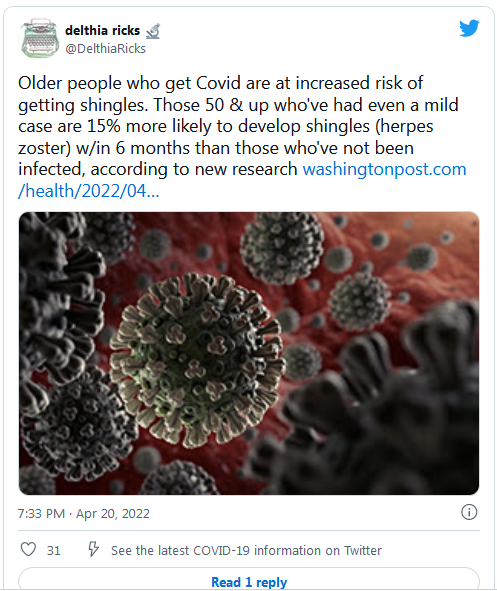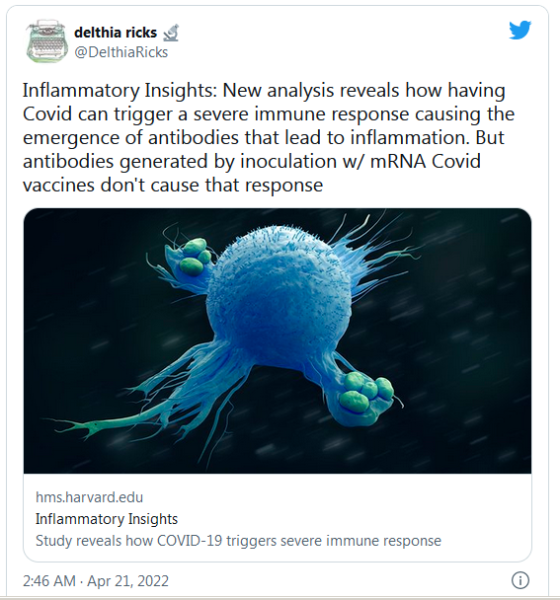 ?@NEJM
The large Evusheld (1-dose, intramuscular, combination monoclonal antibody) randomized, placebo-controlled Covid prevention trial
77% reduction of symptomatic infection; ⬆️83% at 6 months; all 7 severe cases/deaths in placebo group; works vs BA.2https://t.co/uwDl99TyYi pic.twitter.com/nLT3yKqIgH

— Eric Topol (@EricTopol) April 20, 2022
This report represents a major advance.
How does a single injection of these antibodies have late, durable protection at 6 months and beyond?https://t.co/eVoGVvQSc6 @ScienceTM
Levels of these neutralizing antibodies remain high for 9 months pic.twitter.com/0pd9VJtkf9

— Eric Topol (@EricTopol) April 21, 2022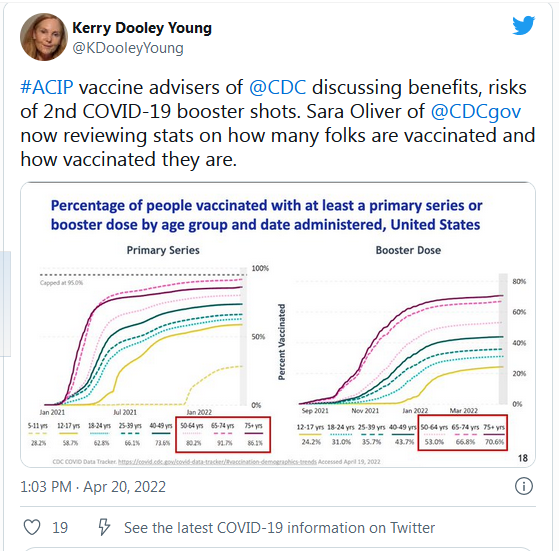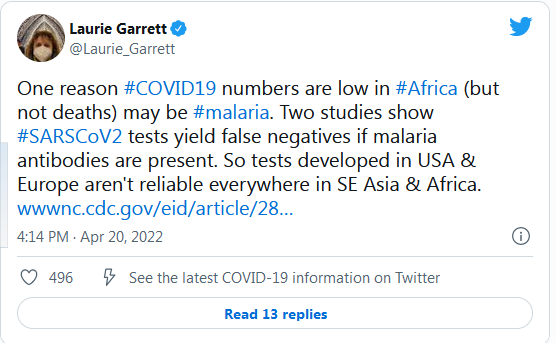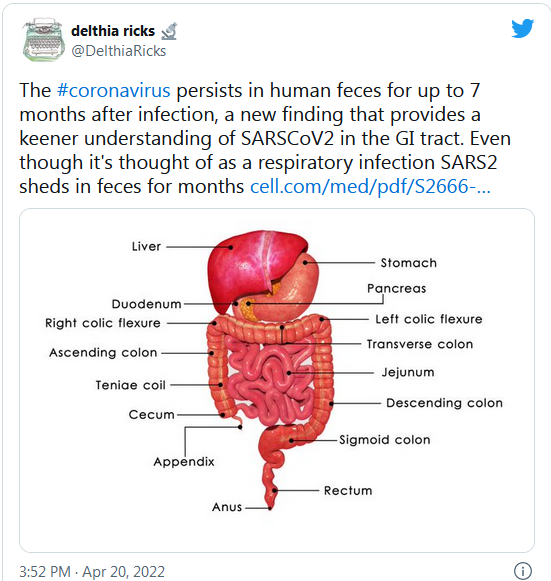 Woman caught Covid twice within record 20 days https://t.co/wMdI0nL9PX

— BBC News (UK) (@BBCNews) April 21, 2022
Sharing is caring:
for @slate, I wrote about why delaying infection is still a good idea. you might feel out of place for masking when few others are doing it but it still makes sense to not get COVID. the new normal doesn't have to be mass infection. https://t.co/XX5nSp3abz

— abdullah elementary school of public health (@AShihipar) April 19, 2022
… I might someday get COVID—that's reality. If you've gotten COVID already, you may, despite even your best efforts, get it again. But delaying infection as much as possible allows us to better mitigate the consequences of an infection through whatever new treatments and preventative tools may be available. Every week, as much as there is terrifying news about the virus, there is promising news about new treatments and vaccines. A new antiviral nasal spray has shown promise in mice and does better than current antibody treatments. Researchers at Walter Reed have developed a vaccine that is variant-resistant and are currently testing it. Perhaps, in the near future, there will be a vaccine that completely stops transmission or treatments that prevent long COVID. And scientists are trying to untangle whether Paxlovid or other therapies can reduce the risk of long COVID.

Doing your best to delay infection not only has benefits for yourself; wearing a mask or declining plans that seem too risky also reminds people that we are in a pandemic, as annoying as that fact may be. Those reminders keep the pressure on to develop better therapeutics and vaccines and get them out to people. Maybe they'll also encourage those around you to be a little more diligent about masking up, or to stay home when they're sick. It might feel small, but consider the alternative: If we collectively accepted the reality of mass infection, why do anything at all to mitigate its impacts?
======
Analysis: Coronavirus case counts have never been a perfect tally, but the numbers are becoming even less reliable. https://t.co/sH1nmQ96Gy

— The Washington Post (@washingtonpost) April 20, 2022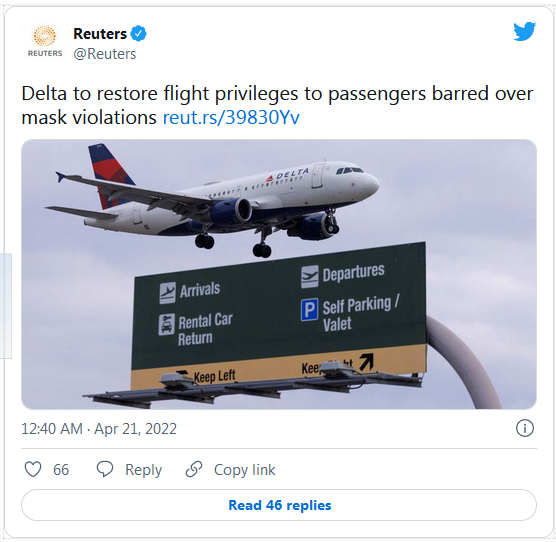 Not so fast, Karen:
… Atlanta-based Delta told Reuters it will restore passengers "only after each case is reviewed and each customer demonstrates an understanding of their expected behavior when flying with us. Any further disregard for the policies that keep us all safe will result in placement on Delta's permanent no-fly list."

The change will not impact Delta's separate list of about 1,000 people "who demonstrated egregious behavior and are already on the permanent no-fly list."

Delta's announcement follows a similar decision by United Airlines (UAL.O) on Tuesday to allow some of the roughly 1,000 people who have been banned for not wearing masks to return to flights on a "case by case basis." Chicago-based United said those people would be allowed to return to flights "after ensuring their commitment to follow all crewmember instructions on board."…

The Federal Aviation Administration said separately on Wednesday that it plans to make a zero tolerance policy for unruly passengers adopted in January 2021 permanent.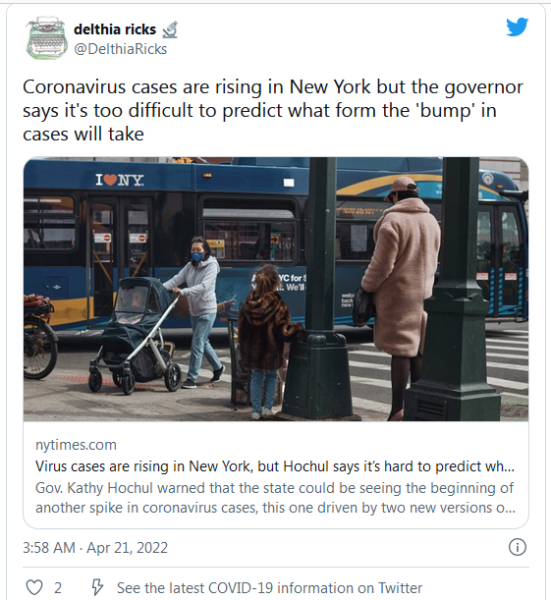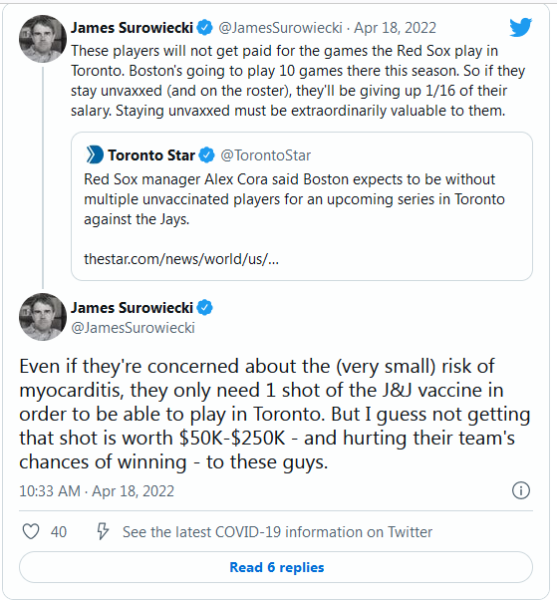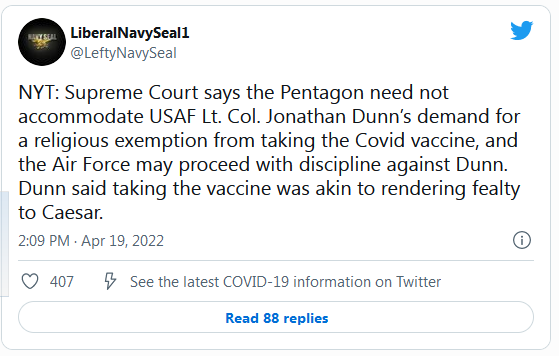 "These two cases were first spotted by Seamus Hughes, the deputy director of the Program on Extremism at George Washington University, who shared them with VICE News." https://t.co/xaagRagP9U

— Seamus Hughes (@SeamusHughes) April 20, 2022