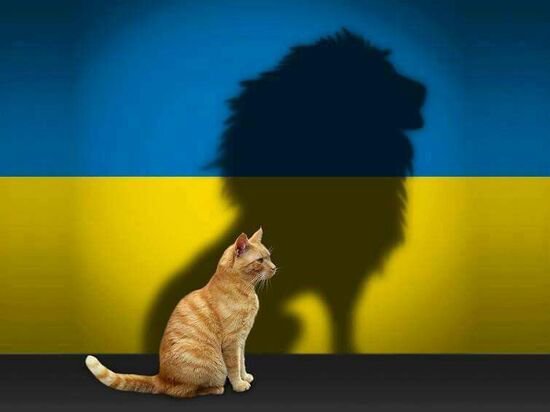 Let's start tonight as we have the past several with Mariupol. This morning Putin told his Defense Minister, Shoigu, to not try to reduce the Azovstal complex where Mariupol's defenders are holding on. Rather, Putin told Shoigu to basically just seal it off.
Putin is hailing Russia's "liberation" of Mariupol after his forces completely destroyed during a two-month siege.

He told defense minister Sergei Shoigu to block off the Azovstal metallurgical plant, where the last Ukrainian troops are holed up, "so that a fly can't get in." pic.twitter.com/g2lNd44qXF

— max seddon (@maxseddon) April 21, 2022
This is an important data point because I think it tells us something about the state of the dozen battalion tactical groups (BTGs) that Russia has in Mariupol trying to defeat the Azov Regiment and the 36th Separate Marine Brigade. Specifically, that Russia's forces in Mariupol cannot do so. Because if they could, they would and Putin wouldn't be telling Shoigu just to seal off the Azovstal facility. There are no reporters left in Mariupol, so all the info that comes out is either via the leaders and members of the Azov Regiment and the 36th Separate Marine Brigade, civilians who have either been able to escape Mariupol or make contact with relatives or friends outside of Mariupol, or from the legitimate members of the Mariupol government. What we don't have are independent journalists able to report on the state of Russia's forces. Putin's orders this morning, however, tell us something important. He doesn't have enough troops and the troops he has are in no condition to continue to fight the Azov Regiment's and the 36th Separate Marine Brigade's guerilla war through the streets and ruined buildings of Mariupol.
This is also the conclusion of The Kyiv Independent's military reporter:
Interpreting it for you guys from Putin's into human language: "Our forces in Mariupol are extremely exhausted after over 50 days in fierce urban combat, and we just can't spend even more time and resources to zerg rush this 5-km wide steel plant turned into a giant fortress." pic.twitter.com/4mSozfsPdg

— Illia Ponomarenko ?? (@IAPonomarenko) April 21, 2022
If this is indeed the case, then if the Ukrainians can get fresh troops and the right equipment on site, they can break Mariupol's defenders and the citizens they're defending and sheltering out and get them to safety. President Zelenskyy seems to think so as well.
⚡️Zelensky about lifting Mariupol blockade: 'We're preparing, but we need weapons.'

Ukraine's military is preparing to unblock Mariupol through diplomatic or military means, but the country needs the right weapons from its allies, President Volodymyr Zelensky said on April 21.

— The Kyiv Independent (@KyivIndependent) April 21, 2022
Also, something else important here: all the speculation that Shoigu had a/another heart attack last week, that it was because he was poisoned, that Putin was trying to have him executed via the wet work program, etc appears to have been BS. Which is why I was ignoring it because it was, at best, poorly sourced.
Here's President Zelenskyy's video address for this evening, with English subtitles. The transcript will be after the jump.
Ukrainians!

Our defenders!

Today was a very meaningful foreign policy day for Ukraine. First, the Prime Ministers of Spain and Denmark, two countries that have consistently supported Ukraine, have arrived in Kyiv. Thank you.

The two leaders whose presence in Kyiv encourages other leaders of the democratic world to think about visits to Ukraine, about new gestures of support for our state, about concrete decisions that we need to win. I thanked them for helping our defense. For sanctions pressure on Russia.

I called on Spain, Denmark and all other European democracies to further strengthen sanctions for this war. To finally impose an oil embargo, to disconnect the entire banking system of Russia from the global financial system.

And to help us bring to justice all those guilty of war crimes against Ukrainians.

The Prime Minister of Denmark stated readiness to support the program of post-war reconstruction of Ukraine, in particular the reconstruction and development of Mykolaiv and the shipbuilding industry of Ukraine. Let me remind you that this is the direction of reconstruction I proposed when addressing the Parliament and the people of Denmark in March.

And today I addressed the Parliament and the people of Portugal. This was the 26th address to the parliaments of our partner states. I can say that each of these speeches really gives us additional support. Brings the decision to provide assistance to Ukraine, including defensive one, closer. And most importantly, each of these addresses helps establish a direct emotional connection between what we are experiencing in Ukraine and what the political class is experiencing in the partner countries.

I also addressed the participants of the special spring session of the World Bank today. This is one of the most important events for the heads of international financial institutions and finance ministers of leading states. We are accumulating financial support for Ukraine.

The United States has announced a new package of support for our state. We are grateful for that. This package contains very powerful defense tools for our military. In particular, it is artillery, shells, drones. This is what we expected.

I am grateful to the partners for their help and call for further acceleration of the supply of weapons to Ukraine so that we can bring peace closer.

In the south and east of our country, the occupiers continue to do everything to have a reason to talk about at least some victories. They are accumulating forces, driving new battalion tactical groups to our land. They are even trying to start the so-called mobilization in the occupied regions of Ukraine.

None of these steps will help Russia in the war against our state. They can only delay the inevitable – the time when the invaders will have to leave our territory. In particular Mariupol. A city that continues to resist Russia. Despite everything the occupiers say.

I urge the residents of the southern regions of Ukraine – Kherson and Zaporizhzhia regions – to be very careful about what information you provide to the invaders. And if they ask you to fill out some questionnaires, leave your passport data somewhere, you should know – this is not to help you. Not just to carry out a "census" of people who live in a certain area, as they say. No. And not to give you any humanitarian aid. This is aimed to falsify the so-called referendum on your land, if an order comes from Moscow to stage such a show. And this is the reality. Be careful.

I want to say straight away: any "Kherson People's Republics" are not going to fly. If someone wants a new annexation, it can only lead to new powerful sanctions strikes on Russia. You will make your country as poor as Russia hasn't been since the 1917 civil war. So it is better to seek peace now.

Unfortunately, Russia rejected the proposal to establish an Easter truce. This shows very well how the leaders of this state actually treat the Christian faith, one of the most joyful and important holidays.

But we keep our hope. Hope for peace, hope that life will overcome death.

Tomorrow is Good Friday for Eastern Christians. The most sorrowful day of the year. A day when everything you can do in life will weigh less than prayer. Except for one… defending the Homeland, defending brothers-in-arms in battle.

A few minutes ago, before delivering this address, I signed another decree on awarding our heroes, our military. 202 defenders of Ukraine were awarded state awards. 194 servicemen of the Armed Forces and 8 servicemen of the State Service of Special Communication and Information Protection of Ukraine.

I am grateful to everyone who defends the state!

Eternal memory to all who died for Ukraine!

Glory to Ukraine!
Here's the Ukrainian Ministry of Defense's operational update for today:
The operational update regarding the russian invasion on 18.00 on April 21, 2022

The fifty-seventh day of the heroic resistance of the Ukrainian people to a russian military invasion continues. A russian federation continues its full-scale armed aggression against Ukraine.

russian enemy continued offensive operations in the Eastern Operational Zone in order to establish full control over the territory of Donetsk and Luhansk oblasts. At the same time, missile and bomb strikes on military and civilian infrastructure throughout Ukraine continue.

In the Volyn, Polissya and Siversky directions russian enemy did not take active actions, no signs of formation of offensive groups were found. There is a significant reduction in the intensity of the movement of columns of russian military equipment on the territory of the republic of belarus. Some units of the belarusian Armed Forces continue to carry out tasks to cover the Ukrainian-belarusian border in Brest and Gomel regions.

The situation in Slobozhanshchyna has not changed significantly. The partial blockade of Kharkiv and the destruction of the city's infrastructure by artillery continue. In the temporarily occupied territory of Kharkiv region, russian occupying forces prohibit the movement of the local population towards the territory controlled by the Defense Forces of Ukraine, the delivery of humanitarian aid from the Ukrainian side is blocked.

In the Donetsk and Tavriya directions, russian enemy tried to take full control of Mariupol. It continued to carry out air strikes and attempted assaults in the area of ​​the seaport and the Azovstal plant.

In the temporarily occupied territory of the Kherson oblast, the self-proclaimed occupation authorities announced the mobilization of males. In addition, according to available information, a so-called "referendum" is planned for May 1 in the russian-occupied part of the Kherson region. And in the period May 2-10 there is planned to be a "census". Locals are prohibited from moving between settlements.

The shelling of Mykolayiv continues in the South Buh direction, russian enemy is trying to improve its tactical position and get closer to the city, but has no success.

russian enemy continues to suffer significant losses in personnel and military equipment. According to updated data, commander of the First Motorized Rifle Regiment of the Second Motorized Rifle Division of the First Tank Army of the Western Military District, Lieutenant Colonel Denis Mezhuyev, was eliminated by the defenders of Ukraine. Two members of the leadership of the same unit, Colonel Kharitonov and Lieutenant Colonel Smirnov, were also seriously injured and are being treated in Moscow.

In addition, the mobilization of russian occupying units is significantly demoralized by the forced mobilization in unrecognized territorial formations of Donetsk and Luhansk oblasts, poor nutrition, low financial and material support of the personnel who arrived to replenish regular units of the russian federation.

We believe in the Armed Forces of Ukraine! Let's win together!

Glory to Ukraine!
It turns out there was a senior defense official background briefing yesterday, but they didn't post the transcript until much later than usual. So here it is:
SENIOR DEFENSE OFFICIAL: We continue to see Russia conduct offensive operations in the east as well as continued shaping operations. But, clearly, there are offensive operations going on, as we talked about yesterday.

Russian forces are advancing south from the north side of the Donbas, and they are trying to maintain pressure on Ukrainian forces to the west of Donetsk. Fighting continues in the Kherson region. We assess that Ukrainian forces have regained control of a town called Oleksandrivka, which is about 40 kilometers south of Mykolayiv. We maintain that Mariupol was still being contested, that there still is an active Ukrainian resistance at the Azovstal plant.

In the air domain, again, strikes really focused on the joint force operation area particular around Izyum. And in the north of the Donbas, the JFO, and then obviously in the south, very much focused, continued focused on Mariupol. And these are airstrikes that include the use of some fixed-wing Russian bombers as well.

Again, that is not unusual. That's what we've been seeing. But, just so you know, it's a range.

We haven't seen any — over the last 24 hours, we haven't seen any additional Russian airstrikes elsewhere in Ukraine. It's all been focused on the east and in the south, literally the JFO and Mariupol, over the last 24 hours.

No changes in the maritime domain. I know this remains an interest item for all of you, but the Russian navy continues to still be postured largely off the coast of Crimea and well away from southern coast, there, near Odesa, and that part of the northern Black Sea. So no big changes to the naval posture there.

Flights continue to arrive into the region from the presidential drawdown authorities that we are executing. Additional — another four flights arrived over the last 24 hours from the most recent announcement of the $800 million, and some of those flights did include howitzers. In the next 24, there will be additional flights coming from the United States into the region with howitzers.

And let's see. There has already been the howitzer rounds, the 155mm rounds, have arrived in the region, and more will be coming. That is not, as I think we talked about yesterday, that's largely coming from pre-positioned stock, so there's no reason to fly those things in. They're coming from inside Europe, but those — they are arriving — they started arriving yesterday, and they're going to — and there'll be more arriving today and in the coming days as well, until we, you know, get to that 40,000-round number that was offered in the $800 million package.

And yes, the training of some small number of Ukrainians on the howitzers has begun. It has begun in a country outside Ukraine. I am not going to tell you, or be able to detail where this is happening, but it has happened, and we expect this training to last for about a week. And this is train the trainers. It's a smallish number of Ukrainians, a little bit more than 50. They will get trained on how to use the howitzers, and then they'll be able to go back into Ukraine and train their colleagues.

Q: (inaudible) focused on one — or I really have two questions, but one is just a kind of a follow-up on the [Pentagon Press Secretary Statement Regarding Ukraine Aircraft, 20 April] about Ukrainian aircraft. Do I understand that although Ukraine has not received all aircraft, that the point you made just the point that was made yesterday about, they still have (inaudible) aircraft flying, it still holds because of the spare parts?

SENIOR DEFENSE OFFICIAL: That is correct, Bob, [Pentagon Press Secretary Statement Regarding Ukraine Aircraft, 20 April] was talking about fixed wing. I think you all understand that they have been given helicopters, whole helicopters, including some from the United States. [Discussion of Pentagon Press Secretary Statement Regarding Ukraine Aircraft, 20 April]

But it is true that they have more aircraft by a factor — this is on background, in fact, I'm fine if you report it on background. They have more than 20 additional aircraft available to them than they did three weeks ago, and that is because of the shipment and arrival of spare parts that have been able to get some of their inoperable aircraft, fixed-wing fighter aircraft, in operable condition. So by more than 20, they have increased their fleet because of the work that the United States and the international community has done to help get them the parts they need to get them in the air.
The rest of the Q&A at the link and I've highlighted the part of the Q&A that clarifies the aircraft thing. Which, despite a seemingly unambiguous statement that I posted in yesterday's update, was still unclear.
Strategic communication, how does it work?!?!?!
Here's the latest British MOD assessment from earlier today (emphasis mine):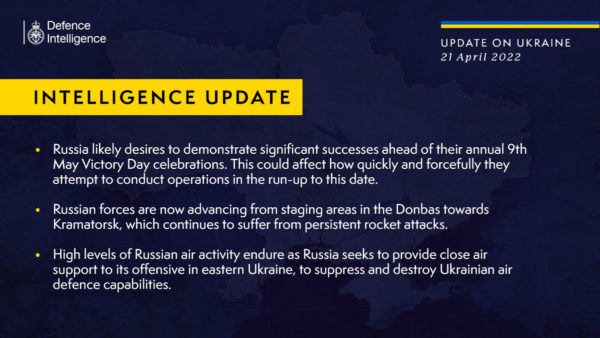 And here's their latest map update: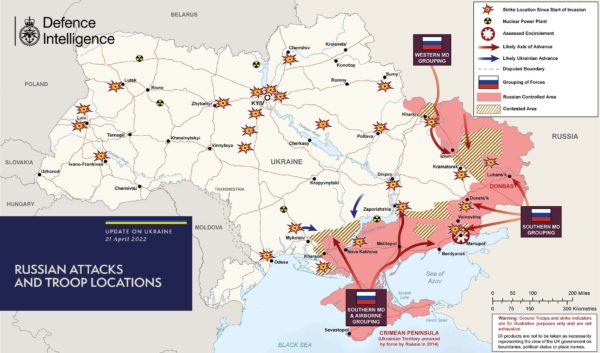 Still in line with what we've been seeing for the past week.
I want to draw your attention to this thread of reporting from Michael Weiss and then tie it back into the British assessment for today. First tweet followed by the rest of the thread copied and pasted into a quote box.
?New from @holger_r and me: "Karl," our Estonian defense specialist, offers his insights into Russia's eastern offensive.

— Michael Weiss ????? (@michaeldweiss) April 20, 2022
"The offensive started at the weekend. That's when the intensity of the battles grew. We know because Russia's losses were higher than on the days before."

"This phase will be different than when the war started on Feb 24. Russia will not attack across the whole frontline, simultaneously. The intensity of fighting is roughly twice as much as what came before."

"The Russians are focused on two axes: 1) Izyum, 2) Severodonetsk and surrounding towns. They've had some success in Kreminna, but that's a tactical decision by Ukraine. 130 Russians were hospitalized from there in the last day. This indicates dozens were killed. That's a lot."

"Perspective: If Russia doesn't succeed in 1.5 weeks, their offensive will subside. Then a countdown starts for Ukraine's counteroffensive. I'm still cautiously optimistic about Russia not succeeding."

"Russia simply doesn't have enough forces in the east. Ukraine believes they have 90 BTGs; the U.S. says it's less than 80. Ukraine has at least the same number of troops to defend."

"Russia has more armor, tanks, and artillery. Ukraine has more precision weapons but not enough to react all along the front. Russia has too many 'dumb' weapons, which makes a Ukrainian counteroffensive difficult."

"Ukraine's tactics remains the same: ambush battles, destruction of convoys. Ukraine can't do force v. force and doesn't try to."

"Another positive: Ukraine keeps getting new arms, new equipment. Russia can't get it from anywhere and only gets weaker. The supply chain from Russia to Izyum is as long as from Belarus to Kyiv. This makes Russia more careful than it was in the beginning of the war."

"Mariupol falling would be a PR win for Russia but wouldn't have too much of an impact militarily. Russia's BTGs battling there are in no condition to continue fighting on another front. That said, I don't believe Mariupol will fall in the next few days."

"Ukraine has experience from 2014 when it held onto the Donetsk Int'l Airport for six months. The area of the Azovstal steel factory is many times larger. Every possible war scenario indicated Russia would encircle Mariupol. Ukraine stocked it with ammunition and food."

"The goal of striking Kramatorsk railway station wasn't to hinder Ukraine's military movements. It was to complicate civilian evacuation. Civilians in the battlespace affects Ukrainian troops. Russia, on the contrary, doesn't care about civilian lives."

"Russia has 10-12 BTGs in reserve behind its borders but no one knows their real condition. It's complicated to get the BTGs to full capacity. Russia is desperately mobilizing from DNR/LNR…"

"They're force 55-60 year-old men into the Russian army. It's a huge and desperate risk as among them are those who will turn their weapons against that army."

"I can't see how Russia can declare a big win in two weeks (before May 9). It can get tiny tactical wins only. There is no reason why Ukraine's defenses should fail."

"It's a very risky gambit for Russia. See today's news about a pro-Russian blogger getting shot & killed in Kherson."

"Public opinion in Russia can change only if the battle of Donbass fails. There's no force inside the country to effectively oppose the war. Soldiers' mothers come the closest." / ENDS
The British have been assessing and others have been speculating that Putin has rushed the start of the Donbas campaign to fit into his own timeline based on the mythology that he's pushed for years around the 9th of May. And, as a result, he needs some sort of victory that is more than taking some villages to show off on that date. If this is indeed the case, then his orders to Shoigu this morning also make sense. Go back to the first part of Sneddon's tweet at the top of the post:
Putin is hailing Russia's "liberation" of Mariupol after his forces completely destroyed during a two-month siege.
This is basically declaring victory and moving on.
I do want to highlight this reporting, which contradicts the sixth tweet above about Russia having more tanks:
NEW: Ukraine has more tanks available in country than Russia, thanks to European deliveries of Soviet-era T-72 tanks: senior defense official

U.S. has NO tanks to give Ukraine because ?? military is using Soviet-era equipment.

— Jack Detsch (@JackDetsch) April 21, 2022
And in case you've missed it, the USAF is now making bespoke tactical drones for the Ukrainians. If only the Ukrainians had some of those mythical technical sergeants spoken about in the ancient sagas. (Somewhere Leto gets a sharp shooting pain to the temple…)
Clarification: The Phoenix Ghost is a tactical drone similar to the Switchblade, but with some different capabilities: senior U.S. defense official

The U.S. Air Force developed it in line with Ukraine's needs. It will require some training for Ukrainian troops. https://t.co/QOVb2flZzM

— Jack Detsch (@JackDetsch) April 21, 2022
Here is an excellent thread from a retired Royal Air Force Air Marshal on the Airpower takeaways from Ukraine's defense against the Russian reinvasion:
Some thoughts on the air war over Ukraine and its implications for air forces in general. I caveat all by stating that we don't know very much about UKR tactics, and if we did we wouldn't want to be too descriptive. But we can pick out some essential observations. 1/11

— Edward Stringer?? (@edwardstrngr) April 21, 2022
The first point is that in the eighth week of this war the Russian Air Force (VKS) still shows no sign of running a campaign to gain air superiority. Given the advantages it has in the 'physical component' of air combat power this is truly remarkable. So it probably cannot. 2/11

And that means that the Russian army cannot discount air attack at any time, and UKR can plan to make use of the air environment. This could prove to be the factor that tips the balance in effective overall combat power, and it arises… 3/11

…because the UKR armed forces are clearly leading in the 'conceptual component' of air combat power. They have worked out how to take a massive inferiority in numbers and turn that around by fighting smarter. There are lessons here in Air C2 for all air forces. 4/11

Even, perhaps especially, the dominant ones of high-tech NATO. These have got used to rolling out air dominance since Gulf War 1. Maybe they will always be able to. But repeating a well worn tactical process – albeit a complicated one – has replaced 'Air Generalship'. 5/11

Few senior Western airman have had to work out from scratch how to use air power capabilities in less favourable circumstances to achieve campaign aims. In contrast,

@KpsZSU

has had to think around the problem. 6/11

What they seem to have done is used intelligence to selectively attack Russian air raids. These appear to have been relatively effective in kill ratios – but the UKR 'air force' has also achieved many kills from MANPADS missiles, and even artillery shelling airfields. 7/11

Or Bayrakter TB2 v RUS SAMs. This implies good coordination between Air and Land air defence assets. Which RUS has not achieved. Together, this UKR air defence system has achieved a huge 'soft kill' in deterring VKS raids; rarely now do they cross the FLOT. 8/11

In the space created UKR has learnt to use modern, novel tactics of drones and loitering munitions to act as 'poor mans air superiority'. This is not, yet, in the NATO air forces play book. And I would hazard a guess that NATO army/air force coord is not as good. 9/11

So I conclude that NATO air forces should humbly approach

@KpsZSU

and offer to share a mission exploitation exercise to find out what worked, what didn't and why. NATO air power has become very good at one thing. It should think on what UKR's Air Generals might teach them. 10/11

But in the meantime UKR's ability to prosecute the war successfully relies on it being able to use the air when and how it wants. We need to do listen to them telling us what they now need, and make sure they have plenty of it in order to prevail. 11/11
This is one very patriotic Ukrainian millionaire! (hat tip to Steeplejack for emailing it to me)
Ukrainian millionaire asks Ukrainian military to bomb his mansion after he saw Russian troops inside on security cameras. So they did. pic.twitter.com/R9qL9Kdg5T

— Mike Sington (@MikeSington) April 19, 2022
Someone keeps lighting Russian military research facilities on fire!
Corruption and irresponsibility in russia has dealt another insidious blow to its war efforts. In Tver, a research institute that develops russia's Iskander missiles and systems for SU-27 and TU-160 bombers, which have been destroying peaceful Ukrainian cities, has burned down.

— Defence of Ukraine (@DefenceU) April 21, 2022
In Russia, the Dmitrievsky chemical plant in the city of Kineshma is on fire.

It is the largest Russian manufacturer of chemical solvents. Kineshma is located 950 km from the Ukrainian border. pic.twitter.com/6K4QM7p18q

— ТРУХА⚡️English (@TpyxaNews) April 21, 2022
In russia, the research institute of the aerospace forces of the Ministry of Defense of the Russian Federation completely burned down. Iskander, S-400 missile systems, stealth systems for Su-27 and Tu-160 aircraft were designed and developed here. pic.twitter.com/VEgnGoUhx3

— ТРУХА⚡️English (@TpyxaNews) April 21, 2022
Ain't that a shame!
Obligatory:
Most likely these fires were started by domestic Russian opposition to the reinvasion of Ukraine. But if it increases Putin's paranoia to worry that he might both have a domestic resistance that's gone operational and begun a campaign of sabotage and that it could also be Ukrainian intelligence, that's value added.
There will be no Easter ceasefire this weekend:
Russia's representative claimed the truce would afford "Kyiv nationalists and radicals a respite so that they can regroup."

— The Kyiv Independent (@KyivIndependent) April 21, 2022
Which has prompted the head of the Ukrainian Orthodox Church to issue this warning:
⚡️ Head of Ukrainian Orthodox Church asks to refrain from Easter services in Ukraine's war zones.

Metropolitan Epiphanius says that although they have asked Russia "to stop shelling" on April 24, the Orthodox Easter, he does not believe Russia would follow the ceasefire.

— The Kyiv Independent (@KyivIndependent) April 20, 2022
I think that's enough for tonight, so we'll end with this very good kitty!
This is Phoenix from Kyiv region. He was severely injured during russia's aggression. The cat is a symbol of Ukraine's steadfastness and resilience.
Photo by Volodymyr Kryzhanivsky pic.twitter.com/7fyPI56jXw

— Defence of Ukraine (@DefenceU) April 21, 2022
I'm pretty sure that first picture isn't to scale!
One final unrelated note, if you've not seen it mentioned, Norm Ornstein's dog Henry showed back up at the Ornstein home around 4 AM local time in DC this morning. So they are all relieved. I appreciate all of our DC readers, commenters, and lurkers who kept eyes out and the rest of you for keeping good thoughts.
Open thread!