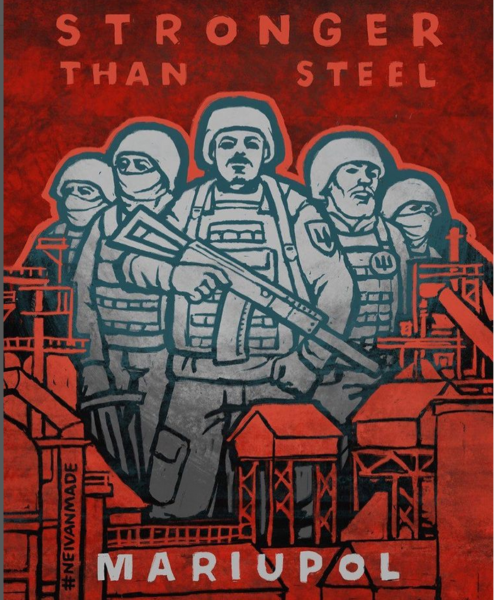 (Image found here, the artist is NEIVENMADE)
This morning Russian Major General Rustam Minnekaev decided to let everyone in on Russia's theater strategic objectives for the Donbas campaign:
"One of the tasks of the Russian army is to establish full control over the Donbas and southern Ukraine. This will provide a land corridor to the Crimea, as well as influence the vital objects of the Ukrainian economy," Minnekaev said Friday at a meeting with the Union of Defense Industries, as reported by the Russian state-owned Interfax. "Control over the south of Ukraine is another way out to Transnistria, where there are also facts of oppression of the Russian-speaking population." Transnistria is a separatist region of Moldova that has so far not been officially involved in the war despite hosting a Russian military base since the 1990s.
There are two things to take away from this. The first and most obvious is that we now know what the objective for the Donbas campaign is. Scarf up all of the Donbas and southern Ukraine in order to establish a land bridge and then connect through the breakaway region of Transnistria to Moldova. I'm pretty sure the second takeaway is that based on how poorly Russia has performed so far, as well as the state of their available land forces and equipment, that they cannot achieve this objective. This doesn't mean they won't try to do so. And it certainly does not mean that they won't cause a lot of death and destruction in failing to achieve their goals.
Here's the video of tonight's address by President Zelenskyy. It has the usual English subtitles. He does address Minnekaev's statement. Transcript, with my emphases, after the jump.
Ukrainians!

Our defenders!

The 58th day of our defense is coming to an end. It ends on Good Friday, one of the most sorrowful days of the year for Christians. The day when death seems to have won. But… We hope for a resurrection. We believe in the victory of life over death. And we pray that death loses.

This year, during the full-scale war, Russia's war against our state, these words have a special meaning for us.

Russia brought death to Ukraine. After eight years of brutal war in Donbas, Russia wanted to destroy our state completely. Literally deprive Ukrainians of the right to life. But no matter how fierce the battles are, there is no chance for death to defeat life. Everyone knows that. Every Christian knows that. This is a basic element of our culture.

Perhaps this does not exist in modern Russian culture anymore. Because in order to do everything they did to Ukrainians in our cities… you have to kill a human inside you. Because a human of any faith simply cannot do that.

But for our culture, it all matters. And it will matter. And life will surely defeat death.

I am grateful to our British friends for the important symbolic decision announced today to return the embassy to Kyiv. The United Kingdom became the twenty-first country to return a diplomatic mission to our capital. And this shows that we are not the only ones who believe in the victory of life over death.

Today, with reference to the Russian military, the news was spread that their task now is allegedly to establish control over the south of Ukraine and reach the Moldovan border. And allegedly there, in Moldova, the rights of Russian-speakers are violated.

Although, to be honest, the territory in which Russia should take care of the rights of Russian-speakers is Russia itself. Where there is no freedom of speech, no freedom of choice. Where there is simply no right to dissent. Where poverty thrives and where human life is worthless. To the extent that they come to us, go to war to steal at least something that resembles a normal life.

You know they used to talk about their biggest dream: to see Paris and die. And their behavior is now just shocking. Because their dream now is to steal the toilet and die.

Well, this only confirms what I have said many times: the Russian invasion of Ukraine was intended only as a beginning, then they want to capture other countries.

Of course, we will defend ourselves as long as necessary to break this ambition of the Russian Federation. But all nations that, like us, believe in the victory of life over death must fight with us. They have to help us, because we are the first on this path. And who is next?

If anyone who can become next wants to stay neutral today so as not to lose anything, this is the riskiest bet. Because you will lose everything.

The Armed Forces of Ukraine continue to deter attacks by Russian invaders in the east and south of our country. The Izyum direction, Donbas, Pryazovia, Mariupol, Kherson region are the places where the fate of this war and the future of our state is being decided.

In Slovyansk, Kramatorsk, in the Donetsk region in general, in Popasna and in the Luhansk region in general, in Kharkiv, in the surrounding areas, the occupiers are trying to achieve a primitive goal – to kill as much as possible and destroy everything they see.

And I am grateful to each of our defenders who are bravely holding on, teaching the Russian army the idea that Russia's chances in this war may be less than Ukraine's.

As every morning, as every day, as every evening, we have paid maximum attention today to provide our military with all the necessary weapons. This is the number one task for our state.

And I am grateful to all our partners who finally heard us. Who provide us with exactly what we asked for. Because we know for sure that with these weapons we will be able to save the lives of thousands of people. And we will be able to show the occupiers that the day when they will be forced to leave Ukraine is approaching.

The return to normal life in the territories liberated from the occupiers continues.

If at the beginning of this week demining took place in 70 settlements, today 184 settlements have been demined. Of course, much remains to be done. But the pace, I think, is pretty good.

Humanitarian headquarters are already operating in more than 500 de-occupied settlements. Almost 100 settlements are added daily, to which we return medical and educational services, the work of social protection bodies, financial institutions.

We are restoring transport connections at a fairly fast pace. Plus 96 settlements today, where the transport connection was returned. Plus 183 settlements where gas stations have resumed work. Plus 90 settlements where electricity was restored. We return water supply, gas supply, mobile connection.

The return of Ukraine to cities and communities means the return of life in the full sense of these words. I believe that such a return will take place in the south of our country and in the east of Ukraine. In all areas where degradation, destruction and death have been brought under the Russian flag.

But it depends on how united we all will be in countering the Russian invasion. I emphasize once again that everyone should oppose the occupation at every opportunity. Ignore the occupiers. Do not cooperate with them. Don't help them. Neutralize collaborators.

The Armed Forces of Ukraine are performing their tasks brilliantly. Intelligence, the National Guard, territorial defense, police, border guards – all of them work one hundred percent for the victory. But every citizen must also work for the victory – in what he does and where he is.

If you are abroad – support Ukraine. If you are engaged in ordinary economic activities, do your best for the benefit of Ukraine as much as possible. If you found yourself in a temporarily occupied territory – try to cause the occupiers as much trouble as possible. The Armed Forces of Ukraine are our foundation. But a fortress of our national unity must always stand on this foundation. Unity of all Ukrainians who fight for life and against death. Against the Russian invasion.

Traditionally, in the evening I signed a decree awarding our heroes. 48 defenders of Ukraine were awarded state awards. For courage in battles, for exemplary military service.

Eternal glory to all who defend the state!

Eternal memory to everyone who died for Ukraine!

Glory to Ukraine!
I want to focus on two things from President Zelenskyy's remarks this evening. The first is his Easter message to Orthodox Ukrainians. By now everyone pretty much is aware that Zelenskyy is Jewish. How observant he is or is not is neither something I know, nor does it really matter. What is important here is that when Jews wish their Christian friends a happy Easter they usually do not use this language:
The 58th day of our defense is coming to an end. It ends on Good Friday, one of the most sorrowful days of the year for Christians. The day when death seems to have won. But… We hope for a resurrection. We believe in the victory of life over death. And we pray that death loses.
This language, this use of strategic communication, is to clearly get the attention of the majority of Ukrainians who are Christian (a majority of that majority being Orthodox and the next largest chunk being Catholic/Eastern Rite and then a smaller group following the Latin Rite). This is him speaking to them in a language they understand and expect from officials making statements at this time of year. But these remarks are also used to set up something else. Specifically:
Russia brought death to Ukraine. After eight years of brutal war in Donbas, Russia wanted to destroy our state completely. Literally deprive Ukrainians of the right to life. But no matter how fierce the battles are, there is no chance for death to defeat life. Everyone knows that. Every Christian knows that. This is a basic element of our culture.

Perhaps this does not exist in modern Russian culture anymore. Because in order to do everything they did to Ukrainians in our cities… you have to kill a human inside you. Because a human of any faith simply cannot do that.

But for our culture, it all matters. And it will matter. And life will surely defeat death.
Putin and his pet patriarch Kirill have gone out of their way to make Russia's reinvasion of Ukraine into a Holy War in line with the mythology and alternative history that Putin has both bought into and promoted for the past twenty years. For Putin and Kirill, at least rhetorically, the Russian reinvasion of Ukraine is a sacred endeavor to both protect Russians and to reestablish the proper, Deity ordained scheme of things on earth: placing Ukraine and all other former Russian/Soviet territories back under the temporal and religious control of Moscow. What President Zelenskyy is doing with the first portion of his remarks tonight is to flip that script. To inspire the majority of Ukrainians who are Christians to recognize the sacred parallels in their defense of Ukraine against Russian reinvasion, aggression, and brutality in the Easter story. It is subtly and effectively done, especially when compared with the bellicosity of Putin and Kirill. It is an excellent example of senior leader strategic communication.
The second thing I want to call out, or call out further since I bolded and italicized it in the quote block above, is President Zelenskyy explicitly emphasizing that Putin's plans and objectives, regardless of whether they are realistic or achievable, do not end with Ukraine. Ukraine is just the beginning; it is just the current theater of this war. Should Putin achieve his objective, then the war will shift to a new theater – Moldova – and once finished there another theater, most likely Romania and/or one of the Baltic states would be next. Then another and another. It doesn't matter that these objectives are, as some guy named Dave Anderson would say, banana pants crazy. Those are the objectives. President Zelenskyy is not only making this explicit, again, but also making it clear to everyone inside and outside of Ukraine that unless the line is held in Ukraine, unless the Ukrainians are successful, Putin will eventually come for the next state and society on his list.
Here's today's operational update from the Ukrainian Ministry of Defense (emphasis mine):
The operational update regarding the russian invasion on 18.00 on April 22, 2022

The fifty-eighth day of the heroic resistance of the Ukrainian people to a russian military invasion continues. A russian federation continues its full-scale armed aggression against Ukraine and launches missile and bomb strikes on military and civilian infrastructure.

In the Volyn and Polissya directions, russian enemy did not take active action. There is an increase in electronic reconnaissance and electronic warfare systems in the border areas of Gomel region with Ukraine. Units of the 48th separate battalion of electronic warfare of the Western Operational Command of the Armed Forces of the republic of belarus have been set up in the districts of Klimovka and Dymamerky. In addition, the enemy conducted training of regular forces and air defence.

The threat of missile and air strikes on the objects of civil and military infrastructure of Ukraine from the territory of the republic of belarus remains.

In the Seversky direction, the federal security service and border service units of the russian federation continue to carry out enhanced protection of the Ukrainian-russian border in the Bryansk and Kursk regions. The regrouping of enemy troops continues.

In the Slobozhansky direction, russian occupiers continue to partially block the city of Kharkiv with units of the 6th General Arms Army, Baltic and Northern Fleets, and try to fire on units of our troops and critical infrastructure.

In the Izyum direction, russian enemy conducts air reconnaissance of the positions of our troops in order to determine possible directions of attack. To improve the tactical position of the units, russian enemy tried to carry out offensive operations in the directions of the settlements of Zavody and Dibrovne, but without success.

In the Donetsk and Tavriya directions, fighting took place along the entire line of contact.

During the day, russian enemy carried out assault operations in the direction of the city of Slovyansk, established itself in the village of Lozove. In the areas of the Zelena Dolyna and Kreminna, russian enemy continues to consolidate its occupied positions, regroup and prepare for offensive operations.

russian enemy strengthened the grouping of troops by moving from the territory of the russian federation of individual units of the 41st Combined Arms Army of the Central Military District. Unsuccessfully trying to gain a foothold in the village of Rubizhne.

In the area of ​​Popasna, russian enemy carried out assault operations in the direction of the settlement of Novotoshkivske and deep into the settlement of Popasna, without success. Established in the central part of the village Stepne.

In the Avdiivka and Kurakhiv areas, russian occupiers tried to carry out assault operations, but without success.

In the Mariupol direction, russian enemy continued to launch air strikes on Mariupol and blockade our units in the Azovstal area.

In the Zaporizhzhya direction, russian occupiers carried out assault operations in the direction of the settlement of Zelene Pole, without success. The enemy strengthened the group by relocating units of the 19th Motorized Rifle Division of the 58th Combined Arms Army of the Southern Military District. At the same time, the battalion tactical group of the 127th Motorized Rifle Division of the 5th Combined Arms Army lost its combat capability and was withdrawn to the recovery area.

In the direction of Pivdennobuzhsky, near the settlement of Oleksandrivka, russian enemy is defending the occupied positions. Conducts air reconnaissance. It is possible to carry out assault operations in order to reach the administrative borders of Kherson oblast.

According to available information, the personnel of a separate group of russian troops in the so-called "transnistrian-moldavian republic" serve on a daily basis. At the same time, the possibility of using the territory of the unrecognized republic for aggression against Ukraine remains.

We believe in the Armed Forces of Ukraine! Let's win together! Glory to Ukraine!
The major takeaways:
Russia is going to continue to simply pound away on Ukraine using artillery and air strikes
Russia is probing along a number of the lines of contact they want to attack once the Donbas campaign gets fully under way, but is having limited success
Russia is still busy reducing Mariupol
Russia is still trying to reform and reconstitute a number of BTGs and other units with only partial success
Here's today's assessment from the British Ministry of Defense: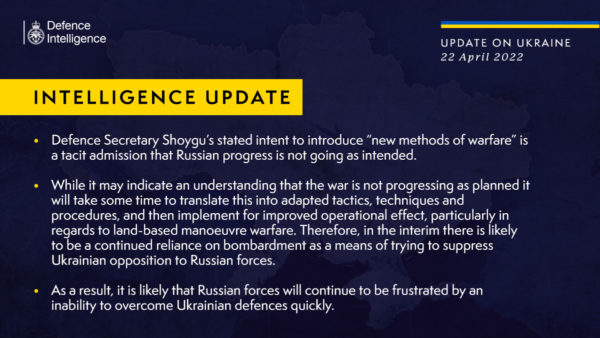 And here's the British MOD's updated map for today: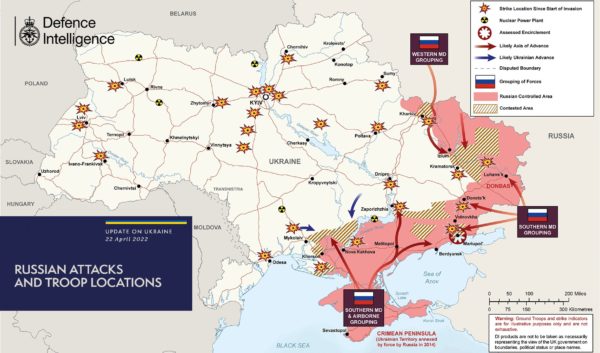 As you can see the British GEOINT analysts and mappers are continuing to indicate the Russians are doing what they've been doing for the better part of ten days now.
I want to take a moment and look at a different map from Illlia Ponomarenko, The Kyiv Independent's military correspondent:
Here's a very, very basic map that will help you understand the Battle of Donbas now.
The Red is the Russians, the blue is the Ukrainians.
As you can see, the enemy is trying to pinch off a Ukrainian salient with two major strikes from the north and the south. pic.twitter.com/IIgZOrLBwm

— Illia Ponomarenko ?? (@IAPonomarenko) April 22, 2022
The Joint Force Operation's salient between Izium and parts of Donetsk and Luhansk Oblasts is still a major problem. Right now the Russians are pressing in six different positions on this extended cul-de-sac like position the Ukrainians are in trying to encircle them. If the Russians do so, then they can reduce the Ukrainian Joint Force Operation. You'll notice that compared to the last time we zoomed in on the Joint Force Operation's position about two weeks ago, also with a map provided by Ponomarenko, the Ukrainians are now trying to hit the Russian forces advancing from Izium in the side, thereby breaking that line of attack. At the same time the Ukrainians are trying to block Russian forces coming up from Myrne and Andriivka in the south to prevent them from getting behind and encircling the JFO.
There was another Russian military research facility set on fire today:
The Russian Rocket and Spacecraft Scientific Center in Korolyov is on fire right now.

It's the main analytical center of the Russian Space Agency (Russian NASA) Roskosmos.

2 strategic fires yesterday, 1 today.

Greeting from Ukraine? pic.twitter.com/h48L0rDbAH

— Visegrád 24 (@visegrad24) April 22, 2022
And The Moscow Times, which I cannot seem to currently access so it may be down thanks to Russian cyberwarfare efforts, reported the following by tweet:
As many as five Russian military enlistment offices have been set on fire since the start of the invasion of Ukraine, independent Russian media reportedhttps://t.co/y27xNuTjPF

— The Moscow Times (@MoscowTimes) April 22, 2022
As I wrote last night, I suspect these arson attacks are a sabotage campaign being carried out by Russians opposed to the war, Putin, or both. Is it possible that Ukrainian intelligence has managed to get a bunch of covert operatives across the border and they're carrying out what is now around eight arson attacks? Sure, it's possible. I'm not sure, however, it's more plausible than Russian opposition doing it. Ultimately, we may never find out. But right now I am sure that the idea that there is a domestic opposition, Ukrainian operatives, or the latter working with the former to undertake a sabotage campaign against Russian military targets is keeping Putin up at night.
Ain't that a shame.
Mariupol:
"Hell is what's happening there."

Civilians who managed to escape Mariupol speak of the terror they experienced as Russia seeks control of southern Ukraine https://t.co/XDgCzXhcKP pic.twitter.com/TYLtXmSGIG

— Bloomberg Quicktake (@Quicktake) April 22, 2022
Safe humanitarian corridors are needed to get more hundred thousand people out of the ruined city, as well as civilians and the wounded who are for weeks without water and sunshine under Russian bombing in the dungeons of the AzovStal plant 2/3

— Oleksandra Matviichuk (@avalaina) April 22, 2022
Here's a post from a military medic in Mariupol to his mother: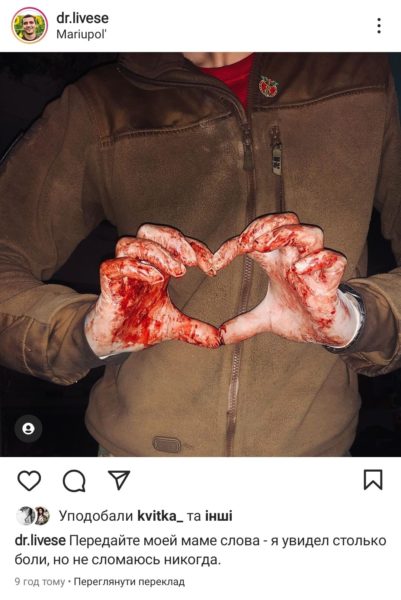 And here's the translation courtesy of The Kyiv Independent's Anastasiia Lapatina:
"Pass these words to my mom – I saw so much pain, but I will never break"
Mykolaiv:
?? defender in Mykolaiv: 'Please, tell (the world) that our land helps us a lot. We've had so many miracles at the frontline, the earth and weather literally protect us from death. But we need weapons, too'

— Iryna Matviyishyn (@IMatviyishyn) April 22, 2022
Here's a couple of interesting pieces dealing with the difficulties of making the sanctions and economic measures targeting Russia effective in regard to Russian energy exports.
ARD demanded the German economy ministry and industry show them the data for their apocalyptic gas embargo warnings of mass unemployment and economic destruction.

The result: "No one could provide concrete figures." https://t.co/OYV8iSvWdK

— Zia Weise (@ZiaWeise) April 21, 2022
A recent study by the country's top economic institutes found that a gas import stop would cause job losses, but more in the realm of ~400,000, with unemployment rising from 5 to 6%. https://t.co/S9mkSyO37T

— Zia Weise (@ZiaWeise) April 22, 2022
Here's another complication in shutting off Russian energy exports from The Wall Street Journal:
Russia ramped up oil shipments to key customers in recent weeks, defying its pariah status in world energy markets. One increasingly popular method for delivery: tankers marked "destination unknown."

Oil exports from Russian ports bound for European Union member states, which historically have been the biggest buyers of Russian crude, have risen to an average of 1.6 million barrels a day so far in April, according to TankerTrackers.com. Exports had dropped to 1.3 million a day in March following the Ukraine invasion. Similar data from Kpler, another commodities data provider, showed flows rose to 1.3 million a day in April from 1 million in mid-March.

But an opaque market is forming to obscure the origin of that oil. Unlike before Russia invaded Ukraine, oil buyers are worried about the reputational risk of trading crude that is financing a government that Western leaders accuse of war crimes.

Oil from Russian ports is increasingly being shipped with its destination unknown. In April so far, over 11.1 million barrels were loaded into tankers without a planned route, more than to any country, according to TankerTrackers.com. That is up from almost none before the invasion.

One reason to obscure the origin of Russian oil is that countries desperately need the crude to keep economies going and prevent fuel prices from surging even further. But companies and oil middlemen want to trade it quietly, avoiding any blowback for facilitating transactions that in the end provide money for Moscow's war machine.

The use of the destination unknown label is a sign that the oil is being taken to larger ships at sea and unloaded, analysts and traders said. Russian crude is then mixed with the ship's cargo, blurring where it came from. This is an old practice that has enabled exports from sanctioned countries such as Iran and Venezuela.

New grades of refined products dubbed the Latvian blend and the Turkmenistani blend are also being offered in the market, according to traders, with the understanding that they contain substantial amounts of Russian oil, they said.

Oil sales for Russia are the lifeblood of the economy and government spending. The country has struggled to sell oil at the same volumes and prices as before the war, causing backups in its domestic oil industry.
Much, much more at the link!
The Royal United Services Institute for Defence and Security Studies (RUSI) in the United Kingdom is out with a very interesting new analysis of Putin's reinvasion of and war for Ukraine. Here's the link to the pdf of the report. And here's the introduction:
Operation Z: The Death Throes of an Imperial Delusion

WHEN RUSSIAN FORCES began to roll towards the Ukrainian border on the evening of Defender of the Fatherland Day, 23 February, Moscow was anticipating the capture of Kyiv within three days. Many outside observers – including the authors of this report – feared the destruction of the conventional Ukrainian military, even if they expected the fighting to last longer than Moscow had hoped.1Moscow's plan was for repressive measures to have stabilised control of Ukraine by Victory Day on 9 May. Instead, the Russian military was repulsed, suffering heavy losses, and is now embarking upon a limited offensive to try to secure Donetsk and Luhansk.

The war in Ukraine has generated a considerable volume of highly detailed analysis relating to the military progress of the campaign,2the struggle for information, the cascading economic effects of high energy prices and supply chain disruption,3and the geopolitical fallout as countries are increasingly called upon to pick a side.4However, despite an emphasis in Western security concepts on the need for a whole-of-government approach,5much of the analysis on the war in Ukraine has focused on narrow silos. This Special Report seeks to examine how the interconnected challenges confronting Moscow are reshaping Russian policy, and the risks Moscow's potential courses of action pose as the war enters a new phase. The foremost conclusion is that Russia is now preparing, diplomatically, militarily and economically, for a protracted conflict.

This report is based on a wide range of sources. On the military front, the report draws upon sustained though periodic engagements with Ukrainian combatants in the conflict and independent reporters observing the fighting on the ground, continual analysis of open source information from the war, and intermittent interviews with senior Ukrainian officials and officers during fieldwork in March and April. The diplomatic and economic analysis draws upon interviews with Ukrainian and Western intelligence officials, energy experts including former employees in Russia's strategic industries, and diplomats and national security representatives from several NATO and non-NATO member states that have maintained links with Russia. The
report also draws upon inspections by the authors of Russian military equipment recovered from the battlefield during fieldwork in April, and an extensive set of documents from inside the Russian government. Owing to the sensitivity of the methods by which these documents were obtained their sourcing is largely withheld, though the authors took steps to establish
their veracity.
And here are the conclusions:
Conclusions

The initial euphoria at Ukraine's withstanding the onslaught of the Russian Army has in some parts of Europe brought about a belief that Ukraine's victory is now assured, or that an exhausted Russia may soon come to the negotiating table. Ukrainian victory is possible, but will demand hard fighting for some time to come. Having first done little to set a narrative about the war, the Russian government had an opportunity to lay the groundwork for de-escalation in mid-March. It made a deliberate decision to escalate its rhetoric and ideologically mobilise its society. By banning dissent, and by holding local officials accountable for the organisation of patriotic mobilisation, the Russian government is in the process of radicalising its public. Even as the cost of living in Russia rises, therefore, the intent in Moscow is to prolong the fighting. In the short term, this means a major offensive in Donbas. In the medium term, there is an intention to bring about a summer offensive to finish Ukraine off. Given that the Russian government has not yet curtailed its wider ambitions – as demonstrated by its designs on Moldova – it is critical that NATO remains firmly determined to not just support Ukraine to hold Donbas but to prepare for a renewed offensive after.

At the same time, a protracted conflict poses dangers for the West. As Europe enters summer, high energy costs will harm businesses, but there will be a delay between this and job losses. By autumn, there is a risk that recession will coincide with cooling temperatures while citizens will struggle to heat their homes. In this context, support for Ukraine may wither, engagement
with Russian disinformation may rise, and Russia's diplomatic efforts to evade sanctions may gain traction through Western disunity. Limiting Russia's ability to protract fighting beyond the summer could be effectively enabled by reducing its access to modern armaments. To achieve this, Western countries must conduct a thorough assessment of where their companies are knowingly or inadvertently supplying Russia and cut off these channels. The severing of these channels will not alter the volume of munitions physically stockpiled by Russia for operations in the summer. But the expectations of future manufacture will both shape how much of the stockpile can be expended in Ukraine and the Kremlin's confidence in the long-term security implications of continuing the war. Reducing dependence on Russian gas must also be a medium-term objective of European policy,
even if it will not have an immediate effect. At the same time, NATO must be more engaged in the information struggle beyond its borders; Western efforts to manage their own energy crisis risk being perceived as imposing costs on the very states whose cooperation will be critical in bringing about Russia's military and political isolation.

Although Russia has clearly been weakened by its battlefield setbacks in Ukraine, the combination of its imperial ambitions and significant coercive power risks destabilisation further afield.
Moldova is the most prominent example, but as the conflict protracts, Russian operations could pose threats in Serbia and beyond. Coordinated efforts to curtail Russian malign influence in these states – and further afield – will be critical if the crisis in Ukraine is to be contained. Further crises,
risking further economic disruption, will prove politically difficult to bear.

Finally, the Russian decision to double down is a high-stakes gamble. If Russia mobilises and eventually overcomes Ukrainian resistance then NATO will face an aggressive, isolated and militarised state. If Russia loses then President Putin has now begun radicalising the population in the pursuit of policies that he will struggle to deliver. Failure to defeat the Ukrainian state after relentlessly comparing it to the Nazi regime may have serious consequences for Putin and those around him. To frame a conflict as existential and to lose must necessarily call the suitability of a leader into question among Russia's political elites. NATO states therefore need to consider how to manage escalation pathways that follow if Russia is not only defeated in Donbas but finds its newly mobilised and poorly trained troops, with few remaining stocks of precision munitions, unable to deliver a victory in the summer. The death of Putin's political project is plausible, but it has already inflicted immense damage internationally and risks doing considerably more.

Jack Watling is Senior Research Fellow for Land Warfare at RUSI.
Nick Reynolds is Research Analyst for Land Warfare at RUSI.
Click across and read the whole thing!
I think that's enough for tonight. Let's finish up with these:
But I have to say that so far all the people in the uniform that I've seen come in chose to pay for their drinks.

— Olga Rudenko (@olya_rudenko) April 21, 2022
This bakery in Kyiv employs people with mental disabilities and is distributing bread for free to ?? soldiers, police, hospital patients, elderly. This Sunday it's Easter in Ukraine and they'll be baking Easter cakes – pasky. You can donate to support them https://t.co/R1UIG0j8pa

— Olga Tokariuk (@olgatokariuk) April 21, 2022
From Good Bread's home page:
Before the war, we gave people with mental disabilities – autism, intellectual disability, and Down syndrome – a chance to socialize.

But the war changed everything.

Hundreds and thousands of people need food. We now bake bread and cupcakes, which we distribute for free.

Our bread is given to soldiers of the Armed Forces and Territorial Defense, the police, hospital patients, residents of mental hospitals, elderly people, and families with children who stayed in Kyiv.

We bake from 400 to 800 loaves every day.

If you have the ability to, please support us.

All funds will be used to pay for the ingredients for bread and cakes, as well logistics. We also continue to financially support people with mental disabilities who have worked in the bakery, who we cannot put at risk right now. But we are still responsible for them.
If you click across, you'll find the links to Good Bread's PayPal and Patreon should you be so inclined to provide them some support in the good work they're doing for both the developmentally disabled and neuro-atypical in Kyiv, as well as for Kyiv's defenders and those in need!
And to put this update to bed, someone has finally managed to wear out a Jack Russell terrier!
А dog Patron wishes everyone goodnight ??

Photo: patron_dsns / Instagram pic.twitter.com/ugV8bivGF5

— The New Voice of Ukraine (@NewVoiceUkraine) April 22, 2022
This is Patron, who is a bomb sniffing dog with the Ukrainian State Emergency Service who helps to demine areas that the Russians booby trapped.
Two-year-old Patron works with State Emergency Service rescuers in the northern city of Chernihiv, where he sniffs out Russian bombs (in addition to warming laps, nipping sleeves and generally being a good boy).

In fact, he has helped neutralize nearly 90 explosive devices since the start of Russia's full-scale invasion, Ukrainian officials said last month.

"One day, Patron's story will be turned into a film, but for now, he is faithfully performing his professional duties," tweeted Ukraine's Center for Strategic Communications.
Sleep well bestest boy! You've earned a good snooze!
Open thread!