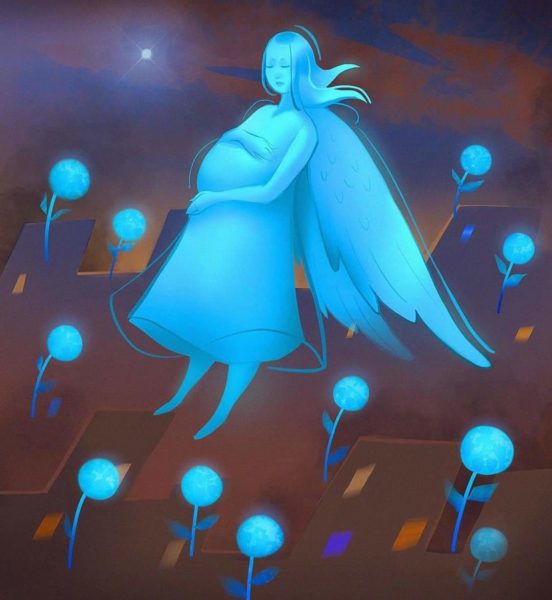 Here's President Zelenskyy's address from this evening in Kyiv. It has the usual English subtitles and the transcript, with my bolding and italicizing for emphasis, follows.
Today I will begin my evening address to you without greetings.

Today Russia launched another missile strike at Ukraine, at Odesa. As of now – 8 dead. At least 18 wounded. Ordinary peaceful people. Among those killed was a 3-month-old baby girl. How did she threaten Russia? It seems that killing children is just a new national idea of the Russian Federation.

The missiles were launched by Russian strategic aircraft. From the Caspian Sea region. We managed to shoot down two missiles. Five more missiles hit a peaceful city. Including the usual apartment house, the usual high-rise building.

We will identify all those responsible for this strike. Those responsible for Russia's missile terror. Everyone who gives these orders. Everyone who fulfills these orders. No one will be able to hide. No matter how long it takes us, all these bastards will be responsible for every death they caused.

Russia has already fired most of its missile arsenal at Ukraine. Of course, they still have missiles. Of course, they can still continue the missile terror against our people. But what they have already done is definitely arguments sufficient for the world to eventually recognize the Russian state as a sponsor of terrorism and the Russian army as a terrorist organization. We will continue to insist on this in negotiations with our partners. There is simply no alternative to such recognition. That is why it is true.

The Russian state has become a terrorist, and it is not ashamed. And if it is not ashamed, it is deliberate. Therefore, there must be maximum responsibility.

New facts about the crimes of the occupiers against our Mariupol residents are being revealed. New graves of people killed by the occupiers are being found. We are talking about tens of thousands of dead Mariupol residents. Negotiations of the occupiers on how they conceal the traces of their crimes are recorded.

Russia continues the activities of so-called filtration camps, particularly near Mariupol. Although the honest name for them is, in fact, different – it's concentration camps. Like those built by the Nazis in the past.

Ukrainians from these camps – the survivors – are sent further into the occupied territories and to Russia. The facts of deportation of our citizens to the Russian boondocks, to Siberia, even to Vladivostok are recorded. They also deport children hoping that they will forget where their home is and where they are from. And they are from Ukraine.

Today was Holy Saturday for Christians of the Eastern Rite. The day between the Crucifixion and the Resurrection. It seems that Russia is stuck on such a day. For years. On the day when death triumphs and God is supposedly gone.

But there will be a Resurrection. Life will defeat death. The truth will defeat any lies. And evil will be punished. And Russia will have to learn these truths again, it's only a matter of time. It is only a matter of time before all Russian murderers feel what a fair response to their crimes is. It is only a matter of time before we can bring all the deported Ukrainians home. It is only a matter of time before all our people all over Ukraine feel what a strong peace is.

I spoke today with Prime Minister of the United Kingdom Boris Johnson. I informed him about the situation in Mariupol, in the areas of hostilities in general. I thanked him for the significant defensive and financial support for Ukraine. We coordinated further steps needed to protect our freedom.

We are also preparing for tomorrow's important talks with American partners.

I held a big live press conference in Kyiv today. Answered many questions – different, from different journalists. Both Ukrainian and foreign. And it's not just about openness, really. Not just about information. It's about whose side the truth is on in the war. This is about who can speak truthfully both with his people and with the whole world. Ukrainians can. Our enemies cannot.

And finally. There will be a curfew tonight. Please follow this rule. This is important from a security point of view. But starting from 5 am you will be able to visit temples in your cities, towns and communities. Where it is possible to hold a church service. Please – only in the morning.

I am grateful to each of our defenders who ensure our security this night before Easter and every day. Who defend the state. Who fight for the freedom of Ukrainians.

Eternal glory to all our warriors!

Eternal memory to all who gave lives for Ukraine.

Glory to Ukraine!
I'll have more on the attack on Odesa after the jump. But I want to highlight, like last night, the passage from President Zelenskyy's remarks regarding Easter.
Today was Holy Saturday for Christians of the Eastern Rite. The day between the Crucifixion and the Resurrection. It seems that Russia is stuck on such a day. For years. On the day when death triumphs and God is supposedly gone.

But there will be a Resurrection. Life will defeat death. The truth will defeat any lies. And evil will be punished. And Russia will have to learn these truths again, it's only a matter of time.
Like his remarks from last night pertaining to Easter, President Zelenskyy's statement this evening is also an excellent example of strategic communication. Both for tying Ukraine's defense against Putin's reinvasion to the religious context of this weekend for the majority of Ukrainians, but also because by the time he prepared, if not delivered these remarks he had most surely been briefed about this:
Putin is celebrating Orthodox Easter alongside the mayor of Moscow, Sergei Sobyanin, who he normally does this with instead of the actual family he doesn't acknowledge in public pic.twitter.com/S0lwXwboex

— max seddon (@maxseddon) April 23, 2022
Putin ordered an airstrike on Odesa that killed a three month old and her mother and then he went to Church for Holy Saturday services.
President Zelenskyy's remarks, leaning heavily into the Christian themes of this weekend – the battle between good and evil, the midpoint of that battle on Holy Saturday where the outcome for good seems less than certain – is intended to both fortify his citizenry in their defense of Ukraine and to clearly articulate the stakes of Ukraine's defense, by contextualizing it within the religious themes of this weekend.
It is all the more striking because, as I noted last night, Jews don't talk about Easter this way. Which is the third component of President Zelenskyy's strategic communication yesterday and today. By making these themes explicit in a way that Jews never do, he is drawing a contrast with all the actual Christian religious leaders and the political leaders that lean heavily into their being Christians and why that is a reason they are fit for public office, who have said little or nothing. I'm sure you have noticed that some of the most publicly self declared Christians in the GOP caucuses in the US House and Senate either have said little and/or actually voted against providing assistance to Ukraine. I'm sure you've noticed that far too many of America's always very public, always looking for a TV news camera to morally scold everyone else Christian leaders have said little to nothing and are hoping none of us have noticed that they've been playing footsie with Putin's pet patriarch Kirill, Kirill's trusted agents, and Putin's pet oligarchs and siloviki for well over a decade at the National Prayer Breakfasts and at a variety of global Christian conferences. Franklin Graham may have placed one of his field hospitals in Ukraine, but he's also been cozying up to Kirill and Putin for the better part of a decade.
President Zelenskyy's remarks are not just to rally his own people on behalf of their just war defending Ukraine, they are intended to both highlight the hypocrisy of those who use their religion as both sword to oppress others and shield when called on their hypocrisy. Unfortunately you cannot shame the shameless.
Ukrainians are under warnings from both Metropolitan Epiphanius, Primate of Kyiv and Ukraine, as well as from the civilian government to stay in secure shelters tonight and tomorrow rather than go to church for Holy Saturday and Easter Sunday services.
⚡️ SBU: Russian shelling likely to increase on Easter.

Security Service has called for Ukrainians to stay home during Easter festivities.

The SBU published a recording in which an alleged Russian soldier says his troops are writing "Christ is risen" on the shells.

— The Kyiv Independent (@KyivIndependent) April 23, 2022
This is why:
russians are preparing to shell Ukrainian towns this night & tomorrow as Orthodox Christians will celebrate Easter. A russian soldier tells his woman that they are painting "Christ is risen" on the missiles. she laughs
Source: SBU intercepts #GenocideOfUkrainians #ArmUkraineNow pic.twitter.com/BBXDmyZx77

— Olena Halushka (@OlenaHalushka) April 23, 2022
Much more after the jump.
Here's tonight's operational update from the Ukraine's Ministry of Defense (emphasis mine).
The operational update regarding the #russian_invasion on 18.00 on April 23, 2022

The fifty-ninth day of the heroic resistance of the Ukrainian people to a russian military invasion continues. A russian federation continues its full-scale armed aggression against Ukraine.

russian enemy is trying to increase the pace of the operation in east of Ukraine in order to encircle the Joint Forces, as well as to establish full control over Donetsk and Luhansk oblasts.

In the Volyn and Polissya areas, russian enemy did not take active action, no signs of the formation of offensive groups were found.

In the Slobozhansky direction, russian enemy continues to partially blockade the city of Kharkiv, carrying out artillery shelling of the positions of our units and civilian infrastructure in the area of the settlements of Chuhuiv, Korobochkino and Dovgenke.

In the Donetsk and Tavriya directions, the main efforts of russian enemy were focused on taking control of the settlements of Popasna, Rubizhne and preparing for the attack on the city of Siverodonetsk. In the area of Marinka and in most other areas, russian enemy is unsuccessful in the course of hostilities.

In the South Buh direction, russian occupiers did not carry out active offensive operations, russians carried out single shellings of Ukrainian units with barrel artillery.

According to available information, russian enemy has significant problems with the medical support of its units, there are difficulties with the evacuation of the wounded, there is a lack of medicine. Due to the growing number of wounded, in the city of Balakliya, the enemy, along with the deployed military hospital, uses the capabilities of the city clinic.

In the city of Vovchansk, which is temporarily occupied, junior medical personnel of health care facilities are forcibly sent to provide first aid to russian enemy units on the line of contact with the Defence Forces of Ukraine.

Also, the russian troops have significant problems with the replenishment of personnel, attempts to forcibly mobilize residents of the Kherson region to the russian occupying forces continue.

According to available information, russian enemy uses civilian trucks to move military cargo in the temporarily occupied territories. Also, russian occupiers continue to use stolen agricultural machinery for military purposes.

Units of the Defence Forces of Ukraine continue to liberate settlements in certain areas and maintain certain defensive lines.

We believe in the Armed Forces of Ukraine! Let's win together!

Glory to Ukraine!
Here's the British MOD's assessment for today: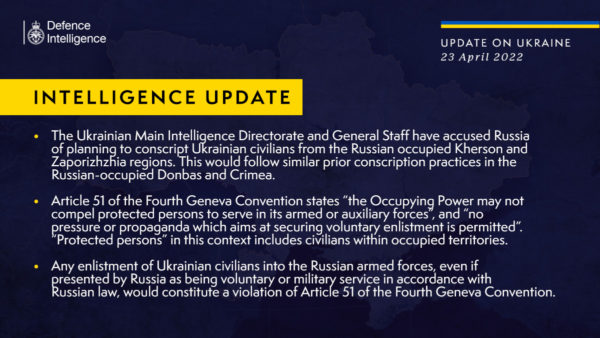 And here's their updated map, also for today: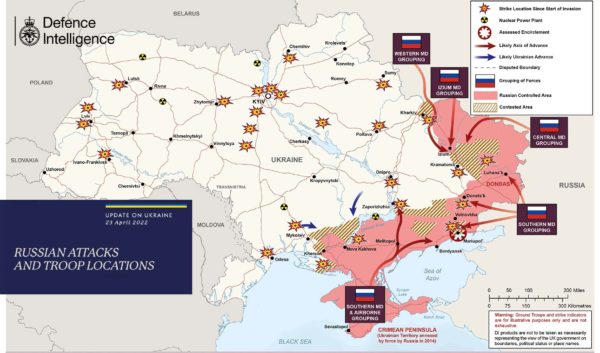 As you can see everything seems to be continuing the way it has been going for the past ten days to two weeks.
Earlier today, before his nightly address, President Zelenskyy had a press conference in one of the stations of the Kyiv subway. During those remarks and the Q&A he made a very clear ultimatum to Putin:
"If our people in Mariupol are killed, if pseudo-referendums are announced in the new pseudo-republics, Ukraine will withdraw from any negotiation process," said Zelensky.
This was after making it clear that as of now, Ukraine does not have the military equipment it needs to break the siege of Mariupol so that the Azov Regiment, the 36th Separate Marine Brigade, and the Mariupolians they are defending can break out and make it to safety.
The president said that without additional arms, Ukraine can't conduct sustainable counter-offensive operations and break the siege of Mariupol, a port city with a pre-war population of 450,000 people, now completely destroyed by Russian troops.

"Don't believe anyone, we're not ready to break the siege," he said. "It's the reality."
Here's video of President Zelenskyy's press conference with English subtitles:
Odesa:
Video of the Russian cruise missile strike on Odesa today. https://t.co/o2zs3fTi48 pic.twitter.com/UQdRrFKTMT

— Rob Lee (@RALee85) April 23, 2022
Friends and acquaintances are sharing their memories of Valeria and writing condolences for her husband on her social media pages. Her husband Yuriy has posted photos of them all with this message: "My dear ones, Kingdom of Heaven! You are in our hearts!"

— Christopher Miller (@ChristopherJM) April 23, 2022
Mariupol:
Right now. Right this minute. Children at #Azovstal are starving. Ukrainian soldiers defending them give their food to the children. They have been under bombings for months. They just want to live. They want to go out and have a normal life.#SaveMariupol #Mariupol #StopRussia pic.twitter.com/KDArASYbwF

— Anton Gerashchenko (@Gerashchenko_en) April 23, 2022
Nakhodka is located in 10,000 km from Mariupol. Russians, I wish this war come to your land one day.

— Nika Melkozerova (@NikaMelkozerova) April 23, 2022
АЗОВ нищить російського ворога в Маріуполі ????? pic.twitter.com/cCmjObtiBc

— НГУ (@ng_ukraine) April 23, 2022
The caption reads:
Azov destroys the Russian enemy in Mariupol
Irpin:
WARNING! WARNING!!!! Contains News Reporting That May Trigger Those Who Have Suffered Sexual Assault!!!!
Source: https://t.co/t9Wj4nhtDD

— Anastasiia Lapatina (@lapatina_) April 22, 2022
From Ukrayinska Pravda:
Three Russian soldiers raped the mother and sister of a 17-year-old girl in front of her​​ in Irpin, Kyiv region. Both mother and sister died of their injuries and torture.

Ukrainian Parliament Commissioner for Human Rights Liudmyla Denisova reported the atrocities committed by the Russians. The girl had called the ombudsman's hotline for mental health support and told her story.

The 17-year-old girl who witnessed the brutal murder of her relatives suffered psychological shock and lived in the house with their bodies for four days.

"She said that while her relatives were murdered, she was held and not touched,'because I am a freak'. They said, 'Stay alive and get the word out to others'," Denisova said.

The girl is now with her grandmother and receiving therapy.
More at the link!
Pretty much everywhere in Ukraine:
And many Ukrainians are watching from bomb shelters, as there are again air raid alerts across the country. Russian barbarians don't let this be a peaceful Easter https://t.co/fnBAMG1eQt

— Olga Tokariuk (@olgatokariuk) April 23, 2022
Whomever is doing the sabotage in Russia, and my money is still on Russian's opposed to the war and Putin's government have now taken out a hydroelectric complex:
The 4th incident in 2 days. This time Fedorovsky hydroelectric complex collapsed in Kuban, Russia. Emergency officials stressed there is no danger of flooding of nearby settlements and it is under investigation. Really feels like an FSB operation but will wait for more details pic.twitter.com/feGl6MHEG7

— Olga Lautman ?? (@OlgaNYC1211) April 23, 2022
Last night several people in comments linked to a tweet indicating that the Ukrainian military had killed almost 50 Russian senior officers in a strike on a field headquarters. Please, for the love of anyone's, someone's, everyone's Deity or Deities, or for the atheists no one's Deity or Deities, DO NOT POST ANYTHING BY THAT GUY!!!! HE BASICALLY DOES NOTHING BUT TWEET OUT WHAT HE CLAIMS IS BREAKING NEWS, CALLS FOR RETWEETS, AND THEN ASKS FOR DONATIONS!!!! Which is why I replied to at least one of those comments that I wanted to wait for this to be reported by a more reliable source. Today we have one: Ukrainian Military Intelligence.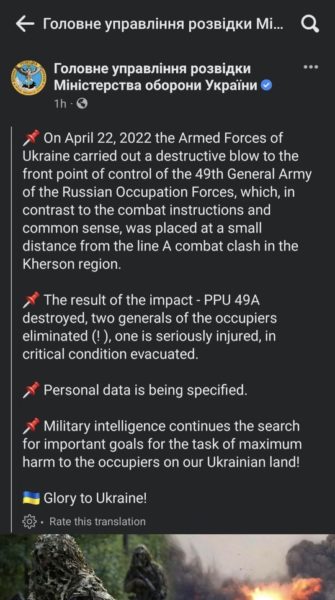 And you can see why it made sense to wait to see if someone reliable reported this. The Ukrainian military DID NOT KILL almost 50 Russian military personnel. They killed two generals and wounded one other at the forward point of control of the 49th General Army of Russia.
Obligatory: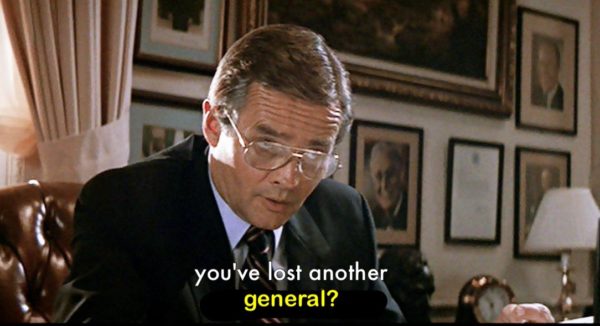 Just because some dipshit manages to get himself verified on Twitter and tweets constant clickbait for Democrats and liberals doesn't mean he should be verified, he should be retweeted, or that he should be funded by donations. It just means he's found a lucrative grift.
Your semi daily Patron the EOD dog, who appears to be quite refreshed after his snoozle!
The star among all the dogs in #Ukraine – Patron – is on duty as always! pic.twitter.com/dCMhiJ9AY2

— Hanna Liubakova (@HannaLiubakova) April 23, 2022
And we'll end with your semi daily Chef Jose Andres:
As @Ukraine celebrates Orthodox Eastern on Sunday we have many partners of @WCKitchen doing tens of thousands of Eastern traditional cakes and eggs. This video is from one of the amazing team of of our beloved Yulia Stefanyuk in Lviv #ChefForUkraine #FoodFighters pic.twitter.com/tpTjzMmFmT

— José Andrés (@chefjoseandres) April 23, 2022
Easter is Sunday in Ukraine! Today our partners started delivering Easter kits to refugees. It is so important to maintain traditions… giving hope that there are still bright moments after 60 days of war. This is Lviv…but we will have presents all over Ukraine! #ChefsForUkraine pic.twitter.com/AJgE95cGH9

— José Andrés (@chefjoseandres) April 23, 2022
A happy and healthy Easter to all who observe the various Eastern Orthodox and Eastern Rite traditions tomorrow.
Open thread!