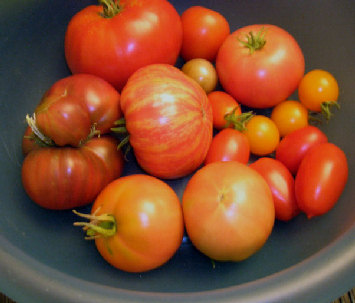 This year — so far! — I've managed to keep my pledge to only buy tomato plants of varieties we find exceptional. No more 'they're very reliable, just in case' plants — much as I appreciate old friends like Carmello and Gardener's Delight. Not to mention favorites that have consistently failed for me in the last several years (Paul Robeson, Kelloggs Breakfast, Isis Candy… )
My theory is that random heirloom and bred-for-taste tomatoes are now available all summer at a garden / grocery store I enjoy patronizing (Volante Farm), *probably* the coronavirus rate will be low enough that we'll feel safe shopping masked (& boosted), and if I have fewer plants I might be able to able to give each one more attention.
Yesterday, I transferred the first half-dozen of the 15 plants I ordered in February and March, a beautiful healthy batch from Laurel's Heirlooms in Southern California, into their rootpouches. Chocolate Amazon (I bless the tomato developers for this one every year, because Paul Robeson, alas, just won't grow for me), Chocolate Stripes (ditto), Tati's Wedding (a tasty, prolific, almost seedless, all-purpose red variety), and Ruby Gold (aka Gold Medal, deep orange striped with red) are all on my 'must have' list (I missed out on my beloved Bearclaw, because it was sold out by the time I got around to making my reservations!)
Because I have a vivid imagination, Laurel's online descriptions lured me into swapping Momotaro Gold for my usual Momotaro (reputedly Dolly Parton's favorite tomato), and Wee Tang Shebang for Blondkopfchen. (If I ever come into a fortune sufficient for a large sunny yard & the hire of several strong assistants to do the heavy lifting for me, more Laurel heirlooms will be one of my first splurges!)
I've got another batch of plants coming in from White Flower Farm, including Cherokee Purple (my top 'recommended for all growers' variety — one of the first to ripen, the last to stop setting fruit in the fall, and the most resistant to various blights), Ramapo, and multiple Chocolate Sprinkles cherry tomatoes (because those are the only variety Spousal Unit consistently asks for by name). And a couple more from Burpee, since I was ordering a specific begonia from them anyways, and Spousal Unit likes their Steak Sandwich because one slice can be just the right size & consistency to top his burgers.
And maybe, depending on what shows up at my local Mahoneys / Volante greenhouses, there may be just one or two more plants we can't resist. This may be the *best* time of the year for me, when it comes to tomato gardening — all of the dreams, none of the exhaustion / disillusionment!
Picking "The Best Tomato Plants" is so very much a personal choice — not only do everyone's tastes differ, but some varieties just don't 'translate' from their native lands. (The Midwestern favorite Brandywines, for instance; I've tried and failed / been less than impressed by at least half a dozen different Brandywine types over the past 25 years. Even the local professionals are apologetic about their Brandywines — excuses are made about 'special soil microbes' and 'day length'.)
Which tomato types do *you* all choose to expend your time & effort on, this year and every year?
(Photo at top is from one of my earlier, most successful seasons — maybe 2014? Pretty sure that's an unusually ugly twinned Chocolate Amazon on the left, a small Kelloggs Breakfast in the center, oblong Juliets on the right and Sun Gold cherry tomatoes right above them. No idea about the others, sorry.)
***********
What's going on in your garden(s), this week?