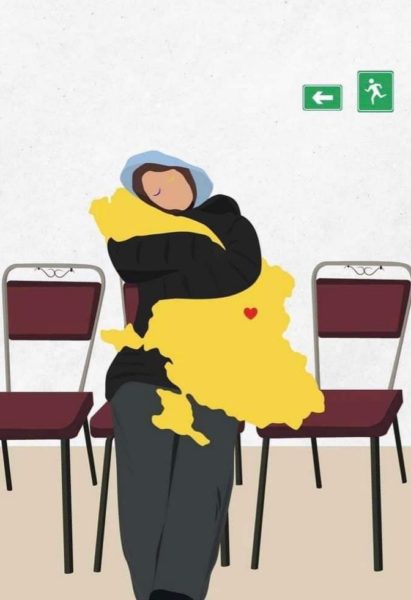 Let's begin tonight with President Zelenskyy's remarks to Ukraine on Easter. Here's the video with English subtitles, the transcript with my emphases follows it:
Great people of great Ukraine!

Today is a great holiday. And I'm in a great place. The Great St. Sophia Cathedral. In the cathedral, which was founded a thousand years ago, on the field of the sacred battle where the army of Kyivan Rus'-Ukraine defeated the Pechenegs. In the cathedral, which was not destroyed by the Horde invasion or the Nazi occupation, which withstood in spite of everything!

Today we all believe in a new victory for Ukraine. And we are all convinced that we will not be destroyed by any horde or evil.

We are enduring dark times. And on this bright day, most of us are not in bright clothes. But we are fighting for a bright idea. On the bright side. And the truth, people, the Lord and the holy heavenly light are on our side. The power of the patron saint of the human race – Oranta. She is above me. She is above us all.

The unshakable pillar of the Church of Christ, the unbreakable wall of the main stronghold – Kyiv, the Unbreakable Wall of the State. As long as there is Oranta, there is Sophia, and Kyiv stands with her, and the whole of Ukraine stands with them!

Above the image of Oranta are the words from the Psalms: "God dwells in that city; it cannot be destroyed. From the very break of day, God will protect it." On this Great Day, we all believe that our dawn is coming soon.

Oranta in Latin means "one who prays". We have all been praying for the last two months. And in the Resurrection of Christ, which symbolizes the great victory of life over death, each of us asks the Lord for one thing. And speaks the same words to heaven. The words of a great and united prayer.

Great and Only God! Save our Ukraine!

Protect those who protect us! Heaven, protect those who defend the native land. Strengthen the will of those who protect us from captivity. Save those who save Ukraine. These are our military, national guards, border guards, our territorial defense, intelligence. These and all our other warriors of light.

Help those who help them. These are volunteers and all people who care. From Ukraine and around the world. Give strength to all who give all their strength. May everyone who seeks always find. May everyone who is on the road always overcome it. And may everyone who does everything possible to save Ukraine never lose faith that everything is possible.

Save the lives of those who save the lives of others. These are all our medics. Our firefighters, rescuers, sappers. May the victory of life be a symbol not only of this holiday. May life win the battle against death every day.

Take care of our mothers. Give endurance to those who are waiting for a son or daughter from the war. Give fortitude to those who, unfortunately, have lost their children on the frontline. Help those who have lost their children in peaceful cities and villages where Russia has brought death to overcome unbearable pain.

And give good health to all our mothers and all our grandmothers for many more years. To see their loved ones. To see peace and victory. To see justice. And the happy old age that the invaders are trying to steal from them. And instead of knitting scarves and sweaters for their grandchildren, today they weave camouflage nets. So give many years of peaceful life to them.

And to our fathers. And to our grandfathers. Who once told their grandchildren about the war, and today send grandchildren to the war. Our fathers and our grandfathers built this country. Today they see it being destroyed. Let them see how our land will be liberated and rebuilt. And give us strength to do it.

Take care of all our children. Give every boy and every girl a happy youth, maturity and old age, which will allow at least a little to get rid of the memories of their terrible childhood during the war. Not children's, scary games that they were forced to play. Hide and seek, but in the basement, from the bombs. Running, but from the gunshots. Travel, but because of the loss of home, fleeing the war.

Save all Ukrainians! We did not attack anyone, so give us protection. We have never destroyed other nations, so do not let anyone destroy us. We did not seize other people's lands, so do not let anyone seize ours.

Save Ukraine! Its right and left banks – at a time when we are being viciously beaten on both right and left cheeks. At the end of winter, spring did not come to us. Severe cold was brought to our house. At dawn we were brought opaque darkness.

We believe, God, that in your judgment you will not forget them all. All those who have forgotten all your commandments.

You will not forget about Bucha, Irpin, Borodyanka, Hostomel. All those who survived brutal crimes. Give them and all our land human happiness.

You will not forget about Chernihiv, Mykolaiv, Kherson, Sumy, Kharkiv, Izyum, Kramatorsk and Volnovakha, Popasna. All other towns and villages that hear the terrible explosions. Let them and all of us hear the fireworks of victory.

You will not forget about Mariupol and its heroic defenders. One can destroy the walls, but can't destroy the foundation on which the morale stands. The morale of our warriors. The morale of the whole country.

We see terrible scenes of war. Let us see a happy picture of peace.

We are going through very difficult ordeals. Let us reach a just end on this path – the beginning of a happy life and prosperity of Ukraine!

Our hearts are full of fierce fury. Our souls are full of fierce hatred for the invaders and all that they have done. Don't let fury destroy us from within. Turn it into our accomplishments from the outside. Turn it into a force of good to defeat the forces of evil.

Save us from strife and division. Don't let us lose unity.

Strengthen our will and our spirit. Don't let us lose ourselves. Don't let us lose our longing for freedom. Therefore, do not let us lose our zeal for a righteous struggle. Do not let us lose hope of victory and self-esteem, and therefore our freedom. And therefore Ukraine. And therefore faith.

Dear Ukrainians!

Last year we celebrated Easter at home because of the pandemic. This year we also celebrate the Resurrection of Christ not as we used to. Because of another virus. Because of the plague called war.

Both last year's and the current threat are united by one thing – nothing can defeat Ukraine.

The great holiday today gives us great hope and unwavering faith that light will overcome darkness, good will overcome evil, life will overcome death, and therefore Ukraine will surely win!

And on Easter, we ask God for great grace to make our great dream come true – this is another great day – the day when great peace will come to Ukraine. And with it – eternal harmony and prosperity.

With faith and confidence in this – I congratulate all of you on Easter.

Take care of yourselves. Take care of your loved ones. Take care of Ukraine!

Christ is Risen!

He is Risen Indeed.
As I've noted the last two nights, this is not how Jews talk to their Christian friends on or about Easter. President Zelenskyy is once again leaning heavily into the religious themes of the day, themes which are recognizable in the observance of the majority of his citizenry, to motivate them. It is, again, a master class in strategic communication.
Here is today's operational update from the Ukrainian Ministry of Defense (emphasis mine):
The operational update regarding the russian invasion on 18.00 on April 24, 2022

The sixtieth day of the heroic resistance of the Ukrainian people to a russian military invasion continues. A russian federation continues its full-scale armed aggression against Ukraine.

russian enemy is advancing in the Eastern Operational Zone to defeat the Joint Forces, establish full control over the Donetsk and Luhansk oblasts, and secure a land route to the temporarily occupied Crimea.

In the Volyn and Polissya directions, the enemy did not take active action. Up to seven armed battalions of belarusians continue to carry out tasks to cover the Ukrainian-belarusian border in Brest and Gomel regions. Exports of units of the Eastern Military District, mostly damaged, from the territory of the Republic of belarus to the russian federation of Armaments and Military Equipment continue through Gomel in the direction of Bryansk.

In the Seversky direction, the FSS border service of the russian federation continues to provide enhanced protection of the Ukrainian-russian border in the Bryansk and Kursk regions.

Regrouping of units of the Central Military District from the areas of recovery of combat readiness to the eastern regions of Ukraine continues. From Kursk to Belgorod region, russian enemy plans to move an anti-aircraft gun division from the 14th Air Force and Air Defenсe.

In the Slobozhansky direction, weapons and military equipment of russian enemy are being transferred to the Kupyansk district. russian occupiers continue to partially block the city of Kharkiv, trying to carry out fire damage to units of our troops and critical infrastructure.

There is an intensification of offensive and assault actions of russian enemy units in the areas of Pashkove, Dovgenke and Velyka Komyshuvakha. The enemy was unsuccessful, suffered losses and was forced to retreat to previously occupied frontiers.

In the Donetsk and Tavriya directions, russian enemy is building up its command and control system and air defence. Continues to fire on the positions of our troops from mortars, artillery and rocket-propelled grenade launchers along the entire line of contact. Inflicts air strikes on operational and tactical aircraft.

In the Severodonetsk direction, russian enemy tried to carry out assault operations in the direction of the ettlements of Lyman and Yatskivka, but was unsuccessful. russian occupiers established control over part of the village of Zarichne. The enemy tried to gain a foothold in the western, northwestern and eastern parts of Rubizhne, but failed. He began advancing in the directions of the settlements of Orikhove and Nyzhne.

In the Popasna direction, the occupying forces tried to gain a foothold on the achieved frontiers. russian enemy also regrouped and replenished its personnel and ammunition and prepared for further assaults.

In the Kurakhiv direction, with the support of artillery, the enemy attempted an offensive in the direction of the settlements of Novomykhailivka and Marinka. He was not successful.

In the Mariupol direction, russian invaders continued to fire and fight in the Azovstal area. The enemy inflicted air strikes on certain objects of civilian infrastructure. The occupiers carried out assault operations in the direction of the settlement of Vremivka, suffered losses and retreated to previously occupied positions.

In the temporarily occupied territories of Ukraine, the Russian occupiers are introducing measures restricting the rights and freedoms of civilians, including freedom of movement.

Ukrainian defenders hold the defense and inflict heavy losses on the russian enemy.

Let's win together! Glory to Ukraine!
Here's today's British MOD assessment:
And here's their map for today: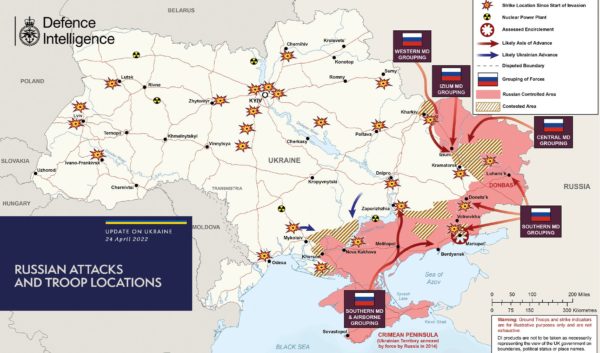 You can see the Russian movement to attack and try to encircle the Ukrainian Joint Force Operation with the Izium, Central, and Southern Russian Military District forces moving to contact from the east and the north.
Despite today being Orthodox Easter, the Russians continued to shell and bombard as much of Ukraine as they could.
Much more after the jump.
There's a lot of new video out of the Azovstal complex in Mariupol that has come out over the past several days. I've posted several of them. Here's a couple of new ones. Unfortunately they don't have English subtitles, but I think you'll get the gist.
Azov Regiment's deputy commander says that #Russia continues to drop air bombs on #Azovstal today, ship artillery is striking, and infantry are trying to storm the steel plant, where servicemen and civilians are sheltering.
On Happy Easter, Kalyna called for reflection on values. pic.twitter.com/o1r2vIfrKW

— Alexander Khrebet/Олександр Хребет (@AlexKhrebet) April 24, 2022
I just spoke with Sergii Volyna, one of the commanders of the defenders of #Mariupol. He calls on all international leaders to pay attention to Mariupol. They keep holding on but the situation worsens every day. The world must know!#SaveMariupol #Ukrainehttps://t.co/onuhSfYH3E

— Oleksiy Goncharenko (@GoncharenkoUa) April 24, 2022
Here's video of the fortified tunnels and catacombs under Odesa, which are being used as bomb shelters:
These tunnels under the Ukrainian port city of Odesa were once used by WWII resistance fighters as a hideout from the Nazis. Now it's where residents come to escape intensifying Russian airstrikes. pic.twitter.com/JlgPvujoof

— DW News (@dwnews) April 24, 2022
I think the consensus from everybody to the following information is that Russia is planning to use chemical, biological, radiological, and/or nuclear (CBRN) weapons in Ukraine:
Russia has asked Canada to urge the US not to use WMDs in Ukraine

The Russian Ministry of Defence laid out scenarios yesterday in which the US would use chemical, biological and nuclear weapons in Ukraine, and frame Russia

— Samuel Ramani (@SamRamani2) April 24, 2022
Ugh!
The Ukrainians have an appreciation for the classics!
i, uhh https://t.co/sKg16ZgUUL

— matthew. (@iAmTheWarax) April 23, 2022
That is a museum piece Hiram Maxim machine gun.
This is an excellent thread by a Russian speaking Ukrainian journalist from the eastern part of Ukraine. You've seen him referenced before in these updates.
" Russians understood the Russian World as drunken cossacks guarding check points in Donetsk who robbed any passing car. The Russian World was torture chambers in cellars where those cossacks &local so-called special forces tormented people with electric shock" @bbcworldservice

— Albana Kasapi (@AlbanaKasapi) April 24, 2022
Aseyev, a Donetsk native, covered events in Eastern Ukraine as they unfolded until one day in 2017 when he was arrested by Russian-backed separatists because of his work. He was kept for 2.5 years in detention 3

#Weekend @bbcworldservice

"You can't possibly describe (the place i was kept) as a prison. It was a modern concentration camp known as Izolyatsia…. They tortured people. I was also subjected to electric shock treatment." 4 Aseyev interview On

#Weekend @bbcworldservice

Aseyev was released in 2019 as part of a prisoner exhange.  He has documented his time in captivity in a memoir published in 2020, "The Torture Camp on Paradise Street."  He has now joined Ukraine's Territorial Defence in Kyiv. 5

#Weekend @bbcworldservice

'Even with my experience I wasn't prepared for what I saw when we went into Bucha… I witnessed torture  happening every day but that was torturing the living. In Bucha I saw cruelty that was even more brutal"6

#Weekend @bbcworldservice

Speaking of offensive in the East, Aseyev says: "I think the Russians are in a much weaker position than Ukrainian forces…The main problem for the Ukrainian army is not the Russian soldiers but their rockets & planes…which is why we need help from the West." 7

 @bbcworldservice

Aseyev says Ukraine will not hand over territory to Russia, but he adds: "So long as the current regime is still in power in Russia, not just Putin but all the people around him, this conflict will continue and we won't be able to return anything to Ukraine." 8

#Weekend

Interview with Ukrainian journalist and writer Stanislav Aseyev in full
Here's an interesting thread showing the differences in how German and Italian leadership are responding to Putin's reinvasion of Ukraine:
Scholz and Draghi gave major interviews less than 1w apart to @corriere & @derspiegel.
Contexts differ, deliverables may not be radically apart. But in a war, narratives matter.
Instructive to compare answers on ia: arming Ukr, energy dependence, and econ fallout of war. 1/

— Fabrizio Tassinari (@Fatassinari) April 24, 2022
On arming Ukr: Scholz: "Bundeswehr's options… are largely exhausted… We are now helping the Ukr government to procure arms… [as] agreed to by our allies." Draghi: "we need to help Ukr directly… Not doing would equal to tell them: surrender, accept slavery and submission" 2/

On energy dependence: S: "Problem is not that there are 2,3, or 4 pipelines – it's that they all come from Ru… we should have diversified imports much earlier." D: "Econ dependence must not become pol subjection. We must diversify energy sources & find new suppliers." 3/

On the war's economic fallout: Scholz: "we want to avoid a dramatic econ crisis, the loss of millions of jobs and of factories that would never open again." Draghi: "Peace is worth making sacrifices…. Peace is the most important value, irrespective of the sacrifice." /END
Your semi daily Patron:
Ukrainian dog Patron congratulates everyone on Easter ?

Photo: patron_dsds / Instagram pic.twitter.com/HUtjiwu4Gp

— The New Voice of Ukraine (@NewVoiceUkraine) April 24, 2022
Your semi daily Bayraktar!
This is Bayraktar. He was buried after a round of shelling. He's doing okay, but him and his grandpa were forced to flee after their home was destroyed. Our partner @Trupanion organized ways you can help the pets and people of Ukraine below. 14/10 for allhttps://t.co/dyU6kNLRJe pic.twitter.com/7CdG8iSoin

— WeRateDogs® (@dog_rates) April 22, 2022
Who is a very lucky Bayraktar? You are!!!!!
And we'll finish with Chef Jose Andres:
On this Easter in Ukraine…I want to introduce you to my new friend Ina! She's from Mariupol & her parents & brother are still there. She can't contact them but they can sometimes call out. Their building is one of few left standing & its dangerous to leave. Listen to her story… pic.twitter.com/o1urpiTZca

— José Andrés (@chefjoseandres) April 24, 2022
Open thread!