On the Road is a weekday feature spotlighting reader photo submissions.
From the exotic to the familiar, whether you're traveling or in your own backyard, we would love to see the world through your eyes.
It's still springtime in Arizona with Albatrossity.  I hoped it would be!  Not sure what BillinGlendale is bringing us this week, but I can tell you that – for this week and next – we will spend 6 days in Kenya with way2blue.  I can't wait!
Albatrossity
The final round of bird images from our March trip to southeastern AZ is a series of "portraits" of some of the fabulous birds that can be found in that part of the country. Most of these birds have appeared in some of the previous posts in this series, but here are some closeups to allow you to appreciate their spring finery even more.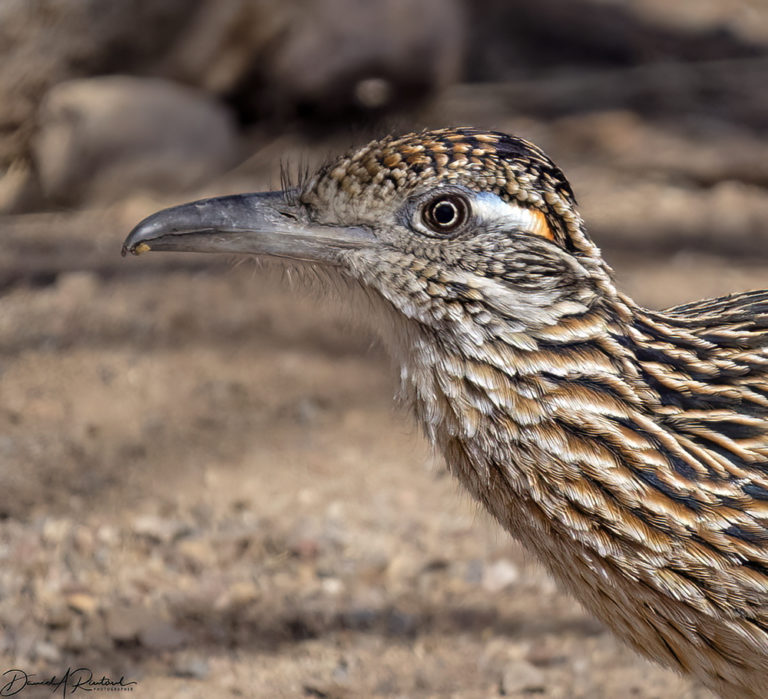 Ash Canyon Bird Sanctuary
March 19, 2022
First up is a favorite of birders and cartoonists, the Greater Roadrunner (Geococcyx californianus). The color pattern of the featherless region behind the eye (aka the apterium) is actually useful in identification of species (Lesser Roadrunner has a crimson section, while this Greater Roadrunner is more orangey) and for sexing these birds (white central section = male, like in this bird, and blue central section = female). Sadly, neither sex has been heard to say "Beep Beep!".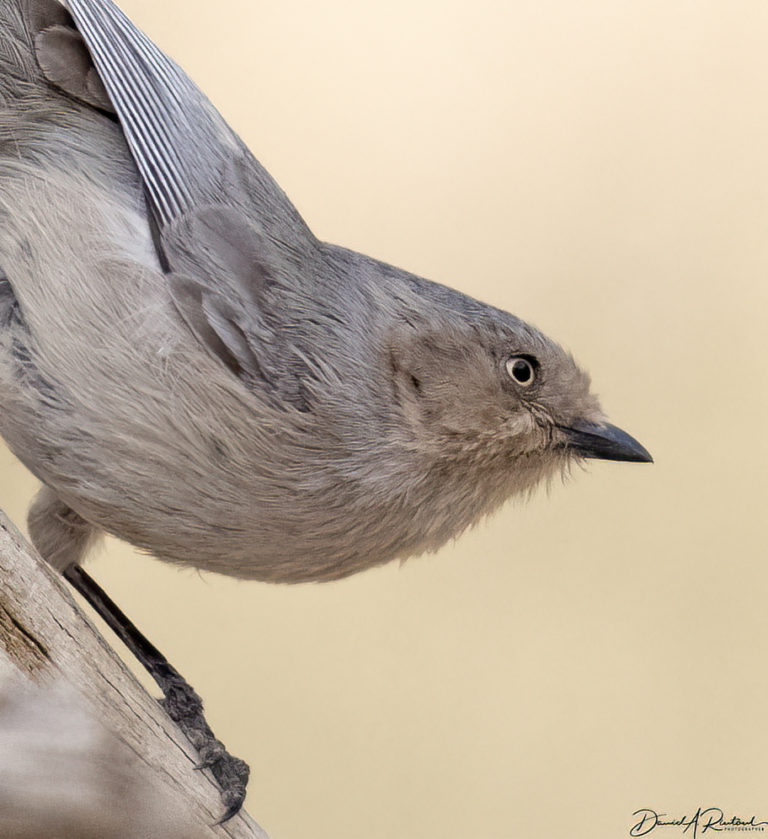 Ash Canyon Bird Sanctuary
March 19, 2022
A small and flighty desert denizen, the Bushtit (Psaltriparus minimus) is one of the smallest birds in North America, weighing in at a whopping 5 grams or so. That is less than a kinglet or gnatcatcher weighs, and only a couple of grams heavier than a Ruby-throated Hummingbird. Fortunately, they are always found in flocks, so a photographer can be hope that at least one of them will sit still long enough for a portrait. This female (distinguished by her light iris) did exactly that.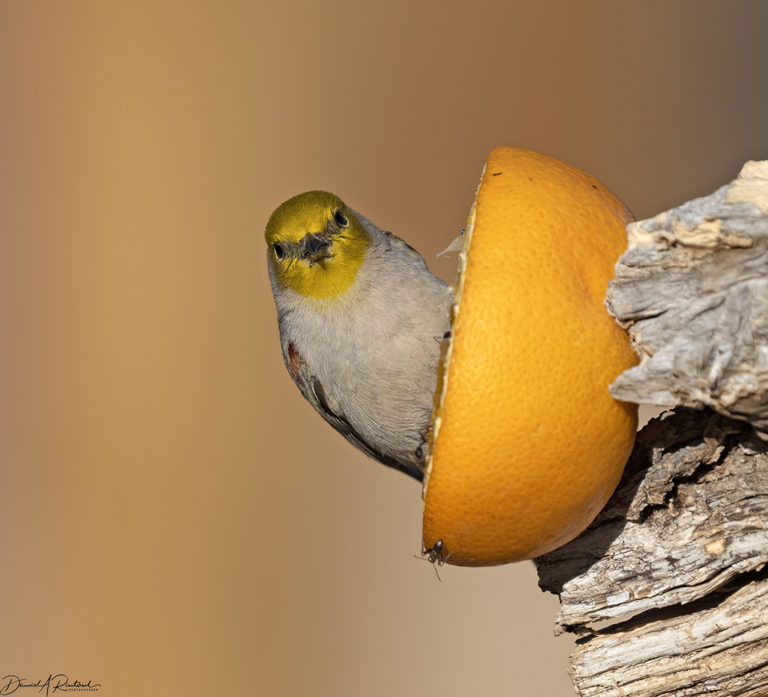 Ash Canyon Bird Sanctuary
March 18, 2022
Another dinky desert denizen is this Verdin (Auriparus flaviceps). The yellow head and chestnut shoulders are distinctive field marks. A true desert bird, it is thought that they do not drink water at all; nests have been found more than 10 miles from the nearest water source. They do seek out fruit and nectar, however. This one was sharing his orange section with a friendly ant.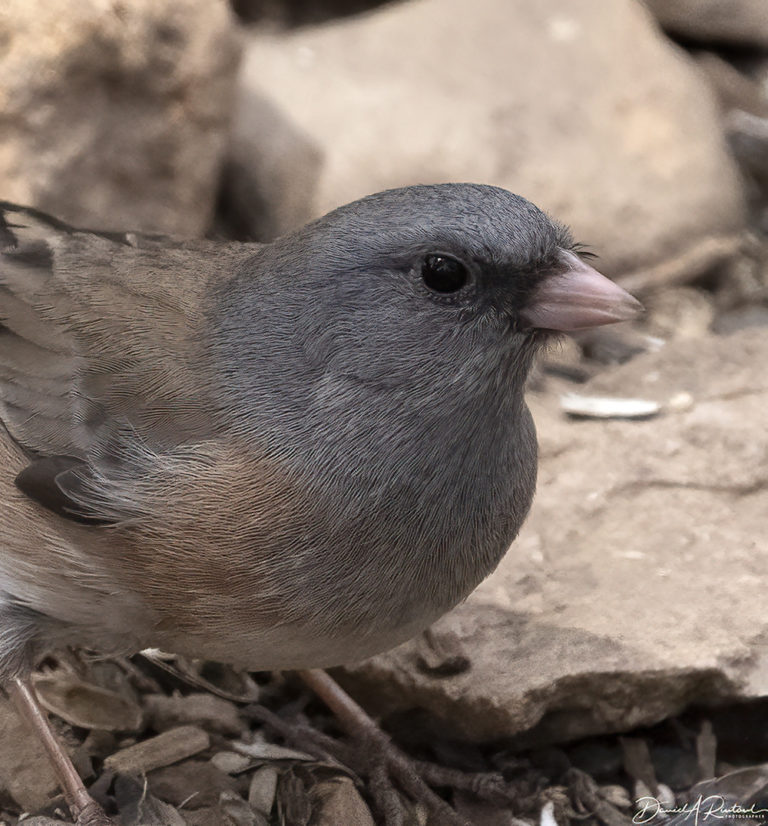 Ash Canyon Bird Sanctuary
March 19, 2022
Winter sparrows were still hanging around there in March, including this Dark-eyed Junco of the pink-sided subspecies (Junco hyemalis mearnsi). This subspecies is distinguished from other subspecies by its black lores (the region between the eye and the base of the bill). This subspecies does sometimes wander eastward in winter, but is not a usual resident of feeder flocks in my part of flyover country.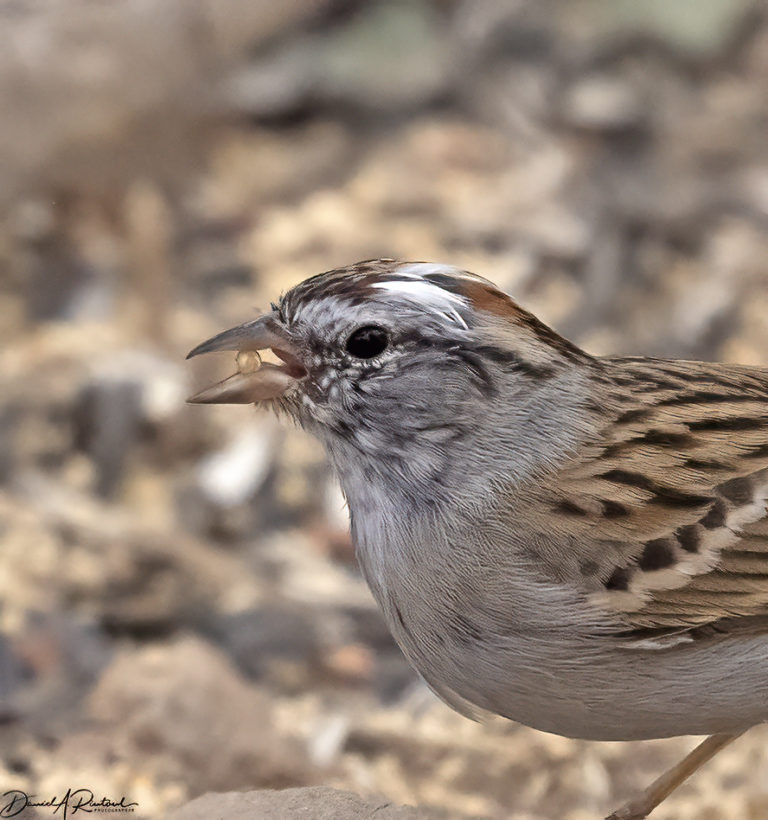 Ash Canyon Bird Sanctuary
March 19, 2022
Another lingering winter sparrow was this Chipping Sparrow (Spizella passerina). This distinctive individual, sporting some unusual white feathers in the crown, was regularly seen at the Ash Canyon feeders throughout the winter. It would be a good spot to hang out if you were a sparrow, for sure!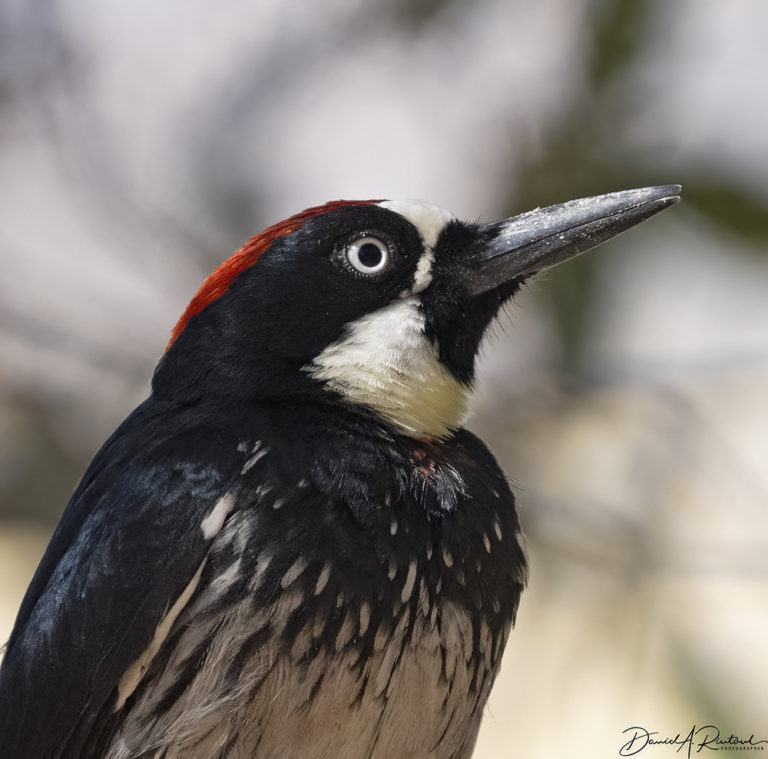 Ash Canyon Bird Sanctuary
March 19, 2022
One of my all-time favorite birds is the Acorn Woodpecker (Melanerpes formicivorus). Their crazy eyes, clown-makeup faces, and "waka waka" calls (along with their myriad other vocalizations) are just plain endearing, at least to me.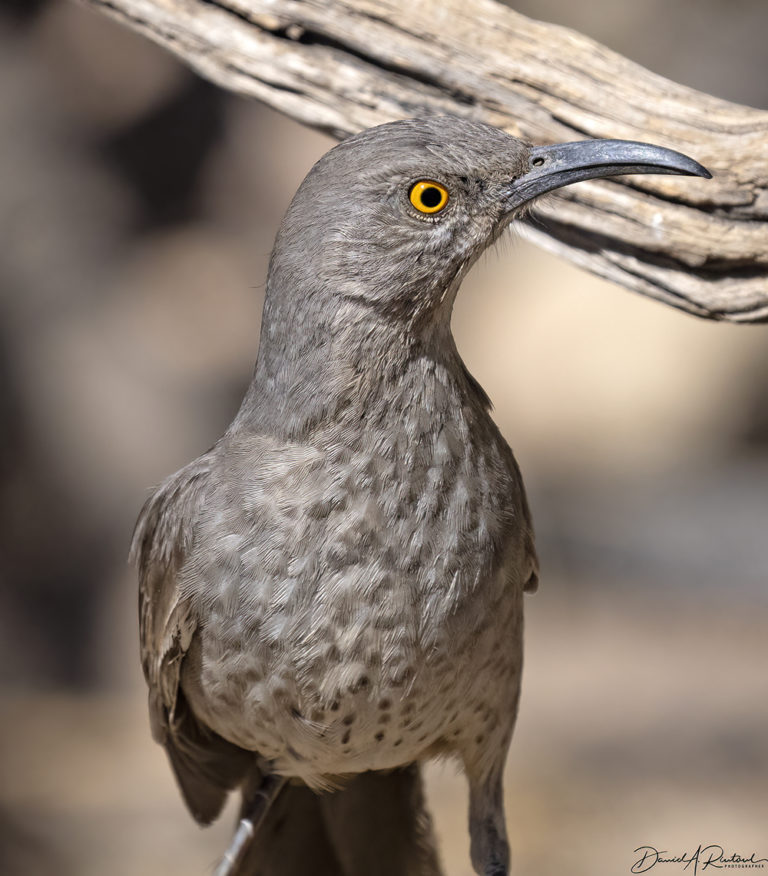 Ash Canyon Bird Sanctuary
March 19, 2022
Curve-billed Thrashers (Toxostoma curvirostre) also have a crazy-looking eye. Found across the desert southwest, this species does find its way to the southwest corner of Kansas, but not to the northeastern part of the state where I live.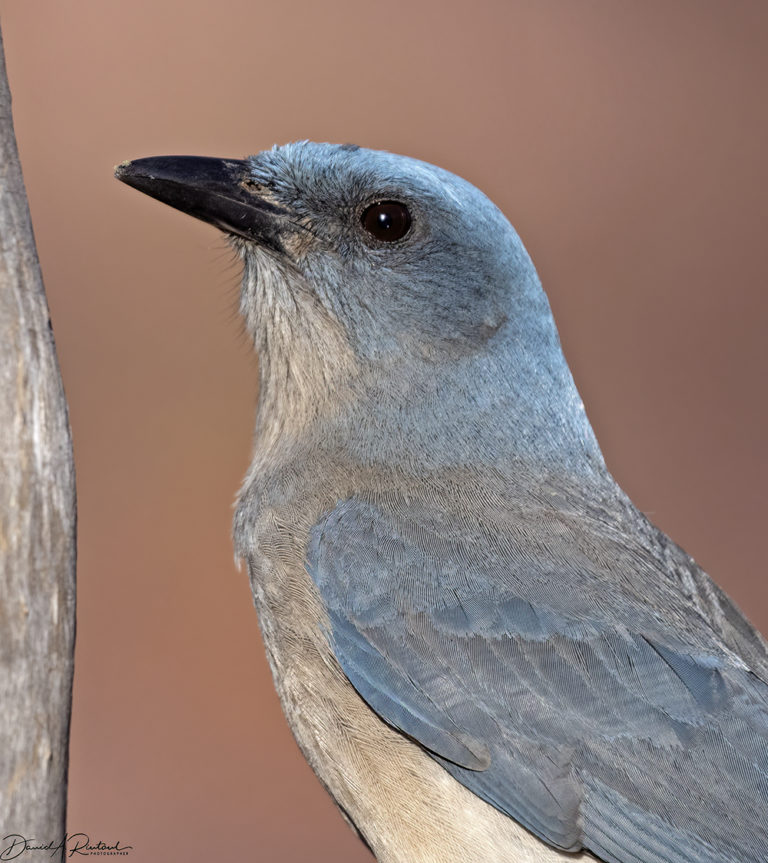 Ash Canyon Bird Sanctuary
March 18, 2022
Mexican Jays (Aphelecoma wollweberi) are favorites of photographers because they occur in flocks of 8-15 related individuals, and because they are dedicated bird-feeder visitors. They are also a lovely shade of azure/ultramarine, which is a welcome color in this part of the country.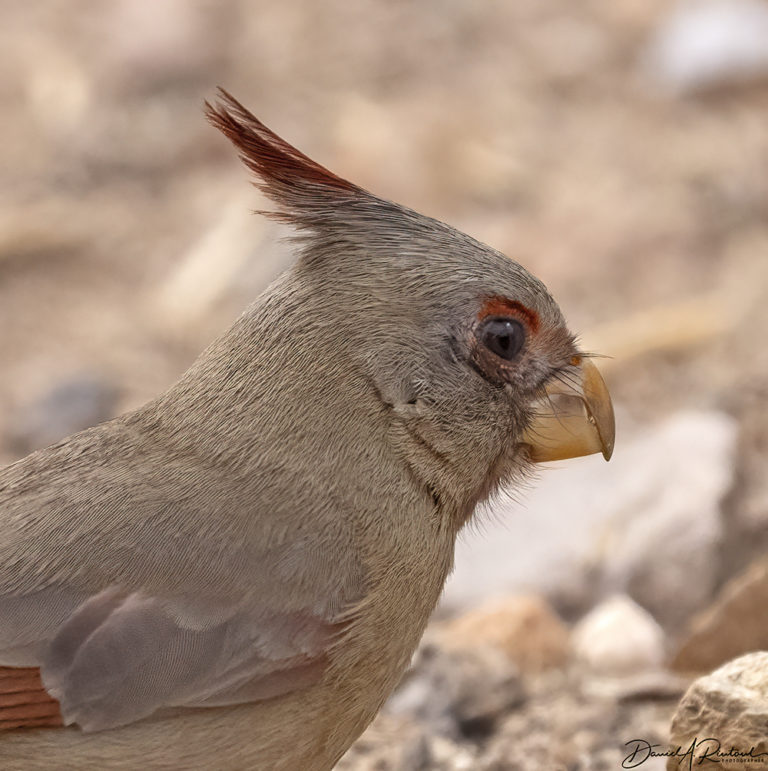 Ash Canyon Bird Sanctuary
March 19, 2022
The Pyrrhuloxia (aka Desert Cardinal, Cardinalis sinuatus). The peculiar and challenging-to-spell name is derived from the Greek words pyrruos – flame-colored and loxuos = crooked (referring to the bill. If you can remember that Loxia is the generic name for the crossbills, whose bills are also crooked but in a different way, it might help. Or not. At any rate, I was happy when this female posed for a portrait, crooked bill or not!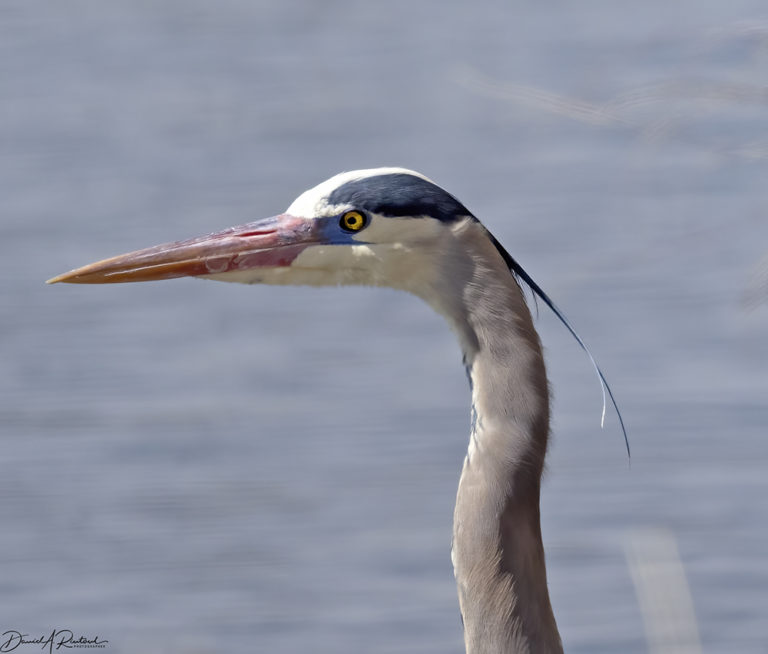 Along the Colorado River in western Colorado
March 22, 2022
The final bird for the series is familiar to birders across North America, the Great Blue Heron (Ardea herodias). And that plume at the back of the head indicates a bird in breeding season. But not all birders are aware that these birds have other color changes in breeding season. That striking cobalt-blue patch near the eye will fade to a dull gray in a few weeks as this bird gets down to the business of feeding this years baby herons.