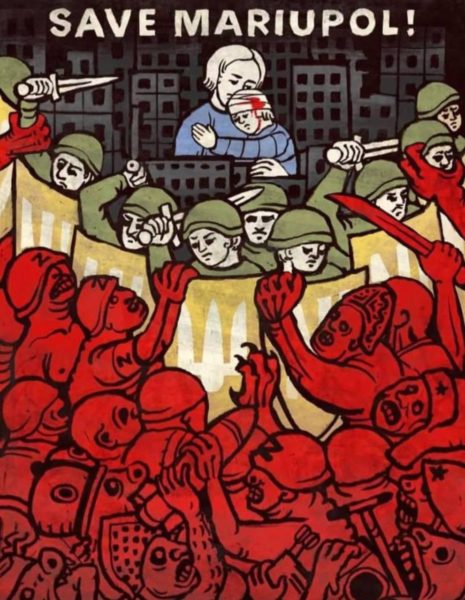 As the first day of the third month of Ukraine's defense against Putin's reinvasion begins, I want to clear something up from the comments from last night's post. Just before 4 AM EDT, commenter bjacques posted the following comment:
I can't even imagine a nuke being even tactically useful for Russia. Anywhere they dropped one the fallout would blow over Russia, Belarus, or even (if Odesa) into Transnistria, if weather reports are accurate. And what good is a land bridge if even your cannonfodder won't cross the irradiated chunk of it? And Putin must know that's a red line even for his most loyal cronies and guards.

Instead of spinning "what-ifs" to worry about Putin (Huylo) using nukes, I might as well spin them for the opposite, especially since I'm no expert and not paid to do either.
This was in response to my noting the reporting that the Russian Foreign Ministry has warned the Canadian government that the US is planning a WMD attack in Ukraine. The tweet that this was reported in listed chemical, biological, and nuclear. Since I've not seen the communique, I cannot say whether Russia warned about all three or just chemical and biological or just chemical or biological. I did comment that pretty much everyone responding to that reporting, including myself, interpreted it as Russia is planning a CBRN – chemical, biological, radiological, and/or nuclear – attack in Ukraine. CBRN is a doctrinal term for any attack using one or more types of weapons within these four categories. It is used because WMD – weapons of mass destruction – is imprecise and usually misleading. We have plenty of conventional weaponry that can cause much, much more mass destruction than a lot of chemical and biological agents. Or even just a dirty bomb/radiological weapon.
I want to be really clear: I do not expect that Russia is going to just use a low yield nuclear weapon willy nilly in Ukraine. In fact I'm one of the people who has come to conclude over the years that the purposeful ambiguity in Russia's military doctrine about the use of nuclear weapons is intended solely to freeze US and NATO decision making, thereby forcing us to take significant offensive options off the table, which allows Putin to then continue to do what he's been doing since at least 2008. What I do think Russia is likely to do, based on how Putin has waged war in Chechnya, Georgia, Syria, Libya, and since 2014 in Ukraine, is use chemical and/or biological weapons. The only reason I think Putin would use nuclear weapons in his reinvasion of Ukraine is if, as I've stated several times, he reaches the conclusion that he cannot take it, he cannot occupy it, he cannot destroy it using conventional weaponry as part of his "if I can't have Ukraine, no one can" fixation, then, and only then, would he use nuclear weapons. And that's based more on the decision to do so fitting with his self-deluding understanding of and relationship to Ukraine than on anything in Russian military doctrine.
I apologize for the confusion! And that it kept bjacques up till 4 AM EDT! Get some rest!!!!
Here's tonight's address from President Zelenskyy. The transcript will follow after the jump.
Unbreakable people of the bravest country in the world!

Today the third month of our war for our independence began. Russian-Ukrainian war. The third month!

On February 24, most in the world did not even believe that we would withstand more than a week. Someone said – three days. A month ago, we still had to convince different countries that betting on Ukraine means winning. And now… Now everyone knows it.

Thanks to the courage, wisdom of our defenders, thanks to the courage of all Ukrainian men, all Ukrainian women our state is a real symbol of struggle for freedom. Everyone in the world – and even those who do not openly support us – agree that it is in Ukraine that the fate of Europe, the fate of global security, the fate of the democratic system is being decided. And above all, it is being decided what life in the center and east of our continent will be like and whether there will be life at all.

Bucha, Borodyanka, Hostomel, Okhtyrka, Chernihiv and Sumy, Izyum, Kharkiv, Volnovakha, Zolote, Severodonetsk, Rubizhne, Popasna and Mariupol… Missiles aimed at Odesa and Kramatorsk, Zhytomyr, Lviv, Kremenchuk and Kryvyi Rih… In all Ukraine's cities and communities, Russia has shown what it really wants and can bring to Europe. What it can bring to Chișinău, Tbilisi, Helsinki, Vilnius, Warsaw, Prague, all the cities and countries that Russian state propagandists have long openly identified as alleged enemies for Moscow.

Russia has launched an offensive against Ukraine in many directions. Missile strikes, air raids, artillery, tanks – everything! Russian troops did not spare anything, any means to kill us, kill Ukrainians and destroy our land.

In two months, they used more than 1100 missiles against us. Countless bombs and artillery. They tortured, robbed, executed. They mined our land. Peaceful cities and villages were turned into hell. Some Ukrainian cities and communities were destroyed to the ground. But they did not achieve anything. And they will not achieve.

Kherson, Kakhovka, Melitopol, Dniprorudne, Enerhodar and our other cities where the Russian occupiers temporarily entered didn't obey them. People showed with their protest their attitude towards the occupiers, showed that Ukraine will definitely win.

Russia wants to play a sham "referendum" somewhere on our land? Even if they try, it will be as shameful as everything else that was "created" in Moscow for the occupation of Ukraine.

Kharkiv region, Donetsk, Luhansk – the Russian military didn't see even the slightest support they had hoped for anywhere. But they saw that it is a completely different state. They saw that there are completely different people here. People who are confident. Who believe in their state. Who know how to respect others because they respect themselves. Who do not want to capture someone else's land, but will not give anything of their own. Who will protect every city, every street, every field.

In two months of hostilities 9 thousand 781 defenders of Ukraine were awarded state awards. The title of Hero of Ukraine was awarded to 142 of our defenders.

Ukrainian men and women have shown a truly massive readiness to defend Ukraine. At any age, any property status, with any education – Ukrainian men and women equally stood up for the state.

This war has truly become a people's war for Ukraine. And it showed that throughout our territory – from east to west, from north to south – the Ukrainian idea is equally strong, equally national.

As of this time, 931 settlements have already been de-occupied. Many cities and communities are still under the temporary control of the Russian army. But I have no doubt that it is only a matter of time before we liberate our land.

Russia can spend enormous resources to support the war. To oppose even the whole free world. It can take away from its people everything that could develop Russia itself, and direct this potential to destroy the lives of neighbors.

But the lessons of history are well known. If you are going to build a millennial Reich, you lose. If you are going to destroy the neighbors, you lose. If you want to restore the old empire, you lose. And if you go against the Ukrainians, you lose.

A global anti-war coalition was formed in two months. Sanctions have already been imposed on Russia, which have taken away its future. Ukraine receives assistance from dozens of countries. This is support in the form of weapons, finances, necessary goods, political support directly.

We are accelerating our movement to the European Union as much as possible. We have already passed a historic moment, an important stage – with the receipt and answering a special questionnaire, which was provided to each country before they acquired the status of a candidate for EU membership.

Even now, when the war is still going on, we are creating the necessary base for the reconstruction of Ukraine. These are international agreements of various levels, this is the creation of special funds for the reconstruction of our state.

Even now, when Russia is still trying to seize our territory, we are demonstrating that we will give free Ukraine more opportunities for development than Russia can give not only to the occupied part of our territory, but also to its own territory, its own state.

It is obvious that every day – and especially today, when the third month of our resistance has begun – everyone in Ukraine is concerned about peace. About when all this will be over. About when and what can be a victory for Ukraine.

There is and at the same time there is no simple answer to this question. When we gain a victory, everyone will feel it. When peace comes, everyone will see it. But for this to happen – and happen faster – we need to think not about when and what it will be. We must think every day about how to make the stay of the occupiers on our land even more unbearable.

Ukraine is ready for peace. It was ready even when the war was going on in Donbas. It is ready even now, when the Russian invasion has become full-scale.

But for Russia to seek peace, every Ukrainian must still fight. They must defend freedom. Because every day of struggle now adds years of peaceful life after this war. After our victory.

As always, before delivering the address, I signed decrees awarding our heroes. 269 servicemen of the Armed Forces of Ukraine and 9 servicemen of the Main Intelligence Directorate were awarded state awards.

Eternal glory to all who stood up for the state!

Eternal gratitude to all who help us endure!

Eternal memory to everyone who gave life for Ukraine!

Glory to Ukraine!
Here's the daily operational update from the Ukrainian Ministry of Defense:
The operational update regarding the russian invasion on 18.00 on April 25, 2022

The sixy-first day of the heroic resistance of the Ukrainian people to a russian military invasion continues. A russian federation continues its full-scale armed aggression against Ukraine.

russian enemy continues to carry out offensive operations in the Eastern Operational Zone in order to defeat the Joint Forces, establish full control over the territory of Donetsk and Luhansk oblasts and maintain the land route with the occupied Crimea.

russian troops, including strategic bombers, ships and submarines, are launching missile and bomb strikes on military and civilian infrastructure. They are trying to destroy the ways of supplying military-technical assistance from partner states. To do this, concentrate strikes on railway junctions.

russian enemy continues to increase the long-range air defense system by moving additional anti-aircraft missile systems from the territory of the russian federation, trying to create stocks of ammunition, logistics and special engineering equipment.

The russian command does not stop searching for ways to replenish personnel losses in units directly involved in the war on the territory of Ukraine.

There were no significant changes in the Volyn, Polissya and Siversky directions. No signs of enemy offensive formations were found.

In the Slobozhanshchyna region, Kharkiv is being partially blocked, its infrastructure is being destroyed, and the positions of the defenders of the Kharkiv region are being destroyed with the use of aircraft and artillery.

In the area of the city of Izyum, the enemy tried to improve the tactical situation in the directions Andriyivka – Zavody and Dibrovne – Kurulka. Carries out measures of logistical support of the group of occupiers.

In the Donetsk and Tavriya directions, russian enemy, intensifying shelling with available means of fire destruction, tried to advance deep into the territory of Ukraine in the areas of the settlements of Koroviy Yar and Rubizhne, to develop an offensive in the direction of Zaporizhzhia. It was unsuccessful and suffered losses.

In Mariupol, including strategic bombers, ships and submarines enemy continues to destroy the city, blocking locals and some of our defenders in the area of the Azovstal plant.

In the South Bug direction, russian enemy is concentrating its main efforts on the Kherson-Mykolayiv and Kherson-Kryvyi Rih directions. Conducts regrouping of troops, consolidates on the ground, strengthens the grouping of barrel and jet artillery, accumulates ammunition and fuel.

In the temporarily occupied territory of the Kherson region, in the urban-type settlement of Velyka Oleksandrivka, the occupiers announced to the local population that it was necessary to leave the settlement by April 28. Forced evacuation will be applied to residents who do not comply with the order.

In the temporarily occupied territory of the Zaporizhzhia oblast, in the city of Enerhodar, employees of the Federal Security Service of the russian federation continue to carry out filtration activities.

In the temporarily occupied territories of Kharkiv and Luhansk oblasts, the occupiers are engaged in looting, theft and robbery of the local population. Particular attention is paid to the "removal" of alcoholic beverages and food.

Ukrainian defenders are defending and inflicting losses on enemy troops in areas where active hostilities continue.

We believe in the Armed Forces of Ukraine! Let's win together! Glory to Ukraine!
Here's today's assessment from the British Ministry of Defense: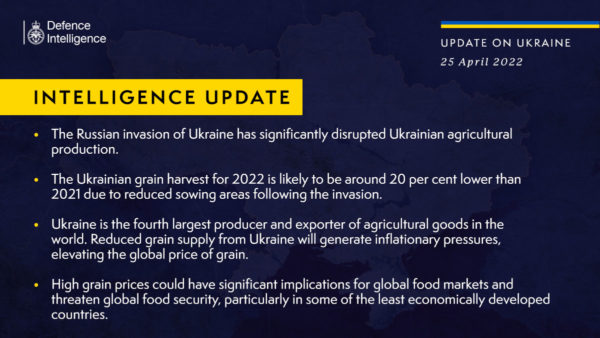 And here's their updated map for today: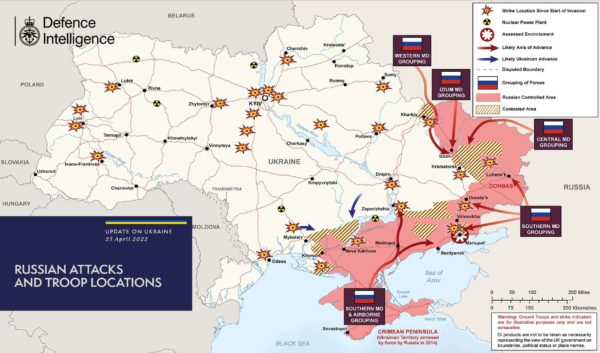 As you can see the Russians are still pushing on the salient formed by the Ukrainian Joint Force Operation's lines between Izium and Luhansk. You'll notice one change from yesterday to today is a strike just south of Kramatorsk. I saw one report by someone using their own name who is doing and posting their own maps of the war that Russia has broken through the Ukrainian lines near Izium and is trying to cut the railway lines to the Donbas. I've yet to see this reported elsewhere and while I appreciate that the person who posted it uses his own name, is legit – as in I can validate what he claims about himself working in the nat-sec world – and claims to be working off of updated Google Earth and other open source satellite imagery, until this is verified by even more credible sources, this is something to be concerned about, to keep in mind, but not to freak out about. Yet.
While I wouldn't expect them to give away too much, this is what the Ukrainian MOD said about the fighting in the Izium area, copied and pasted from today's operational update:
In the area of the city of Izyum, the enemy tried to improve the tactical situation in the directions Andriyivka – Zavody and Dibrovne – Kurulka. Carries out measures of logistical support of the group of occupiers.
Given that the Russians are trying hard to destroy Ukraine's infrastructure, it would not surprise me at all that they would try to disrupt the rail lines linking Ukraine to the Donbas. They did this today:
Five train stations in Central and Western Ukraine hit by Russian missiles this morning, officials said. Clearly an attempt by Russia to disrupt logistics, make weapons delivery more difficult and intimidate civilians who evacuate by rail

— Olga Tokariuk (@olgatokariuk) April 25, 2022
There was no DOD background briefing today, at least if there was one the transcript hasn't been posted yet because everyone is traveling back from Ukraine. There was one yesterday, but it largely dealt with the trip and the meetings and what was discussed that could be revealed on background.
Also, I'm not sure most people realize just how big Secretary Austin is!
This is more than partnership of state officials – this is true brotherhood.@SecDef@SecBlinken
????? pic.twitter.com/LDKZBuOIBs

— Oleksii Reznikov (@oleksiireznikov) April 25, 2022
Mariupol:
— Andrei Kurkov (@AKurkov) April 25, 2022
Ielyzaveta and Sonia. Two little angels, actors of a theater in #Mariupol. They performed in "The Chronicles of Narnia:The Lion,the Witch&the Wardrobe" staged in that theater.
No longer will they perform. #Russian bombs have killed them.
Heartbreaking.
R.I.P.#StandWithUkraine pic.twitter.com/dPEYcLeWDb

— Emine Dzheppar (@EmineDzheppar) April 25, 2022
Ukrainians displaced from Mariupol:
Just want to share Kyrylo Dolimbayev's pic. Volunteers you guys helped feed Mariupol refugees with some tasty homemade post-roast today. This is the same guy whose PayPal I shared recently: [email protected] we all helped.him to buy a car to transport aid. pic.twitter.com/qihSgCqPvA

— Nika Melkozerova (@NikaMelkozerova) April 25, 2022
Kharkiv:
Source: https://t.co/9fzlC5WVeW

— Alexander Khrebet/Олександр Хребет (@AlexKhrebet) April 25, 2022
Today is exactly two months since Russia started its devastating war and invaded Ukraine. February 24 divided the lives of millions of Ukrainians into before and after. This video is from the center of Kharkiv today. Devastated and deserted. pic.twitter.com/sqqbuYLx5b

— Maria Avdeeva (@maria_avdv) April 24, 2022
Odesa:
Yesterday he lost his 3 month old daughter, wife and mother in law in a Russian missile strike

We found Yuriy Glodan trying to salvage his memories from the rubble of the building

He wanted the world to hear about his family

Producer: @OLaceEvans https://t.co/xkxTsbWwcf pic.twitter.com/YKa8DyvKi5

— Caroline Davies (@caroline_gm_d) April 24, 2022
From the BBC:
Yuriy Glodan had only left his flat and family to go to the shops when he heard the news of the explosion.

At the entrance to his block of flats he screamed at police to let him inside the burning building. When he reached his flat, he found the bodies of his wife and her mother, killed by a Russian missile that had ripped into the lower floors of the block.

The body of his three-month-old baby Kira was discovered later; he saw it for the first time when he returned to the flat on Sunday.

The deaths – three generations of a single family – have sparked outrage and revulsion in Ukraine, a country already hardened by two months of war.

Commenting on the strikes, President Volodymyr Zelensky was visibly upset when speaking about baby Kira's killing.

"How did she threaten Russia? It seems that killing children is just a new national idea of the Russian Federation," Mr Zelensky said in his nightly address to Ukrainians. He described those who had planned and carried out the attack as "bastards".

Five others were also killed in the missile strike.

Yuriy was in the wrecked building on Sunday to find what he could salvage from the apartment. Photo albums, his wife's sugar sachet collection, handwritten notes. He found his baby's stroller in pieces.

"If I leave things in the flat, it will become garbage and people will throw it away," he told the BBC. "I want to keep it for my memories."

He and Valeria had been a couple for nine years.

"She could find joy in everything. Odesa was her favourite city. She worked in PR and she could communicate with a lot of people, understand them. I admired what a good writer she was," he said.

"She was a great mother, friend, with all the best qualities. It will be impossible for me to find somebody else like Valeria. She was perfect. Such a person could be given to you only once in a life and it's a gift from God."

Kira had been born at the end of January, just a month before the start of the war.

A few weeks after that, Valeria had posted on Instagram that she was living with "a new level of happiness" after the birth of her first child. "Our girl is one month old now," she wrote. "It has been the best 40 weeks."
Much more at the link including pictures of Yuriy, Valeria, and Kira in much happier times!
Russia's intelligence services fabricated a plot to assassinate Russian state TV loudmouth Vladimir Solovyov. And then they stopped it!
Obligatory!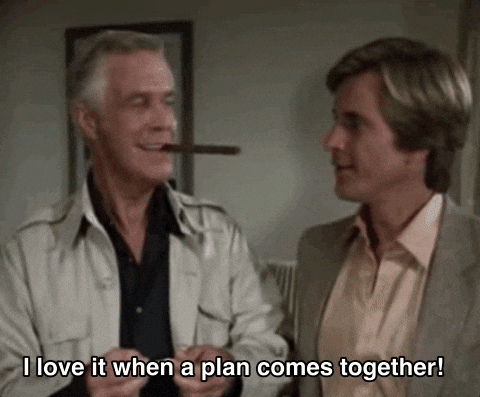 Unfortunately for the FSB and fortunately for everyone else's amusement, they did not do a good job fabricating the plot.
Russian FSB has fabricated a "plot" to kill Russian TV propagandist Solovyov. Allegedly by Ukrainian SBU and Nazis. One of the "evidences" is neonazi inscription on a book. Signed by "Signature unclear". Yes, FSB got an order to sign it with a "signature unclear" – and did so! pic.twitter.com/P1vnDOXOIB

— Sergej Sumlenny (@sumlenny) April 25, 2022
Hyper-literalism is the enemy of all clandestine operations! Also, stupidity!
It is also currently assessed that the Russians did run a false flag attack earlier today in Transnistria, which is the breakaway/separatist region of Moldova that borders Ukraine.
I'm sure we'll never hear the end of this though. Julia Davis's twitter feed is likely to be the hardest hit because she's going to have to document and translate Solovyov milking this on air for weeks to months.
Speaking of Julia Davis, we now know what the Z symbol the Russians are putting on their tanks means, as well as the pro-Putin/pro-war movement that's grown up around the symbol:
This clip also explains what the "Z" is supposed to symbolize: two number 7s stacked (one of them upside down), representing 77 years since Victory Day. So, to celebrate the ending of WWII Putin decided to start a WWZ. https://t.co/WOvki2nChj

— Julia Davis (@JuliaDavisNews) April 19, 2022
Here's something interesting from Mikhail Khordokovsky:
"Your choice is either defeat Putin on the territory of Ukraine, or later… on the territory of one of the Nato countries"

Exiled Russian businessman Mikhail Khodorkovsky says President Putin believes "he is already at war with Nato and the US"
https://t.co/zMThAoAT1b pic.twitter.com/LJc6zcUfjM

— BBC HARDtalk (@BBCHARDtalk) April 22, 2022
Who could have ever imagined? Eez a puzzlement!
Here's an interesting thread from the Prime Minister of Estonia:
Born under Soviet occupation, I had never experienced freedom. Now I can stand here and breathe that same air of freedom.

If we do everything to help Ukraine, there will be no 11-year-olds for whom the air of freedom is something they only experience from a distance. 2/8 pic.twitter.com/69gQnNtHkO

— Kaja Kallas (@kajakallas) April 25, 2022
It is made up of excerpts of the speech she gave to the 16th Berlin Speech for Freedom:
Friedrich Naumann Stiftung, 25.04.2022

Dear guests, dear friends

I am honored to be here today. I was in Berlin for the first time in 1988 as an eleven-year old. Perestroika had begun and for me it was a miracle that we could go to East Germany, a foreign country. My father took me along with my brother to as close to the Brandenburg Gate as possible to have a look at the Wall. I vividly recall him saying: "Kids, breathe in deeply – that's the air of freedom that comes from the other side."

At the time, I didn't really understand what he meant. It is said that you only appreciate freedom when it's taken from you. But as a child born under Soviet occupation, I never had experienced freedom.

Soon enough, a wind of change began to blow, tearing down the Wall in Berlin as well as elsewhere in Europe. And I was able to breathe this air of freedom also at home.

30 years ago when Estonia managed to get out of the totalitarian prison in 1991, I was a teenager. What was a turn, die Wende, for you was a revolution for us.

After regaining independence and freedom Estonia had a difficult task: to build a free and open society, a parliamentary democracy. This was not an easy task – despite relief that people were finally free.

Re-establishing a democratic relationship between the citizen and the state is not something you do overnight and it is nothing you can learn from books.

Our way to freedom was accompanied and supported by many friends from the free world. Here Germany had a special leadership and support. Allow me to make some links in this regard.

After the collapse of the Soviet Union we first had to rapidly establish a new social contract and anchor this agreement in our constitution. While drafting our Constitution in 1992, Roman Herzog, President of the Federal Constitutional Court at that time, was an expert drafting the chapter on fundamental freedoms, rights and duties – in fact, the proportion of this chapter speaks for itself as it amounts to more than quarter of the whole text.

The German legal system formed the foundation while re-establishing central parts of our private, criminal and general administrative law. This also means that a whole generation of Estonian lawyers, myself included, studies German legal practice. Moreover, it is German Rechtstheorie that forms the basis of an introductory class of first-year law students in Estonia.

Another milestone on our road to freedom was monetary reform carried out by my father Siim Kallas. Free Estonia had to have its own money – in 1992 the Estonian kroon was re-introduced. With the blessing of the Bundesbank, we tied the Estonian kroon to the German Mark – the most suitable anchor currency which provided an additional guarantee to our own currency's stability. This monetary reform is considered by the IMF to be one of the most successful in its history.

Ladies and Gentlemen,

Russian aggression against Ukraine has forced us to think about what freedom means for each and every one of us. And how fragile it can be. And what it takes to safeguard it.

At this dark hour in Europe, the importance of keeping our own democratic house in order is more acute than ever. We need to take care of the democratic relationship between the citizen and the state. As much as it is the individual responsibility of every citizen to care for democracy, it is the leaders who are responsible for keeping the rights of individuals and the rule of law at the center of governance. Leaders must also safeguard strong institutions in support of it.

This is often not self-evident. Attacks on democratic institutions are on the rise – from within our own democracies as well as from outside. And a Rechtsstaat with strong institutions is important, however, not sufficient for safeguarding freedom from an outright aggressor.

I speak to you here in Berlin when the regime in the Kremlin is destroying its neighbor Ukraine and tries to conquer the second largest country by area in Europe. It is only 1400 km from here that Russia is shelling a European capital.

When I was breathing in the air of freedom back in 1988, both Estonians and Ukrainians were on the wrong (evil) side of the wall. Today, the Kremlin tries to build another wall to divide Europe and this time Estonia is lucky enough to be at the free side. The same cannot unfortunately be said for Ukraine.

Times like these make us look back to brave decisions in our past. I praise the decision-making courage of our leaders and those of the free world who made it possible for so many Central and Eastern European countries to reintegrate rapidly with Europe.

Speaker of our erstwhile parliament, the Supreme Council of Estonia, Ülo Nugis said already in 1991: "As political and historical experience has shown, neutrality did not guarantee our security. This may not guarantee our security even today, especially in view of the possible processes in the Soviet Union." He said it in reference to the 1930s when the young Estonian republic tried to balance between two evil empires. This ended with losing our statehood for 50 years. Hence, it was only natural that in the 1990s our foreign and security policy focus was set on joining EU and NATO. We decided that we are never alone again.

The free world, including Germany, played a key role in restoring our country and place on the world map. And it is no secret that to many, the weight and boldness of those decisions at that time have only become apparent now while witnessing Russian aggression against Ukraine.

Current dangerous and tragic times also reveal how democracy matters. And how liberties and freedoms matter. Why is Russia fighting the war in Ukraine? It started when Ukraine chose its democratic path. Russia does not want freedom and democracy to prevail. It is direct threat to dictatorship. Because in democracy 1) governments are held accountable at elections; 2) state should deliver for the people and not for the dictator or its cronies.

When we look at Russia we see darkness – fear is keeping its society together. And we see thousands fleeing the country. We know this fear. Fear of secret police who seize people in the middle of the night or arrest them only for holding up placards in public squares, fear of the constant distrust, fear to express your opinion, fear of the atrocities that might follow. Tens of thousands of Estonians fled this same tyranny after the World War Two.

While Ukrainians are defending the freedom they have built, the Russian killing machine wishes and I cite: "to change the bloody and false consciousness of a part of today's Ukrainians". These are the words of Dmitry Medvedev. The Kremlin and Putin have made it clear by their statements that their aim is to wipe Ukraine off the world map.

"Denazification" is the official Russian label of this policy of destruction of the Ukrainian state and its people. The word "Nazi" is used to justify its aggression and genocidal and fascist policies.

How is this possible? I say that history matters. Although the Soviet Union collapsed, its imperialist ideology never did. While our history books were rewritten after the collapse of the Soviet Union, this was not the case in Russia. While the crimes of Nazism have been unequivocally condemned in the whole world, this has not been done with the crimes of Communism. Instead, Putin has built a strong revival of Stalinism and as a result the opinion polls suggest that 70 percent of Russians approve of Stalin and his policies. If people admire dictators, there is no moral obstacle to becoming one or submitting to one.

The warning signs were there: imperial nostalgia, in fact Russia kept the Soviet anthem, the narrative of Russian victimhood combined with heavy anti-Western propaganda while closing down free media. And we witnessed Putin's wars in Chechnya, Georgia, Donbas and Crimea.

Looking back to the past signs, a return to war and aggression seems inevitable. There is a clear pattern in Russia´s road to totalitarianism. This road to tyranny is symbolically captured by the man who was recently arrested in Moscow for standing on the street holding Tolstoy's book "War and Peace".

The past Putin´s wars illustrate why he must not win this one and why Moscow cannot be allowed to pretend that it has gained anything in the process. We have let Putin get away with aggression several times before. We can't let him get away with it again now. Were that to happen, his appetite would only grow, and more atrocities and more human suffering would follow.

Putin's strategic aims have not changed. The suffering and devastation in Ukraine is far from over. Ukrainian Prime Minister Denis Shmyhal says: If Russia stops fighting, there will be peace. If Ukraine stops fighting, there will be no Ukraine.

We have reached the moment where we should have courage to say: Ukraine must win this war. And we must act accordingly. Freedom must be armed better than tyranny.

Dear listeners,

We are in this for the long haul and we need to hardwire these profound changes into a long-term new policy vis-à-vis Russia. I have labelled it as a Policy of Smart Containment.

That means we need to continue support Ukraine's fight for freedom, while building up pressure against aggressor with further sanctions and political and economic isolation. This also means that we need to make a huge leap forward when it comes to our own defence. NATO´s defence in the Baltic Sea region needs a substantial change. We need significantly more combat-ready troops stationed in the Baltic States, more fighter-jets in our skies and ships in the Baltic Sea.

We also need to have a very clear understanding – Putin and all of those who have committed war crimes have to know that their judgment day will come.

It is clear that after all these atrocities there should be no way back to business as usual with Putin´s Russia. In fact, there should be no business at all. Russia should have no seat at the table of international organisations and bodies that are based on the respect of international law. It's high time for everyone to use their moral compass. The Kremlin needs to feel it is isolated.

The free world should follow the motto: "When the facts change, I change my mind". We have seen huge and historic turnarounds. Also here in Germany. However, as long as this aggression is not stopped, we have not done enough.

One of our main areas of focus should be on drying up the Kremlin´s war machine – revenues from hydrocarbons lie at the heart of it. I understand the difficult choices leaders in democracies face today. I understand that rising inflation — in particular a surge in the cost of energy —could mean that economic difficulties at home overshadow the suffering of Ukrainians.

Gas might be expensive, but freedom is priceless. It's up to every government to decide how much of the burden its people are ready to carry. But it is equally necessary we get the message through to our people – what is our neighbor's problem today will be our problem tomorrow. We are in danger, when our neighbor's house is on fire.

Let me conclude with warning words by Russian dissident and chess world champion Garry Kasparov and I quote: "The price of stopping a dictator always goes up with every delay and every hesitation. Meeting evil halfway is still a victory for evil." End of quote.

Hitting the right balance with policy is understandably one of the biggest challenges for democracies and for our freedom today. However, were this war to be lost, it would be not lost by Ukraine but us.

We know that goodness always triumphs over evil. This is also my life experience. While standing here now and breathing in deeply, that is the same freedom I was breathing in as an 11-year-old. And if we do everything to help Ukraine, there will be no 11-year-olds for whom the air of freedom is something they only experience from a distance.

Thank you!
Your semi-daily Patron:
#Ukrposhta announced the release of a new stamp – it will depict the #Ukrainian dog #Patron, the Jack Russell Terrier bomb-sniffing dog and mascot of the State Emergency Service of #Ukraine who is now helping rescuers clear mines in #Kyiv

This dog us a superstar ?? pic.twitter.com/fd93du2Bjv

— News from Ukraine (@uasupport999) April 24, 2022
And here's a full image of the stamp: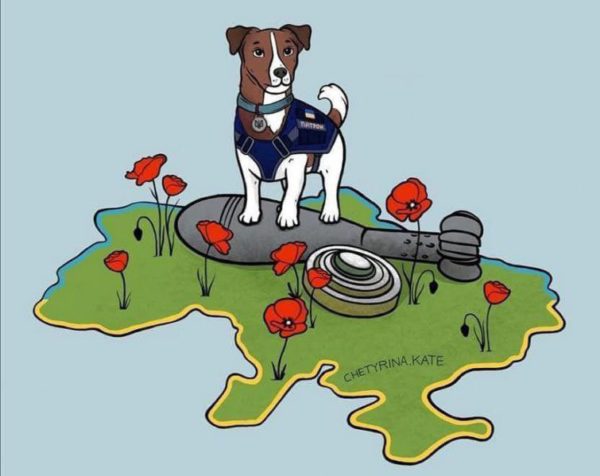 We'll finish with your semi daily Chef Jose Andres:
The people of Ukraine keep fighting no matter what! Nothing seems to stop them!….5 railway stations were hit again….where civilians trying to keep moving away from the war…..@WCKitchen #ChefsForUkraine https://t.co/v70ZWcaBvs pic.twitter.com/VvbCpgOYs7

— José Andrés (@chefjoseandres) April 25, 2022
Open thread!