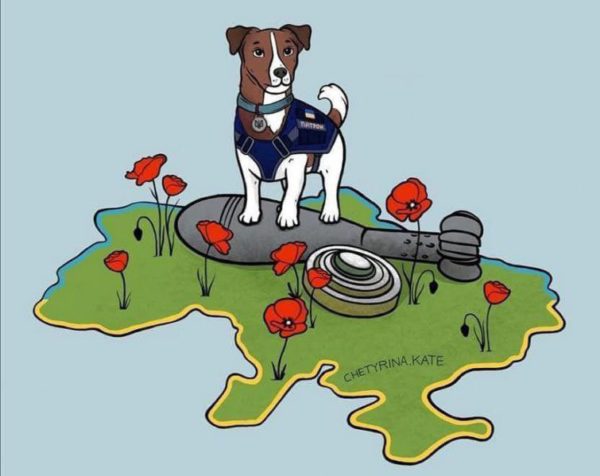 (Drawing of Patron by Chetyrina Kate)
Before we get going with tonight's update, I think we need to take a minute and discuss something. Specifically, if you feel the urge to be anything but polite to commenter Gin&Tonic stop, take a deep breath, and just don't do it. So that he does not have to once again explain, G&T has relatives in Ukraine in harm's way. One of them is in the Ukrainian Army and is currently deployed fighting the Russians who have reinvaded Ukraine. If he tells you something about Ukraine it is because he's a Ukrainian who is also an American. I get it, it's Balloon Juice where people will argue about anything for any reason and we pride ourselves on maintaining the tradition of the not forgotten commenter efgoldman in terms of how we communicate. But in this case just don't do it. Given what he's dealing with in terms of uncertainty around his relatives' safety and well being when we're lucky enough that he decides to comment in a post about Ukraine, which is usually to provide insider insight just take it in. Maybe tell him you're keeping good thoughts for his family. Maybe thank him for the insight he's providing. I'd like to believe I won't have to post something like this again, but let's be honest with ourselves about who we are. This is the place where people show up in the recipe posts to tell me or TaMara that we're not making whatever recipe we've posted correctly. You know who you are…
Now that that's out of the way, here's the video of President Zelenskyy's address to Ukraine from earlier this evening. Subtitled as always with the transcript to follow the jump.
Ukrainians!

All our defenders!

Every year on April 26, the world remembers the Chornobyl disaster. The worst nuclear disaster in human history.

But this year it is not enough to just remember Chornobyl. And it is not enough to say traditional words of gratitude to the heroes-liquidators. It is not enough to remind why and how the catastrophe became possible. It is not enough to repeat the conclusions that every intelligent person and every adequate society must draw.

Because this year, Russia has created new threats that could surpass even the worst accident.

I remember the night of March 4, when it became known about the fire at the Zaporizhzhia NPP.

When Russian tanks fired at the station. They knew exactly which object they were firing at. But they had an order to seize the object at any cost.

They did not care about anything. They did not care that the Zaporizhzhia station is the largest in Europe. They didn't think about how many power units there are and how the shelling could end.

That night I spoke with world leaders. With everyone who could influence the events and stop Russia. I spoke with President Biden, with Chancellor Scholz, with President of the European Council Charles Michel, with President of Poland Andrzej Duda… I spoke with IAEA Director General Mr. Grossi.

If the world had not woken up that night, we would not mention Chornobyl today, because everyone would think about what Russia has done at the Zaporizhzhia nuclear power plant.

It is even surprising how quickly and completely Russia, the whole country, can forget about the worst catastrophe that its people have experienced as well.

Not only Ukrainians were involved in the liquidation of the consequences of the Chornobyl accident in 1986. But also Belarusians, Russians and others.

That catastrophe should have been told about in Russian schools as well. They should have reminded about it in Russia every year on April 26, as is done throughout the civilized world.

Instead, today they launched three missiles against Ukraine so that they flew directly over the blocks of our nuclear power plants. Over three nuclear power plants at once. Over Zaporizhzhia, Khmelnytskyi and South-Ukrainian NPPs. What is it? Are they threatening? Are they targeting? There are no words…

It turns out they do not realize what Chornobyl is. At all.

Russian troops that were trying to attack Kyiv through the Chornobyl zone used the restricted area as a military base.

They set up positions on land where it is forbidden to even stand. They drove armored vehicles through areas where radiation-contaminated materials are buried and where the number of radioactive particles is simply horrendous. They destroyed the dosimetric control points. The Chornobyl radiation monitoring system was broken and looted. They looted a nuclear analytical laboratory…

They even stole contaminated items, which were confiscated from violators of the rules of the Exclusion Zone!

Only thanks to the professionalism and conscientiousness of our specialists working at the Chornobyl station and other facilities of the Chornobyl zone, we managed to save Ukraine, save Europe from a new catastrophe.

Only thanks to the professional team of the Zaporizhzhia NPP and our entire nuclear industry is it possible to ensure trouble-free operation of stations during the war.

Mr. Grossi, Director General of the IAEA, paid a visit to Kyiv today. We discussed all the dangers created by Russia and ways to possibly influence the situation to protect Europe and the world from completely irresponsible actions of the Russian Federation.

Today, I also awarded our heroes – shift workers at the Chornobyl station who did not leave the facility. Who maintained the work of the Chornobyl nuclear power plant despite the threat to their lives and despite the occupiers' lack of understanding of even the basics of radiation safety.

I believe that after all that the Russian military has done in the Chornobyl zone and at the Zaporizhzhia nuclear power plant, no one in the world can feel safe knowing how many nuclear facilities, nuclear weapons and related technologies the Russian state has.

If Russia has forgotten what Chornobyl is, it means that global control over Russia's nuclear facilities and nuclear technology is needed.

I spoke today with the Prime Minister of Japan. In particular, about the dangers created by Russia. About the situation on the battlefield in Ukraine. I thanked Japan for a strong package of sanctions, for its support and for the leadership needed to force Russia to peace and recognition of the foundations of international law. We also discussed the post-war reconstruction of Ukraine and the possible role of Japan in future security agreements.

The Prime Minister of Romania paid a visit to Kyiv. I thanked him for the defensive and political support.

We discussed not only bilateral cooperation between our states and joint work to protect freedom in Europe, but also cooperation at the EU level. With Romania, we share a common vision of both prospects and threats to European unity, in particular in the Black Sea region.

We agreed to work together even harder to ensure security in our region.

An important meeting at the level of defense ministers of Ukraine's partner countries took place in Germany today. The key issue was to strengthen the protection of the whole of Europe from Russia's aggressive ambitions.

There are almost no people left in the free world who do not understand that Russia's war against Ukraine is just the beginning.

The ultimate goal of Russia's leadership is not just to seize the territory of Ukraine, but to dismember the entire center and east of Europe and deal a global blow to democracy.

Therefore, the free world has the right to self-defense. And that is why it will help Ukraine even more.

I am grateful to the United Kingdom and personally to Prime Minister Boris Johnson for his prompt and positive response to our request for trade liberalization. Right now it is especially important for the support of our state.

Britain has announced the abolition of all duties and quotas on imports of Ukrainian goods. This will allow us to save thousands of jobs during the war and ensure a significant intensification of economic relations with Britain.

We expect similar decision from other partners.

I want to emphasize that this is important not only for our country, not only for each of the partner countries. This adds stability to global markets, especially the food market, which is one step away from a large-scale price crisis due to Russia's war against Ukraine.

There is only one way to avoid the crisis: to strengthen cooperation and put pressure on Russia for it to give up this war.

Today, Russian troops continued missile strikes at our land, particularly in the Odesa region. They continued to attack our troops near Kharkiv, in Donbas. They are trying to portray an alleged "new government" in Kherson and part of the Zaporizhzhia region. They change flags, demonstrate some suicides in the role of collaborators.

And what does this give Russia? Only new losses.

There will be a new sanctions package from the European Union. There will be even more restrictions on trade. Inevitably, the vast majority of the world's countries will abandon Russian oil and other Russian energy sources. No adequate country will want to invite Rosatom to cooperate. Most Russians will have to pay with poverty for the aggressive policy of their country's leadership.

And I emphasize: we will identify, find and prosecute everyone – war criminals and collaborators. The longer and more brutal this war, the more resources will be spent not only by us, but also by the world to establish justice and punish all those responsible.

The time will come when Russia will have to recognize that peace is needed.

I paid a visit to Ilya Matvienko and Kira Obedinska in Okhmatdyt Hospital today. Kira is 12 years old, and Ilya turned 10 today. They lived in Mariupol until the Russian army came. Ilya's mother was killed during the bombing of the city. Kira's father, a well-known athlete and former captain of Ukraine's water polo team, Yevhen Obedinsky, was killed by a sniper.

The occupiers took the children out of the city, actually abducted them, and it took a lot of effort to get them back. I am grateful to everyone who joined this cause. I am especially grateful to Iryna Vereshchuk and Andriy Yermak, who coordinated this task, to our entire team.

Now Ilya is with his grandmother, Kira is with her grandfather. Their only relatives left. We will help them with everything they need. We will help raise children.

And we will definitely do everything to return all our Ukrainian children to Ukraine. Let no one in Russia hope that Ukraine will forget or forgive the abduction of our children, the deportation of our citizens. And the destruction of Mariupol.

I also thanked Okhmatdyt's doctors for their work. For saving lives and trying to restore children's peace of mind under all circumstances. Thank you very much, dear doctors.

Before delivering the evening address, I traditionally signed a decree awarding our heroes. 243 servicemen of the Armed Forces of Ukraine were awarded state awards.

Eternal gratitude to all our defenders!

Eternal memory to everyone who gave life for Ukraine!

Glory to Ukraine!
For those wondering exactly who President Zelenskyy is referring to, this is Kira and her grandfather:
Source: https://t.co/m0sUdzt4Nr

— Alexander Khrebet/Олександр Хребет (@AlexKhrebet) April 26, 2022
Here is today's operational update from Ukraine's Ministry of Defense (emphasis mine):
The operational update regarding the russian invasion on 18.00 on April 26, 2022

The sixty-second day of the heroic resistance of the Ukrainian people to a russian military invasion continues. A russian federation continues its full-scale armed aggression against Ukraine.

russian enemy continues to carry out offensive operations in the Eastern Operational Zone in order to defeat the Joint Forces, establish full control over the territory of Donetsk and Luhansk oblasts and maintain the land route with the occupied Crimea.

russian enemy continues to launch missile and bomb strikes on military and civilian infrastructure.

In the Slobozhansky direction, russian enemy groups from the 6th Combined Arms Army of the Western Military District, the coastal troops of the Baltic and Northern Fleets continue to partially block Kharkiv and fire on it.

In the Izium direction, russian enemy units and subdivisions of the 1st Tank Army, the 20th and 35th Combined Arms Armies, the 68th Army Corps and the Airborne Forces, supported by artillery, are advancing in the direction of Barvinkove. In order to reconnoiter the positions of Ukrainian troops, russian enemy continues to use UAVs in this area.

In the areas of the Belgorod region bordering Ukraine, russian occupiers continue to hold field camps to restore combat readiness and train units. According to available information, up to five battalion tactical groups of russian enemy are in the immediate vicinity of the state border of Ukraine in this area.

In the Donetsk direction, russian enemy is taking active action along almost the entire line of contact. The main efforts are focused on taking control of Rubizhne, Popasna and Marinka.

In the Severodonetsk direction, as part of the regrouping of troops in the direction of Kreminna, russian occupiers moved to a tank battalion from the 90th Tank Division, as well as a pontoon-bridge unit from the 12th separate engineering brigade of the Central Military District.

To develop the offensive in the direction of the settlement of Lyman, russian enemy is building up a group of troops.

russian invaders do not stop artillery shelling and air strikes on Mariupol. The blocking of units of our troops in the area of the Azovstal plant continues.

In the South Buh and Tavriya directions russian enemy continues to hold the occupied frontier, in some areas it tries unsuccessfully to improve the tactical position, improves the engineering equipment of its positions and carries out shelling of positions of our armies.

In the transnistrian region of the Republic of Moldova, units of the operational group of russian troops have been put on alert "Full", the security forces have been transferred to a reinforced mode of service.

In the Volyn, Polissya and Siversky directions, certain units of the Armed Forces of the republic of belarus perform tasks to strengthen the protection of the Ukrainian-belarusian border.

Ukrainian defenders are defending themselves and continue to systematically inflict losses on the russian occupiers.

Let's win together!

Glory to Ukraine!
Here's today's British MOD assessment: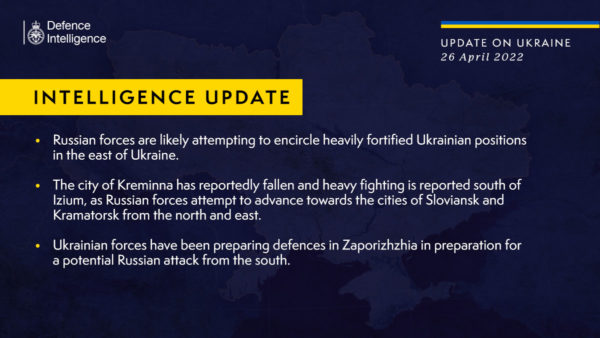 And here's the British MOD's updated map: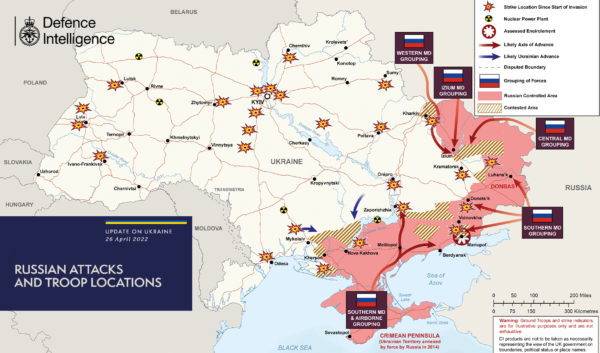 You can see the movement south and east of Izium, which was not in the earlier updates they were making to their maps. It, as well as the British assessment for today, matches up with the Ukrainian MOD's operational update for today that I highlighted above:
In the Izium direction, russian enemy units and subdivisions of the 1st Tank Army, the 20th and 35th Combined Arms Armies, the 68th Army Corps and the Airborne Forces, supported by artillery, are advancing in the direction of Barvinkove. In order to reconnoiter the positions of Ukrainian troops, russian enemy continues to use UAVs in this area.
The Russians are clearly trying to encircle the Joint Force Operation so they can cut it off and reduce it. The position that the JFO has been in has been problematic for several weeks now and I will continue to update on what is going on as new information comes in.
As of the time that I'm typing this up, there is no background briefing transcript from the DOD. I expect there wasn't one again today because of the summit that Secretary Austin hosted for Ukraine's Defense Minister and representatives of thirty-nine other allied and partnered states at Ramstein Air Force Base in Germany today. We do, however, have a transcript of SecDef's remarks.
PRESS SECRETARY JOHN F. KIRBY: Thanks for coming this afternoon. In a moment, I'm going to turn the microphone over to Secretary Austin, but just a couple of administrative remarks.

The secretary will have some opening comments and then we'll have time a for a few questions. I will moderate those questions from here. I will call on the journalists. And if you could limit your follow-ups if possible — so, we've got a bit of a tight timeline this afternoon.

So with that, Mr. Secretary?

SECRETARY OF DEFENSE LLOYD J. AUSTIN III: Well, thanks, John.

Good afternoon, everybody.

It's been an important day and a highly constructive one. We've had some great discussions in all and a lot of rich interactions among leaders throughout the day.

So let me, again, thank all of the ministers and the chiefs of defense and your teams for joining us today, especially my good friend, Ukraine's minister of defense, Minister Reznikov and his delegation. It's great to see you.

We're all coming away with a transparent and shared understanding of the challenge that the Ukrainians face, and I know that we're all determined to help Ukraine win today and build strength for tomorrow.

The work that we've done together in record time has made a huge difference on the battlefield. President Zelenskyy made that clear when we met Sunday in Kyiv. And countries all around the world have been stepping up to meet Ukraine's urgent needs.

And I wanted to especially welcome a major decision by our German hosts, as Minister Lambrecht announced just today that Germany will send Ukraine some 50 Cheetah anti-aircraft systems.

And yesterday, of course, the British government announced that it would provide Ukraine with additional anti-aircraft capabilities as well. And today, Canada announced that it will send Ukraine eight armored vehicles.

And so that's important progress. And we're seeing more every day. And I applaud all the countries that have risen and are rising to meet this demand. But we don't have any time to waste.

The briefings today laid out clearly why the coming weeks will be so crucial for Ukraine. So we've got to move at the speed of war.

And I know that all the leaders leave today more resolved than ever to support Ukraine in its fight against Russian aggression and atrocities. And I know that we're all determined to do even more to better coordinate our efforts. So I was especially glad to hear General Wolters encourage us all to make more determined use of EUCOM's coordination mechanism.

Now, to ensure that we continue to build on our progress, we're going to extend this forum beyond today. I'm proud to announce that today's gathering will become a monthly contact group on Ukraine's self defense, and the contact group will be a vehicle for nations of good will to intensify our efforts and coordinate our assistance and focus on winning today's fight and the struggles to come. The monthly meetings may be in person, virtual or mixed, and they'll extend the transparency, the integration and the dialogue that we saw today.

And let me underscore another key point. We held an important session today on the long term support for Ukraine's defenses, including what that will take from our defense industrial bases. That means dealing with the tremendous demand that we're facing for munitions and weapons platforms and giving our staunch support to Ukraine while also meeting our own requirements and those of our allies and partners, but it also means redoubling our common efforts to strengthen Ukraine's military for the long haul, and I look forward to our discussions in the contact group and elsewhere about how to get that done right.

Let me again thank all of the countries who came together today. They've done crucial work and they sent a powerful signal. We're going to build on today's progress and continue to reach out to nations of good will to help Ukraine defend itself and we'll continue working transparently and urgently with our allies and partners and we'll continue pushing to support and strengthen the Ukrainian military for the battles ahead.

So we leave tonight strengthened and so does Ukraine. And thank you and I'll be glad to take your questions.

MR. KIRBY: Thank you, Mr. Secretary. Our first question today will come from Sylvie Lanteaume, AFP. Do you have a microphone?

Q: Thank you. Mr. Secretary, actually I have a double question for you. Moldova is stepping up its security measures after a series of explosions in the separatist region of Trans-Dniester. Do you think there is a risk of spillover of the conflict to Moldova?

And my second question is after this big meeting about arming Ukraine, are you — are you concerned that Putin may become restless and threaten again to use a nuclear weapon?

SEC. AUSTIN: Well, on the issue of spillover to Moldova because of what we've seen here, a reporting of recent violence, we're still looking to the cause of that, that's still — you know, still doing analysis there. So not really sure what that's all about but we'll — that's something that we'll stay focused on. And certainly we don't want to see any spillover, and again, it's important to make sure that we do everything that we can to ensure that Ukraine is successful. And that's the best way to address that.

And the — your second part of the question there, Sylvie, was?

Q: Was about the risk for Putin to threaten to use a nuclear weapon?

SEC. AUSTIN: Well, you know, you've heard us say a number of times that that kind of rhetoric is very dangerous and unhelpful. Nobody wants to see a nuclear war happen. It's a war that, you know, where all sides lose.

And so rattling of sabers and, you know, dangerous rhetoric is clearly unhelpful and something that we won't engage in.

MR. KIRBY: Our next question goes to Susan Galhart from ZDF.

Q: Mr. Secretary, what military aid do you now — oh — Mr. Secretary, what military aid do you now expect from the German government? And do you think the delivery of Leopard tanks is sufficient, in your opinion?

SEC. AUSTIN: You mean Cheetahs, which is what the — yeah.

Well, let me just say that — and I think you probably heard me say this before as I visited Germany — I consider Germany to be a great friend and an ally.

And, you know, I've served in Germany as an officer and worked with German forces and it's always been a real pleasure to work alongside our German partners here. Now, I think it's significant that, you know, Germany announced that it was going to provide 50 Cheetah systems. I think those systems will provide real capability for Ukraine.

And in terms of what else Germany will do going forward, again, that's a sovereign decision, one that the German leadership will make, and I don't want to speculate on that. I just believe that just based upon everything that I've seen in my interaction with the Minister of Defense and how intently she's been focused on making sure that she can do everything that she can to help and work alongside her partners and allies, that she'll continue to look for ways to be relevant and provide good capability to the Ukrainians as they continue to prosecute this fight.
This next question and the answer is important, so if you're skimming or just sort of scrolling through PAY ATTENTION!!!!!!!!!!
MR. KIRBY: Our next question goes to John Ismay, New York Times.

Q: Mr. Secretary, yesterday you mentioned that one of the United States' goals in Ukraine now was to see Russia weakened. Can you explain more fully what that means? And specifically, what do you want to weaken and how you would measure success in that regard?

SEC. AUSTIN: Yeah, John, so I think we've been pretty clear from the outset — we do want to make it harder for Russia to threaten its neighbors, and leave them less able to do that.

Now, if you look at what's transpired here in this 62 days or so that Ukraine and Russia have been involved in this struggle here, Russia has — in terms of its land forces, their land forces have been attrited in a very significant way — casualties are pretty substantial, they've lost a lot of equipment, they've used a lot of precision-guided munitions, they've lost a major surface combatant. And so they are, in fact, in terms of military capability, weaker than when this started.

You know, John, it will be harder for them to replace some of this capability as they go forward because of the sanctions and the trade restrictions that have been placed on them. And so, we would like to make sure, again, that they don't have the same type of capability to bully their neighbors that we saw at the outset of this conflict.
The rest of the Q&A at the link!
This last question and answer is important as it clarifies in some ways, but not in others, Secretary Austin's statement from yesterday about one of the stated end states of the war. Which is to ensure that Russia emerges from the war without the capability to ever threaten any of its neighbor's again. A lot of the usual suspects immediately latched on to that statement as proof that their conspiracy theories that the US actually started the war, that it is a war of American aggression and conquest to destroy Russia, Ukraine is just its dupe, Russia is both blameless and has no agency, and everyone should stop supporting Ukraine's defense of its state and society and citizenry because the US IS BAD!!!!
Unfortunately one of these chuckleheads is in the US Senate!
BLINKEN: If you look at the countries Russia attacked, these were countries that were not part of NATO

RAND PAUL: You could also argue the countries they've attacked were part of Russia

BLINKEN: I firmly disagree. It's the right of these countries to decide their future pic.twitter.com/4ZeZOVrK0i

— Aaron Rupar (@atrupar) April 26, 2022
The Pauls, father and son, have long histories with post Soviet Russia and being apologists for Putin, so this shouldn't be surprising.
Mariupol:
We appear, if you hold your head at just the right angle and squint, to have an agreement between the UN, the International Committee of the Red Cross (ICRC), and Putin to create a humanitarian corridor to evacuate the Ukrainians sheltering at the Azovstal plant. From Reuters:
UNITED NATIONS, April 26 (Reuters) – Russian President Vladimir Putin agreed "in principle" to U.N. and International Committee for the Red Cross (ICRC) involvement in the evacuation of civilians from a besieged steel plant in Ukraine's southern city of Mariupol, the United Nations said on Tuesday.

During a meeting in Moscow, Putin and U.N. Secretary-General Antonio Guterres discussed the situation at the huge Azovstal steel plant, where the last Ukrainian defenders of Mariupol are hunkered down after months of Russian siege and bombardment.

"Follow-on discussions will be had with the United Nations Office for the Coordination of Humanitarian Affairs and the Russian Defence Ministry," U.N. spokesman Stephane Dujarric said in a statement after the meeting.

Earlier on Tuesday, Putin told Turkish President Tayyip Erdogan that there were no military operations underway in Mariupol and that Kyiv should "take responsibility" for the people holed up in the Azovstal steel plant.

Ukraine on Monday appealed for the United Nations and the ICRC to be involved in the evacuation of civilians from Azovstal. Guterres is expected to meet with Ukraine President Volodymyr Zelenskiy in Kyiv on Thursday. read more

During a news conference with Russian Foreign Minister Sergei Lavrov, Guterres said he has proposed a "Humanitarian Contact Group" of Russia, Ukraine and U.N. officials "to look for opportunities for the opening of safe corridors, with local cessations of hostilities, and to guarantee that they are actually effective."
"In principle" is doing a LOT of work in that opening sentence!
I expect that just like every other humanitarian or green corridor that the Russians have agreed to regarding Mariupol or Kharkiv or Kherson or Mykolaiv or Melitopol or any other Ukrainian town or city that this is all a ruse. Diplomacy here is being used as a weapon to both buy time and, if possible, to get the Ukrainians to once again think there will be a humanitarian corridor and an evacuation is going to happen. Which provides Russia with an easy target. At this point, no matter how desperate President Zelenskyy may be to evacuate the Mariupolians sheltering at the Azovstal complex and their defenders from the Azov Regiment and the 36th Separate Marine Brigade, there is no way he or anyone else in the Ukrainian government is going to fall for this again.
Last night in Mariupol Russia carried out at least 35 air strikes on the Azovstal steelworks where more than a thousand of civilians and troops are hiding. People are getting injured every day.
This is the latest video from the Azov regiment that's defending the city from Russia. pic.twitter.com/8ZJUEoRlNx

— Myroslava Petsa (@myroslavapetsa) April 26, 2022
The infusion solutions are almost over. Now washed sheets are the material for wound dressing. The wounds begin to rot… Only a humanitarian corridor guaranteed by a third country can save these people," the doctor at Azovsteel posted.

— Iryna Matviyishyn (@IMatviyishyn) April 26, 2022
Ukrainian soldier at AzovStal. Azov medics said they have no more materials left to cure the wounded. Russia continues to bomb AzovStal. Soldiers are starving. No more time left. They did everything they could for their country. If they surrender Russia will kill them. pic.twitter.com/MFocMO9R7q

— Nika Melkozerova (@NikaMelkozerova) April 26, 2022
After two months of fighting ?? says they "took Marupol". With amendment: "except Azovstal". But the point is that Azovstal is 1/5 of Mariupol. Or 22 Vaticans or 3 Central Parks in NY. Took the city, really? The country of fakes. ?? defenders have proved they're made of steel.

— Михайло Подоляк (@Podolyak_M) April 26, 2022
Kyiv:
You don't kill your brother.
You don't rape your sister.
You don't destroy your friend's country.
That's why today we dismantled this monument once created as a sign of friendship between Ukraine and Russia.#FreeUkraine #WeAreAllUkrainians #StandWithUkraine #StopTheWar pic.twitter.com/HQI0W9XNS8

— Klitschko (@Klitschko) April 26, 2022
The head fell off the Russian guy in the statue while they were dismantling it.
Luhansk:
In the Luhansk region, russians kidnap Ukrainian children and force their mothers to spy on the Ukrainian servicemen under threat of killing kids, the head of Luhansk regional administration wrote. I am speechless #ArmUkraineNow

— Olena Halushka (@OlenaHalushka) April 26, 2022
Melitopol:
Irina Scherbak, head of the education dept of now occupied Melitopol city council, was missing for more than a month after being kidnapped by russian military. She refused to sign papers about changing school program from Ukrainian to Russian one. pic.twitter.com/mz6vpA7n12

— Andrei Kurkov (@AKurkov) April 26, 2022
Anywhere/everywhere the Russians have occupied in Ukraine:
There are at least 400 confirmed cases of rape by the Russian military of Ukrainian children and adults, said Ombudswoman Liudmyla Denisova.
On Friday on Twitter Spaces I will be discussing sexual violence as one of Russian war crimes with ?? human rights defenders. Details soon

— Olga Tokariuk (@olgatokariuk) April 26, 2022
Which is why this is good news:
Remember that enemy scumbag whose wife told him to rape Ukrainian women? Well, he was just captured by our forces near Izyum, and hopefully he will be charged with war crimes. https://t.co/nwVOsZOTgI

— Euromaidan PR (@EuromaidanPR) April 25, 2022
I expect the Ukrainians will ensure that justice will be done.
Germany finally appears to have gotten the stick out! From Politico Europe:
BERLIN — The German government said Tuesday it will deliver anti-aircraft tanks to Ukraine after facing strong pressure at home and abroad to abandon its reluctance to supply heavy weapons to Kyiv.

The decision to provide the "Gepard" tanks, which come from German defense industry stocks, was made at a closed-door government meeting on Monday, Defense Minister Christine Lambrecht told reporters at a Ukraine security conference at a U.S. airbase in Ramstein, Germany. There was no immediate information on how many tanks Germany would deliver.

The announcement marks a notable shift for Chancellor Olaf Scholz, who as recently as last week was still ruling out sending German tanks to Ukraine, insisting it would make more sense for Eastern NATO countries to give Kyiv old Soviet-era tanks already familiar to the Ukrainian military. Scholz promised Germany would then send those countries replacement German tanks.

He also cited the risk of nuclear war as a reason for his hesitance to directly ship German tanks into the war zone.

Scholz had come under growing pressure in recent days to change course, both from international allies and from within his governing coalition, which is comprised of his Social Democratic Party (SPD), the Greens and the liberal Free Democratic Party (FDP). The Greens have been pushing for weeks to deliver heavy weaponry to Ukraine and the FDP also spoke out in favor of sending such weapons at a party convention over the weekend.

Adding further pressure, the main opposition party, the center-right Christian Democratic Union (CDU), is planning to submit a parliamentary motion this week demanding Germany supply Ukraine with tanks. The move could have drawn support from Green and FDP lawmakers and led to a critical defeat for Scholz in parliament, undermining trust in his government.

Moreover, allies like the U.S., France and the Netherlands have already promised heavier weapons to Ukraine, meaning Germany risked becoming increasingly isolated with its resistance.

Speaking in Ramstein, Lambrecht, who is from Scholz's SPD party, acknowledged, "there has also been criticism of Germany in recent weeks in this context," but argued that "the numbers" of overall German weapon deliveries to Ukraine, which include anti-tank and anti-air missiles, "speak a different language."

U.S. Defense Secretary Lloyd Austin told reporters at the same press conference that Western allies "can do more … to help Ukraine defend itself," lauding Kyiv's sustained resistance.

The Gepard, a tank with two 35-millimeter anti-air cannons that can be upgraded with "Stinger" anti-aircraft missiles, was phased out from the German army more than 10 years ago. But many of these tanks are still parked at German defense company Krauss-Maffei Wegmann, which has signaled interest in refurbishing the vehicles and selling them to Ukraine.

However, one potential problem could be Switzerland, a key supplier of ammunition for the Gepard. The country has banned the export of such ammo to Ukraine, as Swiss daily Tages-Anzeiger reported on Tuesday.
More at the link!
Here's an interesting piece from The Financial Times that drills into Putin's decision making and his mindset. (emphasis mine)
Vladimir Putin has lost interest in diplomatic efforts to end his war with Ukraine and instead appears set on seizing as much territory as possible, according to three people briefed on conversations with the Russian president.

Putin, who was seriously considering a peace deal with Ukraine after Russia suffered battlefield setbacks last month, has told people involved in trying to end the conflict that he sees no prospects for a settlement.

"Putin sincerely believes in the nonsense he hears on [Russian] television and he wants to win big," said a person briefed on the talks.

Though Moscow and Kyiv agreed their first draft communique at a meeting in Istanbul in late March, talks stalled after Ukrainian president Volodymyr Zelensky accused Russia of committing war crimes against civilians in cities such as Bucha and Mariupol.

Putin said peace efforts were at a "dead end" and was infuriated after Ukraine sank the Moskva, the flagship of Russia's Black Sea fleet, according to two people.

"There was hope for a deal. Putin was going back and forth. He needs to find a way to come out of this a winner," one of the people said.

After the Moskva sank, "Putin was against signing anything. [ . . . ] after the Moskva he doesn't look like a winner, because it was humiliating," the person added.

Ukrainian and western officials had always doubted Putin's commitment to peace talks, suspecting it was a way of buying time for Moscow's offensive.

The Russian president appears to hold a distorted view of the war as set out by his generals and depicted on Russian television, the people briefed on conversations with him said.

They added that he insisted, despite all evidence to the contrary, that his forces have not targeted civilians during attacks such as the siege of the Azovstal steelworks, Ukrainian forces' last holdout in the largely destroyed city of Mariupol.

But Putin told Michel in a call on Friday that the talks had run aground because Ukraine "put up a wall", and said it "was not the right time" to meet Zelensky, according to a person briefed on that conversation.

Negotiators interpreted that as meaning Moscow believes it can capture more territory, rather than being an indication that the talks need more time to find areas of agreement.

Putin is avoiding the meeting with Zelensky "with all his might", a person involved in the peace talks said. "He wants everything to be decided before their personal meeting."

Officials in Kyiv are concerned Putin may go further than Russia's stated goal of capturing the eastern Donbas border region and instead try to seize the whole of the south-east, cutting Ukraine off from the sea, according to people involved in trying to end the war.

Ukraine is confident it can push Russian troops back further after defeating Putin's initial plan to rapidly seize the country, but officials are increasingly worried that Moscow could resort to tactical nuclear weapons if it suffers further setbacks, two of the people said.
More at the link!
I want to focus on two different things here. They're related. The first is that Putin may appear delusional to us, but within the alternative history and mythology that he's both bought into regarding Russia's origins, how Ukraine relates to that alternate history and mythology, and that he's expanded and augmented in his own speeches and essays over the past twenty-years Putin is actually acting rationally. This is what Max Weber referred to as bounded rationality. Specifically, that decisions that seemed irrational to people outside of the context in which the decisions were being made – whether psychologically, in regard to maximizing one's preferences/utility (economic/econometric rationality), or a combination of the two –  they were actually perfectly rational to those inside of the context from which the decisions were being made. To all of us who are not Putin or not Russians who have been marinating in the propaganda that his governments have been pushing out for the past twenty years, some of it built on the garbage history of World War II that the Soviet Union created, what he's doing seems completely off. It seems irrational, unreasonable, in some cases delusional. But to Putin and his supporters in Russia this is perfectly rational and reasonable.
The second point, which flows from the first, is that the Ukrainians, as well as the US and our NATO and EU partners and non-NATO and non-EU partners that are all supporting Ukraine, have to deal with this reality: that Putin is rational and acting rationally, but only within his own context. And it is this reality that leads to the final paragraph I copied and pasted from the article and that I bolded and italicized:
Ukraine is confident it can push Russian troops back further after defeating Putin's initial plan to rapidly seize the country, but officials are increasingly worried that Moscow could resort to tactical nuclear weapons if it suffers further setbacks, two of the people said.
This gets to the discussion from last night. It is not that I expect Putin will use low yield nukes to just destroy as much of Ukraine as possible should it finally become clear to him that he's lost and lost big. It is that given that as an outside analyst of the context that Putin has created for himself and Russia, I have to keep the unthinkable in mind because for Putin it may just be thinkable. And that is aside from the fact that I'm one of the analysts who after spending a lot of the last eight years working on this problem set in one way or another has come to believe that the whole ambiguity in Russian military doctrine about using nukes tactically is a ruse to set the information portions of the theater and freeze our decision making thereby forcing us to limit our options because we think it could quickly escalate to a nuclear exchange.
I'm sure we'll have more opportunities to discuss this before this is all over. Hopefully it will remain a discussion of what if, not what actually is!
Whomever this Ukrainian Soldier is, he's a badass!
According to our information, this was a Ukrainian attack against the flanks of a Russian convoy attempting to consolidate the front line.
[Part 2] pic.twitter.com/zx1VvwG7T1

— ?? Ukraine Weapons Tracker (@UAWeapons) April 25, 2022
Your semi daily Patron:
And we'll finish with your semi daily Chef Jose Andres:
Meet some of our amazing @WCKitchen #FoodFighters in Dnipro, Ukraine! This is Anastasia from Moderna restaurant…along with other WCK partners here who are cooking tens of thousands of meals every day! An incredible team feeding the people! #ChefsForUkraine #SlavaUkraini ?? pic.twitter.com/8DtmYyZJsh

— José Andrés (@chefjoseandres) April 26, 2022
Open thread!