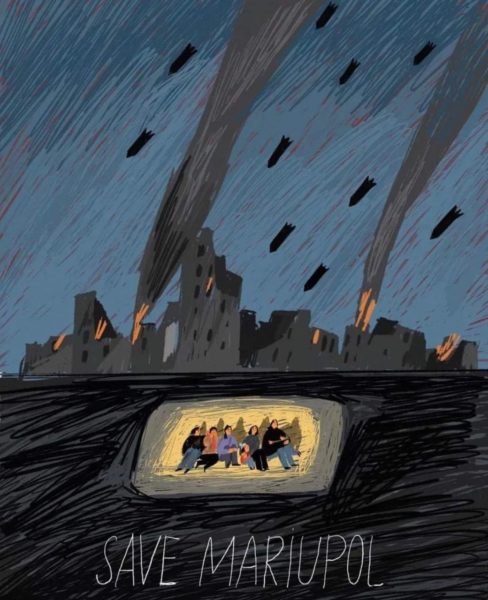 Let's start tonight with the good news that the Biden administration was able to successfully negotiate an exchange with Russia that gets US Marine veteran Trevor Reed out of a Russian prison and home to his family.
I'm grateful for the work of many across our government. Trevor's safe return is a testament to the priority we place on bringing home Americans held hostage and wrongfully detained abroad.

— President Biden (@POTUS) April 27, 2022
Here's the video of the exchange:
Video of the US and Russia swapping former marine Trevor Reed, formerly imprisoned in Russia, for convicted drug smuggler Alexei Yaroshenko on a runway in Turkey. Real bridge of spies Cold War vibes pic.twitter.com/5iiURYie83

— max seddon (@maxseddon) April 27, 2022
Reed was exchanged for Yaroshenko who had served ten years of a twenty year sentence for drug smuggling in the US. Reed had been arrested in 2020 for getting into a fight while drunk in Moscow and it was pretty clear that the nature of his prosecution and incarceration were intended to pressure the then Trump administration to give Putin something of value to get him out. That never happened and today the Biden administration got Reed home in exchange for someone who'd served 50% of his sentence. Which is not a bad exchange at all. There are several other Americans being held in Russian prisons on inflated or bogus charges, all intended to pressure the US to giving Russia something of value to get them out. The Biden administration's efforts to get these other Americans returned without paying anything significant as a ransom are ongoing.
Here's President Zelenskyy's address to Ukraine from earlier this evening. The transcript, with my emphases, follows the jump.
Unbreakable people of the bravest country!

The 63rd day of our defense is coming to an end. A day during which a lot has been done.

First, an important decision of the European Union is being prepared. The European Commission has agreed to remove all duties and quotas on Ukrainian exports for a year, as well as to suspend anti-dumping tariffs.

I discussed the details of this proposal with President Ursula von der Leyen today. I am grateful to her personally and to all our European friends for this step.

Right now, this will allow us to maintain the economic activity in Ukraine, our national production as much as possible. But this decision needs to be considered not only in the Ukrainian context. Sufficient export of our products to European and global markets will be a significant anti-crisis tool.

Russia is trying to provoke a global price crisis. To start chaos in all basic markets and especially in the food market. Ukrainian exports will help stabilize markets. So it is beneficial not only for us, but also for all Europeans. For residents of all countries that can be affected by Russia's destructive ambitions.

New partners' decisions to liberalize our exports are expected soon.

We are also agreeing with the European Union on how to increase the potential of transport corridors on our western border.

I spoke today with the President of Indonesia. In particular, on food security. I stressed that the threat of famine for millions of people in different countries will remain until Russia begins to seek peace with Ukraine. It is because of this war waged by Russia that dozens of states have found themselves in a situation where they cannot be sure of stability for their people.

I am grateful to Indonesia for supporting the territorial integrity and sovereignty of our state, for an honest and responsible position during the UN voting.

I am also grateful for the invitation to take part in this year's G20 summit.

A conversation took place with the Prime Minister of Italy. I thanked Mr. Draghi for the involvement in the investigation of crimes committed by the Russian military. I informed him about the situation in the combat zones. We appreciate Italy's support for truly effective sanctions that can end the war.

This week, Russia's leadership launched a new series of energy blackmail of Europeans. The decision to cut off gas supplies to Poland and Bulgaria is another argument in favor of the fact that no one in Europe can hope to maintain any normal economic cooperation with Russia.

Russia considers not only gas, but any trade as a weapon. It is just waiting for the moment when one or another trade area can be used. To blackmail Europeans politically. Or to strengthen Russia's military machine, which sees a united Europe as a target.

Hence, the sooner everyone in Europe admits that it is inadmissible to depend on Russia in trade, the sooner it will be possible to guarantee stability in European markets.

A meeting of the Congress of Local and Regional Authorities took place today. The first meeting during the full-scale war. A set of issues was discussed. In particular, the reconstruction of our country. We are already working on all the details so that the post-war reconstruction project can be implemented quickly and most effectively.

I stressed that we expect specific requests and proposals from local authorities. So that we can talk specifically with our partners, with the European Union, with international donors. Communities must provide all information about destroyed housing, all damaged objects.

We discussed how and in what order to build, how to organize the purchase of ready housing. Our goal is not just to rebuild everything that was destroyed by the occupiers. But also to solve old problems with housing queues and so on. So that all servicemen, rescuers, policemen, all who work for the state are provided with their own housing.

Today in Congress we heard the reports on the earliest possible provision of housing for IDPs. On the interaction between central and local authorities in the communities that are temporarily occupied.

The issues of territorial defense development and coordination between local authorities and law enforcement agencies were discussed.

Today I want to especially support Ukrainians in the south of our country. In Kherson, in all communities of the region, in the temporarily occupied districts of the Zaporizhzhia region. I am grateful to everyone who does not give up. Who protests. Who ignores the occupiers and shows those outcasts who have become collaborators that they have no future. The stronger our resistance now, the more rejection the occupiers will see, the sooner normal life will return to our land.

The Armed Forces of Ukraine continue to beat the invaders throughout the territory where the fighting continues. I am grateful to each of our defenders who do everything for Russia to lose.

Mariupol, Marinka, Popasna, Severodonetsk, Izyum, Rubizhne, Dniprorudne, Melitopol and all other cities and communities that are now at the epicenter of the struggle for Ukraine. That is where the fighting for the future of our people is taking place. Thank you to everyone who brings our victory closer!

I have just signed decrees on awarding our heroes. 173 servicemen of the Armed Forces of Ukraine were awarded state awards of Ukraine.

The title of Hero of Ukraine was awarded to Lieutenant General Serhiy Ivanovych Nayev, Commander of the Joint Forces of the Armed Forces of Ukraine.

Eternal glory to everyone who stood up for our state!

Eternal memory to all who gave life for Ukraine!

Glory to Ukraine!
I want to just take a moment and focus on President Zelenskyy's remarks about Russia weaponizing trade:
Russia is trying to provoke a global price crisis. To start chaos in all basic markets and especially in the food market.

Russia considers not only gas, but any trade as a weapon. It is just waiting for the moment when one or another trade area can be used. To blackmail Europeans politically. Or to strengthen Russia's military machine, which sees a united Europe as a target.
In 2020 I had a professional article published at The Cipher Brief conceptualizing 21st century warfare. Specifically how the character and characteristics of warfare had changed in the 21st century. In it I wrote:
The nature of war is rooted in fear, honor, and interest. The character and characteristics of war, however, change and evolve over time to reflect the changes in societies in regard to what are considered existential threats that require a military solution, as well changes of technologies that allow state and non-state actors to deliver kinetic power to inflict enough pain so that one's adversary yields.

21st century war and warfare reflects these shifts. There is, unfortunately, still far too much interstate war, civil war, revolution, insurgency, and terrorism; however, a new form of war and warfare in the 21st century has developed. This 21st century warfare was developed by states that are unable to match the military might of the United States, but that seek to achieve their strategic objectives through the application of all the other elements of national power.

Recognizing that they cannot subdue America by utilizing military power, the US's adversaries and competitors have instead changed the way that they make war. Rather than attack the US, its allies, and its partners directly using military power, America's adversaries and competitors have instead been waging war against them for the better part of a decade by utilizing some or all of the other forms of military power. Some of these uses of national power, the weaponization of the non-military elements of diplomatic, information, military, economic, financial, intelligence, and legal power (the DIMEFIL), are new and novel. Some, such as the Russian active measures subversion campaign that was directed at the US during and since the 2016 presidential election and Britain during Brexit, are old tactics, techniques, and procedures (TTPs) that are finally able to be effectively operationalized because technological advancements are finally mature enough to support US adversaries' concepts and doctrine.

The US's adversaries and competitors, recognizing that they cannot match America's military power, have, instead, begun to weaponize other elements of their national power to wage a 21st century form of war against the US, its allies, and its partners. To use a Clausewitzian formulation, America's adversaries and competitors have recognized that war is politics with other means. And these other means are the weaponization of the remainder of the DIMEFIL other than military power – the weaponization of diplomatic, information, economic, financial, intelligence, and legal power. This 21st century form of war and warfare is not simply isolated subversion operations within the gray zone between peace and war between state actors, and by some non-state actors against state actors, below the level of war. Rather, the US's adversaries and competitors, recognizing that they cannot match the US in the use of military force have elevated the other elements of national power, weaponized them, and are using them to wage a sustained war against the US, its allies, and its partners.

Different adversaries and competitors are utilizing this 21st century form of warfare differently. Russia's focus has been on taking advantage of the technological innovations that make it possible to fully operationalize the influence tactics, techniques, and procedures developed by the Soviet Union's security and intelligence services during the Cold War and proliferated through the Communist International (COMINTERN). They have then added to this now technologically actuated toolkit economic warfare waged through a number of post-Soviet oligarchs who straddle the line between legitimate business and organized crime coupled with a weaponized diplomacy intended to undermine and ultimately bring down the post-World War II and post-Cold War international rules-based order

The Russians themselves recognize that these actions, using all elements of national power other than military power or with only limited applications of military power, are actually a new form of war and warfare. In an early 2015 speech at Russia's Academy of Military Sciences, then General-Lieutenant Andrey Kartopolov calls this 21st century type of war and warfare "new-type war". Kartopolov's delineated his new-type of war as:

"Indirect Hybrid Methods:

Pressuring the enemy politically, economically, informationally, and psychologically
Disorienting the political and military leadership of the state victim, spreading dissatisfaction among the population
Preparing armed opposition detachments and sending them to the conflict region

Diplomatic and Propaganda warfare:

Covertly deploying and employing special operations forces, cyber attacks, and software attacks, conducting reconnaissance and subversive acts on a large scale, supporting the internal opposition, and employing new weapons systems"

Only once the indirect hybrid methods and the diplomatic and propaganda warfare have been successfully utilized to set the theater of operations would there be a shift to what Kartapolov calls "classical methods of waging war". This shift to classical methods of war only takes place if necessary to liquidate any remaining pockets of resistance.
Tonight's remarks by President Zelenskyy that place a spotlight on Russia's use of economic power as a weapon through trade are 100% on target! It is something that we've heard far too little about by senior leaders in the US and the EU. And it should be taken to heart and acted upon.
There is much more of my article at the link, however it is paywalled. Sorry! Not my call.
Here's today's operational update from Ukraine's Ministry of Defense:
The operational update regarding the russian invasion on 18.00 on April 27, 2022

The sixty-third day of the heroic resistance of the Ukrainian people to a russian military invasion continues. A russian federation continues its full-scale armed aggression against Ukraine.

In the Volyn, Polissya and Siversky directions, the situation did not change significantly, no signs of the formation of offensive groups by russian enemy were found.

In Slobozhanshchyna, russian enemy carried out systematic artillery shelling, including multiple rocket launchers, in the cities of Kharkiv and Dergachi and in the settlement of Prudyanka.

In the direction of Izyum – Barvinkove, russian occupiers attempted an offensive in the area of Nova Dmytrivka. They were unsuccessful, lost and left.

In the Donetsk and Tavriya directions, russian enemy continues to shell the positions of our troops along the line of contact with mortars and artillery.

russian enemy made an unsuccessful attempt to break through the defences of Ukrainian troops in the Kurakhovo area.

In the South Buh area, units of the occupying forces, under cover of artillery fire, continue to improve the engineering equipment of the positions, replenish stocks of material and technical means, ammunition and fuel, conduct air reconnaissance. russian occupiers tried to improve the tactical position of their troops in the direction of Zaporizhzhia. They have no success, they left with losses.

In the temporarily occupied territory of Kharkiv oblast, near the village of Levkivka, Izium district, russian enemy organized a collection point for damaged equipment, where military equipment is being repaired and restored. russian invaders continue to carry out so-called "filtration measures" in some settlements temporarily out of control of the Ukrainian authorities.

In the temporarily occupied territory of the Zaporizhzhia oblast, russian occupiers are inspecting the houses of local residents in order to identify the places of residence of representatives of the security forces of Ukraine. Carrying out a census of the local population, movement in the temporarily occupied territory without identity documents is prohibited.

In the temporarily occupied territory of the Kherson oblast, russian occupiers are preparing for a so-called "referendum", bulletins are being printed, and personal data of local citizens of Ukraine are being clarified. At the same time, russian invaders continue to prevent civilians from leaving the occupied territory.

In the transnistrian region of the Republic of Moldova, due to numerous provocations from russia, a "red" level of terrorist threat has been introduced. The personnel of the security forces were transferred to the "barracks state", the control at the checkpoints was strengthened, and the preparations for the May 9 holiday parade were canceled.

russian enemy is demoralized. Personnel who are taken to replenish losses from the occupied territories of Donetsk and Luhansk oblasts have their personal documents confiscated, which will not allow them to be identified in the event of death. There have been more and more cases of enemy soldiers searching for new ways to avoid participating in hostilities. Personnel resort to desertion, captivity and self-mutilation.

We believe in the Armed Forces of Ukraine! Let's win together! Glory to Ukraine!
Here is today's update from Britain's MOD: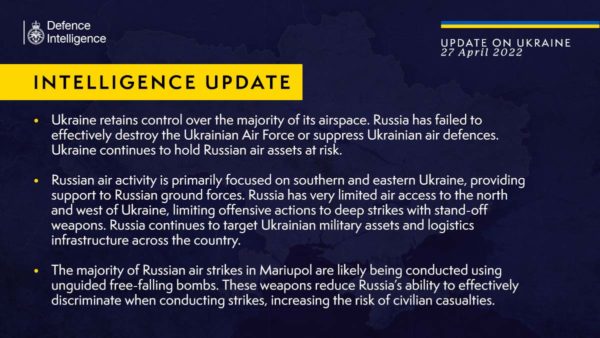 And here is their updated map for today: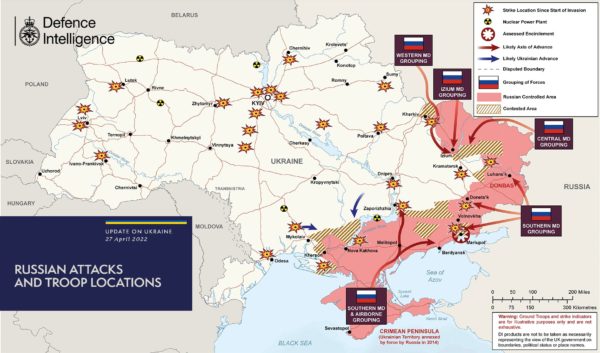 Here's yesterday's map again: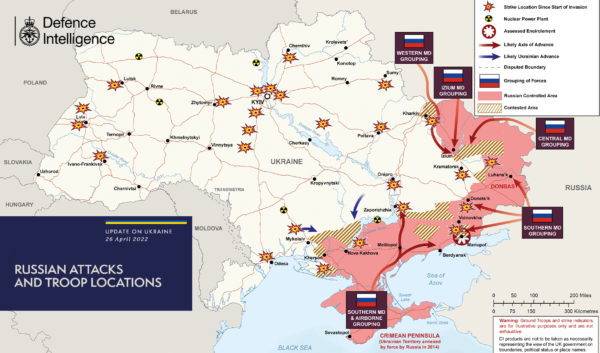 And here's  the British map from 25 April: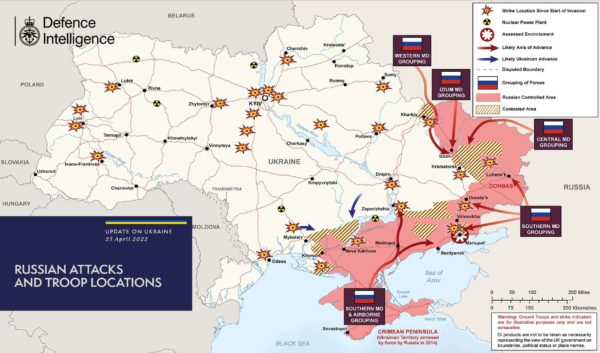 Notice the subtle difference around Izium? And between Izium and Luhansk? The contested area – indicated by the diagonal striped shaded area – has flattened out as Russia moves forwards from east to west to pressure the Ukrainian Joint Force Operation. At the same time, the Russians have now divided that contested area between Izium and Luhansk.
In today's operational update, Ukraine's MOD describes what is going on in Izium this way:
In the direction of Izyum – Barvinkove, russian occupiers attempted an offensive in the area of Nova Dmytrivka. They were unsuccessful, lost and left.
The British maps are indicating steady, if not significant, progress by the Russian forces. Ukraine's MOD's updates are not providing a lot of information regarding what is going on in this area and what information is provided is indicating something else. One of these has to be incorrect.
Last night commenter YY_Sima Qian asked:
What do you think the Ukrainian Army is doing w/ the JFO? Defend in place & attrit the Russian offensive until it peters out then attack the bases of the Russian thrusts (miniature Battle of Kursk)? I am surprised that the Ukrainian Army has not yet counter attached out of Kharkiv to threaten the logistics tail of the Izium thrust, concerned about longer range fire based on Russia? Why would the Ukrainian Army not consider pulling back the JFO to less precarious position? Is it because the JFO forces are tied down in the fortifications & thus not very mobile? The road & rail network in Eastern Ukraine does not appear to be that dense or well developed. If the Russian Army manages to make Dnipro a contested area, I would think supplying the JFO will become very difficult, as will any retreat (will likely lose almost all of the heavy equipment, w/o access to well paved roads).

The above presumes the Russian Army can actually capture Kramatorsk & threaten Dnipro, or doing so w/o shattering its remaining combat power, which not something I would bet on given recent performance.
I replied with, and this is still my current answer, with:
I don't know. Honestly, other than "the Ukrainians have done a good job in planning and then executing on those plans, so I'm sure they've got something worked out that would be effective", I'm just as curious as to what is actually going on with the JFO as you are.
The Ukrainians have fought a very, very smart war so far. So without accurate information that is far more specific than what is currently available in open sources, I think the position of the Ukrainian Joint Force Operation and Russia's attempt to encircle and reduce this Ukrainian force are important to be concerned about. But all we can do is monitor what is going on until more details are forthcoming.
There was no DOD background briefing today, but Pentagon Spokesman John Kirby did hold a press conference. So here's some of that.
PRESS SECRETARY JOHN F. KIRBY: OK. I don't have a whole lot at the top. I do want to announce that tomorrow Secretary will be welcoming his Canadian counterpart, the Canadian Minister of National Defense Anita Anand here at the Pentagon. They just had a chance to speak yesterday, I think it was yesterday in Ramstein, at the Ukraine Consultative – Defense Consultative Meeting.

So, we're delighted to be able to welcome her here into the Pentagon, her and her staff. And as you can imagine, there'll be a lot of things to discuss, obviously, what's going on in Ukraine. But also, our shared NORAD responsibilities, the Arctic, the Indo Pacific, there's a lot on the agenda.

And we're very much looking forward to welcoming her and her team here tomorrow. And with that, Bob.

Q: A couple of quick questions on Moldova, is there any more clarity that you're aware of what the explosions in the region?

MR. KIRBY: No, I'm afraid we don't have much more on that Bob. And no clear indication here of exactly what happened.

Q: OK. The other question I have for you is regarding the howitzers that you're sending to Ukraine, the 90. Can you update us on where that stands? And are you confident that they'll get enough of them there fast enough to make a difference in this offensive?

MR. KIRBY: I would say today, without giving whole numbers more than half of those howitzers are in Ukraine.

Q: Are in Ukraine?

MR. KIRBY: Are in Ukraine.

Q: And the training part of it is that…

MR. KIRBY: Well, they're on a second tranche of training here, Bob. You know, we finished up earlier this week, the first tranche of more than 50 trainers that are going to go in and train their teammates. And we're working on a second tranche here of training. I'm not sure if that second tranche has actually begun yet, I'll have to check and get back to you on that.

But there was another tranche of more than 50 that we're going to go through training in the same location outside Ukraine. And then we are also – part of the discussion yesterday was to explore additional training opportunities on that system as well as other systems.

And so, we're just not in a position where we can announce anything, but the training is ongoing.

Q: The first fifty are done you say?

MR. KIRBY: Yes, they finished up earlier this week. Travis.

Q: You've said for a long time that there are not US troops in Ukraine. With the return of diplomats, and there's a team there yesterday in Lviv. Is that still the case? Is that something you can still say? Or is it going to become, you know, are there going to be certain numbers of troops there to ensure diplomatic security?

MR. KIRBY: I think we're going to be having constant conversations here with our State Department colleagues about what their diplomatic activities are going to entail. And to what degree they might need support from the United States military and force protection mode. Keeping in mind, Phil, that they may not. So, we're just going to take this in steps. And we'll see where it goes. But as you and I speak here, I mean, nothing's changed about our support to U.S. diplomats.

Q: And secondly, you know, is there any sense after the conference in Ramstein yesterday that there is no – that the Ukrainians have enough munitions right now? And artillery, and everything they need to repel the Russians in the southeast? Or is that still to be determined?

MR. KIRBY: It's a kinetic – it's an active kinetic fight there in the Donbass every single day, including this day. And as you, I think, heard when you were in Ramstein, I mean, there are real needs that the Ukrainians have to stay active in that fight. And you heard the Secretary say very clearly that we're going to be trying to meet those needs as best we can, not just from the United States, but other countries as well, that includes munitions.

So, what I can tell you, Phil, is that munitions continue to flow into Ukraine. That the United States is helping coordinate. That continues to flow in there, including while we were overseas just over the last couple of days. And that – and efforts to get those munitions into Ukrainian hands will also continue going forward as they are in a very active fight.

You're asking, do they have enough? I mean, I think that question is something that changes every hour, depending on their rate of consumption and what is actually going on the battlefield. So, it'd be a difficult question for me to answer you know, here thousands of miles away at the Pentagon. All I can tell you is that we know they're expending rounds every single day of all different types and calibers.

And we're doing everything we can. The flow continues to make sure that they can stay in the fight.
Much more at the link!
I want to take a moment and focus on the Moldova/Transnistria stuff. Specifically, for those who don't have a lot of reason to pay attention to what has happened over the past twenty to thirty years in the states that established their independence after the Soviet Union fell. Fortunately we all have Slava Malamud, who was born and lived in what is now Transnistria before his family was able to emigrate to the US, to provide us with all the context. First tweet in the thread followed by the rest in a quote box so the site doesn't crash because of Twitter's code. There are two threads, the second clarifies and expands on the first:
Transnistria, where I was born and raised, has been under Russian occupation since (and this is not a typo) 1992. The root of the conflict is the fact that the region, the eastern bank of the Dniester River and my native city of Bender, is mostly populated with Russian speakers? https://t.co/IwkJDaitQH

— Slava Malamud ?? (@SlavaMalamud) April 26, 2022
The left bank of the Dniester was formerly a part of Ukraine, known as the Moldavian Autonomous SSR. It had some Romanian speakers, but the majority were ethnic Russians and Ukrainians, primarily concentrated in the city of Tiraspol. After the war, Stalin reannexed Moldova…

(the region between the Dienster and Prut rivers, which was a part of Romania between the World Wars) and named it the Moldavian SSR. However, he detached the northernmost (Bukovyna) and the southernmost (Bugeac) parts of it and gave them to Ukraine…

In return, he took Transnistria from Ukraine and gave it to Moldova. This is how the borders of modern Moldova were created. The interior of the nation, with the exception of the capital city of Chisinau (pronounced kee-she-NEH-oo), was mostly Romanian speaking…

Soviets, however, staunchly suppressed the Moldovans' Romanian identity. Soviet citizens could not have any attachments to other nations. So, even though Moldovans were ethnic Romanians and spoke the language, they weren't allowed to identify as such…

The ethnicity was called "Moldavian", and so was the language, whose alphabet was changed to Cyrillic (which is farcical, when you consider that Romanian is a Romance language descending from Latin). Meanwhile, Russian speakers on the east bank never assimilated…

They rarely spoke Romanian and harbored very disdainful, colonial attitudes toward ethnic Moldovans, especially Romanian speakers. The conflict broke out in 1990, when Moldova declared independence, triggering fears in Transnistria that it was about to reunite with Romania…

In response, the east bank and the city of Bender (which is on the west bank but has a predominantly Russian-speaking population) had declared the "Transnistrian Moldavian Republic", which declared its intention to remain in the USSR, even if Moldova seceded…

After the USSR broke up, Transnistria never recognized the event. It fought a war against Moldova and, supported by Russia, won its independence as an unrecognized quasi-state. It actually still considers itself the last remaining part of the USSR and hopes for Russian annexation

Its flag and coat of arms are those of the Moldavian SSR, they use Cyrillic for the Romanian language and call it "Moldavian" (it is one of the official languages, but in practice, nobody ever speaks it). In reality, the quasi-state is propped up by Russia and is run by the mafia

Transnistria's main purpose is to serve as an anchor against Moldova's European ambitions. Russia maintains a force there, as a constant threat to Moldova in case its politics get too European-friendly. The population is under no illusions about their rulers but hates the idea…

of learning Romanian and fears Moldova's unification with Romania. Transnistria's long-term purpose was to be the launchpad for Russia's invasion of Moldova once Ukraine is reconquered. Now, it looks like Transnistria will be used to attack Ukraine's southwest.

All of the above is for the benefit of those who think that Russia's imperialism is a recent thing. It never, ever went away. I myself almost died of it when I was 17. The more you know…
A good and complex question. In 1990, even though there weren't any threats or aggression toward Russian speakers, there were good reasons to fear. Ethnic conflicts in many parts of the USSR had turned bloody. Ethnic Russians were called occupiers and colonizers…
1/? https://t.co/5T3tmLaFu1

— Slava Malamud ?? (@SlavaMalamud) April 27, 2022
Many Moldovans were adamant to institute Romanian as the only official language. Some rather bizarre racist laws were proposed (for instance, to change all Jews' names to be clearly and unmistakeably Jewish). All and all, this was pretty standard anti-colonial backlash…

But first and foremost, Russian-speakers were afraid of "Unirea", the reunification with Romania, which meant potentially becoming a powerless minority in a foreign country, dominated by people they used to subjugate. Not an appealing prospect.

And then, of course, things did get violent. But this was 30 years ago. The mere thought of Moldovans getting violent with Russian speakers now is pretty ridiculous. All Moldovans still speak Russian. A huge percentage of Moldovan males works in construction in Russia…

Today's Transnistria is more of a metastatic manifestation of Russian imperialism than an ethnic enclave fighting against absorbtion into a foreign country.
There was some discussion the other night in the comments over whether or not what Russia is doing in Ukraine is genocide. I've dealt with this in two prior updates, but the short answer is: yes, it is. Today the Canadian parliament unanimously voted to confirm that assessment. From CTVNews:
Canadian members of Parliament voted unanimously on Wednesday to label Russia's attacks in Ukraine a "genocide."

The vote was triggered after NDP MP and foreign affairs critic Heather McPherson presented a motion asking that the House recognize that "the Russian Federation is committing acts of genocide against the Ukrainian people."

MPs agreed that there is "clear and ample evidence of systemic and massive war crimes against humanity" being committed by Russian Armed Forces directed by President Vladimir Putin and others within the Russian Parliament.

Those crimes include, among other offenses, mass atrocities, systematic instances of willful killing of Ukrainian civilians, the desecration of corpses, forcible transfer of Ukrainian children, torture, physical harm, mental harm, and rape, the motion reads.

Russia's invasion of the eastern region of Ukraine began on Feb. 24. There have been widespread accusations of war crimes since then, with some leaders going as far as to say that the situation amounts to genocide.

International law defines genocide as the deliberate killing or causing other serious harms "with intent to destroy, in whole or in part, a national, ethnical, racial or religious group."

Earlier this month, Prime Minister Justin Trudeau said it's "absolutely right" the term genocide was being used to describe Russia's conduct. His comments came a day after U.S. President Joe Biden used the term in reference to the Ukrainian invasion.

However, Trudeau was quick to note there are "official processes" in places to formally apply that designation.

"As President Biden highlighted, there are official processes around determinations of genocide," Trudeau said at the time. "But I think it's absolutely right that more and more people be talking and using the word 'genocide' in terms of what Russia is doing."

Days later, Defence Minister Anita Anand said there is a "strong argument" to be made that Russia's "atrocities" amount to genocide.

"I believe that if you take the definition of genocide, which includes the intent to wipe out a nation in part or in whole, there is a strong argument to be made, even without the use of chemical weapons, that a genocide is occurring," Anand said during an interview on CTV's Question Period.

Canada is a signatory of the United Nations' Genocide Convention, which codifies genocide as a crime, requires members states to prevent and punish it, and triggers legal consequences against perpetrators.

In this set of circumstances, former justice minister and ambassador to the United Nations Allan Rock said Canada is fulfilling its duty.

"You could say that we're doing what we can to prevent it, by providing arms to Ukraine so it can defend itself and repulse the Russian attack," Rock told CTVNews.ca.

"We should be, as we are, contributing to the effort to track the atrocities of Russian forces, amass evidence against them, and be prepared to cooperate and participate in any prosecution of those responsible."
Much, much more at the link!
Here's an explainer from the editor in chief of Ukraine World provides us with the Ukrainian perspective:
this is not a simple genocide. This is REPEATED genocide. Two, three, dozen times in history. Here, on Ukrainian lands. Why? Because it was never properly condemned. Not punished. "Never again" was not applied to THIS evil. Its roots are in Stalin, Lenin, Russian empire 1/5

— Volodymyr Yermolenko (@yermolenko_v) April 27, 2022
Not punished, not condemned, not repented, it is saying "we can repeat" instead of "never again". And they can. Look at language they use. "Expropriation of surplus of harvest" from Kherson farmers. This is similar to Stalin's "requisitions" of food that caused Holodomor 2/5

Z is for Zlo, evil. Z means Zombie Zlo. A repeating evil. An evil coming back again and again. A vicious circle of evil. 3/5

"Great Russian literature" knew this very well. Gogol's "Dead souls" are about that. Merezhkovsky's novels. Dostoyevsky's "Demons". Berdiaev's philosophical works. They all described the repeating evil, vicious circle of evil with no escape. 4/5

This is the vicious circle of Russian history. Barbaric cruelty with no escape. Tried to build "progressive" Marxism – ended in barbaric cruelty. Tried to build oligarchic capitalism – the same. — this "no-escape" always leads to crimes. Repeated crimes 5/5
Politico has reported that Ukraine has requested armed drones from the US:
It's not every day that the United States approves the sale or transfer of armed drones to a foreign country — but Ukraine is hoping the Biden administration will heed the call of soldiers on the groundto do just that.

In addition to heavy artillery and rocket systems, Ukrainian officials are also asking the United States for "strike drones" — specifically the
and MQ-1C Gray Eagle, with "appropriate munitions" like the AGM-114 Hellfire missile, the Ukrainian Ministry of Defense told POLITICO in a statement on Wednesday.

"We are awaiting positive results," according to the ministry.

The Pentagon has already sent Ukraine a number of small, expendable Switchblade drones and the new Phoenix Ghost, a similar capability. But officials say they also want the more sophisticated Reaper and Gray Eagle, which can cover farther distances, fly at greater altitude, and be reloaded for additional missions.

Ukraine has already reportedly had discussions with General Atomics, the drone manufacturer, to obtain these systems. But any sale or transfer would require sign-off by the U.S. government, specifically the State Department and the Pentagon. And for any weapons request, that's easier said than done — DoD officials must weigh a number of variables in deciding whether to grant the request, including concerns of escalation, technology sensitivities and shareability, as well as whether the Ukrainians would actually be able to use the capability.

Asked whether the United States would provide the Reaper and Gray Eagles to Ukraine, Pentagon Press Secretary John Kirby declined to comment on the deliberations.

Armed drones are a particularly complicated ask because they are subject to strict regulations, including the Missile Technology Control Regime (MTCR), which requires that exports of most missile systems, from cruise missiles to the larger unmanned aircraft, are subject to a "strong presumption of denial."

That means any missile or drone that can carry a 500 kilogram payload with a range of 300 kilometers should not be transferred from one country to another.

These restrictions have hobbled sales of Reaper and Gray Eagle to even some of the United States' partners, including Qatar and Indonesia — so such a transfer to Ukraine seems like a stretch for now.
More at the link!
Putin has been saber rattling again! From al Jazeera English:
Western nations' intervention in Ukraine will be met with a "lightning-quick" military response, Russian President Vladimir Putin warned.

The bellicose threat from Putin came as Russia claimed on Wednesday to have carried out a missile strike in southern Ukraine that destroyed a "large batch" of Western-supplied weapons.

Countries aiding Ukraine "that get it into their heads to meddle in ongoing events from the side and create unacceptable strategic threats for Russia, they must know that our response to counterpunches will be lightning-quick", said the Russian leader.

"We have all the tools for this that no one else can boast of having," Putin told lawmakers in St Petersburg, implicitly referring to Moscow's ballistic missiles and nuclear arsenal.

"We won't boast about it: We'll use them if needed and I want everyone to know that. We have already taken all the decisions on this."

Putin promised to finish what he called the "special military operation" to seize territory from Ukraine, which Moscow considers historically to be Russian. He blamed NATO nations and their allies for instigating the battle currently under way in Ukraine.

"The countries that have historically tried to contain Russia don't need a self-sufficient, massive country such as ours. They think it is dangerous to them just by means of its existence. But that is far from the truth. They are the ones threatening the whole world," said Putin.

By launching the offensive in Ukraine, Russian forces neutralised "a real danger of … a major conflict that would have unfolded on our territory according to other people's scripts", said Putin.

He alleged NATO planned to use Ukraine as a route to invade Russia through the Crimean peninsula, which Moscow annexed in 2014, and the separatist-held eastern Donbas border region.

"All the tasks of the special military operation we are conducting in the Donbas and Ukraine, launched on February 24, will be unconditionally fulfilled," Putin said, adding Western attempts to "economically strangle Russia" through sanctions had failed.
More at the link.
Earlier today The Financial Times reported that Ukraine's intelligence services have warned that Putin intends to destablize Moldova via the Transnistrian separatists.
Russia is planning hybrid attacks to destabilise the pro-western government of Moldova, Ukrainian and Moldovan officials have warned, as a series of explosions rocked the country's Russian-controlled separatist enclave of Transnistria bordering Ukraine.

The warning of Russian influence operations designed to promote pro-Kremlin forces comes as the Moldovan president blamed "pro-war forces" for attacks in Transnistria.

Russia said last week that its new goals from its more than two-month-long invasion of Ukraine included capturing the country's southern coastline and creating "another way" to Transnistria. Western intelligence officials have warned that Moscow could use troops stationed in the separatist region to stage attacks on Ukraine.

"They have a plan to destabilise Moldova," said a Ukrainian intelligence official, citing surveillance on agents of Russia's spy agency FSB operating in the country.

The official assessed that the destabilisation operation could peak around May 9, when Russia commemorates the Soviet Union's victory over Germany in the second world war. "[Russia] can attack Moldova at any time. They have this option on the table," the official said.

Moldova's pro-EU government led by President Maia Sandu is aware of FSB activities and is preparing to counter possible efforts by Moscow to attempt political destabilisation activities in the coming weeks, according to two officials briefed on internal discussions.

"Politics, energy, Transnistria: they are all options for them," said one of the officials.

Sandu convened a meeting of Moldova's security council on Tuesday in response to a rocket-propelled grenade attack on an administrative building in Transnistria's capital on Monday night and explosions that destroyed two radio masts in the self-proclaimed republic on Tuesday morning.

"These escalation attempts stem from factions from within the Transnistrian region who are pro-war forces and interested in destabilising the situation in the region," Sandu told reporters after the meeting.

"This makes the Transnistrian region vulnerable and poses risks to the Republic of Moldova," she added.

Ukraine's military intelligence service attributed the RPG attack to "provocative measures organised by the FSB [to] justify the war on the territory of Ukraine or involve the Transnistrian region in hostilities".
Much more at the link!
I don't think Putin has the conventional land or air power capability left to do a lot of damage. All he's got left is submarine and ship based capability, as well as the hypersonics in Kaliningrad both with and without nukes on them, and the rest of Russia's nukes. However, he does have the ability to create and spread chaos. This is what the Wagner bubbas, the locals they've brought from Syria and from across the Sahel, and Kadyrov's rabid Chechniks are for. He also still has his wet work program. So while successfully opening a second front by attacking Moldova is largely something outside of Putin's actual capabilities right now, creating chaos that would destabilize Moldova is clearly not out of the question. And that chaos can do a lot of damage.
Mariupol's defenders are still hanging on at the Azovstal complex!
Volyna pleads with world leaders and diplomats for a WWII Dunkirk-style evacuation of troops and civilians from Azovstal.

— Christopher Miller (@ChristopherJM) April 27, 2022
Kherson:
Russians dispersed the protesters using tear gas and smoke grenades.
? Ukraine Now pic.twitter.com/SzBcBhy3SA

— Olga Tokariuk (@olgatokariuk) April 27, 2022
Source: https://t.co/dcbsjSfskq

— Olga Tokariuk (@olgatokariuk) April 27, 2022
Odesa:
In Odesa, a funeral ceremony was held to Valeria Hlodan, her 3-month old daughter Kira and Kira's grandmother, who were killed by a Russian missile strike on Saturday ? https://t.co/NapacLypHy

— Olga Tokariuk (@olgatokariuk) April 27, 2022
One more beautiful family was killed by the russian missile strike in Odesa. Since Feb 24, Mila & Bohdan had been actively volunteering for Ukraine's victory. A few days before their death, Mila found out about her pregnancy. Never forgive, never forget
Credit: Ukraine Now pic.twitter.com/8JxD6GKDgt

— Olena Halushka (@OlenaHalushka) April 27, 2022
Dnipro:
This is Solomiyka. She plays the pipe on the main street of Dnipro to raise money for bulletproof vests for the Ukrainian military. #UkraineWillResist pic.twitter.com/HmZxMZwRcC

— UkraineWorld (@ukraine_world) April 27, 2022
Solomiyka raised half the cost for one set of body armor/armored tactical vest for a Ukrainian soldier. Her mother was able to crowdfund the rest!
Once again our Antipodean archeologist, The Mighty Trowel, has provided us with this update about work to preserve Ukrainian antiquities and heritage as the Ukrainians defend against Russia's reinvasion. From The Guardian:
Satellite scrutiny of Ukraine is not just focused on military hardware. Thousands of miles away from the fighting, an international group of archaeologists, historians and technicians are quietly coordinating another high-stakes monitoring effort: the tracking of the mounting losses to Ukraine's cultural landscape.

Now an impact summary, released this month from their lab at a museum in the US state of Virginia, has revealed the bleak truth.

So far, signs of damage to 191 cultural landmarks and venues have been detected. Most of the destruction – believed to have been carried out by invading Russian troops – has concentrated on Ukrainian memorials and places of worship. Fifty-eight churches, mosques, temples and cathedrals have now been listed, along with 111 memorial sites and nine public monuments. The war has also seen two arts venues attacked – including the theatre at Mariupol, images of which went around the world – and one archaeological site. Violence directed at monuments and buildings might seem insignificant compared to the growing toll of injury and death inflicted on Ukrainian families, but for a country in the shadow of a threatening neighbour, culture and heritage can play a crucial role. The deliberate targeting of religious and cultural sites is also prohibited by the 1954 Hague Convention, although individual perpetrators have rarely been punished.

The Cultural Heritage Monitoring Lab, at the Virginia Museum of Natural History in Martinsville, is the hub for coordinating worldwide attempts to register and protect landmarks at risk. The network was set up last year in partnership with the acclaimed Smithsonian Institution Cultural Rescue Initiative, founded in response to the 2010 earthquake in Haiti, which works to train museum curators around the world to react to conflict.

News of any affected site goes back to Ukraine immediately in case the damage to artefacts can be limited, or at least documented on the ground. Inside Ukraine's museums, many cabinets containing Byzantine icons and Scythian gold have been moved. Valuable artwork has been hidden in basements or moved secretly to supportive foreign museums. Other national collections are guarded by wardens who are now armed and ready to repel looters.

The operation in Virginia draws on the expertise of curators from America and Europe and is led by archaeologist Hayden Bassett. "It's a 24/7 operation," he recently told the Washington Post. "Even though we might not be staring at a screen at 3am, our satellites are imaging at 3am."

Brian Daniels, an anthropologist working with the team in Virginia, said the rate of attacks had increased dramatically since the report's publication. He told the Observer: "The violence is now concentrating on civilian infrastructure and this means museums and cultural heritage are targeted in this scorched-earth policy."

Bassett has seen significant cultural damage to the more densely populated areas, including the complete destruction of a museum in Ivankiv two months ago.
Much more at the link!
That's enough of the serious stuff for one day. So let's wrap this up!
Your semi daily Patron.
#Patron the two-year-old Jack Russell has become an internet sensation, after helping to clear more than 90 explosive devices in #Ukraine. ??

? Watch this incredible bomb sniffing dog in action. ?‍?

Read more on this story ? https://t.co/xw7YFVwx6s pic.twitter.com/JZ48jhzkbl

— Forces News (@ForcesNews) April 26, 2022
We've added another Патрон (Patron) design to our store. This one comes from the talented Olena ("sheveka_art" on Instagram)

Get it: https://t.co/Jyzb8Vduyu (all profits: ~$18 will go to Ukraine aid)#Patron #jackrussellterrier #Ukraine #StandWithUkriane #Dog #SlavaUkraini pic.twitter.com/dLz5ITLXHa

— SupportUkraine.art – all profits go to Ukraine (@SupportUA_art) April 28, 2022
You're semi daily Chef Jose Andres:
I wish I could introduce you to all our 400+ @WCKitchen restaurants here in Ukraine…but today I want you to meet this amazing team in Dnipro! They open the doors for refugees—many from Mariupol & were even able to deliver meals there before it got too dangerous! #ChefsForUkraine pic.twitter.com/S1IzqJiW9D

— José Andrés (@chefjoseandres) April 27, 2022
Open thread!