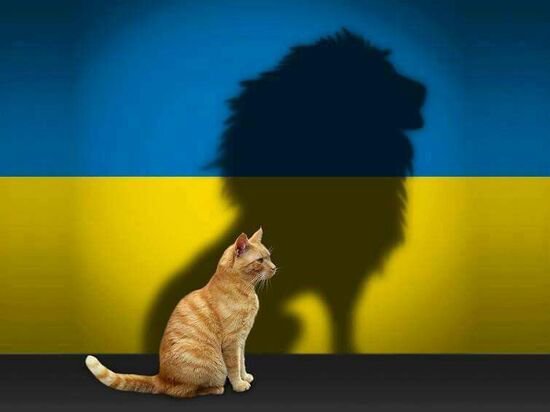 UN Secretary General Antonio Guterres visited Kyiv today. This was his second stop on his diplomatic mission. The first was Moscow to meet with Putin. While Guterres was in Kyiv today Russia attacked using cruise missiles.
While the UN Secretary General @antonioguterres is visiting Kyiv, a permanent member of the UN Security Council – russia – is launching missile strikes on the city. This is an attack on the security of the Secretary General and on world security!

— Oleksii Reznikov (@oleksiireznikov) April 28, 2022
It wasn't so much an attack on Secretary General Guterres as a message to him and the world from Putin. Specifically that Putin really could care less what the UN wants, what the Secretary General wants, and that the only use that Putin will make of diplomacy or the UN/UN Security Council is as a weapon, not as a way to end his reinvasion of Ukraine.
Or a day that ends in day!
Just a quick note before we go farther: last night I mucked up the analysis of the British MOD maps. I was looking at it and for whatever reason my brain just decided that what I was seeing was not what was actually going on. I'll have a full corrective explanation in that section of the update after the jump.
Here's President Zelenskyy's address to Ukraine from earlier this evening. The transcript with my emphases will be after the jump:
Ukrainians!

All our defenders!

Today we have significant news for our state, for our defense.

First, the United States has prepared a new support package for Ukraine worth $ 33 billion. In particular, more than 20 billion can be allocated for defense. More than $ 8 billion is planned for economic support. Another $ 3 billion will be allocated for humanitarian aid.

This is a very important step by the United States. And I am grateful to the American people and personally to President Biden for it. I hope that the Congress will quickly support this request for help to our state. President Biden rightly said today that this step is not cheap. But the negative consequences of Russia's aggression against Ukraine and against democracy are so large-scale for the whole world that, in comparison with them, this support from the United States is necessary. Together, we can certainly stop Russian aggression and reliably defend freedom in Europe.

We are also working to direct the blocked assets of Russian individuals subject to sanctions and the Russian state to compensate Ukraine for this war and to restore normal life.

The investigation into the crimes committed by the Russian military against our people is underway. Ukraine's position is absolutely clear – every Russian criminal must be and will be brought to justice. Whoever they are and wherever they hide, we will find them all and make them bear responsibility.

The first ten Russian servicemen from the 64th motorized rifle brigade of the Russian Ground Forces who committed crimes against our people in Bucha, Kyiv region, received the status of suspects. Their surnames are known. It is established what they did. We know all the details about them and their actions. And we will find everyone. Just as we will find all the other Russian thugs who killed and tortured Ukrainians. Who tormented our people. Who destroyed houses and civilian infrastructure in Ukraine. None of these bastards will avoid responsibility.

However, some of them may not survive until trial and fair punishment. But for one reason only. This Russian brigade was relocated to the Kharkiv region. There they will get retribution from our military.

Prime Minister of Bulgaria Kiril Petkov paid a visit to Kyiv today. We had very substantive and very warm negotiations with him. Bulgaria is one of those countries that reacted to Russia's aggression in a principled manner and quickly. I am grateful to both the Bulgarian government and the Bulgarian people for not delaying the support for our state.

Defense, energy and transport issues were discussed with Mr. Petkov. Sanctions pressure on Russia, which is necessary for peace. We also discussed our cooperation at the EU level. A very important agreement is on the repair of our military equipment at the Bulgarian production facilities.

Another issue we agreed on is the supply of Ukrainian electricity to Bulgaria and the use of the Trans-Balkan gas pipeline together with the Bulgarian side. I am grateful to Bulgaria for the opportunity to use the port of Varna to export our agricultural capacity.

UN Secretary-General António Guterres was also in Ukraine today. It is very important that Mr. Secretary-General visited Borodyanka, Kyiv region. And saw with his own eyes what the Russian occupiers had done there. Hundreds of Ukrainian cities and hundreds of communities have experienced the same thing as Borodyanka and Bucha. The Russian army in Ukraine consciously and without any doubt trampled down everything on which the global order was based after World War II.

The UN Charter, international conventions, declarations, the rights of people and states… Everything that should guarantee freedom and security in the world is simply destroyed by Russia's aggressive actions. So the key issue in the talks with the UN Secretary-General was how to stop Russian aggression. And this is not just a question of Ukraine, our fate. This is a question of the fate of the United Nations, the fate of international law, the fate of many nations – and not just Russia's neighbors who may become the next victims of Moscow's aggressive ambitions.

Of course, during the negotiations we paid a lot of attention to saving our people from Mariupol. I believe that with the help of the UN it is possible to organize an evacuation mission. Ukraine is ready for these steps. But it is also necessary for the Russian side to consider this issue without cynicism and actually do what it says.

Moscow claimed they had allegedly ceased fire in Mariupol. But the bombing of the defenders of the city continues. This is a war crime committed by the Russian military literally in front of the whole world. Russia's shelling of Mariupol did not stop even when the UN Secretary-General was holding negotiations in Moscow.

And today, immediately after the end of our talks in Kyiv, Russian missiles flew into the city. Five missiles.

And this says a lot about Russia's true attitude to global institutions. About the efforts of the Russian leadership to humiliate the UN and everything that the Organization represents. Therefore, it requires a strong response.

Russian missile strikes at Ukraine – Kyiv, Fastiv, Odesa, and other cities – once again prove that we cannot let our guard down. We cannot think that the war is over. We still have to fight. We still have to drive the occupiers out.

Today, the Russian army continued its offensive attempts in the east of our country, in Donbas. Tries to advance in the southern regions.

The Armed Forces of Ukraine repel the invaders. And I am grateful to each of our defenders who are holding positions.

We are doing everything to help our army, to provide the military with all the necessary weapons.

Every time I contact my partners, I emphasize that weapons for Ukraine right now, the very types we ask for and just when we need them, are salvation not only for our people. This is salvation for all of you – for all of Europe.

I am grateful to those partners who understand this. And who help convince others.

Before delivering the evening address, I signed a decree awarding our heroes. 214 servicemen of the Armed Forces of Ukraine were awarded state awards. 14 of them posthumously.

Eternal memory to all who gave life for Ukraine!

Eternal glory to all who stood up for the state!

Glory to Ukraine!
If you want to know who the ten Russian soldiers that have been identified are, this thread from the Ukrainian Ministry of Defence has the details.
By now everyone has, most likely, already seen the news that both the new Lend-Lease Act has passed the House and is on the way to President Biden for his signature and that he is sending Congress a proposal for a $33 billion military and humanitarian aid package for Ukraine. Both of these are good news and significant. I expect that with the usual Republican no votes in the House and the Senate – Gaetz, Green, Gosar, Boebert, Massie, Paul, and maybe a half dozen more in the House and one or two Republican no votes in the Senate – that it will pass quickly. Though if he can/if he is allowed to, I expect Paul will try to put a hold on it or refuse unanimous consent in order to slow it down so he can do his usual performative bullshit.
Just one point before we move on and this is a domestic political one: this huge aid package is going to be a problem for the Democrats politically. The usual suspects – the holier than thou left – are going to try to make a huge to do that Biden and the Democrats can get $33 billion for Ukraine's defense through the House and Senate with few problems and few delays, but they can't find a way to extend the expanded child tax credit. Or any part of the Build Back Better package. Or insert your preferred policy or program here. This critique, and really it is a critique of the absurdity of the Senate and how it is allowed to (dys)function in 2022 as much as it is a critique of the Biden administration and the Senate Democratic caucus, will then be picked up by Fox News and the rest of "conservative" news and social media and used as a weapon from both directions. One additional point here: it is also, and really should be, a critique of Senate Republicans – from McConnell all the way to the so called reasonable members of the Senate GOP caucus like Romney and Collins and Murkowski – and their blanket refusal to do anything at all for the American people or to even attempt to get some of what they would like to see passed by seeking compromise with the Democrats. They have agency and the news media, including the political reporters, their producers and editors and bookers, pretending they don't is a good chunk of how we got into this mess. And why we are unlikely to get out of it.
Since we're talking about material and equipment and aid, here's what the Commanding General of Ukraine's Air Force says he needs. There are English subtitles in the video.
Commander of Air Forces of Ukraine explains what equipment is needed to impose our own no-fly-zone in Ukraine: a) middle-range and long-range air defense systems (like Patriot or NASAMs), b) modern fighter jets (like F16 or F15 or F18). https://t.co/Oi1NjCgtmB

— Daria Kaleniuk (@dkaleniuk) April 28, 2022
Here's today's operational update from Ukraine's MOD (emphasis mine):
The operational update regarding the russian invasion on 18.00 on April 28, 2022

The sixty-fourth day of the heroic resistance of the Ukrainian people to a russian military invasion continues. A russian federation continues its full-scale armed aggression against Ukraine.

russian enemy continues to carry out offensive operations in the Eastern Operational Zone in order to defeat the Joint Forces, establish full control over the territory of Donetsk and Luhansk oblasts and maintain the land route with the occupied Crimea.

The greatest activity of russian enemy is observed in Slobozhansky and Donetsk directions.

No significant changes in russian enemy's activity have been recorded in the Volyn and Polissya areas. russian enemy aircraft continue to launch missile and air strikes on targets in Ukraine from the territory of the republic of belarus. According to available information, the aviation units of the Air Force of the russian federation continue to use the Baranovichi airfield. The air defense means of the Armed Forces of the republic of belarus continue to be on duty in an enhanced mode.

In the Sicersky direction, there are no signs of enemy formation of the group to resume the offensive. russian occupiers are taking measures to strengthen the coverage of certain areas of the border. Thus, additional units of the rosguard were deployed to the border zone in the direction of Chernihiv and Sumy oblasts.

In the Slobozhansky direction, russian enemy deployed up to five divisions of the Iskander-M (SS-26 Stone) mobile short range ballistic missile system in the Belgorod region. russian enemy continues to regroup its forces. According to available information, russian enemy brought a battalion tactical group of airborne troops to the territory of the russian federation to restore combat capability due to significant losses in personnel and military equipment. In addition, a battalion tactical group from the 29th Combined Arms Army of the Eastern Military District was moved from the territory of the Belgorod region of the russian federation to the Kharkiv region. The enemy continues air reconnaissance with unmanned aerial vehicles.

russian enemy units attempted to attack the positions of the Defense Forces of Ukraine in the directions of Brazhkivka and Dovhenke. They were unsuccessful, lost and withdrew. russian occupiers also tried unsuccessfully to take control of the main objects of the Velyka Komyshuvakha.

The Defence Forces of Ukraine have restored control over the settlement of Kutuzivka in the Kharkiv region.

In the Donetsk and Tavriya directions, in order to bind our troops and hold the previously occupied frontiers, russian enemy fired on the positions of Ukrainian defence units using multiple rocket launcher systems and artillery almost along the entire line of contact.

russian enemy tried to completely capture Rubizhne, but was unsuccessful, suffered losses and retreated to previously occupied positions.

In the Kurakhiv direction, russian enemy unsuccessfully tried to advance in the directions of the settlements of Solodke and Novomykhailivka.

russian enemy continued to launch air strikes on Mariupol. The main efforts were focused on blocking our units in the area of the Azovstal plant in order to prevent their breakthrough.

In the direction of Donetsk – Zaporizhzhia, the enemy launched an offensive in the direction of the settlements Neskuchne and Vremivka, and had no success. It continues to strengthen the grouping of troops.

Ships of the occupying fleet in the Black and Azov Seas continue to launch missile strikes on the territory of Ukraine, perform tasks to isolate the area of hostilities and conduct reconnaissance.

Attempts to storm the enemy in the areas of the settlements of Oleksandrivka and Tavriyske were successfully repulsed in the Pivdenny Buh direction, Ivanivka and Zahradivka.

We believe in the Armed Forces of Ukraine! Let's win together!

Glory to Ukraine!
Here's today's update from the British MOD: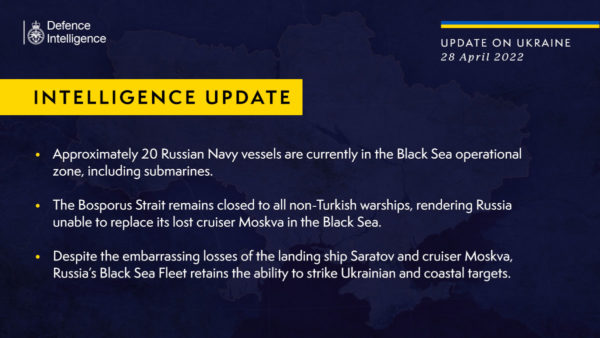 The British assessment is concerning given that Putin's plans including seizing Odesa. Both off shore bombardment from Russia's Black Sea fleet and an amphibious landing are concerns to keep an eye on and out for even if they're unlikely given how far off shore the Russian fleet is staying.
And let me try to get this map thing right tonight!!!!
Here's the map from 25 APR: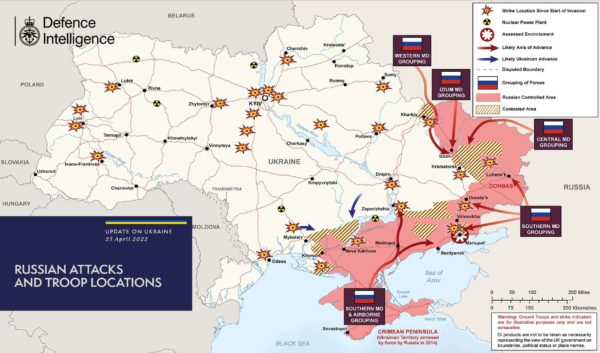 Here's the map from yesterday: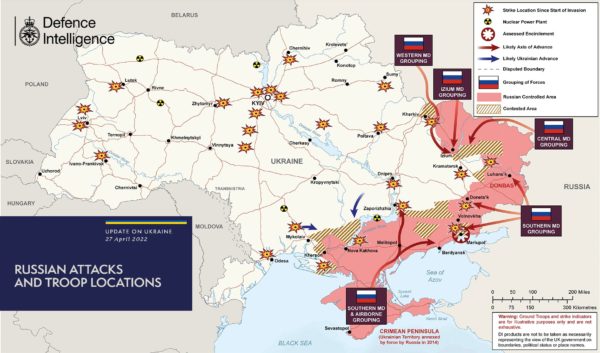 And here's today's map from the British MOD: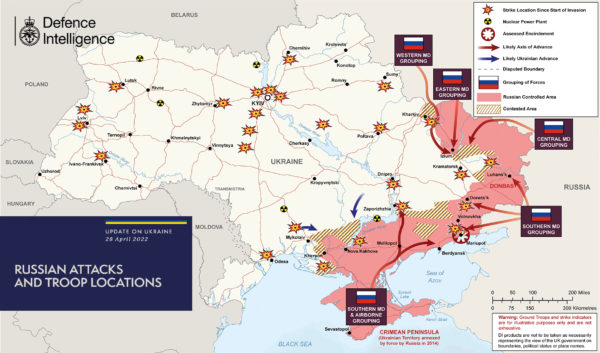 Drum roll please!!!! As you can see, from the 25th through to today, the contested area indicated by the diagonal shading between Izium and Luhansk has gotten smaller and smaller as the Ukrainians have pushed forward and reclaimed territory. They've made significant territorial gains just over the past three days.
My apologies for screwing this up last night. I've taught GIS/mapping to Army analysts, know better, and for whatever reason I wasn't processing what I was seeing.
Here's the transcript of today's DOD backgrounder on Ukraine with a Senior Defense Official (SDO) (emphasis mine):
SENIOR DEFENSE OFFICIAL: Okay, good morning, everybody.

I'm going to try to quick through this because I've got some commitments I've got to do in just a little bit, so I'll try to keep this as brief as I can. But they're — it's been a long time since we did want one of these, so I do have some stuff I want to get through.

We are now on day 63, and on day 63 we can report that there's been more than 1,900 missile launches since the beginning of the invasion. Most of the missile launches and, quite frankly, fixed-wing strikes on Ukraine continue to be happening in Mariupol and in the Joint Force operation area, basically, the Donbas region. That's really where the preponderance of strike activity continues to occur.

Also on day 63, we can report that there are now 92 operational battalion tactical groups from the Russians inside Ukraine, so an increase over the last time you and I had a chance to talk. We would assess that Russian forces are making slow and uneven and, frankly, we would describe it as incremental progress in the Donbas. Some advances east of Izyum and to the south a little bit, but there has been continued pushback by the Ukrainians since, so there's a lot of, still, back-and-forth in the Donbas in terms of territory gained and/or lost by, frankly, both sides. So not a huge difference in the picture on the ground in the Donbas.

The Russians have not overcome all their logistics and sustainment challenges, and we assess that they're only able — because they still haven't solved all their logistics problems — just from a logistics perspective alone, not counting the Ukrainian resistance, which remains active, but just from logistics alone, they're only able to sustain several kilometers or so progress on any given day, just because they don't want to run out too far ahead of their logistics and sustainment lines. So they're limited not only, again, by the fighting and by Ukrainian resistance, but by their still-continued logistics problems.

Let's see — in the south we can report that we have seen Russian forces departing the Mariupol area and moving to the northwest, sort of in the direction of the Zaporizhzhia Oblast. That doesn't mean that we assess that they have Mariupol. As I've said earlier, they are continuing to pound Mariupol with strikes, both airstrikes and missile strikes. You don't do that if you think it belongs to you. But they are moving forces now to the northwest. I couldn't give you an estimate, guys, on, like, how many that is and how far they've gotten. We're just picking up these indications, and I wanted to make sure that, you know, I let you know that. But I'm not able to quantify that. We're just beginning to see them now move some of their forces away from Mariupol and head up towards the northwest.

Let's see. In the maritime domain, the Black Sea fleet combatant ships, warships still remain really off the western coast of Crimea, along with some of their LSTs, their tank landing ships, sort of demonstrating their ability off the coast, but not really doing a whole lot. We think that that's partly because of, they're wary of their own safety, but also a bit of a show of force to potentially try to convince Ukrainian forces that they need to stay near Mykolayiv and Odesa. Again, we've we've talked about this before. The demonstrating against Odesa could be an effort to tie down, to pin down Ukrainian forces so that they can't move further to the northeast. Again, we don't know that for sure. We're not inside the Russian planners' minds, but we think they — what Black Sea activity there is is really meant as a show of force. We're not seeing anything demonstrative from a naval perspective that they're planning on an amphibious assault on Odesa or getting closer to the coast, and, in fact, quite the contrary.

I would like to, just on the — that's kind of it for operational updates. Let me just make sure before I move on that I didn't forget anything. No, I think that's it.

Just on the issue of security assistance, we would now assess that more than 60 percent of the M777 howitzers that were committed in both PDA 7 and 8, so of the 90, have now been transferred to the Ukrainian military in just the last week. And yesterday, the Pentagon press secretary said it was more than 50, and we would say more than 60 percent now have been transferred to Ukraine. The first group of trainers are back in Ukraine. The second group of trainers is now undergoing their training.

It began — let me just make sure I think I got this right.

Yeah, the second course with more than 50 Ukrainian military commenced their six-day training evolution yesterday. So this is day two for that second tranche.

And there is additional training going on outside of Ukraine on the Q-64 mobile radar system that we announced in PDA-7. There's some training going on there. That'll be about a week — again, it's being held outside of Ukraine and there's some training that started yesterday, as well, five day training for more than 50 Ukrainian soldiers on the M113, the armored personnel carrier, just to make sure they're familiar with how to use that — with that system.

So training continues. As we said, you know, it would include howitzers but we also talked about the fact that they would need some familiarization on the radar system. That has started. And on the M113, we also said that would require some training, and that has started. And we'll continue to look at what the iterations need to be on that going forward.

Again, it's outside of Ukraine, small numbers of Ukrainian trainers that will go in and train their colleagues, but it is happening. And I'm not going to detail what country and the locations of where it — this training is happening. That is for those countries to speak to, if they choose.

And I'm not going to detail how many and who the trainers are. Yes, the United States is participating in some of this training, of course we are, but we're not the only ones, and again, I'm not going to speak for every other country.

On the — no, I've already kind of covered the howitzers, that 60 percent of them are basically in there. But other things continue to flow, including — including the 155 artillery rounds. You know, they continue to flow into Ukraine and it's a mix of, you know, some from PDA-7, some from PDA-8.

So I think with that, I think we can start taking questions. And again, I'm going to try to clip through this — we don't have Bob or Lita on the line today, so we'll start with Barbara. Go ahead.

Q: Can you just dive a little deeper into the fighting in the east and the south? A couple of things. You say 92 'operational' BTGs. In your view, what does that mean when you call them "operational"? Are they fully formed? Are they on the move? Are you beginning to see more coordinated, or coordinated at all, air-ground operations that you hadn't seen before? Is there evidence, even though they're still having sustainment, that they are learning? What is the evidence they're learning the lessons of the first phase? Thank you.

SENIOR DEFENSE OFFICIAL: Barb, when we say "operational," we mean that by — at least by Russian definition — and we don't — again, we don't have the metrics that they use to gauge readiness but when we say "operational," we mean these are battalion tactical groups that are are capable of being reinserted into combat.

We can't detail every single one of those 92 and what their readiness is. As they are engaged in the fight, they are taking losses, they are suffering casualties, and so the readiness of these BTGs will change over time.

But what we're saying is that these are 92 functional battalion tactical groups. Again, every battalion tactical group is different, they don't all have the same purpose. We believe that — that's how we're counting it. "Operational" means they can function in a combat environment.

How well they function in a combat environment is, of course, — that's a larger, deeper question that gets to leadership and unit cohesion and morale and logistics and sustainment, and that will change over time, depending on where these guys are inserted and what kind of fighting they're seeing.

We continue to see signs that they are trying to improve some of the challenges that they've had previously in the war — so that they are trying to better integrate air-to-ground operations in the Donbas, but we do not assess that they've fixed all of their problems. Their coordination is still hampered by command and control, which is not optimal yet.

We definitely see the most demonstrative thing we've seen is their attempt to improve logistics and sustainment. I mean, that's pretty much the most obvious thing that we're seeing them trying to learn from.

It started before these operations in the Donbas really kicked up, when they moved in command and control enablers and communication enablers and rotary wing support and artillery, all pre-staged into the Donbas for the troops to fall in on and to be able to utilize, but we still assess that they have not fixed all of those logistics problems.

And we can see that at least one reason why they aren't making a lot of progress — not the only reason but one reason — is that they are still wary of of getting out ahead of their supply lines and getting too far out ahead, like they did north of Kyiv, when they literally just sprinted to Kyiv and then didn't have the backup, didn't have the fuel, didn't have the food, didn't have the spare parts to keep them there. They don't want to make that same mistake.

Now, I I want to stress that the Donbas is a different terrain altogether and their focus now geographically is smaller and more contained in an open environment. So they — just by nature of the ground, they have some advantages that they didn't have north of Kyiv.

I will also add that, talking about ground, as we head into spring here, you know, we know that the weather and the ground conditions — and I mean literally the ground conditions — are going to be an increasing factor.

It's — you know, as it starts to rain more and there's more mud, it will force them to be ever more reliant on paved roads and paved highways and that — that we would expect that some of their progress will be slowed by — frankly, by mud and by weather conditions.

So I don't know if that answered your question but that's where we are.

Q: Thank you — thank you very much.

SENIOR DEFENSE OFFICIAL: Yep. Heather from USNI?

Q: Thank you so much for taking my question. In terms of the Russian Black Fleet staying farther away from Ukraine. What does this do to the Russians' plan for some of the southern border?

SENIOR DEFENSE OFFICIAL: Yeah, it's a difficult question to answer, Heather, because again, we don't have visibility into their planning assumptions. They still have — I mean, let's remember now that certainly they have a presence in Crimea and they have now a presence in the south of Ukraine. It's uneven, to be sure, but they have a presence there, Melitopol and Berdyansk, up near Zaporizhzhya, and out towards Kherson.

And largely, we assess that, you know, while there's still activity in Kherson — I mean, the Russians certainly have a strong presence there. So, as far west as Kherson, they haven't taken Mykolayiv, but as far west as Kherson, maybe, a little bit, beyond that, and as far east as to the north of Mariupol, and then if you go up to the north around Zaporizhzhya, if you, kind of, draw that box, I mean, those are areas in the south that are largely in Russian control. That's not insignificant.

And so what we've seen them do with their Navy in the Sea of Azov is largely two things, one, use their cruise missile capability to strike targets inside Ukraine; and, two, to resupply and reinforce ground forces there.

You know, when we saw the LST sink at the pier in Berdyansk, that was what that LST was designed to do, not put ashore Marines but put ashore, you know, food and ammunition. So, largely, the Navy there in the Sea of Azov is really designed to just resupply their forces in the south.

And then, in the Black Sea, they are not — it is largely show of force activity. They are not really conducting a lot of kinetic maritime activity in the Black Sea. I mean, they're capable of doing some cruise missile launches. But we're just not seeing imminent indications of, like, an amphibious assault or all-out naval barrage on Odessa.

Again, we think the presence in the Black Sea largely is designed to give pause to the Ukrainians that are in the South near Odessa and Mykolayiv, so that they don't leave.
Much, much more at the link!
Earlier this morning more stuff blew up in Belgorod:
BREAKING – Two powerful blasts heard in Russian region of Belgorod bordering Ukraine – two witnesses – Reuters

— Phil Stewart (@phildstewart) April 28, 2022
Well that's a real shame.
Obligatory: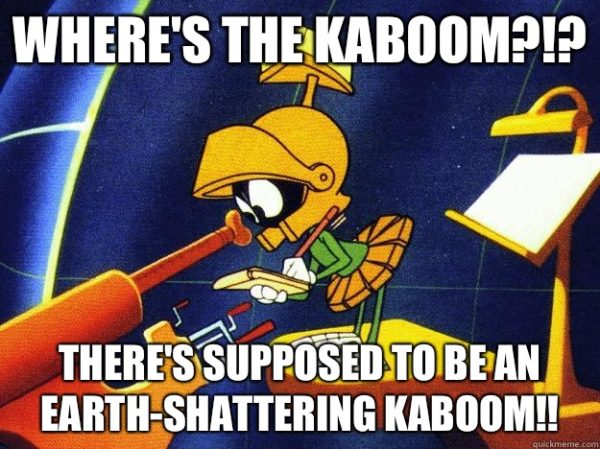 The Ukrainians have also cut the railway bridge connecting Crimea to mainland Ukraine:
Сегодня около 8 утра утра произошла самоликвидация железнодорожного моста в Акимовке Мелитопольского района

Как сообщил спикер Одесской ОВА Братчук, через этот мост оккупанты поставляли оружие и топливо из Крыма. pic.twitter.com/6pDBSyS951

— IgorGirkin (@GirkinGirkin) April 28, 2022
The text in the tweet above reads:
Today, at about 8 am, the self-liquidation of the railway bridge in Akimovka, Melitopol district, took place According to the speaker of the Odesa OVA Bratchuk, the occupiers supplied weapons and fuel from Crimea through this bridge. Image
More Russian agitprop:
This conspiracy has appeared in Russian state-aligned media to justify the war in Ukraine.

But it has older roots. RIA Novosti published an article that warned of this threat during the spring 2021 mobilization, which was authored by genocide advocate Timofey Sergeytsev pic.twitter.com/pzEuebs5d3

— Samuel Ramani (@SamRamani2) April 27, 2022
RIA Novosti appears to be the go to outlet when you need to plant and then launder the Russian agitprop.
Mariupol:
The Russians bombed the AzovStal plant all night. Part of the military hospital collapsed. The video shows that the wounded in the hospital were buried in rubble.
ps I just can't stand it anymore.
I don't understand why we have UN, ICRC etc who can do nothing to help people pic.twitter.com/oSjQU8xZQS

— Oleksandra Matviichuk (@avalaina) April 28, 2022
Makariv:
This is what used to be a brand new primary health care center in Makariv, near Kyiv. Although surroundings are severely damaged by shells, this one, most likely, was directly struck by a larger thing, presumably an air bomb. pic.twitter.com/GSSLAYlasj

— Pavlo Kovtoniuk (@pavlokovtonyuk) April 27, 2022
Kherson:
Unsettling news from Kherson region: farmers are threatened to have their heads cut off if reject giving their vegetables and grain to russian troops for selling in Crimea for low prices. russian officials plan to implement this "practice" in other regions as well 1/3 https://t.co/dMqbKqBGHD

— Anton Gerashchenko (@Gerashchenko_en) April 28, 2022
2/3 You can't help but see parallels with Holodomor, a 1932-33 genocide of Ukrainians, when working people were deprived of the products of their labour and starved to death

3/3 What russians are doing in Kherson directly goes against Geneva convention. Sanction russia now and prevent them from committing even more war crimes!

#UkraineUnderAttack #CancelRussia
And they're not just doing this in Kherson. The Russians have decided to go all in on pillaging Ukraine's agriculture in the areas that they are occupying or operating in!
‼️Russia officially authorizes robbing Ukrainian farmers. Krasnoyarsk legislators permit "expropriation of the surpluss of last year's and this year's harvests of Kherson oblast farmers". — very similar to during Stalin's "requisitions" of food which caused 1932-33 Holodomor pic.twitter.com/92XAmZqgSj

— UkraineWorld (@ukraine_world) April 27, 2022
In Ukraine's South, evidence mounts that Russian troops have been robbing farmers and agriculture companies of their equipment and crops, targeting storage facilities, essentially trying to starve Ukrainians and halt crop exports from Ukraine to places that depend on UA produce

— Myroslava Petsa (@myroslavapetsa) April 28, 2022
Following the good news out of Germany yesterday regarding providing support to Ukraine, today we have equally good news from Bulgaria:
The main party in Parliament, PP, unexpectedly emancipated from the president, said it will vote in favor of direct and open arms sales to Ukraine – to be voted in parliament on Monday.

— Christo Grozev (@christogrozev) April 27, 2022
This is partially the result of Russia stopping gas exports to Bulgaria.
For full disclosure: the head of Bulgarian Special Operations is my former student.
This is an excellent thread, but it has visuals I can't really copy and paste, so click across and give it a read!
Even after Bucha and Mariupol, some people get genuinely surprised when they learn that Ukrainians don't want to talk to Russians or show any signs of brotherhood.

The "brotherly nations" myth is too damn persistent. So let's talk about these attempts to befriend ?? and ??.
? pic.twitter.com/7ABlmFA9DA

— Stas Olenchenko ?? (@TheStanislawski) April 26, 2022
One final serious point: today is Yom HaShoa, Holocaust Memorial Day.
Here is part of the Auschwitz Memorial's thread for today:
Our podcast explains why in March 1942 the Auschwitz concentration camp became – at the same time – an extermination center for Jews. #YomHashoah https://t.co/meJGi1jNEO

— Auschwitz Memorial (@AuschwitzMuseum) April 28, 2022
It would be nice, given what Putin is and is trying to do in Ukraine, if never again actually meant something more than to keep the kids in line at Jewish day school while the teachers were scaring the crap out of them and for political purposes by Israel.
Your semi daily Patron! With kids!!!! The cuteness, it burns!!!!!!!
going to bed in Ukraine is difficult every day. but these shots healed my heart for a moment. does everyone know Patron, dog who is looking for mines? he came from Chernihiv to the children's hospital in the capital

from: https://t.co/pKjrgxlplK#Ukraine #StandWithUkraine️ ?? pic.twitter.com/XQFbokqNUy

— Nana (@avtentychna) April 28, 2022
We'll leave it there for tonight.
Open thread!