Hello, I used to post here until I took a long trip. I'm still traveling, now in the Dakotas.
I hope to write a bit about our travels, but I have to say that one of the oddest experiences we had was visiting Organ Pipe National Monument in Arizona shortly before leaving the US for Baja in January, and then on our return in early April. In January, the rangers were handing out genuine US Grade A 3M N95 masks, and masks were required in all indoor spaces. On our return, masks were "optional," and almost nobody (except the rangers, of course) was choosing that option. Mexico still takes COVID seriously, with universal masking indoors and a fair amount outdoors in larger cities, so it was an uncomfortable transition to say the least.
Well, back home in Western and Central New York, our collective unmasking has led to predictable results: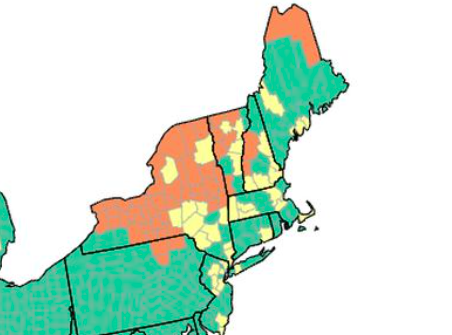 This is the map of COVID risk from the CDC. The orange areas are high risk, and that risk moved quickly:
[O]nly three counties in New York were considered high risk three weeks ago: Onondaga [Syracuse], Oswego and Cayuga counties. The list grew to 10 counties two weeks ago, 23 last week and now 37.

Central New York is clearly the epicenter for the spread, as detailed in a recent New York Times article. Areas with high Covid risk now include three counties in Pennsylvania and eight in Vermont, along New York state's borders; altogether, 50 of the nation's 56 counties with high Covid levels are in New York, Pennsylvania, Vermont and New Hampshire.

[…]

Covid community levels were low enough at the beginning of March that masks weren't recommended in any New York state county, but cases and hospitalizations increased in Syracuse and the surrounding area due to the rise of highly contagious BA.2 variants, the end of widespread mask-wearing, and the waning of vaccines. The state health department said CNY is the first in the U.S. to see "significant community spread" of more contagious omicron strains BA.2.12 and the related BA.2.12.1, which have spread rapidly.
The area where I live in New York (called the "Finger Lakes Region"), just west of Syracuse, is now a high-risk COVID area. There, 71% are fully vaxxed, but only half of that number are boosted. A combination of sloth and "doing your own research" will probably doom more than a few members of my home community to a preventable, miserable death.
Witnessing a "poor, backward country" doing better than our supposedly highly-civilized and certainly rich bastion of civilization shouldn't be such a shock, but here we are. (This is the Mexico risk map from their version of the CDC.)