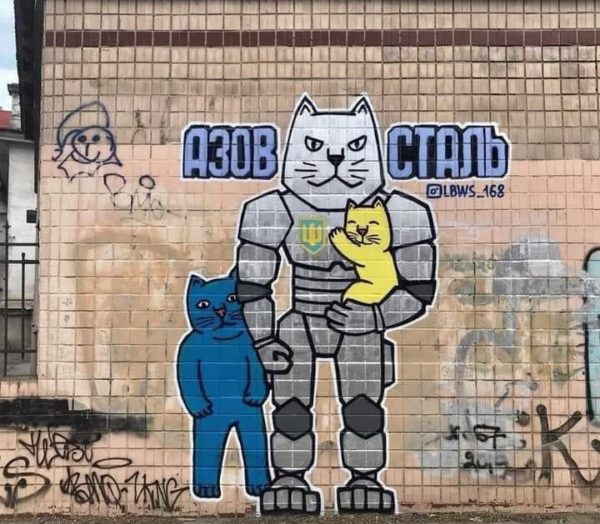 It's been a long week, I'm fried, so tonight's update is just going to be pretty basic.
Let's start with President Zelenskyy's address from earlier this evening. As always the transcript follows the jump (emphasis mine).
Unbreakable people of the bravest country!

The 65th day of our defense is coming to an end. We are beating the occupiers in all directions where they are trying to advance.

The situation in the Kharkiv region is tough. But our military, our intelligence, have important tactical success.

In Donbas, the occupiers are doing everything to destroy any life in this area. Constant brutal bombings, constant Russian strikes at infrastructure and residential areas show that Russia wants to make this area uninhabited. Therefore, the defense of our land, the protection of our people is literally a struggle for life. For Lysychansk, Severodonetsk, Popasna, Kramatorsk, Slovyansk, Marinka and all other cities and communities of Donbas, which Russian troops want to turn into ruins, absolutely everything is being decided in this war.

Only if Ukraine withstands will they live. If the Russian invaders succeed in realizing their plans, at least in part, they will still have enough artillery and aircraft to destroy the entire Donbas. Just as they destroyed Mariupol.

The city, which was one of the most developed in the region, is simply a Russian concentration camp in the middle of ruins. And the order of the occupiers in that part of Mariupol which they unfortunately still control differs insignificantly from what the Nazis did in the occupied territory of Eastern Europe.

But the Russian troops manage to be even more cynical than the Nazis 80 years ago. At that time, the invaders did not say that it was the Mariupol residents and the defenders of the city who shelled and killed themselves.

I am grateful to the United States, President Biden and Congress for an analogue of the famous Lend-Lease program, which will be very helpful in the fight against Russia, against the Russian invaders. Which helped a lot in the fight against the Nazis during World War II.

I am sure that now the Lend-Lease will help Ukraine and the whole free world beat the ideological successors of the Nazis, who started a war against us on our land. Lend-Lease and other programs in support of Ukraine are concrete proof that freedom is still able to defend itself against tyranny.

Today, the Government of Ukraine considered the issue of eliminating the deficit in the fuel market. Queues and rising prices at gas stations are seen in many regions of our country. The occupiers are deliberately destroying the infrastructure for the production, supply and storage of fuel. Russia has also blocked our ports, so there are no immediate solutions to replenish the deficit. But government officials promise that within a week, maximum two, a system of fuel supply to Ukraine will be provided that will be able to prevent a deficit.

This is a difficult task after the Russian missile strike at the Kremenchuk refinery. But government officials along with fuel suppliers, traders and networks must fulfill this task no matter how difficult it may be. I'm sure they will. We must take from the European Union as much fuel as our citizens need now.

Ambassador of the United Kingdom to Ukraine Melinda Simmons returned to Kyiv today.

Currently, 27 foreign diplomatic missions operate in the capital of our country. And this is an extremely important gesture of support for Ukraine, for which we are grateful to all of them.

Such gestures, together with strong defensive, financial and political support from the free world, mean that the need to end the war is becoming more and more obvious to Russia. The defeat of the occupiers is unalterable.

In the temporarily occupied areas of the Kherson region, collaborators say that they are allegedly preparing for the transition to the "ruble zone". Any attempt to transfer our territory to Russia's administrative, monetary, or any other system will mean only one thing: Russia itself will suffer from that. Our responses, sanctions and other reactions of the free world to Russia's aggressive actions will not be delayed.

The dismantlement of debris in Kyiv, where Russian missiles hit yesterday during the visit of UN Secretary-General António Guterres, continues. Unfortunately, such a deliberate and brutal humiliation of the United Nations by Russia was left without a powerful response.

Today it became known that a journalist, an employee of Radio Liberty Vera Hyrych was killed by a Russian missile hitting a residential building in Kyiv. She became the 23rd media representative whose life was cut short as a result of the Russian invasion since February 24. My condolences to all relatives and friends. Eternal memory to all the victims of this war!

Today in the White Hall of Heroes of Ukraine in the Mariyinsky Palace, I presented awards to our defenders and members of the families of fallen warriors. The Order of the Golden Star was awarded to the Heroes of Ukraine: Lieutenant Colonel Serhiy Burkovsky, Captain Vitaliy Hural, Senior Lieutenant Dmytro Dozirchy, Lieutenant Colonel Oleksandr Zuhravy, Colonel Dmytro Kashchenko, Major Oleksandr Kukurba, Captain Oleh Pasichnyk, Lieutenant Colonel Vyacheslav Tsyhankov, Colonel of the Medical Service Oleksandr Sliesarenko, Lieutenant Colonel Leonid Khoda, Colonel Denys Chayuk and Lieutenant General Serhiy Nayev.

Also, three servicemen were posthumously awarded the Order of the Golden Star. I had the honor to hand them over to the relatives of our heroes – Sergeant Volodymyr Balyuk, Master Sergeant Oleksandr Tsyupak, Major Pavlo Sbytov.

It is thanks to our heroes, thanks to all those who stood up for our state, that we can live, can be with our families in our homes.

Glory to all our heroes!

Glory to Ukraine!
The operational update regarding the russian invasion on 18.00 on April 29, 2022

The sixty-fifth day of the heroic resistance of the Ukrainian people to a russian military invasion continues. A russian federation continues its full-scale armed aggression against Ukraine.

russian enemy continues to carry out offensive operations in the Eastern Operational Zone in order to defeat the Joint Forces, establish full control over the territory of Donetsk and Luhansk oblasts and maintain the land route with the occupied Crimea.

In the Volyn and Polissya areas, certain units of the Armed Forces of the republic of belarus continue to carry out tasks to strengthen the section of the Ukrainian-belarusian border in the Brest and Gomel regions. An inspection of the readiness of the aviation component of the regular forces and means of the air defense system of the republic of belarus was noted.

The threat of missile and bomb strikes on the objects of Ukraine from the territory of the republic of belarus remains.

In the Siversky direction, russian enemy, by keeping the appropriate set of troops, is trying to prevent the movement of reserves of the Armed Forces of Ukraine from the Siversky direction to the Eastern Operational Zone. In the areas of the Bryansk and Kursk regions bordering Ukraine, russian enemy deployed part of the units to restore combat capability.

In the future, it is possible that the enemy will demonstrate and provoke in the areas adjacent to the state border of Ukraine. In particular, there is a possibility of shelling of units of the Defense Forces of Ukraine and infrastructure in the border areas.

In the Slobozhansky direction, russian enemy group of the 6th Combined Arms Army, the coastal troops of the Baltic and Northern Fleets is focusing on maintaining positions in the area north and southeast of Kharkiv, trying to deploy additional artillery units.

In the Izium direction, russian enemy is operating with units of the 1st Tank Army, the 20th Combined Arms Army of the Western Military District, the 35th Combined Arms Army, the 68th Army Corps of the Eastern Military District and the Airborne Troops. The russian enemy's main efforts are focused on conducting reconnaissance and inflicting fire damage on units of the Armed Forces of Ukraine.

To ensure additional transfer of troops in the Izyum direction, russian occupiers provide additional pontoon-bridge crossings across the Siversky Donets River.

In the Donetsk and Tavriya directions, enemy units are trying to launch an offensive in the Lyman, Severodonetsk, and Popasna directions. russian enemy continues to try to establish full control over the settlements of Rubizhne and Popasna and is preparing to advance on Severodonetsk. russian enemy continues artillery shelling of our troops.

In the Kurakhiv direction, the occupiers' groups were reinforced by additional artillery units from the 1st Army Corps.

In the Mariupol direction, russian enemy continued to launch air strikes on Mariupol. It focused its main efforts on blocking the units of Ukrainian troops in the area of ​​the Azovstal plant, and also transferred some units from the Mariupol to the Kurakhiv direction.

russian enemy continues to launch air and missile strikes to destroy civilian infrastructure and disrupt the logistics of our troops. In order to clarify the position of the units of the Defense Forces of Ukraine, russian enemy conducted air reconnaissance using the Orlan-10 UAV. It continues to lose this reconnaissance equipment.

In the South Buh and Bessarabian directions, russian enemy is trying to fight with the available forces in order to improve its tactical position. Continues to regroup, increases the system of fire damage, improves the engineering equipment of positions.

As part of the increase in the system of logistics of the troops, russian occupiers deployed assembly points for damaged vehicles and points for repair and restoration of equipment.

In the transnistrian region of the Republic of Moldova, russian federation continues to disseminate information through pro-kremlin media about the threat to the population of the region from Ukraine. In particular, there are reports of another case of Ukrainian UAVs being used over ammunition depots.

Defenders of Ukraine hold certain defensive lines, destroy the enemy, continue to move deep into the occupied territories and liberate settlements.

We believe in the Armed Forces of Ukraine! Let's win together!

Glory to Ukraine!
Here's today's updated assessment from the British Ministry of Defense.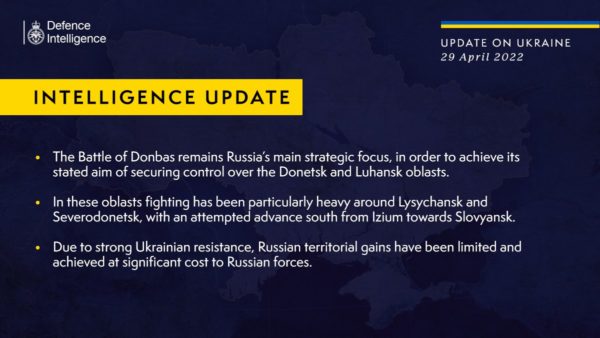 And here's their map for today: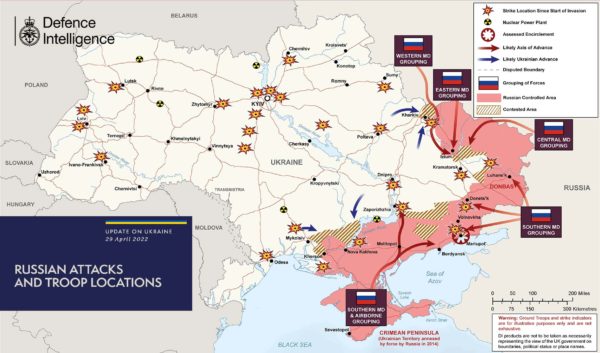 As you can see there is even less contested space in that horse shoe shaped area between Izium and Luhansk than there was yesterday.
Here's the transcript from today's background briefing by the DOD (emphasis mine):
SENIOR DEFENSE OFFICIAL: Okay, good morning, everybody. Thanks for hanging in with me and happy Friday to you all.

We'll — we'll go through some operational stuff first — not a whole lot of changes — and then I'll — I'll shift from that to — to the security assistance and — and the training piece. Again, not a whole lot of updates from yesterday, and then we'll get to your questions.

So here we are on day 64. We've observed more than 1,950, now, missile launches. I would tell you that the — the — the preponderance of strikes still are in the JFO and Mariupol, and I would add that in Mariupol, what we're seeing, a predominance of the ordinance being dropped is dumb ordinance, not precision-guided, and — and we think that that speaks to challenges that the Russians are having with PGM replenishment.

We have also observed, as you guys have all seen, you know, some increasing strike activities in central Ukraine, including Kyiv, as — as well as Western Ukraine, including Odesa and the Odesa area. Again, I — I want to be careful here. We — we don't have perfect visibility into Russian targeting and — and the Russian mindset as to everything they're doing. But in general, what we think they're trying to do is get at the ability of the Ukrainians to — to replenish their own stores and to reinforce themselves.

So for instance, we're seeing at — at least attempted attacks on — on electrical power facilities, perhaps because the Russians believe if they can knock out some electricity, they can affect the ability of trains, for instance, to move. So it — it's — it's not a perfect picture. For instance, in Kyiv, some of the strikes in Kyiv we believe were meant for — for military production capabilities. Now, I know that there's reports that they hit residential areas. We have no reason to doubt that they did, but we don't believe at 100 percent certain that they meant to hit residential areas. In other words, they could have been misses.

The — the strikes around Odesa are a little bit more difficult to discern exactly what they're doing there. We still don't see any — any amphibious move on Odesa, or any ground move on Odesa. Again, it could be of a piece — could be of a piece of their efforts to try to pin down Ukrainian forces in the area between Odesa and Mykolaiv so that they can't come to the assistance of their colleagues further in the east in the Donbas area. We — we're not 100 percent sure. I don't want to own their thought process; I'm just trying to give you what we — what we kind of think.

Now, in the Donbas area, again, still fighting over in — in various different locations. We believe that essentially what they're doing is — is continuing to set conditions for a sustained and larger and longer offensive; that I am not suggesting that offensive hasn't begun. Of course, they've begun. There is fighting there. But we still think that it is of a piece of their trying to set the proper conditions for — for sustained offensive operations.

They have made some — the Russians now have made some incremental, uneven and slow advances to the southeast and southwest of Izyum. They appear to be advancing toward towards Sloviansk and a place called Barvinkoe. They continue to use — and this is, again, we've talked about this before, given what we expected them to do in the Donbas and — and the importance of long-range fires, but what we see them doing is using artillery and some airstrikes in advance of their ground movements. And so their ground movements are fairly plodding because A, the artillery and airstrikes that they are launching against Ukrainian positions are not having the effect that they want them to have. The Ukrainians are still able to resist a number — and — and B, they're still a little wary of getting out ahead of their supply lines. They don't want to make the same mistakes that they've made in Kyiv, and so we think they're — they're making this sort of plodding, uneven progress, but it is very doctrinal in its approach: launch airstrikes, artillery strikes in advance of — of ground movements, and then only — only then, when you think you've softened up the Ukrainian lines do you start to move your ground units. But they're running straight into stiff Ukrainian resistance. So that's why we think this progress has been slow and uneven still over the last 24 hours.

We also assess that because of this slow and uneven progress, again, without perfect knowledge of every aspect of the Russian plan, we do believe and assess that they are behind schedule in what they were trying to accomplish in the Donbas. We still believe that — that they want to — that — that they want to press the Ukrainians from three — from three directions: from the east, where they already have Russian forces in the — the — the eastern part of the Donbas region and have had for eight years; from the north, we just talked about that coming out of Izyum; and then from the south coming out of Mariupol. I do not have today a — a number of how many troops have left Mariupol and are moving north. I — I know I'm going to get asked that question. I'm trying to get ahead of you here. I don't have that number, but we still assess that they are moving forces, trying to move north out of Mariupol and so that they can approach the Ukrainian Armed Forces from that southerly direction. But again, we would assess that their progress in doing so has been slow and uneven, and certainly not decisive in any — in any event.

Today, we believe that they — they still have 92 operational BTGs in Ukraine, but that doesn't mean, as I said yesterday, that these are all — BTGs are full-up rounds. Yes, they're operational. They're capable of — of conducting combat operations, but as I said yesterday, we believe they have suffered attrition. They have suffered losses. Not all these BTGs are — are at 100 percent capability, and we also assess that part of this is not — is — is obviously, the — the fighting that's going on, but also because, you know, they — they were fairly rushed in reinforcing some of these units into the east. You know, we — we talked a couple of weeks ago about how they are moving troops out of Kyiv and Chernihiv and — and they were to move them to the east to Velykyi and to Belgorod and refit them and resupply them. And that happened, but it happened at a fairly clipped — a fairly-fast clip, and — and so we don't assess that every BTG that was put back in was put back in even at full strength. So just something to — to note.

They, again, they're trying to overcome, you know, some of those challenges they had. We've said that before, but it is absolutely not clear that they have solved all their problems, and so we would not assess that — that they — that they — that they have everything in place that they need to be fully-successful. That's it. Of course, they have a numeric advantage and they are concentrating more force in a smaller geographic area, so we have to take that into account. And again, the Ukrainians are putting up a strong resistance throughout the — throughout the area.

There's absolutely nothing to update in the maritime environment. I'm not even going to go through all the details with you, cause there's really nothing changed from yesterday. So I'm not going to waste your time with that.

And on security assistance, still a — still a little bit more than 60 percent now of the howitzers have transferred to — into Ukrainian military hands. That's not a change from yesterday, it's about 60 percent, but there's been no numeric changes from yesterday.

Let's see. Got about — you know, the — the — the 155 artillery rounds continue to — to flow into Ukraine, even over the last 24 hours, and more and more are getting into the region for further shipment into Ukraine, but that — that — they are arriving in there.

In the next 24 hours, more than a dozen flights are expected from the continental United States and — and that will include howitzers, more 155 rounds, some of those Phoenix Ghost UAVs, and — and even some of the radars that we talked about. So the — that's on PDA-8, and like I said, more than a dozen flights expected in the next 24 hours.

In — let's see — see if I can find anything else interesting in here. I would say in the last 24 hour, there have been almost 20 deliveries via airlift from seven different nations that have been received in the region at multiple locations, with — with everything from mines to — to small caliber rounds and rockets, 122 millimeter rockets, helmets, body armor, 155 — I'm sorry, that's from the United States — but so lots of things coming in from other nations as well.

On the training side, we've got that second class of more than 50 Ukrainian military. They're — they're now, I think, in day three of their training outside Ukraine. There's additional howitzer training for more additional Ukrainians, almost 100 more getting howitzer training at — at a different location outside Ukraine.

The — there are about 15 Ukrainians that are now in day two of a week-long course on the Q-64, and about 60 of them are — commenced training yesterday. As I said on the M113, that — that'll be broken up, that's a the five day thing. You've got about three days that are dedicated to maintaining that — that piece of gear and two days dedicated to learning how to drive it. So that's about a five day thing and it began yesterday.

And I think I'll stop there and we'll take questions. Let's see. Lita, you're on.

Q: Hi, thanks. One quick question on the American who was apparently killed in Ukraine, Joseph Cancel Willy (sic) — or Willy Joseph. Do you have anything more on him or — and I know you had very little visibility into Americans that may have gone over there to fight but is — is there anything you are gleaning on — on that?

And then just a broader question on the training, is the U.S. helping to facilitate the movement of the Ukrainian soldiers to training? And just give us a — sort of a — a better picture of — I know you don't want to say where it's happening but sort of how this is being sort of constructed?

SENIOR DEFENSE OFFICIAL: Yeah, so on the — on the — on the individual killed, Lita, we don't have any information on — on him, we — we — we just don't. We have — we have no way of tracking individual Americans that decide to — to go fight in Ukraine.

I — let me just say what I — you know, our — our — our thoughts and — and — and prayers go out to his family. We understand from press reporting that — you know, that he — that he was married and — and had a — a — a young child, and that's — that's just horrible — horrible news for any family to get. And — and the — and the Department of Defense sends its deepest condolences to all his family and — and loved ones.

We — we continue to urge Americans not to go to Ukraine. It is an active war zone. This is not the place and it's not the time for Americans to travel to Ukraine, no matter how altruistic they may be. Now, what we would encourage Americans to do is contribute to any number of non-governmental and non-profit organizations that are trying to contribute to humanitarian assistance there — Red Cross is a great example. If you want to help Ukraine as a private citizen, that's the best way to do that.

On your other question, without getting into too many specific details — and I'm not going to if pressed — I'm just not going to go there, guys — but yes, we have, in — in many cases, helped with the transportation of Ukrainian soldiers to training sites, not helping them get out of Ukraine.

So I do not want to leave you with the impression that we're going into Ukraine and we're flying — we're transporting Ukrainian soldiers out of the country. That is not happening. But once they are out of the country, in the past, in certain circumstances, we have helped get them to their training locations and we will assist in — in getting them from those training locations back to a position where they can reenter Ukraine.

We are not — not transporting soldiers from inside Ukraine out of Ukraine. We — as the President said, there's not going to be any U.S. forces fighting in Ukraine, and so we are not — we are not participating in that, but we are helping with their — with — with some of the transportation to get them to — to training locations.

But again, let me just stress, that transportation starts and ends outside of Ukraine. Does that answer your question?

SENIOR DEFENSE OFFICIAL: Yeah. Okay, Phil Stewart?

Q: Hey. There was a German magazine report saying that U.S. special forces were inside Ukraine training Ukrainians on urban warfare techniques. Just double-checking, are there any — has there been any change to the disposition, the idea that U.S. forces are allowed or not allowed to go into Ukraine to do training?

Thanks.

(AUDIO GAP)

Q: We can't hear anything, by the way.

SENIOR DEFENSE OFFICIAL: Can you guys hear me now?

Q: Now we can.

SENIOR DEFENSE OFFICIAL: Hello?

(CROSSTALK)

SENIOR DEFENSE OFFICIAL: — what the hell happened there. Phil, did you get my answer?

Q: No, no, no, no. I thought maybe the question was, like, you know, a — a shocker and the systems went down.

SENIOR DEFENSE OFFICIAL: No, it wasn't a shocker. I guess the system screwed up. What I was saying is there are no U.S. forces training in Ukraine.

Q: Thanks so much.

SENIOR DEFENSE OFFICIAL: Okay. Eric Schmitt?

Q: Two questions. You said in your introductory comments that the Russians are behind schedule in what they're trying to achieve in the Donbas. How far behind schedule are they, in your estimate? And what had the Pentagon — what have they thought they would have been able to achieve by this point? Then I've got a — one more question.

SENIOR DEFENSE OFFICIAL: I'd say, just in general, we'd assess, cause it's different on every line of — of approach, Eric, but I think you're — be fine if you said that we believe they're at least several days behind where they wanted to be. But again, it varies on the line, whether it's from the north or the south.

And we — we believe that they — they — they meant to be much further along, in terms of a total encirclement of Ukrainian troops in the east, and they have not been able to link north with south. In fact, they're nowhere close to linking north with south as the Ukrainians continue to fight back.
Much more of the Q&A at the link!
For those wondering, this is the Marine vet who was killed fighting in Ukraine:
JUST IN: American killed while fighting in Ukraine. https://t.co/h7mYwjuQLP pic.twitter.com/3tVc5Sd7BR

— ABC News (@ABC) April 29, 2022
So several interesting bits of information in the DOD backgrounder today. I think the most interesting for me is the assessment that the Russians aren't moving quickly because they aren't able to in the east and, as a result are behind what the US has assessed as the Russian's timetable or schedule for conducting the Donbas campaign. This last answer in the Q&A I highlighted is to me the real key takeaway: the Russians are nowhere close to actually encircling the Ukrainian Joint Force Operation. That is very good news!
Another oil depot went up in flames in Russia early in the morning:
There's a fire at an oil depot in Russian-occupied territory in Donetsk. https://t.co/pwYtAuVHKl pic.twitter.com/7GUaGteWkQ

— Rob Lee (@RALee85) April 29, 2022
Such a shame…
Russian forces are also getting into deadly fights with each other. From Ukrayinsky Pravda:
Russian troops from Buryatia [a republic in the Far East of the Russian Federation] and from Chechnya [or the Chechen Republic – also part of the Russian Federation] exchanged fire in the Russian-occupied village of Kyselivka, in the Kherson Region.

Source: Chief Intelligence Directorate of the Ministry of Defence of Ukraine, on Telegram

According to Ukrainian Intelligence: "Soldiers of the Russian Federation from Chechnya and Buryatia shot at one another in the occupied Kyselivka (Chornobaivka municipal territorial community, Kherson Region).

Over 50 soldiers on each side took part in last night's shoot-out. The exact number of casualties and fatalities is currently unknown.

One of the reasons for this ethnic conflict is the reluctance of the Buryat soldiers to conduct offensive operations and their perception of the "inequality" of their circumstances compared to those of the Chechen soldiers. The latter are never on the frontline – they always remain in the rear as "barricading detachments." Their task is to ensure the units of [Russian] occupying forces maintain active military action. That is, to open fire on those [Russian troops] who are trying to retreat."

Details: Ukrainian intelligence believes that the conflict may have been caused by Buryat soldiers' dissatisfaction with the distribution of property looted from Ukrainians. It seems that all the booty was taken by the Kadyrovites [the Chechen troops], so the Buryat troops decided to initiate a redistribution.

The Chief Intelligence Directorate of the Ministry of Defence of Ukraine also reported a similar conflict between commanders and privates in the occupied village of Fedorivka in Zaporizhzhia. Supposedly, lower ranked soldiers feel cheated because they were promised to take part in hostilities similar to the 2014 Russian occupation of Crimea – without resistance.
More at the link!
Obligatory: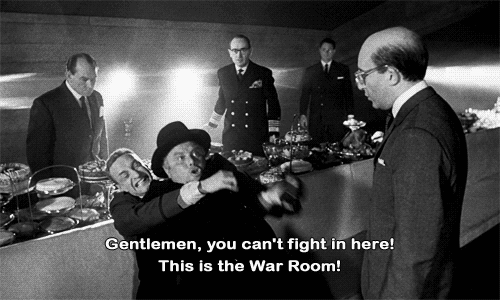 Speaking of tensions amongst the Russians, from The Washington Post:
In the two months since Russia invaded Ukraine, the silence — and even acquiescence — of the Russian elite has started to fray.

Even as opinion polls report overwhelming public support for the military campaign, amid pervasive state propaganda and new laws outlawing criticism of the war, cracks are starting to show. The dividing lines among factions of the Russian economic elite are becoming more marked, and some of the tycoons — especially those who made their fortunes before President Vladimir Putin came to power — have begun, tentatively, to speak.

For many, the most immediate focus has been their own woes. Sweeping sanctions imposed by the West have brought down a new iron curtain on the Russian economy, freezing tens of billions of dollars of many of the tycoons' assets along the way.

"In one day, they destroyed what was built over many years. It's a catastrophe," said one businessman who was summoned along with many of the country's other richest men to meet Putin on the day of the invasion.

In interviews, several Russian billionaires, senior bankers, a senior official and former officials, speaking on the condition of anonymity for fear of retribution, described how they and others had been blindsided by their increasingly isolated president and feel largely impotent to influence him because his inner circle is dominated by a handful of hard-line security officials.

The complaints aired in public so far are mostly muted and focused primarily on the government's proposed economic response to the sanctions imposed on Russia by the West. No one has directly criticized Putin.
Much more at the link!
Mariupol:
Pope Francis reached out to Putin three times asking to allow the ship with a Vatican flag to evacuate civilians trapped in Mariupol's Azovstal steel mill, but all three times his requests were rejected, according to the Italian newspaper Il Messaggerohttps://t.co/DobXFvU8SH

— Olga Tokariuk (@olgatokariuk) April 29, 2022
Volunteer Halyna Odnoroh: a resident of #Mariupol and his dog Zhuzha have walked on foot to Zaporizhzhia for five days. They walked under shellings & amongst mines. That's what "a russian green corridor" looks like #SaveMariupol #Azovstal pic.twitter.com/9UE0IyLEhV

— Olena Halushka (@OlenaHalushka) April 29, 2022
14-year-old athlete Alina Perehudova and her mother died in Mariupol as a result of shelling by Russian occupation forces, the local city council reported.

At her age, the girl already achieved considerable success in weightlifting (national gold) & had high hopes for the future pic.twitter.com/DnC6GoLQ1Y

— Hromadske Int. (@Hromadske) April 29, 2022
⚡️Mariupol Couple made a video- an appeal in sign language,The couple still remain tere-Their apartment burned down they are forced to live in the basement. They want to leave for Zaporizhzhia, they don't know how to do it – they don't hear anything are cut off from information. pic.twitter.com/sgxlcBp0XS

— Lyalya Ukraine (@lyalyaHorsky) April 29, 2022
Mykolaiv:
russians damaged the centralized water supply system in #Mykolayiv. It's impossible to repair it now as the shellings of the area would never stop. The humanitarian situation there is complicated, people are forced to collect rain water or water from ponds
Photos: Ukraine Now pic.twitter.com/AdfpUa574E

— Olena Halushka (@OlenaHalushka) April 29, 2022
Melitopol:
⚡️Mayor: Russian forces begin mass abduction of people in occupied Melitopol.

According to Ivan Fedorov, two weeks ago, Russian occupiers began illegally conscripting men of military age. But recently, Russians have started to kidnap them from checkpoints en masse, he said.

— The Kyiv Independent (@KyivIndependent) April 29, 2022
Kyiv:
this is vira hyrych, a ukrainian journalist. she was killed by yesterday night's russian airstrike at her own kyiv apartment pic.twitter.com/ahyoOAHtNa

— maksym.eristavi ???️‍? (@MaximEristavi) April 29, 2022
Russian state backed media is still running father to extreme than Putin:
Russian TV keeps threatening nuclear strikes against Western nations, desperately trying to deter them from continuing to help Ukraine. On a side note, this is the first state TV host who doesn't seem to be eager to die for the Motherland, arguing with a trigger-happy lawmaker. pic.twitter.com/PBvBP5V1lk

— Julia Davis (@JuliaDavisNews) April 28, 2022
Military expert on state TV talks about "filtration camps" for POWs, with just one facility "set up to accept 100,000." With such large numbers, they're obviously talking not just about POWs, but Ukrainians at large who don't welcome Putin's invasion. How many camps are there? pic.twitter.com/X8IE7ob2oD

— Julia Davis (@JuliaDavisNews) April 30, 2022
One day earlier: https://t.co/ULgPPcWxxK

— Julia Davis (@JuliaDavisNews) April 30, 2022
While it doesn't appear they were targeted, the Russians did target the railways in western Ukraine on the same day that Secretaries Austin and Blinken traveled to and from Kyiv by train.
Professor Jason Stanley, who is a specialist on fascism as a political philosophy, has a long read on Russia, genocide, and Ukraine at Project Syndicate:
EW HAVEN – The crime of genocide involves a proven attempt to destroy, "in whole or in part," a national, ethnic, racial, or religious group – to erase all traces of it, culturally and physically. This objective is pursued through methods including mass murder, rape, kidnapping, and involuntary abortion and sterilization. While children may be re-educated to adopt an entirely new identity, their old culture will have been systematically erased from books and other media, the goal being to deny that their ancestors ever existed at all. When we think of genocide, we of course mourn the victims. Beyond the unspeakable physical violence, the erasure of identities – the rendering of entire peoples into myth – is deeply tragic. But this phenomenon can be fully understood only by looking at it from the perpetrators' perspective, too. Genocide has played an instrumental role in many countries' national histories. And sometimes it is the result of a people's conscious and willing decision to identify themselves – to define the very essence of their nationhood – in terms of the elimination of another group. I want to hold up an empathetic mirror to some of genocide's worst perpetrators. I want to speak about the lasting harms done to the peoplehood – the sense of community and group identity – of those who commit genocide specifically as an expression of their own nationality. I want to focus on the special status of such legacies.

Rationalizing the Irrational

What can lead a people to tie their national identity to the explicit genocide of another people? By definition, genocidal rhetoric singles out a specific social group and justifies its eradication. An "antagonistic ideological social group" is a cohort whose self-definition involves a strongly negative collective response to another group. Genocidal speech creates the most extreme kind of antagonistic ideological social group, nurturing this negative emotional attunement in a specific way. By advancing false narratives about history, it defines the targeted group's essence as an existential threat. A "genocidal antagonistic ideological social group" is thus one whose identity is based on the notion that its own existence is imperiled by that of another group.

Justifying enthusiastic, open genocide is a complicated process, and these highly abstract concepts are central to understanding it. But examples can make the abstract concrete. On April 3, 2022, the official Russian press agency RIA Novosti published an article titled, "What Should Russia Do with Ukraine?" The historian Timothy Snyder has aptly described this text as "Russia's Genocide Handbook," noting that it is "one of the most openly genocidal documents I have ever seen." As a pre-eminent historian of mass killing, Snyder's assessment carries weight. It indicates that we are dealing with one of the most explicit examples of genocidal speech that has ever been written. From the outset, Russian President Vladimir Putin has justified his war in Ukraine as a campaign of "denazification." The handbook fleshes out this justification in disturbing detail. After describing Ukraine as "the enemy of Russia and a tool of the West used to destroy Russia," it develops an elaborate argument to support this claim. Readers are told that the West has abandoned its traditional European values in favor of "Western totalitarianism, the imposed programs of civilizational degradation and disintegration, the mechanisms of subjugation under the superpower of the West and the United States." Viewed in these terms, Russia is "the last authority in protecting and preserving those values of historical Europe (the Old World) that deserve to be preserved and that the West ultimately abandoned, losing the fight for itself." In a 1935 speech, "Communism with the Mask Off," Nazi propaganda minister Joseph Goebbels describes the threat of Bolshevism in similar terms, albeit with Jews as the target. "In its final consequences," he warned, "it signifies the destruction of all the commercial, social, political, and cultural achievements of Western Europe, in favor of a deracinated and nomadic international cabal which has found its representation in Judaism." Just as Goebbels portrayed the Nazis as the protectors of the West's traditional values against a cosmopolitan, decadent ideology, so, too, does the current Russian leadership promote its vision of a timeless and indestructible Russkiy Mir.

Russia's New Identity

"What Should Russia Do with Ukraine?" offers a pseudo-historical litany of the grave wrongs that Russia has suffered at the hands of the West. "Russia did everything possible to save the West," it proclaims, but "the West decided to take revenge on Russia for the help that it had selflessly provided." In this telling, Ukraine is the primary tool of Western treachery, and the country's identification as an independent nation reflects the ascendancy of "Ukronazism." This, we are told, is an especially bad version of Nazism: "Ukronazism poses a much bigger threat to the world and Russia than the Hitler version of German Nazism." Ukrainian identity is an "anti-Russian construct that has no civilizational substance of its own." Its central feature – the essential nature of the Ukrainian nation – is its antagonism toward Russia. Thus, "unlike, for example, Georgia or the Baltic States, history has proved it impossible for Ukraine to exist as a nation-state, and any attempts to 'build' such a nation-state naturally lead to Nazism."

The document then describes all the practices that constitute "denazification" of Ukraine. They include "mass investigations" to uncover personal responsibility for "the spread of Nazi ideology" (Ukrainian sovereignty) and "support for the Nazi regime" (the duly elected Ukrainian government and its appointed officials). The punishments for these transgressions include forced labor, imprisonment, and death. Denazification also requires "the seizure of educational materials and the prohibition of educational programs at all levels that contain Nazi ideological guidelines" (anything mentioning Ukrainian identity). In focusing on Russia's historical role vis-à-vis the West, the document offers a new conceptualization of Russian identity. Specifically, it defines Russians as a genocidal antagonistic ideological social group. To be Russian is to be committed to the total annihilation of Ukraine and the Ukrainian people. The "denazification" of Ukraine is the purest expression of Russian identity. According to its logic, Russian identity is best exemplified in acts of brutal and violent revenge. To justify Russia's actions in Ukraine requires changing what it means to be Russian, by inscribing genocide into the national identity. To be Russian is to revel in the eradication of Ukraine. The cost of this change will be borne by all who identify as Russian, forever.
Much, much, much more at the link!
The Wall Street Journal also has a deep dive on Russian disdain for Ukraine by Ukrainian journalist Yaroslov Trofimov:
As a young poet in the Soviet Union, Joseph Brodsky was persecuted by the authorities before escaping to the U.S. in 1972 and going on to win the Nobel Prize in literature. In Soviet-era Kyiv, Ukrainian intellectuals used to trade coveted samizdat reprints of Brodsky's poems, reciting them at clandestine gatherings.

But the affection wasn't mutual. At a reading in 1992, less than a year into Ukraine's existence as an independent nation, Brodsky offered a new poem titled "To the Independence of Ukraine." "Farewell khokhols," he intoned, using a racial slur for Ukrainians. "We've lived together, now enough. Wish I could spit into the Dnipro river, perhaps it would now flow backwards." Brodsky went on to predict that when the ungrateful Ukrainians were wheezing on their deathbeds, they would surely revert to reciting the verse of the classic Russian poet Aleksandr Pushkin, rather than the "lies" of their own national poet, Taras Shevchenko.

The idea that Ukrainians aren't a real people and that Ukrainian nationhood is an artificial construct has long been mainstream in Russian culture, literature and politics—including among liberal luminaries like Brodsky, who died in 1996. President Vladimir Putin's views on Ukraine, which he expounded in an essay last year that was read to Russian soldiers preparing for the invasion, are no outlier. They follow a lengthy tradition that helps to explain the continuing support for the war among Russia's citizens.

This blind spot dates to the beginnings of the modern Ukrainian quest for sovereignty more than a century ago. "The Russian democrat ends where the Ukrainian question begins," said Ukrainian writer and playwright Volodymyr Vynnychenko, who served as prime minister of the short-lived Ukrainian National Republic in 1917-18. It has become one of the best-known phrases in Ukrainian politics.

The tradition of Russian hostility to Ukrainian aspirations comes in two strands. One simply denies the existence of Ukrainians as a people distinct from Russians. That was the line adopted by the Russian Empire for much of the 19th century, when it banned books in Ukrainian and the very term Ukraine, calling the region "Little Russia" instead. Another strand holds that while Ukrainians do in fact have their own identity and speak their own language, at least half the territory of present-day Ukraine really belongs to Russia and was unfairly pried away by the Soviet Union's founder Vladimir Lenin.

That was the view of the Russian novelist and former political prisoner Alexander Solzhenitsyn, another Nobel laureate, who was exiled by the Soviets in 1974 and returned to Russia in 1994. He initially expressed understanding of Ukrainian suffering. "We should prove the greatness of our nation not by the sheer size of our territory and the number of peoples in our care, but by the greatness of our actions," he wrote in his 1968 classic, "The Gulag Archipelago," describing encounters with Ukrainian political prisoners.

But after Ukraine's independence turned from a distant and unlikely prospect to reality, Solzhenitsyn adopted a different tone, one that Mr. Putin replicated in his essay last year. In a 2006 interview with Moskovskiye Novosti newspaper, Solzhenitsyn argued that southern and eastern Ukraine, the Crimea and Donbas have never belonged to historical Ukraine, and that the country was being dragged into NATO against the will of the inhabitants of these areas. "Under all these conditions, Russia can under no circumstances dare to betray the multimillion Russian population of Ukraine, renounce our unity with them," he said.
Much more at the link!
Your semi daily Patron:
Meet Patron, the Ukrainian dog clearing explosive devices to save his country https://t.co/JlFz3ciDcJ via @FacebookWatch

— ✨Holly Ledford?‍⬛??-I Stand With Ukraine?? (@MoonSeduction) April 30, 2022
Your semi daily Chef Jose Andres:
Today the @WCKitchen team visited 24 liberated villages north of Kyiv…taking 9 trucks with over 3,000 food bundles for families! So amazed by our Ukrainian Food Fighters making sure nobody is left behind…even in hard to reach areas like this! #ChefsForUkraine ?? pic.twitter.com/WnIENqohp1

— José Andrés (@chefjoseandres) April 29, 2022
Open thread!