The COVID pandemic is not over and it is unlikely that the United States will ever eliminate it, top U.S. infectious disease expert Dr. Anthony Fauci said, explaining why classical herd immunity is improbable pic.twitter.com/mMvzS4bjQs

— Reuters (@Reuters) April 29, 2022
… The FDA said it plans to convene its outside panel of vaccine experts on June 8, 21 and 22 to review applications from Moderna and Pfizer for child vaccines. The dates are not final and the FDA said it will provide additional details as each company completes their application.

Currently, only children ages 5 or older can be vaccinated in the U.S. with Pfizer's vaccine, leaving 18 million younger tots unprotected.

On Thursday, Moderna submitted data to the FDA that it hopes will prove its two low-dose shots can protect children younger than 6. Moderna has filed FDA applications for older kids, but the FDA hasn't ruled on them. It's not clear if that data for older children will be considered at the June meetings.

Pfizer is soon expected to announce if three of its even smaller-dose shots work for the littlest kids, months after the disappointing discovery that two doses weren't quite strong enough.

While questions have swirled about what's taking so long, FDA regulators have emphasized that they can't evaluate a product until a manufacturer completes its application. Moderna still has to submit additional data to complete the process, the FDA noted Thursday.

On Monday, a top House Democrat requested a briefing from FDA on the status of vaccines for children after media reports that the FDA was considering delaying its work on Moderna's application to jointly review it with Pfizer's at a later date.
U.S. COVID update: Daily cases continue to rise, highest since March 1

– New cases: 84,365
– Average: 58,033 (+1,514)
– States reporting: 36/50
– In hospital: 15,866 (+87)
– In ICU: 1,855 (-15)
– New deaths: 489
– Average: 340 (-45)

More data: https://t.co/YDZSbYO7l7 pic.twitter.com/4MRHuDeczB

— BNO|Medriva Newsroom (@medriva) April 30, 2022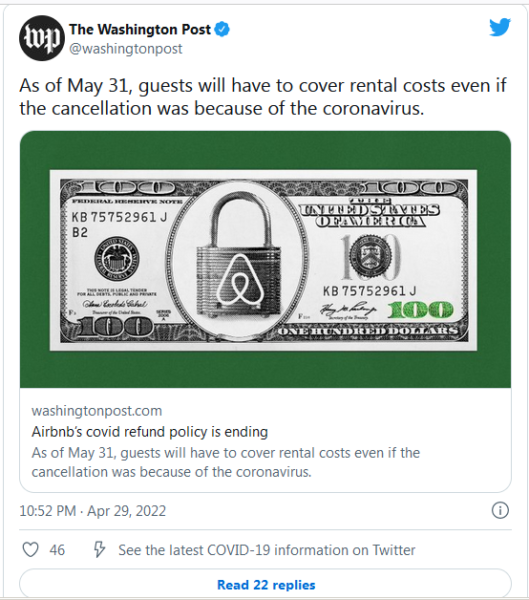 ======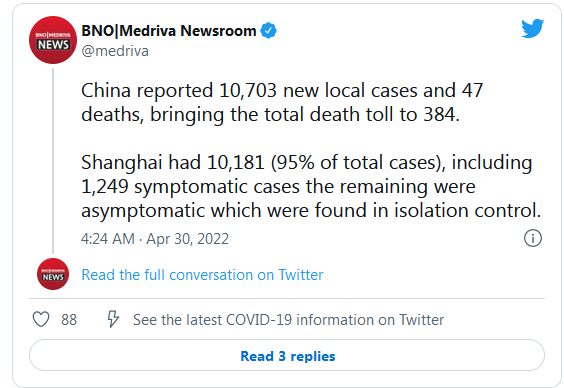 Shanghai marks key COVID milestone, Beijing sits on edge https://t.co/88NZ5Lsl3W pic.twitter.com/QT8DL0jYXF

— Reuters (@Reuters) April 30, 2022
Beijing conducted a third round of mass testing on Friday and closed all city schools in a further tightening of COVID-19 restrictions, as China's capital seeks to prevent a wider outbreak. pic.twitter.com/YVhTUZ5zhl

— The Associated Press (@AP) April 29, 2022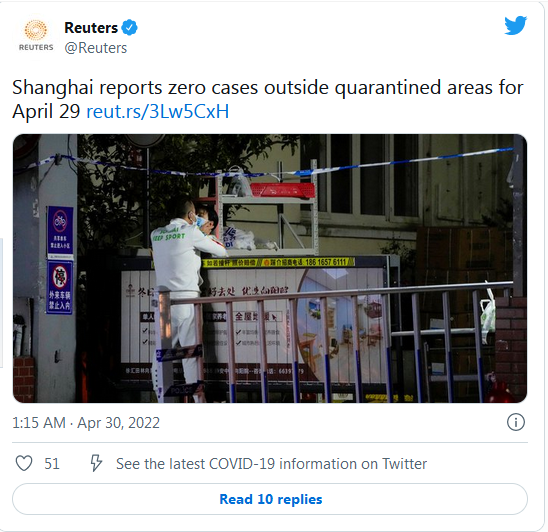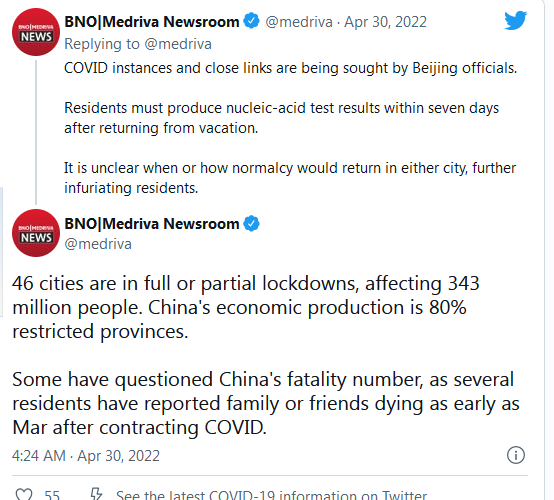 Resentment at the month-long lockdown in Shanghai grew as China's capital Beijing closed more businesses and residential compounds with authorities ramping up contact tracing to contain a COVID outbreak https://t.co/PtGAoU49PQ pic.twitter.com/cSTfS6tT8V

— Reuters (@Reuters) April 29, 2022
Coronavirus LIVE: India Reports 3,377 New COVID-19 Cases In 24 Hours https://t.co/SPB5Lc27Bp pic.twitter.com/BCGF7NetJO

— NDTV News feed (@ndtvfeed) April 30, 2022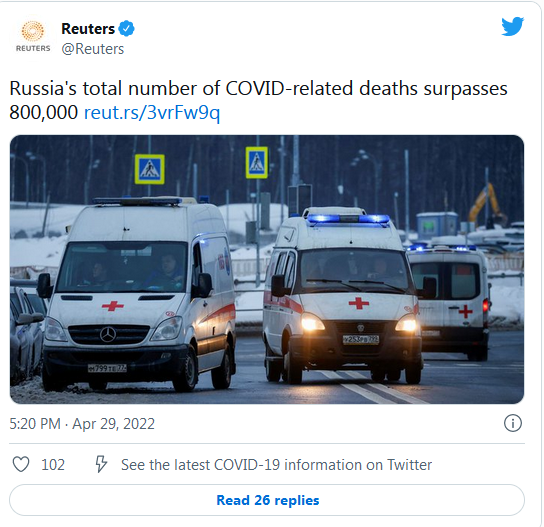 Reminder — Russia's population is half that of the U.S…
Russia's total number of COVID-related deaths has exceeded 803,000 since the start of the pandemic in April 2020, Reuters calculations based on new data from the Rosstat state statistics service showed on Friday.

Rosstat said that 35,584 people had died of COVID-19 or related causes in March, down from 43,543 in February.

Reuters calculations also showed Russia had recorded almost 994,000 excess deaths since the beginning of the pandemic in April 2020 up to the end of March, when compared to average mortality in 2015-2019…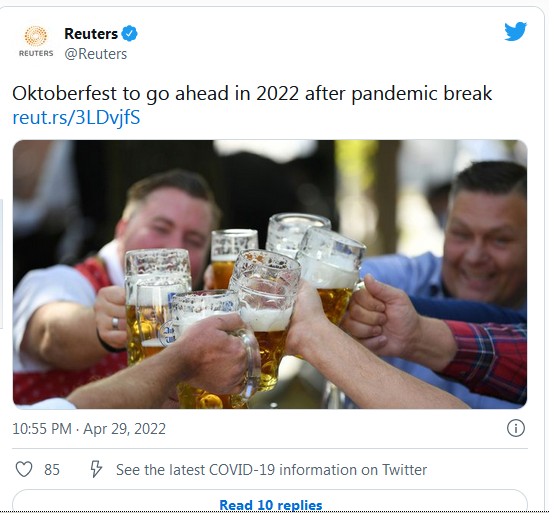 South Africa's health minister says the country has likely entered a new wave of COVID-19 as new infections and hospitalizations have risen rapidly over the past two weeks, driven by the BA.4 sub-variant of omicron. https://t.co/snL6HOz8Ix

— AP Africa (@AP_Africa) April 29, 2022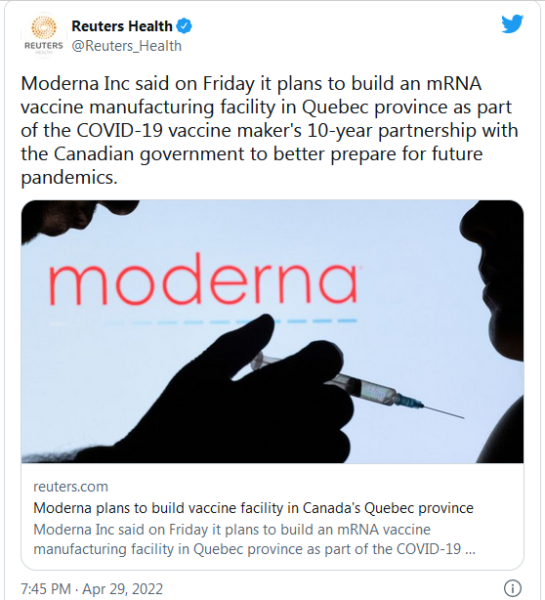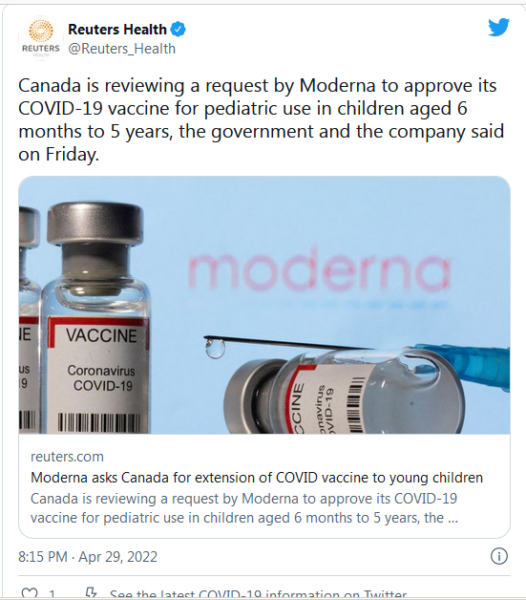 ======
We may not need new variants to trigger new waves, @Tuliodna suggestions. A thread that's worth your time. https://t.co/vNvIdlfJGP

— Helen Branswell ?? (@HelenBranswell) April 30, 2022
Pfizer Inc on Friday said a large trial found that its COVID-19 oral antiviral treatment Paxlovid was not effective at preventing coronavirus infection in people living with someone infected with the virus. https://t.co/qRDEX4LlJ1

— Reuters Health (@Reuters_Health) April 30, 2022
======
#Covid death rates have been higher in the South—the Old Confederacy—due to behavioral differences, a new study has found. Shunning masks & vaccines resulted in >316k deaths could have been avoided nationwide. 62% of the avoidable deaths were in the South https://t.co/LLow2AnMbK pic.twitter.com/2v6tOo874O

— delthia ricks ? (@DelthiaRicks) April 30, 2022