"For real, people, what are we doing here?… I mean Dr. Fauci dropped out. That should've been a pretty big sign!… Pete Davidson thinks it's ok."@Trevornoah ???? at #whcd pic.twitter.com/yzbkj6PPqf

— Dan Diamond (@ddiamond) May 1, 2022
Coronavirus cases & hospitalizations are rising in a majority of U.S. states in what appears to be the 1st widespread increase since the height of #Omicron's surge in January. Hospitalizations remain low, partly because of greater population immunity https://t.co/AgSeYVptGa

— delthia ricks ? (@DelthiaRicks) April 30, 2022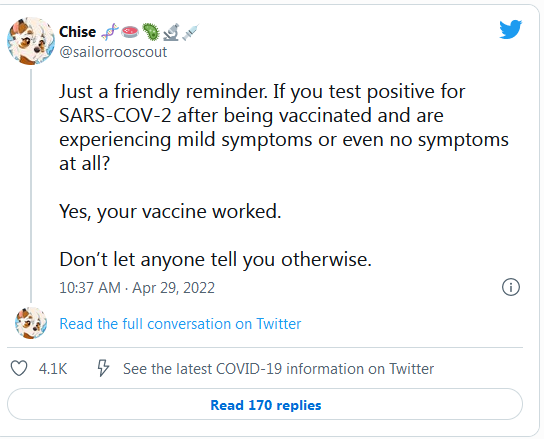 *Sigh*… Old Irish proverb: Live, horse, and you'll get grass!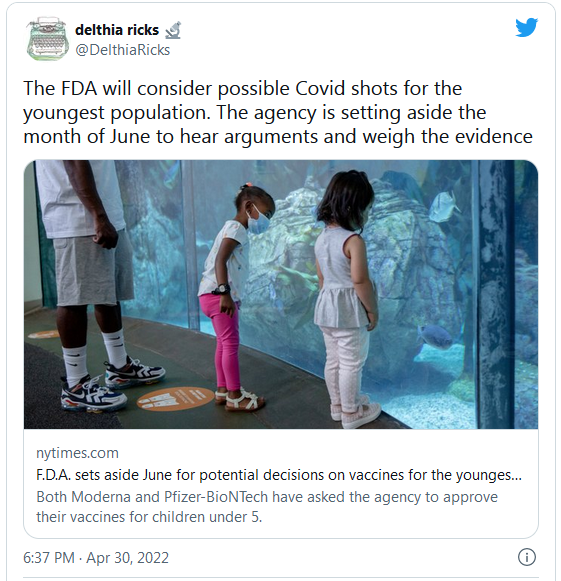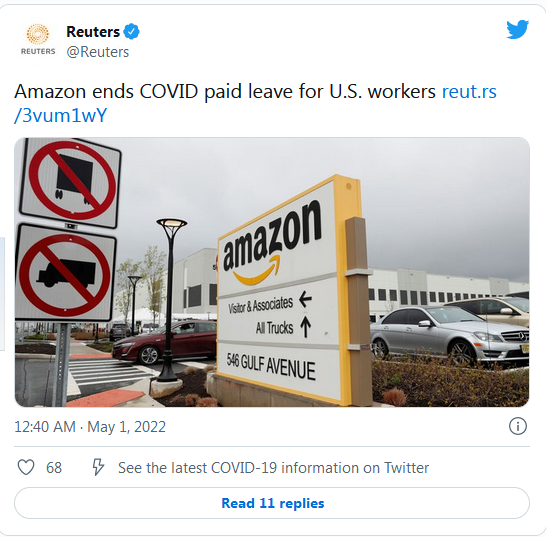 ======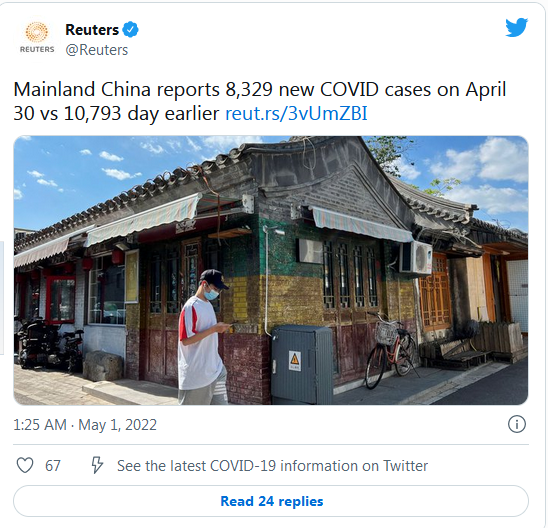 Many Chinese are marking a quiet May Day holiday this year as the government's zero-COVID approach restricts travel and enforces lockdowns in multiple cities. All restaurants in Beijing have been closed to dine-in customers for four days. https://t.co/SvI2tYWiaF

— The Associated Press (@AP) May 1, 2022
Beijing tightens Covid restrictions with dine-in bans and testing https://t.co/n6kw9ZGFrL pic.twitter.com/UsSomvHsKK

— Hong Kong Free Press HKFP (@hkfp) May 1, 2022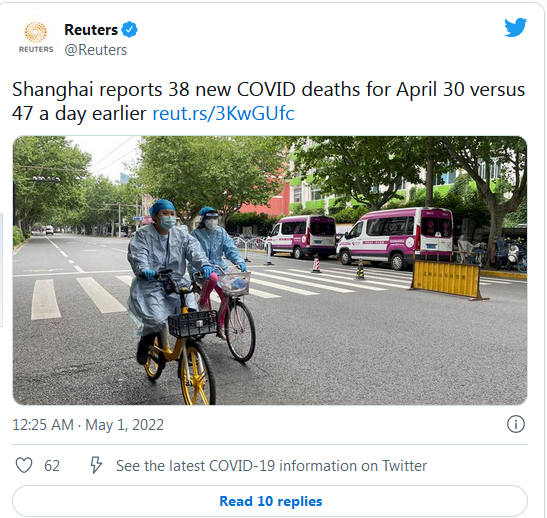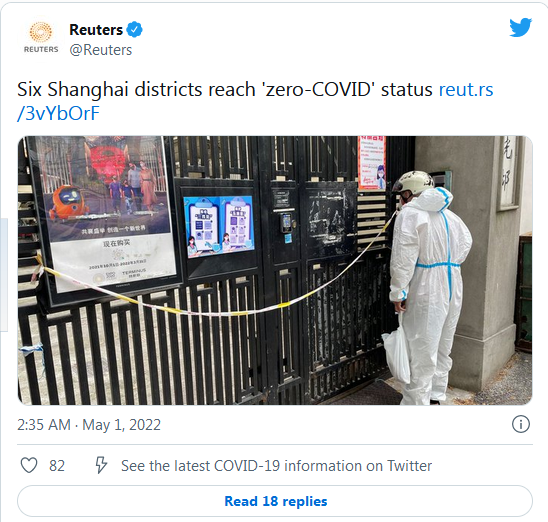 Huh? it will be interesting to see:
A. If they actually do it Shenzhen style or put some inept local spin on a system proven to work.
B. If implemented faithfully does it work, or is it dependent on hard to quantify factors like cohesion and temperament.https://t.co/2gKWldRvpG pic.twitter.com/U71oQQfOqj

— Naomi Wu 机械妖姬 (@RealSexyCyborg) April 30, 2022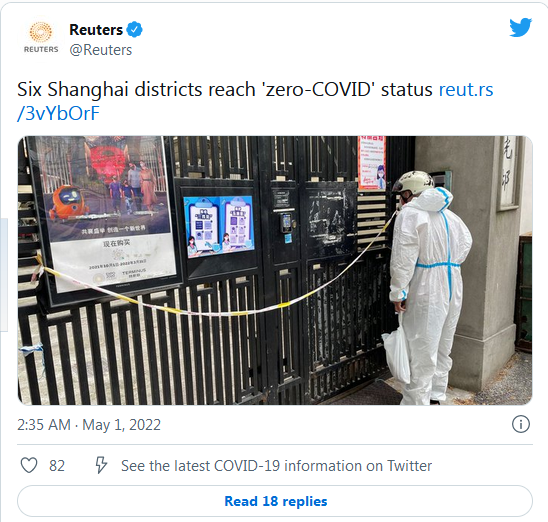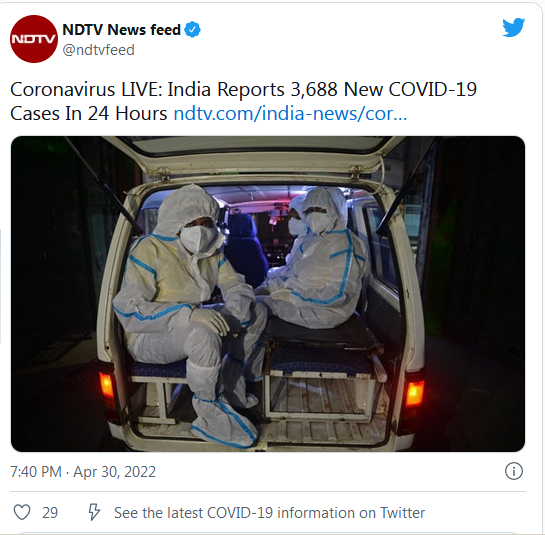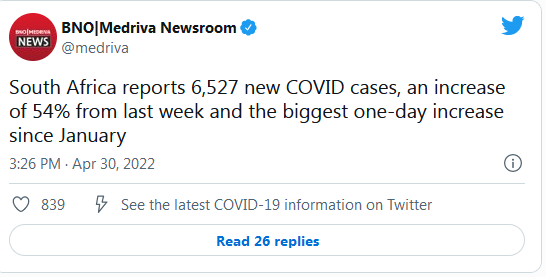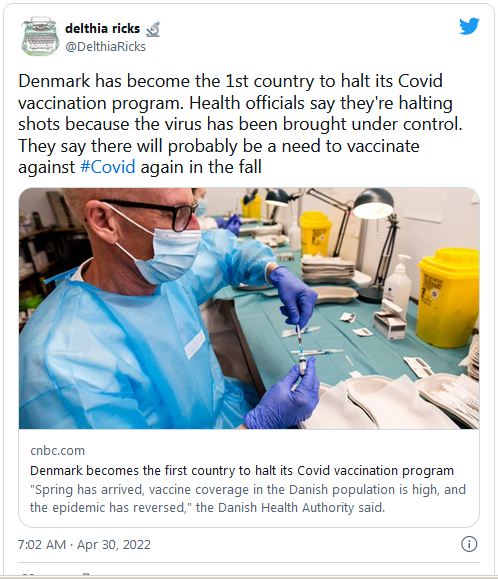 Boris Johnson took a lesson from his old friend TFG: No reports, no covid!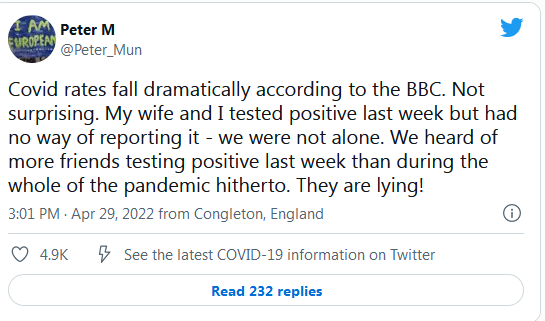 ======
Two new sublineages of the Omicron coronavirus variant can dodge antibodies from earlier infection well enough to trigger a new wave, but are far less able to thrive in the blood of people vaccinated against COVID-19, South African scientists have found. https://t.co/WxOz6KWEFB

— Reuters Health (@Reuters_Health) May 1, 2022
Since it's Sunday morning: Click on the tweet below for a long, wonky thread on the base-rate fallacy —
Them: The COVID-19 vaccines don't work. The majority of hospitalizations are fully vaccinated.

Me: Base Rate Fallacy would like a word with you. pic.twitter.com/V2wOucnIRt

— Chise ????? (@sailorrooscout) April 27, 2022
======
I've been avoiding posting news about the (very tiny!) spate of serious hepatitis cases in young children, because there's not a whole lot of actual data available yet. But the disinformation campaigns have started:
Child hepatitis cases falsely linked to Covid vaccine https://t.co/o0X33J9H9I

— BBC News (World) (@BBCWorld) April 30, 2022
Happening here, too:
Child hepatitis death: Wisconsin health officials are investigating 1 fatality among 4 cases of adenovirus-linked hepatitis in kids, including 2 w/ severe outcomes, 1 liver transplant & the death. CDC released new details on the problem in several states https://t.co/KsaO6rwulx pic.twitter.com/8k4NkDDBBx

— delthia ricks ? (@DelthiaRicks) April 30, 2022
I'll say it again: the cause is unknown. It's not clear this is even caused by a virus. It's still under investigation.

And if you are theorizing that public health agencies are conspiring to conceal SARS-CoV-2 as the cause, that is by definition a conspiracy theory. https://t.co/yoMkh4pohS

— Dr. Angela Rasmussen (@angie_rasmussen) April 30, 2022
Best general-purpose news report I've seen on this, so far. To emphasize — It would be surprising if there wasn't some (however attenuated) link to the global pandemic. But it's way too soon to reach any conclusions, and it can't be a vaccination issue among kids too young to have been vaccinated!:
"After we ruled out all the various possibilities, the common denominator in all the cases we found was that all had come down with the coronavirus around three and a half months before the infection appeared," Mozer-Glassberg said.https://t.co/spyOfnIQg8

— Thomas Meinhardt (@MeinhardtThomas) April 26, 2022