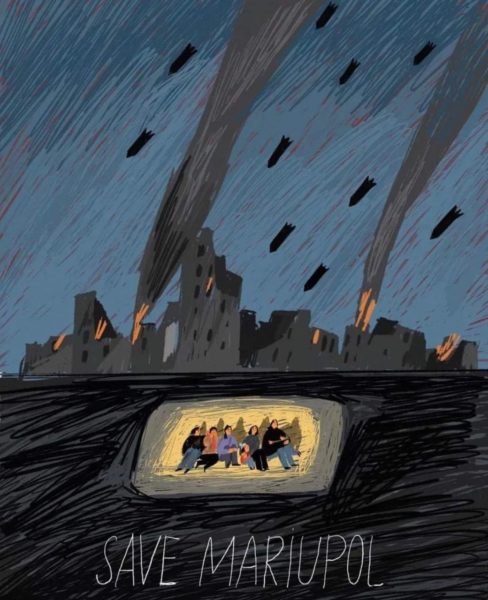 We begin tonight with President Zelenskyy's address from earlier this evening. The transcript is after the jump (emphasis mine).
Ukrainians!

Our defenders!

Today we finally managed to start the evacuation of people from Azovstal. After many weeks of negotiations, after many attempts, different meetings, people, calls, countries, proposals. Finally! There was not a single day when we did not try to find a solution that would save our people.

Today, for the first time in all the days of the war, this vital corridor has started working. For the first time there were two days of real ceasefire on this territory. More than a hundred civilians have already been evacuated – women and children first of all. Who were fleeing hostilities there. At Azovstal. 

Given all the complexities of the process, the first evacuees will arrive in Zaporizhzhia tomorrow morning. Hopefully this doesn't fail. Our team will meet them there. I hope that tomorrow all the necessary conditions will be met to continue the evacuation of people from Mariupol. We plan to start at 8 am.

I am also grateful to all those who participated in the preparation of the rescue of people and who ensure this humanitarian corridor. I am grateful to everyone who held negotiations. To Iryna Vereshchuk as the coordinator of this process.

I am grateful to our intelligence. Our team – David, Andriy. And also to the partners who joined and managed to help. In particular, from the UN and the International Committee of the Red Cross.

We will continue to do everything to evacuate our people from Azovstal, from Mariupol in general. The organization of such humanitarian corridors is one of the elements of the ongoing negotiation process. It is very complex. But no matter how difficult it was, more than 350,000 people were rescued from the areas of hostilities.

I discussed key issues of assistance to our state with Speaker of the US House of Representatives Nancy Pelosi who visited Kyiv together with a US Congress delegation.

We are grateful to all partners who convey such important and powerful signals of support for Ukraine to the world and to Russia by visiting our capital in these conditions and at such a difficult time.

Mrs. Pelosi and I had four hours of very substantive negotiations, as they say, multifaceted. In particular, on defense supplies, macro-financial assistance, sanctions policy, political cooperation with the United States.

I thanked for the revival of the historic Lend-Lease program, which once helped protect freedom in Europe and can certainly do so a second time. We discussed specific areas – how Lend-Lease can work to strengthen our state as much as possible and help in the struggle for freedom.

I also thanked for the preparation of a large package of aid to Ukraine worth 33 billion US dollars.

We discussed how we can strengthen sanctions on Russia in a way that most effectively encourages it to end the war and limits Russia's ability to circumvent existing and future sanctions. I felt the support of our initiatives.

I awarded Mrs. Pelosi with the Order of Princess Olga for her significant personal contribution to strengthening our cooperation and sincere participation in the defense of freedom.

Today, Russian troops continued to strike at the territory of our state. The targets they choose prove once again that the war against Ukraine is a war of extermination for the Russian army. They targeted the warehouses of agricultural enterprises. The grain warehouse was destroyed. The warehouse with fertilizers was also shelled. They continued shelling of residential neighborhoods in the Kharkiv region, Donbas, etc.

They are accumulating forces in the south of the country to try to attack our cities and communities in the Dnipropetrovsk region.

What could be Russia's strategic success in this war? Honestly, I do not know. The ruined lives of people and the burned or stolen property will give nothing to Russia. It will only increase the toxicity of the Russian state and the number of those in the world who will work to isolate Russia.

The Armed Forces of Ukraine respond to all the attacks of the invaders. And they will continue to respond until the occupiers leave our land.

I am grateful to all our defenders. To everyone who has been defending the state since February 24 and since 2014.

In just 67 days of the full-scale war, 143 our warriors have already been awarded the title of Hero of Ukraine. More than 10,600 defenders have been awarded state awards of Ukraine.

Eternal glory to all who stood up for the state!

Eternal memory to all who gave life for Ukraine! Thank you.

Glory to Ukraine!
We'll have more on the evacuations from Mariupol a little further down in the post.
Here's today's operational update from the Ukrainian Ministry of Defense (emphasis mine):
The operational update regarding the russian invasion on 06.00 on May 1, 2022

The sixty-seventh day of the heroic resistance of the Ukrainian people to a russian military invasion continues.

russian enemy continues to conduct full-scale armed aggression against Ukraine and offensive operations in the Eastern Operational Zone.

To increase the pace of the offensive operation, the command of the armed forces of the russian federation continues to take measures to strengthen the strike potential of its troops. Weapons and military equipment removed from storage in the Western, Central, Eastern Military Districts and the Northern Fleet are transferred to the border areas with Ukraine by rail.

In the Volyn and Polissya directions, russian enemy did not take active action. There have been no significant changes in the situation in these areas.

Certain units of the Armed Forces of the republic of belarus continue to cover the border in Brest and Gomel regions.

There is a threat that the enemy will launch missile strikes on military and civilian infrastructure throughout Ukraine from the territory of the republic of belarus, as well as provocations by the enemy on the specified section of the state border of Ukraine.

In the Siversky direction, russian enemy units fired on the positions of our troops from the territory of the Bryansk region.

In the Slobozhansky direction, russian enemy group continues to carry out air strikes and artillery fire on Kharkiv. The occupiers are conducting offensive operations in the directions of Izium – Barvinkove and Izium – Slovyansk. The enemy's strike group continues to strengthen. Up to 300 weapons and military equipment were transferred to certain areas, and about a thousand mobilized persons arrived from the temporarily occupied territories of Donetsk and Luhansk oblasts.

In order to cover the advancing air forces in four designated areas, the enemy deployed two anti-aircraft missile divisions armed with Buk-M2 (SA-17 "Grizzly") and Tor-M (SA-15 "Gauntlet").

In the Donetsk and Tavriya directions, groups of russian enemy troops are conducting active operations along the entire section of the line of contact. The enemy is trying to carry out air strikes and artillery fire on the positions of our troops.

In the Lyman direction, russian enemy is advancing in the direction of Krymka and Oleksandrivka.

In the Popasna direction, russian occupiers are carrying out assault operations in the direction of Novotoshkivske – Orikhove and they are fixed on the reached borders. In order to prevent the maneuver of Ukrainian forces and means, they are blocking them in certain areas.

In the Kurakhiv direction, with the support of artillery, russian enemy is trying to break through the defenses of our units in the direction of Olenivka – Novomykhailivka.

In the South Buh direction, the enemy is fighting to reach the administrative borders of the Kherson oblast and create favorable conditions for the attack on the cities of Mykolayiv and Kryvyi Rih.

The previous day, the air defence units hit nine air targets: two Su-25 aircraft and seven UAVs.

In the Donetsk and Luhansk oblasts only, nine enemy attacks have been repulsed in the past 24 hours, eight tanks, one artillery system, twenty-four units of armored combat vehicles, one special vehicle and five vehicles (including two tankers) have been destroyed.

We believe in the Armed Forces of Ukraine! Let's win together!

Glory to Ukraine!
Here's today's assessment from the British MOD: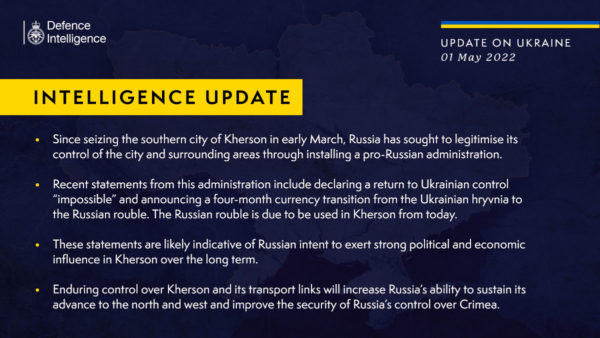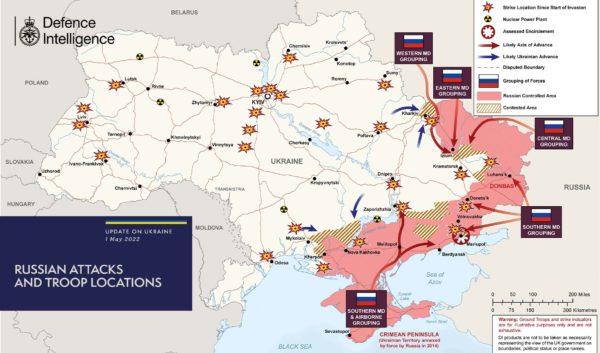 You can see that there is not a lot of change since yesterday. Something I want to point out, just to make sure we're all aware of it, is that the line that Russia is attacking along, which snakes around eastern and southern Ukraine starting where the Eastern Military District (MD) box is north of Izium all the way down to Kherson and Mykolaiv in the south is about 400 miles long. That is a lot of geography to cover with the troops that Russia has available. In reality it is too much to cover. They are, at best, stretched thin. Which is to Ukraine's advantage.
There was no DOD background briefing today. Or if there was one, they haven't posted a transcript yet.
Mariupol:
Civilians getting rescued with the help of Ukrainian troops at the Azovstal ?? pic.twitter.com/nf7MPB3swH

— Illia Ponomarenko ?? (@IAPonomarenko) May 1, 2022
.@OCHA_Ukraine spokesperson Saviano Abreu confirms the Mariupol evacuation is underway. "The efforts are coordinated by the United Nations and the International Committee of the Red Cross, in coordination with the parties to the conflict." pic.twitter.com/YxX4CJpDu6

— Christopher Miller (@ChristopherJM) May 1, 2022
The first photos of the civilians' evacuation from Azovstal in Mariupol – by Reuters pic.twitter.com/xlp2LH2rGs

— UkraineWorld (@ukraine_world) May 1, 2022
The reporting is that the Russians bombarded the Azovstal complex, again, overnight. So the Mariupolians are not out of the woods.
From what I can tell the plan is to get as many out for as many days as they can keep the evacuation corridor open until the Azovstal complex is emptied and everyone sheltering in it is temporarily relocated to Zaporizhzhia before being relocated to more permanent housing. If they can get at least a hundred out a day, like they did today, they should be able to have everyone evacuated in nine more days.
Here's OCHA's statement on the evacuation: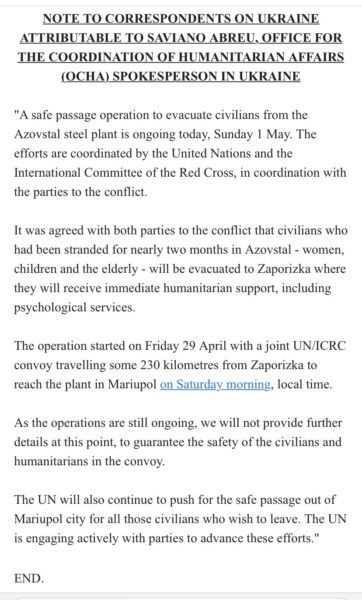 Keep good thoughts!!!!
At the same time, Russian forces are still doing their best to reduce Mariupol:
"This video is a clear demonstration of why civilians in #Mariupol, including those hiding in the #Azovstal plant, are afraid to come out of basements," — reads the video review

Credit: Ukraine Now /2 pic.twitter.com/uKYJTRuu9J

— Olena Halushka (@OlenaHalushka) May 1, 2022
Here's reporting by Radio Free Europe/Radio Liberty (RFE/RL) regarding the Russian filtration (processing) camps in and around Mariupol:
Maria Vdovychenko says she'll never forget the conversation she overheard before being screened by Russian soldiers as she and her family were fleeing the siege of Mariupol.

"What did you do with people who didn't pass the filtration?" one of the soldiers asked.

"Shot 10 and stopped counting — not interested," came the reply.

Traveling with her mother and younger sister, the 17-year-old Vdovychenko and her father were two of an estimated 30,000 Ukrainians so far to undergo "filtration," Moscow's alleged campaign to catch and punish perceived enemies or others deemed somehow unreliable from among the war's refugees.

Accusations have followed that Ukrainians ensnared in the occupation forces' vetting are being killed or "disappeared," or forcibly deported to Siberia and other Russian destinations, in the latest indication of possible war crimes by Russia in the 9-week-old offensive.

Moscow has denied committing atrocities and routinely blames Ukrainian forces for civilian deaths and other abuses in a war that Russian censorship prohibits from being described as a "war" at all.

'My Legs Started To Tremble'

Ukrainian officials have accused Russian forces of transporting hundreds of thousands of civilians from shattered Ukrainian cities, taking their documents, and putting them in so-called "filtration" camps, before moving them to Russia.

Vdovychenko told Current Time that her family's experience was not of any kind of filtration "settlement" but a bottleneck to screen families like hers.

Her family had waited two days and nights in their car to leave Mariupol, a strategic port city on the Sea of Azov, which local officials now say has been essentially "razed" by weeks of bombardment and its remaining occupants deprived of electricity, gas, and water.

"There was a column of hundreds of cars," Vdovychenko said. "You can't even use a toilet. Your legs are swollen. Your whole body hurts."

Her mother and her 12-year-old sister were both spared the filtration, even though the Russians had made it known that anyone 14 or over would be screened.

She said she had steeled herself for a "very difficult" ordeal but was terrified to find herself alone in a room with five armed men, while her father was undergoing his own interrogation, which included a beating.

She was fingerprinted, her documents scanned, and her smartphone scoured for signs of disloyalty to the forces currently occupying wide swaths of her homeland.

Then, when it seemed to be nearly over, one of the men appeared to allude to rape, which Human Rights Watch (HRW) and other groups say has become a feature of Europe's biggest military invasion since World War II.

"My legs started to tremble when a soldier who was lying on a mattress said: 'Don't you like her? There will be more women later. We'll find something,'" Vdovychenko said. "They didn't like me, and they just kicked me out."

She said she wasn't allowed to wait with her father, who was bullied and beaten and at one point asked by an interrogator: "How about we cut off your ear?"

He didn't know how the interview ended, Vdovychenko said, since he said he was struck in the head and only regained consciousness on the pavement outside.
I'm not really sure where this happened in Ukraine, but another Russian war crime. And an especially despicable and disgusting one:
Another horrible story from the #Kyiv region.#russians killed a woman. Then they tied her live child to her corpse… and put a bomb between them.

When rescue workers tried to save the child, the mine detonated.

The story was confirmed by ??Minister of Defense#RussiaWarCrimes

— Inna Sovsun (@InnaSovsun) May 1, 2022
I've seen more reporting, now from legitimate sources, that the Ukrainian attack at the forward command post near Izium killed another Russian general – the guy in charge of electronic warfare – and wounded General Gerasimov, the chief of the Russian general staff (equivalent to the Chairman of the Joint Chiefs of Staff). However, those sources can't fully confirm the reports. So this most likely happened, but other than noting what I've just noted, that's all I've got on it. For now. Until we get actual confirmation. Rather than sort of confirmation.
Everyone clear?
If you're interested, here's video of the Ukrainian strike on that Russian forward command post:
Higher definition video of MLRS strikes by Ukraine's 93rd Mechanized Brigade on a reported Russian command post in Zabavne near Izyum.https://t.co/c4dv0Yiekvhttps://t.co/qrmfxCQO6ehttps://t.co/Ispqcfyn8o pic.twitter.com/4pxxJBluKc

— Rob Lee (@RALee85) April 30, 2022
Here's an interesting thread by retired Royal Air Force Air Marshal Stringer. The rest of the thread follows the initial tweet in a quote box to keep Twitter's code from breaking the site. He quote tweets several other threads and articles. I've been able to copy and past the links to some, but not all, so click across to get the full experience.
A few thoughts triggered by the prevalence of heuristics – instinctive, learned responses – especially w.r.t. assumptions of mass and might. Principally the enduring assumption that Russia has latent capital reserves of mass it can 'liquidise' into combat power. 1/15

— Edward Stringer?? (@edwardstrngr) April 29, 2022
The FT published a 'long read' that demonstrates such thinking, citing "western officials" who reveal that Russia will get its act together militarily when it fights "as they were trained to fight". This is a heuristic response. So can Russia do that? 2/15

It is increasingly difficult to see Russia being able to mobilise a large reserve much within a year. So its troops in the Donbas are what it has. (There are lessons here for general assumptions on generating mass: if even Russia cannot…) 3/15

Most estimates place >80K RUS troops in BTGs against >40K UKR in good defensive positions. This is not a good ratio for any attacking force – even with firepower. But can it 'fight like its doctrine' under its new, centralised commander: Dvornikov? 4/15
My own experience makes me sceptical that he & it can. 5Eyes Generals will admit only the US Army can train effectively at Corps or Army level – and it is complicated, hard, and needs repeated exercising to master. Mark Hertling gives a flavour: 5/15

Also, Dvornikov will need to build a C2 apparatus for his new, huge, command. How will he fuse the previous regional C2? Will he take the southern command and expand it to sit above, or build anew? How will he train the staff for it? 6/15

And that decades old, corrupt & bankrupt RUS military culture is not going to change overnight. Yes, the Darwinian instinct will teach the BTGs how to be less vulnerable, but don't expect great flourishes of manouevre warfare. 7/15

And then there is the logistics. Fast armoured warfare relies on equal dash from the loggies. We just don't see it. And every mile further into UKR territory is another vulnerability from extension, and exposure to a hostile pop'n. 8/15

Russia is caught between needing a lightning offensive campaign to achieve a bold victory, and not being able or capable enough to risk its remaining force in such a move. It has neither the assumed mass of the East nor the skill of the West. 9/15

So when you see maps with dramatic, pincing arrows suggesting RUS' next move, think on what each of those easy to draw symbols means in all-arms manoeuvre, logistic support, and then holding the territory taken. 10/15

UKR must work out how much ground it is willing to trade while writing down RUS through attrition. Some assess UKR now has more tanks. But it needs more long-range artillery, and a CONOPs for going on the offensive eventually with smaller numbers. 11/15

Which is why the Biden administrations announcement of $33Bn is so significant. It has bought time for UKR to work out what its modern CONOPs and theory of victory looks like, as long as it can contain current RUS pressure. 12/15

Two things remain. The threat of nuclear weapons should retain its awe. But proper statecraft can manage this as long as NATO does not get directly involved, ie the escalation remains sub-strategic. See

@LawDavF

below: 13/15

samf.substack.com/p/escalators-a

And to best do that NATO must ensure it does not get directly involved, where a route to an existential rationale for RUS is easier to draw. Our rhetoric on these two points needs to be careful and deliberate. 14/15

But my overall conclusion has not changed. There is no room for complacency, but a well-sustained UKR can prevail and defeat the invasion of its territory. It is in everyone's interests that it does, and the US has just put down a big bet. 15/15
Last week the Ukrainian news outlets reported on the death in combat of a Ukrainian fighter pilot. He was shot down by the Russians. I didn't include it in an update, because while sad, it wasn't that major an event except to his family. Since then several news outlets, including The Times of London, have since reported that the Russians have shot down and killed The Ghost of Kyiv. This got so out of hand that the Ukrainian MOD had to issue a statement:
The information about the death of the The Ghost of #Kyiv is incorrect. The #GhostOfKyiv is alive, it embodies the collective spirit of the highly qualified pilots of the Tactical Aviation Brigade who are successfully defending #Kyiv and the region.

— Ukrainian Air Force (@KpsZSU) May 1, 2022
As much as we all like a good story, especially when the underdog in the story is punching well above their weight class, we also all know there is no Ghost of Kyiv. It's a popular myth/legend meant to help inspire the Ukrainian people in their defense. So just so we're all clear: the Russians did not shoot down and kill The Ghost of Kyiv, because there is no actual Ghost of Kyiv. Just a lot of Ukrainian aviators doing everything they can to defend Ukraine and their fellow Ukrainians against Putin's reinvasion.
Belgorod appears to be exploding again!
There were possibly two explosions in Belgorod tonight.https://t.co/dHXxzLiYZq

— Rob Lee (@RALee85) May 2, 2022
Last night in the comments someone, and I apologize for not remembering who, asked about the ethnic make up of the Russian army. Fortunately, Julia Ioffe covered this in an interview she did with Olga Mutovina for Puck News about a week or so ago:
Julia Ioffe: Why are there so many residents of Buryatia among the dead in Ukraine?

Olga Mutovina: Buryatia is one of the poorest regions of Russia. There isn't a lot of work, there isn't much industry, and the men mostly go elsewhere to work for stints—on oil rigs, in gold mines, some kind of extractive work. Or they can become contract soldiers. For young men, it provides some social mobility in a context where there's nowhere to work and not much in the way of higher education. We spoke to some families of soldiers who had been killed and they told us that this wasn't these soldiers' first war. Many of them had already fought in Syria and, in 2014, Ukraine.

Unlike [the neighboring] Irkutsk Oblast, which has oil and gas and lots of industry, Buryatia is a deeply [federally] subsidized region and so the amount of money that the region gets [from Moscow] is connected to how loyal its residents are, how they vote in elections, so people here mostly support the government. There isn't much of a protest movement here.

The Buryat men who become contract soldiers are mostly from poor, rural families. We've spoken to many relatives who said that if there had been good work for their men, maybe they wouldn't have signed up. Some of them come back from mandatory military service, try to establish themselves in civilian life, and then realize that they could earn a lot more in the army and they go back.

We spoke to one family [of a soldier who was killed in Ukraine] who said that he loved sports and working with children. He wanted to become a coach. But his salary was 7,000 rubles [$86] a month. He had a family to support: by the time he was killed, he had five children.
Much, much, much more at the link!
Your semi daily, seems like daily at this point, but eventually I'll run out of new video…, Patron!
His name is Patron. He helps de-mining Ukraine. He is a legend here. #dogsofukraine #StandWithUkraine pic.twitter.com/8HxZIqQEdM

— olexander scherba?? (@olex_scherba) May 1, 2022
Your semi daily Chef Jose Andres (same dynamic as with Patron):
We will be ready Mr. President with @WCKitchen with food and waiting in case we can go to Mariupol to feed the thousands…#FoodFighters https://t.co/eDSrf2wXys

— José Andrés (@chefjoseandres) May 1, 2022
Open thread!