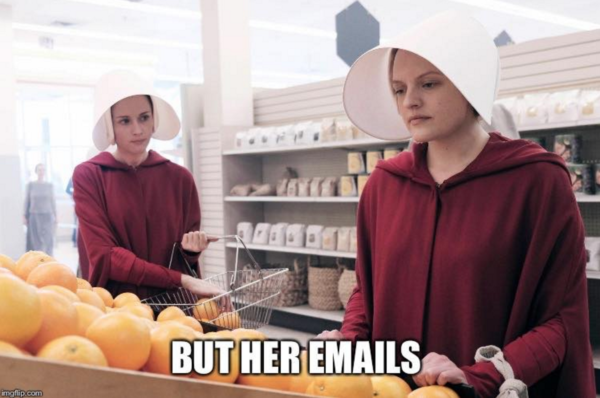 According to Politico, a draft of the SCOTUS decision on Dobbs v Jackson has been leaked, and the five radicals on the court are going to completely dump Roe. It's a pretty shocking document full of right wing legal pablum that we have all heard over and over again, but at the same time, it's not surprising. This is what the the marriage of the Republican party to the radical christian right in the Reagan era has been working towards for five decades, and the movement is about to birth their baby, personal assurances to Sen. Collins about stare decisis aside.
It's worth noting that the anti-abortion movement is not organic, evangelicals and their ilk had no immediate widespread opposition to abortion at the time, and the issue was created out of nothing. Evangelicals needed something to motivate and captivate their sheep, Republicans needed the votes, the money and moral posturing of both was too good to resist, and a marriage of convenience and grift was born. Decades of agitprop and bullshit got us where we are today.
Will there be a backlash at the polls? I'd like to think so, but one thing Republicans have learned is that they never have to pay consequences for anything, so I am not hopeful. With gerrymandering and voter suppression, any impact will be limited, and with the antiquated composition of the the Senate, giving populations the size of a dorm room the same representation as Los Angeles, any backlash will be diluted.
What it means for abortion rights? Basically in half the states they are soon to be non-existent. The next issues will be national bans advocated at the federal level, as well as punitive measures at the state level aimed at punishing their citizens for partaking in abortion services in other states. Some of these state laws are already in the works, and numerous states already have trigger laws for when Roe is overturned. At the national level, we can expect bills being introduced every single session to ban abortion across the country, and don't worry, Republicans will have no problem voting for these bills despite having said that all they really wanted to do was address the unconstitutionality of Roe and "send it back to the states." Hypocrisy is their native tongue. Would such a law pass? Yes. If they see no backlash to the overturning of Roe and feel no political pain, they will pass the very first time there is a Republican majority in the House and Senate and a Republican Presidency.
What does it mean for everything else? As this will be the first time the Supreme Court has rolled back a right, be warned, they are coming for it all. Expect rollbacks on gay rights, a renewed and reinvigorated assault on trans individuals, contraception, interracial marriage, anything involving the regulatory state but in particular environmental laws, gutting of OSHA, and on and on. As we tapdance towards a fascist state, the only thing that is safe is your right to be armed to the god damned teeth. The rest of it is subject to the whims of whatever Tucker Carlson and his masters tell their audience what matters. Rick Scott already has an 11 point plan for "rescuing" the nation, and Social Security and Medicare are on the line.
And while dim bulbs like Greenwald and company think it is the left coming after free speech, that will soon be on the line, too. "Free speech" is only popular on the right as we speak today because free speech has meant being allowed to say the n-word or other racist shit or harass women and minorities on twitter and other social platforms without repercussion or removal from the platform, but that will soon change. The right has been amassing power to exert their power, once they have it, they will switch to maintaining it, and silencing the opposition will soon become necessary. It already happens quite frequently (there have been multiple cases in Florida during the pandemic including the silencing of the Florida professors), with left wing voices continuously fired and silenced for their views. In short, Ward Churchill would like to have a word with you about cancel culture.
So, from my standpoint, the outlook is grim, yet predictable. A lady you might have heard of told everyone this in 2015 and 2016, but something something emails. That does not mean you should despair or give up, of course. It means you should fight harder and don't let the bastards win. But yet, this is a bad day and there will be more to come, and not acknowledging that is akin to putting your head in the sand (in before the pedants- they are actually checking on their eggs). Personally, I knew this was coming, and it has just strengthened my resolve to give the lying evil fuckers no quarter.