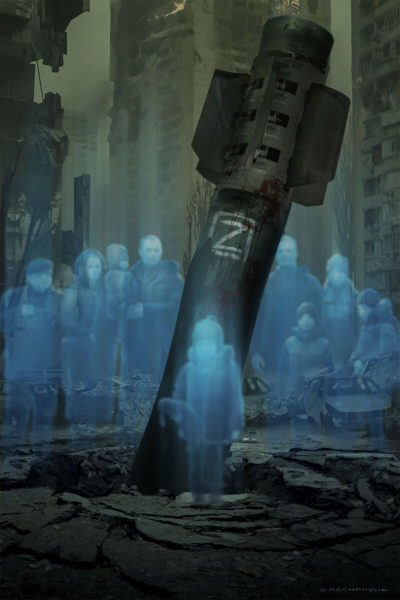 The Russians spent a good chunk of today just pounding the daylights out of anything they could reach in Ukraine.
Approximately 18 missiles were fired at the infrastructure of #Dnipropetrovsk, #Kirovohrad, #Lviv, #Vinnytsia, #Kyiv and #Zakarpattia regions. Missile strikes were also inflicted on #Odesa and #Donetsk regions by other means.
(2/4)

— Ukrainian Air Force (@KpsZSU) May 3, 2022
??protect their planes and helicopters, so they do not enter the airspace controlled by ??.
Instead, we made dozens of flights during the day. Under cover of fighter jets, the strike group fired about 10 missile and bomb strikes at ?? troops, ammunition depots and manpower.
(4/4)

— Ukrainian Air Force (@KpsZSU) May 3, 2022
I'll have more on the air strikes after the jump.
First we go to President Zelenskyy's nightly address. Video, then the jump, then the transcript with my emphasis.
I wish you health, Ukrainians!

Our defenders!

We finally have the result, the first result of our evacuation operation from Azovstal in Mariupol, which we have been organizing for a very long time. It took a lot of effort, long negotiations and various mediations.

Today 156 people arrived in Zaporizhzhia. Women and children. They have been in shelters for more than two months. Just imagine! For example, a child is six months old, two of which are underground, fleeing bombs and shelling. Finally, these people are completely safe. They will get help.

And I am grateful to all those on whom the rescue of these people depended. Who agreed and who helped. I am grateful to everyone who ensured the physical transportation of people through the humanitarian corridor.

Of course, we will continue to do everything to get all our people out of Mariupol and Azovstal. It's difficult. But we need everyone who stays there: civilians and military. There was not a day when we did not address this issue, when our people did not try to solve this issue.

Yes, we managed to achieve a ceasefire for almost three days in order to make the humanitarian corridor work.

Currently, Russian troops are not adhering to the agreements. They continue massive strikes at Azovstal. They are trying to storm the complex. But I have been told many times that no one can be saved. That it is impossible. And today 156 people are in Zaporizhzhia. This is not a victory yet, but this is already a result. And I believe that there is a chance to save our other people.

Apparently, the Russian military has reacted extremely nervously to our success today. Various Ukrainian cities have once again become targets for Russian missiles and Russian strikes. Lviv, Vinnytsia, Kyiv region, Dnipropetrovsk region, Odesa, Kharkiv region – such a scale of today's shelling clearly does not indicate that Russia has any special military purpose. Strike at Zakarpattia? What exactly can it give Russia? They are trying to vent their powerlessness. Because they can't beat Ukraine.

But they can – so far – burn children's attractions in Gorky Park in Kharkiv or destroy a bridge. Or a grain warehouse or a house with people.

The more such strikes, the farther Russia is from civilization. From what is called civilizedness.

Today we also have another tragic news. A terrible road accident took place in the Rivne region. A bus, a car and a fuel truck collided. As of this time, 17 people died. But there may be more casualties.

My sincere condolences to all those who lost their loved ones. I commissioned to provide all the necessary assistance to the victims.

I am grateful to the Prime Minister of the United Kingdom and the great friend of Ukraine, Boris Johnson, for his support of Ukraine and our defenders. Today Boris addressed our parliament and our people. These were very important words, warm, friendly, powerful. This is a very sincere gesture. I am also grateful to Britain for the new package of support for our country, which the Prime Minister announced today.

I also addressed the Verkhovna Rada of Ukraine today. For the first time during a full-scale war. I emphasized the main thing – and the main thing not only for me, but also for the whole of Ukraine. I am sure we must maintain maximum unity. Because our success depends on unity. Not only political success, but also the defense of the state, the strength of our people, our society.

I continued the very useful practice of addressing the parliaments of our partner countries. Today (addressed – ed.) the Parliament and the people of Albania. Thanked for the support, including defensive support. Noted the cordiality with which the people of Albania support our people. Other such addresses are also planned.

I also spoke with representatives of the largest global companies – in the CEO Wall Street Journal club (this is a very influential club. Three trillion dollars is the total turnover of companies whose leaders are in this club). About how to put pressure on Russia to end the war. About how to rebuild Ukraine after the war together. About what the post-war model of the Ukrainian economy can be. I believe that such economic diplomacy is one of our most important tasks.

I spoke today with Polish President Andrzej Duda. I congratulated him and the entire Polish people on the national holiday – the Constitution Day of Poland. We discussed further cooperation, concrete steps and support for our defense.

I informed him about the current situation in the areas of hostilities. About what is happening in Mariupol. About the evacuation of Ukrainians. And about what else we can do together to help protect our state and our common freedom – freedom of Ukrainians and Poles, all Europeans.

Traditionally, before delivering the address, I signed decrees awarding our heroes. 185 servicemen of the Armed Forces of Ukraine were awarded state awards, two of them posthumously. Two more of our defenders were awarded the title of Hero of Ukraine.

Eternal glory to all our heroes!

Eternal memory to everyone who gave life for our state!

Glory to Ukraine!
So we have an update on the evacuees from Mariupol. They got 156 out to safety. The issue now is whether they can get the humanitarian corridor reopened to get more out. As President Zelenskyy said, they are not going to give up trying.
Here's today's operational update from the Ukrainian Ministry of Defense (emphasis mine):
The operational update regarding the russian invasion on 18.00 on May 3, 2022

The sixty-ninths day of the heroic resistance of the Ukrainian people to a russian military invasion continues.

russian enemy does not stop conducting offensive operations in the Eastern Operational Zone in order to establish full control over the territory of Donetsk and Luhansk oblasts and maintain the land corridor between these territories and the temporarily occupied Crimea.

In the Slobozhansky direction, russian enemy operates as a group of the 6th Combined Arms Army of the Western Military District, the 41st Combined Arms Army of the Central Military District, and the coastal troops of the Baltic and Northern Fleets. The city of Kharkiv continues to launch air strikes and shell artillery.

In the Izyum direction, the enemy, by forces of separate units of the 1st Tank Army, the 20th Combined Arms Army of the Western Military District; The 29th, 35th, and 36th Combined Arms Armies and the 68th Army Corps of the Eastern Military District and Airborne Troops are conducting offensive operations in the direction of Izyum-Barvinkove and they suffers losses.

To support their actions, russian occupiers moved a battery of 240-mm Tulip heavy self-propelled mortars and a unit armed with Tornado multiple rocket launchers from the Belgorod region to the Izyum area.

In the temporarily occupied territories of Kharkiv oblast, russian enemy continues to carry out filtration measures. To do this, it additionally involves units of the Rosguard.

In the Donetsk and Tavriya directions, groups of russian enemy troops, forces of separate units of the 1st and 2nd Army Corps, the 8th and 58th Combined Arms Armies of the Southern Military District; 5th Combined Arms Army and Pacific Fleet of the Eastern Military District; the 2nd and 41st Combined Arms Armies and the 90th Tank Division of the Central Military District and Airborne Forces are conducting offensive operations on a certain section of the line of contact. The occupiers are carrying out air strikes and artillery shelling of our troops' positions.

russian enemy continues to focus on the offensive in the Lyman, Severodonetsk, Popasnyansk, Avdiivka and Kurakhiv areas in order to take full control of the settlements of Rubizhne, Popasna and develop the offensive in the directions of the Lyman, Siversk and Slovyansk.

In order to improve the system of logistics, russian enemy continues to deploy in certain areas warehouses with ammunition, fuel and oil, as well as organized a point for repair and restoration of damaged equipment.

At the same time, on some borders, russian enemy carries out the equipment of the second line of defense.

In the city of Mariupol, the enemy continues to block units of Ukrainian troops in the area of ​​the Azovstal plant. Carries out fire damage by artillery and tanks on the territory of the metallurgical plant.

In the Tavriya direction, russian enemy continues to conduct demonstrations and manoeuvrers in order to restrain the actions of units of the Defence Forces of Ukraine and prevent their transfer to other directions.

In the South Bug area, russian enemy is fighting with the 8th and 49th Combined Arms Armies, the 22nd Army Corps, the Black Sea Fleet Coast Guard and the Airborne Forces to improve the tactical situation, and continues to fire on units of our troops. russian enemy is regrouping troops, increasing the system of fire destruction, air defence and logistics.

The situation in the transnistrian region of the Republic of Moldova remains difficult. Units of the operational group of russian troops continue to be in full combat readiness. Armed formations of the transnistrian region of the Republic of Moldova are serving in an enhanced mode. Preparations are underway for the evacuation of the families of officers of the task force of the russian troops.

In the Volyn, Polissya and Siversky directions, certain units of the Armed Forces of the republic of belarus continue to carry out tasks to strengthen the Ukrainian-Belarusian border in the Brest and Gomel regions. In the area of the settlement of Khmelivka, Sumy region, the activities of an enemy sabotage and reconnaissance group were exposed.

Ships of the Black Sea Fleet in the Black and Azov Seas continue to launch missile strikes on civilian infrastructure in Ukraine, to isolate the area of hostilities, reconnaissance and fire support in the coastal direction.

Units of the Defence Forces of Ukraine continue to inflict losses on russian enemy. Thus, according to available information, as a result of effective and coordinated actions of defenders of Ukraine, units of the 38th Separate Motorized Rifle Brigade of the Armed Forces of the russian federation lost about 60 percent of the dead and wounded.

We believe in the Armed Forces of Ukraine! Let's win together!

Glory to Ukraine!
I want to take a moment and focus on the following portion of the operational update:
russian enemy does not stop conducting offensive operations in the Eastern Operational Zone in order to establish full control over the territory of Donetsk and Luhansk oblasts and maintain the land corridor between these territories and the temporarily occupied Crimea.
As we discussed when the Russians were trying to push through to Kyiv, Putin had made Kyiv a center of gravity that he had to take. He had to take it because it is the capitol of Ukraine and he needed it to be able to quickly parade his quislings before the international news media signing authentic looking, but phony documents capitulating and delivering Ukraine to him on a silver platter. And because Kyiv and control over it is central to the alternative history and mythology that he has both bought into and furthered. The good news was he both failed to do so and a large chunk of his forces got chewed up trying to do so.
At the same time, even back in the third week of the war, Putin was also trying to take and hold Mariupol all the way through to Odesa. This was done through bombardment combined with the use of ground forces. What we've seen over the past three weeks to a month is Mariupol reduced to rubble, an occupation of and attempt to hold Kherson, attacks on and around Mykolaiv, and on again/off again bombardment of Odesa. While Putin's focus should be on Ukraine's army in the east – the Joint Force Operation – he has, instead, created another center of gravity – the coastal strip from Mariupol to Odessa – that he needs to hold (Mariupol west to Kherson) or take (Mykolaiv and Odesa) in order to both established his land bridge/corridor all the way to Transnistria and to cut Ukraine off from the Black Sea and Sea of Azov. You can see this on today's British MOD map below: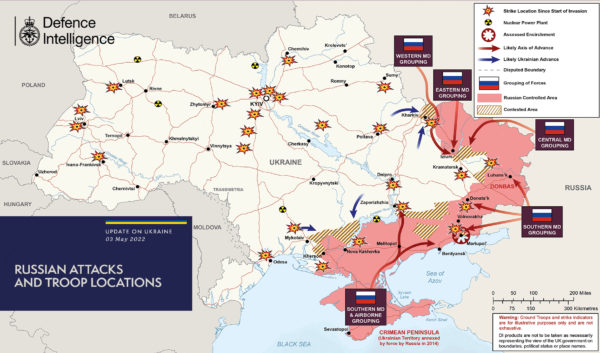 Look where the Russian forces are – that's the salmon colored areas, then look where the contested areas are between Kherson and Mykolaiv, and then the Ukrainian controlled space west to Odesa. The idea here is to both cut Ukraine off from its ports and to control everything from the Russian border through to Crimea and then on to the border with Transnistria/Moldova.
While this does make sense as a strategic objective for Putin's war aims, even when he was focusing on Kyiv, it has, however, once again created a second center of gravity to occupy his attention and his forces efforts when what they need to actually be doing is consolidating in the spaces from north to east so they can deal with the Joint Force Operation. This should be the Russian's focus in terms of center of gravity in the east:
Just found out that the Ukrainian-defended salient in Donbas Russia is (unsuccessfully) trying to lock up is pretty much the size of Connecticut. pic.twitter.com/ufnTFPl36I

— Illia Ponomarenko ?? (@IAPonomarenko) May 3, 2022
The fact that Putin has divided his attention and his focus in creating a center of gravity in the south that he doesn't need to deal with right now provides the Ukrainians with an opportunity. That Russian line is 400 miles long. There are not enough Russian forces to hold it. And there are a lot of very pissed off Ukrainians behind it. That's an opportunity!
Here's today's British MOD update: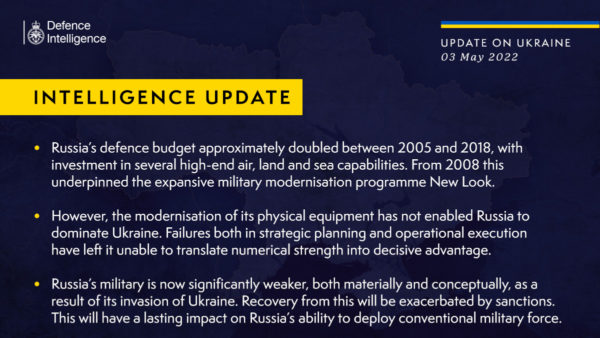 There was no DOD background briefing today. Or, if there was, a transcript has not yet been posted.
Here's more on today's Russian bombardment. From The Kyiv Independent:
Russia fired a barrage of missiles on several regions across Ukraine on the evening of May 3 as heavy fighting intensifies in the east.

Approximately 18 Russian missiles hit infrastructure sites across the country. Preliminary reports suggest that at least eight other missiles were downed by Ukraine's Air Defense, the military said.

Several deaths and injuries were reported. Russian forces hit six train stations in central and western Ukraine and caused delays, head of Ukraine's state-owned railway Ukrzaliznytsia Oleksandr Kamyshin said. Other infrastructure sites such as pumping stations and electric substations also sustained damage.

The targeted regions include westernmost Zakarpattia Oblast, reportedly suffering its first direct Russian attack ever. The regional administration reported that an electrical substation was hit in the town of Volovets.

Zakarpattia Governor Viktor Mykyta said authorities are still clarifying the information regarding injuries and possible victims of the attack.

In neighboring Lviv Oblast, Governor Maksym Kozytskyi said that Russia fired five missiles targeting the region and two of them were shot down by Ukraine's air defense. He informed residents that a Russian missile strike has damaged three electric substations in Lviv.

As a result, parts of the city of Lviv have been cut off from electricity and water supply, Lviv Mayor Andriy Sadovyi said. He added that three pumping stations are also without power, and two people suffered shrapnel wounds and were hospitalized. The mayor said workers are restoring the water supply through alternative sources of electricity.

Russia also launched rocket attacks on railway infrastructure in central Ukraine's Dnipropetrovsk Oblast, injuring one person, Governor Valentyn Reznichenko said. The infrastructure site was badly damaged and the railway has temporarily ceased operations, according to the official.

In central Kirovohrad Oblast, two Russian missiles fired from the direction of the Caspian Sea hit a railway infrastructure in Dolinskaya community, Ukraine's Southern Operational Command reported. There are deaths and injuries, according to the military's report.

Three unspecified infrastructure sites were hit in Odesa Oblast, including in the city of Artsyz. Earlier in the day, Ukraine's air defense downed three other missiles flying toward Odesa Oblast.

Two missiles were shot down over the southwestern city of Vinnytsia, according to Anton Gerashchenko, an adviser to the Interior Ministry. Two blasts heard by local residents were Ukraine's air defenses, regional governor Serhiy Borzov said.

Gerashchenko also reported that another cruise missile was shot down "on its way to Kyiv." That could have accounted for the explosion reportedly heard on the night of May 3 in Kyiv.

Ukrainian media reported that at least one blast was heard in the southeastern city of Zaporizhzhia but there have been no official statements about anything being hit in the city.
Much more at the link!
Lviv:
Part of the missile attack in Lviv tonight. https://t.co/48ugEtPFgZ

— Christopher Miller (@ChristopherJM) May 3, 2022
Also Lviv. From The Washington Post:
LVIV, Ukraine — The adults who approach teenager Anna Melnyk sometimes cry, sometimes yell.

They see "information" on her green vest at the train station in the western city of Lviv and ask questions: How to get to Poland? Where is the bomb shelter? What to do next? Anna's calm demeanor seems to reassure these new arrivals, displaced by war from besieged cities. They turn to her for a sign that everything is going to be all right.

"Some of them ask my age and when I say, '16,' they're shocked," Anna said. "But I don't feel a difference. I have one mission: to help."

She looks impossibly small, not just in the cavernous train depot where she volunteers most days, but in all of this — the giant Russian war machine that has swallowed up a generation of young Ukrainians and turned them into grown-ups overnight.

Anna, herself displaced from Kyiv, is undergoing a drastic transformation alongside other Ukrainian teens, who are trading high school concerns for work that will shape the kind of nation they will inherit once the fighting ends.

The country's youths already have paid a terrible price in this war. Some have been assaulted and killed. Many others have been uprooted from their homes or even spirited across the border as captives. Ukrainian President Volodymyr Zelensky, father of a teenage girl and a younger son, has said he doesn't shield his children from the ugliness because he wants them to understand the stakes.
Much more at the link!
Mariupol:
The Far East is one of Russia's most demographically insecure regions with high mortality and migration. Officials must consider Ukrainians a form of cheap labor, and many refugees will probably accept Russian citizenship due to lack of other options (some have no documents).

— Maria Antonova (@mashant) May 3, 2022
Ukraine's ambassador to Germany had some choice words from Chancellor Scholz:
BERLIN — Ukraine's ambassador to Germany, Andrij Melnyk, hit out Tuesday at German Chancellor Olaf Scholz over his criticism of Ukraine.

"This is about the most brutal war of extermination since the Nazi invasion of Ukraine, it is not a kindergarten," Melnyk said, according to German press agency DPA, in reaction to remarks Scholz made during an interview Monday evening.

In the interview, Scholz said Ukraine's decision last month not to welcome German President Frank-Walter Steinmeier "stands in the way" of him traveling to Kyiv.

That was not an acceptable way to treat the president of "a country that provides so much military assistance, so much financial assistance, that is needed when it comes to the security guarantees that are important for Ukraine in the future," Scholz said.

But Melnyk dismissed Scholz's reasoning. "It doesn't sound very statesmanlike to behave like an offended liver sausage," he responded, using a German slang term — beleidigte Leberwurst — for someone who gets offended easily or cannot take a joke.

Melnyk, who became Kyiv's ambassador to Germany in 2015, has been one of the German government's most outspoken critics since Russia invaded Ukraine in February.

The ambassador is a polarizing figure: To some Germans he is a welcome thorn in the flesh of a government they perceive as inert; while others have criticized his frequent attacks on Berlin as undiplomatic and unhelpful.