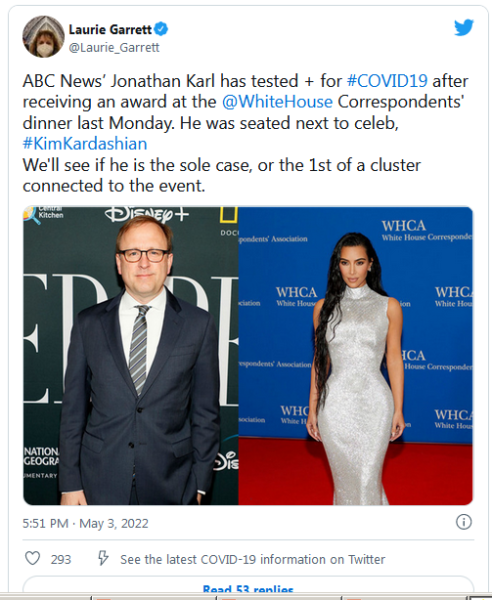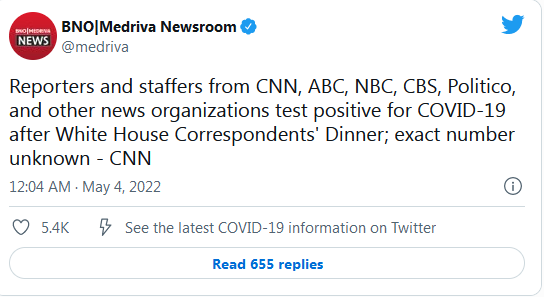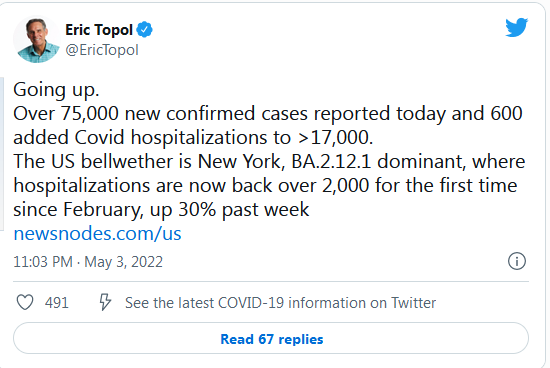 U.S. COVID update: Cases and hospitalizations continue to rise, death toll at 999,228

– New cases: 75,599
– Average: 64,030 (+2,336)
– States reporting: 35/50
– In hospital: 17,045 (+592)
– In ICU: 1,986 (+56)
– New deaths: 457
– Average: 362 (+10)

Data: https://t.co/YDZSbYO7l7 pic.twitter.com/E1BOlBGty0

— BNO|Medriva Newsroom (@medriva) May 4, 2022
======
China reports 16 new COVID deaths in mainland on May 3 vs 20 a day earlier https://t.co/GXy12C5NtJ pic.twitter.com/HS9kpAlnJX

— Reuters (@Reuters) May 4, 2022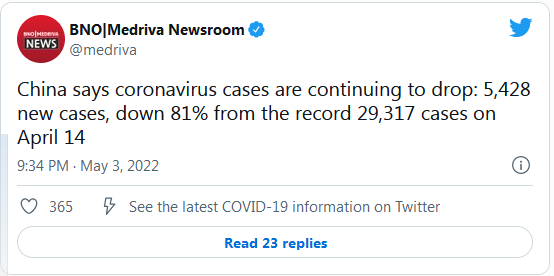 May 3: residents of Zhengzhou (郑州), Henan are scrambling to stock up on meat, vegetables and other foodstuffs after the government announced city-wide mass COVID testing and partial lockdown (管控). Multiple cases were identified at Zhengzhou East high-speed rail station.

1/n pic.twitter.com/D5T8b2CNzv

— Byron Wan (@Byron_Wan) May 3, 2022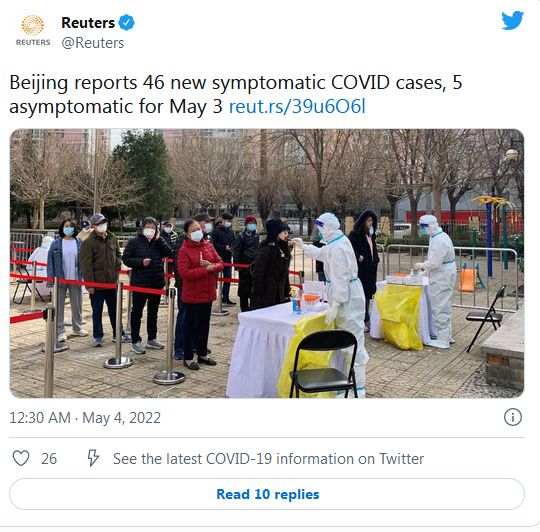 Beijing is closing some 10% of the stations in its vast subway system as an additional measure against the spread of coronavirus. China's capital has been on high alert with restaurants and bars limited to takeout only and classes suspended indefinitely. https://t.co/N20Ys7DplC

— The Associated Press (@AP) May 4, 2022
Some Shanghai residents are turning to NFTs with videos, photos and artworks capturing their ordeal in the month-long COVID lockdown, to ensure they can be shared and avoid deletion https://t.co/q0qTSpJZtz pic.twitter.com/5rbLYWfCs2

— Reuters (@Reuters) May 4, 2022
Hong Kong recorded 313 new Covid-19 infections on Wednesday. The city also added three deaths, including one backlogged case.

Full, trusted coverage on HKFP: https://t.co/w8LTgNxKZy pic.twitter.com/5kXKAOZum5

— Hong Kong Free Press HKFP (@hkfp) May 4, 2022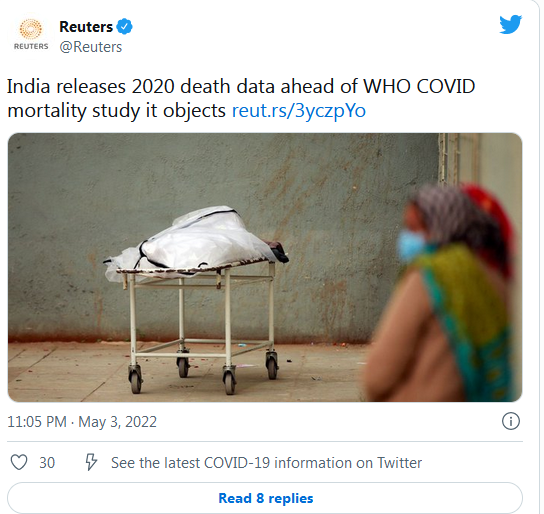 India registered about 475,000 more total deaths in 2020 than the previous year, government data released months ahead of schedule on Tuesday showed, as the World Health Organization readies its estimates of excess COVID-19 deaths whose methodology New Delhi has opposed.

Some experts estimate India's actual COVID death toll is as high as 4 million, about eight times the official figure, especially as a record wave driven by the Delta variant killed many people in April and May of last year. The WHO's estimate will be published on Thursday.

Vinod Kumar Paul, a top health official who has overseen India's fight against the pandemic, said there was nothing "dramatic" in the total death data for 2020 and that those were "absolute, correct and counted numbers".

He said the data showing 8.1 million total deaths in India in 2020 was released by the Office of the Registrar General two to three months in advance because of the attention on the country's COVID toll…

India officially reported 148,738 COVID-19 deaths in 2020, with the tally jumping to 523,889 on Tuesday out of more than 43 million cumulative infections. Only the United States and Brazil have recorded more deaths as of Tuesday.

Countries around the world reported only 1.83 million COVID-19 deaths in 2020 but the WHO estimates excess mortality of at least 3 million globally for that year.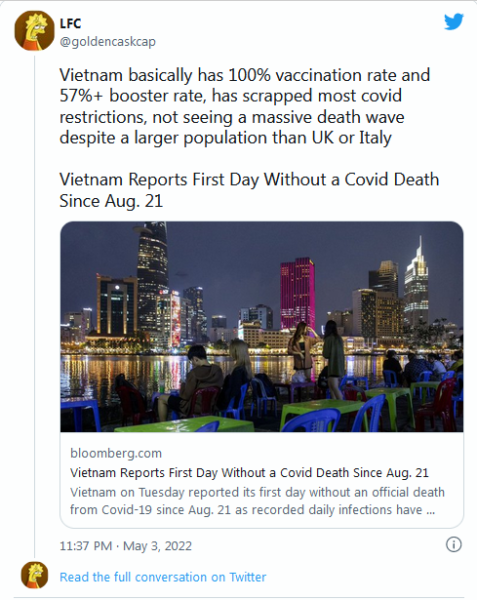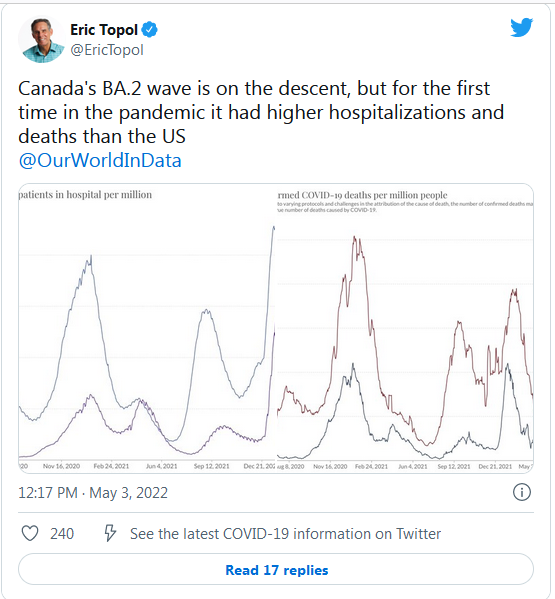 ======
Is #Covid becoming more flu-like in its transmission and evolution patterns? @MeganMolteni explores. https://t.co/nbHN6CxgDy

— Helen Branswell ?? (@HelenBranswell) May 3, 2022

This is hard to extract — it's worth reading the whole thing:
… To Seema Lakdawala, a microbiologist at the University of Pittsburgh School of Medicine, these steeper, shorter waves of infection caused by Delta, Omicron, and now BA.2 look like signs of a potentially important shift in the virus's behavior.

"It could be that more individuals are now forward-transmitting and we're seeing a move away from cluster transmission to one that is more linear like you would expect for flu," she said. The original strain of SARS-CoV-2 was estimated to have a dispersion parameter, k, of around 0.1, meaning that fewer than 20% of people infected passed on the virus to someone else. Pandemic influenza is less sparing. With a k of around 1, it reliably hops hosts more than 60% of the time, based on estimates from the 1918 pandemic.

A recent modeling study led by Lidia Morawska at Queensland University of Technology found that the Delta variant is less reliant on superspreading events, with a k of 0.49. Her team hasn't yet repeated the work for Omicron, but she expects that its preference for the upper respiratory tract, where it replicates at astonishing rates, probably results not just in more transmission, but more uniformity in who transmits to others.

"Even a very short time is sufficient to inhale enough of this virus to be infected," Morawska said. "Short enough that ventilation may not have had a chance to remove the virus from the air."…

But the virus is just one component of what makes for a superspreading event. The other is the host network where it lands — which is a function of the current levels of population immunity and how many contacts people are making.

"Based on everything we've seen throughout the pandemic, the underlying population susceptibility seems to be the primary driver of spread," said Emily Gurley, an epidemiologist at Johns Hopkins University. "I think that's more important than changes in the virus itself."…

It's also possible that flu might actually be more like Covid-19 than we appreciate. "I suspect that there's actually a lot of superspreading with flu, we just haven't studied it in the same way that we have for this coronavirus," said Cowling…
#Coronavirus infection has been detected in donor organs. What's the risk? Small sample of donors passed the infection to lung recipients but not to other organ recipients. Doctors are trying to better understand possible threats to transplant recipients https://t.co/cpVKWV5sTR

— delthia ricks ? (@DelthiaRicks) May 4, 2022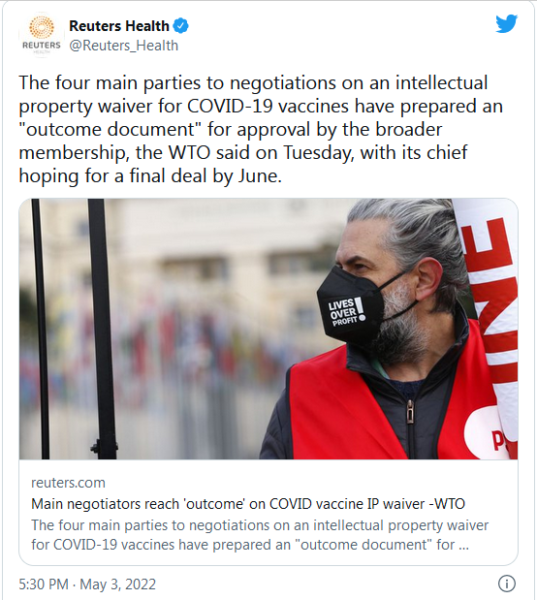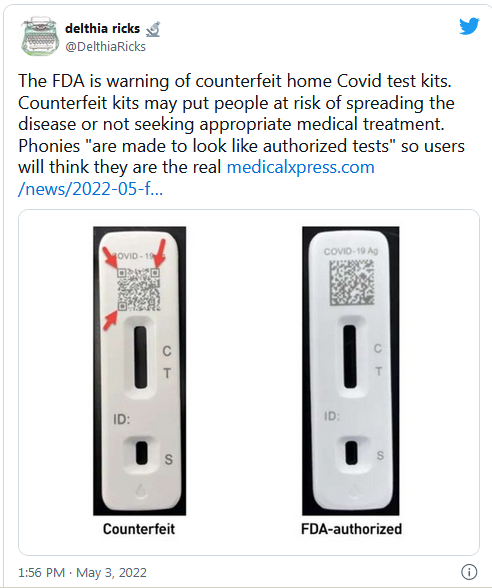 ======
An increase in COVID-19 infections around the U.S. has pushed cities into high-risk categories that are supposed to trigger indoor mask wearing.

But much of the country is stopping short of bringing back restrictions amid deep pandemic fatigue. https://t.co/jmvWcX4Uu2

— The Associated Press (@AP) May 3, 2022
As the world pretends the pandemic is over, at least a half-million children in the U.S. are struggling with long Covid https://t.co/QB0YtdFDSA via @BW

— Bloomberg (@business) May 4, 2022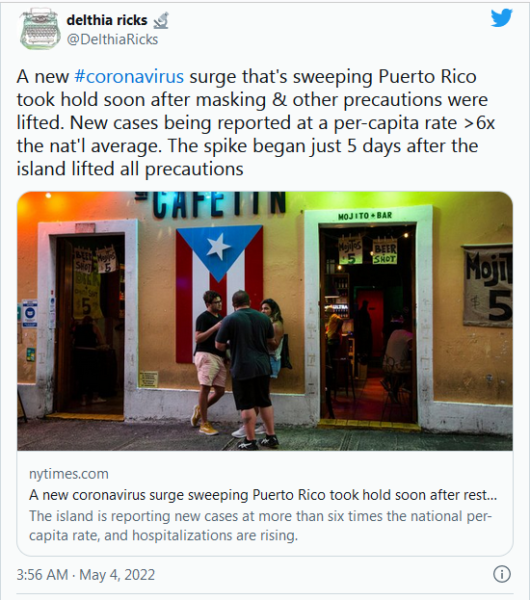 Gotta say, Wisconsinites: This RonJon fella does not seem very bright!
On Rumble, anti-vaxxer Todd Callender says "[COVID] shots caused vaccine-induced AIDS. They purposefully gave people AIDS."

Ron Johnson: "You gotta do one step at a time. Everything you say may be true. But right now, the public views the vaccines as largely safe and effective." pic.twitter.com/BhnulgiasF

— Heartland Signal (@HeartlandSignal) May 3, 2022
Analysis: Ron Johnson takes his anti-vaccine rhetoric to a weird new place https://t.co/EM92NuNGyJ

— The Washington Post (@washingtonpost) May 4, 2022