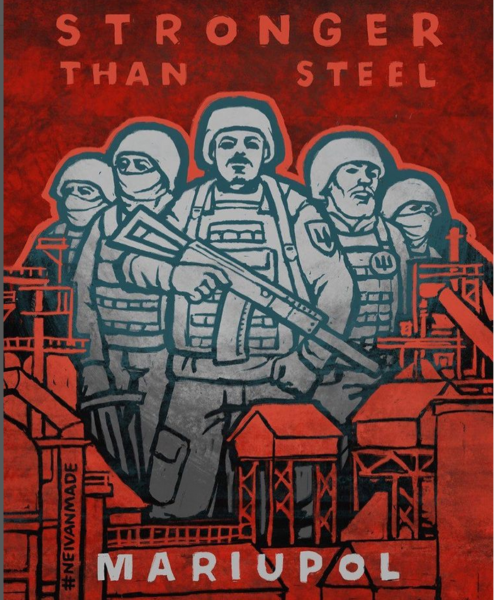 We'll start with the latest from the Azovstal complex in Mariupol and then come back to Mariupol after the jump. The latest reporting, which is now between four and seven hours old, is that the Azov Regiment and the 36th Separate Marine Brigade are still holding and successfully defending the Azovstal complex in Mariupol.
Early this morning eastern time it was reported that after heavily bombarding the Azovstal complex Russian forces had entered the underground tunnels to engage its defenders. As a result of the Russian assault, communications with the Azov Regiment and/or the 36th Separate Marine Brigade had been cut off. About four or five hours ago news finally began to be reported out of the Azovstal complex and the defenders are holding and communications restored.
It is true that Russian forces have entered the Azovstal premises.
The Mariupol garrison is repelling attacks, comms have been restored.

— Illia Ponomarenko ?? (@IAPonomarenko) May 4, 2022
Here's video of the Azov commander on site describing what is going on with English subtitles added:
Added English subtitles: Urgent appeal from the commander of the Azov Regiment, Lieutenant Colonel Denys Prokopenko, regarding the situation at the Azovstal plant pic.twitter.com/XMHPPusimZ

— ???????? ???, ??? ???? (@ZeroZhvk) May 4, 2022
The last reporting I saw pertaining to the Russian forces trying to engage at the Azovstal complex is from several days ago. It indicated that these Russian forces are Kadyrov's Chechens. They're basically feral and are only really good for terrorizing the locals. Given the amount of combat time that the members of the Azov Regiment and the 36th Separate Marine Brigade have had over the past eight years combined with the fact that the latter are basically defending home turf and no the layout of the complex and its underground tunnel network, I am not at all surprised that they are holding and repulsing the Russian attack.
I want to just note the historic parallel here, as well as its twisted irony. During Putin's Chechen campaign a group of the Chechen rebel forces negotiated a humanitarian ceasefire, including paying a bribe to the Russian official in charge in the area, to evacuate the rebels and the Chechens they were protecting. The Russians let the first group or two through maintaining the ceasefire and allowing safe passage. And then, once the Chechen rebels felt as if they could trust the agreement they'd negotiated and paid for, and began to move en masse through the humanitarian corridor they found it mined, they found Russian forces entrenched on both sides of the corridor firing at them, and they found Russian attack helicopters overhead firing on them. It's not a perfect analogue to what is happening with the Russians, via the UN and ICRC, agreeing to humanitarian ceasefires to allow for the evacuation of the Azovstal complex, but it does rhyme.
Here's today's address by President Zelenskyy to the Ukrainian people. Video with subtitles below. Transcript with my emphasis after the jump.
Ukrainians!

Today I will start with a story about one person. About Oleksandr Makhov – a well-known journalist. I'm sure you've seen his reports on Ukraine and Dom TV channels. You may have seen his comments, his posts. He has always been like that – with his own position. Patriotic and sincere. And always without vanity. And he was always among the bravest, among the first. He always worked in the hottest spots. Tried to bring true material. Powerful material.

In 2017, he was the first Ukrainian journalist to visit our station in Antarctica. When COVID came, he was not afraid. He has lived in Sanzhary for two weeks, where Ukrainians were brought to from China. From the first day of the full-scale war, he was on the frontline. Volunteer. ATO veteran. Warrior of the 95th assault brigade.

Born in the Luhansk region. He had a special feeling of what this war means.

Today he died in the Kharkiv region, in the battles near Izium. He was 36 years old. My sincere condolences to relatives and friends. Let his son Vladyslav know: Russia will bear responsibility for this death. We will definitely gain victory for Ukraine. I'm sure it was Oleksandr's dream. And we will make it come true.

Eternal memory to him and to all our heroes who gave lives for Ukraine!

The second stage of our evacuation operation from Mariupol was completed today. 344 people were rescued – from the city and its suburbs. That's how many people departed to Zaporizhzhia today. Our team is getting ready to meet them. Meet in the same way as more than 150 people whom we managed to take out of Azovstal. They all receive the necessary help. All of them will receive the most caring treatment from our state.

I am grateful to all those who make the evacuation operation successful: Iryna Vereshchuk, Andriy Yermak, David Arakhamia, UN representatives, the International Committee of the Red Cross, and everyone who reached an agreement and provided silence and corridors for the people.

We are negotiating and hope to continue rescuing people from Azovstal, from Mariupol. There are still civilians. Women, children.

To save them, we need to continue the silence. The Ukrainian side is ready to provide it. It takes time to just lift people out of those basements, out of those underground shelters. In the current conditions, we cannot use special equipment to clear the debris. Everything is done manually. But we believe that everything will work out.

I spoke today with UN Secretary-General António Guterres. About what has already happened. What we still have to do to save Mariupol residents and defenders of the city. There was not a day when I didn't do it, when we didn't do it. And I am grateful to everyone who helps.

I spoke with Israeli Prime Minister Bennett. I congratulated him on the Independence Day of the State of Israel. We talked about the situation in the east of our country and especially in Mariupol. We also discussed the scandalous and completely unacceptable statements of the Russian Foreign Minister, which outraged the whole world.

I spoke with Prime Minister of the Netherlands Mark Rutte. We agreed on the next diplomatic steps needed for peace. We discussed how to bring to justice all war criminals. Every Russian soldier and every commander who killed, tortured and tormented our people.

Today, the Russian invaders launched another missile strike at our cities. At Dnipro, Mykolaiv, Odesa, Zaporizhzhia. At the cities of Donbas and other regions of our country. All these crimes will get proper answers. Both legal and quite practical – on the battlefield.

I addressed the people of Denmark today on the occasion of Liberation Day. The Nazis were expelled from this country 77 years ago. Every year in May, all Europeans, all decent people on earth recall this feat – victory over the worst evil in human history. Victory in the war against Nazism.

But to recall means not just to remember. This means remembering and really trying to never allow what the Nazis did to Europe again. It is the Ukrainians, together with our friends and partners – the anti-war coalition, as the anti-Hitler once was – that are repelling those who have forgotten exactly why people rejoiced in 1945. Because if everyone in Russia really remembered, this war simply would not have started now.

Traditionally, before delivering the evening address, I signed a decree awarding our defenders. 35 servicemen of the 19th missile brigade of the Ground Forces of the Armed Forces of Ukraine were awarded state awards.

I am grateful to all our heroes!

To all who stood up for our state.

Glory to Ukraine!
The good news is the Ukrainians managed to evacuate another 344 Mariupolians before the Russians resumed their bombardment and started their ground assault.
Here is today's operational update from Ukraine's Ministry of Defense (emphasis mine):
The operational update regarding the russian invasion on 18.00 on May 4, 2022

The seventieth day of the heroic resistance of the Ukrainian people to a russian military invasion continues.

russian enemy continues to conduct offensive operations in the Eastern Operational Zone.

The command of the russian troops is trying to increase the pace of the offensive in east of Ukraine in order to reach the administrative borders of Luhansk and Donetsk oblast, as well as to develop an offensive in the Zaporizhzhia and Kryvyi Rih areas.

In order to achieve certain goals, russian enemy is trying to inflict losses on units of the Defense Forces, regroup and strengthen its troops, increase the system of fire damage and logistics.

russian enemy has intensified the task of missile and bomb strikes in order to destroy Ukraine's transport infrastructure.

In the Slobozhansky direction there is russian enemy group consisting of separate units of the 6th Combined Arms Army of the Western Military District, the 41st Combined Arms Army of the Central Military District, the coastal troops of the Baltic and Northern Fleets. Air strikes and shelling continue in the city of Kharkiv. russian occupiers in the Valuysky district of the Belgorod region deployed an auxiliary command post of the 36th Combined Arms Army y of the Eastern Military District.

As part of the strengthening of the grouping of troops in this direction, russian enemy is moving personnel from the territory of the Belgorod region.

In the Izyum direction, russian enemy is trying to seize the initiative and conduct offensive operations in the Izyum-Barvinkove direction. To this end, russian enemy is carrying out artillery shelling of the positions of Ukrainian troops in the areas of the settlements of Hrushuvakha, Nova Dmytrivka and Kurulka.

In addition, russian enemy concentrated up to 40 attack and transport helicopters Mi-24 and Mi-8 on the territory of the Belgorod region in the immediate vicinity of the state border of Ukraine.

In the Donetsk direction, the main efforts of russian enemy are focused on conducting an offensive on the settlements of Lyman, Orikhove, Popasna, Velyka Novosilka, Huliaipole, Komyshuvakha and Orikhiv.

During the day, in the Lyman direction, russian enemy made unsuccessful attempts to gain a foothold in the village of Oleksandrivka.

In the Severodonetsk direction, russian occupiers launched an offensive in the direction of the settlement of Voevodivka, but were unsuccessful.

In the Popasna direction, russian enemy tried to expand control over the settlement of Orikhove, but without success.

In order to restrain the actions of units of the Defense Forces of Ukraine, russain enemy fires at the positions of Ukrainian troops almost along the entire line of contact. russian enemy inflicts air strikes in the areas of Avdiivka, Mariupol, Severodonetsk, Kramatorsk and Huliaipole.

Blockades and attempts to destroy our units in the Azovstal area in Mariupol continue. In some areas, with the support of aircraft, russian enemy resumed the offensive in order to take control of the plant. It is not successful.

In the Novopavlovsk direction, russian occupiers attempted to storm the settlement of Novosilka. russian enemy suffered losses and retreated.

In order to strengthen the grouping of troops, russian enemy transfers equipment and personnel by rail.

In the South Buh and Tavriya directions, russian occupiers, forces of separate units of the 8th and 49th Combined Arms Armies, the 22nd Army Corps, the Black Sea Fleet Coast Guard, and the Airborne Forces are fighting to hold temporarily occupied territories and create conditions for active actions in the directions Kherson-Mykolaiv and Kherson-Kryvyi Rih.

In the Volyn, Polissya and Siversky directions, certain units of the Armed Forces of the republic of belarus continue to carry out tasks to strengthen the section of the Ukrainian-Belarusian border in the Brest and Gomel regions. There is an increase in the air defense system in the Gomel region, training of electronic warfare units. In the future, demonstration and provocative actions in areas close to the state border of Ukraine are not excluded.

In order to maintain tensions at the border and prevent the transfer of reserves of Ukrainian troops to threatening areas, russian enemy keeps units of the 90th Tank Division of the Central Military District near the Ukrainian-russian border near the village of Kozino, Kursk region. Intensification of shelling from the specified area across the territory of the Sumy region is not excluded.

In the Black and Azov Seas, russian Black Sea Fleet continues to carry out tasks to isolate the area of hostilities, reconnaissance and fire support in the coastal direction. The possibility of involving the specified ship composition in the task of missile strikes on the territory of Ukraine is not excluded.

Three carriers of naval cruise missiles "3M-54 Kalibr" (SS-N-27 «Sizzler») are in the Black Sea in readiness for the use of missile weapons.

We believe in the Armed Forces of Ukraine! Let's win together!

Glory to Ukraine!
I just want to take a moment and address a question from last night's comments. I don't remember who asked it. Specifically why there isn't much specificity in the Ukrainian MOD's operational assessments about what Ukraine is doing. The simple answer for this is they are not including anything but the most basic information for operational security reasons. They don't want the Russians getting information about what Ukraine has and is doing from Ukraine's own open source reporting. At the beginning of the defense against Putin's re-invasion the Ukrainian civilian and military authorities publicly asked reporters – both Ukrainian and non-Ukrainian – not to provide details of Ukraine's military operations as that would be beneficial to Russia.
Here's today's British MOD assessment: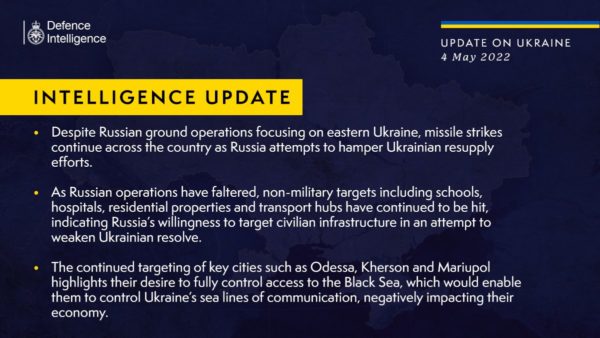 And here's their updated map: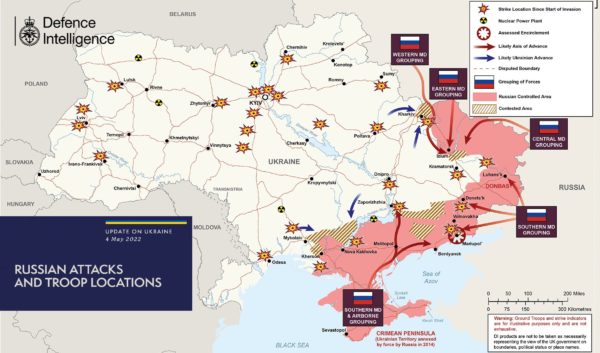 You can see that there is very little contested area left between Izium and Luhansk. All that's left is that little but to the south and east of Izium.
There was a DOD background briefing today (emphasis mine):
SENIOR DEFENSE OFFICIAL: OK, back at it here as Senior Defense Official. On the operational side we still assess that Russian progress on the ground remains slow and uneven in the northern joint force operation area with Russian forces appearing to really sort of orient themselves around Lyman, L-Y-M-A-N, Lyman, which is as I think you all know just a wee bit southeast of Izyum, but that seems to be where they're starting to orient themselves.

As they continue to try to move south and southeast, they are continuing to meet with greater concentrations of Ukrainian forces and a stiffer resistance, so they still remained stalled in general. Again, I would say progress is very slow and uneven. They are stalled in terms of their overall momentum in the north.

In the south we haven't seen much progress by the Russians coming north out of Mariupol at all. They seem to have paused either to — either to create better defensive positions or to refit and re-posture themselves, but they're not making — they're not making really any progress in the south. There are — they're south of a town called — just south of a town called Velyka Novosilka. It's V-E-L-Y-K-A, and second word N-O-V-O-S-I-L-K-A, and that they're south of that and no notable changes from their positions in the last 24. No notable changes either in Kherson or Mariupol.

Most of the strikes continue to be focused on the JFO and on Mariupol. We have seen some missile strikes out into the west near Lviv. Looks like they're trying to hit critical infrastructure, electricity and that kind of thing, and trying to get at the ability for the Ukrainians to use railroads in particular, but that they're — I would just say that while we're still assessing sort of the damage, it's not clear that they've been very accurate in trying to hit that critical infrastructure, and there's been no perishable impact that we've seen to impeding or in any other way obstructing with the Ukrainians' ability to replenish and restore themselves.

No significant changes in the maritime posture to speak to. Really there's nothing there. On the security assistance stuff, I won't get into training because we just had a lot of that, but I could tell you that more than 90 percent of the 90 howitzers that were pledged to Ukraine in the last two presidential drawdown authorities are actually in Ukrainian hands. Again, where they go and how they're being used, that's up to the Ukrainians. So I — we don't have a bird's eye view of every single tube and can tell you where it is in the fight.

And as for the 155 ammunition that goes with them, nearly 90,000 155 projectiles have already been transferred to Ukraine and are in Ukraine, and to remind you the total of those two packages were about 144,000, so certainly a majority of the projectiles are also in Ukraine.

And I think I'll stop there and we'll go to — we'll go to questions. Go ahead, Lita.

Q: OK, thanks. Sorry. I think I'm unmuted. Can you say whether or not the Russian efforts to disrupt U.S. and western shipments into Ukraine have been either impacted or if you've had to change anything at all because that appears to be — also be one of their goals in what they've been doing over the last couple of days, particularly in striking out around Lviv and other places? Has any of that worked at all?

SENIOR DEFENSE OFFICIAL: No, there's been no impact to our ability to continue flows into Ukraine. We've seen no indications that any of this western aid has been impeded or even struck. We just don't have any evidence of that happening.

Q: Just a follow up. You said they seem to have paused coming out of Mariupol. Do you have any new guestimates on how many of the BTGs are still around there or how many have left?

ENIOR DEFENSE OFFICIAL: Yes, I think we would — we would — we would estimate that roughly two battalion tactical groups worth of Russians are still dedicated to Mariupol, so it's a couple of thousands, but is that two precede BTGs, we don't really have a clean picture of that because some — we do think there's a mixture of some other non-Russian military forces that are there. For instance, some Chechen fighters. So roughly a couple of thousands, which is equivalent to two BTGs, but I would be careful reporting this as exactly two BTGs are in Mariupol, but the great majority of the forces that were on the ground in and around Mariupol have left and are now, a we've talked about, have tried to move north and they've just — they've just been kind of stalled there south of that town, that Velyka Novosilka.

OK, Bowman.

Q: Yes, can you give us a status report on Kharkiv, what's going on with the fighting around there? And also you said 90 percent of the 90 howitzers are in Ukrainian hands. Does that mean just in country or actually in the fight if you could clarify that?

SENIOR DEFENSE OFFICIAL: I meant in the country.

Q: OK, and ballpark how many are actually in the fight? Do we have any sense?

SENIOR DEFENSE OFFICIAL: I think I'm going to — I have that number, but I think I'm just going to demur on that, Tom. There's…

Q: How about — how about a ballpark number?

SENIOR DEFENSE OFFICIAL: … some details we want to — no, I'm just not going to go there, Tom.

Q: All right. All right.

SENIOR DEFENSE OFFICIAL: They are — we know that they are using some of those howitzers in the fight. But I am not going to get into force disposition on an unclassified line and give away, you know, Ukrainian operational capability. I just — I'm just not going to do that. But, do we have an idea? Yes, we do.

Kharkiv, the Ukrainians still hold Kharkiv. They — they — they never actually gave Kharkiv up. And as I said the other day, we have seen indications that they were able to push the Russian forces about 20 to 30 miles to the — to the east of Kharkiv. But, they still hold it.

And the Russians have not made any progress there.

And we — we still think, though, that the Russians want Kharkiv. I mean, they haven't exactly left it alone either. And again, we've talked about this a lot, but if you just look at a map, you can see it's a big industrial city and it's right at the — right at the northwestern sort of lip of what we consider the Donbas area.

So, even though it's not technically in that JFO from industrial capacity side and just from a geographic location, I mean, it appears as if the Russians still have designs on Kharkiv. But there's — they've made — they've made no progress.
Much, much more of the Q&A at the link. I do want to highlight this part of the background briefing Q&A:
Q: OK, thanks. Sorry. I think I'm unmuted. Can you say whether or not the Russian efforts to disrupt U.S. and western shipments into Ukraine have been either impacted or if you've had to change anything at all because that appears to be — also be one of their goals in what they've been doing over the last couple of days, particularly in striking out around Lviv and other places? Has any of that worked at all?

SENIOR DEFENSE OFFICIAL: No, there's been no impact to our ability to continue flows into Ukraine. We've seen no indications that any of this western aid has been impeded or even struck. We just don't have any evidence of that happening.
Last night in comments Debbie asked:
whether there was any truth in tweets I'd seen that Russia was bombing stockpiled weapons we and NATO had sent to Ukraine, and if so, is it enough to hurt Ukraine's chances of success? I still can't find those tweets, sorry.

I'm also wondering whether Russia ever responded to being kicked out of future soccer competitions? I really expected something by now other than silence.
While the Russians keep threatening to attack NATO and US supplies going into Ukraine, they don't appear to have actually successfully done so. Despite their bellicose rhetoric, the Russians have not targeted anything NATO and non-NATO allies are sending into Ukraine before it gets to Ukraine. And from what the Senior Defense Official has indicated in his answer, they haven't successfully targeted any of the equipment, material, and supplies that have made it into Ukraine either.
As for the soccer competitions, I think I recall a thread by Slava Malamud explaining that the Russians had now created their own Russian and Belarusian championship, but I don't follow soccer, so that's all I've got.
Mariupol:
Video from a DNR account showing Russian/DNR strikes on the Azovstal plant in Mariupol. Possibly by TOS-1A thermobaric MLRS. Not sure of the date. https://t.co/ZtGmAMDnx0 pic.twitter.com/c5Zy94WpBA

— Rob Lee (@RALee85) May 4, 2022
My 2 dogs died, my grandma Galia died too and so did my favorite city of Mariupol. Diary of 8 yo from basements of #Mariupol. No child ever should have such memories. Ever. pic.twitter.com/8S4bN9MhIv

— Lesia Vasylenko (@lesiavasylenko) May 4, 2022
From the AP:
AP evidence points to 600 dead in Mariupol theater airstrike

By LORI HINNANT, MSTYSLAV CHERNOV and VASILISA STEPANENKO

LVIV, Ukraine (AP) — She stood in just her bathrobe in the freezing basement of the Mariupol theater, coated in white plaster dust shaken loose by the explosion. Her husband tugged at her to leave and begged her to cover her eyes.

But she couldn't help it — Oksana Syomina looked. And to this day, she wishes she hadn't. Bodies were strewn everywhere, including those of children. By the main exit, a little girl lay still on the floor.

Syomina had to step on the dead to escape the building that had served as the Ukrainian city's main bomb shelter for more than a week. The wounded screamed, as did those trying to find loved ones. Syomina, her husband and about 30 others ran blindly toward the sea and up the shore for almost five miles (eight kilometers) without stopping, the theater in ruins behind them.

"All the people are still under the rubble, because the rubble is still there — no one dug them up," Syomina said, weeping at the memory. "This is one big mass grave."

The AP investigation recreated what happened inside the theater on that day from the accounts of 23 survivors, rescuers, and people intimately familiar with its new life as a bomb shelter. The AP also drew on two sets of floor plans of the theater, photos and video taken inside before, during and after that day and feedback from experts who reviewed the methodology.

With communications severed, people coming and going constantly, and memories blurred by trauma, an exact toll is impossible to determine. The government estimated early on that about 300 people died and has since opened a war crimes investigation, according to a document obtained by the AP.

AP journalists arrived at a much higher number through the reconstruction of a 3D model of the building's floorplan reviewed repeatedly by direct witnesses, most from within the theater, who described in detail where people were sheltering.

All the witnesses said at least 100 people were at a field kitchen just outside, and none survived. They also said the rooms and hallways inside the building were packed, with about one person for every 3 square meters of free space.

Many survivors estimated around 1,000 people were inside at the time of the airstrike, but the most anyone saw escape, including rescuers, was around 200. The survivors primarily left through the main exit or one side entrance; the other side and the back were crushed.

The AP investigation also refutes Russian claims that the theater was demolished by Ukrainian forces or served as a Ukrainian military base. None of the witnesses saw Ukrainian soldiers operating inside the building. And not one person doubted that the theater was destroyed in a Russian air attack aimed with precision at a civilian target everyone knew was the city's largest bomb shelter, with children in it.

The lack of bodies led the police officer and a Mariupol Red Cross official to speculate that perhaps fewer than 500 people died, but most survivors suggested the bodies were either pulverized into the dust or removed by the Russians. With the site off-limits to investigators and the rubble itself taken away, witness testimony and photos and video of the theater before and after it was bombed will be crucial, said Clint Williamson, who served as U.S. ambassador-at-large for war crimes issues from 2006 to 2009.

"Without being able to get to the scene, it is going to be difficult to go much beyond that," he said.
Much, much more at the link!
Kharkiv:
Destruction for the sake of destruction: this is what #Russia is about. Another video from yesterday's strike on the #Kharkiv Central Park. pic.twitter.com/h3pbowabq9

— Lesia Vasylenko (@lesiavasylenko) May 4, 2022
I'm sure the children's play area was presenting an overwhelming and existential threat to Russia's survival!
From the Kharkiv Human Rights Protection Group:
The Russian military who have seized control of Vovchansk in the Kharkiv oblast are believed to have created an effective concentration camp where prisoners are subjected to physical and psychological torture.

Oleh Syniehubov, Governor of the Kharkiv Regional Administration, reported on 24 April that the Russian invaders had plundered the contents of one of the factories in Vovchansk and taken them to the Russian Federation.  They had then organized a kind of prison, "a real concentration camp, where people are subjected to torture, forced to collaborate, join the Russian Federation armed forces."  Syniehubov added that in Izyum, which he said is under full Russian occupation, the Russians are also trying to force locals to join the Russian army.

On 25 April, the Kharkiv Regional Prosecutor announced that it has initiated criminal proceedings under Article 438 of Ukraine's Criminal Code (violation of the rules and practice of war) over the alleged torture in Vovchansk.

Vovchansk is near the border with the Russian Federation and has been occupied since the first days after Russia's full invasion of Ukraine on 24 February.  On 4 March, Vovchansk Mayor Anatoly Stepanets told Suspilne.ua that the Russians, when they entered the city, had taken the Ukrainian flag from his office and from the City Council. "However they didn't rip out my heart, and didn't take my conscience away.  We were and remain pro-Ukrainian," Stepanets said.  He added that he had refused to give out 'aid' from the Russian military.

Such independence is clearly not to the invaders' liking.  Even before an attempt by the Russians on 22 March to stage a stunt whereby local residents sought a replacement for Stepanets, he had, reportedly, been taken across the border into Russia and threatened, if not tortured, into agreeing to collaborate.  Stepanets is 64 years old, and was almost certainly tortured or ill-treated in the video here, which appears to suggest that he is a Russian prisoner.
More at the link!
Kherson:
I'm happy to confirm that telecom connection is fully restored in Kherson. Three telecom operators are available again. Dear Kherson, the problems with service were temporary; as well as russian occupation. Outstanding joint work of local authorities and telecom companies.

— Mykhailo Fedorov (@FedorovMykhailo) May 4, 2022
Rubizhne:
At least 400,000 tons of grain were stolen by russia in the occupied south of Ukraine. That's over 6,000 hoppers. russian thieves are bringing death and famine to the world. Only #ArmUkraineNow can stop them.
(2/2) pic.twitter.com/SnpDrFsM2N

— Defence of Ukraine (@DefenceU) May 4, 2022
Donetsk:
21 civilians killed in Donetsk region by Russians just yesterday, local governor said. 27 more are wounded. This is the highest daily figure since April 8, when Kramatorsk train station was hit by a Russian missile. Supposed 'liberators' of Donbas are exterminating people there pic.twitter.com/6IGVeUTSYB

— Olga Tokariuk (@olgatokariuk) May 4, 2022
Makiivka, Donetsk Oblast:
Makiivka is a large suburb of Donetsk and has been under Russian control in the so-called "people's republic" in eastern Ukraine since 2014. https://t.co/CHjbHOOmhF

— Christopher Miller (@ChristopherJM) May 4, 2022
Russia continued to bombard everything they could reach in Ukraine over night:
Another night in Ukraine, another barrage of Russian missiles raining down on peaceful Ukrainian cities. They want to break us down with their missile terrorism. But the only thing that will break down in the end is Russia and its capacity to invade, bomb, murder, loot, and rape.

— Dmytro Kuleba (@DmytroKuleba) May 4, 2022
Since we're on the topic of Russian bombardment, I want to direct everyone to this interesting article by COL (ret) Dave Johnson, PhD on Russian artillery and Ukraine:
The Russians are on their heels in the Ukraine war. The Ukrainian wolf, enabled by western intelligence and state-of-the-art weapons, e.g., Javelins, Switchblades, and Phoenix Ghosts, Gepards, et al., are inflicting enormous losses on the bumbling Russian bear. At least this is the story as it is being portrayed in the majority of the media coverage of the war. While this view may be true to some degree, the reporting is skewed by two critical factors.

Why We Believe the Russians Are Losing

First, the Ukrainians control the narrative about the war; reporters largely see what that are shown by their escorts inside Ukrainian territory. Furthermore, the Ukrainians have been exercising incredible operational security. One learns little from reporting about the actual state of the Ukrainian military.

What are the Ukrainian losses? What is the combat effectiveness of their forces? How long can they persist in a war of attrition in which they are vastly outnumbered? These, and a myriad of other questions remain largely obscured, while the flow from Ukrainian and other sources about Russian casualties, equipment losses, and setbacks is continuous.

Second, much of the evaluation by western analysts and pundits who are looked to for explanations of the military aspects of the war are seeing the conflict through western eyes. The military analysts, in particular, see the Russians as inept and unable to operate effectively—not like their own militaries.

These military experts attribute Russian failures to an inability to execute the complexities of combined arms operations and a forced reliance on non-precision weapons. Thus, the Russians are all about brute force, because they are incapable of executing the sophisticated western concepts that substitute precision for mass.

Thus, Russian failings in this regard are not because of their materiel.  The Russians have sophisticated weapons and other capabilities. Analysts, almost self-congratulatory in many cases, point to the root cause of Russian difficulties in the Ukraine: despite their high technology kit, they are stymied, because these weapons are in the hands of poorly-trained, unmotivated conscript forces.

Furthermore, this flaw is made fatal by the absence of a competent western-like non-commissioned officer corps and corrupt, risk averse officers who are afraid to exercise initiative.

In essence, the Russian army that is bogged down in Ukraine is a repeat of the Soviet Army that was proven to not be ten-feet tall during their 1980s fiasco in Afghanistan. Here, again, western precision weapons—Stinger man-portable air defense systems,  antitank weapons, and a constant flow of munitions—in the hands of U.S. trained and highly motivated Mujahedeen warriors—soundly defeated the Red Army.

Nevertheless, one should recall that the Soviets left Afghanistan in good order, driving home through the Salang Tunnel in 1989 with flags flying. Mohammed Najibullah's puppet Afghan government in Kabul remained in power until 1992—until the Russians quit providing aid after the collapse of the Soviet Union.[1]

This is the endgame that is not paid much attention to by U.S. observers, whose understanding of the Soviet involvement appears to derive largely from the movie Charlie Wilson's War. On the other hand, the Afghan government the United States supported for some twenty years vanished within hours of the hasty U.S. departure from Kabul in August 2021.

Are the pundits missing something? What if something else is actually happening in Ukraine that we cannot see because of our narrow view of the war? How do we view the war through Russian eyes?

Fire Instead of Finesse

My sense is that the Russians are fully aware of their tactical shortfalls. In the immortal words of Dirty Harry Callahan, "A man's got to know his limitations." Furthermore, rather than a crushing defeat, the Russian's failure to take Kyiv and decision to change course may not be what it seems. It is certainly not unprecedented. Perhaps the Russians attempted, as they did in Czechoslovakia  (1968), Afghanistan (1979), Chechnya (1996,) and Crimea (2014) to execute a rapid coup de main operation with the expectation that the sudden appearance of the Red Army would cause resistance to collapse.

This is what happened in Czechoslovakia, the initial conquest of Afghanistan, and Crimea; it did not work out that way in Chechnya or Ukraine this go. In this current war, as in its past conflicts, Plan B is to revert to what the Russians have always done when faced with a resolute adversary. They turn to fires delivered by cannons, rockets, missiles, and bombs.

The Russian Army has, in my view, been correctly described as an artillery army with tanks. They adhere to the maxim that artillery conquers and infantry occupies. My sense is that the Russians also understand their own Army better than we do and use it in a way that compensates for the deficiencies noted by western observers.

In short, the Russians rely on firepower.

What We Should Expect From the Plodding Bear

If I am correct, then we should expect things to get only worse in Eastern Ukraine as the war continues. This is now a war of attrition, to which the traditional Russian approach of persistent brute force is highly suited.

It is also useful to remember that the Russian army has always been conscript-based without a strong NCO corps (as is, by the way, the highly respected Israeli army). Again, in the eyes of western observers, this why the Russians are incompetent and will lose. Somehow, however, the Russian army has always muddled through against almost all comers. It is not pretty to watch, but they persist and generally prevail in what they set out to do. If he were still alive, it would be interesting to ask Generalfeldmarschall Friedrich Paulus, the commander of the defeated German forces in Stalingrad (and the first field marshal in German history to surrender), his views about the inept Red Army.

An artillery projectile does not need anything but an elevation and a deflection to go where you want it to go. It does not care that it is not a precision munition or that it was fired by a conscript directed by inept sergeants and corrupt officers who do not exercise initiative. Nor does it care about the nature of the target. It just goes where sent and does its high explosive damage.

What Is Legal and What is Not

I am continually surprised during press engagements I have had over the past weeks (CBS, CSPAN, PBS, BBC, others) when journalists are shocked at the Russian employment of illegal weapons—thermobarics, cluster munitions, white phosphorous, mines, et al.

I first remind the reporters these weapons are legal, in the U.S. arsenal, and that we use them: Against military targets.

I also note that the fascination with special weapons is surprising to me, given that they are a minor instruments compared to the other weapons available to Putin in his symphony of horrors. Putin's, percussion section, to extend the metaphor, is old fashioned, high explosive; precision in many cases is, "did you hit Mariupol?"

What is illegal is the indiscriminate use of any weapon against civilians. This, unfortunately, is something the Russians have historically and routinely practiced. The United States and its Allies did similar things during World War II with area bombing, aerial "interdiction" of anything that moved, and a practice during that war described to me by my father. He was a young paratrooper and told me that in the later months of the war in Germany, if a town was approached and your unit received fire, you backed off and visited hell on it with air and artillery. Then, the citizens generally surrendered, on occasion after "disabling" the fanatics trying to keep them fighting to the end.

It has been over 70 years since World War II and the West has forgotten what a high-intensity, large-scale war involves. The Russians have not. In wars for survival—as Putin is framing the war in Ukraine—there are few niceties, what we now view as humanitarian constraints.

We would be well served to recall the words of Union General William T. Sherman reflecting on the U.S. Civil War: "War is cruelty, and you cannot refine it."[2]

The Russian Way Is Not Our Way

This is what the Russians do and we should expect this from them in Ukraine. They have demonstrated how they operate historically, at least since the scorched earth policies depicted by Tolstoy in his novel Hadji Murat, set during the irregular warfare in Chechnya and the Caucasus in the 1850s.

Furthermore, the Russian practice of relying on indiscriminate firepower has continued in our times in Afghanistan, Chechnya, Georgia, Syria, the initial invasion of Eastern Ukraine, and now. We should not be surprised and, more importantly, if we ever face them in combat, we should be prepared for how they operate.
Much, much more thought provoking analysis at the link! Including a full description of the Russian double cross on the humanitarian ceasefire and evacuation corridor in Grozny.
I'm just going to post the first tweet in this thread. The content is disturbing, but if you want to see the rest click through. Warning: the thread deals with torture, murder, sexual assault, and rape on Ukrainian captives and POWs:
Ukrainian army released a tapped phone call between a Russian soldier and his mother. The soldier describes excited how he tortured and killed Ukrainians, and says he enjoys mutilating people. I have translated the calls in this #THREAD. Please be aware of extreme violence. /1

— Sergej Sumlenny (@sumlenny) May 4, 2022
Your semi-daily bayraktar:
The Ukrainian Navy posted a TB2 UCAV compilation video that showed the previously released footage of the strikes on the two Raptor fast-attack craft, Strela-10, and ZU-23-2, as well as another target.https://t.co/d2OULJlS3t pic.twitter.com/B6mCR0Lesl

— Rob Lee (@RALee85) May 3, 2022
I think that's enough for tonight, so let's finish up.
Your semi daily Patron:
Patron the Dog is setting himself up for a Victory and wishing you all a very good morning! pic.twitter.com/JhMSZVqyrs

— Free Ukraine (@Mihoflowersy) May 2, 2022
Patron gets some help!!!!
Another rising star among #Ukraine's service dogs – a Belgian Sheperd Almaz ('Diamond') now devotedly sniffing mines in #Kyiv oblast.#StandWithUkraine pic.twitter.com/Iw9vMfEfIu

— Stratcom Centre UA (@StratcomCentre) May 4, 2022
Your semi daily Chef Jose Andres:
"Together, we can change the world if we really believe it."

– @ChefJoseAndres tells @StephenAtHome how everyone can put their talents to work helping others. Watch #LSSC tonight for more from the @WCKitchen founder! pic.twitter.com/5iv1XgCxvq

— The Late Show (@colbertlateshow) May 4, 2022
Open thread!