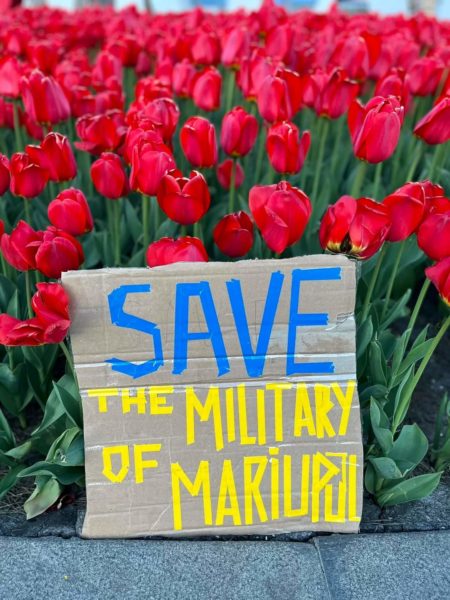 (Photo found here, photo by Maria Korenyuk)
We start, as usual, with President Zelenskyy's address to Ukraine from earlier this evening. Video immediately below and the transcript with my emphasis after the jump.
Ukrainians!

Our defenders!

I wish you health!

Today was a busy day, which began and ended with awarding our heroes, our defenders.

On the occasion of Infantry Day – a professional holiday of Ukrainian warriors who are the foundation of the army, I met with our servicemen in the morning. Thanked them for their service. Presented awards. Including our new – combat – award.

You know that since independence there have been no combat awards in our country. And today I had the honor to finally present such an award. The Cross of Military Merit. And the first person to whom I decided to present this Cross was General Valerii Zaluzhny, Commander-in-Chief of the Armed Forces of Ukraine. For courage, for wisdom, for organizing an effective rebuff to the Russian invasion. I am sure the Russian army will remember such a rebuff for a long time.

Deputy Commander-in-Chief of the Armed Forces of Ukraine, Lieutenant General Yevhen Moysiuk, combat medic of the 72nd separate mechanized brigade, Sergeant Dariya Mazurenko, Commander of the 14th separate mechanized brigade, Colonel Oleksandr Okhrimenko, Deputy Commander of the mechanized battalion of the 72nd separate mechanized brigade, Captain Vladyslav Kaliyevsky received the same award.

Combat awards are a fair new tradition for the state, which defends its independence on the battlefield.

A special award "For Courage and Bravery" was also established for combat units that showed extraordinary courage and effectiveness in the battles for Ukraine. It was received by 7 brigades.

I also presented the Orders of the Golden Star to our defenders who were awarded the title of Hero of Ukraine. And also to the relatives of those of our heroes who were posthumously awarded this title.

We continue the evacuation mission from Mariupol, from Azovstal, with the mediation of the United Nations and the International Committee of the Red Cross. During the day, our team organized rescue for more than 40 civilians – women and children. We hope that soon they will be able to arrive in a safe area after two months of shelling, just underground – in shelters.

We are also working on diplomatic options to save our military who still remain at Azovstal. Influential mediators are involved. Influential states.

Russian troops continued the shelling of our territory, including missile and air strikes. I ask all our citizens – especially these days – not to ignore the air raid sirens. Please, this is your life, the life of your children. Also, strictly follow the public order and curfew regulations in cities and communities.

Be sure to comply with the ban on visiting forests in the territories that were occupied. A great threat of mines and tripwire mines left after the Russian military remains there.

I met in Kyiv with the foreign ministers of the three Baltic states. They consistently support our struggle against the Russian invasion. Support from the first day. I am very grateful. And today, as always, we talked thoroughly and for the benefit of Ukraine. We are coordinating our steps to increase pressure on Russia.

And this is especially important now – when the European Union is preparing a new, already sixth, sanctions package on Russia.

I also took part in a discussion at the very influential British expert platform Chatham House. It is one of the most important international platforms for political work and lobbying – in the good sense of the word – useful government decisions. I have outlined our initiative to update the global security architecture. So that the tools for a really quick reaction to any external aggression finally appear in the world.

Addressed the Parliament of Iceland. Thanked the Government and the people of Iceland for supporting the sanctions that are needed to deter Russia. I also called on Icelandic politicians, diplomats and ordinary citizens to help defend our freedom. Urged them to be advocates of freedom. Advocates of Ukraine. Because we have a common freedom with them. Just as with all other nations of the free world.

This is the extraordinary strength of the Ukrainian position. We defend ourselves against the onslaught of tyranny craving to destroy everything that freedom gives to people and states. And such a struggle – for freedom and against tyranny – is quite comprehensible for any society, in any corner of our planet.

In the evening I signed decrees on awarding our heroes. Our brave defenders thanks to whom Ukraine has survived and is holding on despite everything that Russia is trying to do to break us.

Therefore, 203 servicemen of the Armed Forces of Ukraine were awarded. And 16 servicemen of the Main Intelligence Directorate.

Once again, I congratulate all warriors in infantry units on their professional holiday.

Glory to all our defenders!

Eternal memory to everyone who gave their lives for Ukraine!

Glory to Ukraine!
Here's today's operational update from Ukraine's Ministry of Defence (emphasis mine):
The operational update regarding the russian invasion on 18.00 on May 6, 2022

The seventy-second day of the heroic resistance of the Ukrainian people to a russian military invasion continues.

russian enemy continues to conduct full-scale armed aggression against Ukraine.

russian enemy does not stop the offensive in the Eastern Operational Zone in order to establish full control over the territory of Donetsk and Luhansk oblasts and maintain the land corridor between these territories and the occupied Crimea.

The greatest activity of russian occupiers continues to be observed in Slobozhansky and Donetsk directions.

russian enemy launches missile strikes on transport infrastructure and residential areas of settlements of Ukraine.

In the Volyn and Polissya directions, russian enemy did not take active action. Certain forces and means of the Armed Forces of the republic of belarus continue to perform tasks to cover the Ukrainian-belarusian border in Brest and Gomel regions.

Currently, units of the Armed Forces of the russian federation remain in the Republic of belarus, consisting of up to eight launchers of Iskander-M operational-tactical missile systems and up to six aircraft of various modifications that may be involved in air and missile strikes on Ukraine.

Some units of the Armed Forces of the russian federation continue to carry out tasks to cover the Ukrainian-russian border in the Bryansk, Kursk and Belgorod regions. The engineering equipment of the positions was carried out near the border crossing points.

According to the available information, in the settlement of Klyntsi, Bryansk region, units of the 144th Motorized Rifle Division of the 20th Combined Arms Army of the Western Military District are conducting combat coordination in order to further participate in hostilities on the territory of Ukraine.

In the Slobozhansky direction, russian enemy continues to increase the number of troops. From the area of ​​the settlement of Urazovo of the Belgorod region to the territory of Ukraine carries out movement of divisions from structure of the Eastern military district.

russian enemy is blocking some remote settlements in the Kharkiv region, carrying out systematic high-intensity shelling, including with the use of rocket-propelled grenade launchers, in areas where our troops are concentrated. Also, russian enemy led the offensive in the direction of the settlement of Nova Dmytrivka, had no success.

As a result of the offensive, units of the Defense Forces of Ukraine regained control over the settlements of Oleksandrivka, Fedorivka, Ukrainka, Shestakovo, Peremoha, and part of the village of Cherkaski Tyshky.

In the Donetsk and Tavriya directions, in order to restrain the actions of Ukrainian units, russian enemy fires along the entire line of contact. Continues airstrikes and missiles.

In the Lyman direction, russian enemy carried out assault operations in the direction of the settlement of Shandryholove. It tried to establish control over the settlements of Rubizhne and Voevodivka in the Severodonetsk direction, but was unsuccessful. In the Popasna direction russian enemy carried out assault operations in the direction of the settlement of Nyzhne. In the Avdievka and Kurakhiv directions, russian enemy limited himself to shelling the positions of units of the Defense Forces of Ukraine.

In the city of Mariupol, the enemy focused its efforts on blocking and defeating units of Ukrainian defenders in the Azovstal area.

The occupiers conducted reconnaissance by fighting in the direction of the settlement of Prechistivka, were unsuccessful, and retreated.

In the South Buh direction, russian enemy did not conduct active offensive operations, inflicting fire damage on the positions of our troops in some areas. It focused the efforts on maintaining the occupied frontiers, replenishing ammunition and engineering equipment positions.

In the Bessarabian direction, the russian federation continues to provoke tensions in the transnistrian region of the Republic of Moldova. The personnel of the operational group of the russian troops are in combat readiness "Full".

russian enemy continues to suffer significant losses in personnel and equipment. According to available information, up to 800 wounded and up to 200 bodies of dead enemy russian servicemen are in the psychiatric hospital of the village of Malotokmatsky, Rostov region, which was partially transferred to the use of the armed forces of the russian federation.

We keep the system! We believe in the Armed Forces of Ukraine! Together to victory!

Glory to Ukraine!
Here's today's British MOD assessment: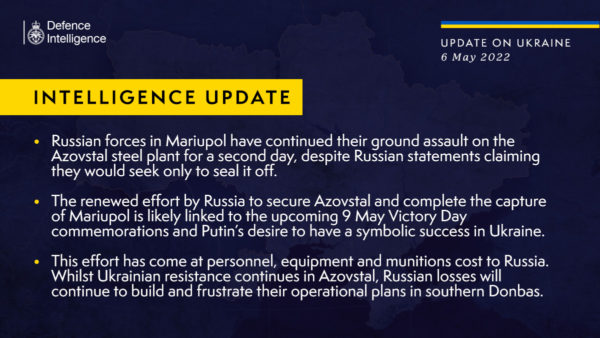 And here's their updated map for today: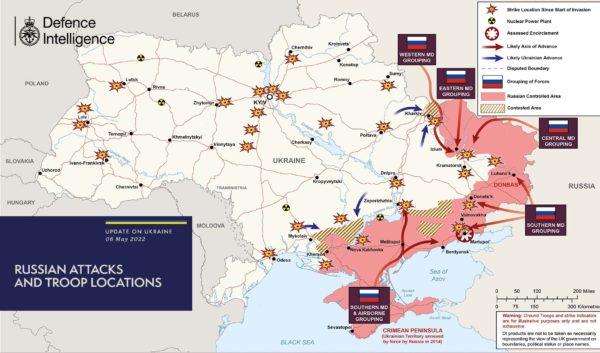 And here's a map showing the Ukrainian military's positions after retaking the five towns northeast of Kharkiv:
Newly liberated towns northeast of Kharkiv.
Russia is losing its artillery positions against the city and I think it can't afford redeploying troops from Izium to deter the Ukrainian counter-strike.
I think in the nearest time we'll see UA military coming to the Russian border. pic.twitter.com/2r1Gfe7CBv

— Illia Ponomarenko ?? (@IAPonomarenko) May 6, 2022
There was not a DOD background briefing today, but the Pentagon Spokesman John Kirby held a press conference:
PRESS SECRETARY JOHN F. KIRBY: Good afternoon, everybody.

(CROSSTALK)

MR. KIRBY: Happy Friday.

I have a special guest joining me at the podium today. I asked Dr. Bill LaPlante, the Undersecretary of Defense for Acquisition and Sustainment, to join me today because you have shown a higher degree of interest in the contracting of the kind of support that we're giving to Ukraine.

And so I asked Dr. LaPlante to come here and give you some highlights of some of the work we've been doing through his team, the Acquisition and Sustainment team, to support Ukraine, to include the contracting for the Ukraine Security Assistance Initiative funds and working with the defense industry. Again, that's something that we've been talking about for the last few days. I know you're interested in that.

Dr. LaPlante a hard out here so I'm going to stop talking and let him go to the podium. He's got some opening comments and then we'll take some questions but we've got to get him out of here about quarter after the hour.

So with that, sir, thank you so much for doing this.

UNDER SECRETARY OF DEFENSE WILLIAM A. LAPLANTE: Good afternoon. Thank you, John. Hi, everybody. So I'll make a few remarks here, as John said, and then we'll take some questions. So thanks again for being here. So I do want to provide a couple of updates before we do get into the questions, some things on contracting and other funding for key systems.

I think the last few weeks have really highlighted the intensity of conventional conflicts now in the 21st century. And the demand for munitions and weapons systems, it really outpaces anything we've seen in recent memory.

As I'm sure you're all aware, the Ukraine Supplemental Appropriations Act was signed into law on the 15th of March. Of the $13.6 billion, in that appropriation, $3.5 billion was appropriated to replenish U.S. stocks of equipment sent to Ukraine through the presidential drawdown, OK?

Following the required 30-day notification period to Congress, the first tranche of funds, roughly $1.45 billion, was transferred to the Army and the Marines earlier this week to procure replenishment stocks of Stingers, Javelins and other key components.

We are actively negotiating right now, the Army is, for Stingers and related components, and that's ongoing. I expect to get that awarded by the end of May. For Javelins, the award is imminent. So that's all happening right now.

Now, in the second supplemental that's been requested by the White House that's been gone over — that's the $33 billion request supplemental — $5.4 of that would be for additional replenishment. So again, $3.5 was approved before. We're asking in the next supplemental for $5.4.

OK, the second item is a security assistance under authority provided by the Ukraine Security Assistance Initiative, or USAI. Unlike presidential drawdown, this is an authority under which the U.S. can procure capabilities directly from industry rather than delivering equipment out of our stockpiles. It's a different category.

On April 1st, we announced $300 million in security assistance under USAI, and to date, the DOD has already awarded eight contracts totaling $136.8 million. And we'll have some of the details of this if you're interested but these awards included unmanned aerial systems, Puma, advanced precision kill weapon system, communication devices, combat medical equipment and supplies, meals ready to eat, even binoculars.

So again, this also includes a $17.8 million for Switchblade unmanned aerial systems, and that's an award that's going to be seen later today — later this afternoon. So again, out of the $300 million, we have plans for all $300 million but we've announced already the awards for $136.8 million.

I want to highlight that, again, this is in the next supplemental. An additional $6 billion was requested for USAI in the supplemental appropriation, which again provides capability directly to Ukraine and sending a clear message to the industry, a demand signal.

So, I'll close by emphasizing that we are in contact with the industry every day as our requirements evolve. And we'll continue to utilize all available tools to support Ukraine's armed forces in the face of Russia's aggression. As we work to mitigate supply chain constraints and speed up production lines by getting contracting underway, we have also asked the industry to present options for new systems that can meet strategic objectives. We did put out a request for information about two weeks ago, in different categories of timeframes 30 days, 60 days, 90 days to industry, and what they could provide. We've received and are looking at well over 300 proposals, and we're going through those right now in this book. And so, there's a lot of work going on. So, I'll stop at this point, and we'll go to questions.

MR. KIRBY: Thanks. I'll go ahead and moderate

Q: Is it like a one-to-one replacement? So, 1400 stingers that went out the door do they — do you just — does the U.S. reacquire 1400?

DR. LAPLANTE: It's not that simple, at least for this first tranche, as I understand it because it depends on the system depends on when the system was, you know, the system that we're replenishing. The intent is to eventually do a one-to-one replacement, but the intent is to eventually get the one-to-one. But the reason it may not be directly one to one in the first tranche is it just depends on when the system was bought and then buying it today. But the intent is to get to a one-to-one between the combination of these replenishment funds.

Q: So, we had been told that replacing these stockpiles, that it didn't — that the stockpiles didn't necessarily have to come back up to the previous level, because those stockpiles had been acquired, you know, years and years ago, and warfare was different.

DR. LAPLANTE: Sure.

Q: But I came in late, but I thought I heard you say the intent is to replace on a one for one basis.

DR. LAPLANTE: Right, to the extent. But it depends on what one-to-one means, and I'll give you an example of exactly what I'm talking about. The model of javelins that are on the production line right now are called the F-model, it's what Lockheed Martin makes. The plan all along before Ukraine was to transition to the next generation of Javelin better — better seeker, better range, et cetera, called the G-model. And so, of course, one of our decisions to make, and when we replenish it, we want to replenish it, probably we will, with the G-model. So, it's not quite a one-for-one replacement.

Now, think of some — some other systems that are much older than that you have — it's going to be harder, for example, the M-777s as an example. We don't have that in production anymore. So, what do you — what's the replacement equivalent for an M-777? And we're going through all of these calculations right now. So, it's one for one to the best you can do or the equivalent to that. But this is the issue that's happening, we're having to go through this calculation, so are the Europeans, our allies, which is that they're replacing, for example, the pole sending Russian-made-originally tanks what do they want to replace them with? Et cetera, et cetera. So, it's — everybody's going through the same calculation of what is the replacement?

Q: Just as a quick follow up, is there assumptions that future conflicts might look more like this one and less like what we saw in Iraq and Afghanistan, where there would be more precision-guided munitions, where there would be more need for drones, and that's how your — your assumptions are changing?

DR. LAPLANTE: I wouldn't be able to say that. I have not been in those conversations about what assumptions we would make about the future. The U.S. military has to plan for almost every contingency. And so that's the thing we have to remind ourselves — we have to remind ourselves of — Secretary Gates, what he said about our prediction record when he was Secretary of Defense — "we have perfect record, we are 0 for 9."

So it's the prediction business in our world is one that's — we have to do it, it's the best practice, but to rely on saying "this is what's going to happen next or likely to happen next."

Clearly, we're learning stuff right now and I'm sure it's going into the calculations. I'll just stop at that point.

Alright, that was my opening statement, was him. So we can get right to questions. Ben, you got one for me?

Q: Returning to the Moskva — are there any restrictions that you can talk about that U.S. would include Ukraine in its use of American intelligence so as not to, you know, risk further escalation and conflict?

And then there's — secondly, there's a report out there about a second patrol ship — Russian patrol ship that's been struck, and if there's anything at all you can say about that?

MR. KIRBY: Yeah, we've seen the reports about this second. I think they're saying that the — the reporting out there, at least in social media, was a Russian frigate. We've been looking at this all day and we have no information to corroborate those reports.

On the intelligence, I think you can understand I'm going to be careful here in what we talk about, in terms of the parameters of intelligence that we provide them, but we provide them what we believe to be relevant and timely information about Russian units that will allow them to adjust and execute their self defense to the best of their ability.

The kind of intelligence that we provide them, it's legitimate, it's lawful and it's limited, and I would rather not get into the degree to which there's limitations on there, but we try to be as timely and as relevant as we can.

And I would also add — and this is not an unimportant point — we are not the only sole source of intelligence and information to the Ukrainians. They get intelligence from other nations, as well, and they have a pretty robust intelligence collection capability of their own. I mean, they've been fighting this war against Russia for eight years. It's not like they are completely blind to the way Russia organizes itself and the way that Russia conducts itself on the battlefield.

So as you would expect any nation to do, they form a mosaic here, they collate the information that they're getting, and then they make their own decisions about what they're going to do with that. And if they do decide to do something with that intelligence, then they make the decisions about acting on it.
Much more of the Q&A both with Undersecretary LaPlante and John Kirby at the link!
If that doesn't satiate you acquisitions and logistics types, I really don't know what will!
Mariupol:
One of defenders of #Mariupol. #Ukraine has women stronger than steel. How could you even thought #Russia, that you would win over this country? #AzovstaI Photo from Nik Mark pic.twitter.com/NR3NShhu2x

— Maria Zolkina (@Mariia_Zolkina) May 6, 2022
⚡️Russian troops fire at evacuation vehicle near Azovstal, kill Ukrainian soldier.

Russian troops also wounded six soldiers who were on their way to pick up civilians from the besieged Azovstal plant. The attack was committed during a pre-agreed ceasefire.

— The Kyiv Independent (@KyivIndependent) May 6, 2022
#Azovstal in #Mariupol is under attack again. pic.twitter.com/9u5GwFCM7M

— NEXTA (@nexta_tv) May 6, 2022
Do you remember this lady from Mariupol who made headlines before Russia's Ukraine invasion? She was able to flee Mariupol. Valentyna told her story about discovery of her Ukrainian identity for @svoi_global (do follow them for stories from the ground)https://t.co/iHi7taPGxr

— Olga Tokariuk (@olgatokariuk) May 6, 2022
From SVOI.Global:
A week before the full-scale invasion of Russia into Ukraine, international media shared the story of Valentyna Konstantynovska from Mariupol, who participated in civilian combat training of the National Guard of Ukraine. Namely, an article about the preparation of Ukraine for the Russian invasion was featured on the front page of the British newspaper The Times, while Valentyna's picture was used as an illustration.

After February 24, the elderly woman managed to leave her home, Mariupol, on the last train. At first, she lived in Lviv, then moved to Poland, and on April 9 joined her youngest daughter in Spain.

Valentyna Konstantynovska told about her life and volunteer experience in Mariupol, the journey of learning the Ukrainian language, and her old dream that came true before the war.

The secret to learning Ukrainian

My life in Mariupol was very vibrant. I attended Ukrainian language courses, hang out with my friends; we cooked national food together, sang songs, and volunteered. In summer, we would go to Khortytsia Island, take dips in Dnipro, attend the Dyke Pole festival, and climb the Oba-Tash Mountain in the Zaporizhzhia region. We had so many plans for this summer!

I've lived in Mariupol since 1964. I've mostly worked at the Azov Shipping Company in the Economic Education Department. But I took breaks to look after my kids, because my husband believed that if he could provide for us then I should take care of the kids. So, with such an approach, my career path wasn't great. I've raised two kids, two daughters. I helped them raise my grandkids because both my daughters were working.

I've spoken Russian my entire life. That's how it was at that time: starting from kindergarten, ending with the academy — one was surrounded by the Russian language. I come from Dnipro. We lived near a Ukrainian school, and my brother started his education there. When I went to school two years later, the school became Russian-speaking, and the Ukrainian one was transferred to the suburbs of then-Dnipropetrovsk. The city was Russian-speaking, so the people spoke either Russian or a mix of the two languages.

Only as an adult, when my younger brother got married, his wife and I decided to speak Ukrainian at home. We spoke to the best of our abilities. One thing about me is that I'm a bit of an overachiever. So I bought lots of books in Ukrainian and started reading them out loud, articulating every word and expanding my vocabulary. I also loved to sing, especially the songs of our fellow Donetsk singer Anatolii Solovyanenko. I was lucky to buy a couple of Ukrainian embroidered shirts. I wore them to work with great pleasure.

When in 2014 the Russians became an open enemy to us, Ukrainians, I returned to my method of language learning. I had a schedule: I woke up, did some exercises (without a fail), had breakfast, and then started reading. I got three volumes of Ukrainian dissident Levko Lukyanenko. So I read his works out loud, articulating every word. I did so to train the proper movement of lips and jaw.

I could talk and sing in Ukrainian quite well, but I wanted to learn how to speak proper Ukrainian. So I signed up for Ukrainian language courses, as well as for the classes conducted by Taras Shevchenko's All-Ukrainian Prosvita Society. We were taught the correct emphases. We read the works of various poets and writers. We also put on plays and even rented a bus to go on field trips with like-minded people. Both the courses and the classes were free.
Much, much more at the link! Including a bunch of pictures.
Kharkiv:
In the Kharkiv region russians booby trapped graves in order to kill civilians which will come to the cemetery. Sharing it for those who still thinks there are other ways forward apart from kicking this evil out of Ukraine promptly & fully #ArmUkraineNow
Credit: на фронті України pic.twitter.com/rrvxfEUAC9

— Olena Halushka (@OlenaHalushka) May 6, 2022
Angelina and Danya love to draw. But now their drawings hang on the walls of the subway. Dozens of children in Kharkiv have to live in metro stations because Russia destroyed their homes. pic.twitter.com/wP6sGMcRJc

— Maria Avdeeva (@maria_avdv) May 6, 2022
Bucha:
From Reuters:
At the end of March, when Russian troops retreated from Bucha, a leafy suburb near Ukraine's capital, they left reminders of their deadly occupation for all the world to see. Bodies were strewn in the streets. Quaint houses were reduced to rubble. A field near the town's church had become a mass grave.

Now, as Ukrainian and international prosecutors begin the work of identifying those responsible for the alleged atrocities, Reuters has examined the aftermath of Russia's hasty retreat – and found vital clues to the identities of individual Russian soldiers and military units present during the bloody occupation.

Among them: An elite paramilitary force that reports up to a former bodyguard of President Vladimir Putin. A paratroop division decorated for its role in Moscow's long secret war in east Ukraine. Chechen troops linked to the strongman leader of the Russian region. And a paratrooper who was traced thanks to a love letter found in the ruins.

Reuters journalists spent three weeks in Bucha interviewing more than 90 residents, reviewing photographic and video evidence these locals shared and examining documents left behind by the Russians. Much of the evidence and testimony focused on Yablunska Street, a 4.5-km thoroughfare whose name means Apple Tree Street. It was here on Bucha's southern edge that bodies of civilians were left in the open. Many details about the occupying force and the chain of command are reported here for the first time.

Asked about Russia's military operation in Bucha, Kremlin spokesman Dmitry Peskov replied: "The Bucha story is a set-up and a fake. For details, you need to approach the Defence Ministry." Neither the ministry nor Russia's military responded to questions from Reuters.

Servicemen from Russia's Vityaz security force were among the occupying troops, an identity document found at the scene showed. Vityaz, whose presence in Bucha is revealed here for the first time, is under the command of the National Guard, Rosgvardiya. Its boss, Viktor Zolotov, who didn't comment for this article, is a former Putin bodyguard and reports directly to the Russian president.

Other documents, including a love letter found in one house that was occupied by Russian soldiers, helped place in Bucha the 76th Guards Air Assault Division, a paratrooper force from Pskov in north-west Russia. Reuters reporting has for the first time independently linked this division to acts of violence against unarmed men.

Earlier, in 2014, Putin decorated the 76th for carrying out combat missions when Russia was fighting a clandestine war in eastern Ukraine. On a visit to the division's base in 2020, Putin told them: "Our people are proud of you." The division comes under Defence Minister Sergei Shoigu, a close Putin ally who has vacationed with the president. Neither the Defence Ministry nor Shoigu responded to Reuters questions.

By interviewing dozens of witnesses, analysing social media posts, and using open-source intelligence techniques to match video to the locations where it was shot, Reuters discovered that at least three Chechen units allied to Chechen leader Ramzan Kadyrov, another fervent Putin supporter, were operating in the vicinity of Bucha during March. Witnesses said they saw Chechen troops inside Bucha itself. Chechen authorities didn't respond to questions about their forces' activities in the area.

Reacting to reports of the more than 400 deaths in Bucha, U.S. President Joe Biden denounced Putin as a "war criminal." The Kremlin condemned Biden's remarks as "unforgivable." It denied its forces committed atrocities and has claimed that images of dead bodies on Bucha's streets are fake. Russia characterises its invasion as a special operation to demilitarise and "denazify" Ukraine.

Ukrainian prosecutors say they are investigating more than 9,000 potential war crimes by Russian forces in the conflict and pursuing hundreds of suspects. The International Criminal Court is also examining potential human rights abuses in the war. Ukraine's prosecutor general announced in April she had identified 10 Russian soldiers suspected of committing abuses against civilians in Bucha. In response to a request for comment, the office of Ukraine's prosecutor general referred Reuters to the district prosecutor for Bucha, who said that more than 120 law enforcement officers had already conducted interviews with over 1,400 witnesses and victims in the town. The prosecutor said 323 criminal proceedings were currently under investigation.
Much, much more at the link!
Somewhere in the Donbas:
After their civilian car got hit by #Russians in #Donbas, and all adults got wounded – this 15-year-old girl, despite a wounded leg, drove 30 km on a mined road to evacuate them.

"Otherwise they would've bled to death"#StandWithUkraine️ #ArmUkraineNow #StopPutin pic.twitter.com/e5lYOTbYvA

— olexander scherba?? (@olex_scherba) May 6, 2022
The Black Sea:
Two images have started to circulate online – supposedly of a Admiral Grigorovich-class frigate that is claimed to be on fire in the Black Sea.

But the images are fake.

A reverse image search finds both were first posted online at least two months ago. pic.twitter.com/WlljGIZQCI

— Jack Taylor (@Jack_P_Taylor) May 6, 2022
I do want to make sure I take a moment and cover a bit about the nature, character, and characteristics of war as I teased that last night.
At the senior leader colleges (war colleges), as well as both the professional and academic literature on war, war is described as having an unchanging nature. It has been, is, and will always be rooted in the simple drivers that Thucydides described in his history of the Peloponnesian War. The nature of war is rooted in fear, honor, and interest. The character and characteristics of war, however, change and evolve over time to reflect the changes in societies in regard to what are considered existential threats that require a military solution, as well as changes of technologies that allow state and non-state actors to deliver kinetic power to inflict enough pain so that one's adversary yields.
That the nature of war is unchanging and enduring, that it is about vital, existential interests shorthanded as fear, honor, and interest is our default understanding. As a result the nature of war is considered all but immutable. What can be changed in regard to war is its character and characteristics. For instance, the US and our NATO allies, as well as our Australian, New Zealand, Israeli, Japanese, South Korean, and several other allies all teach and train our service members military codes of ethics and professional rules of engagement intended to prevent war crimes and crimes against humanity from happening. And when they do happen they are usually not intentional. Other states and their militaries do not. Which is why some militaries and/or the members of some militaries engage in rape, the targeting of civilians, torture, and the destruction of non-military targets as part of how they conduct war/undertake warfare. And these actions seem to be widespread among their forces. Working hard to create a professional, ethical military that does not do these things is a result of the changing character and characteristics of war. Deciding not to is the flip side of that reality and the hard work it entails.
There are other changes to the character and characteristics of war over time. A lot of these have to do with changes in technology and their effects on states' military capabilities. In other cases it is the recognition that engaging in interstate war – where militaries of two or more states fight in uniforms below their nation-state's colors – will not be effective against their adversary, so an aggressor chooses to use other elements of national power as weapons to pursue their objectives. In my work, including my published professional work, I usually refer to this as 21st century warfare which can include economic warfare, information warfare and psychological operations, lawfare, weaponizing diplomacy, weaponizing intelligence, cyberwarfare and using the cyber domain as the delivery system/weapon to achieve economic warfare, information warfare, and/or lawfare effects.
One of the things that will result from Ukraine's defense against Putin's re-invasion is that a new understanding of the changes in the character and characteristics of war as related to this war for Ukraine will eventually emerge. But the nature of war won't be changed by it. The nature of the war for Ukraine, both Ukraine's defense and Putin's re-invasion, is still the unchanging, immutable nature of war: the vital, existential interests that we refer to as fear, honor, and interests. In the case of Ukraine their interest is in being free to exist and choose their own destiny as a state and society. In the case of Russia it is Putin's fear of what that means for the managed, illiberal democracy he's created in Russia and the sphere of interest he seeks to establish and maintain. It is also his belief, rooted in the completely fabricated alternative history and mythology of Russia that the failure to dominate Ukraine is an ongoing stain on Russia's honor and its historic destiny.
I'll leave it there.
Last night in comments, commenter EZSmirks included a link to a post at a site that claims the French Foreign Legion is fighting alongside the Azov Regiment in Mariupol. The link leads back to the site/blog of a well documented British conspiracy theorist and apologist for Assad's and Putin's war crimes in Syria.
Here is the official statement of the French Foreign Legion regarding the war for Ukraine made on 22 March 2022:
Last week, the commander-in-chief of the French Foreign Legion made an address to his Ukrainian legionnaires and their families, in view of the current sad conflict in their country.

In the video posted below (made by a Ukrainian and a Russian senior NCOs), General Lardet, the head of the Legion, recalled that regardless of the gravity of the situation, all legionnaires had pledged their allegiance to France, which they promised to protect for the duration of their service, with honor and fidelity.

LEGIO PATRIA NOSTRA (The Legion is our homeland). It is with these words that you, the legionnaires of Ukrainian origin or of the region in particular, wear the White kepi: "We swear to serve France with honor and fidelity".

I wrote this to you just one year ago in our Kepi Blanc magazine "In the name of Fidelity": Legionnaires are not stateless and the Legion does not ask them in any way to disavow their homeland, let alone to fight it.

But the Legion does not hand out causes to fight for, no matter how beautiful they may be. It was created for the service of France, welcoming volunteers. Our honor is not to choose our causes but to serve the mission which is sacred.

Your loyalty as a legionnaire is the heart of our commitment. It is for the time you have decided in your contract, unsurpassable.

Is loyalty painful? The history of the Legion for almost 200 years has been filled with pain but honor, the one that remains above all else. One of our elders said, "You can ask a lot of a soldier, especially to die, that's his job. We cannot ask him to cheat, to deny himself, to contradict himself, to lie, to perjure himself."

My dear legionnaires of Ukraine or of the region, concerned by this war, I sympathize with your inner turmoil. Your homeland is bleeding and suffering, your families are affected by this war. Yet, for those few who are tempted to run to where the fire is raging, I tell you that wars are only won if everyone does their job, where they are. As a Legion Father I know I must encourage you in this path of honor: do not perjure yourselves, for yourselves and for the Legion, maintain your service with honor and loyalty.

Who knows if tomorrow your unit will not be engaged, where will you be? You will then be missed by your partner, brother in arms like any legionnaire.

Dear Legion families, some of whom have suffered, be assured of the support of the Foreign Legion. In order to facilitate the safety of families fleeing the conflict zone, I have authorized legionnaires who so desire to travel to a country bordering the Ukraine to collect them.

Please be aware that any legionnaire concerned by this conflict may request the Foreign Legion to help him or her to receive his or her family in an emergency, in compliance with the regulations applicable in France, in particular according to the evolution of the directives concerning the consideration of refugees.

Legion solidarity, a corollary of the legionnaire's total commitment to our country, will thus be able to provide material or administrative assistance to the extent and according to its priorities. In this context, the Legion is working on the establishment of a listening unit to best meet your needs.

Let us be united and responsible for our Foreign Legion.

However, the General also assured that each Ukrainian legionnaire is allowed to request a special two-week leave to go to one of the countries neighbouring Ukraine, to help to keep their families safe. In the current Legion, which number 9,000 men, about 700 legionnaires are Ukrainians; some 200 of them have already got a French citizenship.

Besides, the Foreign Legion launched a free telephone number for those displaced families of the Ukrainian legionnaires who could be "displaced" or "refugees" in France following the invasion of the Ukrainian territory by Russia, to provide them with the material, administrative and financial assistance.

This phone service, which can be reached 24 hours a day, will be staffed by people who speak Ukrainian, Belarusian, Russian and French. All calls will be taken into account. In order to facilitate the handling of "refugee" or "displaced" families, and as far as possible, calls to this cell should be made by the legionnaires concerned themselves rather than their families.

Priority will be given to parents, spouses, children and minor brothers and sisters of the legionnaires of Ukrainian origin. Other possibilities of accommodation can be studied according to the needs.
Does this mean that Ukrainian members of the French Foreign Legion who have completed their contractual obligation have not returned back to Ukraine over the past eight years and signed on to fight with the Ukrainian military? I would expect not. But what this does mean is that the French Foreign Legion and none of its subordinate elements are deployed to Ukraine. And they are not deployed to Ukraine because France has not entered the conflict militarily.
I think that's enough for tonight.
Your semi daily Patron:
On the way to the Hostomel airport I had the privilege to barked by famous Patron the demining dog pic.twitter.com/TPNmwRbxLi

— Bartosz Cichocki (@B_Cichocki) May 5, 2022
A Ukrainian Army cat!
Good night people)) pic.twitter.com/Ii9QgwaOUS

— UkrARMY cats & dogs (@UAarmy_animals) May 6, 2022
And one final cat follow up from earlier in the week:
This cat, rescued from the seventh floor of a destroyed building in Kyiv Oblast is everyone of us in Ukraine. pic.twitter.com/1QNLLbGeDq

— Nika Melkozerova (@NikaMelkozerova) May 6, 2022
Open thread!