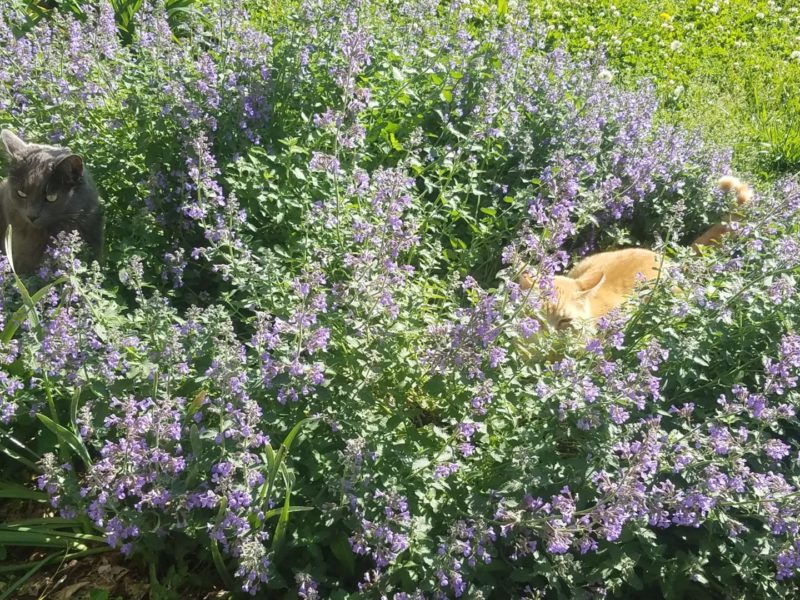 From commentor JAM:
Top pic: Most plant sellers will tell you that cats don't really like catmint.

Below: Pictures of the tomatoes and peppers I planted on 4/27. That's actually a few weeks later than usual because of the weird cold (and dry) spring we've had this year.

The other bed has lettuces and radishes now, and hopefully cucumbers, beans, melons and squash later this summer. My husband helped me salvage and downsize the remains of a neighbor's gazebo tent that was destroyed by high winds a few years back. It already has handy hooks along the top for hanging mosquito netting that I will be using for trellis netting.

I've also included a picture of cornflowers in my cottage garden bed, along with just-emerging perennials, annual seedlings and a lot of weeds. This in in zone 7, near Tulsa OK.
***********
When we bought this place, catmint flourished all over the long-neglected patches of dirt. As I started gradually cleaning out the beds and improving the soil, I was careful to leave some clumps flourishing every spring, because they were just about the first blooms and the local bumblebees appreciated them. Alas, now that much of our soil is 'sweeter' (not to mention the Spousal Unit's encroaching vinca armadas), I don't see many of those brave lavendar volunteers any more…
What's going on in your garden(s), this week?