The way I see things, every day is a fresh reset. You wake up to a new day, and you make the decision whether or not you're going to be "that fucking guy" today. Some people make the wrong choice every single day: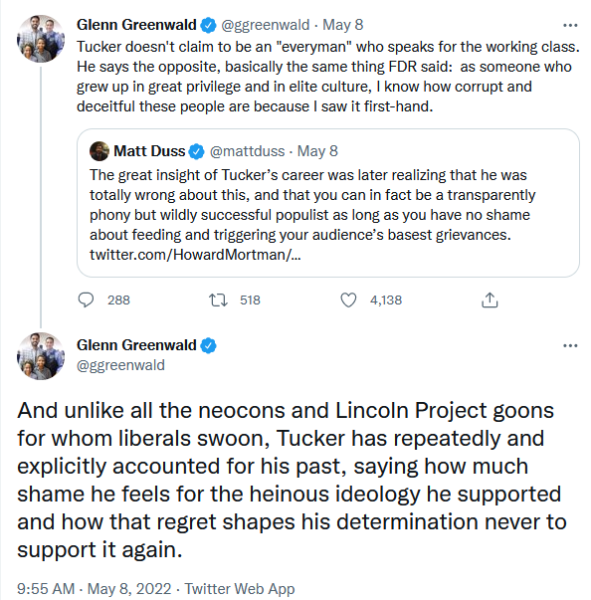 Beyond the Tucker Carlson bullshit, the approximate cause of "that guy's" ire is that Steve Schmidt, the Republican who ran the McCain campaign and has since spent basically the past decade flaying the Trumpist right alive, went on a twitter tear over the weekend that reminded me of some pretty epic John Cole +9 rants. You can read all about them here.
The short summary is Meghan McCain is a garbage human being and always has been, that John actually did have an affair with Vicky Iseman as reported in the NY Times but denied by McCain and his campaign, and that McCain turned a blind eye to all the pro-Russian apparatchiks like Rick Davis and Paul Manafort who were buckraking.
I'm not really sure why "that fucking guy" is so angry at Schmidt, because if there was any neocon you'd think he would dislike, it would be McCain, but apparently the psychotic decision making tree is "I think libs love Steve Schmidt and my hatred for libs is greater than my hatred for warmongerers." It's hard to tell these days, his grievances are all over the fucking place, and consistency is rough for an unedited edgelord whose main concern is the bottom line.
At any rate, this calculation is inaccurate, because liberals don't love Rick Wilson or Steve Schmidt. They could both fuck off and die for all I care. What I do love is using Steve Schmidt and Rick Wilson and the rest of them as a bludgeon against the fuckers they helped create who are currently ruining America. It's an interesting thing that "that fucking guy" will write a 100,000 word diatribe on substack about how the liberal media doesn't understand nuance, and then go on to provide a sterling example of not getting nuance at all.