First, what is driving the increase in infection?

Largely Omicron subvariant BA.2 and increasingly, BA.2.12.1

When we look at the northeast, a few things emerge

First, infections started rising around March 20 (give or take a few days)

2/n pic.twitter.com/wJj62xCpIJ

— Ashish K. Jha, MD, MPH (@AshishKJha46) May 8, 2022
White House COVID-19 Response Coordinator:
Cases are up 3-4X in the northeast — from New York to CT, RI, and Massachusetts
As you see, it began rising around March 20
Throughout the pandemic, we've seen about 3 week lag until deaths begin to rise
So we'd expect by April 10 or so, deaths beginning to climb
Do we? 3/n

Well, not so much
Deaths are up a bit, and about 6 weeks after cases began rising
Not what you would have expected
Now, hospitalizations are up some in these states, but again, not as much as one would have expected
So what is happening? 4/8

If you look at the case-fatality rate now in places like NY or MA
Down to 0.3% (that's deaths today divided by cases 3 weeks ago)
And given we're missing lots of cases (because of home testing)
CFR is even lower
Remember, throughout the pandemic, CFR has been closer to 1.6%

So in the northeast, we're seeing a real split between cases and deaths
With CFR down 80%
So what explains it?
High booster rates and treatments
And testing
These states do more tests, have higher booster rates than many other places
So what happens next? 6/9

Unfortunately, other parts of our nation have lower booster rates and less testing
So the virus can spread more easily without detection
And the population is less well protected
Which worries me for the weeks/months ahead as BA.2.12.1 spreads to other, less boosted places 7/

And it worries me for the fall/winter
Because if we do see a wave of infections, we'll want to be able to protect people
Like with the next generation of vaccines that are likely coming
And treatments
And tests
None of which will be available unless Congress steps up now

And of course, during waves, we'll want to have plenty of masks available for Americans
And improvements in ventilation/filtration
And keep vigilant for future variants
And did I mention — keep vaccinating the world?
Those are the jobs ahead of us 9/10

So the bottom line is this
We're at a point in the pandemic where we know how to manage the virus
To keep infections low
To prevent serious illness
And to protect the most vulnerable
And that's our focus right now

Keep getting people and communities the tools they need
Tests, vaccines, Evusheld, masks, treatments, and more
And ensure we have the resources to continue this work moving forward
And manage the pandemic in a way that protects lives and livelihoods End
======
As poor nations seek Covid pills, officials fear a repeat of the AIDS crisis. Antiviral pills, plentiful in the United States (although hard to come by in some areas) are scarce overseas. Health advocates want to expand access but face obstacles https://t.co/gbttYeehnc

— delthia ricks ? (@DelthiaRicks) May 9, 2022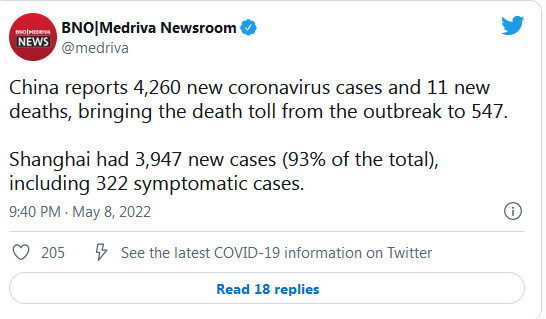 China's two biggest cities tightened COVID-19 curbs on their residents on Monday, raising new frustration and even questions about the legality of its uncompromising battle with the virus. https://t.co/yWWkoBw0Ge

— Reuters Health (@Reuters_Health) May 9, 2022
"Covering China business and finance at The Economist":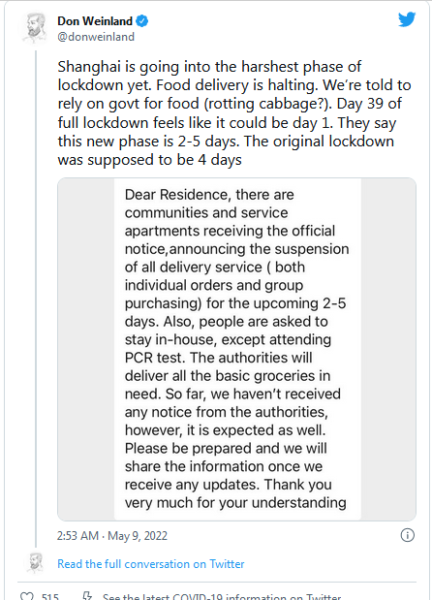 China's export growth slowed to single digits, the weakest in almost two years, as tighter and wider COVID curbs halted factory production and crimped domestic demand https://t.co/39NwugTloW pic.twitter.com/5st76hffMb

— Reuters (@Reuters) May 9, 2022
WATCH: Emotional scenes unfolded at the Auckland airport on as fully vaccinated travelers from around 60 countries including the U.S., UK and Singapore were allowed to enter New Zealand without needing to quarantine or isolate https://t.co/FiyIEYLyrD pic.twitter.com/OKmbnDP9Sw

— Reuters (@Reuters) May 8, 2022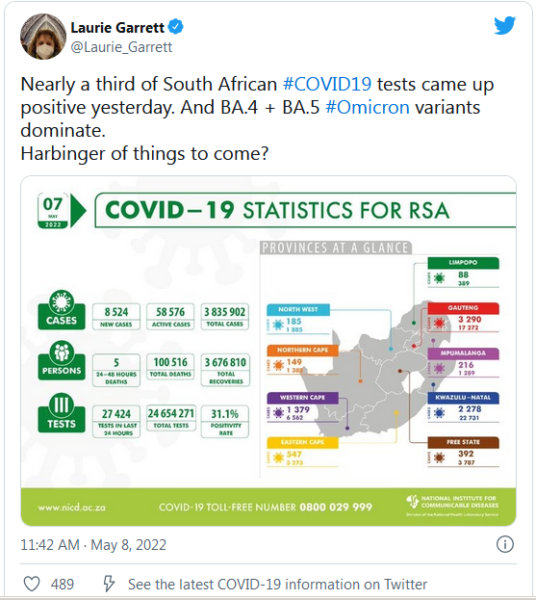 ======
An antibody survey has found that most kids in the US have caught the coronavirus. Researchers found that most children aged 1–17 had probably been infected by February this year, and infection rates in children exceed those observed in adults https://t.co/WybechLsfw pic.twitter.com/BHEboZ917P

— nature (@Nature) May 9, 2022
Researchers track the rise & fall of #SARSCoV2 in the saliva and nasal cavities of people newly infected with the #coronavirus.

The study was the first to follow acute #COVID19 over time through repeated sampling.https://t.co/yY5dZinlV8

— MicrobesInfect (@MicrobesInfect) May 8, 2022
New vaccines ultimately may prove better at fighting coronavirus variants. Currently, 195 vaccine candidates at different stages of development are being studied worldwide, out of which 41 are in clinical trials in US, including updated mRNA vaccines https://t.co/g7yo3WEooE pic.twitter.com/XXNpJiZENl

— delthia ricks ? (@DelthiaRicks) May 8, 2022
======
Try to tell the people in Puerto Rico the pandemic is over with >130 new cases per 100,000 residents, a 15% test positivity rate on the rise, increasing hospitalizations, ICU admits and deathshttps://t.co/QPRo6jaOka @medriva pic.twitter.com/EV5wqEySJ6

— Eric Topol (@EricTopol) May 8, 2022
Marburg, Ebola, and brewers yeast?
Former National Security Advisor having a normal one. https://t.co/y0TOL9KOv1

— Patrick Chovanec (@prchovanec) May 9, 2022