On the Road is a weekday feature spotlighting reader photo submissions.
From the exotic to the familiar, whether you're traveling or in your own backyard, we would love to see the world through your eyes.
It's going to be 92 degrees here this week, but it's still spring in flyover country with Albatrossity. Benw shares some gorgeous photos from the NY Botanical Garden, then we're in Maine with JanieM and in France with Steve from Mendocino!  We have a treat from BillinGlendale mid-week!

Friday was a crazy day for me, so I never got to thank way2blue for the wonderful 6-part series!  It was really enjoyable.
Albatrossity
Week two of our Spring 2022 series is still a lot of the more drab birds (with a spiffy duck in the mix, however), since the arrival of warblers, tanagers, orioles and other colorful dinosaurs is delayed so far this spring. Maybe next week!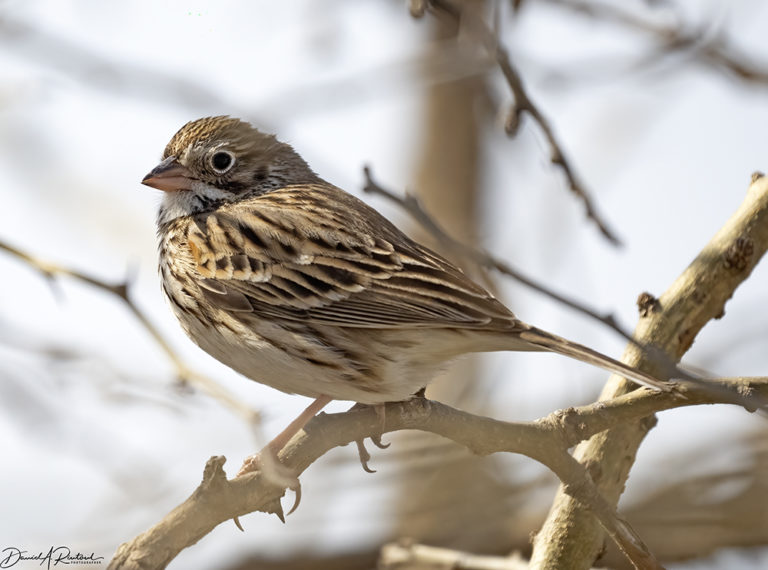 Near Manhattan KS
April 21, 2022
Mostly underappreciated because of their lack of bright colors, sparrows are an acquired taste. But they are migrating through here right now, and some of them pause to pose for a portrait. This is a Vesper Sparrow (Pooecetes gramineus), with a bright eye-ring and a subtle rufous patch just at the bend of the wing (this species was once known as the Bay-winged Bunting). This bird and its ethereal song is mentioned several times in the journals of Henry David Thoreau. "While dropping beans in the garden … I hear … across the fields the note of the bay-wing (which I have no doubt sits on some fence post or rail there) & it instantly translates me from the sphere of my work–& repairs all the world that we jointly inhabit between me & it." – May 13, 1857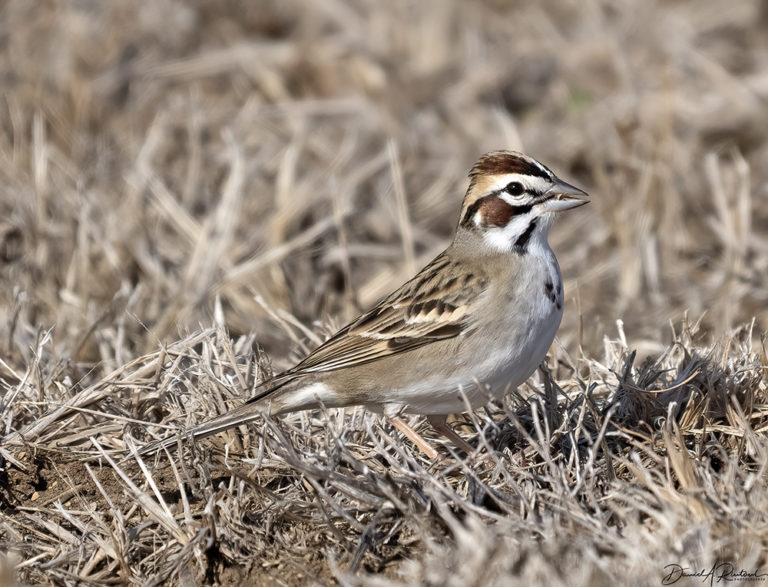 Near Manhattan KS
April 21, 2022
Some sparrows are a tad more colorful, like this Lark Sparrow (Chondestes grammacus). Mostly found west of the Mississippi, this large and long-tailed sparrow is unmistakable, even if you only get a quick glance at it as it flits and hops along the edges between forest and grassland. And it reportedly has a unique courtship behavior, which I hope to see someday. During copulation, the male passes a twig to the female. Don't try this at home!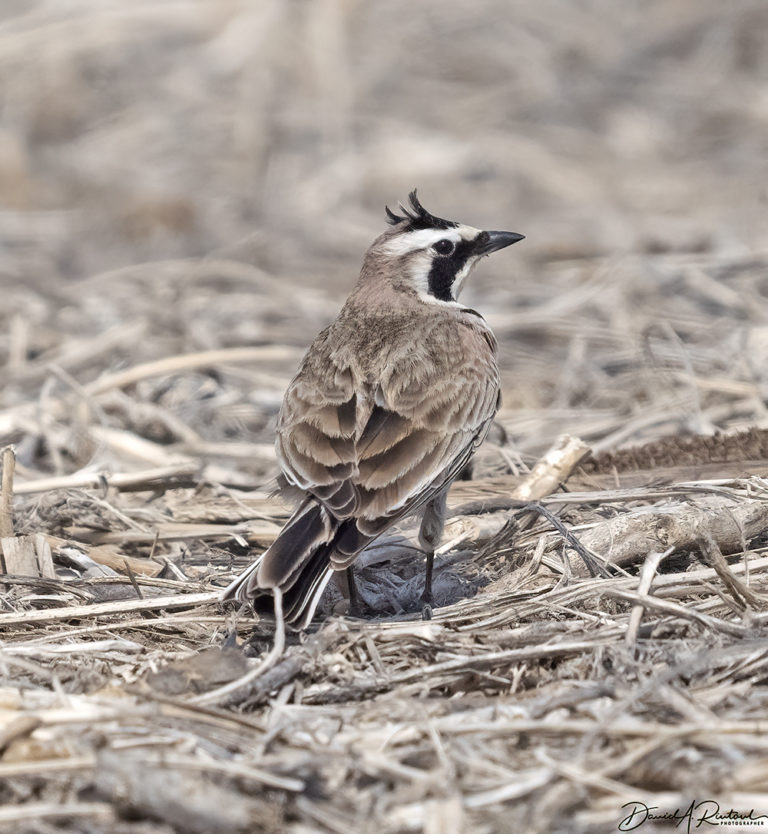 Near Manhattan KS
April 21, 2022
Not a sparrow, and not confined to this continent, the Horned Lark (Eremophila alpestris) is found all across the Northern Hemisphere. There are 99 members in the family Alaudidae, but this is the only one found in North America. Soon there will be baby Horned Larks in the pastures here again, because these guys get started early on the business of making the next generation.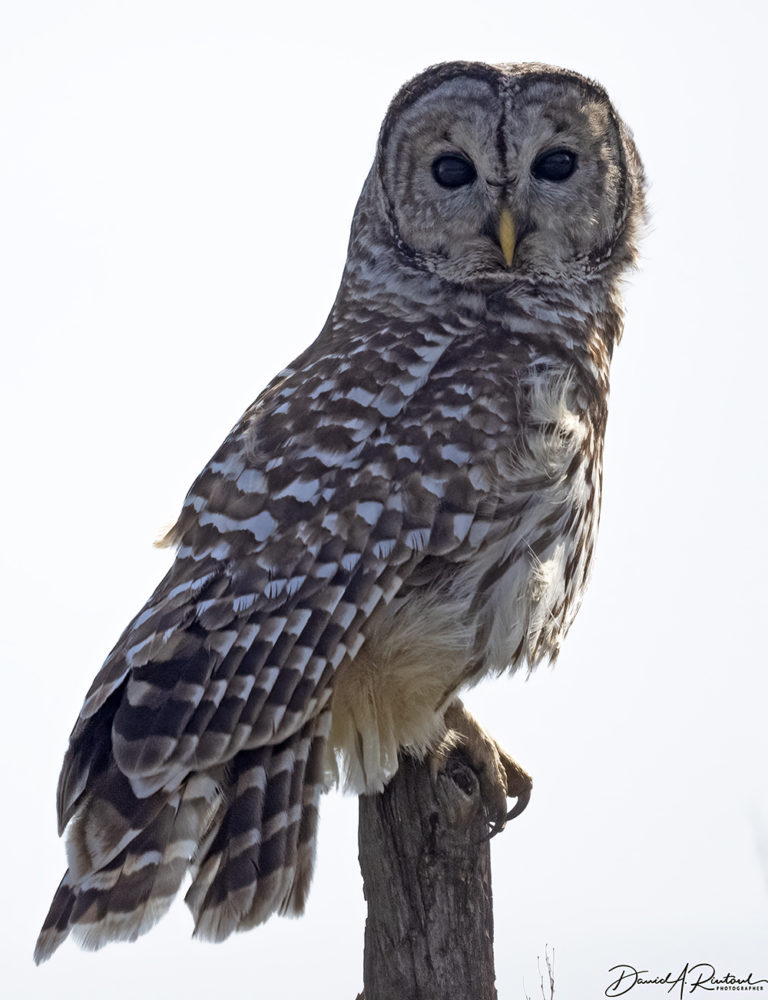 Near Manhattan KS
April 21, 2022
Everybody loves owls, but lots of people have never seen one. Here in Flyover Country it is not unusual, particularly during fledgling-feeding season, to find a Barred Owl (Strix varia) sitting in the open in the morning hours, hunting for breakfast, or hoping for another snack for those baby owls. If you do see one of these, you might find them to be quite calm. I'm not sure of the reasons for that, but it may be that they are usually so well-camouflaged that they assume you can't see them, even when they are decorating a fence post like this one.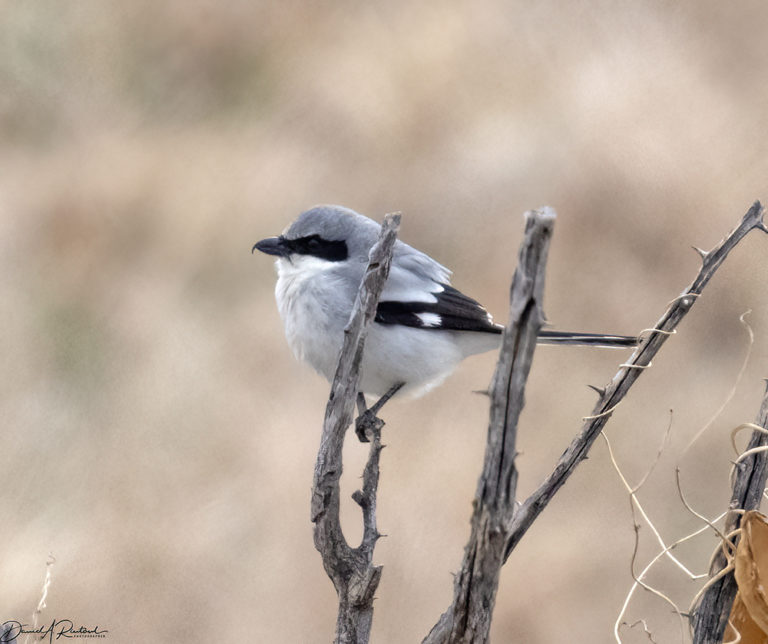 Near Manhattan KS
March 31, 2022
This predator always hunts in the day and likes to sit in the open, however. Loggerhead Shrikes (Lanius ludovicianus) are one of only two shrike species on this continent, although there are thirty members of the family Laniidae worldwide. Also known as the Butcherbird, this elegant killer is also renowned for its habit of impaling prey items on thorny branches or barbed-wire fences. Given the thorny perch chosen by this one, it appears that the butcher is open for business.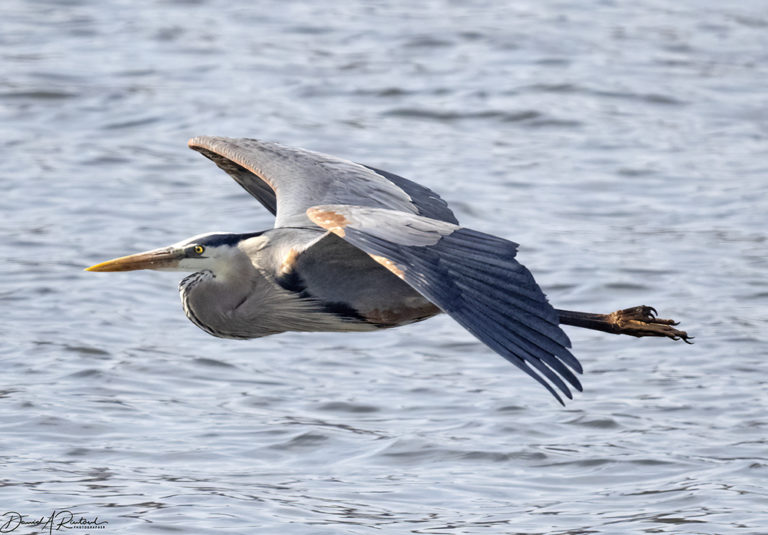 Near Manhattan KS
April 21, 2022
Great Blue Herons (Ardea herodias) reflect their dinosaurian lineage dramatically in flight.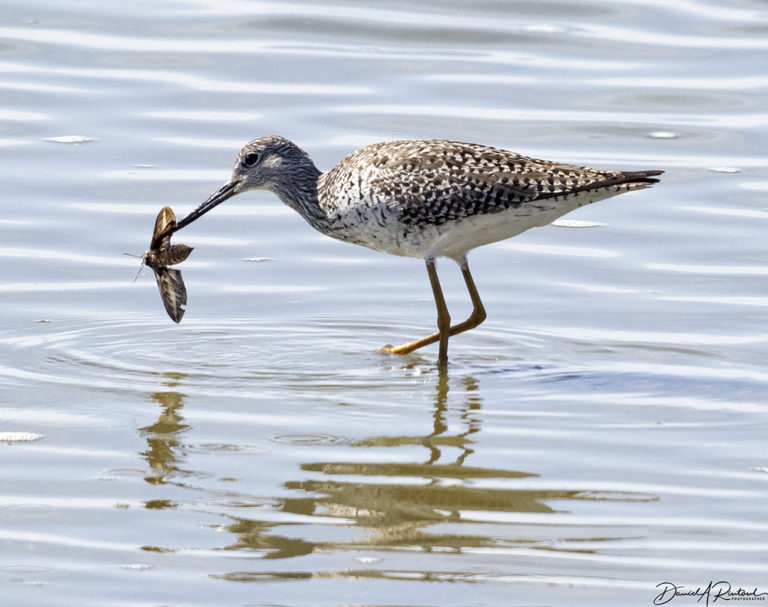 Cheyenne Bottoms
April 10, 2022
Migrant shorebirds are known to be opportunistic feeders, as they need to rapidly and repeatedly fatten up for the next leg of the trip. This Greater Yellowlegs (Tringa melanoleuca) seems to have found a very unfortunate waterlogged White-lined Sphinx Moth, which it quickly gobbled down before moving on to more typical breakfast foods.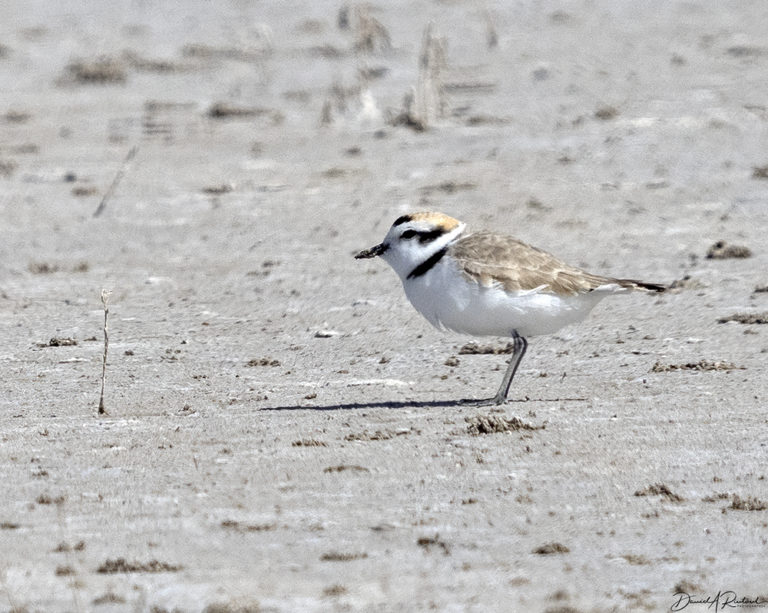 Quivira NWR
April 10, 2022
Unlike the yellowlegs above, which is still heading north, there are some shorebirds which stay in Flyover Country for the breeding season. One of these is the diminutive Snowy Plover (Charadrius nivosus), which was formerly lumped with the oddly-named Kentish Plover (Charadrius alexandrinus), a Eurasian species. This is a male, based on the black ear covert and rusty cap, but there were some females in the vicinity as well. Both are quite adorable, but the babies of this species are just so damn cute that you might swoon at the sight of one.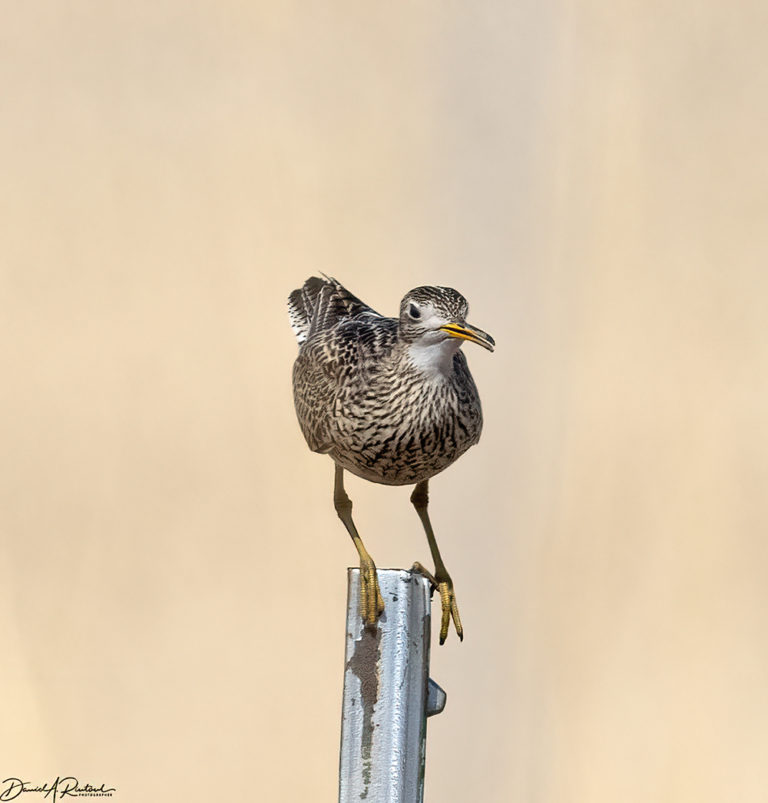 Near Manhattan KS
April 21, 2022
A shorebird which lives without a shore in sight, the Upland Sandpiper (Bartramia longicauda) usually arrives in this part of Flyover Country on or about Tax Day. Their wolf-whistle calls ring out across the prairies, and you know that spring really has arrived.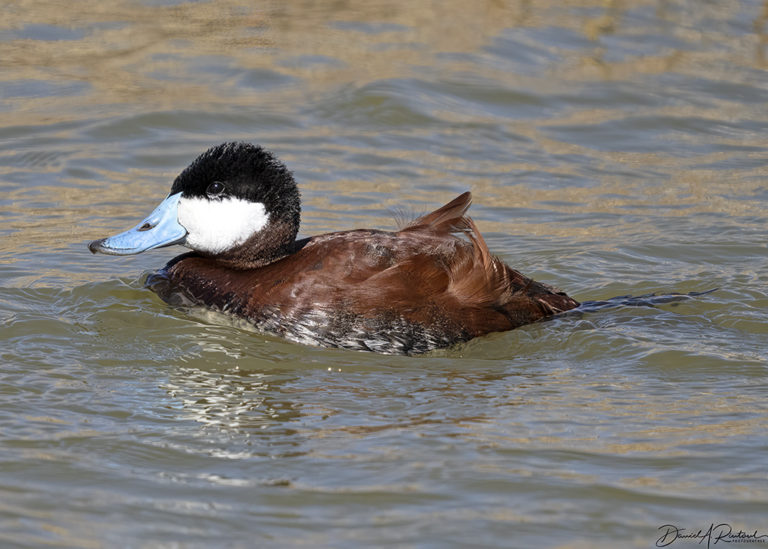 Quivira NWR
April 10, 2022
The final bird today is quite colorful, and a hint of colors to come later in the spring. This drake Ruddy Duck (Oxyura jamaicensis) was one of a flotilla of conspecifics, some of whom, unlike him, had not quite developed the full blue breeding-season bill yet.