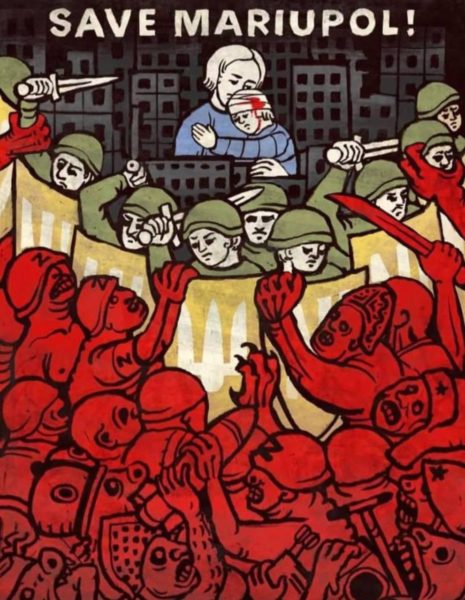 Before we get to President Zelenskyy's address to Ukraine this evening, let's start with his address for Victory in Europe Day. Here's the whole address with English subtitles:
Here is the second half of the video. Zelensky says that "never again" — the promise after the Second World War to not allow fascism to return — is now just "again," and evil has returned. He says some people have forgotten the promise. Ukraine is the frontline in the fight now. pic.twitter.com/SzSzIWzbDN

— Christopher Miller (@ChristopherJM) May 8, 2022
As seems to be always the case with his remarks, statements, and videos, the framing and the phrasing are excellent. As he has done several times he's leaned hard into the similarities between Putin's re-invasion of Ukraine and World War II. This includes calling everyone out, but especially those states like Germany and Israel where the elected officials have dragged their feet over responding appropriately, in regard to Never Again not meaning very much.
Here's his address for this evening. Video with subtitles immediately below, the transcript with my emphasis after the jump.
Ukrainians!

Our defenders.

Today is an important day, very important. For us. For our people. For our freedom. It was here, at the Mariyinsky Palace, that I held talks today with my friend, Prime Minister of Canada Justin Trudeau.

I am grateful to Justin for visiting our country. Exactly now, exactly on this day. A powerful sign of support and faith in the future of our people.

The Ukrainian and Canadian delegations held bilateral talks. We agreed to expand economic and defense cooperation. We have an extremely important decision by Canada to remove all barriers to trade for one year. Thank you, Canada. This agreement was reached in negotiations with Mr. Trudeau and will work in the interests of both the Ukrainian and Canadian people.

Among other things, Canada has a strong potential in mine clearance. We expect that this potential will be used in Ukraine – where the Russian occupiers left thousands of mines, tripwire mines, shells.

In the presence of Mr. Prime Minister, I awarded our sappers today. In particular, a small but very famous sapper – Patron. A dog who helps clean our land from the traces of the occupiers. And who also helps teach children mine safety. Due to the Russian invaders, this is now one of the most urgent tasks – to teach children to recognize and avoid explosive objects. This is the "liberation" from a safe life for Ukrainian children that Russia has brought to Ukraine.

For the first time, Ukraine took part in a meeting of G7 leaders. The world's largest democracies. I outlined our vision of what needs to be done for freedom to win and to guarantee Ukraine's security.

I called for increasing sanctions on Russia and creating conditions for Ukraine so that the war ends as soon as possible with the liberation of our land and our people. In particular, this applies to the embargo on Russian oil, oil blends and petroleum products.

I invited the leading states – our friends – to take part in the reconstruction of Ukraine after the war.

We agreed on a joint statement by the G7 on the war, global threats posed by Russia and our respect for the common historical heritage, our common values and the importance of freedom. The statement is in the interests of Ukraine as much as possible and will become the basis of our further cooperation.

And the main thing I felt today was the world's even greater willingness to help us. And the fact that we have already achieved a historic result, because it is clear to the whole free world that Ukraine is the party of good in this war. And Russia will lose, because evil always loses.

I am grateful to the First Lady of the United States Jill Biden for her visit to Ukraine, to Uzhhorod today. For security reasons, this visit and meeting with the First Lady of Ukraine was not announced in advance, and journalists were not invited. But I know that Mrs. Biden has received as much information as possible about what Ukrainian men and women need now. And I am grateful to her for the sincere support of our people.

I held talks with Prime Minister of Croatia Andrej Plenković in Kyiv. Croatia fundamentally and strongly supports our state in the struggle for independence. I am grateful to Croatia for everything we have already received. And I hope that in the future the cooperation will only grow.

I also had a meeting with the President of the Norwegian Storting in Kyiv. The conversation was very emotional, so that you feel: they are worried about us, our fate as about themselves. And really try to help. I am grateful for that.

I also spoke with the President of the German Bundestag. First of all, about Germany's further defensive assistance in our fight against tyranny. About how German leadership in the European Union can help us.

Bono, U2, also visited Ukraine today. I am grateful to him for supporting our people and drawing even more attention to the need to help our people.

Well, I am sure that this day in Ukraine has shown that we are already a full-fledged part of the free world and a united Europe. This is an obvious contrast to Moscow's loneliness in evil and hatred that everyone will see tomorrow.

The Russian army would not be itself if it did not kill today – on the eve of certainly important days for any European.

As a result of the Russian air strike at Bilohorivka, Luhansk region, about 60 people were killed. Civilians who simply hid in the school from the shelling. It was a targeted strike at the school. Another crime of the occupiers.

Another missile strike at the Odesa region, again hitting a residential building. Again shelling in the Sumy region. Violent shelling in Donbas and the Kharkiv region. As if today is not May 8. As if tomorrow is not May 9, when peace should be the main word. For all normal people.

Russia has forgotten everything that was important to the victors of World War II. But Ukraine and the whole free world will remind it.

So that then no one will forget. So that really important words – "never again" – which are repeated all over the free world every year on the days of remembrance of the victims of World War II regain their weight again.

I am grateful to all our defenders who are defending and saving Ukraine from the modern descendants of that old evil.

Eternal glory to all our heroes! Eternal glory to all our warriors!

I am grateful to all the friends of Ukraine and freedom!

Glory to Ukraine!
Patron got a medal!!!!!
Also, First Lady Jill Biden met with Ukrainian First Lady Olena Zelenska in western Ukraine.
On this Mother's Day, my heart is with you, First Lady Olena Zelenska, and all of the brave and resilient mothers of Ukraine. pic.twitter.com/tCMXCXhgiY

— Jill Biden (@FLOTUS) May 8, 2022
And visited with internally displaced Ukrainians:
This Mother's Day, I wanted to be with Ukrainian mothers and their children.

Over the last few months, far too many Ukrainians have had to flee their homes – forcing them to leave behind their loved ones. pic.twitter.com/zjtMv5ey0B

— Jill Biden (@FLOTUS) May 8, 2022
Together, we are united for Ukraine.

I hope by being here I can convey how much their strength and resilience inspires the world, and remind them that they are not alone. ? pic.twitter.com/YBqSsdw5i7

— Jill Biden (@FLOTUS) May 8, 2022
Here is today's operational update from the Ukrainian MOD (emphasis mine):
The operational update regarding the russian invasion on 18.00 on May 8, 2022

The seventy-fourth day of the heroic resistance of the Ukrainian people to a russian military invasion continues.

russian enemy continues to conduct full-scale armed aggression against Ukraine.

russian enemy does not stop conducting offensive operations in the Eastern Operational Zone in order to establish full control over the territory of Donetsk and Luhansk oblasts and maintain the land corridor between these territories and the occupied Crimea.

The main focus of russian enemy's efforts was to destroy the airfield infrastructure in order to prevent the actions of Ukrainian aircraft, including the Bayraktar UAV, to support the actions of air units in the area of responsibility of the Joint Forces and the Black Sea Operational Zone. Increased the intensity of operational and tactical aviation over the northwestern Black Sea.

In the Volyn and Polissya directions, russian enemy did not take active action. Until May 27 this year, a training meeting of territorial defense units will be held in the Minsk district with the involvement of conscripts who are in reserve.

There is a possibility that the units of the armed forces of the russian federation will launch missile and bomb attacks on the infrastructure of Ukraine from the territory and airspace of the republic of belarus.

russian enemy did not take active action in the northern direction. Intensified units of the Border Guard Service, as well as units of the Armed Forces of the russian federation, continue to be detained at checkpoints and in the border areas of the Bryansk and Kursk oblasts.

Further fire damage to our troops and infrastructure in the border areas is not ruled out.

In the Slobozhansky direction, russian enemy is concentrating reserves in the Belgorod region for hostilities near the state border of Ukraine. The deployment of separate units from the 1st Tank Army of the Western Military District has been confirmed in these areas.

russian occupiers did not carry out active offensive operations in the Kharkiv direction. The main efforts were focused on preventing the advance of Ukrainian troops. The group of russian enemies was strengthened by relocating units from the Western Military District from the area of recovery. Military and civilian infrastructure continues to be shelled.

In the Izyum direction, russian enemy regrouped its units, replenished its reserves in order to increase its offensive capabilities, and conducted air reconnaissance with the use of the Orlan-10 UAV in order to clarify the positions of Ukrainian troops.

In the Donetsk and Tavriya directions, russian enemy is fighting to restrain the actions of units of the Defense Forces of Ukraine.

During the last day, russian enemy intensified hostilities. It is trying to reach the administrative borders of Luhansk and Donetsk oblasts. Carried out regrouping, replenishment of losses, increased air defense systems and logistics, presumably in order to intensify hostilities in the settlements of Severodonetsk and Lysychansk.

In the Lyman direction, separate units of the 90th Tank Division tried to take full control of the settlement of Oleksandrivka, as well as, with the support of artillery, to gain a foothold in the northern outskirts of the settlement of Shandryholovo. It was not successful.

In the Severodonetsk direction, russian enemy is trying to seize the settlement of Rubizhne, but without success.

In the Popasna direction, russian enemy is trying to take up positions in the settlement of Popasna and take control of the section of the Popasna-Bakhmut highway.

russian enemy is advancing in the direction of the settlement of Novoselivka, it has no success, the fighting continues.

In the Kurakhiv direction, russian enemy is trying to improve the tactical situation in the direction of the settlement of Novomykhailivka, but has no success.

In the Mariupol direction, the intensity of hostilities has been reduced.

In the Novopavlovsk and Zaporizhzhya directions, russian enemy intensified air reconnaissance in the areas of the settlements of Orikhiv, Huliaipole, Komyshuvakha, and Yasna Polyana.

In the South Buh area, russian enemy is trying to hold positions with forces of up to 15 battalion tactical groups. It does not carry out active hostilities. It fired mortars, artillery and rocket-propelled grenades at positions of our troops. Carried out replenishment of losses. It used military aircraft in the area of the town of Careyerne.

Measures of the administrative-police regime in the temporarily occupied territories are underway. Thus, there is an intensification of filtering measures by rosguard units in the areas of Heroyske, Hola Prystan, and Kherson settlements.

There is a possibility that assault operations will be carried out in certain areas in order to improve the tactical situation, bind our troops and prevent the transfer of reserves.

The moral and psychological condition of russian occupiers remains low, there is a systematic use of alcohol and desertion. The personnel of russian enemy's units complain about the ineffectiveness of their attacks on the position of the Defense Forces of Ukraine in the Huliaipole area.

We keep the line! We believe in the Armed Forces of Ukraine! Together to victory!

Glory to Ukraine!
As I expect we'll see in today's British MOD map, there's a lot of activity from the Russians, but not a lot of success. So the lines are, for now, stable and somewhat static.
Here is today's assessment from the British MOD: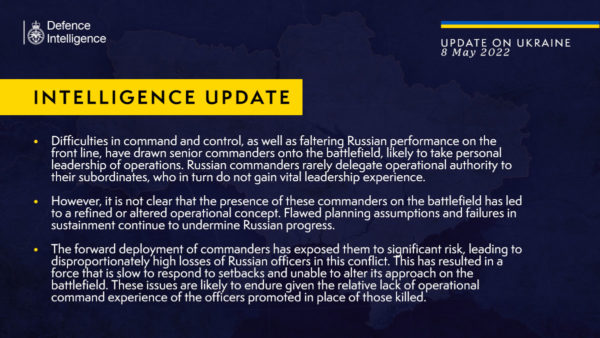 Here is their updated map for today: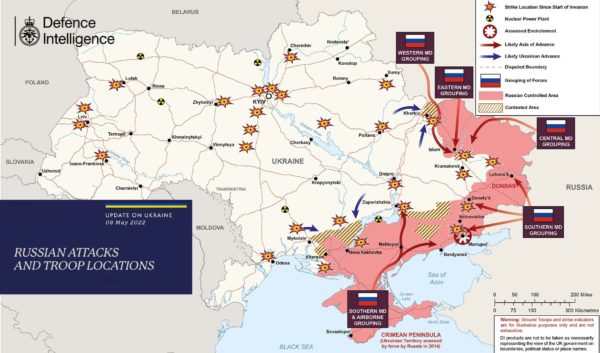 And, as I suggested above based on today's Ukrainian MOD operational update, not any real significant movement being shown on the map.
There was neither a DOD backgrounder or a Pentagon press conference today, so nothing to report there.
DON'T DO THIS!!!!!!!!!!!!!!!!!!!!!!!!!!!
Jeez kids. Don't go running around picking up munitions like this. https://t.co/QGV1zYcPZP

— Dan Kaszeta ?? (@DanKaszeta) May 8, 2022
Somewhere, a Russian is now building submunitions with a less obvious fuze that will arm a seeming dud on impact and then wait for someone to shake it.

ONE OF THE POINTS BEHIND WHY CLUSTER MUNITIONS ARE BAD IS THAT THEY OFTEN DON'T FUNCTION THE WAY YOU THINK THEY OUGHT TO. "Defused"? So what. There's widows and orphans because of handling "defused" munitions.

Just because the fuze has been removed (and it's spelled fuze, not fuse), it doesn't always mean that the munition is safe. PARTICULARLY with cluster munitions.

Without getting technical (and some of this gets into things that one really shouldn't tweet about), there's both accidental and deliberate physical processes that may be going on in a cluster submunition beyond/after the obviously visible fuze may have been removed

Categorically, I'd not consider any such munition to be terribly safe if "defused". It's safe after someone has either blown it up or removed all the HE. But I'm not brave and dumb enough to go in with a can opener and a spoon to remove the HE.

As

@CAT_UXO

says: It's not good practice to handle on camera any munitions, de-activated, un-fuzed, training aid etc as it gives the audience an impression that it's OK to handle. Please just don't do it!

In a HAZMAT or CBRN or EOD situation, everyone on the scene is a safety officer. And I'm shouting "HOLY CRAP STOP DOING THAT"

Every last one of you saying "but it was defused!" is on the wrong side of this. Sorry. That's just how it is.

And if you need deeper dives in EOD stuff, people like

@JarBomb@eodguy89d@smarmyEOD

are out there.

People jumping my sh*t accusing me of sexism and mansplaining can back the f*ck off this one time. I trust my training, my experience, and the advice of people way smarter than me on EOD stuff. What I don't trust is some rando's render safe processes or Russian ordnance.
And before someone starts, I'm aware that the journalist in question posted this as a follow up:
Yes. The fire department was with me. I knew.

Next. pic.twitter.com/RZNaWRPV5n

— Sarah Ashton-Cirillo (@SarahAshtonLV) May 9, 2022
The issue is not that the fire department or the local EOD team were with her, they told her it was safe and she could do what she did with it for her video reporting segment. The point is others who don't have that kind of on site subject matter expertise will see a journalist or reporter do something like this, do it themselves, and kaboom. Which happened to a child in Ukraine recently. He found a bomblet while helping to clean up around his family's property, brought it and other items back for his father to see, and it blew him up going up to the front door.
Mariupol:
Earlier today two members of the Azov Regiment at the Azovstal complex held a Zoom for reporters. Here's the YouTube of the Zoom. The two Azov officers do answer questions in English as well as their native Russian. One long section of that starts around the 48:30 mark, but you'll have to hunt around with the progress bar/fast forward to find the others.
This thread provides an excellent transcript:
Commanders of #Azov regiment who resists #Russia in Azovstal plant in #Mariupol tell during the press-conference via Zoom, that about 25,000 civilians have been killed in the city by Russia.
In this thread you can read the most important things they tell. pic.twitter.com/Hy25FDkTQ5

— katerina sergatskova (@KSergatskova) May 8, 2022
Here's the write up from The Kyiv Independent:
While the outside world was commemorating the end of World War II, Ilya Samoilenko, a 27-year-old officer of the Azov regiment, was speaking online to the press from the basement of Azovstal.

"We feel abandoned," said Samoilenko from the last Ukrainian stronghold of Mariupol, a city with a pre-war population of 450,000 people, now nearly completely destroyed by Russia.

"We knew a big war with Russia was happening and we were ready," he added, saying that all Ukrainian governments of the past eight years are to blame for the failure to prevent encirclement.

As Russia launched an all-out war against Ukraine on Feb. 24, Mariupol became its major target. The largest city of Ukrainian-controlled Donbas was first hit on the next day.

After encircling the city in early March, coming from Crimea and the east, exceeding Russian troops have been squeezing Ukrainian defenders into one of Europe's largest steel mills – Azovstal, located in the city's eastern part.

Samoilenko said Ukraine could have done a better job of protecting this strategic port city.

"We got zero support – no air support, no artillery or ground support. We were left on our own," he said, yet adding that they are not planning on stopping the fight.

"Surrender is not an option."

Samoilenko said that as of May 1 — a date corrected by Azov press service to April 15 — Azov destroyed almost 2,500 Russian personnel, and wounded more than 5,000, which accounts for 10% of Russian total losses, according to Ukraine's General Staff.

Azov also destroyed up to 60 tanks and damaged about 30, Samoilenko said.

And this, despite being less equipped than other units on the frontlines. "We have not received any Javelin, any new transport," he said.

However, despite a strong showing by Ukrainian defenders, the numerically superior Russian forces were able to inflict devastating damage.

While Samoilenko rejoiced over the successful evacuations of almost 1,000 civilians from the plant over the past week, it's a bittersweet achievement.

"It's heartbreaking to see politicians celebrating the evacuation of a small group of people, while up to 25,000 people were murdered in Mariupol," Samoilenko said.

The Azov Regiment is considered an elite fighting force of the Ukrainian National Guard, with historical ties to the far-right, something that the Russian propaganda and many foreign journalists have been exploiting for years.

"We have our obscure past," Samoilenko acknowledged.

The unit was initially formed as a volunteer battalion in May 2014 by Kharkiv-based football hooligans, some of which had far-right views.

"We decided to leave our past behind and integrate into the military," Samoilenko said.

As a battalion, the group has fought on the front lines against Kremlin-controlled proxies in Donetsk since 2014. It was incorporated into Ukraine's National Guard in September 2014.

In Mariupol, Azov took the role of commanding other military units on the ground. Their resistance has inspired people to call them "heroes of Mariupol," a label that Samoilenko took with humility, saying it's his duty.

"Heroism appears when the general (command) structure fails," he added.

After being labeled "Nazis" by Russia and its supporters for years, Samoilenko has no illusion about the treatment Russia reserves for Azov fighters.

"We do not have high chances of survival if we're captured," Samoilenko said. "The only way to guarantee your life and to stay unashamed is to fight."

Every person captured will be used to inflict political pressure on Ukraine, according to Samoilenko.

"You can try to cowardly escape, and only think about your life instead of your duty," he said, referring to the commander of the 36th Marines Volodymyr Baraniuk, who tried to desert and got captured by Russian troops on May 8.

Baraniuk tried to escape the battlefield in a civilian car, but he lacked preparation, according to Samoilenko, and got caught.

"This variant brings shame and death."

He also cited the example of a soldier captured by Russian forces and paraded until the moment his mother received a text with a picture showing the suffocated corpse of her son.

"For Azov members, capture means death," said Samoilenko.

"We have solid proof of the enemy's inhumane actions and infringement of all rules of war," Samoilenko said, adding that Russian POWs were already exchanged for Ukrainian POWs but were sent back to Mariupol and killed in action.

Samoilenko dismissed the possibility of negotiating with "these animals."

He disagreed about the potential negotiations between Kyiv and Moscow, was not picking words for the Ukrainian government and compared Russian dictator Vladimir Putin to a street thug.

"We showed the world you don't have to be afraid of Russia, we're expecting the same (from those in power)," Samoilenko said.

"It's not so hard not to be afraid of Russia, just stand and fight."
There's a lot of anger, bitterness, and frustration in Saimolenko's remarks. The reaction to it shows that it is spreading:
Talking to Ukrainian soldiers in Mykolaiv & Odesa oblasts, and now hearing what Azov has to say about Ukraine's defenses in the south, there should be a proper investigation about why the border with Crimea became Ukraine's weak spot.

— Oleksiy Sorokin (@mrsorokaa) May 8, 2022
This will be something to keep an eye on. If this type of rancor starts to spread through the Ukrainian military it will be a real problem. Especially as the Donbas campaign grinds slowly on.
Zaporizhzhia:
feels especially cruel to talk about never again to part of my family trapped on russian occupied zaporizhia lands today. 77 years later fascist soldiers break into the same houses, rob and search them, strip men naked and make fun of how they say words in ukrainian. again

— maksym.eristavi ???️‍? (@MaximEristavi) May 8, 2022
77 years later fascist soldiers kidnap heads of our democratically elected councils, any males between 18 and 60 who rub them up the wrong way. they take them away and we never hear from them after. again.

77 years later fascist soldiers harass and rape our women. snatch them while they go about their business on the streets in the middle of day. they end up in the sex slave dungeons of the occupiers and we never hear from them after. again

77 years later fascist soldiers pillage the same farms, stealing equipment, cattle, food stocks. they take away our grain and ship it back to their fascist home, leaving ukrainians to starve or offering it to buy it back 10-times more expensive. again.

77 years later the only difference is that fascist soldiers speak russian and not german

77 years later my family hides from russian fascist raids literally in the same cellar that used to protect them from nazi raids. again.
Kharkiv:
10th week of Russia's war. People of Kharkiv. pic.twitter.com/9220J9WDuI

— Maria Avdeeva (@maria_avdv) May 8, 2022
Donetsk Oblast:
Russia has destroyed a church in Sviatohirsk Cave Monastery in Donetsk Oblast. The first mention of this monastery dates back to 1526.
When I was a child, my family used to came to this place. The monastery dominates landscape with winding river, chalky mountains, pine forest. pic.twitter.com/o29N4dzJWG

— Alexander Khrebet/Олександр Хребет (@AlexKhrebet) May 8, 2022
All over Ukraine:
Volunteers in Ukraine have placed these pet food feeding stations up all over destroyed neighborhoods so that the cats and dogs left behind won't starve to death. pic.twitter.com/BJQupUo8Ru

— Lorenzo The Cat (@LorenzoTheCat) May 8, 2022
Here is very informative reporting from Unheard regarding the battle for the eastern front in Ukraine:
Barbed wire knots together sky and earth. Burned-out vehicles, modern-day carcasses of industrial warfare, dot the landscape. The ground is strafed and cratered: Eastern Ukraine has been disembowelled by shelling. The war here is fought with 21st-century drone technology, but it flies over soldiers who carry 50-year-old Kalashnikovs. The black snouts and brown handles of these guns line the eastern front, which is a frieze cast in metal and wood, and is where, in the late afternoon of a warm spring day, I see Jesus.

He is about a foot tall and half as wide, and is being carried by a man with a ponytail and scraggly black beard. Dressed in jeans and a tracksuit top, he cradles the icon in his arms. "Is this the way to Mariupol?" he asks the group of us standing by the road: me, Dima, the soldier taking me to the front, and my friend the journalist, Vladislav Davidzon. Mariupol — which has been almost destroyed by the Russian army — is almost 300km south. "Um, not really," Dima replies. "Who are you?"

"I am a pilgrim," he replies. "I'm going to get people out of the city." He shows me what appears to be the business card of a UNHCR official — a psychologist it appears. I look at him. He has the glazed, trembling look of a pilgrim; of a smaller, scrawnier Rasputin (and, disconcertingly, Harry Kane). We talk for a few minutes before I watch him walk off into the distance, a lone madman clutching his Christ amidst the destruction.

"Well," says Dima as we get back into the car. "If he makes it to Mariupol, it really will be divine fucking intervention."

Several hours earlier, in a cafe in the city of Dnipro, Dima shows me an image on his phone. Four bodies lie in the dirt. The image is grainy, but their ragged outlines are clear. Just 20 or so metres away, their comrades sit and eat. "It's incredible," says Dima. "​They're eating lunch right by the decomposing bodies of their friends." He continues: "I don't understand the Russians. Sometimes they just drop the bodies of their mates into trenches. We found a grave of 15 bodies. They'd thrown a bit of dirt on them, but that was it. They don't even respect their own people."

Dima is an officer in the Drone intelligence section of the Dnipro 1 Volunteer Battalion fighting in the Donbas on the frontlines. It was here that I saw Russian troops trundle across the border back in April 2014. They had come to aid local "separatists" seize key cities in the region. Back then, the Kremlin didn't want to conquer Ukraine, merely destabilise it to stop it drawing closer to the EU and Nato.

A few months ago, Moscow decided destabilisation was no longer enough; it was time, it said, to take Kyiv and "denazify" the country. It failed. Now its goals have shifted again. Now it hopes to "liberate" the Donbas by holding a bogus referendum. The eventual goal is to create a landbridge from the Russian border to Crimea, cutting off a large part of Ukraine's access to the sea.

In their way stands Dima — and tens of thousands like him. Now 32, he was 24 when the war began in 2014 and he volunteered to serve in Dnipro 1. He fought for two years before leaving to work as an IT product manager. But when the war started earlier this year, he re-joined.

"We are fighting over [the town of] Rubizhne at the moment," he tells me. "It's one of the hottest spots right now. We're desperately trying to hold it. But it's close to Sievierodonetsk and [Russian-occupied] Luhansk so it's tough. The Russians are throwing everything at us there. Missiles, artillery, tanks, men, drones: the works. A guy I know who was in Afghanistan twice said it was like a playground compared to eastern Ukraine."

Yet the Ukranians remain confident, having already pushed the Russians back from Kyiv. More than this, they are angry. Mass graves discovered in towns such as Bucha mean no one I meet is interested in territorial compromise. "Even if they drop a nuclear bomb on Kyiv they will not win," Dima tells me. He snorts at Russia's plans to take southern Ukraine and link Russia up with Transnistria. "Sometimes you play poker with a bad hand, but Russia is playing without any cards at all. Their tactics are insane. Take Chernobaivka: it has a small military airport. Seventeen times they've tried to take it. Seventeen times we've smashed them. Still they come. Our soldiers ask: 'Are they dumb?' No, just incapable of independent thought. They just follow orders — no matter how crazy."

Ukraine's problem is resources: the army doesn't have enough ammunition and artillery, but this is also something of a blessing: it forces them to be creative. "The Russians use Soviet military tactics that were out of date 30 years ago," he says. "But we study the Afghanistan war and Israeli tactics. Russia just tries to press with mass."

What about the feared Chechen soldiers, I ask? "We call the Kadyrovites [named for Chechnya's leader Ramzan Kadyrov] TikTok soldiers. They're always filming. We found one who was wounded and trying not to fight, but to take a selfie. I heard a story from the [battle for] Hostomyal airport. There were a load of conscripts refusing to fight. So the Kadyrovite commander asked them: 'Who doesn't want to fight?' One guy raised his hand and the commander shot him. 'Now, who else wants to go home?' he asked. It's Soviet tactics."

From the beginning, Dima tells me, the Kadyrovites had a reputation for committing war crimes. The locals hate them and there are sometimes problems when the Ukrainian army captures one and the locals want revenge. But he says he's never seen anyone mistreat a prisoner. "Our guys understand the Geneva convention, and also that prisoners are a resource. For every Russian we capture we can get one of ours back. I'm not a general, but at a guess I'd say maybe 1,000 of our guys are prisoners. Prisoner exchanges take place continuously and quietly."
Much, much more, including pictures, at the link!
In about 2 and 1/2 to 3 hours, Putin will preside over his Great Patriotic War Victory Day parade. There's a lot of speculation that he'll formally declare war and announce a general mobilization. One of the pseudonymous "OSINT" accounts actually tweeted what they claimed is a mobilization call up notice earlier this evening. Quite simply, given their excellent intelligence capabilities, I'm sure the Ukrainians, as well as the Estonians, Latvians, Romanians, Poles, Finns, Lithuanians, Swedes, and the US all already have a good idea of what is likely to happen. The rest of us will just have to wait.
Let's leave it there.
Your semi-daily Patron:
Patron the dog, the legend of this war, got his presidential award today, too. How cute is that!#dogsofukraine #StandWithUkraine pic.twitter.com/HUsimtKWdz

— olexander scherba?? (@olex_scherba) May 8, 2022
He got his medal!!!! Also, some guy named Trudeau was there.
Your semi daily Chef Jose Andres:
The @WCKitchen team took our new food truck with restaurant partner Match to serve fresh meals in the heavily destroyed town of Borodyanka outside Kyiv! They put together this quick video of the day… Take a look at what we're doing with your support! #ChefsForUkraine ?? pic.twitter.com/hMb3fMUQaO

— José Andrés (@chefjoseandres) May 8, 2022
With the threat of major attacks from Russia on May 9…many places in Ukraine are under curfew. So today the @WCKitchen team delivered thousands of food kits for refugee families! This is Anton, one of our Ukrainian leaders reporting in from Nikopol near Dnipro! #ChefsForUkraine pic.twitter.com/qc6qalH7lP

— José Andrés (@chefjoseandres) May 9, 2022
Open thread!