A Ukrainian flag flies over Azovstal. A Ukrainian flag over Mariupol. On the 75th day of the defence. The true Flag of Victory is not somewhere in a foreign capital. It flies over its own land.#UAarmy pic.twitter.com/ZjsF7qEuTm

— Defence of Ukraine (@DefenceU) May 9, 2022
Here's tonight's address to Ukraine by President Zelenskyy. Transcript after the jump. I'm not going to highlight anything, because all of it deserves to be read and reflected on!
Great people of great Ukraine!

On August 24, 2021, the whole country celebrated the 30th anniversary of our independence! Our soldiers, our defenders, our equipment were moving along the Khreshchatyk, our "Mriya" was flying in the sky!

"There is nothing more dangerous than an insidious enemy, but there is nothing more poisonous than a feigned friend." These are the words of the great Ukrainian philosopher Hryhorii Skovoroda. On February 24, we realized this truth when a feigned friend started a war against Ukraine.

This is not a war of two armies. This is a war of two worldviews. The war waged by barbarians who shell the Skovoroda Museum and believe that their missiles can destroy our philosophy. It annoys them. It is unfamiliar to them. It scares them. Its essence is that we are free people who have their own path. Today we are waging war on this path and we will not give anyone a single piece of our land.

Today we celebrate the Day of Victory over Nazism. And we will not give anyone a single piece of our history. We are proud of our ancestors who, together with other nations in the anti-Hitler coalition, defeated Nazism. And we will not allow anyone to annex this victory, we will not allow it to be appropriated.

Our enemy dreamed that we would refuse to celebrate May 9 and the victory over Nazism. So that the word "denazification" gets a chance. Millions of Ukrainians fought Nazism and went through a difficult and long journey. The Nazis were expelled from Luhansk, the Nazis were expelled from Donetsk, and Kherson, Melitopol and Berdyansk were liberated from the occupiers.

The Nazis were expelled from Yalta, Simferopol, Kerch and the entire Crimea. Mariupol was liberated from the Nazis. They expelled the Nazis from all over Ukraine, but the cities I named are especially inspiring us today. They give us faith that we will drive the occupiers out of our own land for sure.

On the Day of Victory over Nazism, we are fighting for a new victory. The road to it is difficult, but we have no doubt that we will win. What is our advantage over the enemy? We are smarter by one book. This is a textbook on the history of Ukraine. We would not know grief if all our enemies could read and draw the right conclusions.

On February 24, Russia launched an offensive. Treading on the same rake. Every occupier who comes to our land treads on it. We have been through different wars. But they all had the same final.

Our land was sown with bullets and shells, but no enemy was able to take root here. Enemy chariots and tanks drove through our fields, but it did not bear fruit. Enemy arrows and missiles flew in our skies, but no one will be able to overshadow our blue sky.

There are no shackles that can bind our free spirit. There is no occupier who can take root in our free land. There is no invader who can rule over our free people. Sooner or later we win. Despite the horde, despite Nazism, despite the mixture of the first and the second, which is the current enemy, we win, because this is our land.

Because someone is fighting for the father tsar, the führer, the party and the chief, and we are fighting for the Homeland. We have never fought against anyone. We always fight for ourselves. For our freedom. For our independence. So that the victory of our ancestors was not in vain. They fought for freedom for us and won. We are fighting for freedom for our children, and therefore we will win. We will never forget what our ancestors did in World War II. Where more than eight million Ukrainians died. And every fifth Ukrainian didn't return home. In total, the war claimed at least 50 million lives. We do not say "we can repeat". Because only a madman can wish to repeat the 2194 days of war. The one who is repeating the horrific crimes of Hitler's regime today, following Nazi philosophy, copying everything they did. He is doomed. Because he was cursed by millions of ancestors when he began to imitate their killer. And therefore he will lose everything.

And very soon there will be two Victory Days in Ukraine. And someone will not have even one left.

We won then. We will win now, too!

And Khreshchatyk will see the parade of victory – the victory of Ukraine!

Congratulations on the Victory Day over Nazism!

Glory to Ukraine!
Here's today's operational update from Ukraine's MOD (emphasis mine):
The operational update regarding the russian invasion on 18.00 on May 9, 2022

The seventy-fifth day of the heroic resistance of the Ukrainian people to a russian military invasion continues.

russian enemy continues to conduct full-scale armed aggression against Ukraine.

russian enemy does not stop conducting offensive operations in the Eastern Operational Zone in order to establish full control over the territory of Donetsk and Luhansk oblasts and maintain the land corridor between these territories and the occupied Crimea.

The greatest activity of russian occupiers is observed in Slobozhansky and Donetsk directions.

There is a high probability of russian missile strikes on civilian and military infrastructure throughout Ukraine.

In the Volyn and Polissya areas, russian enemy did not take active action, no signs of the formation of offensive groups were found.

The situation in the Siversky direction has not changed. The enemy holds the border guards of the Federal Security Service at checkpoints and in the border areas of the Bryansk and Kursk regions of the russian federation. Carries out engineering and fortification equipment of defense positions near the state border of Ukraine.

russian enemy did not conduct offensive operations in the Slobozhansky direction. Leads the defense. The main efforts continue to be focused on preventing the advance of Ukrainian troops towards the state border of Ukraine.

In the Izyum direction, the replenishment of material and technical means is being replenished, and russian units are being prepared for further offensive operations in the Izyum-Barvinkove and Izyum-Slovyansk directions. russian enemy is conducting air reconnaissance.

The battle for Rubizhne continues in the Severodonetsk direction.

russian enemy is trying to improve the tactical situation, capture the city and create favorable conditions for further development of offensive operations in the areas of Lyman and Severodonetsk. It made an unsuccessful attempt to storm the settlement of Voevodivka. It was not successful. russian enemy resigned.

In the Lyman direction, russian enemy is trying to advance in the areas of Oleksandrivka and Shandryholove.

In the Bakhmut direction it fought unsuccessfully in the area of the settlement of Toshkivka.

In the Avdiivka direction, it is trying to improve the tactical situation in the areas of the settlements of Novoselivka, Novoselivka Druha, and Verkhnotoretske. The fighting continues.

In the Novopavlovsk and Zaporizhzhia directions, certain russian enemy units are regrouping troops in order to prepare for further active action. It is expected to increase this russian enemy group at the expense of units that performed tasks in the area of Mariupol.

In the South Buh and Tavriya directions, russian enemy regrouped the existing units in order to improve the tactical position of its troops. Increases fire and air defense systems, improves engineering equipment positions. In order to prevent the transfer of units of the Defense Forces of Ukraine to other areas, their shackles, conducts demonstrative actions.

The situation in the Bessarabian direction in the transnistrian region of the Republic of Moldova remained unchanged.

In the Black and Azov Seas, russian Black Sea Fleet ships continue to carry out tasks to isolate the area of ​​hostilities and reconnaissance.

Almost along the entire line of contact, russian enemy continues to use all available artillery and aircraft to fire on the positions of Ukrainian troops, the destruction of civilian and military infrastructure. In the city of Mariupol, despite the declared "silence", russian enemy resumed shelling and assault on the Azovstal plant.

In the temporarily occupied territories of Ukraine, russian enemy continues to carry out measures of the administrative-police regime. The celebration of the so-called "Victory Day" was simulated for the russian media in some of the occupied settlements.

The losses of russian enemy exceed the indicators of manning, which significantly affects the overall moral and psychological state and becomes a prerequisite for the refusal of personnel to continue to participate in hostilities against Ukraine.

We keep the line! We believe in the Armed Forces of Ukraine! Together to victory!

Glory to Ukraine!
Here's today's assessment from Britain's MOD: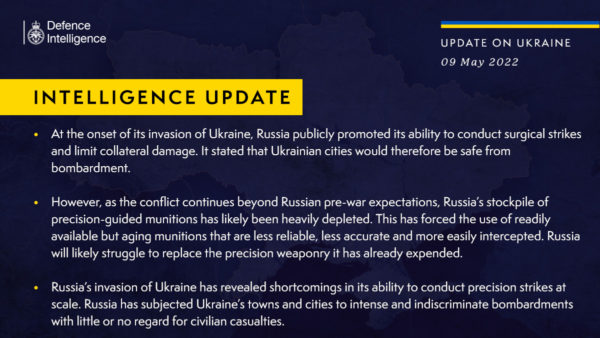 Here's their updated map for today: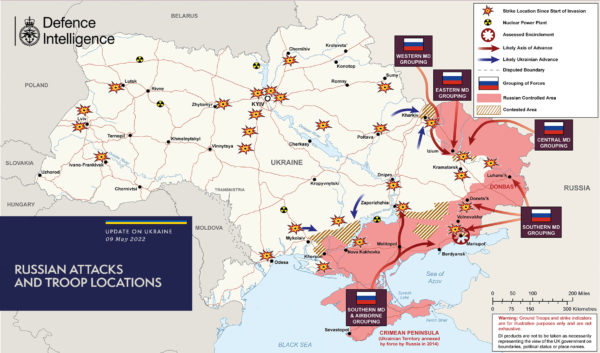 As you can see things are continuing on as they've been going in the south and east.
There was a DOD background briefing today. Here's the transcript (emphasis mine):
SENIOR DEFENSE OFFICIAL: Okay, good morning, everybody. So here we are, day 75. There's actually — I know it's been a while since we did this — but there's really not a whole heck of a lot of change to speak to today.

We continue to see Russia — Russian artillery bombardment — and offensive ground operations south of Izyum, more in the direction of Lyman — L-Y-M-A-N — which is to the southeast of Izyum there, moving in that direction.

And we believe their intent is, as we talked about last week, is to — is to assault Slovyansk — which, if you look at a map, is just about due east of Lyman and also try to take over the various lines of communication in that northern area of the Donbas but they've made, again, very limited progress on that line of access over the last few days, like single-digit kilometer kind of progress, cause the Ukrainians keep keep pushing them back and keep fighting them back. So not a lot of progress at all.

The same could be said in the south. We talked last week about the majority of the battalion tactical groups that were dedicated to Mariupol moving north and sort of stopping just south of a town called — and I don't mean to be disrespectful, I'll do my best to pronounce this right — but Velyka Novosilka.

And we still assess that they are arrayed south of that town, they have not moved up that. So there's been virtually no progress in the south. And we still estimate that about the equivalent of — and I want to be careful — it's not two BTGs specifically, but it's about the equivalent of two BTGs are still dedicated to the Mariupol area.

And Mariupol continues to come under airstrikes. They are still launching weapons into Mariupol. Other airstrikes, long-range missile fires, we've seen in and around Odesa and in the — unsurprisingly, in the northern part of the Donbas area, which, I guess, is, again, perfectly consistent with what we've seen in the last few days. So honestly, there's just not a lot of dramatic change to speak to on the ground.

In the air, there's — Russians sortie count over the last 24 hours came in just under about 300, but again, it varies from day to day, and usually — like, we've been talking about this — anywhere from 200 to 300 on any given day, based on what they're trying to get done. So certainly within that range of what we've been seeing.

And, you know, not a whole heck of a lot to talk about in the maritime environment. I think you all saw video footage and Ukrainian comments about Snake Island and some strikes that they conducted there. We're still trying to process that and figure out everything that they hit and what was all behind that, and I don't have a whole lot of detail on that. We think there was at least three targets hit from airstrikes on Snake Island, but as for overarching effect, it's — I think we're still trying to figure figure all that out.

And no changes in the maritime — elsewhere in the maritime environment, in terms of the Black Sea. The Black Sea Fleet, we still assess, is keeping their distance from the northern coast. In fact, we would assess that the majority of their LSTs are operating actually from mainland Russia, in and out of mainland Russia ports. So again, no major changes in that regard.

Around Kharkiv, still assess Russian and Ukrainian contact there, with the Ukrainians continuing to push Russian forces further to the east, but not a whole lot difference — I think less than 45 kilometers now they may've been able to push the Russians to the east of Kharkiv. That's not all that different than when we talked about last week but it's a little bit of progress and they keep pushing them out.

And let's see. On the training side — I'm sorry, the — before I get to training, let me just talk about sort of where we are on the major pieces heading over there. So I can report that almost all the 90 howitzers are in Ukraine, more than 85 of them.

And as for the rounds, again, if you add the 144 to the — from PDA-8, 144,000, and the 40,000 from PDA-7, which gets you to 184,000 total, of that 184,000 total, more than 110,000 rounds are in Ukraine. So more than 60 percent and more flows in just about every day.

Let's see. And then from other seven — in the last 24, there's been 13 deliveries from seven different nations have arrived at various trans-shipment sites throughout the region. So we're continuing to help coordinate lots of deliveries from lots of different countries.

And, you know, I won't list the countries and what they've been giving but it's everything from additional 155 rounds to 122 millimeter rounds to shotguns, spare parts, Humvees, generators, even a couple of additional howitzers, M777s. So lots of different stuff coming from lots of different countries, and again, we're trying to help coordinate the delivery of that.

On the training front, more than 310 Ukrainian soldiers now have completed M777 training. There's another 50-plus that are currently going through yet another course. Let's see. We've also started a two-week M777 maintainer course and we expect that the first class will begin training today — that's the plan. So that's a new development, to help them with maintenance on the howitzers, now that they're getting so many in the country.

On the Q-64 mobile air defense radar, 15 Ukrainian soldiers have completed that training and there's a second class will begin training today.

Let's see. On the M113, 60 Ukrainian military have completed that course and another 45-plus will complete the second course on the M113 team today. So lots of the graduations today.

On the yet Phoenix Ghost, we have completed the training of about 20 Ukrainian soldiers. That was a week-long course, you might recall, and that has been complete. And on the Phoenix Ghost we — you know, still more than 20 of them are in the country. And we're still working to get the rest of them in there.

And I guess that's pretty much it for today.

Q: And then just a broad one. There has been reports, I think you sort of mentioned on a number of strikes in and around Odesa, do you see any shift in Russian intentions to move more aggressively towards Odesa? And do you see any shift of Russians moving out of the Donbas maybe to reset, refit at all over the last 24 hours?

SENIOR DEFENSE OFFICIAL: Yes, on Odesa, the airstrike activity has not been insignificant there. And we're not seeing any move — or actually any ability for the Russians to move on Odesa. I mean, there was fighting between Kherson and Mykolaiv over the last 24, they have not taken Mykolaiv. And so there is no ground threat to Odesa right now. And there is no real maritime threat to Odesa either because, as I said earlier, the Black Sea Fleet is staying well off the coast. So there are some strikes there.

We think, again, we don't have perfect visibility, but we think part of the reason they're striking there is to continue to sort of — by posing a threat to Odesa, maybe pinning down Ukrainian forces in or around that area so that they are not available or they won't feel like they should be made available to move to the Donbas to support other Ukrainian forces there.

That's an assumption. We don't know that for sure. But the airstrikes that are in and around Odesa are not, we don't believe, indicative of some imminent move on Odesa either from the sea or from the ground. In fact, they don't have the ability to do that right now.

And I totally forgot your other one.

Q: There appears to be some movement of troops in the Donbas and I'm wondering if you're seeing any movement by Russia to bring some of their units back into Russia to refit and reset at all; those that have been operating in the Donbas region.

SENIOR DEFENSE OFFICIAL: Not really, Lita.

I mean, as a matter of fact, we now assess that there's about 97 operational BTGs in Ukraine. And I think the last time that we talked it was like 93. So they've actually moved in more.

And there's — look, there's give and take every day. Sometimes they'll move, you know, one or two out and then three or four in. I'm just giving you the net numbers.

But it is not unusual for them to move a BTG or two out of the Donbas back into Russia for refit or resupply and then move them back in. I mean, that's normal. That's what you would expect them to do.

But in the aggregate, since the last time we talked they've added about five BTGs to Ukraine and all of those BTGs are either in the east or in the south.

Okay, Pierre.

Q: Thank you.

Can you describe a little bit more information available the nature of the fight that's happening in the Donbas? What we saw probably in the area of the capital Kyiv is like more close contact. Short distance, is it different in the Donbas?

SENIOR DEFENSE OFFICIAL: It's a different terrain; they're applying I think some different tactics. I don't think comparing it to Kyiv is really a fair comparison since Kyiv is a, you know, the capital city. It's in a different part of the country, more forested, more hilly.

And much more urban, the Donbas is flat, it's open, it's a lot of farmland. And it's a lot of small towns and villages and what we're seeing is they are trying to do what we — in the U.S. military — refer to it as combined arms maneuver.

Meaning that you're moving all of your capabilities in some sort of orchestrated, organized fashion. And they're trying to do that but they have not been very successful. They're — they're falling a lot back on their doctrine, which is to shell an area you want to get to, soak it with artillery to soften up the defense and then move your ground forces in only when you think it's — they're able to do that.

And the problem for them is that the Ukrainians also have artillery and long-range fires and they now have a lot more of them. And they're proving to be resistant to that final approach by the Russians.

They're hitting back with their artillery, and they are quite good at operational maneuver in this part of the country. Since both nations have been fighting, again, over this for eight years. The Ukrainians know the terrain very, very well. So there's been a lot of back and forth on these small towns and villages.

And the Russians just have not been able to make any significant progress at all. It is not helped by the fact that — so — not helped by the fact that they haven't been able to integrate their fires with their maneuver. It's helped by the weather.

It's very muddy there so they are pretty much restricted to paved roads. Number two, or sorry, number three, they haven't fixed all their logistics and sustainment issues, we still see them struggling to resupply their troops. And I am cautious to get out ahead of that.

So they're moving slowly because they don't want to make the same mistakes that they made in Kyiv. And then lastly, just command and control and unit cohesion. We still see anecdotal reports of poor morale of troops. And the officers refusing to obey orders, and move.

And not really sound command and control from a leadership perspective. So that's the best I can do in answering that question.

Q: Thank you.

SENIOR DEFENSE OFFICIAL: Yep.
The rest of the Q&A at the link!
Since the senior defense official (SDO) mentioned the attack on the Russian landing craft on Snake Island, let's start there:
While official RU channels are silent on the topic, two mercenary-linked telegram channels now admit that Ukraine destroyed critical military infrastructure (and spetznaz forces) on the island – including this MI-8 Russian helicopter pic.twitter.com/x7ajZb0tJA

— Christo Grozev (@christogrozev) May 8, 2022
As Wagner's channel now confirms, in addition to the MI-8 (no survivors) + the evacuation Spetsnaz team, Ukraine destroyed several Tor-M2 anti-aircraft systems, two Raptor cutters, RU bases and ships bringing additional weapons to the island.

Somewhat counter-intuitively, the Wagner/mercenary telegram channels are much more truthful than Russian state-run (dis)information channels, as they don't feel they need to defend poor RU military decisions, and are often critical of top brass (which doesn't make them likeable)

Oh, I had missed that Russia's army spokesman had claimed this morning the MI-8 helicopter was Ukrainian and had been shot by Russian forces. Now contradicted by the Russian mercs.
Mariupol:
In April, a video of Alisa saying she wanted to be evacuated made the rounds on social media. Then journalist Nataliya Nagorna encountered her on the evacuation bus and was shocked to find she was alone.

Ukrainians online are demanding her mother be freed. #повернітьАлісімаму

— Matthew Kupfer (@Matthew_Kupfer) May 10, 2022
@MSF I ask for your public reaction! Please, demand the release of military doctor Victoriya Obidina. She was separated with her 4 y.o. daughter and taken by Russians after evacuation from AzovStal plant in Mariupol, organized by UN/ICRC. Her whereabout is unknown. #Marioupol pic.twitter.com/4OpJDXYPWN

— Oleksandra Matviichuk (@avalaina) May 9, 2022
More on Dr. Obidina and her daughter tomorrow night. I have to get the article translated.
Kharkiv:
A typical picture these days in the only open coffee shop in Kharkiv. New normal at the frontline city. pic.twitter.com/rzMVg49zrT

— Maria Avdeeva (@maria_avdv) May 9, 2022
Bilohorivka:
On May 7th the Russian airstrike caused fire in the school and captured area of about 300 sq. m. in Bilohorivka.
2 dead bodies were found, 30 civilians were rescued alive from the rubble,7 of them were wounded.⚠️60 civilians remained under the rubble of building probably died pic.twitter.com/zwDszmkmQD

— Serhiy Haidai (@TXlrgA0vCNNaf1G) May 8, 2022
Sumy:
Russians attacked old Jewish cemetery in Hlukhiv

On 8 May, Shostka community, Sumy Oblast, came under Russian strike.
A Jewish cemetery in Hlukhiv was damaged, where the victims of the 1918 pogrom and two tsaddiks are buried.
?https://t.co/Y2SJrcCLIzhttps://t.co/rTTC6SFNAq pic.twitter.com/RHJpQAgs5C

— Euromaidan Press (@EuromaidanPress) May 9, 2022
From Ukrayinska Pravda:
KATERYNA TISHCHENKO — SUNDAY, 8 MAY 2022, 18:54

The Russian forces fired rockets at the Shostka District of the Sumy region, and the Jewish cemetery in Glukhov was damaged.

Source : Head of the Sumy Regional Administration (OVA) Dmytro Zhyvytskyi on Telegram, Minister of Culture Oleksandr Tkachenko on Facebook

Zhyvyskyi Quote: "There was a rocket attack on the territory of the Shostka region."

Details: Later, Minister of Culture Alexander Tkachenko reported that a Russian rocket had struck the Jewish cemetery in Hlukhiv.

Tkachenko Quote: "On the territory of the Jewish cemetery in Hlukhiv, Jews are buried – victims of the pogrom of 1918. The mass grave is at the same time the grave of the tzaddiks Menachem-Nohim-David Heselov and Israel-Dov-Ber Nokhimov Shumiatskykh. This is not only a historical monument, it is a special symbol for the whole Jewish people.

The fact that the graves of the main tzaddiks have survived is proof that all the higher powers are on our side."
Makariv:
This baby girl standing on the tower of a destroyed Russian tank speaks to me.

It's says this is my village and we are taking it back???

? by Mikhail Palinchak taken near Makariv village, Kyiv region, Ukraine, May 7, 2022.#SlavaUkraini ?? pic.twitter.com/AKr94OfDXZ

— ??Skyleigh Heinen?? (@Sky_Lee_1) May 7, 2022
Warsaw:
Protesters opposed to the war in Ukraine threw red paint on Russia's ambassador to Poland Sergey Andreev as he arrived at a cemetery in Warsaw to pay respects to Red Army soldiers who died during World War II. https://t.co/S2SMcPPvVx pic.twitter.com/8hgQutHGRK

— The Associated Press (@AP) May 9, 2022
Emmanuel Macron opened his mouth and inserted both feet up to his armpits today. From The Times of London (emphasis mine):
President Macron urged Europe to spare his Russian counterpart from "humiliation" and told Ukraine it must wait decades to join the EU as criticism mounted over his failure to follow other leaders and visit Kyiv.

Macron, who began his second term as French president on Saturday, set out his terms for the Ukraine conflict in a speech to the European parliament. Implicitly defending his regular calls to President Putin since the invasion, Macron said that peace in Ukraine would not be served by putting excessive pressure on Russia.

"Tomorrow we will have to build peace. Let us never forget that," he told a news conference after his speech. "We will have to do this with Ukraine and Russia around the table. This will not be done with negation, nor with the exclusion of one or the other, nor through humiliation."

Macron has uncategorically condemned Russia's invasion but his words have reflected a caution that he applies towards Putin in contrast to the charges of genocide and war crimes that have been levelled at him by President Biden and some other European leaders.

The French president called for Ukraine to be part of a new "European political community" that would include countries such as those of the Balkans, Moldova and Georgia, none of which is ready for EU membership.

He also suggested that Britain, which withdrew from the Union after the 2016 referendum, might want to be part of this new club, which was first proposed by the former Italian prime minister Enrico Letta.

"Ukraine by its fight and its courage is already a heartfelt member of our Europe, of our family, of our union," Macron said. But he warned that "even if we grant it candidate status tomorrow, we all know perfectly well that the process to allow it to join would take several years indeed, probably several decades".

Ursula von der Leyen, president of the European Commission, said earlier that the EU executive would give its opinion on Ukraine's membership bid in June. While former Soviet bloc states such as Poland are in favour of rapid Ukrainian membership, Germany, France and the Netherlands are fiercely opposed to a fast-track accession that would bypass the exhaustive process that brings candidate states into compliance with Europe's rules of governance, law and controls on corruption.

Full integration in the federal-minded Union would remain out of reach for years to come for many candidate members, Macron said.

"It is our historic obligation to create what I would describe before you today as a European political community. This new European organisation would allow democratic European nations to find a new space for political co-operation, security, co-operation in energy, transport, investment, infrastructure, the movement of people."

Le Monde said today that it was strange that Germany and France had taken a back seat towards Russian aggression in Ukraine.

"In contrast to Ursula von der Leyen or Boris Johnson . . . neither Chancellor Scholz nor Emmanuel Macron have made the trip to Kyiv," it said. "It is as if the two countries were wrongfooted by a conflict whose start they did not anticipate, and even less its consequences. The German and French leaders are not showing the leadership that could be expected of them."
More at the link!
I get that Macron is partially playing domestic politics here – he's got parliamentary elections coming up – but this stuff is just tone deaf! He either needs a new speech writer, a new strategic communication direction, or to just say nothing at all. Or all three!
This is going to continue to be a problem.
New data! #Russia's oil and gas revenues hit another record high in April. 1.8 trillion rubles in a single month, after 1.2 trillion in March. After only 4 months, Russia's federal #budget has now already received 50% of the planned oil and gas revenue for 2022 (9.5 trillion). pic.twitter.com/DKUGClchWG

— Janis Kluge (@jakluge) May 6, 2022
Especially now that Orban has basically stopped the EU from expanding its sanctions prohibiting the purchase of Russian oil. From Politico Europe:
European Union countries are struggling to agree on the details of a new package of Russia sanctions including how a ban on Vladimir Putin's oil industry would work, diplomats told POLITICO.

Talks between the bloc's 27 countries broke up without a deal on Sunday, and officials in Brussels are now expected to draft a new compromise plan before calling another meeting of diplomats on Monday or Tuesday.

Envoys have met multiple times to discuss the EU's sixth package of sanctions against Russia without managing to sign off on the proposals, first publicly announced by European Commission President Ursula von der Leyen on May 4.

The ongoing difficulties reflect the fact that the measures being lined up — critically a complete ban on imports of Russian crude and refined fuels — will be deeply painful for some countries to absorb. Shutting down the EU market for Russian fossil fuels is seen as a critical strategy for denying Putin the revenue that is helping finance his war in Ukraine.

By April 27, the bloc had imported about €44 billion of fossil fuels from Russia by shipments and pipelines since the invasion began, according to the Centre for Research on Energy and Clean Air.

Hungary and Slovakia — both heavily reliant on Russian oil — led the objections to von der Leyen's blueprint last week and, along with the Czech Republic, won concessions from the Commission so they would have more time to comply with the ban.

It was Viktor Orbán's Hungarian government again on Sunday that held up a deal, diplomats said. On Friday he warned that the plan to phase-out Russian oil would devastate Hungary's economy, likening the impact to a "nuclear bomb."

"There is no compromise among member states," an EU diplomat said. "Hungary is still opposing [the package], and this is the problem."

After failing to strike a deal on Friday, EU ambassadors re-convened on Sunday for another round of negotiations but the talks were over by early afternoon. EU diplomats had initially expected to reach an agreement by Friday or over the weekend at the latest.

The European Commission is proposing phasing out Russian crude oil within six months and refined oil by the end of the year. The most recent plans, circulated on Sunday and seen by POLITICO, envisage giving Hungary and Slovakia until the end of 2024, and the Czech Republic until end of June of that year, before the oil embargo kicks in.

But one EU diplomat said the compromise did not go far enough for Hungary, saying Budapest is pushing to be completely exempted from the oil ban. Orbán previously indicated his country needed five years at a minimum, pointing to Hungary being landlocked and therefore more dependent on Russian oil than other countries that can receive the resource through their ports.
Much, much more at the link!
The Moscow Times has a very interesting report on why Putin is still being supported by Russia's elites:
If there is any advantage to living in Moscow in these troubled times, it is the opportunity to meet with people in person. They prefer privately.  Better in a restaurant with no one around. Or better yet in the corner of a small city park.

Even so, few people in power are willing to meet. They are afraid to even answer a message on an app let alone be seen in public. But there are exceptions. There are people who are retired, or who have known me for a long time, businessmen who yesterday had been in the security forces, or doctors, or acquaintances who suddenly discovered that they'd been robbed and tossed away despite their United Russia Party badges and long, impeccable service records.

Here is what we talked about. The quotes are real; the names are not.

The officials

Officials, they tell me, can be divided into clean and unclean. The clean ones are the guys in officers' uniforms, mostly from the Federal Security Service (FSB). They make decisions, they punish, they are feared. Everyone else is unclean. But among them there are gradations. There is the "run and fetch" crowd, now largely the ideologues in the presidential administration who "get orders" from the FSB and carry them out.

The government's economic section has a special position today. Technocrats are in high demand because they are supposedly saving the economy from the endless stream of new sanctions. In actual fact, their task is hopeless. About 70% of goods manufactured in Russia have imported components, and it is impossible to replace them. There are endless meetings in the government, says a well-known financier and former high-ranking official. The director of a factory that makes Russian aircraft comes in. He's got a problem: his engines are imported. He promises that he will build his own — if they give him money and lots of it. Then he can make it in two years — if he can make it. A financier tells me, "I haven't met anyone [in the economic section of the federal government] who supports it [the war in Ukraine]. They all know it's a catastrophe. But they are all trying to figure out how to comply."

"Where can I go?" says another top-ranking bureaucrat, also horrified by what is happening, and one of the few who is not yet under sanctions. "They won't let me leave."

You don't need to be a mind reader to see that they are all trying to come up with a way to get out.

"90% of them don't like what is going on," says a doctor in a private Moscow clinic about his patients who are government officials.

"Everyone is afraid to open their mouth — the example of Ulyukayev or Abyzov is before their eyes, so they adapt," says a financier.

"Only the security forces knew about the start of the operation. Even [Prime Minister] Mishustin didn't know, and neither did Elvira Nabiullina [governor of the Central Bank]," says a government official. "During that famous televised Security Council meeting, it was clear that the most informed were against it," says a retired secret service general. He thought the officials trying, however fearfully, to say that maybe this wasn't the right time were Mikhail Mishutin; Nikolai Patrushev (Security Council Secretary); Dmitry Kozak (chief negotiator of the Minsk agreements); and Sergei Naryshkin (head of the Foreign Intelligence Service), whom Putin publicly humiliated.
Much, much more at the link!
Here's an interesting thread by one of the editors at Meduza:
Before February 24, 2022, one could have made the case that a victory in a just war—the Great Patriotic War—was one of the foundations of many Russians' collective identity. It's hard to make this case now. Rethinking the V-Day. A 9-point thread on May 9

— Maxim Trudolyubov (@russiafiles) May 9, 2022
In the public imagination, the history of WWII outweighed other pages of Russian history. There is nothing unique in this. Every nation deals with the pain of history in its own way. Russian society has coped with shame thanks to the memory of May 9… 1/

The reality of Russia's criminal war against Ukraine means that May 9 can no longer prevent Russian society from confronting its history. Propaganda, self-deception, unwillingness to know the truth, unwillingness to leave a moral comfort zone can no longer serve as excuses. 2/

The nightmare of what is happening now should make every Russian face it, own it: it all did not start on February 24, 2022, nor did it start in 2014. In our past and present, there is a willingness to use violence against entire peoples who appear disloyal to Moscow. 3/

Russian citizens can no longer pretend that the past is merely an issue for academic discussion. In our past and present, we follow a policy of colonialization in neighboring countries as well as in our own country. 4/

In our past and present, people—whether citizens of other countries or of Russia—are seen as expendable in the eyes of the authorities. The Russian (and especially the Soviet) state has never limited itself in its methods. 5/

In our past and present, the state has arrogated to itself extraordinary authority, unlimited by laws and institutions. In our past and present, expediency—defined ideologically and now arbitrarily—is valued more than human life. 6/

The means that the Soviet authorities used included summary executions, arrests, forced labor, requisitioning of food and property, attacks on civilians, hostage-taking, torture. This "past" is now the present in Ukraine. 7/

The current war has been made possible by the fact that the Russian state's historical crimes have never been put on trial and that the perpetrators have never faced a day in court. It has been made possible by the impunity of the Russian leadership. 8/

If Russia as a national and cultural project would like be part of the global community again, then the first new institution established in Ru after the war should be a court empowered to investigate the crimes of the Russian state in all its guises, past and present. 9/9
Putin's Victory Day parade was pretty much a low key affair. There was no declaration of war/upgrade to war from the special operation. No general mobilization. And despite claiming the weather prohibited, which it didn't the conditions were fine, there was no flyover. Just some bellicose rhetoric and a minimalist parade.
I think that's enough for today.
Your semi daily Patron:
Meet #Patron, the bomb-sniffing dog. Patron has detected more than 200 bombs and land mines after #russian invasion of #Ukraine. #StopPutin #StandWithUkraine️ pic.twitter.com/xX5Bico7w9

— Karina (Ukraine_here) (@Ukraine_here) May 6, 2022
No new Chef Andres video today, sorry!
Open thread!