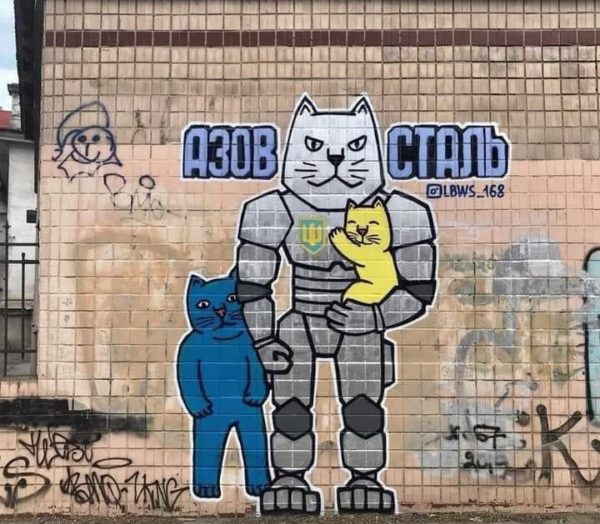 I want to start with Ukraine's Foreign Minister Dmytro Kuleba's remarks to The Financial Times, which clarify Ukraine's strategic objectives in their defense against Russia's re-invasion of Ukraine.
In a sign of the growing confidence in Kyiv after Moscow's offensive in the eastern Donbas region appeared to have stalled, Dmytro Kuleba told the Financial Times "the picture of victory is an evolving concept".

"In the first months of the war the victory for us looked like withdrawal of Russian forces to the positions they occupied before February 24 and payment for inflicted damage," Kuleba said in an interview.

"Now if we are strong enough on the military front and we win the battle for Donbas, which will be crucial for the following dynamics of the war, of course the victory for us in this war will be the liberation of the rest of our territories."

Kuleba said only Russia's defeat would allow Ukraine to reopen its Black Sea ports and revive its export economy. If Kyiv received "even more military support, we will be able to throw them back from the Kherson region [in southern Ukraine], to defeat the Black Sea fleet and unblock the passage".

But he also acknowledged the bloodshed could be too great and Ukraine might ultimately have to negotiate a settlement. In that event, Kyiv would want to "approach the unavoidable moment with the strongest cards possible", he said.

Kuleba said the lack of verbal escalation from Putin made no difference to the situation on the battlefield, where "the worst has already happened".

To defeat Russia, he said Ukraine's allies had to deprive it of oil and gas revenues "to park the Russian war machine".

They also needed to improve the "timeline and sustainability" of weapons supplies. Kyiv has berated western governments for dragging their feet over the supply of long-range, heavy weaponry of its own choosing.

"If the battle is raging today, and howitzers and drones are arriving tomorrow, that is not how it should work," Kuleba said.

But he said Ukraine's resilience in the first phase of the invasion — when it fended off a Russian attempt to seize Kyiv — and the fact that it had proven "trustworthy" using western-supplied anti-tank weapons and surface-to-air Stinger missiles had been a "game-changer" for western perceptions.

Responding to French president Emmanuel Macron's prediction that it could take "several years, in truth undoubtedly several years" for Ukraine to join the EU, Kuleba said: "Three months ago this country did not even have a membership perspective. Now they are discussing how long it will take."

The most important thing was for Ukraine to be given membership candidate status by the EU in June. "Then we will sit down with you and resolve the rest of the issues. How. When, and so forth."

Macron and some other leaders have proposed forms of associate membership but Kuleba said these could not be a substitute for Kyiv.

"If we don't get the candidate status, it means only one thing, that Europe is trying to trick us. And we are not going to swallow it.

"Ukraine is the only place in Europe where people are dying for the values the EU is based on. And I think this should be respected."
I wouldn't put too much stock in the boilerplate about maybe needing to negotiate something if it saves lives. That seems to be the boilerplate that he, President Zelenskyy, and all other senior Ukrainian officials have been using for over two months. It makes them sound reasonable in contrast to Putin and Lavrov and the rabid talking heads on Russian state TV. And it gives the usual suspects in the US, Germany, France, etc the warm and fuzzies to hear them say it.
My assessment of what FM Kuleba is proposing here is a long, slow war to liberate everything Putin and his catspaws have scarfed up in Donbas and Crimea since 2014. It will need to be hybrid. Hybrid here means a combination of conventional warfare and low intensity warfare. Specifically, conventional warfare between the Ukrainian military and Russian forces accompanied by unconventional and guerilla warfare as conceptualized by Bernard Fall in the parts of Ukraine that Russia is occupying. Basically hitting them from both directions. Conventionally from the front and unconventionally from behind. The objective being to completely break the morale of the Russian military as they will be unable to accurately ascertain where the threats are coming from.
Here's President Zelenskyy's address to Ukraine from earlier this evening. Transcript with my emphasis after the jump:
Ukrainians!

All our defenders!

Today has been a difficult day. There was news – both ordinary and tragic. I'll start with international contacts. I continued to address foreign parliaments. Those states and nations whose support is important to us. And especially now.

In my address to the Slovak Parliament, I thanked for the strong defense, sanctions and other support. I explained our view on why energy cooperation with Russia cannot be considered in isolation from the aggressive policy of this country. And on the Ukrainian example, recalling the history of so-called gas friendship with Russia, I showed what mistakes should be avoided.

Addressing the Maltese Parliament, I recalled the heroic battle for Malta in World War II, which is very similar in fact to our current struggle in the war for independence and freedom against Russia.

Then, 80 years ago, the fate of the entire confrontation in the Mediterranean depended on the battle for Malta. The Allies won. The Nazis lost.

We are doing everything to ensure that the confrontation on our land ends in this way now as well.

And for this we need principled support and sanctions. In particular, from Malta.

I held talks in Kyiv with the foreign ministers of Germany and the Netherlands. We talked about the strengthening of Ukraine, about the faster end of this war. We also discussed the details of how our friends can join the post-war reconstruction of Ukraine.

I am also grateful to them for resuming the work of embassies in our capital. This is an important gesture that confirms Europe's confidence in Ukraine's future.

In total, 36 foreign missions are already operating in the capital.

The Armed Forces of our state provided us all with good news from the Kharkiv region. The occupiers are gradually being pushed away from Kharkiv.

I am grateful to all our defenders who are holding the line and demonstrating truly superhuman strength to drive out the army of invaders. Once the second most powerful army in the world.

But I also want to urge all our people, and especially those in the rear, not to spread excessive emotions. We shouldn't create an atmosphere of specific moral pressure, when certain victories are expected weekly and even daily.

The Armed Forces of Ukraine are doing everything to liberate our land and our people. To liberate all our cities – Kherson, Melitopol, Berdyansk, Mariupol and all others.

Today, a special group of international experts chaired by Michael McFaul and Andriy Yermak proposed a roadmap for energy sanctions. This is a detailed document that describes what needs to be done to make it really difficult for Russia to finance this war, but at the same time – so that the global economy does not suffer losses due to restrictions on Russian energy resources.

This is a rationally drafted document, and work has already begun on its implementation.

And the tragic news on which I want to end this address today. The first President of Ukraine Leonid Makarovych Kravchuk died today.

He was not just a politician. And not just a historical figure. He was the man who knew how to find wise words and say them so that all Ukrainians could hear them.

This is especially important in difficult, crisis moments. When the future of an entire country may depend on the wisdom of one person.

Leonid Makarovych showed just such wisdom in the late 1980s, when the Ukrainian movement emerged. He passed 1991 brilliantly, and it is only now that it may seem as if it was easy for him then.

And no matter what happened later, Leonid Kravchuk always stayed with Ukraine.

Perhaps it was because of his wisdom that he was cheerful in a special way. He always valued life, every minute of it. But he always found much more than one minute to help sort things out and give advice. And I am personally grateful to him in particular for that.

As a child he survived World War II, survived the occupation. Leonid Makarovych knew what freedom costs. And with all his heart he wanted peace for Ukraine. I'm sure we will implement it. We will achieve our victory and our peace.

Eternal honor and memory to the first President of independent Ukraine!

Eternal memory to all who defended Ukraine!

Glory to Ukraine!
Keep the information regarding Kharkiv in mind as we proceed.
Here's today's operational update from the Ukrainian MOD (emphasis mine):
The operational update regarding the russian invasion on 18.00 on May 10, 2022

The seventy-sixth day of the heroic resistance of the Ukrainian people to a russian military invasion continues.

russian enemy continues to conduct full-scale armed aggression against Ukraine.

russian enemy is increasing the pace of strategic offensive operations in the Eastern Operational Zone. It exercises fire along the entire line of contact and in the depths of the defense of our troops. The greatest activity of the occupiers is observed in Slobozhansky and Donetsk directions.

There is a high probability of missile strikes on civilian and military infrastructure.

In the Volyn and Polissya directions, russian enemy did not take active action.

There was a movement of military equipment of the Armed Forces of the republic of belarus as part of the combat readiness check and the completion of the rotation of individual units involved in strengthening the protection of the Ukrainian-belarusian border in Brest and Gomel regions.

In the Siversky direction, russian enemy continues to provide enhanced protection of the Ukrainian-russian border in the Bryansk and Kursk regions. It fired mortars in the border areas near Karpovychi and Senkivka in the Chernihiv region.

russian enemy did not conduct active offensive operations in the Slobozhansky direction. It continues to take measures to regroup existing units. It carries out engineering and fortification equipment of advanced positions, strengthens the air defense system, increases the system of medical support.

In order to prevent the advance of units of the Defense Forces of Ukraine and to strengthen its troops, the enemy additionally moved to the territory of Kharkiv oblast up to five hundred mobilized persons from the temporarily occupied territory of Donetsk and Luhansk oblasts.

In the Izyum direction, russian enemy continued to create favorable conditions for the offensive, for which it replenished ammunition and logistics, conducted engineering equipment of advanced positions and strengthened air reconnaissance.

Unsuccessful attempts to establish control over Rubizhne continue in the Severodonetsk direction.

russian enemy carries out assault operations in the areas of the settlements of Nyzhne, Toshkivka, Orikhove, Luhansk region, has no success.

russian enemy is trying to gain a foothold in the area of the settlement of Oleksandrivka, is carrying out assault operations in the area of the settlement of Shandryholove, Donetsk region, has no success.

In the Donetsk direction, russian occupiers attempted assault operations in the directions of the town of Maryanka, the settlements of Kamyanka, Yasynuvata district, and Novomykhailivka, Pokrovsky district, Donetsk oblast. They were unsuccessful.

In the city of Mariupol, russian enemy continues to focus its efforts on blocking and destroying our units in the area of the Azovstal plant. With the support of artillery and tank fire, it conducts assault operations.

The situation in the Zaporizhzhya and South Buh directions has not changed significantly.

An intensified level of terrorist threat continues to operate in the transnistrian region of the Republic of Moldova. Mobilization activities are not being carried out in the region, and local armed groups and a task force of russian troops continue to be on high alert.

russian enemy continues to suffer losses on the territory of Ukraine. Thus, according to available information, units of the 138th separate mechanized brigade of the 6th Combined Arms Army of the Western Military District due to significant losses in the Kharkiv region were withdrawn from Ukraine to the Belgorod region of the russian federation. A significant part of the remaining military personnel under the contract wrote reports on dismissal.

As a result of coordinated actions of the personnel of the units of the Defense Forces of Ukraine in the Kharkiv region, the settlements of Cherkasy Tyshky, Rusky Tyshky, Rubizhne and Bayrak were liberated.

We keep the line! We believe in the Armed Forces of Ukraine! Together to victory!

Glory to Ukraine!
Here's today's British MOD map: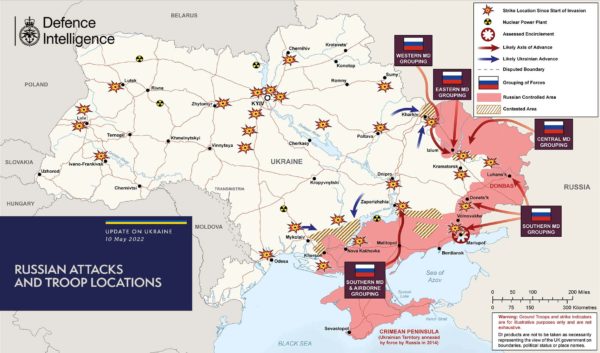 And here's one from The Kyiv Independent's Illia Ponomarenko:
More Ukrainian gains northeast of Kharkiv.
The Russian border is close. I think Russians have decided to give up on this area west of the Siverskiy Donets River.
Not enough manpower, I suppose. pic.twitter.com/MLnQ8OZoWR

— Illia Ponomarenko ?? (@IAPonomarenko) May 10, 2022
While neither the British map, nor Pomonarenko's shows the Ukrainian forces reaching the border, I've seen several people speculating that what the Ukrainian MOD is really saying in its operational assessment today is that in at least a part of Kharkiv the Russians have withdrawn/been pushed back across the border and out of Ukraine. And that in those parts of Kharkiv the Ukrainians have control all the way to the border. We'll have to wait and see whether we get both clearer language and confirmation of this tomorrow or in the next few days.
Here's the British MOD assessment for today: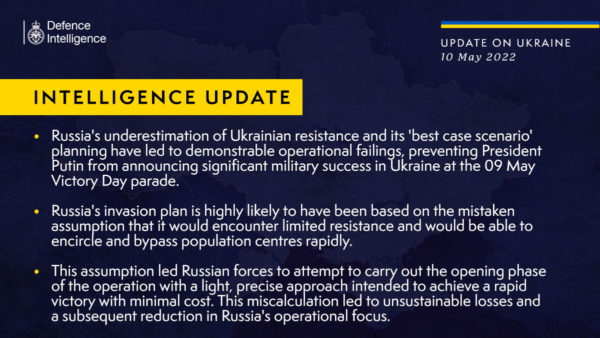 Keep it in mind for when we get to the Senate Armed Services Committee hearing on global threats from earlier today.
Here's today's DOD background briefing (emphasis mine):
SENIOR DEFENSE OFFICIAL: Hey, everybody. Can you hear me? Can anybody hear me?

Q: Yep, we've got you.

Q: We can hear you.

SENIOR DEFENSE OFFICIAL: Okay, thanks, thanks, thanks, thanks. I didn't know if I pushed the right buttons on this phone or not. Okay, I apologize, I'm a little bit late. (Inaudible).

Not a whole lot of changes on the ground to speak to. In — in fact, really nothing very significant. We still assess Russian ground force in the Donbas to be slow and uneven. Most of their energy seems to be focused between Izyum and Slovyansk. Again, that was a line of approach that we had talked about before and that's where, again, most of the ground activity seems to have — seems to have taken place over the last 24 hours.

Airstrikes continue, bombardment, artillery fire in the Donbas and certainly around Mariupol as well. Airstrikes in Mariupol. So no major changes there. And we have seen some — some additional limited standoff strikes on Odesa.

And the Russians are also flying combat air patrols near Snake Island. That's a — a — I think — we think, an outgrowth of the — of the attacks that the Ukrainians conducted there in the last few days.

Their Russian sortie count is up over 300 now, so that is a — that is a — an increase from what we've — from what we've seen in the past. And we largely talked about them being between 2 and 300. They're up over 300 in the last 24 hours. And again, their airstrikes are focused on the Donbas, Mariupol, some standoff strikes on Odesa.

No major changes to Russian naval posture to speak of. They are still maintaining a standoff distance in the maritime domain.

(inaudible) — again, towns and villages continue to change hands. I mean, we would assess today that Popasna is in Russian control, but again, we'll keep watching this over — over time. Popasna is just to the east of Slovyansk. And we have talked about Popasna before.

But again, it's — there's a lot of back and forth, and still, we would not assess that the Russians have made any appreciable or significant progress in the — in the Donbas.

They are up to — Russians are up to about what we — we're counting 99 operational BTGs inside Ukraine. So over the last 24, they added two. We believe that these two were airborne BTGs and it's not exactly clear where they went. I — and we tend to — we tend to think that — that they've put them into the south but it's not a — it's not 100 percent certain.

On the security assistance front, virtually all of the 90 howitzers are now transferred to — to Ukrainian possession. I think there's one remaining, so we've got, you know, 89 of 90 are in Ukrainian possession. Of the ammunition, again, the total count of 184,000 — what was committed to us — or what we committed to them, again, 65 percent, so almost 120,000 rounds, are in.

No major changes in other stuff to offer today. I could — I can say that of these extra 11 Mi-17s that we talked about, the first one of those 11 is going in today. And I'm not going to get ahead of the deliveries of the other ones. Obviously we want to protect that.

On training, almost 370 Ukrainian soldiers have now completed M777 training. Again, not all of it is conducted by us, not all of it is in one place. There's another 30 Ukrainian soldiers that are completing — wrapping up their maintain — maintenance course. And let's see — another 17 or so are continuing with that main — maintenance course. So they've got — it's a — it's a two week course and so about — like I said, 29 are — have finished it, there's another 17 going through it right now.

The First — first — I think we talked about this yesterday — the first group that went through the Q-64 training is complete. There's another group of 15 that will — that'll — that are in that training now, go through the middle of this month. 60 Ukrainian soldiers have completed training on the M113, the armored personnel carrier. Nearly 50 have completed the second iteration yesterday and then they'll — they'll be heading back in soon.

They're — let's see — some of you guys asked me on the Phoenix Ghost. I think we talked about this but there is training for — for a small number ongoing outside of Ukraine on the Phoenix Ghost. There have been others ahead of them that — that have already returned to Ukraine. So that's ongoing.

And I think that's it. I — on the missile strikes, I'm — I'm still working it out with EUCOM. I don't have an update for you today. We've got an RFI in for that and we'll — I know you — I know it's of interest, I got it. We — we have made the RFI but I don't have the answer, but if I can get it today, I'll get it today.

Okay, with that, we'll go to questions. Lita?

Q: Hi, thanks.

One just on Odesa. Can you — has the U.S. assessed that indeed Russia used hypersonic weapons in some of the recent strikes against Odesa? And can you talk a little bit about sort of the ongoing fight there? It seems to have picked up a bit over the last several days. What sort of damage is being done?

And then I have — sort of the second thing, does the Pentagon know much about this alleged rescue of an American citizen who was living in Ukraine? This Project Dynamo, is there anything you all can shed light on that at all?

SENIOR DEFENSE OFFICIAL: What was your second question? I didn't understand your second question.

Q: Do you have any — can you shed any light on this alleged rescue of an American citizen by this group called Project Dynamo? Are you aware of it?

SENIOR DEFENSE OFFICIAL: No, no, no. I got that one, Lita. The short answer to that one is, no, we don't have anything on that. But you had another question after the hypersonics one that I did not get.

Q: Sorry, the hypersonics, it was just —

SENIOR DEFENSE OFFICIAL: Are you there?

Q: Yes, I'm here. Sorry, the hypersonics question was also just more broadly also on Odesa as a whole, what the impact of these — what has been kind of an increase in strikes there has been.

SENIOR DEFENSE OFFICIAL: Okay.

So on hypersonics, no indications that — that we've seen that hypersonics have been used on Odesa, certainly nothing we can confirm. I mean, obviously we've seen them use hypersonics in the past in hitting — hitting buildings. But I don't have anything to indicate that they were used in Odesa. If that that changes, obviously, we'll let you know. But it's difficult — again, we don't get real clear senses of — of BDA on these strikes, as we've said from the very beginning on this. So I can't speak with great specificity as to what they think they are hitting versus what they are actually hitting and what damage has been done.

We've — these strikes have been sporadic in Odesa. They have picked up over the last few days, to be sure, but it's not clear what — what they are actually trying to get at there and what — and what they're hitting. Again, we think that part of this could be an effort to continue to draw the Ukrainians' attention towards Odesa. And remember, Odesa is still, basically — even though the Russian ships have kept a distance, essentially, they still have a blockade. And so nothing economically is coming in and out of Odesa for Ukraine's benefit. It could be that these airstrikes are of a piece of this effort to limit Odesa's ability economically. But, quite frankly, from a maritime environment, they have already done that. So, it's just not perfectly clear what they are trying to do there. Again, one assessment is that it could just be a fixing function there, to try to make sure that the Ukrainians stay geographically tied to that that part of the coastline.

So I'm just — I'm looking at something that they just handed me. Again, yes, we just don't have a good sense of what the targets were based on what was just handed me a minute ago.

So and nothing on the Dynamo thing. I — we just don't have anything on that. I'm sorry.

Pierre?

Q: (inaudible), I believe you said yesterday that you are not seeing any ability of the Russians to move on Odesa. Can you elaborate a little bit about the assessment about their forces and — around this area? And also in general, are we still at 75 percent of capacity?

SENIOR DEFENSE OFFICIAL: 25 percent of capacity?

Q: 75.

SENIOR DEFENSE OFFICIAL: Oh, I don't have any — any updates on their — we would still assess that they have a — a — a majority of their combat power available to them. I don't have a figure to put on it today. Again, we're kind of changing the way we measure these things. So I've — I may not be able to give you that — some overall percentage going forward.

On — on Odesa, I — you know, again, what I said yesterday I think still applies — we haven't seen any — any indications of a maritime assault or an amphibious assault, we haven't seen any — any ground movement from the Russians towards Odesa.

Odesa is still solidly in Ukrainian control. There has been these sort of harassing strikes, long range strikes into Odesa, but again, with — with no clear indication of what they've — what they're actually trying to target or what impact they're actually having. So we're watching this but this — this is sort of — these — these standoff strikes on Odesa are fairly recent, in terms of a development.

The ground forces that the Russians have in the south, in the southwest really — they're — they're still where we said they were yesterday — they're — they're still sort of in Kherson and to the west of Kherson a little bit. And Mykolayiv is still in Ukrainian control. And so we are seeing contact between Russians and Ukrainians between Mykolayiv and Kherson, but that's been going on for quite some time. So just no indication that Odesa is under an imminent threat of any kind from some sort of ground or even naval, you know, approach.

Q: If you don't mind, I mean, do they have the capability of launching an attack on Odesa?

SENIOR DEFENSE OFFICIAL: It depends on what you mean by an attack, Pierre. I mean, it — clearly, they can launch standoff strikes in there, but on the ground, they are being resisted by the Ukrainians between Mykolayiv and Kherson.

They have not — they have not been able to move anywhere out of that region, nor have we seen really much of an attempt by them to do that. And they are not — their ships are staying well south. Since the sinking of the Moskva, they have not moved their ships closer to Odesa.

So it's pretty hard to do an amphibious assault if you can't — you can't put your Marines ashore, and they're not showing any indication or willingness to do that.

David Martin?

Q: You described this one avenue of advance south from Izyum to Slovyansk. In — in the past, you've described sort of different prongs coming down from Izyum. So is it now consolidated into one — one advance axis or is — are they still trying to maneuver on Lyman and Kramatorsk and Severodonetsk and all the other towns and villages that you've mentioned earlier?

And in the south, are those 10 BTGs that left Mariupol, are they still dug in? And if so, what are they doing? Are they dug in while they're replenishing or are they just dug in to be dug in?

SENIOR DEFENSE OFFICIAL: So on the — on the first one, I mean, I — I think — I think we still assess that the — the Russian intent has been to come out of Izyum on sort of those three — three prongs, but they've — they've been really stymied on — on — on two of them. And where we — where we've seen the energy — we have seen applied in the last 24, 48 is really, you know, coming — trying to — to come out from Lyman towards Slovyansk. If you just kind of draw a line between Lyman and Slovyansk, that's — that's where a lot of the energy over the last 24 hours has been applied.

But that doesn't mean that — you know, that we don't think that they — you know, that they are still not interested in — in moving along those other lines of axes towards Kramatorsk and — and then also due direct south towards Novodonetsk and Dobropillya. I mean — but they just haven't — there's just been no progress there. They're — they're just kind of stuck on those other prongs and the — the activity that we're seeing is — is largely along that one, that — that — that line from Lyman to Slovyansk. But again, incremental, at best, and they're getting a stiff resistance from Ukraine there.

So I don't think we see this as any sort of a — a — a collapsing or consolidation along one axis. It's just that's where the activity is right now.

Q: Do they —

SENIOR DEFENSE OFFICIAL: And down — down in the south, I mean we still assess that the — that the Russian forces that had moved north at Mariupol are still sort of arrayed south of (inaudible), that town that we talked about with the Ukrainians are — are defending.

The Russians are to the south of the town and sort of arrayed and our general sense is that they are putting themselves in a defensive posture and there hasn't been really any effort, not energy applied to going on the offense towards that town right now. They seem to have set themselves up into defensive — defensive arrangements is — is, I guess, the best way to put that.

Q: So do the — do the Russians now control Lyman?

SENIOR DEFENSE OFFICIAL: I don't believe that we would assess that they control Lyman. I've seen no — I've seen nothing that tells us the Russians are in control of Lyman. But they are moving — trying to move along that line.
Much, much more Q&A at the link.
This morning Director of National Intelligence Avril Haines and Director of Defense Intelligence LTG Berrier testified on global threats before the Senate Armed Services Committee. Here's the video:
You can also find their prepared submissions here (Haines) and here (Berrier). The former document is the Annual (Global) Threat Assessment of the US Intelligence Community and the latter is the DIA Director's Statement for the Record regarding the worldwide threat assessment. While these are both unclassified, if you want to have an idea of how the US intelligence community understands the world right now you should give them a looksee.
I want to draw your attention to this exchange between LTG Berrier and Senator King (I-Maine):
Heated exchange between Sen. King and DIA director Gen. Berrier on whether the intel community failed to predict/understand Ukraine's will to fight. Berrier: "there was never an intelligence community assessment that said the Ukrainians lack the will to fight."

— Shane Harris (@shaneharris) May 10, 2022
King: "The assessment was Ukraine would be overrun in a matter of weeks. That was grossly wrong." Berrier: "Grossly wrong. But not not not a question of will to fight…we assessed their capacity to face the size of the Russian forces that were massed on their border…

…was going to be very difficult for them." King: "Well, all I'm saying is the intelligence community needs to do a better job on this issue." Berrier: "I think the intelligence community did a great job on this issue, Senator."

King: "General, how can you possibly say that when we were told explicitly Kyiv would fall in three days and Ukraine would would fall in two weeks, you're telling me that was accurate?"

Berrier: "I look at the totality of the of the entire operation. I think the the enormity rests on the predictions of what the Russians were going to do versus whether or not the [Ukrainians] were going to be successful."

King: "Well, if you don't concede there was a problem on this, then we've got a problem." Berrier: "Senator, I didn't say that. We are going to take a hard look at this, but but I think in the totality of the entire operation, there are a lot more successes and failures."

The crux of the argument here seems to be that Berrier, while conceding the US intel community overestimated the strength and performance of Russia's military, what the IC understood about the capabilities and sizes of both militaries pointed to a likely Russian victory.

This question of why the US IC didn't better understand the Russian military's internal weaknesses–lack of leadership, poor training–is something Berrier said earlier that officials will need to review.
This back and forth between Senator King and LTG Berrier was trying to be a discussion about how the US intelligence community, especially the Defense Intelligence Agency whose job it is to assess the military capabilities of other states, were so wrong about Russia's military capability. Specifically to assess that the Russian military was far more functional than we've seen, which would allow Russia to achieve a quick victory over Ukraine. It wound up being something else as I think both Senator King and LTG Berrier unintentionally talked past each other.
We now know that the assessment of Russia's military capability – from how Russian elite, special, and regular forces would function to how Russia's equipment and material would work – was grossly overestimated. That's why I suggested you keep today's British MOD assessment in mind. Because they are recognizing that they, as well as everyone else except, perhaps, the Ukrainians themselves, got it wrong. What will need to happen after this is all over is a robust assessment as to why and how the US and our NATO and non-NATO allies grossly overestimated Russian capabilities.
This is not the first time the US has overestimated such capabilities. You may all remember that during the early 1970s the CIA was approached by a group of scholars who we would now call the neo-Cons. Among them was Paul Wolfowitz. This group was known as Team B and offered to do an independent review and assessment of the CIA's assessment of Soviet nuclear capability because they had somehow concluded the CIA was underestimating it. Sure enough, when Team B concluded their review they assessed that the CIA had significantly underestimated Soviet nuclear capability. Once the Soviet Union fell and the US was able to get an accurate look at that nuclear capability it was revealed that the CIA had actually OVER ESTIMATED Russian nuclear capability. So the Team B geniuses wound up over estimating an over estimate! For those that remembered this part of Cold War history, it was an indicator that their involvement in the Bush 43 administration was not going to end well.
Also, at today's Armed Services Committee hearing this happened:
Tommy Tuberville is taking derp to new levels during this national security hearing. There appears to be no point to his line of questioning. pic.twitter.com/zsVHf66oYY

— Aaron Rupar (@atrupar) May 10, 2022
The United States' Senate: The World's Greatest Deliberative Country Club…
As Charles P. Pierce likes to say: This is your democracy America, cherish it…
Mariupol:
In comments to last night's update, commenter Pat asked:
Is there nothing to be done to save the fighters in that steel plant? Awful to think of them fighting to the last man with no hope of rescue.

This comment, no. 30, killed the last thread on Ukraine. I haven't had time this morning to read anything here, but I hope to get some sort of answer.
The answer is yes, but…
Yes, it is possible to plan a rescue operation to get the remaining Ukrainian Soldiers and Marines at the Azovstal out. Both the non-wounded and wounded. Frankly, the planning is the easy part and I would be very surprised if several different concepts of operations (CONOPs) and concept of operations plans (CONPLANs) haven't been developed including contingencies and sequels that attempt to anticipate changes on the fly as the mission were to unfold. The problem facing the Ukrainian senior leadership – civilian and military – is can they afford to dedicate the personnel and other resources necessary to undertake one of these plans. And all of this assumes that they have the right resources to do so and enough excess capability to undertake the mission.
I don't mean to make this sound callous, but what Ukraine's military leadership has to determine is whether rescuing the remaining Soldiers of the Azov Regiment, Marines of the 36th Separate Marine Brigade, and their wounded isn't just doable. What they have to figure out is if they do so does that leave something even more vital exposed? To be perfectly honest, there may be no good solution here. The Ukrainians most likely have a very detailed plan that would be very effective in getting the Azovstal defenders out. But they may also know if they do so that they have to divert resources – personnel and equipment – that leaves something vital uncovered and exposed for the Russians to advance and make gains. And all of it within the normal ambiguity – the fog and friction of war – that no matter how good the planning, the plan, and the personnel, it could still all go wrong.
I do not envy anyone involved with this decision making. They are in a horrible position of trying to determine what to do, the best way to do it, and what the ramifications will be all while trying to keep faith with Soldiers and Marines who have given everything anyone could ask of them and who have made it clear they will die rather than surrender because they know what Putin will have done to them if they are taken alive. I would argue that given this reality, the potential reward of a successful rescue attempt – especially in over all morale for both the Ukrainian military and the Ukrianian citizenry – outweighs the risk of using up personnel and material and being unsuccessful. Better to try to rescue them and fail, then not to have tried at all.
President Zelenskyy and his team don't seem to be giving up on getting them out:
⚡️Zelensky: Russia doesn't agree to release Ukrainian defenders of Azovstal.

Several options for a possible evacuation offered to the Russian military by Ukraine have been ignored, President Volodymyr Zelensky said during his speech to the parliament of Malta on May 10.

— The Kyiv Independent (@KyivIndependent) May 10, 2022
The Russians are still bombarding the Azovstal:
⚡️Russian forces continue to storm Azovstal.

A video published by Petro Andriushchenko, an advisor to Mariupol mayor, shows black smoke rising above the Azovstal plant as a result of airstrikes on May 10. He said that attacks happen every hour.

Video: andriyshTime/Telegram pic.twitter.com/BGbTySY333

— The Kyiv Independent (@KyivIndependent) May 10, 2022
But the Azov Regiment and the 36th Separate Marine Brigade keep fighting back!
Urban warfare in Mariupol.
I guess what stands against is a Russian SVD marksman (please correct me if I'm wrong), some infantry and a tank. pic.twitter.com/Ttgh5lYFmy

— Illia Ponomarenko ?? (@IAPonomarenko) May 10, 2022
The muzzle discipline in the last 45 seconds of the video above gave me the heebie jeebies!
I wouldn't bet against these guys though!
Illia Samoylenko, an officer in Azov & spokesman at a press conference from besieged Azovstal on 8 May.
He went to war in 2015, and lost his left arm and right eye.
He continues his fight with a titanium mechanical prosthesis and hopes to complete his degree in history. pic.twitter.com/9Vk15WgGrC

— Euromaidan Press (@EuromaidanPress) May 9, 2022
But they definitely need relief!
— Olga Tokariuk (@olgatokariuk) May 10, 2022
Here's more information on the Mariupolian girl Alisa and her mother Dr. Obidina. Thanks to Gin&Tonic for being willing to translate it for me. From Ukrainska Pravda's Life section (which doesn't yet have a built in English translation like the news side has):
"Return Alisa's mother": Ukrainians demand release of 4-year-old girl's mother

Ukrainians on social media are demanding the release of the mother of 4-year-old Alisa, who was captured by russian occupiers during the evacuation from the Azovstal plant in Mariupol on May 8.

According to Ukrayinska Pravda, the woman's name is Victoria Obidina, a military doctor who treated the defenders of Mariupol.

The girl is safe, she was temporarily sheltered by a Ukrainian family from Zaporizhzhya.

Victoria was separated from her daughter on Mother's Day, and her capture was reported by the Azov Regiment.

"Mother remained in the filtration camp on the territory of the so-called "DPR".

"Only the child arrived at the destination in Zaporizhzhyia today, on Mother's Day, but the mother's whereabouts are currently unknown!" Azov wrote.

Most likely the woman is in a filtration camp in Mangush on the territory of the so-called "DPR".

The girl was riding alone in an evacuation bus to Zaporizhia.

Later, the child was noticed by "1 + 1" correspondent Natalia Nahorna.

"I asked permission from the girl next to her if I could question the child. But it wasn't her mother.

We did not ask her about the shelling or her mother. But I want you to see the crime. The mother of a four-year-old child was stolen on Mother's Day" she wrote on Facebook.

Ukrainians reacted to the story of Alisa and Victoria, under the hashtag #повернітьАлісімаму (return Alisa's mother), they demand the release of the mother of a 4-year-old child.

Earlier, Alisa became famous after a video from the shelter showing her was released.

It showed a 4-year-old girl, who had been in the Azovstal bomb shelter for more than a month at the time, and said she wanted to go home.
Kharkiv:
This is what apartment buildings in the old district of #Kharkiv look like after the shelling by #Russia. They have no walls, but the residents of these apartments have nowhere to escape, so they sealed the holes with oilcloth and continue to live there. pic.twitter.com/trp7zoPqZM

— Inna Sovsun (@InnaSovsun) May 10, 2022
Odesa:
?? missile destroyed Auchan supermarket in Odesa.russia still has money for the war,thanks in part to @AUCHAN_France.Since the beginning of the full-scale?? aggression in?? Auchan corporation continues to pay taxes and do business in russia.Thus – it continues to fund the killers pic.twitter.com/4a6yZ4yua4

— Defence of Ukraine (@DefenceU) May 10, 2022
The Black Sea:
Over 70 cargo ships are blocked in the Black Sea by #Russia. That's 90 mln tons of agricultural produce intended for Africa and Asia. #Ukraine loses USD 170 mln a day because of the blockade and the world loses a reliable food supplier

— Lesia Vasylenko (@lesiavasylenko) May 10, 2022
Russia knows its actions of destroying Ukrainian granaries, mining Ukrainian fields, and blockading Ukrainian ports is creating food scarcity to famine conditions in parts of the global south. Especially in the Middle East and Africa. In fact Russia is counting on it doing so in order to cause pressure on the US and its allies to lean on Ukraine to capitulate to avoid a global food crisis. This is similar to Putin's creating a Syrian refugee crisis between 2012 and 2016 to pressure the EU and give his trusted agents there political grist, as well as Putin doing the same thing now with Ukrainian refugees. Which is why Putin is also diverting the Ukrainian agricultural products he has stolen to Syria to relive food scarcity pressure on his allies there.
⚡️Ukraine's Intelligence: grain stolen by Russians is already in Mediterranean.

Defense Ministry's Intelligence Directorate reported that grain stolen by Russian troops in occupied areas of Ukraine is already being sent abroad, adding that the likely destination is Syria.

— The Kyiv Independent (@KyivIndependent) May 10, 2022
I think that's enough for tonight.
Here's your semi daily Patron:
Here's some different footage – different angle, better audio – of Patron getting his medal.
Zelensky presented Patron the demining dog and his owner Myhailo Iliev with the state award "For Dedicated Service" today during a meeting with Justin Trudeau. The Chernihiv demining team has used Canadian technology in its work. Congrats Patron! (via @TimListerCNN) pic.twitter.com/FLm89Rhzxd

— Natasha Bertrand (@NatashaBertrand) May 8, 2022
And here he is arriving at the ceremony:
Queue jumped earlier at the Presidential Palace by Ukraine's most famous dog.

Patron made his name sniffing out bombs in Chernihiv, and was decorated by President Zelensky ? pic.twitter.com/eyOHaLw0NW

— James Waterhouse (@JamWaterhouse) May 8, 2022
Open thread!