This is going to be a quick one tonight. I'm still trying to catch up from travel. I was gone four days, how did my yard become so overgrown? Also, I had a booster shot today and am now suddenly feeling funky. And not the good kind of funky, where you grab your bellbottoms and dancing shoes.
First up – you've probably seen this one, but the next day there was an equally special follow-up:
This Blue Jays fan caught Aaron Judge's HR ball and gifted it to a young Yankees fan ?

(via @MLB)pic.twitter.com/UrjOA7byKt

— SportsCenter (@SportsCenter) May 4, 2022
And the next day:
Last night, 9-year-old Derek Rodriguez was gifted @TheJudge44's home run ball by Jays fan Mike Lanzillotta.

Tonight, Derek got to meet his favorite player ? pic.twitter.com/18b24wKYkv

— New York Yankees (@Yankees) May 4, 2022
I'm telling you, baseball, it's where memories are made:
Cool moment that he will never forget before a game that Josh will never forget.

First player with 8 RBIs after the 8th inning in MLB history.#ForTheLand @CleGuardians @Reflog_18 @SirYacht_ https://t.co/CjcmSjG1E8

— Will Hoey (@therealWillHoey) May 10, 2022
And because I knew if I said something to Steeplejack about wanting to have a sports theme tonight he would come through. And in that first tweet, as they say….wait for it. :-)
Mason Mount saw @ChelseaFCinUSA superfan Loriana's #MyPLWish and wanted to make her day even more special.

In the words of Loriana, "This is unbelievable!" https://t.co/YWBpgyAl7D pic.twitter.com/IQRZ58wutE

— Premier League USA (@PLinUSA) May 11, 2022
And finally, here are some cute ducks. Wednesday night at 9 pm – when I was to leave first thing Thursday morning –  my duck sitter called to tell me they were in Covid lockdown and she couldn't watch the ducks – plus she had my only spare key. So some quick phone calls and excellent friends, my ducks were taken care of – this is a proof of life photo I received over the weekend: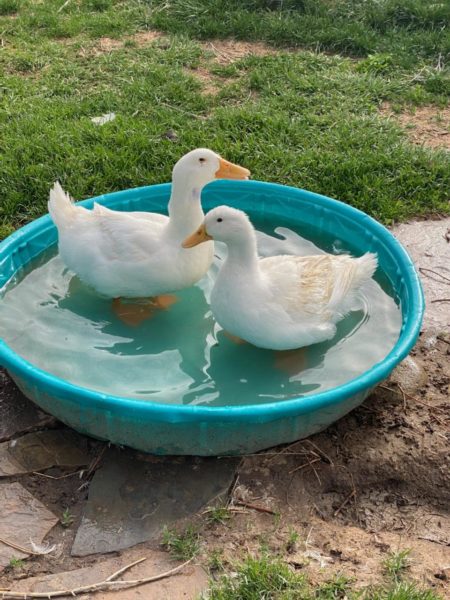 They make that pool look small, even though it is not.
Send me your acts of kindness, running seriously low.