It's a death toll that's impossible to fathom: 1M lives lost to #Covid19. As the United States officially passes that tragic milestone, @jaspar digs into the patterns to look at who died, and when. https://t.co/MxyKXaa82X

— Helen Branswell ?? (@HelenBranswell) May 10, 2022
Officially, the U.S. will almost certainly reach an awful milestone in the next two weeks: its one millionth recorded Covid-19 death.

In reality, this milestone was likely unofficially crossed days or weeks ago, and we'll never know the exact toll or the identity of the pandemic's actual millionth victim. Nor are humans well-equipped to fully grasp loss on this scale, let alone the magnitude of a global toll estimated to be as high as 14.9 million.

One way to start understanding how a country as advanced as the U.S. lost so many people is to look at the ocean of public health data that was gathered as 1 million individual tragedies rippled through civic life.
Analysis of the data will continue for years, but it is clear that, when it comes to deadliness, there were five different pandemics — depending on when and where you lived, and who you were.

…

Important questions about Covid remain unanswered, but it is clear that we have entered a new phase of pandemic response characterized by a greater tolerance of risk and a greater desire to return to a sense of normalcy. The pandemic will settle into new patterns of harm, with inequities cast into even sharper relief. People with existing health complications, older people, and people who already face the challenges of economic and social vulnerability are poised to bear the brunt of society's increased risk tolerance.

Whether or not we are done with the virus, it seems the virus will do its best to stay with us.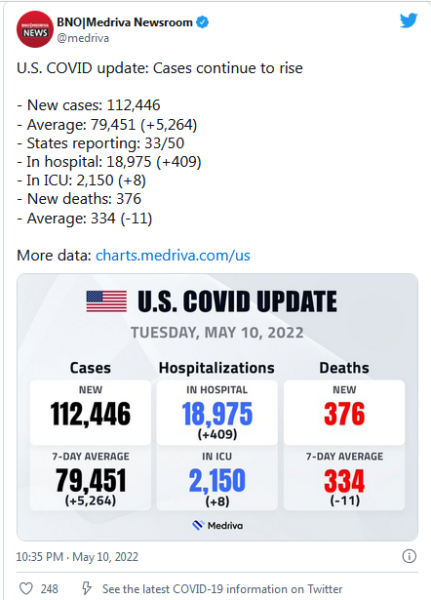 ======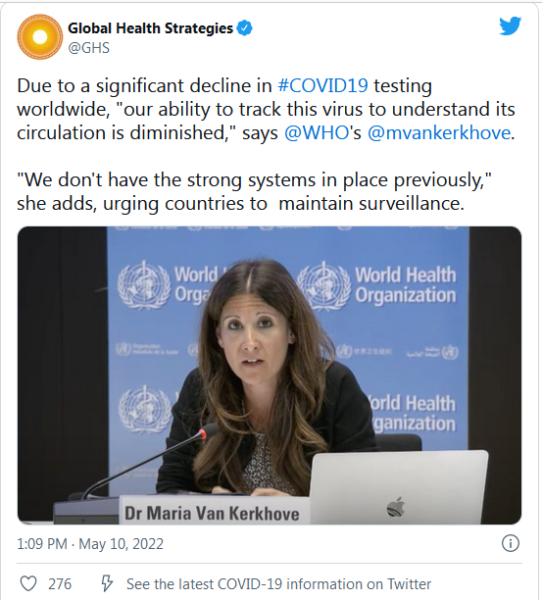 Australia now has the most COVID cases per capita followed by Taiwan. https://t.co/NTfBX5HPC5

cc: @medrivaTW pic.twitter.com/aK520qjMyl

— BNO|Medriva ?? Newsroom (@medrivaAU) May 11, 2022
The head of the World Health Organization said China's zero-tolerance COVID policy is not sustainable given what is known of the disease, in rare public comments by the U.N. agency on a government's handling of the virus https://t.co/JSw4Q0CDwO pic.twitter.com/2bS7DHvZbM

— Reuters (@Reuters) May 10, 2022
Counter-argument:
Dropping zero-COVID policy in China without safeguards risks 1.5m lives – study https://t.co/0GxfgPPIFr pic.twitter.com/2FibrVreD3

— Reuters (@Reuters) May 10, 2022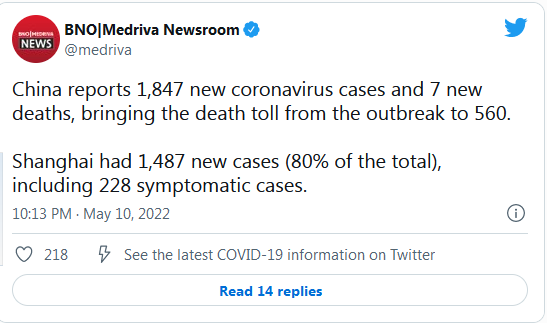 Shanghai's Covid cases are falling but China's restrictions are tightening. Officials are clamping down in Shanghai & Beijing, heeding a message from the country's top leader who insists on zero-Covid. Shanghai has been in lockdown since April 1 https://t.co/g53v039x6n

— delthia ricks ? (@DelthiaRicks) May 10, 2022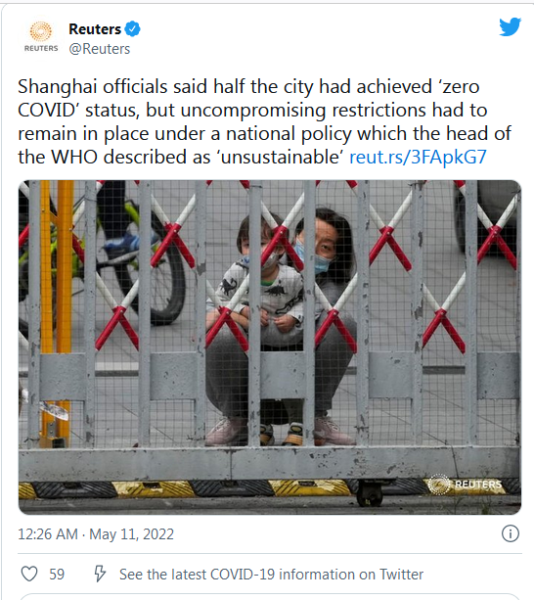 Shanghai is basically post-science at this point. The crazy part is you could put a 222nm lamp there that actually would kill any residual hanging aerosols between tests (or even just a fan TBH), unlike whatever magic ritual they are performing to appease the fomite deities. https://t.co/e8HdmNb4kh

— Naomi Wu 机械妖姬 (@RealSexyCyborg) May 11, 2022
"Many of the elderly live alone… if they die no-one will know"
Hong Kong records highest Covid death rate in the world, with the city's poorest and elderly most affectedhttps://t.co/7QbZ9L4MQA pic.twitter.com/fV9xrPhhzc

— BBC News (World) (@BBCWorld) May 11, 2022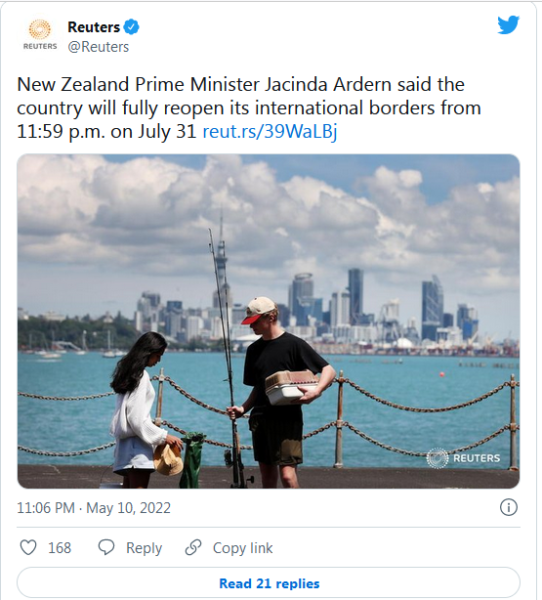 ======
Are #Covid surges becoming more predictable? New #Omicron variants offer a hint. Omicron relatives called BA.4 & BA.5 are behind a fresh Covid waves in South Africa & could be signs of a more predictable future for SARSCoV2 https://t.co/ri44dq2WFF

— delthia ricks ? (@DelthiaRicks) May 10, 2022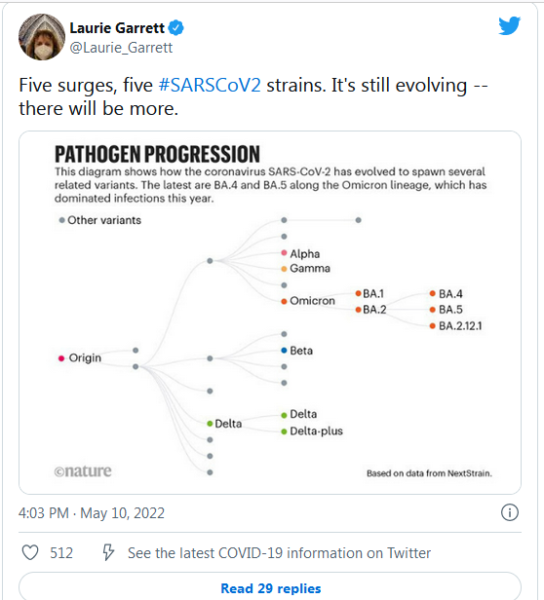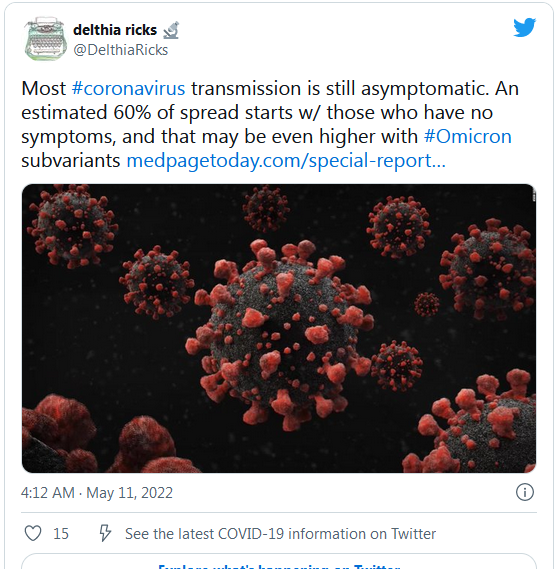 Can someone infected w/ SARSCoV2 transmit antibodies when talking/coughing/sneezing? It's well known viral particles can be shared. What about other nasal/oral constituents? Study concludes aerosolized antibodies may positively confer some protection https://t.co/mpjIM8emjZ pic.twitter.com/xjWfF4hyzT

— delthia ricks ?? (@DelthiaRicks) May 9, 2022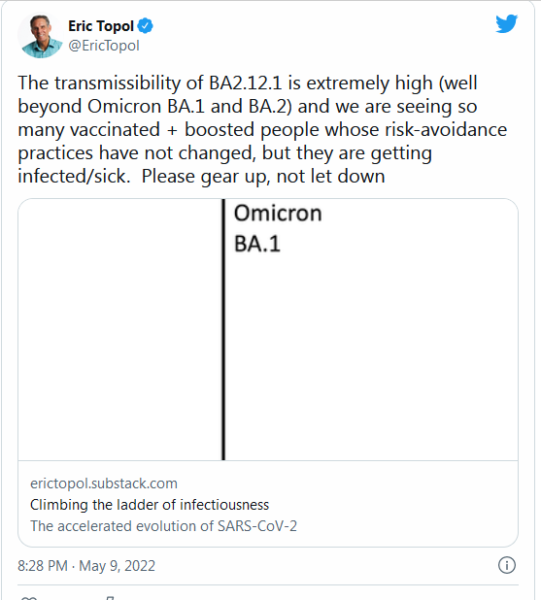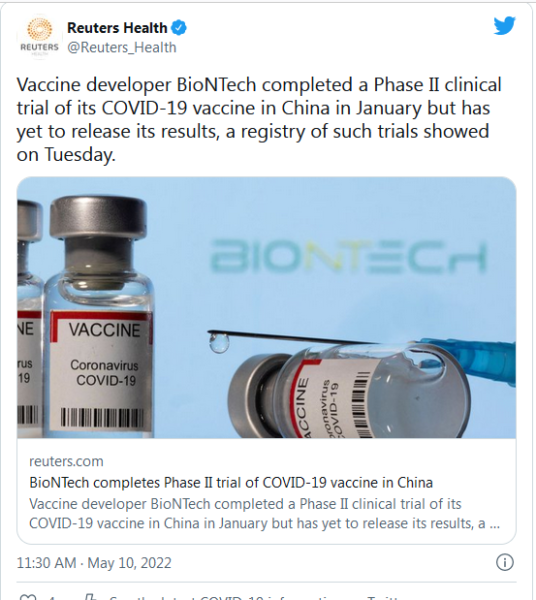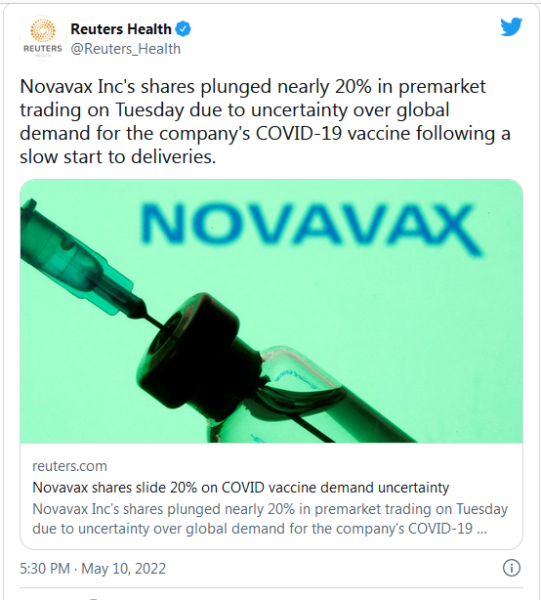 ======
Super interesting breakdown of COVID deaths. The vast majority of deaths were among the elderly, but since death rates are low for younger populations, COVID ended up in the top 5.https://t.co/8N1GY30pb7 pic.twitter.com/EmbQFx828P

— Michael Hobbes (@RottenInDenmark) May 10, 2022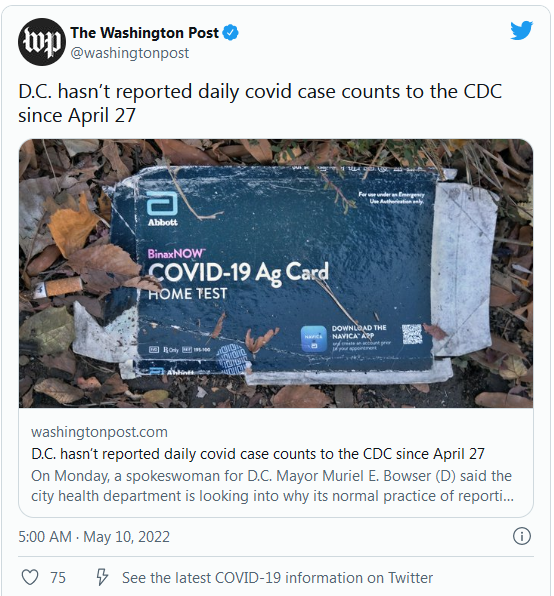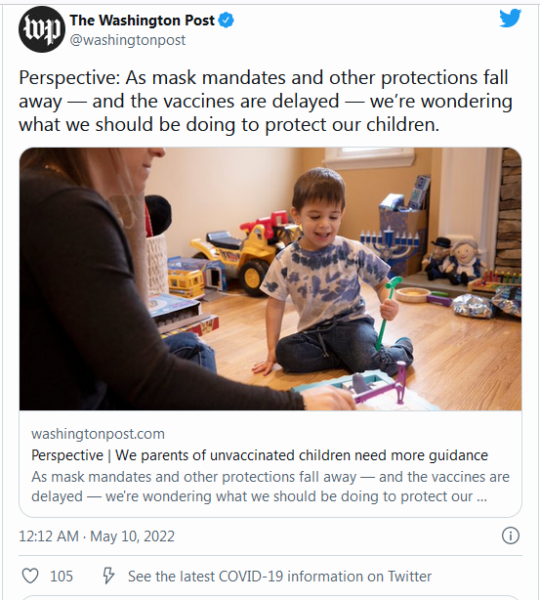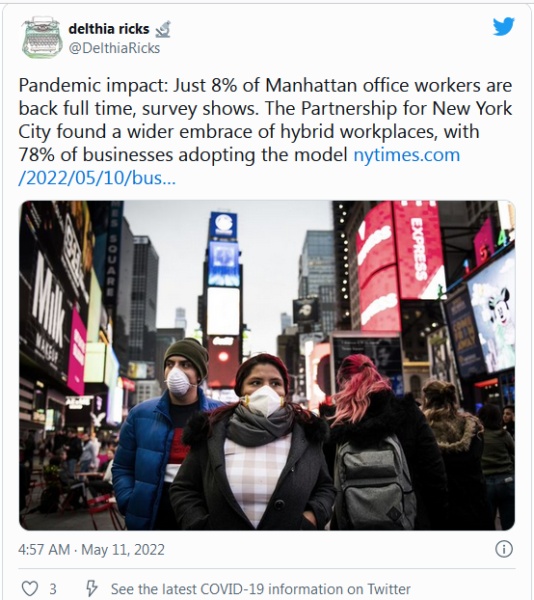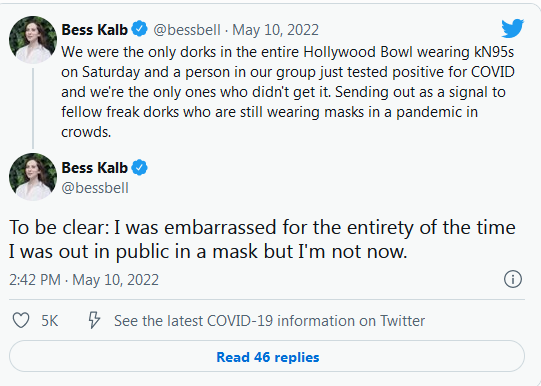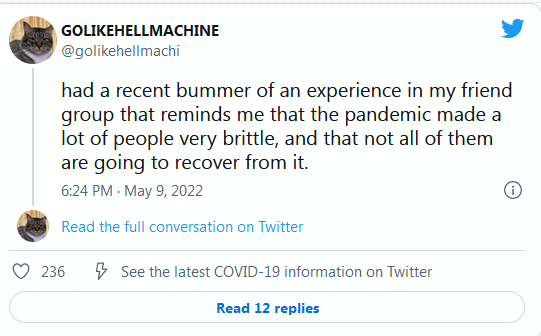 we're going to be living with some of this baggage for the rest of our lives, and it's going to suck. it's not the worst part (that would be the deaths), but the collateral damage from 2+ years of uncertainty and insanity is going to be ugly for a long time.

i've seen it with a few different groups, primarily in couples; it feels like the pandemic either strengthened relationships, made them super co-dependent, or stripped out almost all of the screws that were holding everything together (for *years* in a lot of cases)

anyway, try to be charitable and gracious with your friends, and also understand that you can't control how they feel about things (and shouldn't try), sometimes you have to excuse yourself and walk away.

also, if your life didn't get worse or if it got better during the pandemic, absolutely don't feel bad about it, take your winnings and enjoy them, you don't have a duty to be miserable.

my mad scientist / comic supervillain origin story is going to be me dumping mood stabilizers in the water supply for a few months until everyone evens out.