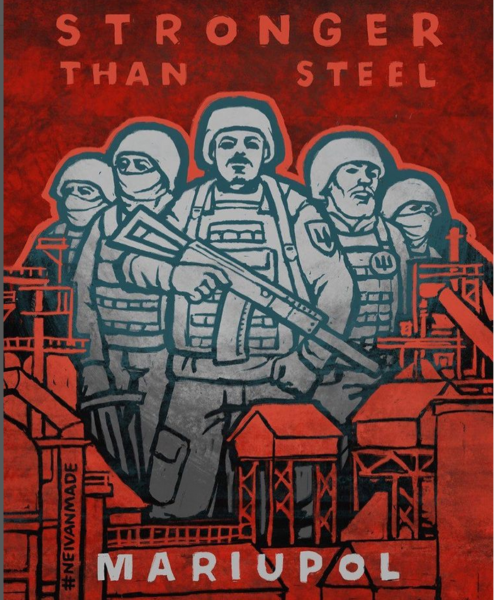 Let's start with President Zelenskyy's address from earlier this evening. Video immediately below. Transcript with my emphasis after the jump.
Ukrainians!

Our defenders!

I do not tire of repeating these words, addressing everyone – everyone who defends the state. Today these words sound special. On the International Nurses Day. The professional holiday of tens of thousands of Ukrainian women, as well as Ukrainian paramedic officers who are doing one of the most important things for victory – saving the lives of our soldiers, our civilians.

Today I had the honor to present state awards to the representatives of this profession. Those who did not stop working and rescuing people under enemy fire and during the occupation.

Tetiana Tarasenko, Alla Chernets and Liudmyla Husak from the Sumy region. Vira Tselyk, Oksana Umanets and Iryna Vernyhora from Chernihiv. Oksana Balandina from the Luhansk region. Svitlana Klymenko and Maria Adamenko from the Kyiv region. Natalia Abashnyk from Kharkiv.

With all my heart I thank all the nurses, all the medical workers who help Ukrainians fight every day and every night. And today I urge everyone who has not yet thanked them to do so. Eight years of war in Donbas, two years of pandemic, the third month of full-scale war and all their professional life they dedicate to you, us, everyone – society. So that Ukraine lives.

I was very pleased to see the working conditions of our doctors at the Center for Pediatric Cardiology and Cardiac Surgery in Kyiv. The new building of the Center was built as part of our Large Construction program. And this is a truly modern building. There you feel that our medical system, our medicine can really be on a par with the world's best medical systems.

We invested in the development of medicine and all social infrastructure before the war, and we will definitely continue to do so after the war. Let the occupiers not hope that they will stop us.

During the fighting since February 24, Russian troops have destroyed 570 healthcare facilities. 101 hospitals were completely destroyed. What is it? This is nonsense. This is barbarism. This is the self-destruction of Russia as a state that at least someone in the world could look at as a cultural nation.

Tonight they struck at the Chernihiv region, at schools. Of course, the Russian state is in such conditions that any education only hinders it. But what can be achieved by destroying Ukrainian schools?

All Russian commanders who give such orders are just sick. Incurably.

But all the hospitals that the occupiers destroyed, all the schools, all the universities that they bombed, all the houses, bridges, businesses – we will rebuild everything.

The occupiers struck today at the Poltava region, at Kremenchuk. Again at the plant, so that people do not have fuel. Really sick. At the Zaporizhzhia region, at the cities and villages of Donbas. But what does it give them?

Russia's strategic defeat is already obvious to everyone in the world and even to those who still continue to communicate with them. Russia simply lacks courage to admit it so far. They are cowards. And they are trying to hide the truth behind missile, air and artillery strikes. Therefore, our task is to fight until we achieve our goals in this war. Free our land, our people and reliably ensure our security.

I spoke with the President of Finland. We discussed Ukraine's European integration and defense cooperation.

I also spoke with Slovak President Zuzana Čaputová. I thanked her for the support provided to Ukraine. We agreed on the next steps in the whole spectrum of relations: defense, sanctions, economy, including fuel imports, and further rapprochement with the European Union.

I am preparing to continue special formats of communication with friendly societies, in particular with students from partner countries. I will address American students soon. And students from European countries as well. We must spread our Ukrainian ideas and explain at all levels how we, Ukrainians, see life in Europe and the world after this war. A war that changes everything in world politics.

I am grateful to the friend of Ukraine, Prime Minister of the Netherlands Mark Rutte, for today's address to the Verkhovna Rada of Ukraine. This is an important gesture of support. More importantly, the Netherlands is advocating the abandonment of Russian oil and is ready to do so without delay.

I signed decrees awarding our defenders. The title of Hero of Ukraine was awarded to Colonel Kachur Roman Volodymyrovych, Commander of the 55th separate artillery brigade of the Operational Command "East" of the Ground Forces. 269 servicemen of the Armed Forces of Ukraine were awarded state awards, 14 of them posthumously.

Eternal glory to all who stood up for Ukraine!

Eternal memory to everyone who gave life for Ukraine!

Glory to Ukraine!
Here's today's operational update from Ukraine's MOD (emphasis mine):
The operational update regarding the russian invasion on 18.00 on May 12, 2022

The seventy-eighth day of the heroic resistance of the Ukrainian people to a russian military invasion continues.

russian enemy is trying to continue a full-scale armed aggression against Ukraine and does not stop conducting offensive operations in the Eastern Operational Zone.

No active actions of russian enemy were noted in the Volyn and Polissya directions. According to available information, the second stage of the readiness check of the units of the Armed Forces of the republic of belarus under the leadership of the Chief of the General Staff continues. A scheduled inspection of the readiness of the alarm system was carried out.

The threat of missile and bomb strikes from the republic of belarus on infrastructure facilities on the territory of Ukraine continues.

In the Siversky direction, russian enemy continues to provide enhanced protection of the Ukrainian-russian border in the Bryansk and Kursk regions. It carried out shelling of the border areas of Ukraine.

It is likely that russian enemy will continue to conduct demonstrations on this section of the state border of Ukraine and shelling from the territory of the russian federation in order to prevent the movement of units of our troops in other directions.

In the Kharkiv direction, the main efforts of russian enemy were focused on preventing the advance of our troops and the liberation of the territories temporarily occupied by the russian occupiers. During the day, the enemy fired on the positions of our troops in the areas of the settlements of Pitomnyk and Ruski Tyshky.

russian enemy did not take active action in the Slovyansk direction. It main efforts were focused on replenishing supplies of material and technical means to increase offensive capabilities. It carried out shelling in the areas of settlements along the line of contact. Carried out air reconnaissance with the help of UAVs "Orlan-10".

In the Donetsk direction, the occupiers used mortars, artillery, rocket-propelled grenade launchers, and launched rocket-bomb air strikes to destroy the fortifications of Ukrainian units.

In the Lyman direction, russian enemy is trying to capture the area on the right bank of the Siversky Donets River and gain a foothold in the area of ​​the settlement of Oleksandrivka. It carried out assault operations in the direction of the settlement of Novoselivka, but was unsuccessful.

In the Severodonetsk direction, the enemy continues to storm in the area of ​​the settlement of Voyevodivka, without success.

In the Bakhmut, Avdiivka and Kurakhiv areas, russian enemy is storming in order to improve the tactical position of its troops, but has no success.

In the city of Mariupol, russian enemy continued to launch artillery and air strikes, focusing its efforts on blocking our units in the area of ​​the Azovstal plant.

russian occupiers conducted air reconnaissance using UAVs in the Pokrovsk, Slovyansk and Pavlograd districts.

In the South Buh direction, the enemy did not conduct active hostilities, continues to hold positions. His main efforts were focused on the fire damage to units of our troops and the expansion of the electronic warfare system.

According to available information, the enemy has built up the air defense system in the western part of the Crimean peninsula.

russian occupiers continue to suffer losses in almost all directions.

We believe in the Armed Forces of Ukraine! Together to victory!

Glory to Ukraine!
Here's today's assessment from the British MOD: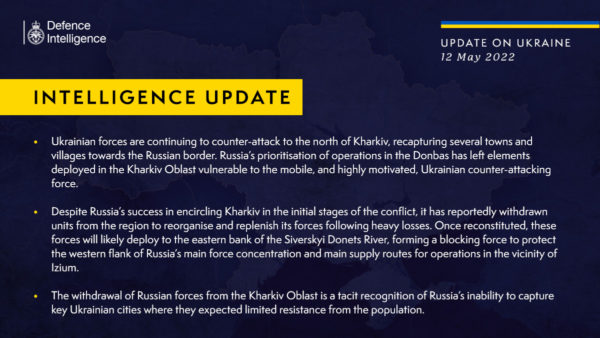 The British are quite enthusiastic about what Ukraine is doing in and around Kharkiv.
And here's their updated map for today: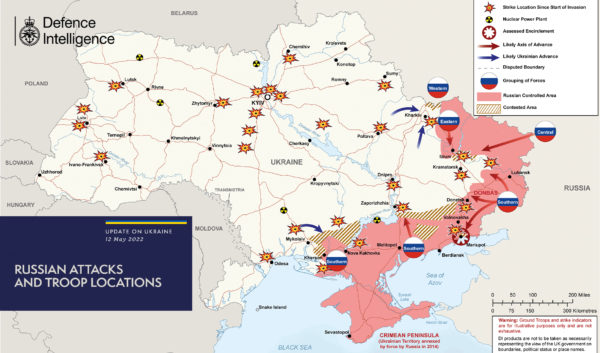 As you can see, the contested area around and north of the city of Kharikiv gets smaller and smaller each day.
There was not a DOD background briefing today.
Mariupol:
As I indicated in the post's title, the Azov Regiment and the 36th Separate Marine Brigade are still fighting!
The Battle of Azovstal.
Historic footage. pic.twitter.com/Kz3XhWCNE8

— Illia Ponomarenko ?? (@IAPonomarenko) May 12, 2022
According to Crimean Tatar leader Mustafa Dzhemilev, Turkey has suggested a plan to evacuate Ukrainian troops from Mariupol. Under the plan, they would remain in Turkey until the end of the war, without the opportunity to fight.

— The Kyiv Independent (@KyivIndependent) May 12, 2022
Radio Free Europe/Radio Liberty (RFE/RL) has the details on the negotiations to get the Soldiers of the Azov Regiment and the Marines of the 36th Separate Marine Brigade safely out of Azovstol and Mariupol.
Ukrainian Deputy Prime Minister Iryna Vereshchuk says authorities are negotiating with the Russian side on a possible evacuation of dozens of seriously wounded Ukrainian fighters trapped inside the Azovstal metals plant in the devastated southern city of Mariupol.

She cited a potential swap for captured Russian troops but said the talks are "very difficult."

"Currently, we are negotiating only about 38 seriously wounded [Ukrainian] fighters," Vereshchuk said via Telegram. "There are currently no talks on the exchange of 500 or 600 people, as reported by some media."

She discouraged public comments on any specifics of the talks or "interfering" to avoid misinforming or threatening progress.

The intense seven-week siege by Russian forces surrounding Azovstal has become a powerful symbol of Ukrainian resistance.

Many of the civilians trapped inside Azovstal — women, children, and elderly — have been evacuated, although the government in Kyiv has suggested that 100 or so noncombatants may still be hiding in the warren-like tunnels and infrastructure of the nearly 90-year-old steel plant.
More at the link!
Residents of #Mariupol who didn't pass the so-called #filtration are taken to the premises of the former correctional colony #52 in the village of Olenivka, Donetsk region, or the infamous Izolyatsiya prison in #Donetsk. This is hell #genocide /1 pic.twitter.com/bBLdYIjW2Z

— Olena Halushka (@OlenaHalushka) May 12, 2022
In Olenivka russians keep the relatives of servicemen, former law enforcement officers, activists, journalists and even people who randomly arose suspicion, e.g. by having patriotic tattoos. As of today at least 3,000 people are detained there /2

The premises are overcrowded, there's no place to lie down. The detainees are forced to stand or crouch. One bottle of water is provided to the entire group of dozens of people per day. Food is provided only occasionally. Bathroom visits limited to one per day. No outdoor time /3

All this is accompanied by lengthy interrogations, torture, death threats and coercion. Many people disappear after the interrogations and are likely tranferred to Izolyatsiya. This is a concentration camp Source – adviser to the mayor of Mariupol Petro Andryushchenko /4
Irpin:
Fleeing from Russian shelling in Irpin. The story of Liudmyla Kunytska, whose mother was killed by the Russians. By Nick Tymchenko. Thread 1/10 #UkraineWorldTestimony pic.twitter.com/Jxrr2W0VBz

— UkraineWorld (@ukraine_world) May 11, 2022
From February 24 to March 6, we hid in the underground parking lot of our residential complex in Irpin. We couldn't leave because we had only one small car for eight people. On March 6, when our complex was already completely shelled, we gathered with our neighbors. 2/10

We gathered 12 cars. My relatives were sitting in different cars. We were leaving through Stoyanka, when the Russian occupiers started shooting at the checkpoint. We didn't know they were there. They threw a grenade at the first car in front of us. Two people died there. 3/10

Then they started firing from an RPG near the second car. In my car, I was sitting in the passenger seat, my mother was behind me. When I returned, I saw that my mother was bleeding from her neck. I tried to give her a scarf to cover the wound, but nothing helped. 4/10

She bled out in front of my eyes. It had all happened in seconds. The Russian occupiers did not allow me to approach her. They did not let us take the body. 5/10

We later found out that my husband's mother died in another car. She was sitting in the passenger seat. The bullet hit her right in the heart. We were also not allowed to approach her, we were not allowed to see what was wrong with her. 6/10

They let us go because we had children with us. And those who were very badly injured remained near the cars. Later, some of the wounded were taken away, and now we are treating them. 7/10

We didn't know for thirty days if my husband's mother was alive. I saw my mother, she died in front of me. But we didn't know anything about my husband's mother. We asked the volunteers to search the places where the Russian occupiers had been. 8/10

Only a month later, I saw a video on the Internet with the bodies of my mother and mother-in-law. I wrote to the journalist who published the video, and a week later we got a call from the police. We took their bodies from the morgue. 9/10
Kherson:
I have a friend in Kherson and the situation is incredibly bad.

They said to me:
"I am reading a lot of shit about Kherson, unfortunately it's nothing compared to reality. It is much, much worse"

Ukrainians are facing a dire situation, which I'll lay out in a short thread:

— Joseph / йосиф сташко?? (@JosephStash) May 12, 2022
– Escape routes out of the city are blocked. My friend has attempted to get out several times – the last driver they were in contact with was captured and had their car destroyed.

– There are now many Russians in Kherson who arrived for the 9th May parade. Many of them now work at the market and sell Russian products. My friend says that when they go out now they don't see familiar faces. Russians are arriving to replace Ukrainians and live in their homes.

– This sort of thing is going on all over Kherson. For example, a story of a Russian person moving into an apartment block, becoming admin of the block and sending messages to residents about how they want Ukrainians to burn.

– There are checkpoints between Kherson and all other cities – the Russian army check all papers and search anyone who comes into the city. People are forced to undress and show any tattoos, to check for any "pro-Western" or patriotic iconography.

Hearing this stuff from people on the ground is utterly horrific. Wider coverage of the war seems to have faded away in many media outlets, which means that people shrug their shoulders and probably assume everything is a bit better now. In Kherson, it is very much not the case.

Getting a fair amount of journalists dm-ing me wanting to speak to those I know in Kherson. Please note that if you want to be put in touch I need to absolutely be assured that you know your way around encrypted comms and anonymity. I'm not compromising their safety for a story.
Chernihiv:
Tonight Russia hit schools in the city of Novhorod-Sivers'kyi, Chernihiv. Governor Viacheslav Chaus reported about the dead and wounded. Bombing civilian objects is a war crime. pic.twitter.com/LpoFz5p2lt

— Maria Avdeeva (@maria_avdv) May 12, 2022
Kramatorsk:
This is Natalia and her 11-year-old twins Yana and Yaroslav. When Russian cluster bomb struck Kramatorsk train station, Yaroslav was inside the building. Natalia and Yana were on the platform waiting for tea offered by volunteers. They are now in Lviv. Pic by Iryna Zaslavets. pic.twitter.com/ZDYBq25Uvg

— Myroslava Petsa (@myroslavapetsa) May 12, 2022
Melitopol:
This is 16 y.o. Vlad Buryak. He was abducted by Russians at a checkpoint near Melitopol. They checked his documents and found out that he is the son of the head of the Zaporizhia district state administration. Russians has been holding the child for more than a month in captivity pic.twitter.com/aSzoBXtd8q

— Oleksandra Matviichuk (@avalaina) May 12, 2022
Bucha:
A family came back to Bucha. Little Daryna wanted to play her piano, but her mother noticed that the prizes on top of the piano had been moved around. She opened the lid and found a bomb inside. A farewell "gift" from the Russianshttps://t.co/0hJEZtMERL pic.twitter.com/QgI7cD448w

— Euromaidan Press (@EuromaidanPress) May 12, 2022
Based on international experience, mine clearance of Ukrainian territories may take from 5 to 10 years.

"Based on international experience, mine clearance may take from 5 to 10 years," Oleh Bondar, Head of the Pyrotechnic Works and Humanitarian Demining Department of the State Emergency Service of Ukraine, said during a briefing at the Ukraine Media Center–Ukrinform.

According to him, one of the biggest negative consequences of the Russian invasion of Ukraine is the massive contamination of territories and populated localities by explosives, including those prohibited by international conventions.

Bondar clarified that the enemy used remote mining systems, cynically set unguided minefields in populated localities and left a large number of particularly dangerous specially planted explosive devices posing a mortal danger and threatening civilians.
Much more at the link!
The IED in the piano in the pictures above is one of those specially planted explosive devices. I've previously highlighted other examples including a young boy who was trip wired to IEDs attached to his dead parents' bodies!
Kyiv Oblast:
Returning home after #Russian soldiers leave. The hope and the heartbreak. Click here for the full documentary from @laurelchor & @iamarman88: https://t.co/5js9KppiWx #Resistance #Ukraine #RussianWarCrimes #Bucha #Kyiv #Irpin #UkraineRussiaWar #RussiaUkraineWar pic.twitter.com/tIfOJAQvBz

— Project Brazen (@ProjectBrazen) May 12, 2022
Snake Island:
Ukrainian military has hit and set on fire Russian logistics vessel Vsevolod Bobrov near the Snake island, Odesa regional administration stated #RussianWarshipGFY pic.twitter.com/lHtLGiDWyU

— Olga Tokariuk (@olgatokariuk) May 12, 2022
The last report I saw indicated that the Bobrov was limping back to its home port in Russian occupied Sevastopol.
Austria:
All across Austria the same story is playing out. Ukrainians who arrived here in March have run out of the money, their savings, they brought with them. They arrived in winter clothes all need summer stuff, no money to buy it, charity stocks empty.

— Tanja Maier (@tanjamaier17) May 12, 2022
The state money promised to them by the Austrian government is woefully inadequate for today's prices. Even worse, many, a very significant minority, have not received a single Euro yet. The number of mess ups and lost files and bureaucratic excuses is astounding. All over.

Very few have found full time work. It is not easy and not straightforward and the barriers to entry are many. Those living in state allocated housing complain of not being fed properly and not receiving any money to even be able to shop and cook for themselves. Yes, all over.

Those in dorms are the unlucky ones. Who didn't find Austrian families or have enough funds to rent an apartment. Now they are told if they find jobs that pay they will lose their housing and little state money. So basically, the entire message is: Ukrainians, leave Austria.

Don't come here unless you can afford to support yourselves. We are hearing horrible stories of abuse and manipulation and I fear there are many more we simply haven't heard yet. That people are literally begging for €50 Hofer cards tells you how dire the situation is. That bad.

Now I go back to work. My Ted Talk is simple. Money now. Housing now. Jobs now. I met two women going to work for an Austrian ski manufacturer yesterday. Not war zone refugees though. They came from western Ukraine bc their friend got them the job. Typical.

Wanting to keep people separated from society, not integrated, not working, not paying taxes, shows an utter lack of understanding about how economies grow and thrive from those in charge of the Austrian response. You want Ukrainians employed, earning fair wages! Econ 101!

Last I promise! If you have Ukrainian kids in your child's school or kindergarten, ask the moms if they need clothes, shoes. If you are out grocery shopping, ask a

Ukrainian

family if you can pay. They are proud people but in my experience 9 times of 10 when help is offered they accept.

Also if I can write this thread sitting in my car in a Hofer parking lot, the government can do its job which taxpayers pay it to do. Responsibility. A word many seem to have forgotten. Humanity. Dignity. Doing the right thing. The circus for the cameras isn't fooling anyone.
As I've written several times, one of Putin's lines of effort or subsidiary objectives to his re-invasion of Ukraine is to create a Ukrainian refugee crisis throughout the EU. Specifically to set the conditions where the Ukrainian refugees become seen not as people who through no fault of their own need help and support but as parasites leeching off the states and societies within the EU. The intention here is to create opportunities for the neo-fascist and nationalist parties and movements that he has been funding and supporting in Austria, France, Germany, Austria, Italy, Britain, and elsewhere to weaken their own states and societies, as well as the EU and NATO.
Speaking of Russian funding in Britain, The New York Times has the details on Boris Johnson's hand picked Tory Party treasurer:
LONDON — One of the biggest donors to Britain's Conservative Party is suspected of secretly funneling hundreds of thousands of dollars to the party from a Russian account, according to a bank alert filed to Britain's national law enforcement agency.

The donation, of $630,225, was made in February 2018 in the name of Ehud Sheleg, a wealthy London art dealer who was most recently the Conservative Party's treasurer. The money was part of a fund-raising blitz that helped propel Prime Minister Boris Johnson and his party to a landslide victory in the 2019 general election.

But documents filed with the authorities last year and reviewed by The New York Times say that the money originated in a Russian account of Mr. Sheleg's father-in-law, Sergei Kopytov, who was once a senior politician in the previous pro-Kremlin government of Ukraine. He now owns real estate and hotel businesses in Crimea and Russia.

"We are able to trace a clear line back from this donation to its ultimate source," Barclays bank wrote in a January 2021 alert to the National Crime Agency. The bank, which maintained some of the accounts used in the transaction, flagged the donation as both suspected money laundering and a potentially illegal campaign donation.

A lawyer for Mr. Sheleg acknowledged that he and his wife received millions of dollars from his father-in-law in the weeks before the donation. But they said that was "entirely separate" from the campaign contribution.

"There is absolutely no basis for suggesting that Mr. Kopytov's gift for his daughter was intended as, or for the purpose of making, a political donation to the Conservative Party," the lawyer, Thomas Rudkin, wrote in response to questions from The Times.

For decades, Russian wealth has poured into the London economy, enriching the lawyers, accountants and real estate brokers who ironed out the details. British leaders looked the other way, even as the Kremlin sowed disinformation, meddled in elections and tried to co-opt politicians.

Now, as President Vladimir V. Putin of Russia lays siege to Ukraine, Mr. Johnson is one of the world's most outspoken supporters of Ukraine. He visited the country and pledged British support for its defense. He has also vowed to change course and get tough on Russian money.

But after years of Russian money infiltrating Britain, Mr. Sheleg's donation, and his subsequent ascent in the party, shows just how difficult changing course will be.

Banks in Britain are required to alert law enforcement officials to suspected criminal behavior. They do so through the National Crime Agency, which receives more than half a million suspicious-activity reports each year. Most come from financial institutions, but law firms, real estate agents and casinos also contribute.

Alerts can include reports about suspected terrorist financing, romance scams or benefit fraud. Former officials say they receive so many alerts that some never get read — a fact that will be an obstacle to the government's crackdown on Russian oligarch money.

There is no indication that the Conservative Party or Mr. Johnson knew about the source of the donation as outlined in the alert. But under English law, political parties are responsible for ensuring that their donations come from legal sources.
Much more at the link!
One of the major problems that needs to be dealt with in order for the sanctions and economic measures to actually be effective is serious, significant, and systemic anti-corruption, anti-white collar, anti-financial crime, and anti-organized crime efforts. As long as the oligarchs, organized crime, and national security officials protected by Putin – many of whom fit into all three categories – are allowed to launder their money through businesses, real estate purchases, and philanthropic endeavors in the US, Britain, other EU states, and Israel the sanctions and economic measures will not be successful. Moreover, as we repeatedly see, the same loopholes and blind spots in the law in the US, Britain, EU member states, and Israel are not just exploited by Russian oligarchs or oligarchs from other eastern European states, they are also exploited by those native to the US, Britain, the EU states, and Israel. Often, as is the case with Sheleg, they have dual citizenship and are pulling the same scams in multiple states.
Here's an interesting interview by Radio Free Europe/Radio Liberty (RFE/RL) with Andrei Soldatov about the growing paranoia and infighting between senior Russian intelligence officers and senior Russian military officers.
As frustration over its stalled war in Ukraine and curtailed goals on the ground has grown, it appears the Kremlin may have begun to look for enemies within.

Andrei Soldatov, a Russian investigative journalist who has covered the country's shadowy security services for decades, reported in April that Colonel General Sergei Beseda, the head of the foreign intelligence branch of the Federal Security Service (FSB), was detained and later sent to Moscow's Lefortovo prison.

[The Russian military is] quite pro-war, actually — aggressively pro-war, I'd say. They're just not happy with the way it has been conducted."

The reported move was seen as a sign of a deepening rift between the Russian military and the FSB over its alleged intelligence failures leading up to Russia's February 24 invasion of Ukraine and of growing paranoia in Moscow that forces within the intelligence apparatus may even be working against the Kremlin.

With the brutal Ukraine war grinding on, Russia's intelligence services and military planners are still grappling with how to respond to stronger than predicted Ukrainian resistance and more formidable Western support for Kyiv. As the war enters its 11th week, questions continue to swirl around how the Kremlin got its prewar planning so wrong, whether it may look to mobilize new soldiers for Ukraine, and what lessons it has learned from its early failures.

To get a better understanding of how things might progress, RFE/RL spoke with Soldatov, who is also a fellow at the Center for European Policy Analysis (CEPA) in Washington.

RFE/RL: You've reported that Colonel General Sergei Beseda was detained and sent to prison. What's your sense of what is behind this move and what does it tell us about the current state of the Russian intelligence services and Russia's elite?

Andrei Soldatov: [That story] is getting more interesting and more complicated. We already see a lot of confusion, but also some attempts by the FSB to downplay the conflict [under way] among the security services and the military. There were some reports…about Beseda being present at a funeral of a very prominent former KGB officer, [Nikolai] Leonov, who was one of Fidel Castro's handlers in Cuba years ago, and that's why he became a sort of legend [within] the KGB.

What that likely tells us is that if the FSB made this large effort to present [Beseda] at this funeral to [try to] kill the conversation [and speculation] about him [and this rift], then they actually have a big problem.

This problem is definitely there [and] right now the military is blaming the FSB for many things. [It's] not only about the decision to go to war [and how they did it], but also about how the war is being conducted and all the mistakes that are being made.

Of course, we are not talking about the [Russian] military thinking that it was better to not get into the war. Unfortunately, I don't see that as a big sentiment in the military. They're quite pro-war, actually — aggressively pro-war, I'd say. They're just not happy with the way it has been conducted.

RFE/RL: Intelligence within this war — and in the lead-up to it — has played a rather public and prominent role, both in terms of what appears to be a failure on the part of the Russian side and what looks like some well-informed intelligence about the Russian invasion from the West. How is this shaping things and what is the sense in Moscow about why this war went wrong?

Soldatov: [You] might expect the military to blame people like Sergei Shoigu, the minister of defense, for all the failures that the Russian Army has experienced, especially during the first two months of the war, but [I] don't see Shoigu being criticized by the army or by the security services, which [is] very surprising to me.

He's still very popular and widely respected, despite the fact that he has no military background and no military training, and despite all these big failures [since] February [in Ukraine]. The problem here is that the military is getting more and more apocalyptic in how they see this war. They started out thinking that it would be a very short campaign, and they blamed the FSB for misinforming President [Vladimir] Putin that they wouldn't face more resistance, but now they accept this new reality [on the ground].

And this new reality for them, as they see it, is that Russia still has a peacetime army while [they] face [a] completely mobilized Ukrainian Army that is now being supplied by the West with the best weapons on the planet.

That is why the Russian military feels completely outgunned and outnumbered. It [also] looks like the intelligence agencies [are beginning] to understand that and now they are adjusting to this new narrative. We now see top Russian spies like [Security Council Secretary Nikolai] Patrushev, [the head of the SVR, Russia's foreign intelligence service, Sergei] Naryshkin, and others actually supporting this new narrative that it's not only about [fighting] with Ukraine, but that it's [actually] this big war between Russia and NATO. It's a more apocalyptic and a more global [view of the conflict].

RFE/RL: So where do you see this "apocalyptic" thinking, as you describe it, leading to?

Soldatov:

The biggest problem is about objectives. As an example, I checked recently [on] some polls conducted by Telegram channels [that] are really close to the Russian military and [they were] quite astonishing to me. They asked questions about what [soldiers thought] an acceptable objective to declare victory for this war [would be], and you have around 25 percent saying that [they would] need the complete capitulation of Ukraine and more than 30 percent saying they would want to get Russian troops to the border with Poland.But the most astonishing number is that only 6 percent said they would be happy with only [taking the] Donbas. That is very worrying. It means that the objectives pronounced by Putin at the beginning of the war are not necessarily the same ones the military sees as appropriate and acceptable.

RFE/RL: Is it just looking for a scapegoat or do you also get a sense that there is a genuine urge to understand the mistakes and learn from them?

Soldatov: The problem here is that [there isn't] a tradition in the Russian military or the Russian security services to [acknowledge] and [learn from] the mistakes they've made.

That's part of why Putin was always so popular among the security services. His approach throughout all these years was that if something happened, and you think to blame the FSB or the military, the best option is actually instead to give them more [support and resources] because [they] need to be protected and defended from criticism and [scrutiny].

You have this new factor of the public opinion within the military on Telegram combined with a complete lack of tradition for how to talk about these things."

And that is a problem now [at a time] when they need to adjust and change their strategy. They're waiting for changes at the top, but they don't know how to talk about it.

They're quite happy with the decision by Putin to appoint [General Aleksandr] Dvornikov [to be in charge of the Ukraine campaign] because at least that is something that's been needed since Day One. But again, they still don't quite understand what to do next.

The other problem is that they're not quite ready. The fact is that this war is different from Putin's previous wars [in Georgia, Syria, and eastern Ukraine] because now we have Telegram channels. [On those], you have pro-military public opinion where you have lots of soldiers, lots of officers, [and] lots of veterans all talking — not very openly — but still expressing criticism toward the military.
Much more at the link!
Here's more from The Financial Times regarding Russia's destruction and/or plunder of Ukrainian agricultural products:
Ukraine's government has accused Russia of trying to destroy its agriculture sector by stealing valuable grain stocks and machinery, deliberately bombing farms and warehouses and blockading its Black Sea ports to deprive it of exports earnings and farmers of liquidity.

There are multiple examples around the country of grain elevators and warehouses being bombarded. Around Kyiv, Russian forces destroyed distribution centres and warehouses to try to disrupt the provision of food to the capital.

But it is the confiscation of grain in territories controlled by Moscow that is the most emotive issue. It has drawn parallels with the Soviet policy of crop confiscations coupled with the confinement of peasants to their villages in the 1930s. Some 4mn people died in the ensuing famine in Ukraine, known as the Holodomor, or death by starvation.

After Russia bombed a farm business in Luhansk in eastern Ukraine last month, destroying machinery, buildings and 17,000 tonnes of wheat — a year's supply for 300,000 people — Serhiy Haidai, the local governor, said on social media that Moscow was seeking "to organise the Holodomor in the Luhansk region, that is without a doubt".

"The most straightforward conclusion from Russia's exporting grain from Ukraine is [that] their aim [is] to exacerbate the risk of shortages and hunger in the Ukrainian territories under Russian control," said Vladyslava Magaletska, former head of Kyiv's state service for food security.

"In addition, Russia may envisage using the stolen grain to blackmail the world, putting global food security at risk."

The confiscations appear to be on an industrial scale. Agriculture minister Mykola Solsky said Russian authorities had seized between 400,000 and 500,000 tonnes of grain from across the territory it has occupied, taking most of it to Crimea.

"This is big business, organised at the highest levels. Clearly it is done by uniformed agents and the military of the aggressor country," Solsky said.
Much, much more at the link!
I want to make a point here, which I think seems to be getting lost, regarding the reason I keep posting about the attacks on Ukraine's agricultural sector. I am well aware of several exceedingly smart agricultural scientists and researchers into the global food economy and their articles, op-eds, and Twitter threads explaining that everyone seems to have anticipated this last year and, as a result, over planted. So there really isn't going to be a global grain or food shortage. That is not just correct, but technically correct.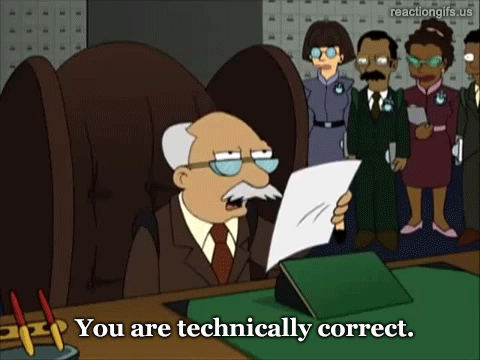 The issue here is not that they're right and I'm some sort of shill for commodity brokers or something. Honestly, other than oats and rice, I don't eat grains or anything made from them!!!! With the exception of the occasional cheat meal.
The concern here is both a geo-strategic and regional strategic one. While it is wonderful that India has a huge stockpile of grain or that we in the US and our friends to the north in Canada do as well, the real issue is can that grain get to where it is going to be needed most. Specifically, the Sahel and other parts of Africa, the Middle East, and parts of central and southeast Asia. And can it be sent to these locations before the food insecurity gets to the point where it creates significant illness, death, and state and societal instability. Does anyone really think the current government of India is really going to be philanthropic enough, even as it could make a profit by doing so, by shipping their grain surplus to the places that need it? I don't. The Modi government has proven itself cruel and capricious. Would I expect that Xi would try to make surplus grain and food products available to further his goals through the Belt and Road Initiative? Without a doubt. But that would come with significant strings attached to those receiving the aid.
The real concern here isn't whether the world, on average, has more grain stockpiled this year than last so there's a surplus and that will prevent shock increases in food prices, food scarcity, and/or famine. The real concern is that despite this reality we will still have shock increases in food prices, food scarcity, and/or famine, as well as all the instability, illness, and death that comes with it because it isn't profitable – politically, strategically, and/or financially – to get that surplus grain where it needs to be to prevent these things from happening. This attempt to cause global or at least regional food insecurity are the second order effects of why Putin is stealing, blockading, and/or destroying Ukrainian grain and other agricultural products.
The immediate, primary effect is that Russia is trying to terrorize the Ukrainians by stealing and/or destroying their agricultural products. This theft and destruction presses every historical memory button that Ukrainians have of the Holodomor; the famine created by Stalin's mismanagement, stubbornness, and cruelty.
For those unsure of the history of the Holodomor, here is a short video by the Museum of the Holodomor:
And here is a long lecture by Professor Timothy Snyder:
I think that's enough for tonight.
There's no new Patron news or video tonight, but he does have some additional backup. Meet your semi daily Gilza!!!
Photos: ??? #Gilza pic.twitter.com/FmWrvRMp0c

— Oriannalyla ?? (@Lyla_lilas) May 10, 2022
There appears to be more than one Gilza. I'll have pics of the other one tomorrow.
And here's a Ukrainian lamb and a couple of Ukrainian Chihuahuas!
Tiny lamb rescued from Ukraine has two Chihuahua bodyguards now ?

Special thanks to Saszka, Dr. Radoslaw & Centrum Adopcyjne "Ada" for all the wonderful work they do. Follow along on Instagram https://t.co/WHLjA8xOzL. pic.twitter.com/OXKJjpJnS5

— The Dodo (@dodo) May 11, 2022
Today Chef Jose Andres has, once again, directly appealed to Pope Francis to aid the defenders at Azovstal:
.@Pontifex are you listening to this commander defending his country? Jesus would be there, father,right and centre….can you call Putin and tell him to end this war!? To end the killing? https://t.co/1A0qrMRIFy

— José Andrés (@chefjoseandres) May 12, 2022
Open thread!