GOP officials and dark money MoTUs are trying to make sure the planet burns:
In West Virginia, the state treasurer has pulled money from BlackRock, the world's largest asset manager, because the Wall Street firm has flagged climate change as an economic risk.

In Texas, a new law bars the state's retirement and investment funds from doing business with companies that the state comptroller says are boycotting fossil fuels. Conservative lawmakers in 15 other states are promoting similar legislation.

And officials in Utah and Idaho have assailed a major ratings agency for considering environmental risks and other factors, in addition to the balance sheet, when assessing states' creditworthiness.

Across the country, Republican lawmakers and their allies have launched a campaign to try to rein in what they see as activist companies trying to reduce the greenhouse gases that are dangerously heating the planet.
They're having some success too.  Black Rock and its CEO, Larry Fink, have been a target for the GOP campaigners, because Fink has been one of the major public voices to argue that climate change hits both social responsibility and long-term financial notes.  That evoked this response from West Virginia's state treasurer:
And in January, Mr. Moore pulled about $20 million out of a fund managed by BlackRock because the firm has encouraged other companies to reduce emissions. BlackRock still manages several billion for West Virginia's state retirement system. "We're divesting from BlackRock because they're divesting from us," Mr. Moore said in an interview.
In response:
The company has scrambled to limit the fallout in states like Texas, stressing that it is following the wishes of its clients and investing broadly.

"We are perhaps the world's largest investor in fossil fuel companies, and, as a long-term investor in these companies, we want to see these companies succeed and prosper," BlackRock's head of external affairs, Dalia Blass, wrote in a letter to Texas regulators in January…

…BlackRock also this month said it would support fewer shareholder proposals calling for climate action because "we do not consider them to be consistent with our clients' long-term financial interests."
A couple of notes. One: llue states can play this game too, and some are; more should, and likely will. And…
Two: fuck these fucking fuckers.  Climate change is real, it's upon us, and it's causing harm to non-MoTUs all over the country, very much including those who vote team fascist. Florida has a reasonable chance of enjoying a tropical storm this weekend, seeded by Hurricane Agatha, itself one of the earliest cat. 2 storms on record to strike Mexico. Fire season is about to ramp up, and drought in the southwest has produced stories like this.
Extracting the last few years of profit from bulldozed mountain tops and fracked water tables is more important to those who fund the GOP than anything else. They are literally the enemies of civilization, and this story is one more reminder that we are in fact in the midst of a national and global existential struggle…
well…
…I'll go all Church Lady on y'all…
with…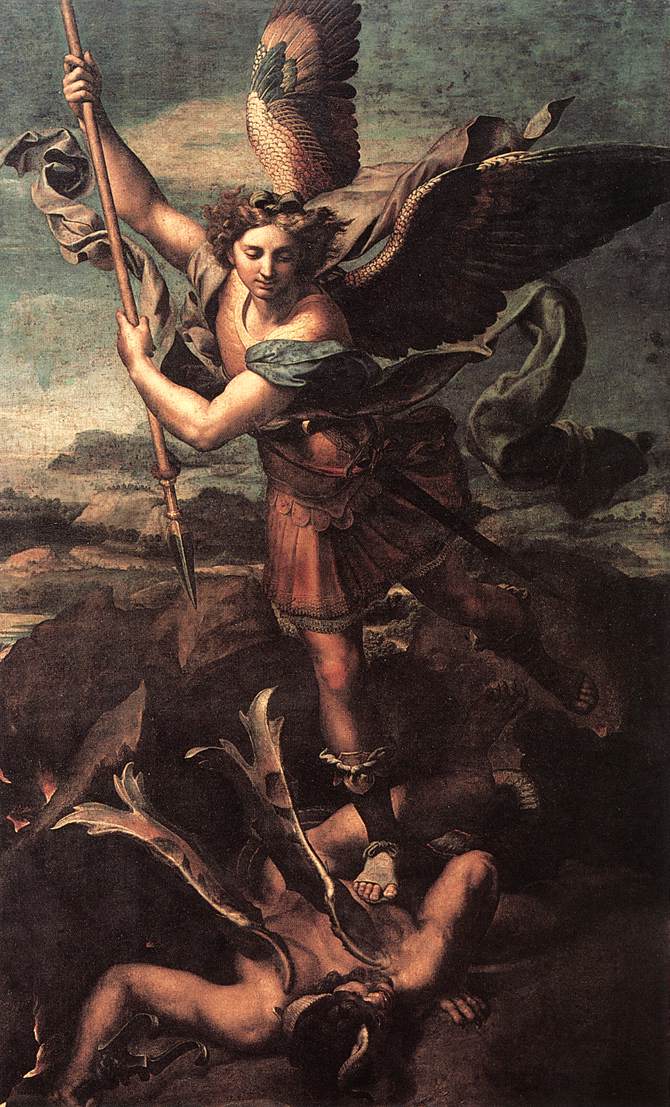 EVIL.
Open thread, my fellow jackals.
Image: Raphael, St Michael vanquishing Satan, before 1520.*
*Here's my problem: I downloaded an image that was 670 x 1107. It showed up on our media page at that size. Imported into the post, it turned itself into its current diminutive size. But it's still a great painting, and the link takes you to a better reproduction, so I thought it worth posting while I try to get around to asking for professional help…ETA: Watergirl helped out on the above, and I may have learned how to take care of such image matters myself in the future. We'll see….